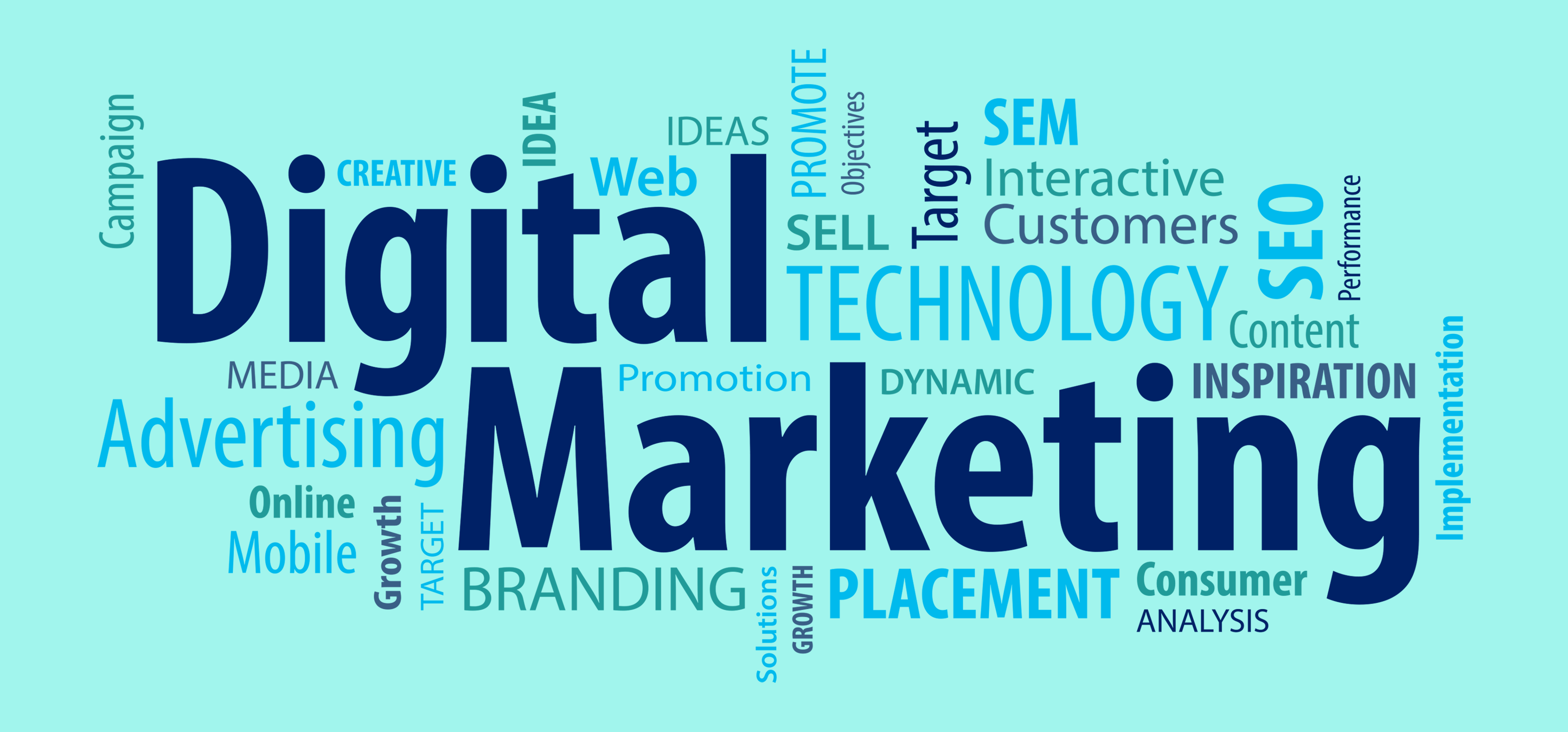 According to the Pew Research Center , more than three-quarters of all Americans use the internet daily.
43 percent of respondents log on more than once a day, and 26 percent log on "almost constantly."
The point is, people are staying on the digital medium more than ever, which means businesses can't overlook digital marketing if they want to reach their audience where they are.
Not to mention, digital marketing is an effective strategy that does more than just marketing. You can connect with customers in real-time, generate quality leads, nurture them, and do more, which was not possible with offline marketing.
As the digital landscape grows wider, it sometimes becomes difficult to keep up with some terminologies, even if you have enough experience.
Here is a list of 45 digital marketing jargon or terms you must know if you want to excel in digital marketing.
1. A/B Testing
A/B testing, also known as "split testing" or "bucket testing," is a technique for determining which version performs better. In an experiment, two or more variants of a content or design element are shown to users at random, and statistical analysis determines which variant performs better for a specific conversion goal.
Let's say, you want to send a Black Friday sale email campaign to your email list and your goal is to get the email opened by the maximum number of your subscribers.
So, you can do A/B testing of two email subject lines to a sample set and see which one is more effective. You can then proceed with the winner subject for the remaining subscribers and make sure more people open your mailer.
2. Affiliate Marketing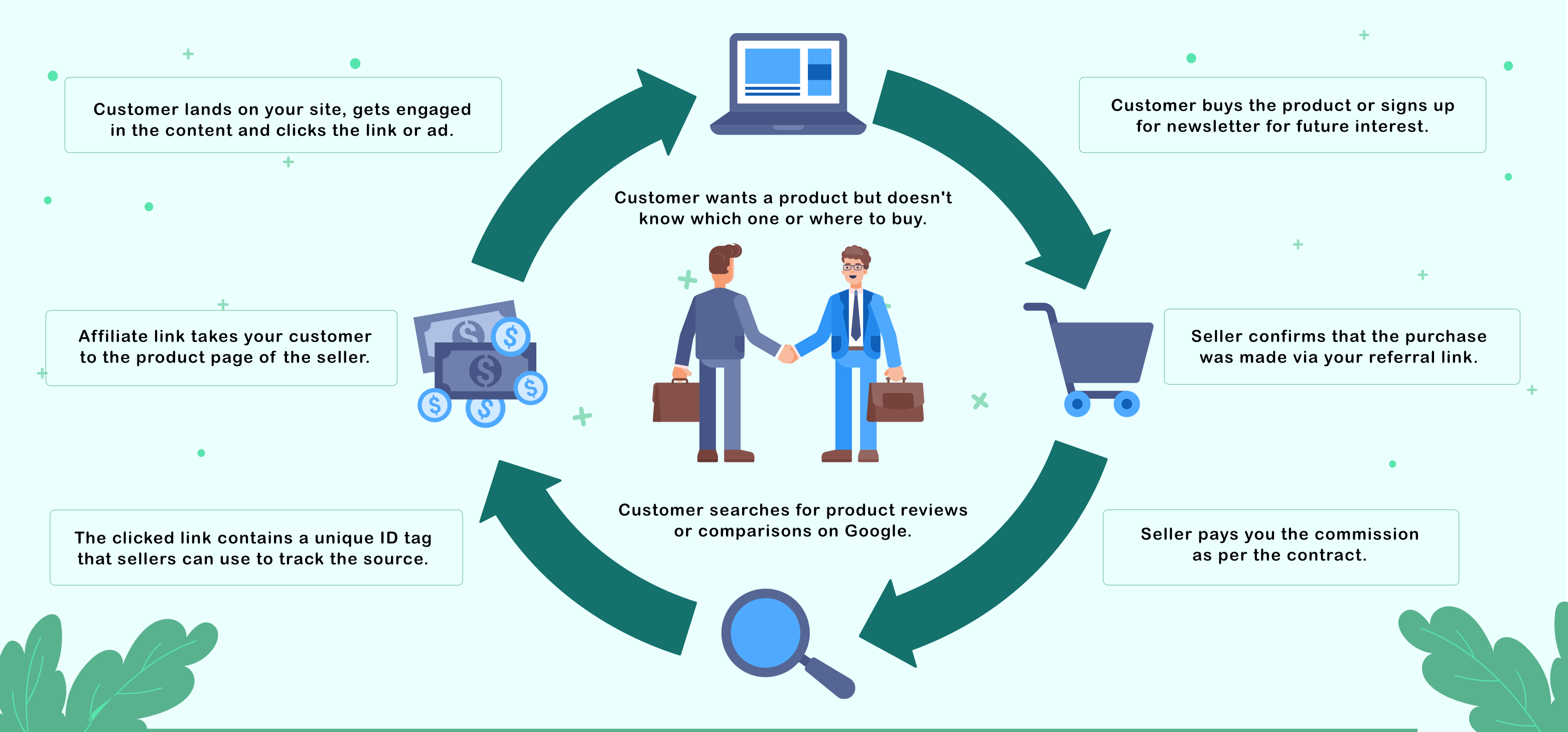 Affiliate marketing is a type of marketing based on an advertising model, where an advertiser rewards commissions to the publisher based on the completion of an action.
Typically, businesses reward the "affiliates" for bringing in new customers or visitors via ads or content on the affiliate's website. Affiliates are compensated, or given product discounts, based on the number of customers they bring in.
These affiliates are primarily social media influencers and celebrities who can influence and convince a potential customer to buy the advertised product or service. Moreover, there are many affiliate marketing platforms that help businesses and publishers manage partnerships. One such noteworthy platform is PartnerStack
3. Bounce Rate
Bounce rate is defined as the number of visitors on a website who did not convert and left the webpage or landing page without action. It is one of the key indicators of your site's performance. A high bounce rate points towards a potential problem on your site. Is the content not relevant to the audience? Are the visuals repulsive? Is it something else?
Investigating this can help you solve the potential issue. Some of the measures to improve bounce rates include creating better content, creating appealing landing pages, or making your site more user-friendly. Lower the bounce rate, the more chances that visitors are finding your site useful, hence increasing your chances to get more leads or make more sales.
The bounce rate is calculated by the total number of one-page visitors divided by the number of entries for the bounce rate.
Bounce Rate = Total number of one-page visits / Number of visitors that leave the website without engaging 
4. Brand Awareness
Brand awareness is a term that describes the level to which a product's name is recognized by consumers. Raising brand awareness is an essential step in launching a new product or restoring an old brand. It essentially helps differentiate your products and services from your competitors by making a connection with the audience.
Consumers are generally more likely to choose a well-known brand over a lesser-known brand when faced with various options. A strong brand often leads to increased sales.
Your brand identity such as logo, brand colors, or brand name makes the foundation for generating brand awareness. Not to mention, creating brand awareness also involves creating valuable content, engaging with your audience, building a social media presence, creative advertising, and much more.
5. Buyer's Journey
A buyer's journey is the path a potential customer takes to purchase a product or service. It is based on a framework that considers that a buyer goes through a series of actions and decisions before finally making the purchase.
According to this framework, there are four stages in a buyer's journey:
Awareness : The consumer realizes and acknowledges their problem.
Consideration : Awareness of the problem.
Decision : Deciding on a solution for the consumer problem.
Delight : Positive experience with the solution.
For businesses, this insight provides a valuable chance to understand the needs and wants of their potential customers and serve them accordingly at each stage. Thus, increasing the likelihood to converting the leads into sales.
6. Buyer's Persona
A buyer persona is a partially realistic representation of the ideal customer that you are trying to attract. It is based on knowledge, accurate statistics about your existing clients, and a few educated guesses about your target market and competitors. It helps you better understand and connect with the audience to whom you wish to market your products and services.
By developing consumer-focused advertising campaigns and content, you demonstrate to your target audience that you acknowledge their business pains and difficulties on a personal level, thereby encouraging them to engage with your company on a deeper level.
Buyer personas provide you with insight into what your company should be doing to help potential clients. We wouldn't know what type of marketing campaign to create and spread to the selected population.
7. Call To Action (CTA)
A call to action (CTA) is a term for a piece of communication that encourages consumers to act. The role of CTA is immense in digital media, where you are not face to face with a user, but you need to prompt them to do something in your favor.
You'll find some of the CTAs in almost every media interface, website, advertisements, social media content, and so on. There are usually two main types of call to action in marketing—one is the main CTA and the other is transitional CTA.
On websites, you'll find the main CTAs popping up. See "Get Started Free" and "Create My Calendar" in the image below, purpose-built to catch the attention of visitors. A transitional CTA is less prominent and is used mainly for navigational or usability purposes. See "Sign In" and "Get A Demo."
8. Churn Rate
It is also known as the "rate of attrition" or "customer churn," the churn rate determines the number of customers or subscriptions you have lost during a specific period.
An increasing churn rate can halt a business' progress and badly affect the profit rate. It determines how well or poorly a business or an organization is performing.
If a company's churn rate is consistent or increasing, it might be due to many factors. Some of them can be poor customer service, ineffective market research, careless budgeting, and much more.
Churn rate = (Lost customers / Total customers at the start of a period) x 100
9. Click-Through Rate
CTR or click-through is the number of clicks a link receives. It is a very useful metric to assess the effectiveness of a marketing campaign. You can assess the performance of ads, emails, app downloads, blog reads, subscriptions, or any link you intend your audience to click on.
The higher the click-through rate, the more successful the campaign is. If you're into affiliate or performance marketing, high CTRs can bring you more revenue.
CTR = Total number of clicks / Total number of impressions 
Don't confuse CTR with conversion rate, which means an advertisement is getting clicks leading to actual sales.
10. Competitive Analysis
If you want to beat your competitors, you need to know what they're up to, how they do things, so that you can do them better. This is where competitive analysis comes into the picture.
Competitive analysis is a strategy in which you try to gain insights into the business and marketing tactics of your competitors. It involves knowing in-depth about their products or services, researching their marketing moves, cost strategies, and more.
If done right, analyzing your competitors can help you identify your own unique value propositions, market gaps, improve your marketing tactics, and more to outperform your competitors. If your competitors have a digital presence, you can use tools like SEMrush to keep an eye on them.
11. Content Audit
Content is the blood and bone of the digital marketing world. As trends change and new technologies come, your content has to be in sync with what your audience is looking for and what you want to achieve. A content audit comes in handy in these cases.
Content audit is a method of reviewing the existing content on your digital properties. It allows you to identify content pieces that are working in your favor, that need improvement, or that can be reused or repurposed based on their performance. The basis for assessing performance can be search ranking, traffic, social media engagement, lead generation, conversions, ROI, and more.
You can use these insights to modify your content strategy and define new goals to achieve your content marketing goals.
12. Conversion Path
This is an integral part of digital marketing as it involves converting the visitor into a customer. It is a sequence of interactions that the customer goes through starting from becoming aware of a product or service to your desired result (usually a purchase).
The series may look something like this: Offer > CTA > Landing Page > Payment Page > Thank You Page.
Here is how you can optimize the conversion path for your business:
Write relevant and authentic content for your website
Make landing pages look irresistible and engaging
Appealing CTAs
A payment page that leaves no room for doubt
A thank you page that delights the customer
13. Conversion Rate
Conversion rate is the total percentage of the people online who "converted" according to the business goals you have determined for the audience. These goals can vary from purchasing to directly contacting you to get to know more about your business. With conversion rates, you know how many people or visitors did what you wanted them to do.
Conversion Rate = (Conversions / Total Visitors) * 100%
To increase a business's conversion rate, one can employ conversion rate optimization (CRO) which is the practice of increasing the rate of users performing the desired actions. These desired actions can be:
Buying a product
Clicking on the "add to cart" button
Subscribing to a service
Clicking on a link
Filling form
Explaining it from a user perspective is a process that deeply focuses on what attracts or repulses a user towards or away from your business campaign or webpage. By knowing this, you can give your visitors the best user experience possible.
One can optimize their site by focusing on visitor needs and making them realize that they are missing out on something important:
Apply time-limited offers that would entice the visitors to click
CTA button in bright color palettes
Customer testimonials that help build trust
14. Cost-Per-Action (CPA)
CPA follows the affiliate marketing model. The advertiser has to pay a small amount to the affiliate for every click or any other form of engagement or action on the website. The action taken by the audience that qualifies the publisher for a commission could be:
Filling out an opt-in form
Give contact details
Download app
Sign-ups
Buy a product
It is one of the most cost-effective ways to get leads, sales, subscribers to benefit from your business as you can keep a large amount of profit for yourself and only give a determined amount to the affiliate. In contrast, the usual marketing channels may not bring you as high ROI.
15. Cost-Per-Click (CPC)
CPC, also known as PPC (Pay-Per-Click), is a marketing strategy where an advertiser purchases consumer clicks rather than letting the business rank on Google and get views organically.
Whenever a potential customer clicks on the published ad, the advertiser has to pay some money to the medium used to publish the ad. It is a fast, cost-effective, and trackable way to get more views for your business' website.
Those advertisers who have a predefined budget for their campaigns usually use CPC. The ad is automatically removed once the campaign ends. A publisher website receives a fee whenever a paid advertisement is clicked on their website. This fee is called CPC.
CPC = Total cost of clicks / Total number of clicks
16. Customer Relationship Management
Customer relationship management (CRM) is a set of actions and strategies used to manage customer relationships. CRM systems collect customer information from multiple channels, and the goal is to boost customer retention and sales by improving customer service relationships.
CRM makes sure that every time you connect with a prospect, the conversation runs smoothly without any hurdles or lagging. Also, CRM collects prospect data from multiple channels and stores past purchases invoices, client personal information, and buying patterns.
There are many outstanding CRM tools and software available, that you can use to optimize your workflows and delight your customers. HubSpot is one of the best among them.
17. Digital Marketing KPIs
These are the values that advertising teams use to assess and measure the progress of their marketing campaigns on the internet. By establishing specific digital marketing key performance indicators (KPIs) and monitoring them, it is simple to establish aims and objectives and assess and evaluate success based on those parameters.
The most common digital marketing KPIs are:
Customer lifetime value
Web traffic sources
Click-through rate
Brand awareness
Lead conversion rates
Cost per lead
Returning visitors
Bounce rate
For digital marketers, key performance indicators (KPIs) are helpful to set standards and demonstrate that their project is making an impact.
Outsiders may believe that measuring achieving digital marketing activities is challenging; however, this is not the case. Tracking the progress of a digital campaign is typically easier than tracking the progress of an offline campaign. You can use various types of tools for data analytics, social media tracking, or heat mapping to get in-depth insights.
18. Email Marketing
Email marketing is the process of sending emails to a targeted audience to achieve a business goal. This marketing strategy can be used to educate potential customers, attract sales, or send personalized communication in response to customer action.
It is an effective way to influence the customer and engage them with your marketing campaign. The benefits of email marketing are:
Personalized and effective communication
Encourages brand awareness
Higher conversion rates
You'd need an email service provider such as Mailchimp that would automate, send, and keep a record of marketing emails for email marketing. Check out some of the best alternatives to Mailchimp to make the most of email automation.
19. Google Algorithm
Google has a set of rules for every searched word on the search engine giant. This set of rules is called the Google algorithm which helps us find the correct answers or likely the closest answers to our queries.
Google algorithm is a complex system of rules that collects an unimaginable volume of data within seconds and brings the best answers for our queries or entries in the search bar.
It employs a combination of algorithms and ranking variables to show the best search results to the user. Its goal is to show the most relevant pages to the user on the search engine result pages (SERPs). You can stay up to date with the Google algorithm updates on Google Search Central blog.
20. Guest Posting
Guest posting or guest blogging is the process of writing content, an article, or a blog post and publishing it on someone else's website. This is one of the best ways you can get backlinks for your own site, which brings in some great advantages, such as:
Establishing your business authority with valuable content
Reaching new audiences and engaging them
Boosting search rankings, domain authority, and traffic to your site
Creating brand awareness
Generating qualified leads and boosting sales
21. Heatmap
Heatmap is the visual representation of how visitors engage with your website using color codes. Typically, a red color represents the most interactions on that web page, while cold colors like blue show the least visitor interaction.
Heat mapping is essential for online marketers as it tells about the customer's user experience. It is a powerful tool to determine what people click, read, and ignore on a webpage. I t shows precisely where you need to improve or change your web page so that it is more interactive for the user and the bounce rate is at least as possible.
22. Impressions
Every time your content is rendered on a user's screen is called an impression. Impressions are the number of times an advertisement or content was visible to potential clients online. A lot of impressions indicate that your campaign is effective and your goal of brand awareness is being achieved.
Impressions are essential as they decide how our marketing campaign and its content will be created and presented. Calculating or assuming the impact on the consumer is difficult for offline advertisements such as billboards. But with impressions online, we have a concrete number of how accessible the campaign was to potential buyers.
Although impressions are different from reach, that is, active engagement of the consumer with content, it is still a complementary tool to determine where you stand as a marketer online.
23. Infographics
Humans tend to have a better visual memory. Hence, creative visuals are an incredible medium to attract, engage, and delight audiences. An infographic is a type of  graphic that helps you communicate information, data, or other knowledge through visually appealing graphic elements.
The elements may be graphs, charts, maps, timelines, lists, illustrations, and more. The only limit can be your imagination!
Most graphic design software offers templates for infographics, which you can use to create engaging infographics in minutes. If you wish to give your own creative touch, you'll find a lot of customization options in these tools as well.
24. Keyword Research
Keywords are the soul of search engines. You type in (or type in) some words in the search bar and get millions of results for what you were looking for. Your customers are doing the same thing. So, keywords are one of the most valuable tools for digital marketing.
With keyword research, you can discover what your customers are looking for (and the terms they use) so that your brand can show up in their search results. You pick the keywords searched most by consumers on search engines and incorporate these words into your website's content so that the search engine can show it up when a user searches using those words.
Keyword research is also helpful if you want to place an ad on the search pages. You can find the highest in demand and less competitive keywords, optimize your ads, and get maximum returns.
Moreover, you can use keywords research for competitor analysis. Let's say Adidas is your competitor; you can use a keyword tool and find out the keywords they rank for and build your strategies accordingly.
25. Keyword Stemming
Search engines are getting smarter day by day, learning from the countless queries users make every second over the years. Different users may use different terms for the same thing and expect certain results. Keyword stemming helps with that.
Keyword stemming is basically a search engine's ability to understand different word forms of the same search query. Search engines organize search results by both exact keyword matches and semantic keyword variations such as singular-plural, related suffixes, and synonyms. These similar keywords are regarded as synonyms by search engines.
How does it help you? Knowing about the variations and incorporating them into your content can help you broaden your reach. For instance, the word "power" isn't the only form consumers would use. They may use the word "powerful" and get the same results.
26. Landing Page
A landing page is a web page dedicated to promoting specific marketing or ad campaign. It is a standalone page that helps you differentiate your marketing campaign from your regular products and services on the website. It not only helps to provide users with only relevant information and decreases the overwhelming for them.
The pinpointed focus of a landing page makes sure you achieve the desired result at a much higher rate. A well-designed page can help you engage first-time visitors and turn them into qualified leads or customers faster.
There are a lot of landing page builders available that you can use to create enticing pages without the help of a designer.
27. Lead Generation
In digital marketing, lead generation is the process of attracting prospects to your product or services so that you can convert them into customers in the future.
The more leads you have, the better your chances of getting more sales. Not to mention, the quality of leads is important to make sure your leads are genuinely interested in your business and more likely to see value in our offerings.
There are multiple methods of generating leads, including:
Email marketing
Blogging
Ads and retargeting
Product/service trials
Referral marketing
Lead magnets such as PDFs, e-books, etc.
28. Lead Nurturing
Lead nurturing is the process of encouraging your leads and building relationships with them throughout the phases of your sales funnel. The purpose of lead nurturing is brand awareness, trust-building, and keeping a solid connection with them until they purchase your product or service.
An efficient lead nurturing plan is based on prospects' queries, needs, and problems, and the marketer focuses on how you can solve them. The marketing and communication efforts depend on how your customer will react to each phase of the sales funnel.
Lead nurturing strategies not only help you in keeping your prospects engaged but can also determine how effectively you will design your future campaigns for buyers and increase your ROI.
29. Link Building
Link building is the process of obtaining links from other authority websites to your website to boost the authority of your webpage on search engines. Guest posting is one of the widely used practices to build links.
It is one of the essential requirements of Google for a page to rank high in SERPs. The value of the links significantly matters as Google prefers quality to quantity. Illegitimately obtained backlinks hurt your SEO. Therefore, you'd need to build a robust organic link-building strategy to get high-quality links.
Moreover, it would require creating high-quality, engaging content that the visitors of the guest suites will find valuable.
30. Marketing Automation
Marketing automation helps you in identifying prospects and automates sales actions that make it easy for potential customers to reach out to you. It accomplishes this by significantly increasing the efficiency of your sales funnel, allowing you to convert many leads into satisfied customers in a short period using a variety of strategies.
It involves using multiple tools to integrate the various workflows in a seamless manner. For example, storing customer data, sending triggered emails, social media postings, and much more. You can use tools such as CRM tools, email automation tools, social media schedulers, and so on.
31. Marketing Segmentation
Marketing segmentation allows marketers to target different categories of potential clients who perceive the products or services differently. In short, this marketing strategy refers to targeting a particular segment of the consumer population that is divided based on any variable whatsoever and presenting that group, with the product or service so that appeals to them.
Marketing segmentation is essential since it makes consumer data collection much more manageable, and since the focus is only on one variable, marketing campaigns become more efficient. By dividing buyers into different groups, a company can minimize the risks of exceeding the budget and quickly decide where resources would be the most profitable.
Some of the major types of segmentation include demographic segmentation, psychographic segmentation, and geographic segmentation.
32. Multichannel Marketing
Since your potential customers will be present at many different places, you need to reach them via the most suitable medium. Multichannel marketing is the process of employing multiple digital marketing mediums to reach and interact with your audiences.
The digital landscape offers many channels, which you can leverage to run your marketing campaigns and drive results. These channels include:
Email
Social media
Mobile ads
Search engines
Video streaming
Websites
Webinar
Online courses
Online events
33. Niche Marketing
It is the advertisement for your brand in a targeted market area or "niche." Instead of marketing your brand or business to the entire population, you specifically pick an area or category you want to interact with for brand awareness. It is not to be confused with marketing segmentation, for it is for bigger marketing targets, whereas niche marketing has smaller markets to target.
Niche marketing differentiates its goals and objectives and clarifies how and where it should continue its marketing efforts. The chances of your business growing get higher if you employ niche marketing as a strategy, since it deals with the same type of individuals, and creating a marketing plan is more effortless.
As the focus is only on one specific market niche, marketing efforts are calculated and precise and promise a long-lasting customer connection.
34. Organic Search Traffic
The users who access your websites without any paid advertisements are called organic search traffic. Organic visitors land on your website by searching on search engines such as Google or Bing. That means organic traffic is the opposite of paid traffic, that is, getting visitors to your website through advertising.
The most effective way of getting organic traffic to your website is by posting relevant and high-quality content that is authentic and reader-friendly.
There are some ways in which you can increase your organic traffic if you do not want paid ads:
Optimize your website: Make sure your website has all the essential keywords that are necessary to rank in SERPs.
Create a blogging domain for your e-store: This gives your website an extra boost of optimization, as you will be posting relevant content following the needs of your website visitors.
Make the interface user-friendly so that there are fewer chances of bounce rate.
Do not forget to fill the space for the title and meta description.
35. Paid Advertisement
Paid advertising refers to any form of advertising for which you must pay a fee. Paid advertising is when a marketer pays the holder of advertising space to display advertisements on that space. The price paid for ad space is often determined via competitive bidding between marketers and the company that owns the ad space.
You can run paid ad campaigns on social media, search engines, and ad spaces on websites, apps, and other channels. There are many platforms that enable PPC marketing automation and management.
Check out the paid ad results in Google search results.
36. Referral Traffic
It is the traffic that is redirected to your website by the links that appear on another website. It is just like another site recommends your website because your content and content are similar. This comes under the link-building strategy. Referral traffic is a good sign of your website's relevancy, as Google ranks every website based on relevant content and authentic backlinks from related websites.
Referral Traffic is significant for your website as you get clicks from visitors who are the same target audience as your website. Visitors will be getting relevant content from your website by clicking on the referral link on the other website, which may contribute to brand awareness and legitimacy.
Getting potential buyers on your website is not the only benefit you will be getting from this strategy. Referral linking is also important to rank better in SERPs.
37. Return of Investment (ROI)
It is a performance metric that is used to assess an investment's efficacy or financial performance. ROI attempts to measure an investment's return relative to its cost directly.
​ ROI is a famous metric among marketers due to its simplicity. It is an easy formula to calculate, a not-so-complex concept, and easy to understand.
One factor that majorly affects ROI for any business is its risk tolerance.
ROI= Cost of investment / (Current value of investment − Cost of investment)
38. Sales Funnel
A sales funnel, marketing terminology that refers to potential customers' journey to make a purchase. The idea of a sales funnel is to capture leads, nurture them along the way, and finally turn them into customers.
However, it is an inevitable truth that not every lead will turn into a customer. Hence, the progression turns into a funnel shape as prospects fall off at each stage.
There are three main stages in a sales funnel:
The top of the funne l refers to the initial marketing phase where a prospect needs to be made aware of a problem and you attract leads through landing pages or lead magnets.
Middle of the funnel w here the leads get interested and try to make decisions and you nurture the leads by educating them and solving their pain points.
The bottom of the funnel is t he stage where the leads have decided and are ready to act. This is the stage where you help them make decisions in your favor.
We recommend reading our article on best sales funnels examples to get inspired and learn more about it.
39. Search Engine
A search engine is an online tool that indexes and organizes information and content and answers online users' queries. The engine looks for all the relevant content to your query from its gigantic database, organizes and ranks them, and generates a list within seconds from the most relevant to the least relevant.
There are three primary functions of a search engine:
Crawling : The search engine sends its "bots" to find and recognize new content posted online.
Indexing : It is storing and organizes the crawled content and making it visible to the users.
Ranking : The list then ranks the most relevant to the least relevant content according to the user's query.
The search engine algorithm depends on the following factors:
Meaning of the query
Page relevance
Quality of the content published
Page usability
40. Search Engine Optimization (SEO)
It refers to the process of optimizing your website to increase its accessibility when people search for products or services related to your business in search engines such as Google, Bing, and other similar search engines.
The greater the visibility of your pages in search results, the more likely you will attract attention and attract new and existing customers to your company.
There are some key aspects to SEO which you'd need to address to optimize your SEO performance.
On-page SEO: It involves optimizing the content on your website, such as copy, headers, title, meta description, image, internal links, etc.
Off-page SEO: It mainly involves getting backlinks from authoritative sources.
Technical SEO: It involves addressing the technical aspects of a site, such as a site structure, speed, mobile-friendliness, etc.
Local SEO: It involves optimizing your website for a specific geographic area, such as ranking on Google's My Business page.
41. Search Engine Result Pages (SERP)
After searching a query on any search engine, the lists you get are search engine results pages. SERPs are important as they determine how your website appears in the search engine results pages list.
Since the lists rank from the most relevant to the least relevant website according to the user's query, this tells your position on search engines as a website. If your website does not appear on the first three pages of the list, it means you need to work more on optimizing your website.
Every SERP is unique and provides a different result for each keyword entered the search bar. However, to provide users with more interactive and appropriate search results, search engines such as Google or Bing are constantly updating SERP, due to which its appearance is always fluctuating.
You can see in the image below, the SERP for the keyword "oranges."
42. Target Audience
A target audience is a group of individuals that might become your future customers. Identifying a target audience helps businesses thrive in the competitive marketplace and makes company owners realize where they should put all their efforts and money.
One of the ways to select a suitable target audience is to identify the specific needs of a particular group. For instance, if the group's needs are beauty products and your niche sells skincare products, the niche is suitable for your business. Marketing in sync with the group's niche is one of the efficient ways to make your business flourish.
If your product is general, like food items that everyone eats or a body lotion a person of any skin type can apply, you don't need to do much research.
43. User Interface and User Experience (UI/UX)
User Interface or UI refers to how human-computer interactions take place. The mediums of this interaction can be the mouse, keyboard, and screens of all electronic devices. It also tells us about how the user interacts and engages with an application or a website.
User eXperience or UX refers to the visitor's experience on your website. It is about how easy or difficult they find accessing the website. It is more on the engaging and aesthetic side of the website.
UI and UX often interchange since both are responsible for the excellent or lousy visitor experience on a website. To increase user engagement, you must enhance both the UI and UX of the website.
44. URL
URL is short for the term Uniform Resource Locator. A URL is the unique address of a page on the internet. It tells the browser where and how to retrieve a resource. It consists of multiple parts.
Take example of the URL "https://www.squeezegrowth.com/best-mind-mapping-software/"
Protocol: "https://"
Domain name: "squeezegrowth.com"
Path: "/"
Page: "best-mind-mapping-software"
An optimized URL is one of the critical factors for boosting SEO of web pages. An optimized URL:
Describes the content of the page
Uses keywords
Are short and user-friendly
Has lowercase letters
Use hyphens to separate the words
45. Website Analytics
Website analytics is the tracking, analysis, and reporting of website data. It visualizes and quantifies a website's performance. This process gives you a data-driven environment and encourages you to improve your website to drive better results.
You will be aware of user behavior through website analytics and eventually design your marketing campaigns user-friendly. Additionally, you can enhance your website user experience and increase your conversion rate by getting insights into your website.
You can get the various types of data from web analytics:
User profile
User behavior
Campaign performance
Page attributes
Technical data
Takeaway
Digital marketing has become an inevitable part of businesses.
If you want to make the most of the opportunities the digital world provides, keep in mind these digital marketing terms and apply them to action, and enjoy the results!