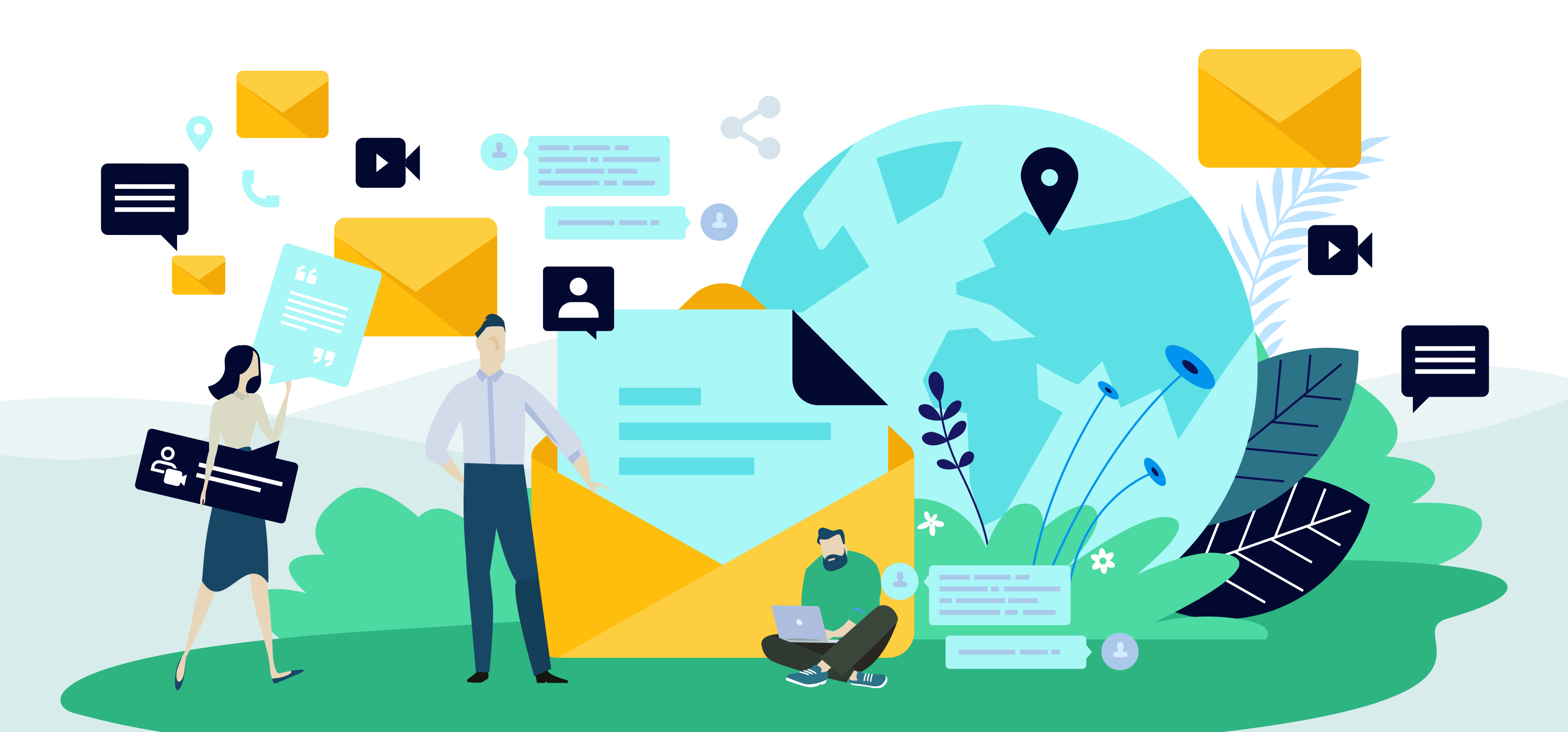 Email marketing is one of the most profitable marketing channels.
I'd wager it is the most profitable inbound marketing channel. 
As a blogger, you can also integrate email marketing with your blog. And it can surely help you make more money online.
But what exactly is email marketing and how does it work? How you as a blogger can get better at it?
Most importantly, why you should be practicing email marketing even if your online business is at an early stage.
In this article, this is what we are going to uncover. I'll help you understand the basics of email marketing and everything you need to know as a blogger.
Email Marketing is a way to reach customers through email communication. It is a form of inbound marketing, but it is more direct. 
Think of asking a friend to buy a pair of Jordan Shoes via sharing a link through email. That's what email marketing is all about.
Email Marketing Terms you should know
Email Marketing Service, Platform, or Software.
The most important thing you need to get started with email marketing is an Email Marketing Service. Or EMS.
You may call it an email marketing service, software, or platform. It means the same.
An email marketing service is a web-based application that allows you to store leads. You store the email leads and manage them by putting them on a list called a mailing list.
Using an EMS is the only possible way to send emails to the masses. It enables you to store and nurture millions of people and potential customers. Whenever you want, you can send them all a marketing email at once.
These email marketing services allow you to send emails, create and set autoresponders that send emails, automatically, create campaigns triggered by subscribers' actions, and a lot more. There are many powerful email marketing services that can help you achieve success and solve the complex tasks of your business.
Some of the popular beginner-friendly email marketing services are:
ConvertKit
GetResponse
Aweber
BenchMark
MailChimp
MailerLite
These email marketing services store your leads and deliver your emails on your behalf. You can't start email marketing without an EMS. 
Email List or Mailing List
Email lists, also known as Mailing Lists, are a collection of your email subscribers. A-list stores the lead captured through different platforms such as your blog.
One email marketing service can allow you to create multiple email lists. These lists are unique and can store different emails.
The idea behind creating multiple email lists is to capture leads and categorize them accordingly. Let's say you name an email list A and another B. 
Now the leads from website A have been stored in list A. These people are interested in getting free service. Then, the leads from website B are stored in list B. These people are already provided with the free Service and are potential customers.
By creating multiple email lists inside the same Email Marketing Service, you can save on cost and easily manage the entire sales automation. This also allows you to create multiple automation workflows.
Email Marketing Automation
Automation isn't as complex as it may seem. Email marketing automation consists of multiple stages, but autoresponders are its backbone. Let's understand autoresponders first.
An email autoresponder is a logical system that allows you to send emails automatically. You can set an autoresponder to send emails by sensing multiple triggers. Common triggers are when a new lead is captured when someone visits your website or makes a purchase from your eCommerce site.
The triggers can be more complex if you need them.
Another important part of automation is workflow. The workflow is a graphical representation of how your autoresponders are sent based on previous automation and lead behavior.
For example, you might want to send an invoice as soon as someone makes a purchase from your online store. But then, you also want to make sure they are getting a quick start guide on how to use their product. 
You can make this possible by using logical triggers, retargeting, and drip campaigns. As a beginner, you don't need them. But as soon as you start growing, you'll realize these features are great leverages.
Subscribers
The leads you collect in your email list are called Subscribers. As the name suggests, these leads are called subscribers because they subscribe to your email list by choice. That's the basic fundamentals of inbound marketing. Customers are attracted to you and your business; you don't push yourself on them.
Why Email Marketing Is SO Important
Email marketing allows you a swift way of reaching potential customers and clients directly through their inboxes.
About 2 billion people use Gmail. All of them are potential customers. 
Email marketing has the best Return on Investment ratio compared to any other inbound marketing channel. If you compare to outbound marketing channels, email marketing is still number 2, behind video marketing.
Try to remember, how many times have you checked your emails last day?
Chances are more than 10 times and you do it regularly.
People keep checking their email inbox as often as they do on social media. 
This is even higher among people doing corporate jobs and business owners. They just won't stop checking their emails.
And this is why email marketing is so effective.
You see, you are using emails as a form of getting leads. It could be your product or your service that you can offer directly to the potential customer, without needing any mediator. 
Social media advertisements are good, but their costs are high and there is no certainty your prospects will see the advertisement. Most social network users develop a tendency towards Ad blindness.
This means fewer and fewer people are paying attention to your ads. In social media marketing, this means you're paying money for ads your customer won't even notice.
Whereas in email marketing, the customer is eager to open their emails. Usually. If your lead is generated through inbound marketing and you do not email spam, your subscribers will open your emails.
When they do open your emails, your chances of getting a click to your landing page and generating a conversion are much higher. 
It's cost-efficient as well. Email Marketing requires very little to sometimes, no investment at all. 
For beginners who are just starting, there are free email marketing services such as:
Moosend
MailerLite

 

ConvertKit
Aweber
You can choose from any of the above-mentioned EMS and you'll get access to autoresponders and automation workflows for free. You can store 1000 – 2000 emails for free depending on which EMS you choose.
Email Marketing is also a great way to get repeat customers and website visitors. Most people will never visit your website again. 
That means you've only one chance to convert them into a customer. 
With email marketing, you can turn cold visitors into hot buyers. Very similarly, you can make a one-time visitor a repeating fan of your website or business.
Nurturing your subscribers and making them feel special is the key to profitable marketing. And with direct emails, it is much more convenient.
How To Collect Emails
Growing your email list is not easy, but once you get good at it and understand what makes people convert into subscribers, you can grow your list faster. 
To collect emails from your website, you'll need an OptinMonster form. An option form is a subscription form that allows your visitor to enter their emails to subscribe to your mailing list.
But conventional optin forms that say, " subscribe to our email newsletter" don't work anymore. 
People need a solid reason to give you access to their inbox. After all, there are hundreds of thousands of other businesses trying to get their emails.
That's why you need to use something called a lead magnet or an ethical bribe.
A lead magnet or an ethical bribe is an incentive you offer in exchange for your visitor's email and other details. 
It is a valuable form of content that entices people to give you their email in exchange. 
A lead magnet could be anything from a downloadable ebook or a free service. Anything that people need and are excited about is a potential lead magnet.
To create optin forms you'll need a form builder or lead generation tool. Check out this list of popular lead generation tools to get started.
My recommendation would be to get started with Thrive Leads if you have a WordPress blog. Thrive Leads is a powerful lead generation plugin that can create minimal to advanced optin forms. So when you start growing, you won't have to switch tools.
If you own an e-commerce store, try Privy or SleekNote. You're lucky you're reading this article because these tools aren't as popular as others. But their performance and features are quite amazing compared to their pricing.
There are different formats of optin forms:
Popup
Slide in
Welcome Matt
Inline

 

Header bars

 

Full-screen popups
Depending on your requirements and personal preferences, you can choose from one of the many different formats of optin forms.
I'd recommend sticking with the slide optin forms in the beginning. They are user-friendly and won't interfere with your visitors.
To get even more conversions, try using full-screen popups or welcome mats. These optin forms cover the whole screen and result in maximum conversion.
You'll need to get your ethical bribe, or lead magnet get done right. It has to have an engaging title, something catchy and persuasive. 
Your ethical bribe should look attractive and have to offer unique and solid value to get more attention. 
As you progress you'll also learn there are multiple kinds of triggers that control when these optin forms appear and who sees them. Some of the popular optin form triggers are:
Onclick

Exit intent 

Scroll percentage

 

Visitor behavior
Device sensing

 

Geotargeting

 

Page-level

 
There could be even more triggers depending on the lead generation tool you're using. 
Some of the popular lead generation tools are:
Hellobar
OptinMonster
Bloom WordPress plugin
Thrive Leads WordPress plugin
HubSpot CRM
SleekNote
Keap

 
The most important step before choosing the best lead generation tool is understanding your requirement. If you need an affordable tool, it's best to start with Hellobar. The premium plan is very affordable and it has every feature under the sun.  You won't need another tool like that anytime soon.
For an eCommerce website or an SaaS product website, tools like HubSpot, Keap, and Privy are extremely useful.
On the other hand, if you want the best and the most powerful lead generation tool, try SleekNote, or if you've got a WordPress website, try Thrive Leads. 
Conclusion
Congratulations – you've learned the email marketing basics.
Building an email list takes time, but it is worth it.
You'll have an asset that will help you generate recurring revenue from your current and future offerings.