By optimizing your content for better search engine visibility, you can bring in more visitors and increase your website's overall traffic. 
In this article, we will discuss the best content SEO software and tools.
We will also uncover some of their best features that you can use for optimal results. 
So whether you are just starting with content creation or you are looking for new and improved ways to optimize your content to boost SEO traffic, you will find a tool below to help you with your efforts.
What is content SEO and why is it important? 
Content SEO refers to optimizing your website's content so that it is best visible on search engines, which helps increase the overall traffic of the site. 
Search engine optimization, or SEO for short, has always been a major factor in how well a website can do. 
With Google setting up strict policies on its indexing algorithm and heavily cracking down on websites with poor content, now is the best time to improve your site's SEO rating if it isn't already doing great. 
There are many options available for those who are new to content SEO as well as those looking for new ways to optimize their existing web pages even further. 
After reading this article, you will have all the information you need about some great tools and best practices for content SEO.
StoryChief is a content planning, social media, and SEO copywriting tool that helps you create top-notch content for your website.
One of the best things about StoryChief is its focus on SEO copywriting. 
The tool gives you tips on how to optimize your articles for better search engine ranking, helping you get more traffic from Google and other search engines.
With StoryChief, you can create content campaigns, content calendars, content collaboration, content data management, and much more.
They also come with an advanced analytics and reporting dashboard so that you get actionable advice on how your content is performing across different mediums.
In short, StoryChief is an all-in-one content marketing tool embedded with smart SEO copywriting characteristics to help you plan and execute epic content.
Features of StoryChief
Create best-quality content with a best-practice checker
Get the best SEO advice on how to optimize your articles for better ranking
Find best-performing content on social media with just a few clicks
Pricing
Sign up for their free plan and start using StoryChief. For premium features, their plans are $69/month or $199/month.
MarketMuse is an advanced AI content editor packed with a suite of tools like Inventory (content ideas) and Optimize (content optimization) to help you analyze and write content that stands a better chance of ranking higher.
Using their Inventory tool, for example, you can uncover metrics like Authority, Personalized Difficult Scores, Organic Traffic Value, User Intent, etc.
Similarly, their Research feature researches a topic from every angle and distills all the related topics around it thanks to their AI.
You can even find internal linking opportunities to build authority around similar topics.
Their text editor acts as a mentor that guides you in real-time regarding your topic and assists you in reaching the right content score.
Key Features of MarketMuse
Find the best internal linking opportunities to build authority around a niche
Collaborate easily by assigning topics to your team within the app dashboard
Inventory feature to track important metrics for each topic
AI-powered text editor to guide you in writing great content
Pricing
Their free plan allows you to search for 15 queries per month. If you require more, feel free to look at any of their two plans:
Standard ($149/month)
Premium ($999/month)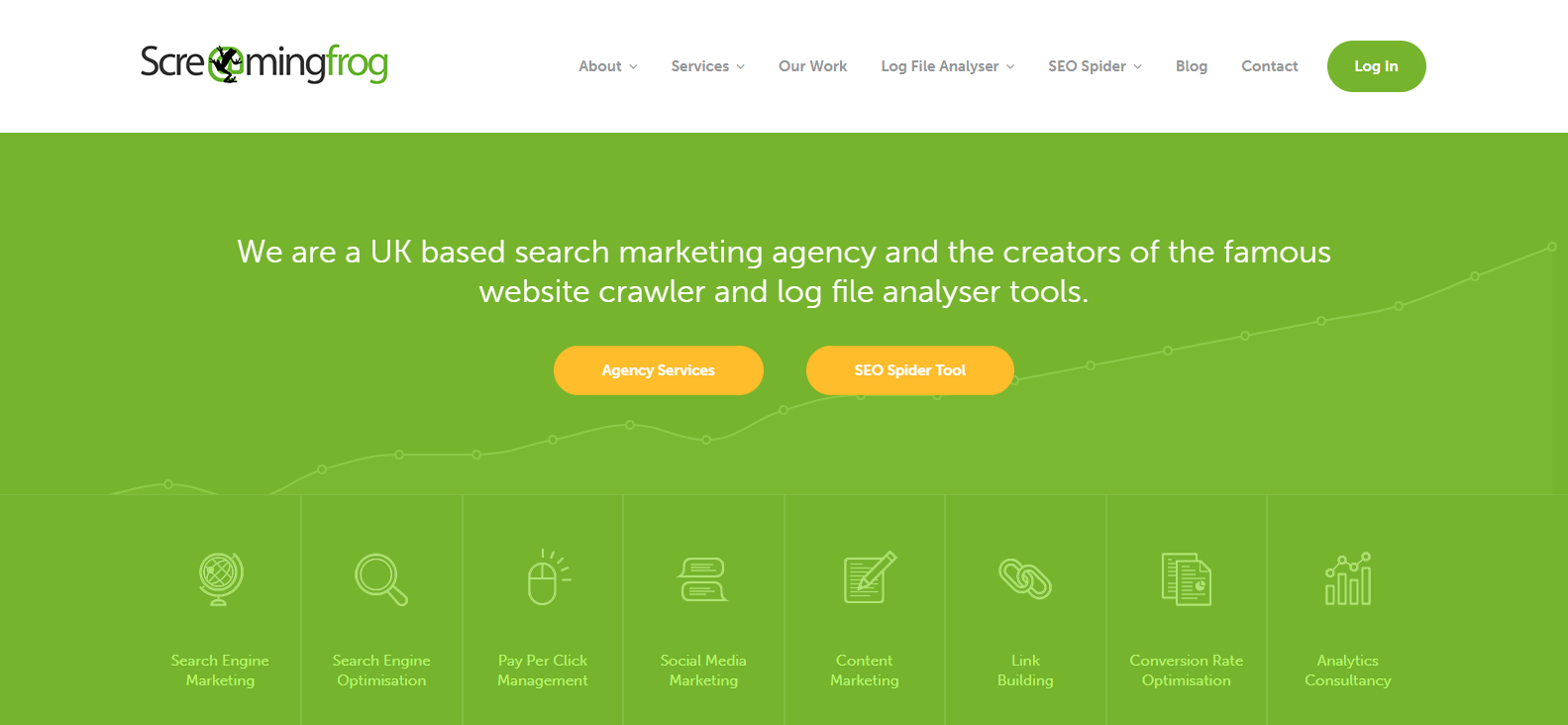 Screaming Frog is an optimization tool that offers plenty of useful features to help you optimize your content.
It crawls and analyzes websites, highlighting any errors or best practices that can be used to improve your site.
It will not only identify errors and best practices such as incorrect redirections and duplicate title tags, but it can also highlight the best keywords.
Because of this, you'll be able to increase traffic and conversions by creating more relevant content with the best keywords for your target audience.
Screaming Frog allows you to crawl websites and analyze them in detail, a best-practice SEO software that enables you to better improve your site.
Besides technical SEO, Screaming Frog thrives on creating a content strategy, defining the audience persona, brainstorming and content ideation, content production, content outreach, and the list goes on and on.
Key Features of Screaming Frog
Identify best performing web pages and keywords for your website
Rate best practices such as title tags, meta descriptions, and redirections so you can implement the best strategies
Export best-performing keywords to be used in your next SEO campaign
There isn't any SEO crawler more powerful than Screaming Frog, period.
Pricing
Screaming Frog offers a forever free plan with limited features. Their Paid Version costs around $201/year with unlimited usage.

Readable is an easy-to-use content assistant that allows you to optimize your content for better ranking.
Using Readable, you can assess your content and outline how best to improve it overall, all without having any coding or technical skills.
They call themselves the most powerful readability apps. And with all the content assistant features that it provides, I believe it can be quite true.
Their Website Scanning feature easily scans and audits your whole website for all the readability metrics. It helps you find texts that are difficult to read and provides improvement suggestions.
Similarly, with one click, you can analyze the content of any specific URL or file.
This was just the tip of the iceberg. Their advanced features such as email scoring give a certain score to our emails to help you analyze the quality based on those numbers.
Key Features of Readable
Identify best practices using their checklists to score your content
Scoring text for readability, sentence structure, topic interest, and other best practices
Send compelling emails based on their email scoring metric
Easily integrate with some of your favorite tools (Like Slack and Dropbox).
Pricing
Readable has a 14-day free trial on their ContentPro plan. After that, you can upgrade to their premium plan for $8/month.
One of the best content SEO tools is undoubtedly Google Search Console.
Google Search Console is a free service offered by Google that helps website owners track their site's performance in Google search results. It also provides tools and guidance to help improve your site's ranking in Google search results.
It provides you with detailed information about all the top-level keywords that are driving traffic to your site. 
And best of all, it allows you to track best-performing content, broken links, crawl errors, spam reports, and many more.
One of the most important features of Google Search Console is its ability to help you optimize your site's content for better search engine ranking. 
The "Search Traffic" section of the console provides information on how your site's content is performing in Google search results. You can use this information to make changes to your content that will help improve its ranking.
Key Features of Google Search Console
Identify best-performing pages based on the highest volume keywords driving traffic to your website
Monitor best-performing pages using best metrics describing their performance in search engine results in pages (SERP)
Track best keyword positions and best-performing pages in Google Search Results
Pricing
Google Search Console for websites is absolutely free to use.
KWFinder is an easy-to-use keyword research and SEO analysis tool by Mangools.
It uses a powerful algorithm to provide you with hundreds of the best keyword ideas related to your topic. 
For some topics, even the best long-tail keywords are listed that are not even in Google's keyword planner.
It also helps you to find high-volume keywords with low difficulty, so it becomes easy for you to create the best content.
Also, you get access to metrics like monthly searches, local monthly searches, CPC, and Competition so you can easily analyze keywords for their profitability.
Another great feature of KWFinder is its SERP analysis. You can analyze the top 10 search results on Google and inf opportunities to create new content.
Key Features of KWFinder
Best long-tail keywords related to your topic are listed using a powerful algorithm.
Find best keywords that how much traffic it will get on best commercial terms
Track best positions of websites in Google SERPs with best-performing keywords
Get the best keywords suggestions based on your seed keyword
Pricing
KWFinder provides a 10-day free trial. Then, you can choose from either of their three premium plans:
Mangools Basic ($49/month)
Mangools Premium ($69/month)
Mangools Agency ($129/month)
BuzzStream is a comprehensive email outreach tool that comes with features to build profound relationships with influencers and bloggers for your business.
You can find contact information for webmasters and influencers using their extensive database.
BuzzStream allows you to monitor the backlinks that are not only beneficial for your SEO efforts but also best for your branding.
You can either choose to track the backlinks by manually clicking on the Backlink button or just use one of their features that sends email outreach at the time you specify to help you build phenomenal relationships with influencers and webmasters for higher SERPs ranking.
Best Features of BuzzStream
Promote your content to creators of similar industries
Develop awesome relationships with influencers and bloggers by sending personalized emails and follow-ups
Get contact information of webmasters and email outreach lists
Get more authentic traffic and links to your site
Pricing
You can use BuzzStream for free for 14-days. Then, you can upgrade to their premium plan for individuals (Starter Plan) which costs $24/month.
SEMrush SEO Writing Assistant is another great tool that will help you with the best suggestions on how to structure your article for readers as well as for SEO.
This feature uses semantic keyword research technology to provide related keywords so you can create the best-suited articles.
Another great feature of SEMrush is its Content Optimization feature. 
You can find underserved keywords for your content with best-performing metrics like CPC, Compound Score, and more. 
In a nutshell, it helps you in making your content more SEO-friendly. Improves your content readability; helps you maintain a consistent tone of voice throughout the article, and lastly, makes sure that your article is optimized enough to beat your completion.
Key Features of SEMrush SEO Writing Assistant
Find best keywords using semantic keyword research technology
Get suggestions on tools to use for high SEO results
Get metrics like CPC and Compound Score to measure the performance of keywords
Get related keywords based on your seed keyword to rank for multiple keywords on the web
Pricing
You can use the free version of SEMrush with restricted use. Then, you can switch to the premium plans:
SEMrush Pro ($119.95/month)
SEMrush Guru ($229.95/month)
SEMrush Business ($449.95/month)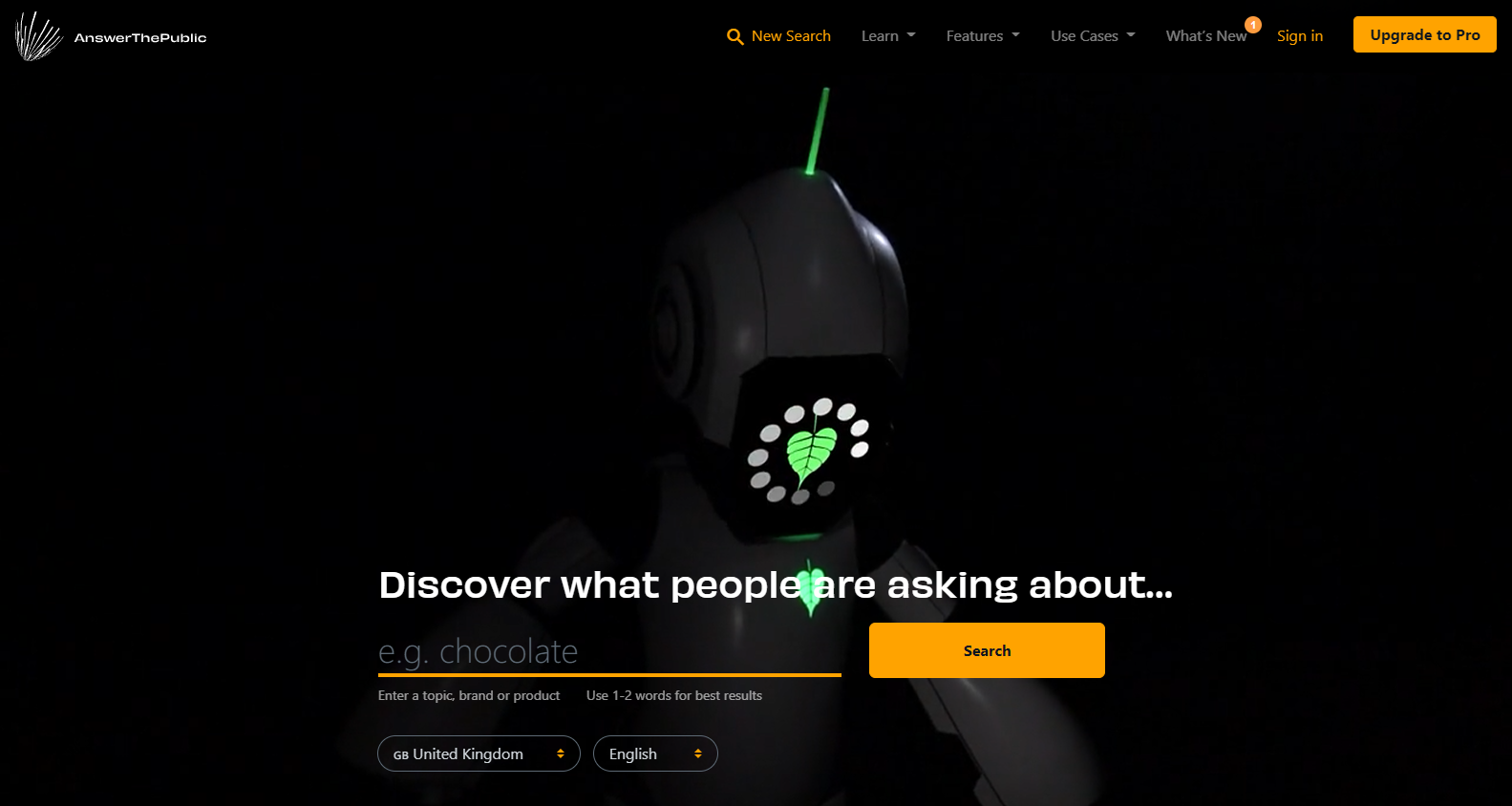 AnswerThePublic is a freemium tool for researching content ideas.
First, you type in a word and AnswerThePublic will show you the top questions about that topic. You can then go to any of those questions and look at what other words people have been searching for when asking it.
Enter a keyword or phrase, and the tool will generate automatically related keywords that you can use to write articles around.
It generates questions that people are searching online, helping you come up with epic content ideas.
For every keyword that you put in, AnswerThePublic comes up with a bunch of mostly asked questions, prepositions, comparisons, keywords in alphabetical order, and the related keywords.
You can easily export the list of all the keywords at the click of a button. 
Features of AnswerThePublic
Get quality long-tail keywords and best content ideas in the form of questions
Export the list of any keywords easily
Come up with highly useful information as well as transactional queries
Pricing
The free version of AnswerThePublic allows you to search for 3 queries per day. Their basic monthly premium plans cost $99.
Buzzsumo is great for finding the best content in your industry that is performing well for specific keywords.
You can find the most influential authors who discuss topics related to your niche by searching for keywords of your industry on Buzzsumo.
Not only can you use it for market research, but also to learn about the best influencers in specific industries by seeing their best-performing content and best topics. 
You can even use influencers' content as a source for the best ideas to generate new articles.
Once you find the desired articles, make sure to check their social performance on platforms like Pinterest and Twitter. 
Key Features of BuzzSumo
Find the best influencers in your industry by analyzing evergreen articles on the web
Understand user's behavior with insights into their interests and engagement with posts
Identify renowned authors within your industry, view topics they discuss, and replicate them in your business
Pricing
Buzzsumo offers a free plan with 10 free searches per month and also offers a 30-day free trial on the premium plans. Afterward, you can choose from their 3 paid plans:
Pro ($99/month)
Plus ($179/month)
Large ($299/month)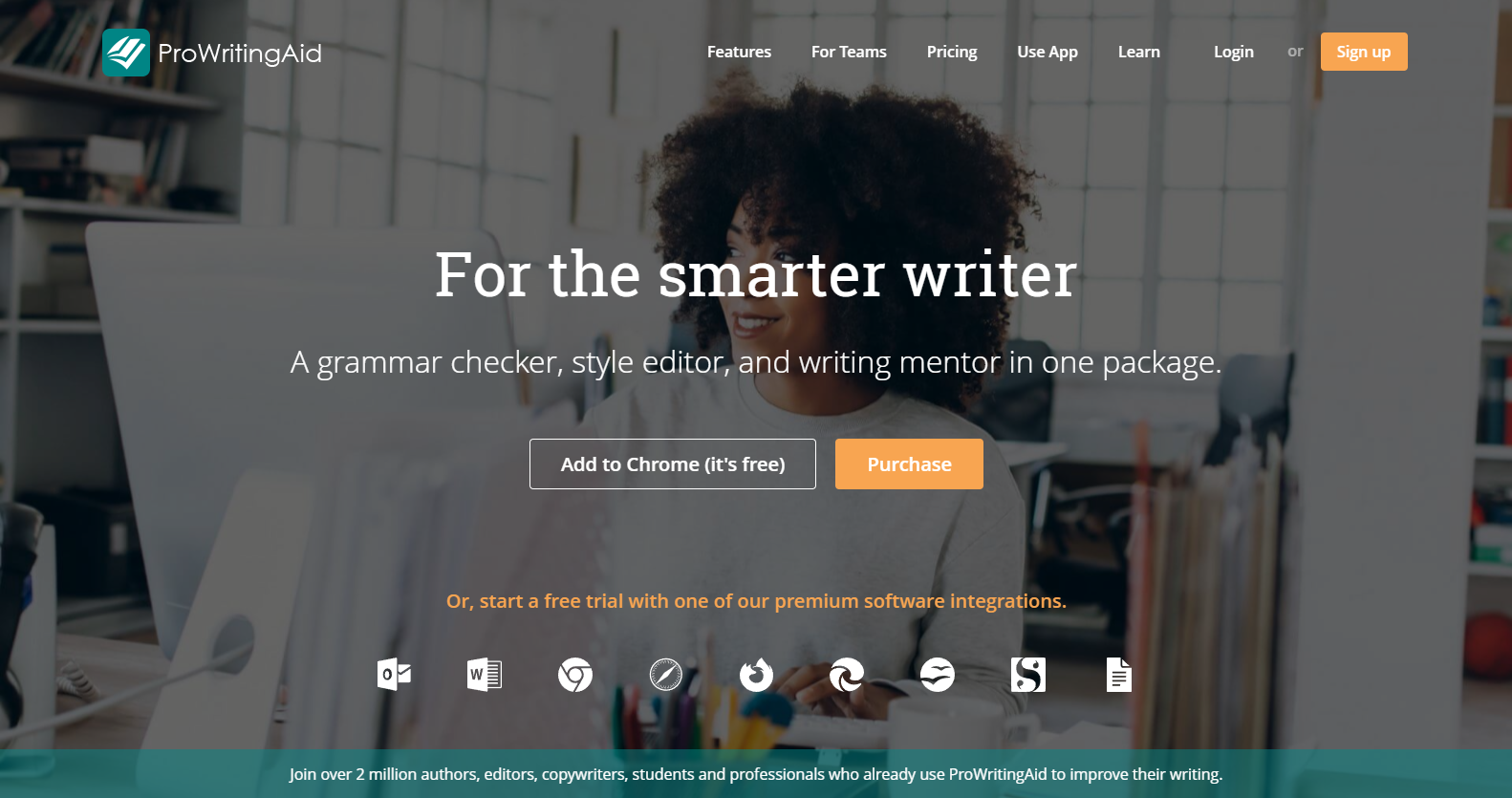 ProWritingAid is a super useful software for writers who want to check their content's readability and help avoid grammar mistakes.
It can run free checks on your text to find issues related to English grammar as well as style concerns. 
You can also use tools like plagiarism checker, translation checker, etc. with ProWritingAid.
ProWritingAid also works great as a proofreading tool that polishes your writing further to make sure that the article is not only good in the eyes of the readers but also for the search engines.
It also comes with a free chrome extension to enhance your writing across the web.
One of the features that sets ProWritingAid apart from the rest is their Writing Reports. 
It smartly analyses each word of your content and gives suggestions based on previously used styles, pronouns, transitions, alliteration, overused words, etc.
Features of ProWritingAid
Grammar checker and plagiarism checker tools to avoid mistakes in content writing.
Get suggestions on how to improve your text before you publish it
Built-in word explorer to find new words on the go
In-depth writing reports make you a smarter writer
Pricing
ProWritingAid offers a forever-free plan. To unleash the full potential of the app, check out their premium plan that starts at $14/month.
SimilarWeb is an all-in-one market research software that lets you uncover how your competitors are performing to understand the direction in which your industry is going.
One of the best features of SimilarWeb is their best-performing countries section.
This feature tells you which country's audience is engaging with your competitors' content, as well as the best time of day and best days for publishing content that works well internationally.
You also get best performing URLs, traffic sources, best content formats for your competitors' audience, best pages on their site, and best topics.
With SimilarWeb, you can also discover related websites to any site that you want to analyze. This unlocks the possibility to discover new keywords from different sites.
Features of SimilarWeb
Find best-performing websites (including competitors)
Uncover top audiences on any website
Get a thorough estimate of the near estimate monthly traffic of any website
Pricing
SimilarWeb offers a free plan and also a free chrome extension. Their premium Digital Marketing Intelligence package starts from $249/month.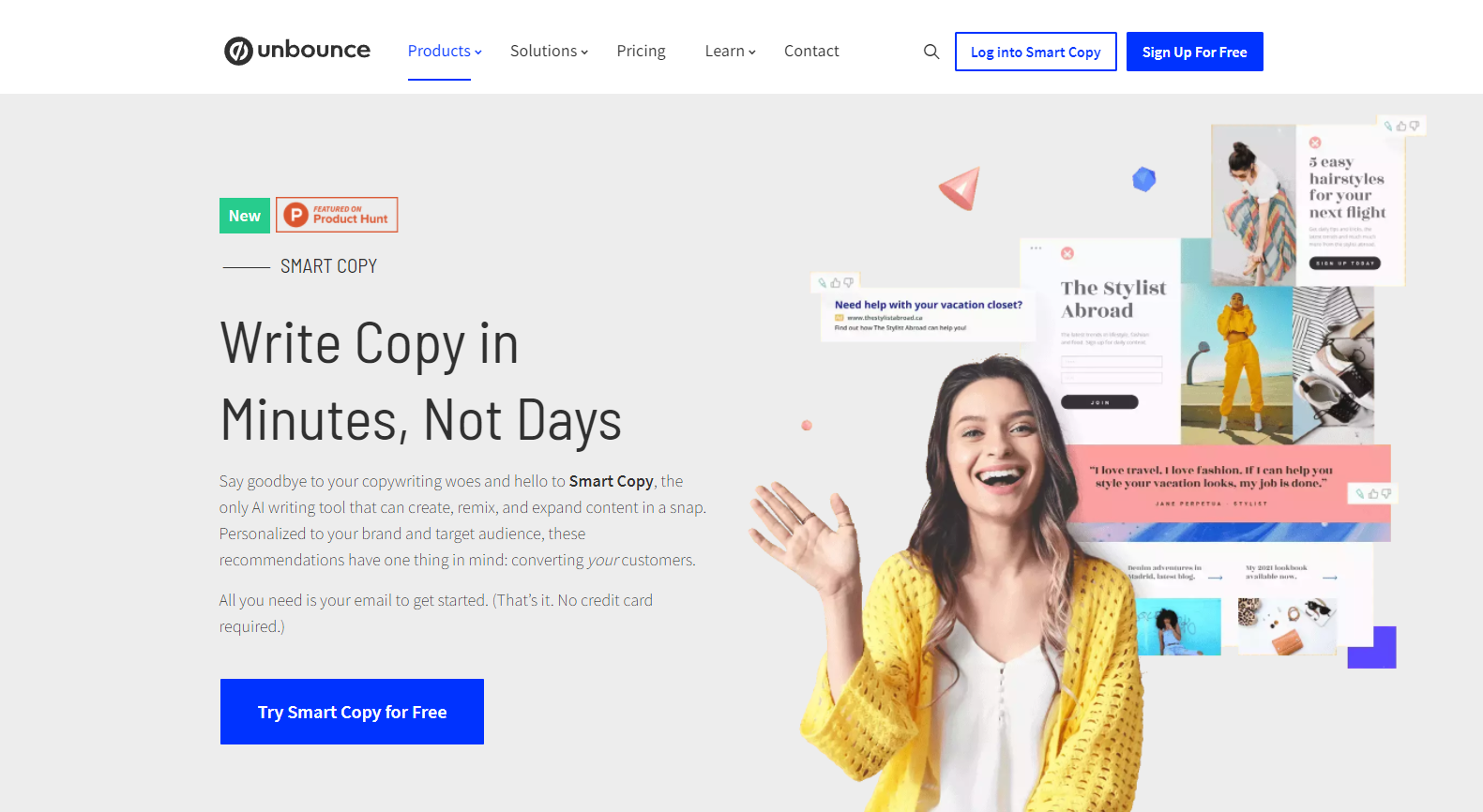 Smart Copy is an AI content optimization tool by Unbounce. 
It helps you create high-quality content, optimized for search engines. 
This tool provides plenty of useful features to help you optimize your website, including the ability to track analytics, well-converted templates and best CTAs. 
By following best practices when using Smart Copy, you can significantly increase your traffic and improve your conversion rate.
It analyzes your original content and then creates a copy that's as close to the original as possible, while also including the necessary keywords and tags to help improve your ranking.
With Smart Copy, you can rest assured that your content will be seen by more people, resulting in more traffic and conversions.
Key Features of SmartCopy
Easily analyze best-performing web pages in seconds
Increase conversions by testing new content on your best pages
Build simple Squeeze Pages and Landing Pages without writing any code
Pricing
The Starter version of SmartCopy is free. The Growth plan costs $49/month.
Google Trends is best for analyzing the trendy keywords that you can use to create fresh content that ranks relatively faster.
This tool gives you the best suggestions on how to analyze topics based on best indicators like Related searches, trend analysis, breakouts, and more.
To make sure that your website's content is best optimized for search engine ranking, it's important to use tools that can help you measure and analyze your content's performance. 
This is where Google Trends helps. It allows you to see how popular specific keywords and phrases are over time. 
This information can be helpful in determining which keywords to focus on in your content, as well as in spotting any trends or changes that may be happening in your industry.
Along with this, you can use their compare feature to compare search queries based on countries, time, etc.
Key Features of Google Trends
Discover hot keywords for search engine ranking
Find reliable topics based on indicators like search trends over time, related searches, and more
Compare topics with each other to find the best-performing ones
Pricing
Google Trends is available as a free tool.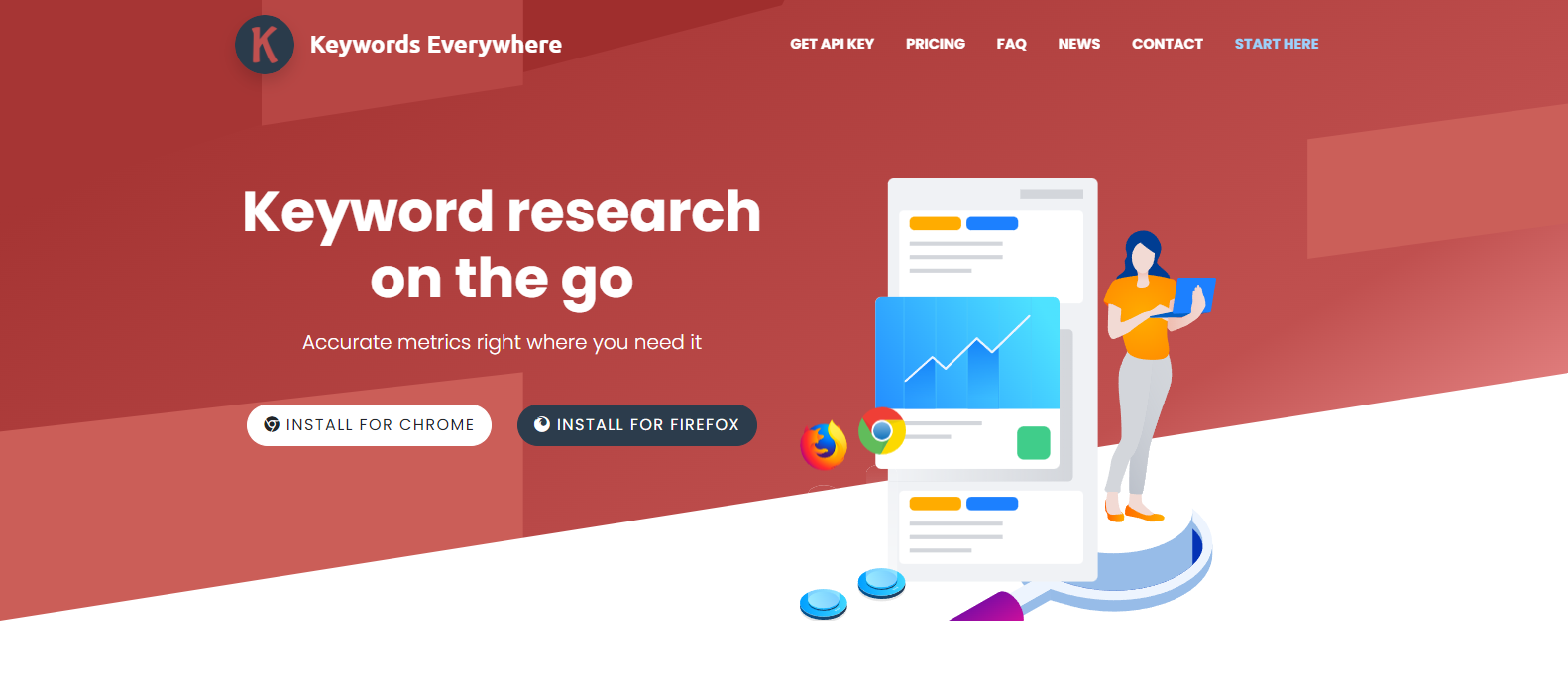 Keywords Everywhere is a chrome extension for finding lucrative keywords using their SERP analysis tool.
It helps in keyword research, niche identification, competitor analysis, and best-performing content analysis.
With Keywords Everywhere, you can find profitable keywords by simply browsing the internet with their SERP analysis tool embedded in your code.
Simply install their chrome extension, and Keywords Everywhere will provide essential data like the search volume, competition, cost, per click, historical trend, etc, for any keyword out there.
Features of Keywords Everywhere
Perform keyword research while surfing the search engines results pages
Come up with great content ideas instantly
Get reliable data on search volume, CPC, and more for every keyword that you type in Google
Pricing
Keywords Everywhere has a free plan. Their premium plan starts at $10 where you get 100,000 credits. Here, 1 credit equals searching for one keyword.
Wrapping Up
So, there you have it!
While some of these tools come with a price tag, they're all worth their weight regarding helping you create high-quality content that ranks well in search engines.
For best results, we recommend using a combination of these tools.
For example, you can use MarketMuse to plan the best-quality content.
AnswerThePublic for generating the best content ideas in the form of questions.
Keywords Everywhere for uncovering the SEO keywords that are high search volume yet low in competition. 
So what are you waiting for?  
Try out these tools and see your website ranking shoot-up in search engines.