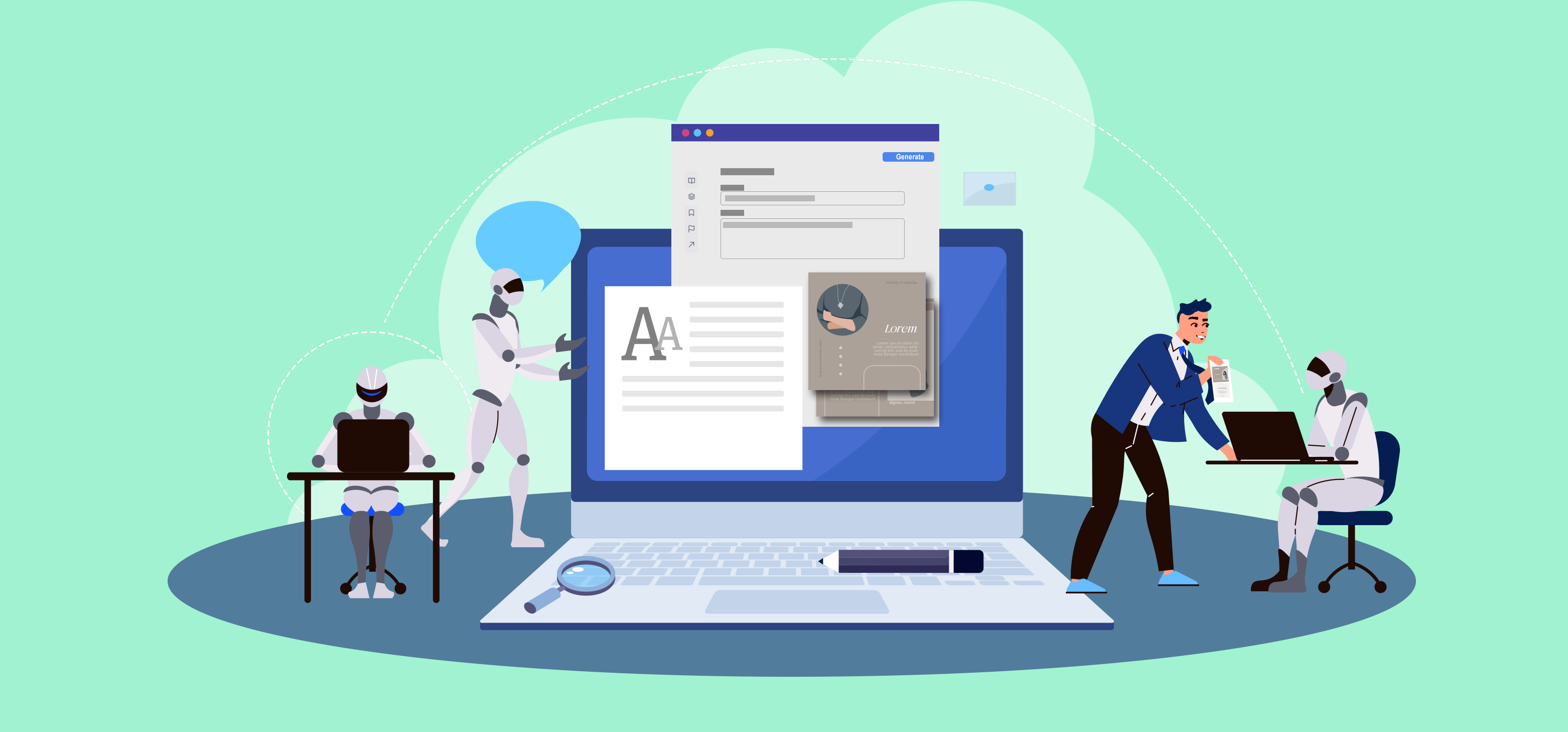 Content marketing is essential to growing your online business.
However, creating value-adding content at a scale is no easy task. It requires a lot of time and effort.
Hence, businesses are turning to A.I. text generators to save time and effort they can't afford to give to content marketing.
A.I. writing tools do most of the heavy lifting, cutting down on your planning phase, and allowing you to draft engaging sales copy and articles with ease.
Here, I have put together the nine best A.I. writing software that offers multiple features to meet your content requirements.
Let me first share a brief overview of it to give you an idea of how it works.
How Does an A.I. Content Generator Work?
A.I. content generators use artificial intelligence to predict what text drives more traffic and extract that content based on a calculated guess.
It goes through thousands of published data and finds a repetitive pattern relevant to your query to generate the text.
So, when you type in Digital Marketing, it produces topics, keywords, sentences, and paragraphs that closely match your query.
Today, you'll find tons of text generators, offering a diverse range of functions from as small as an autocorrect dictionary to full-fledged articles. Some even provide auto-generated poetry for you, as well.
Does It Generate Human-Like Content?
Yes.
A.I. writers use a machine learning model called GPT-3 to understand our language and mimic it to produce human-like content. It's a powerful tech that allows the tool to think like a human and generate copy nearly as good as the real one.
That said, while the A.I. writer does deliver content that is as relevant as possible, it still requires your input to fine-tune the draft.
You have to understand, that A.I. is mainly an algorithm and relies on facts and data, not emotions or subtle suggestions.
Irrespective of how efficient it is, it's not equipped to imitate a certain writing style or a particular sentence structure. Ultimately, you would still need to edit the content to personalize it to your satisfaction.
Why Use an A.I. Writing Tool, then?
Content marketing is one of the top strategies that deliver you three times more leads as compared to traditional advertising. But it's also one of the most challenging and time-consuming projects that nearly 65% of entrepreneurs struggle with.
A.I. writing software can help you continuously generate original content for both your social media channels and marketing campaigns. And while it may not replace a copywriter, it will give you a starting point if you're stuck on something or short of ideas.
What's more, it can be a great asset for non-experts who're clueless about how to write a sales copy or article.
82% of brands employ content marketing strategies to boost their lead numbers, and, remarkably enough, only 42% admit to being good at it.
How do you think the rest create content for their campaigns?
Listed below are the nine best A.I. writing tools most people prefer for their efficiency and powerful features.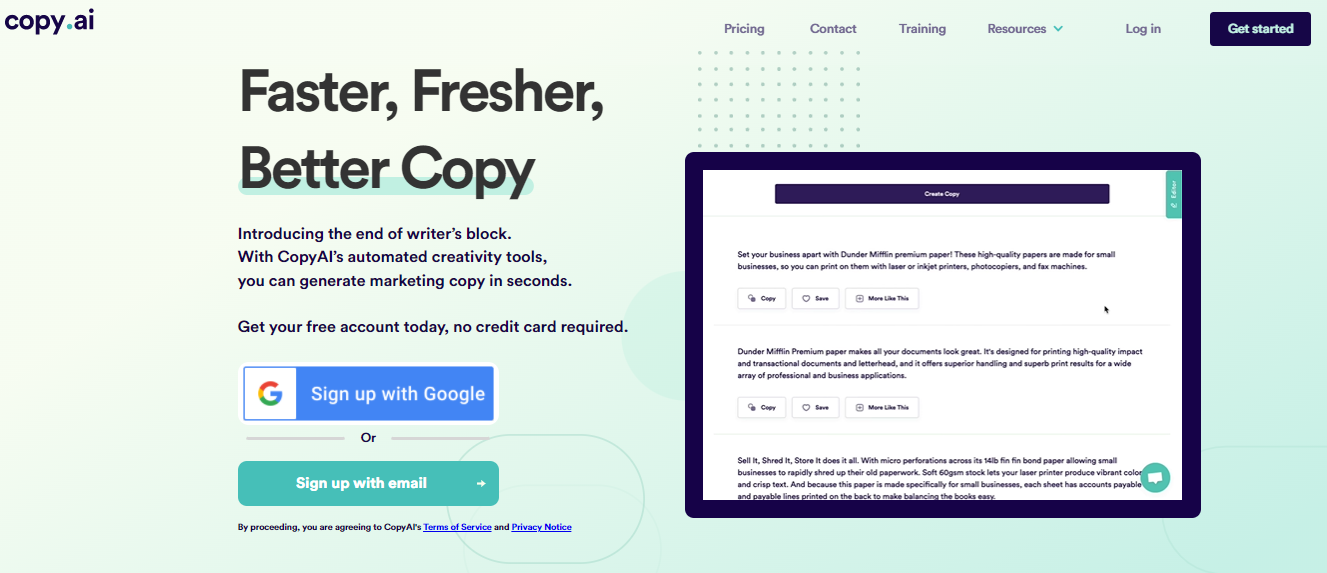 CopyAI offers a diverse range of both copywriting and editing features to generate persuasive sales copy for your brand. You merely need to provide a short description of what you want and it will produce multiple texts for you to pick the best content.
With CopyAI, you can create a description of your YouTube video, generate Instagram captions, get hero content for your landing page, and much more.
Additionally, you can use it for personal projects including, a cover letter, your bio, or short birthday messages.
It produces nearly human-like content and offers tone options to change the style of your text.
Key Features
More than 20 copy templates
Blog ideas generator
Brand tone feature
Community support
Pricing
CopyAI is free to use and provides 100 credits at no charge. To get unlimited credits, you may have to buy its Pro plan for $35 a month.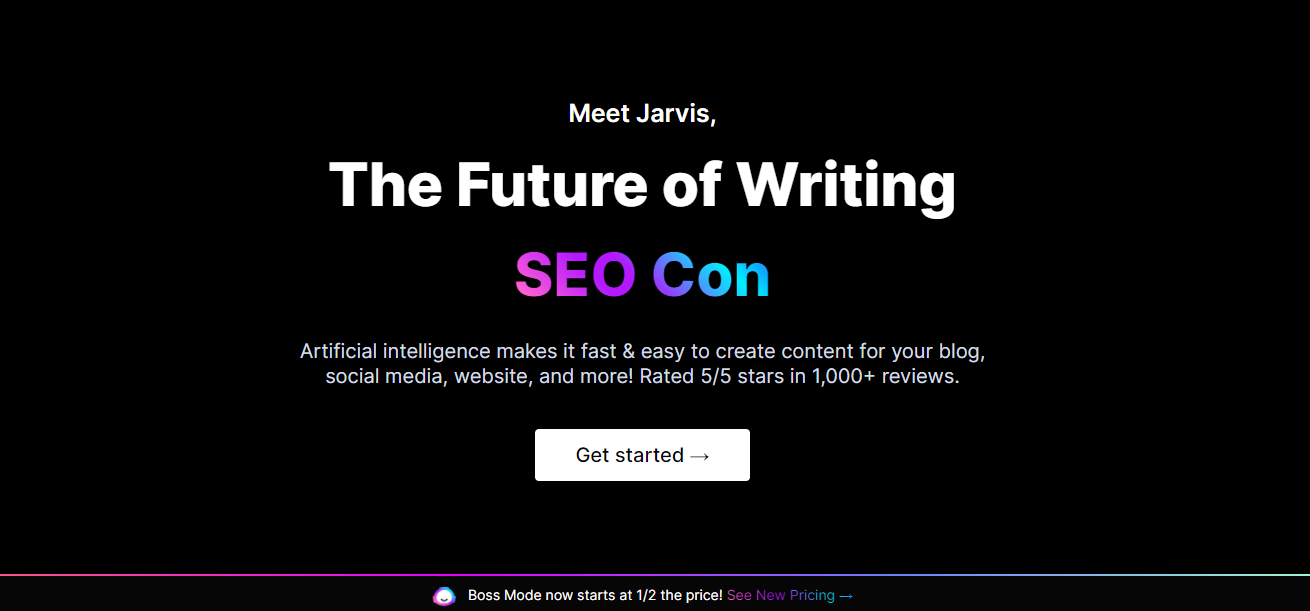 Jasper is one of the leading A.I. writing tools for its simple yet powerful features.
It is well known for drafting SEO articles and offers optimizing features to generate original content.
Recently, they upgraded their pro plan to a Boss Mode to help you create your article ten times faster.
The Boss Mode feature reads up to 3000 characters you've written in the Jasper editor and takes context from it to produce nearly accurate content. You can tell it to expand, summarize and lengthen the text as you see fit.
Additionally, you can use Grammarly directly in the editor to refine your blog.
Key Features
Both short and long-form content generation
Clean editor
Keyword option
Grammarly Integration
Multiple languages
Pricing
Jasper offers two plans for $29 to $59 a month. The starter plan is best for short-form content, while Boss Mode works well for long-form articles.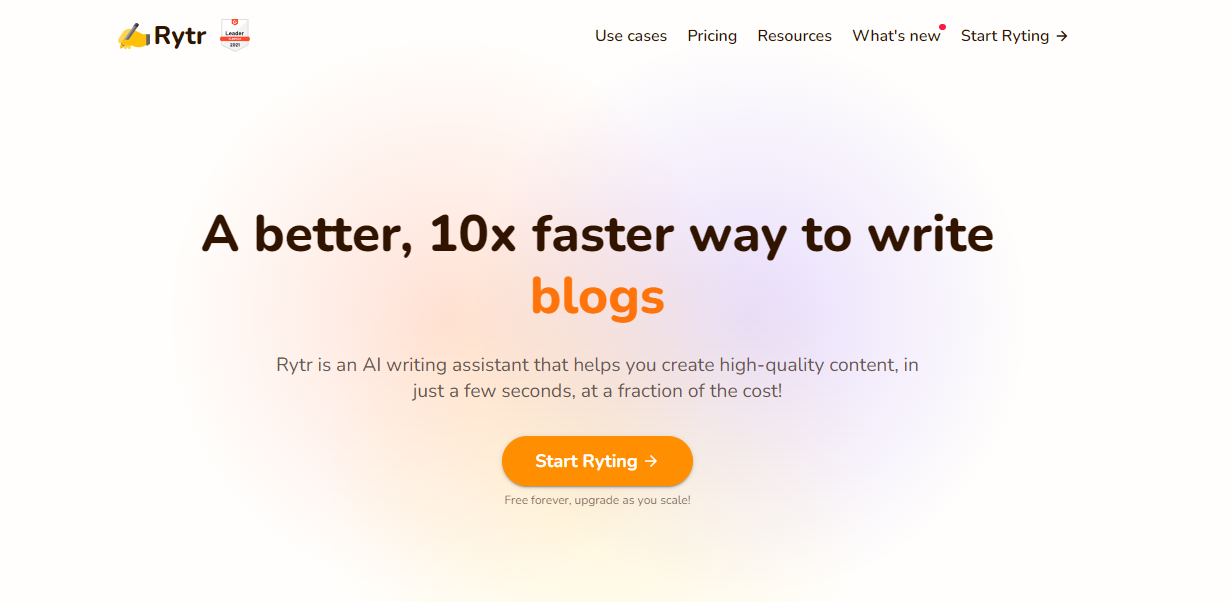 Rytr is incredibly easy to use and best for almost all types of content. You can create blog outlines, social media posts, email text, and even job descriptions.
It provides four basic variants to assess the content you want and generates the text accordingly.
You'll also find an advanced editor where you can paraphrase your headings, lengthen them into paragraphs, shorten the content, and check your text for plagiarism.
If you're looking for a user-friendly and affordable A.I. writing tool, go for Rytr.
Key Features
Marketing copy and blog generator
Over 25 templates, including SEO meta titles
Content tone feature
Web extension and multiple integration options
Pricing
Rytr has a saver plan for $9 and an unlimited plan for $29 a month. You can also customize your plan based on the number of words you produce monthly.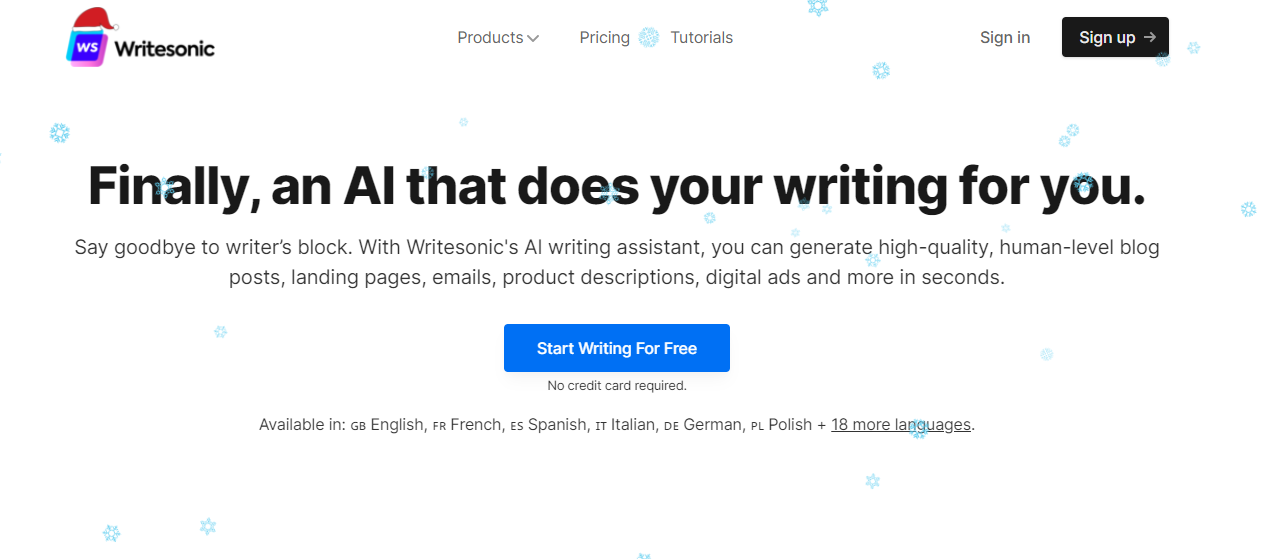 Writesonic is a versatile tool that offers around 30 templates to generate multiple marketing and lead nurturing content.
You can get well-designed landing pages, AIDA-based digital copy, structured blogs, and short text like a product name. It produces high-quality content for your business and offers editing options to polish and share on your site page.
What I found incredibly useful was the Amazon listing option. You can generate product titles, descriptions, features, and even ads for your Amazon account.
Writesonic is also planning to include a browser extension and Shopify app soon.
Key Features
Short and long-form text generation
Grammar and content formatting
Converting copies
Flexible editor
Pricing
Writesonice offers four plans, charging between $15 and to 195 a month.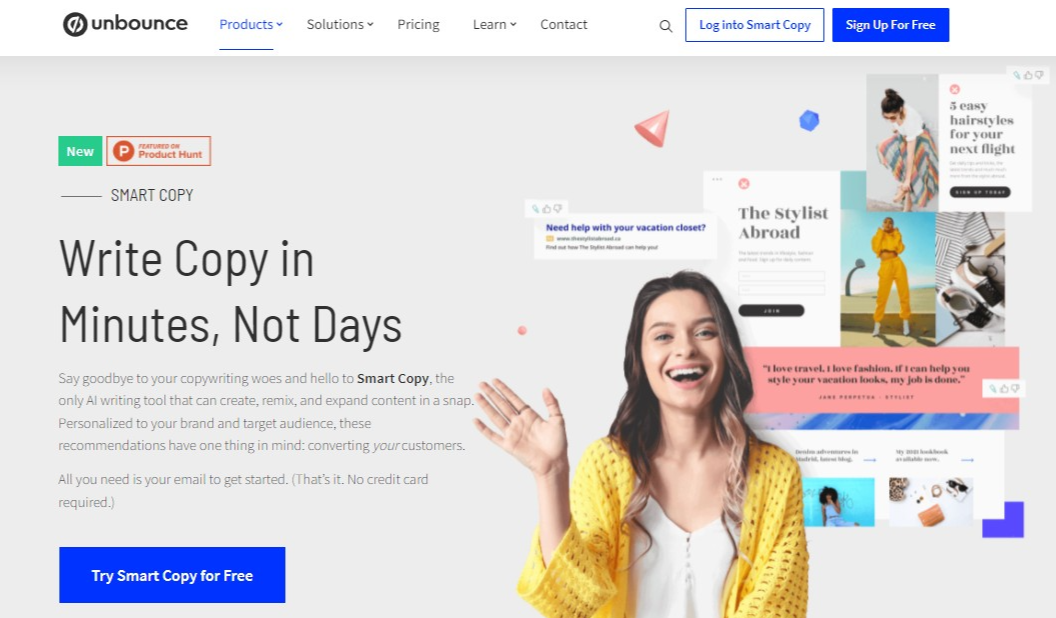 Smart Copy is a basic A.I. writer that auto-generates sales copy for multiple types of campaigns.
It is a product of Unbounce—a Conversion Intelligence Platform—and specifically focuses on providing content that can help you convert your leads.
You can use it to expand your ideas into a full Google ad, refresh your old Facebook post, and draft a ready-to-use post within minutes.
It uses the parameters you've set for your brand and produces a tailored sales copy meeting your criteria.
Key Features
More than 30 templates
Google ad generator
Attention-grabbing auto-taglines
Content revamp
Auto sales copy
Long-form article
Free Chrome extension
Pricing
Smart Copy's basic plan is free of cost and allows five tries per day. You can gain access to unlimited generation for approx $50 per month.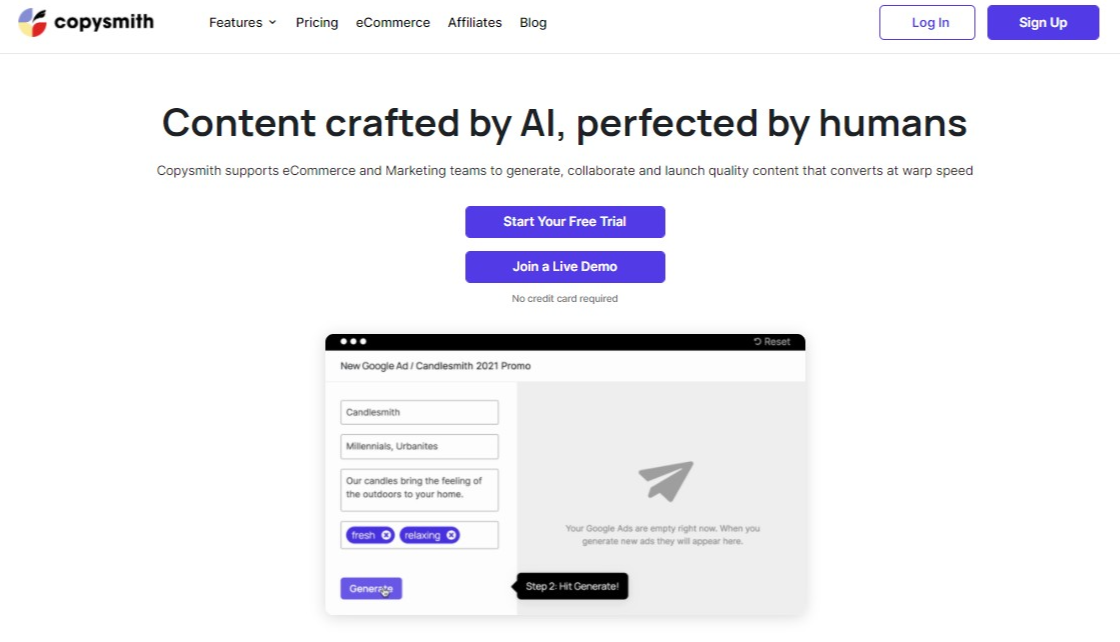 Copysmith offers nearly the same features like the ones I have mentioned above, but it has support functions that make navigation remarkably easy.
Every time you click on the content type you want to generate; it provides the tool description along with a sample example to explain the feature. What's more, you don't have to write sentences to generate text as you'd need in Jarvis.
All you would be required to do is to list down keywords and Copysmith generates a fully furnished copy.
Additionally, you get results in a visually appealing format to let you know how it would look should you decide to pick it for your project.
Key Features
Over 30 templates including, sales pitches, taglines, and FAQ
eCommerce features
Plagiarism checker
Chrome extension and Shopify integration
Excellent support
Pricing
Copysmith plans start at $19 a month for individuals and $118 for teams.
It's a fairly affordable option for solopreneurs, but you can sign up for free to explore it before deciding.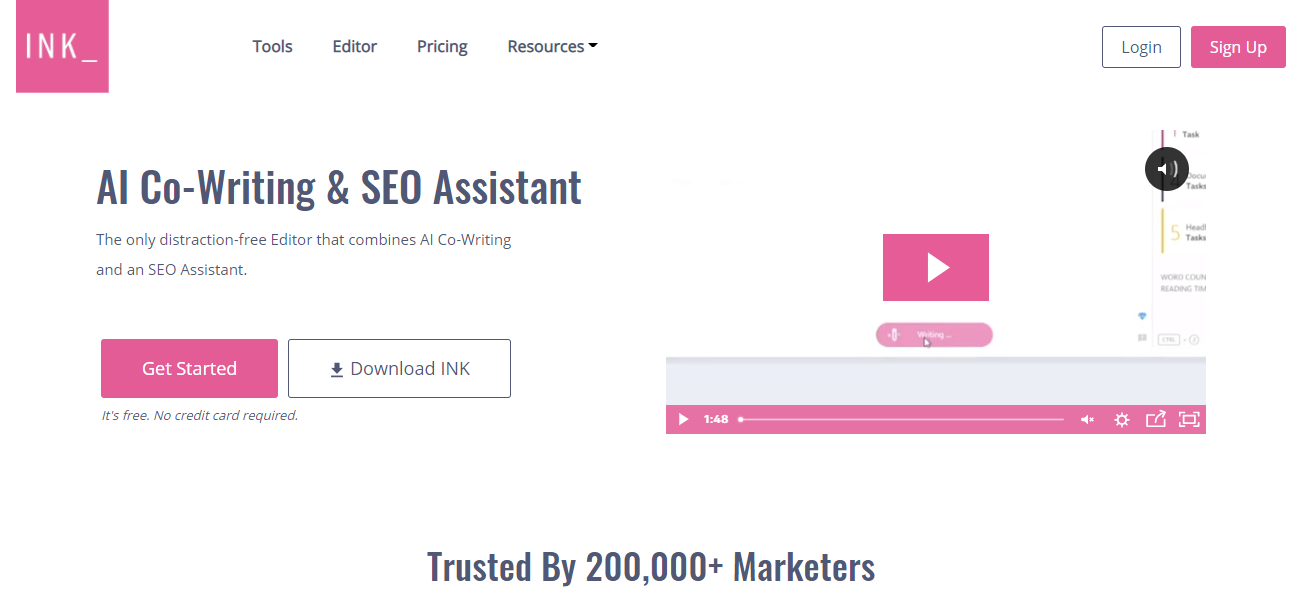 INK Editor is an advanced tool that is specifically designed to generate SEO-optimized content. It analyses your keywords, produces text matching your topic, and provides side suggestions to let you know how relevant your content is.
More, it offers an emotional intelligence feature to show what grabs your audience's attention and what further you can do to improve your copy.
It shares nearly 60 tools, including SEO features, productivity functions, and a grammar checker, to help you draft fully optimized content for your website.
With INK Editor, you can create Google PPC ads, blog snippets, long-form listicles, and much more.
Key Features
Content optimization suggestions
Writing assistant
Grammar and proofreading
Productivity features, including, Dyslexia and Colorblind mode
WordPress integration
Pricing
The basic plan of INK Editor is free to use, but it has certain limitations. To get more features, you can upgrade it to a pro version for $29 to $82 a month.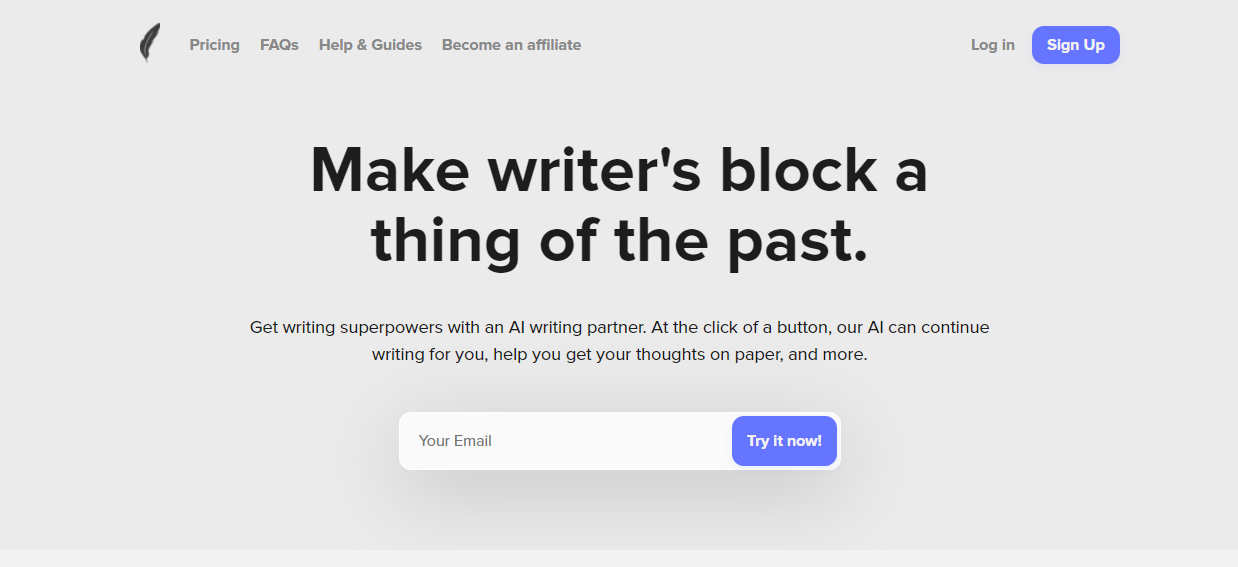 ShortlyAI is a straightforward A.I. writer that generates text based on the previous content you've written and the instructions you provide.
It offers a set of commands and a short description box to receive your directions and produce the content accordingly.
You can use it to write articles, create a story, expand your idea, or optimize your content. You can even auto-generate an outline for your blog. It gives you full control over how much content you want it to write for you and what particular content you prefer to edit.
It's an excellent tool for blogs, fiction stories, and long-form articles.
Key Features
Simple interface
Article-generation
Content statistics
Customization
Pricing
ShortlyAI charges a monthly subscription of $49 to give full access to its features.
Although this isn't an A.I. writer – we still want you to use ProWritingAid to improve your text structure, grammar errors, punctuation, vocabulary, reading difficulty, and more. It's like having a human editor, but better.
ProWritingAid is an editing app that acts as a grammar checker as well as a style guide. It detects poor word choices and suggests better phrases to help you polish your copy.
It comes as a free Chrome extension for quick access and allows integration with Word and Google Docs. This makes it incredibly convenient and easy to use. You don't even have to use its web app to access it.
With ProWritingAid you can refine your content, increase its readability, and essentially make it more engaging.
Let me share what you can do with it:
Key Features
Remove redundancy
Improve sentence strength
Replace passive, cliché, and duplicate phrases
Offer 20 style guide reports
Pricing
You can sign up to ProWiritngAid for free, but to unlock more features, you need to pay a minimum of $20 a month.
Final Word
Before you decide to go for an A.I. content writing tool, you should know they are designed to assist you in drafting content in a relatively short time.
They are typically best for creating blog outlines, sales copy, and product descriptions, and pretty much any short content.
While you can certainly use them to generate long-form blogs as well, you may have to edit them to make them more presentable.
If you keep that in mind, you'll quickly find what you're looking for.