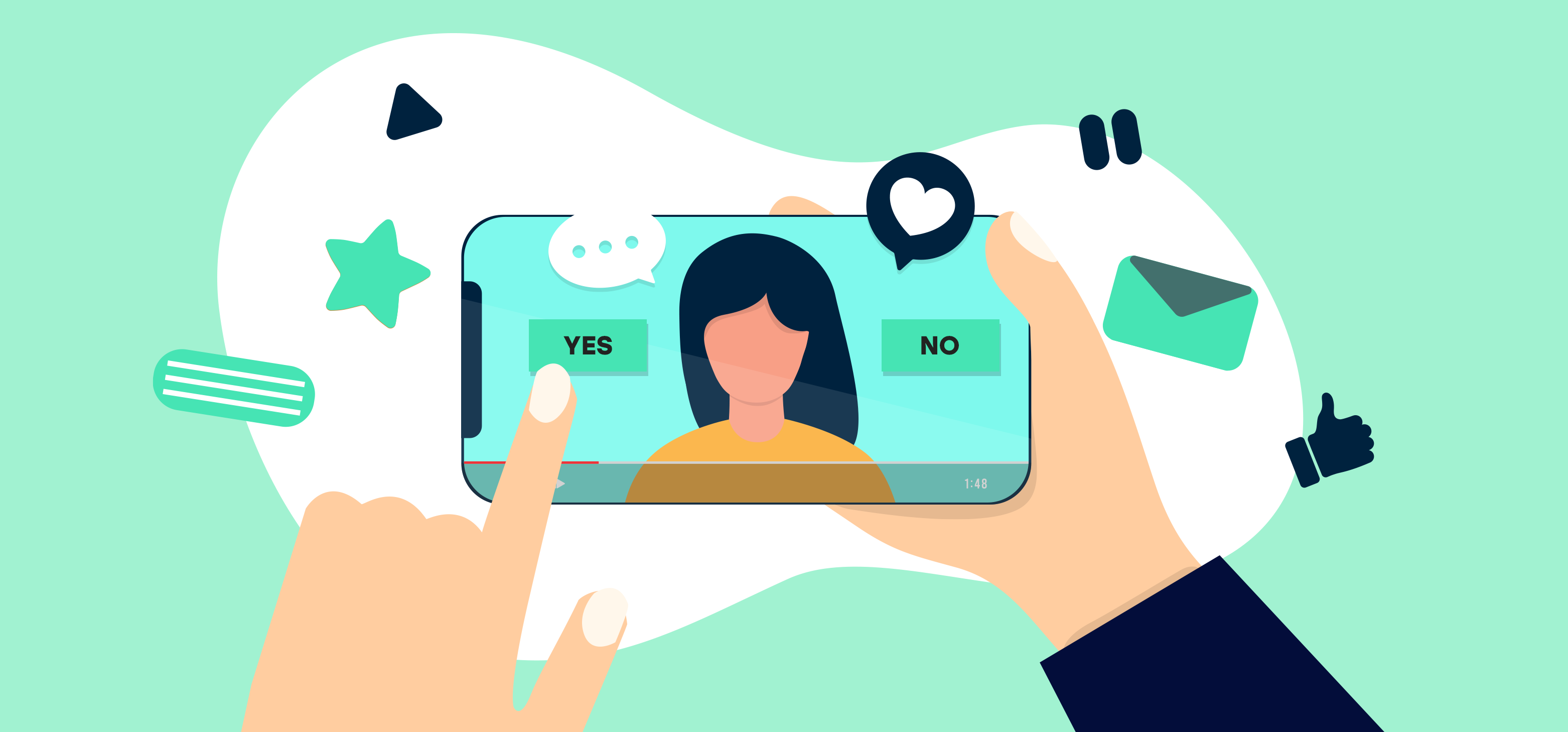 Lately, the Interactive Video concept has been gaining ground with remarkable speed in digital marketing industry.
Interactive Video (IV) not only generates 48% more traffic than traditional video, but it is also highly entertaining.
Tons of businesses are now pursuing interactive video formats to boost their engagement. With the right tool, you can build an incredible video for your next marketing campaign, as well.
If you're exploring this option, check out the ten best software to create IV content.
But first, let's talk about what exactly is an interactive video.
What is an Interactive Video?
Interactive video is a customer engagement technique that helps you improve the user experience. It allows you to add clickable CTAs to your video to catch your audience's attention and reduce bounce rate.
Let me give you an example. 
Have you come across Nike Air Max Dia interactive video?
It's an interactive video produced by HYPEBEA and Nike.
HYPEBEA teamed up with Nike and created it to introduce Nike's new product line. In the video, they used a branching feature that allows viewers to control video narration—something you typically find in "choose your adventure" stories.          
IV offers plenty of similar interactive options to engage your audience. You can add hotspots, display a 360 view, and include forms or quizzes. With such interactive features, you can turn a mediocre video into a highly engaging marketing campaign.
In this guide, you'll discover the best video tools that cover almost all interactive actions. The below 9 are hand-picked for their distinct functions and user experience.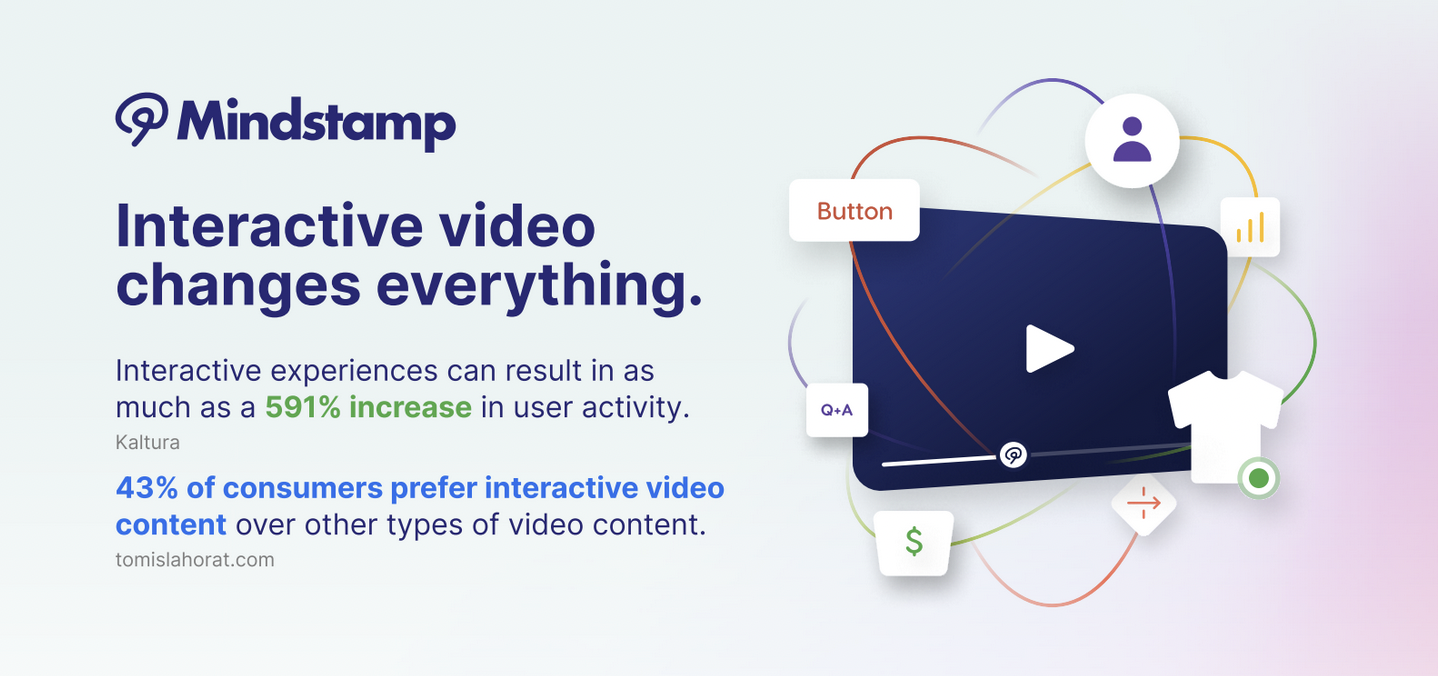 Mindstamp is a simple tool that makes it easier to build high-converting interactive videos. It's our #1 pick.
It allows you to add choice-based clickable images in your clips to create stories or product journeys. With its hotspots and CTA elements, you can label items, tag product details, entertain people with tools and tips, and include educational content.
You can also attach short clips or draw anything over your video to make it more fun and engaging.
One of its most powerful features you'll particularly find useful is its custom variable.
It automatically changes a specific word or sentence to targeted content to offer a personalized experience to your potential customers.
You can use this feature in tons of ways, like displaying an actionable sales copy, nurturing leads conversations, or asking questions to collect data.
Mindstamp comes with a feature called insights dashboard. This includes powerful tools to visualize the impact of your interactive videos across engagement, completion, interactions, and geography along with detailed reports on your top videos and top interactions.
It's super easy to use and can turn any basic shot into a professional interactive video.
In a word, you'll find enough features in Mindstamp to design a shoppable video.
With Mindstamp's integration to Zapier, you can trigger updates to thousands of applications from your Mindstamp Views, Leads or individual Interactions.
It's also the only platform on the list that comes with a "Require Click to Continue" feature and an entire library of hotspot icons to add to your videos.
It lets you create contacts in your CRM system, trigger emails or text messages, or add information to your data warehouse. With Mindstamp and Zapier, you can integrate your interactive videos into thousands of products with just a few clicks.
Mindstamp Key Features
Hotspots.
Clickable images and buttons.
Drawing tools.
Questionnaire.
Video and voice clips.
Analytics.
Personalized content
Transcription option.
Integrates with HubSpot CRM.
Pricing
Mindstamp offers three monthly plans starting from $19. You can take a free trial to learn more about it.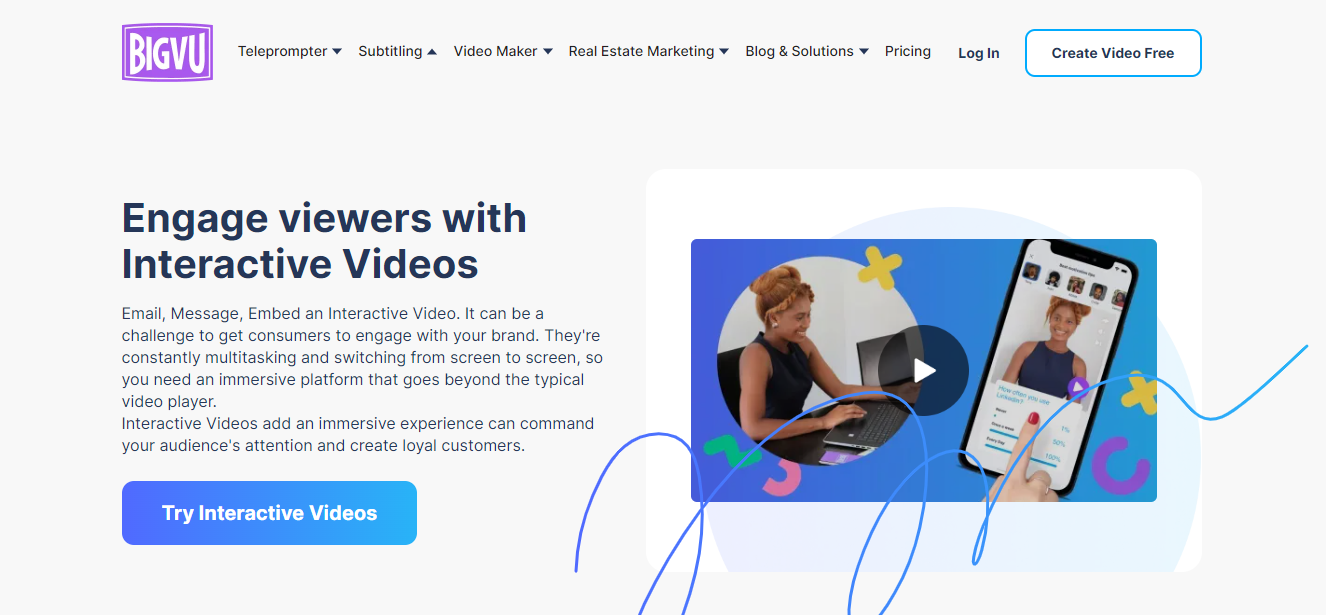 BigVu offers an interactive video maker and a teleprompter app. You can create clickable shopping videos for social media and go live on YouTube, Facebook, and LinkedIn from your smartphone.
The online editor automatically develops a sequence of clips and provides pre-defined styles to help you fine-tune your background visuals. With its simple drag-and-drop interface and built-in library, you can quickly upload, pick, and add media content.
To make your videos interactive, you can attach clickable cards to the clips. The cards may appear basic, but you can show a lot of things on them to engage your audience. For instance, you can link your product pages, include CTA buttons, embed polls, and feature testimonials.
For live streaming, BigVu provides an AI-powered writing assistant. Using this tool, you can auto-generate scripts and read lines on the screen. You can easily customize the font size, slow down the speed, and adjust the position of the text.
BigVu Key Features
HD quality videos.
Interactive cards.
Teleprompter application.
Livestreaming.
Auto-subtitles and AI scripting.
Text-based video editing.
Analytics.
Pricing
BigVu shares three premium plans starting at $19 per month. You can sign up and explore basic functions for free.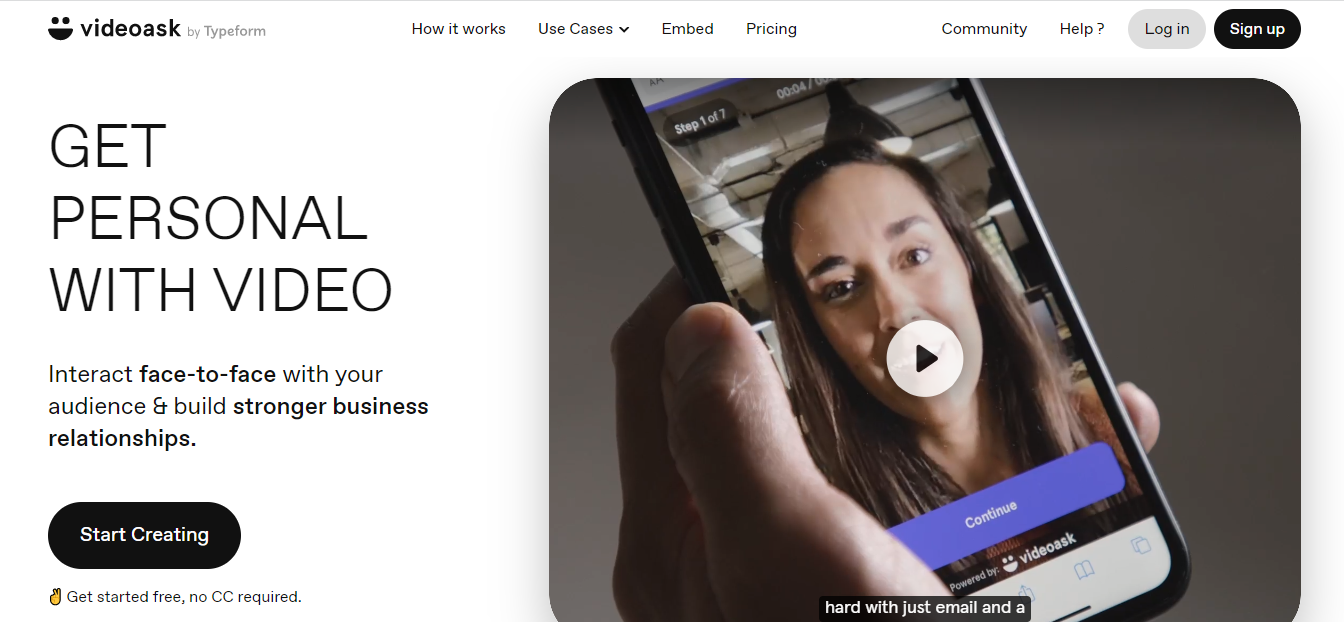 VideoAsk takes a slightly different approach to customer engagement.
Instead of offering marketing and sales interactive elements to engage leads, VideoAsk provides you with tools to build relationships with your potential buyers. With this software, you can send recorded video messages and start a conversation with your prospective clients using clickable CTAs for responses.
You can use the same messaging interactive feature to create engaging surveys to get customers' insight, as well as add forms to collect an email. You can also produce an after-sales video to receive recorded testimonials from your clients.
It offers you enough video time to build an entire sales funnel, adding interactive elements for prospecting to appointment scheduling.
It's an amazing tool, particularly for B2B businesses that rely on initial communication to grow their business.
VideoAsk Key Features
Easy video record.
Video, text, and audio CTA options.
Interactive questionnaire.
Email collection forms.
Team management.
Live calls.
Appointment schedule options.
Integrations with third-party apps.
Pricing
VideoAsk basic plan is free to use. If you want to unlock more features or want to extend the time limit of your content, you can buy its monthly plan for $24 to $40.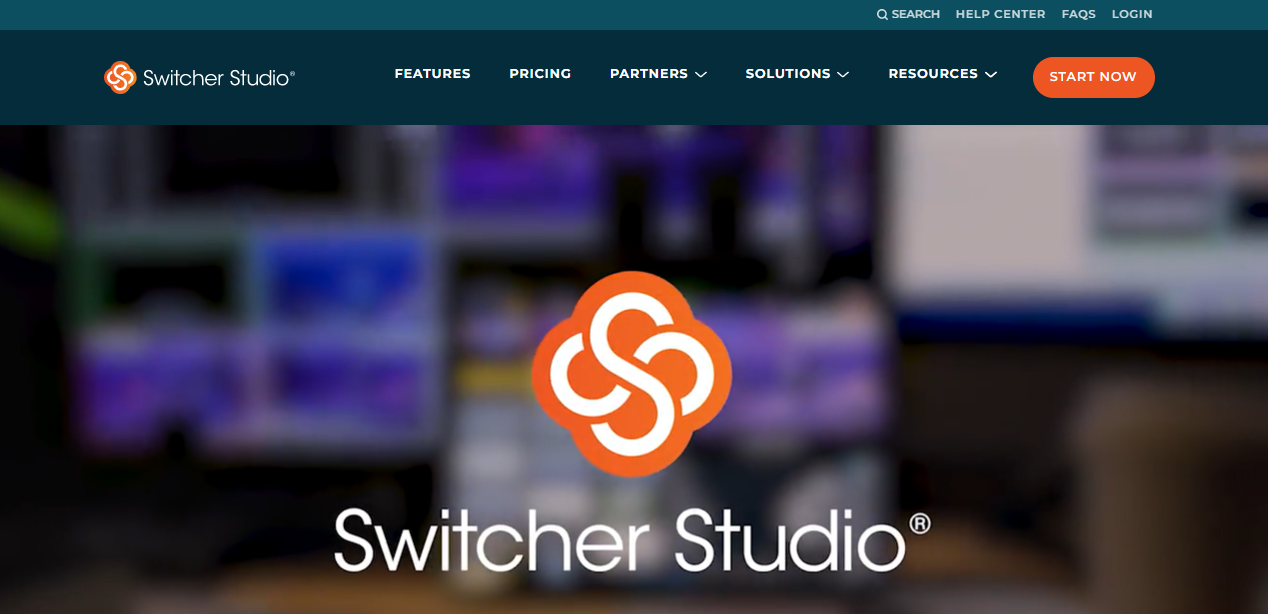 Switcher Studio is a live-streaming platform. It gives you editing, interactive, and monetizing tools to sell products and services via videos.
You can stream from your smartphone, connect over nine cameras to show a multiscreen view, and broadcast live to several channels. To improve visuals, you can add media content to your videos and fine-tune your display setting in real-time to show the best angles.
If you sell any service or work with brands, you can attach product links and CTAs slides to the screen.
There are plenty of other things you can do with Switcher Studio.
You can play soundtracks or special effects in the background, and turn on comments and polls to engage viewers. You can also embed the Switcher player on your website and upload your videos there.
Switcher Studio Key Features
Multistreaming and recording.
Media library.
Engagement tools.
Clickable product slides.
Donation collection CTA.
Embeddable player.
Compatible with iOS.
Pricing
Switcher Studio's prices range between $49 and $149. You can take a free trial for 14 days and purchase temporary access for a one-time fee. The deal is for entrepreneurs who occasionally arrange live events.
Adobe Captivate is a product of Adobe Creative Cloud that provides basic interactive video features for beginners.
It offers link embedding, overlays, and bookmarks to transform a linear YouTube video into an interactive one. You can build multiple slides, create a drag-and-drop action, add a choice action, and much more.
Adobe Captivate also extends remediation actions that allow viewers to go back and change their original choices.
Coming to its dashboard, the interface resembles a mix of PowerPoint and Adobe Premiere.
At the top panel, you'll find the Interactive Video option to embed video and overlays. With this, you can compose your initial slides, add a video, and embed overlays (your slides) to make an interactive video.
Keep in mind Adobe Captivates currently supports HTML5 format. That probably means any video you create would only appear on your mobile and tablet.
If your target audience comprises mobile users, get Adobe Captivate.
Adobe Captivate Key Features
Motion detector
Quizzes overlay
Link embedding
Drag-and-drop
HTML5 format
Pricing
The platform offers four pricing plans starting at $33.99 a month. You can avail of a free trial simply by creating an account.
WireWax is one of the oldest and widely preferred interactive tools on the market.
Its price might be slightly higher than others, but it has some interesting features you'd love.
For one, WireWax has an aesthetically pleasing dashboard and user-friendly interface that makes your experience enjoyable.
Second, it offers more than one interactive action.
You can add static as well as movable hotspots, and include a pause option to stop the video automatically when clicked.
WireWax provides customizable overlay templates to ease your job. It also extends analytics to track your video performance.
While WireWax caters mostly to eCommerce businesses for online shopping, you can create how-to videos and educational content.
I would have recommended a free trial, but I don't believe they offer it anymore. You, however, can find plenty of video tutorials on YouTube.
WireWax Key Features
Simple interface
Attractive dashboard
Time triggering branching
Custom hotspots
Multiple publishing options
Pricing
WireWax offers more than one subscription option. You can set up both monthly and annual payment structures. Contact them to get custom pricing.
Formally recognized as Rapt, Kaltura interactive video path is an online platform that primarily offers the choice-based feature.
It comprises adding hotspots to the video to provide multiple choices to the viewers.
Besides clickable CTA, Kaltura is compatible with both mobile and laptop and its player supports several networks. With Kaltura player, you can view your interactive video on any platform listed under the publishing option.
To create the interactive video, you may need to log in from Kaltura Management Console to gain access, though.
The primary site will lead you to the interactive video path and into the composer. From there, the composer will literally create a path to prepare your video.
Meaning, it has a drag-and-drop feature that makes it easy for you to pull multiple media from the template column and connect them together.
Once you've built a path, click on the main video, add hotspots, and save it. That's it.
Kaltura Key Features
Customizable hotspots
Drag-and-drop interface
Video player that supports multiple platforms
Analytical dashboard
Pricing
Kaltura offers a 30-day free trial and different pricing plans customized to your business requirements. Contact them on their site to learn details.
ThingLink was initially created for annotating images. But over the years, it has extended into one of the popular interactive video platforms. Today, ThingLink is not merely a video editing software. The tool transforms both video and pictures into interactive content.
Anyway, ThingLink offers a tagging feature that helps you build virtual tours, infographics, and marketing.
You can also use the same action to create an animated brand story, product tour, user guide, webinars, and shoppable videos. Merely customize your tags, add fun facts, and take your viewer on your brand journey.
With one tagging function, you can comfortably design a professional video.
ThingLink Key Features
Customizable hotspots
Link embedding
360-degree image support
Responsive screen
Video statistics view
Pricing
Thinglink provides various packages for its target market. For brands, Thinglink plans start at $25 a month. While it doesn't offer a free plan on its marketing package, it allows you to take a test drive. I recommend availing of a 5-day free trial.
H5P is open-source software that allows you to create and share interactive videos on your site and social media.
The tool offers plenty of interactive templates and over ten video features. You can include quizzes, add links, labels, and a table of content.
It's a powerful platform that provides tons of actions to produce an entertaining video.
The only thing it lacks is aesthetic appeal. But I would overlook it given its generous functions.
To use H5P, you can either install a plugin or operate it on the H5P site.
You'll find H5P language slightly different, so you may have to navigate the platform to familiarize yourself. But the good news is, the dashboard is fairly simple.
Upload your selected content, tag the interactive action you want to display, and embed the content on your site.
If you choose to download the plugin, you can directly create the video on WordPress. Otherwise, I would advise you to sign-up to start using HFP.
H5P Key Features
Drag-and-drop CTA
Interactive labels and drop-down menu table
Clickable quizzes
Time triggers hotspots
Pricing
H5P is completely free to use and offers tutorials in its community. Join it now to get access to tons of user videos.
Conclusion
Video is relatively one of the high-performing mediums to promote your brand. But Interactive Video has opened up several possibilities that you might find difficult to achieve with a linear video.
Explore the above tools, find out which interactive feature will work best for your campaign, and start running your first interactive video.