 Getting accurate marketing results has been a mammoth task these days.
It takes immense effort to nail that brand visibility. The problem elevates when there are a plethora of marketing channels everywhere.
However, in such cases, Artificial Intelligence (AI) holds a brilliant opportunity for marketers to stay ahead of their competitors. Moreover, 80% of tech leaders and businesses state that AI boosts huge productivity.
Before we begin with the tools, let's talk about the difference between Machine Learning and Artificial Intelligence.
Machine Learning vs Artificial Intelligence
Machine learning
Machine learning starts when organizations and experiences meet with evolving technology, thereby deciding to work together.
It is a subset of AI
It is an approach to achieving AI
ML is one of the most active fields in which AI can be achieved.
Developers are using ML immensely for developing and accessing their tools.
While AI and ML can be interchangeable, they differ from one another.
Machine learning and data mining follow the same approach and procedure.
Artificial Intelligence(AI)
Artificial intelligence can be defined as human intelligence that is exhibited by machines. This is a technique where devices mimic human behavior. Many AI-powered computers have stimulated human behavior. Moreover, AI is the future.
It is the study of mimicking human behavior and pattern recognition.
Today, AI is increasing in a huge term
Although mimicking is at basic levels, computers and robots can work, interact, act, and talk like humans.
Here is a guide that lists some of the best & powerful, AI and machine learning marketing tools available in the market today!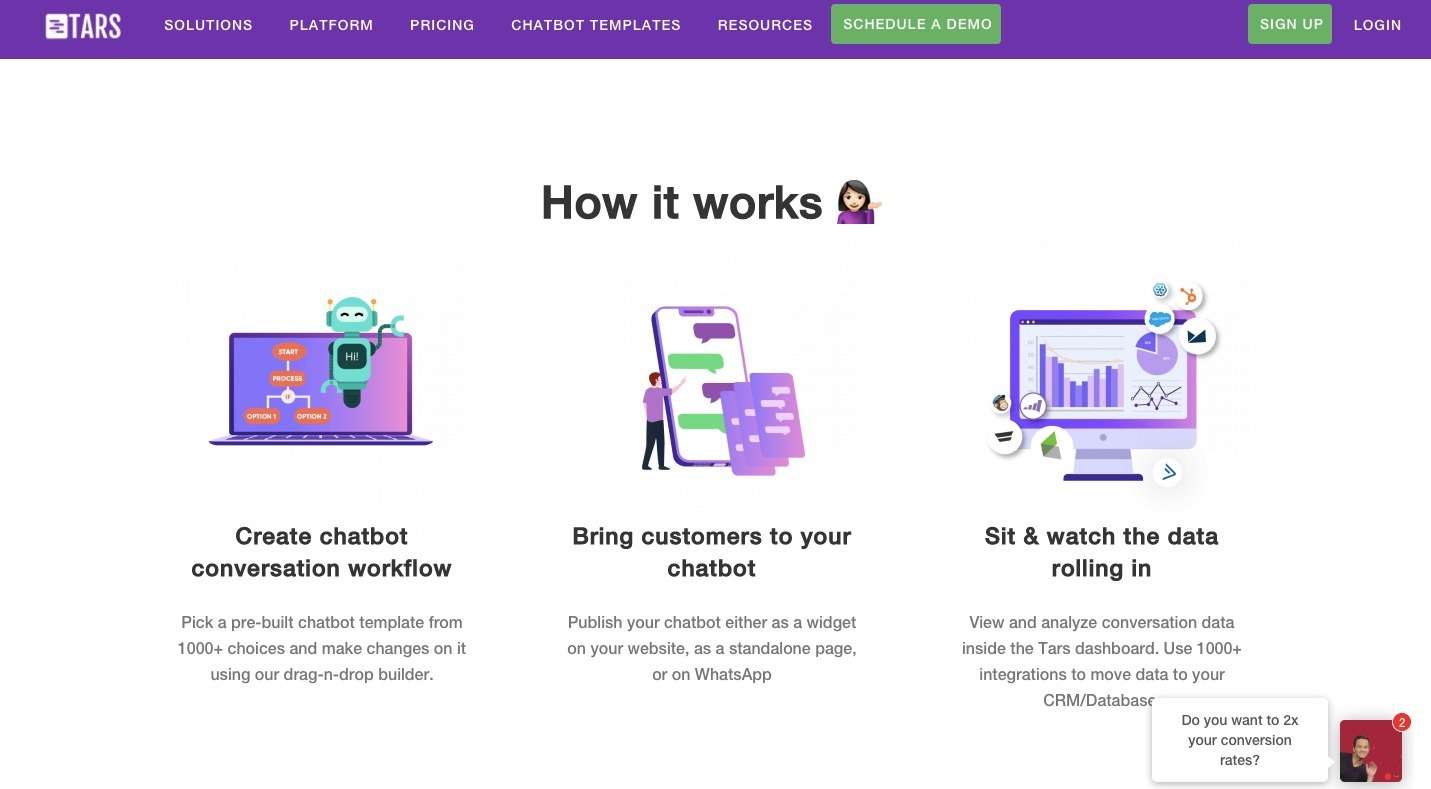 TARS is a chatbot builder. It is an AI-driven tool that helps you build an engaging workflow through which you can involve users who click on your paid campaigns.
You can use TARS web-based chatbots to replace your static landing pages.
This helps you give your users an amazing, engaging post-click experience, thereby fetching you 2 to 3 times better conversion rates.
Features
It supports several languages, including Spanish, French and German, Russian, Thai, Portuguese, Hebrew, etc.
It encourages code-free development
Offers easy and simple reporting and analytics
It is a pre-configured bot
Encourages multichannel communication
It comes with an intent recognition feature
Integration
TARS integrates with marketing apps and your desired CRM
Pricing
Offers a free trial of 14 days
Monthly plans begin at $99 to $499
(Customizations available)
Unbounce is a popular landing page optimization platform built on machine learning.
The landing pages are automatically optimized as the tool sends the visitors to the page variant, where there is a high probability of conversion. This dynamic matching of visitors to variants is something we humans cannot do.
Unbounce helps marketers grasp conversion intelligence to optimize their present skills to make sure that you launch the best campaign each time.
Thus, Smart Traffic is an AI-powered product that encourages more compelling customer experiences. You can read our full Unbounce review as well.
Features
It is an automatic SSL encryption
Helps in cooperative workflow and effective management system
Customized domain, templates, and branding
Allows dynamic text replacement along with two-factor authentication
Real-time stats and script manager
Integration
Unbounce integrates with Hotjar, Zoho CRM, Shopify, HubSpot Marketing Hub, Uberflip, Mailchimp, ActiveCampaign, AWeber, Constant Contact, Zapier, and the list continues.
Pricing
Offers a free trial
Pricing model: on subscription
Price begins at $99.00 per month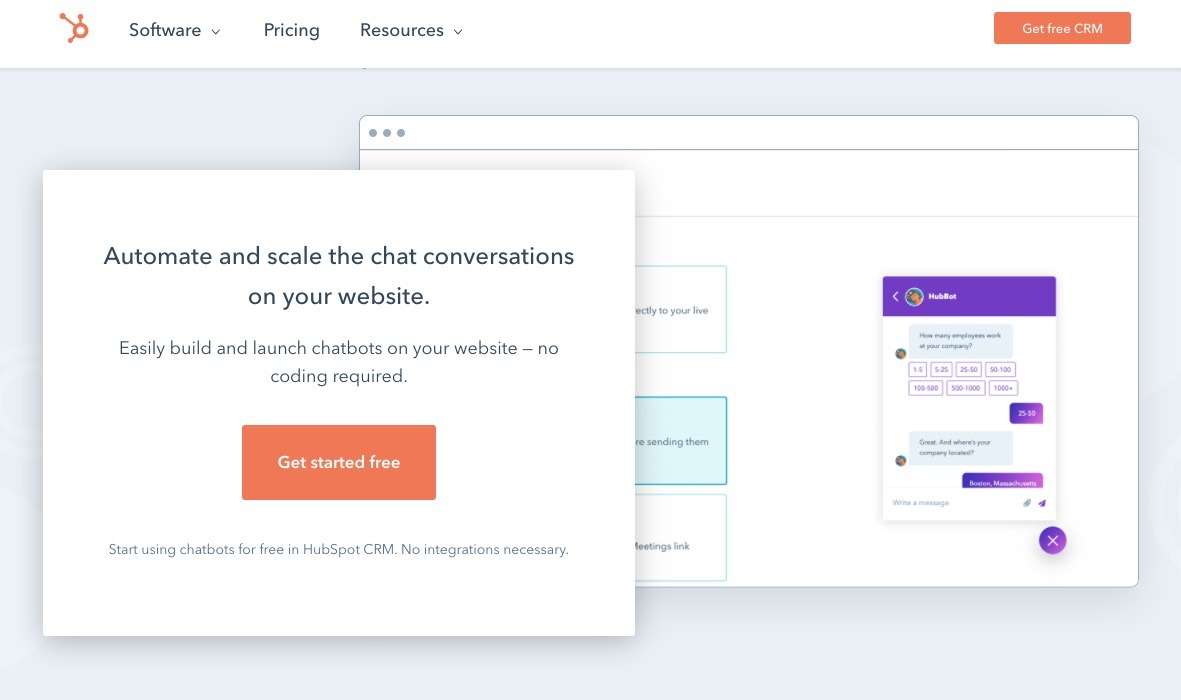 HubSpot makes use of AI to do away with deduplication. It gets hold of things usually not caught by other duplicate tools like nicknames, typos, and abbreviations.
Secondly, the mapping process through AI makes sure the correct data is saved when you import contacts into HubSpot.
You no longer need to integrate anything as the HubSpot CRM makes sure to capture useful data like names, phone numbers and addresses of your leads, and whatnot.
Features
It offers easy import of contacts.
It looks for duplicate contact and merges them.
Automatically transcribes conversations through the calling feature
Bits of help make live chat data gathering easy with the automatic feature
It automatically captures email data
Offers CRM-enriched experience
Encourages customized communication
Call recording and transcription features are a savior
Integration
HubSpot Marketing Hub integrates with Wufoo, Microsoft Outlook, Salesmate, Grow, Vtiger CRM, WooCommerce, CompanyHub, Google Forms, PayPal, Robly, Sumo, Webflow, Teamwork, Zapier, Ceros, Zoho CRM, Insightly, Zoom, Uberflip, NetSuite, and the list continues.
Pricing
Offers a free trial
The pricing model is available free and on a subscription basis.
Price begins at $50.00 per month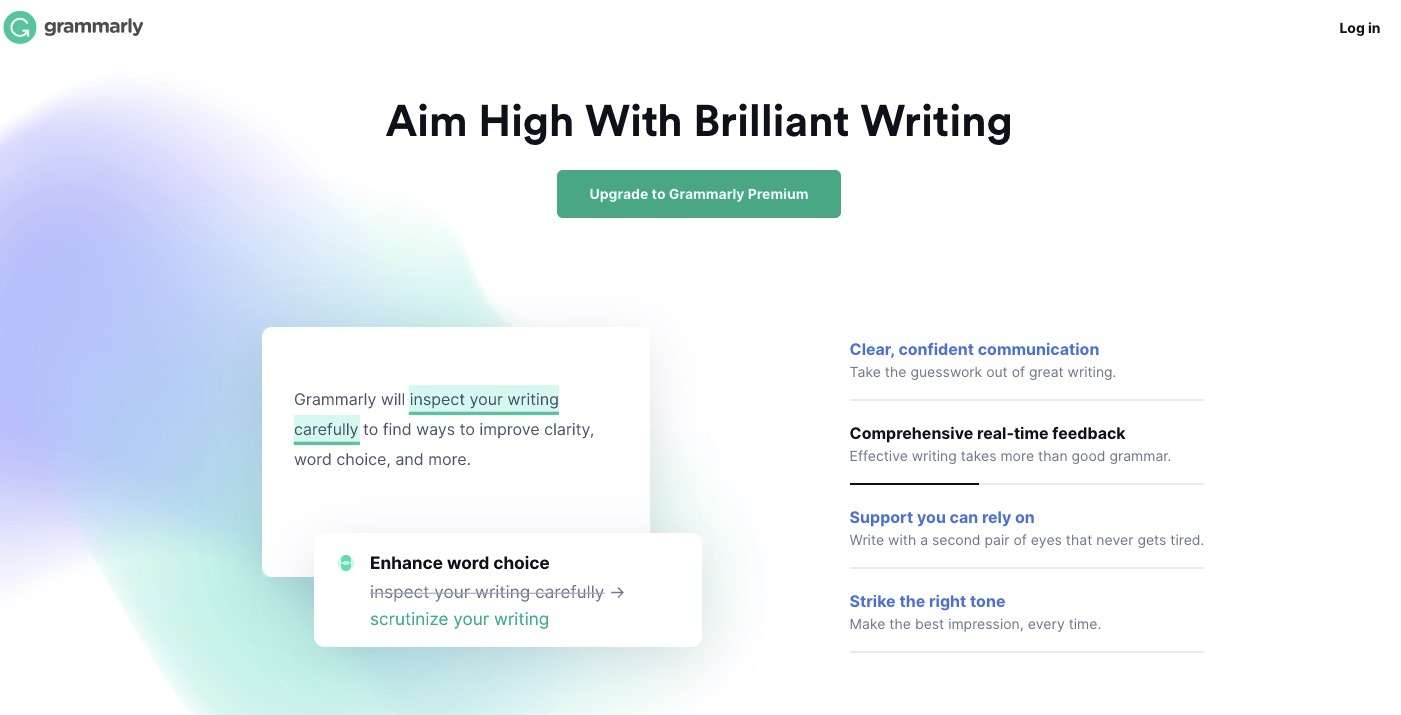 Grammarly allows businesses or enterprises to generate quality and grammatically correct content. The AI technology helps the users enhance their word choice, and content readability and improve their writing style.
Grammarly has tone detection functionality that suggests punctuation, word choice, spelling errors, capitalization, etc., with the motive to improve client management and engagement.
This tool helps users identify incorrect or commonly confused words to make sure the content is contextually correct. The built-in plagiarism feature scans millions of content on the web to get hold of similar or duplicate content.
Features
Helps in checking grammar and spelling
Helps in editing and reviewing the text
Detects plagiarism and alerts the areas of problem
Has an in-built dictionary and thesaurus
Has a contextual speller
Integration
Grammarly integrates with Google Docs, Zendesk, Slack, Zoho Desk, Freshdesk, Gmail, WordPress, Twitter, LinkedIn, and Facebook.
Pricing
Offers a free trial
Has pricing model of free and on subscription
The price begins at $12.50 per month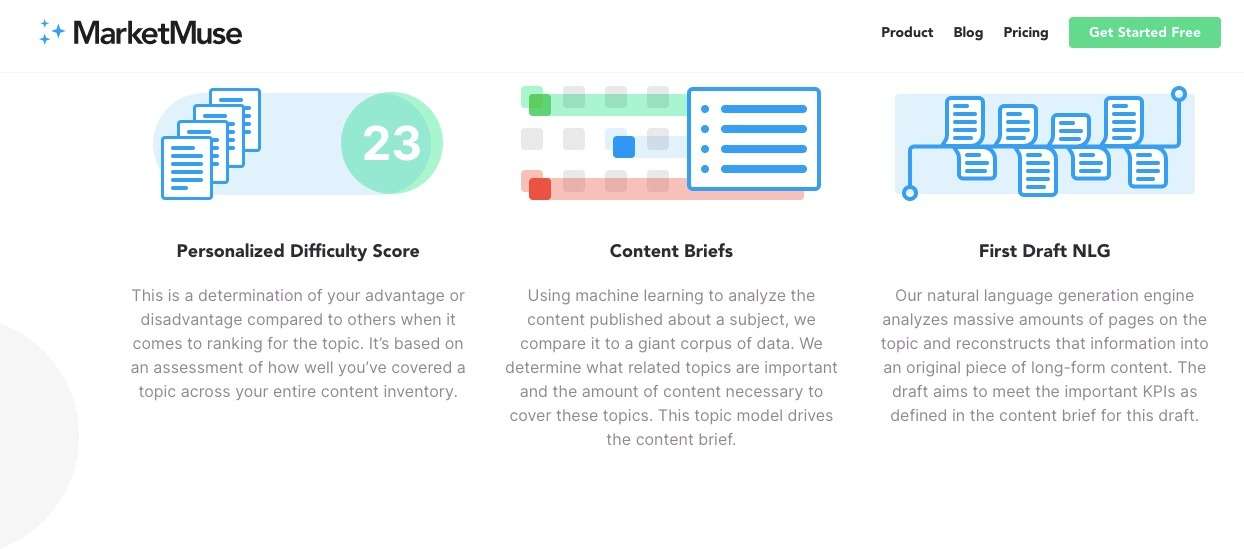 MarketMuse is an optimization tool that allows marketers and content creators to enhance their content with AI, SEO strategies, trend data, and predictions. It offers optimization, analysis, content strategy, and research tools, all on one single platform.
MarketMuse allocates customized difficulty scores to content to indicate merits and demerits over its competitors in the ranking.
It then uses AI and machine learning to offer suggestions and briefs to writers for boosting SEO. The machine learning algorithm distinguishes all the published content with various data to bring out the length, keyword, text content, etc.
Features
Allows audience targeting
Enables grouping and categorization
Integration
MarketMuse Add-on for Acrolinx integrates into the familiar Acrolinx Sidebar.
Pricing
Offers a free trial
The pricing model is available on subscription as well as free.
Price starts from $79.00 per month
Exceed.ai is a virtual assistant created to help sales and marketing teams in holding and nurturing leads. It uses AI, machine learning, and conversational bot technology for effective two-way communication with customers through chat or email.
It uses machine learning tech to duplicate effective sales rep interactions.
The exceed.ai sales assistant helps the users to handle leads by offering human-like conversations and responding to the customers and guiding them.
Features
Has a virtual assistant that qualifies leads
Helps subscribe/unsubscribe
Helps in data management
Chatbot
Allows rule-based automation
Performs reporting and analysis
Drips the campaign
Has custom fields
Integration
Exceed.ai integrates with HubSpot Marketing Hub, Google Workspace, Outreach, Zoho CRM, Microsoft 365, Pipedrive, Marketo Engage, HubSpot CRM, Eloqua.
Pricing
Offers a free trial
The pricing model is available on a subscription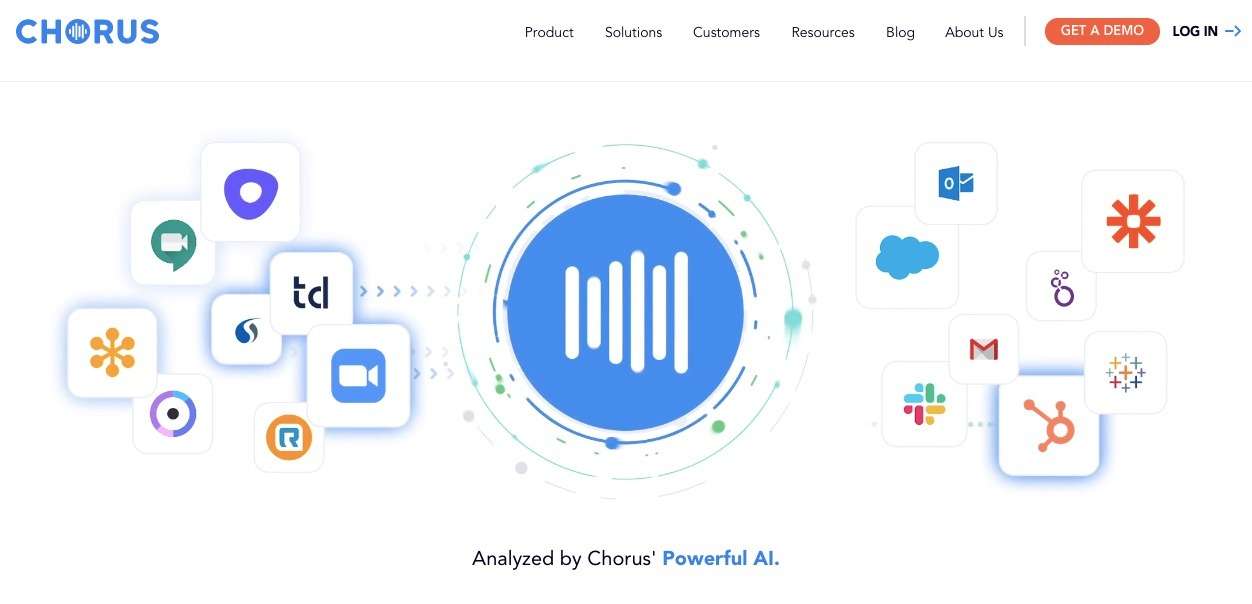 Chorus is an AI-driven tool that was created to catch and record every sale call to offer insights.
It focuses on making teams turn data-driven and customer-centric.
The AI automatically captures, summarizes, analyzes, and records call notes into third-party CRM systems to enhance customer relationships. Every conversation is mapped to make notes on each contact on how the firm will benefit from it.
Features
Schedules and distributes call recordings
Speech recognition feature along with multi-speaker separation
Tracks sales, activity, and conversion
Email and CRM integration
Machine learning
Meeting and opportunity management
Tracks, monitors, and reports calls
Customizable
Integration
Chorus integrates with ClearSide, Cisco Webex, Salesforce Sales Cloud, Slack, Google Workspace, Microsoft Outlook, Five9, Zoom, BlueJeans, etc.
Pricing
Offers a free trial
The pricing model is available on a subscription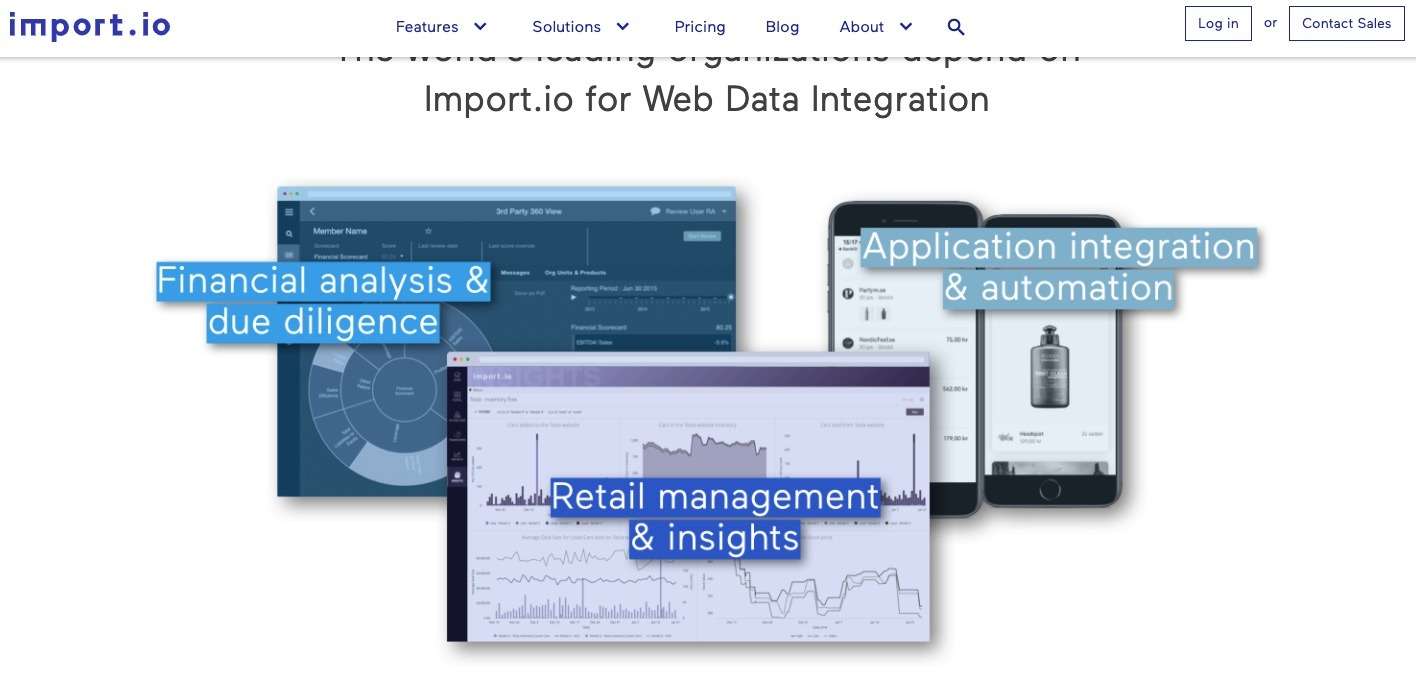 Import.io is a platform that provides cloud-based web data integration. It enables the users to grasp, prepare, incorporate all the unstructured and semi-structured web data into accurate and structured data tables.
The point-and-click interface of import.io allows the users to choose the needed information and data that can be incorporated into apps or analytics with webhooks or APIs.
Using import.io, you can extract data or information from your desired URL that includes data that is only accessible and available after login.
These platforms transform the entire data with Excel-like spreadsheet functions. Consequently, the data can be incorporated into third-party applications, visualized tools, or business processes via the API of import.io.
Features
Schedules data extraction
Alters the reports
Image, IP Address, pricing, and document extraction
Generates URL
Image and file download along with email notifications
Extractor tagging
Integration
Import.io integrates with Microsoft Excel.
Pricing
Offers free trial
The pricing model is available for free as well as on a subscription.
Price starts from $299.00 per month
Uberflip is a platform that is content-experienced. It aggregates each of your content so that you can build, manage, and optimize tailored content experiences for each stage of the purchaser's journey.
By providing tools to marketers, they must enhance engagement, generate more leads and boost demand generation to achieve their goals by leveraging better content.
Furthermore, Uberflip integrates with the marketing automation platform that you own to bridge the gap and elevate the processes between content and demand generation.
Features
Generates tools
Detailed metrics
Added engagement
PDFs turn into engaging Flipbooks
Email reporting
Customizable
API to multiple content sources and MAPs
Integration
UberFlip integrates with Microsoft Outlook, PayPal, Sprout Social, HubSpot Marketing Hub, SlideShare, Twitter, LinkedIn, Mailchimp, Bizible, Box, Google Drive, BrightInfo, Wistia, Facebook, Mailchimp, Vidyard, and many more.
Pricing
Available on subscription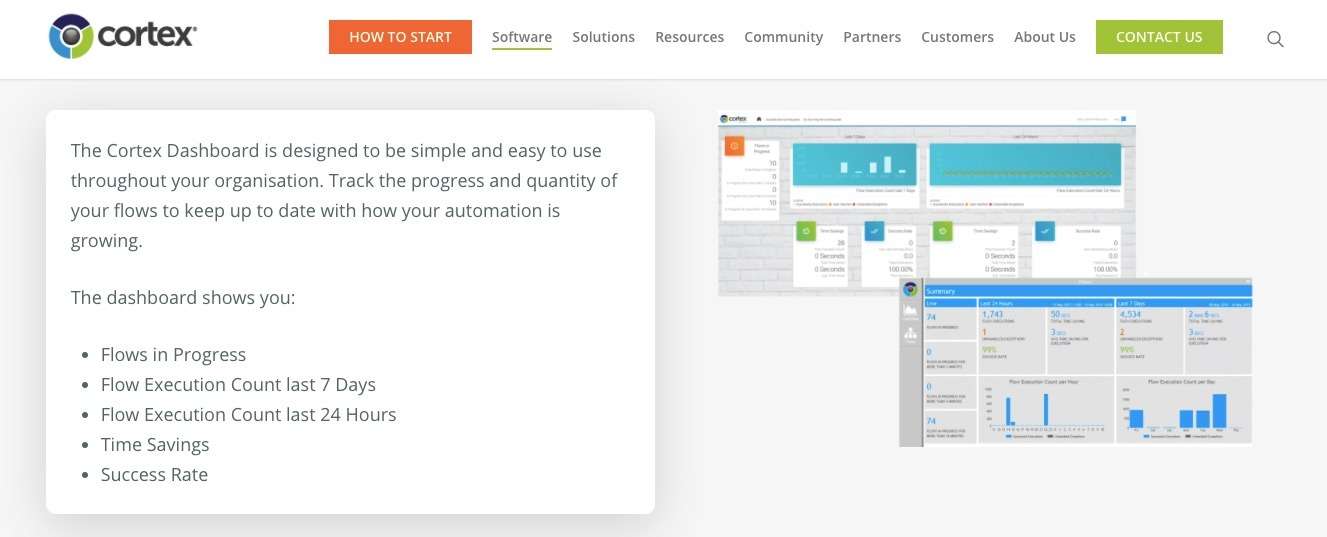 Powered by AI and machine learning, Cortex is an enterprise social media marketing platform created to help marketers in intensifying the ROI from all their efforts on content marketing via highly engaging content.
This solution serves several or multi-brand B2C companies within industries like food and beverages, travel, hospitality, and CPG by creating custom content calendars for the coming months.
Consequently, it populates them automatically with the content for human scheduling and approval.
By this, users can generate optimized social media content for a certain or specific audience based on artificial intelligence data, thereby deploying it at optimal times to gain the highest engagement level.
The tools that track competitors help organizations mark their posts against certain high-performing industries to get alerts any time a particular position or content goes viral.
Features
Posts on scheduling and intelligent scheduling
Creates and optimizes content(photo, text, video)
Automated publishing
Machine learning and AI
Targets the customers and tracks the competitors
Click-through, engagement, and conversion tracking
Integration
Cortex integrates with Tableau, Twitter, Instagram, and Facebook.
Pricing
Here is how you can start on this.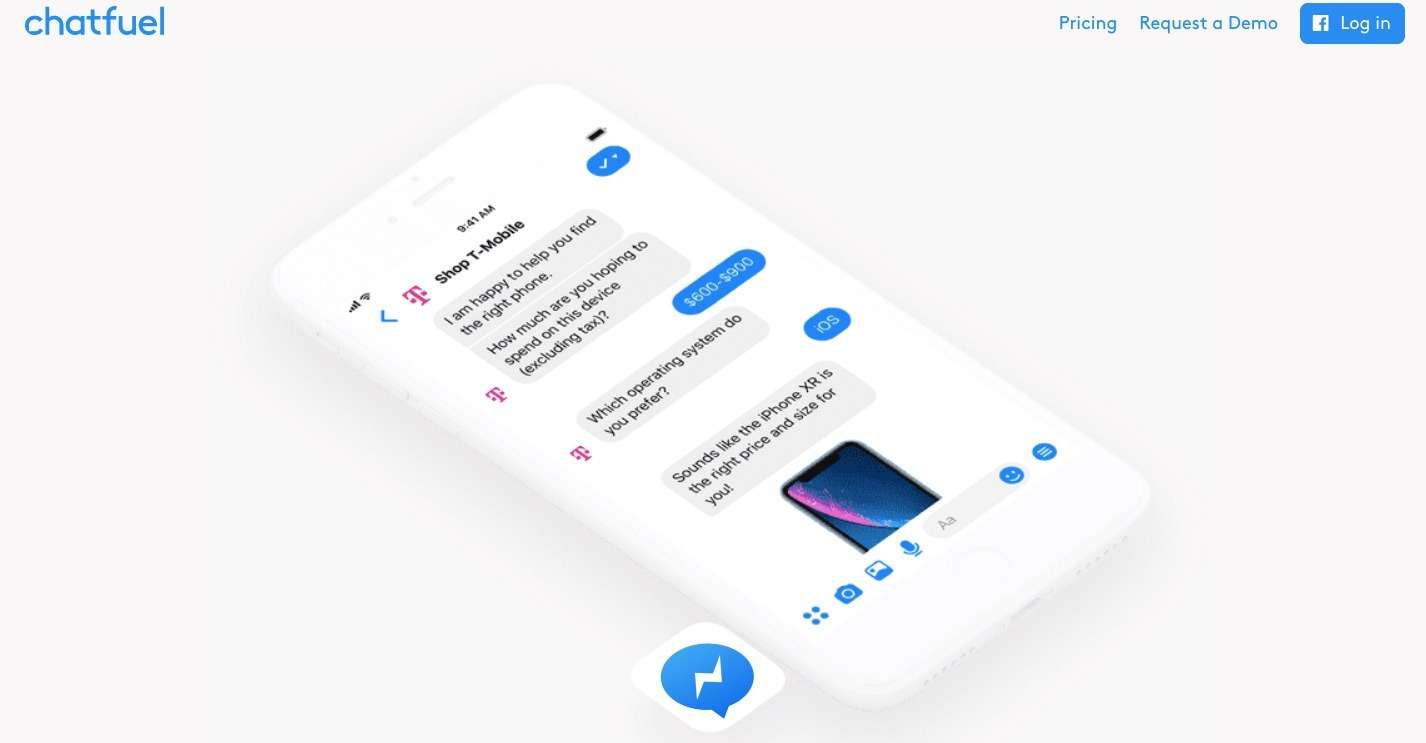 Chatfuel is generally a bot-building system that provides individuals and organizations with a centralized platform through which you can generate AI conversational chatbots. It was developed to offer users a simple and effective bot-building solution.
As Chatfuel integrates with apps like Twitter, Facebook, Dropbox, etc., you can easily and conveniently sync your bot with these popular platforms.
Furthermore, with the analytics technology of the tool, users can achieve actionable, treasurable, and valuable insights into the performance of their AI bot.
Features
Impressive chat functionality with tags and keywords
Action, communication, configuration, promotion, reservations, and activity management
Automatic scheduling and notifications with multi-admin accounts
Social media and third-party integration
Rules-based AI
Monitoring activity
Integration
Chatfuel integrates with Gmail, Twitter, Facebook, Dropbox Business, WordPress, and Evernote.
Pricing
Offers a free trial
The pricing model is available for free as well as on a subscription basis.
Price starts from $15.00 per month
LivePerson is a conversational AI company that powers conversations between brands to consumers. With LivePerson's help, brands can shift from synchronous channels such as traditional and voice live chat to the media they use daily like Apple Business Chat, WhatsApp, and many others.
You can access the cloud-based platform LivePerson from any browser that makes the transitions easy for in-and-out remote work.
The existing AI products suite, including a management platform, world-class NLU, low-code bot-building tool, etc… Optimize messaging operations.
All together, these tools and brands merge to automate high-volume inquiries and offer an integrated view of the most famous two-way communication channels such as SMS, social, Apple Business Chat, WhatsApp, and more.
Features
LP insights, chat, knowledge base, and labs
Bots and AI
Messaging and mobile chat services
Analytics-driven management
Intent detection, analysis, and management
Integration
LivePerson integrates with NetSuite, Twitter, Facebook, WhatsApp, Salesforce Sales Cloud, SugarCRM, Instagram, Twilio, Zendesk.
Pricing
Offers a free trial
The pricing model is available on a subscription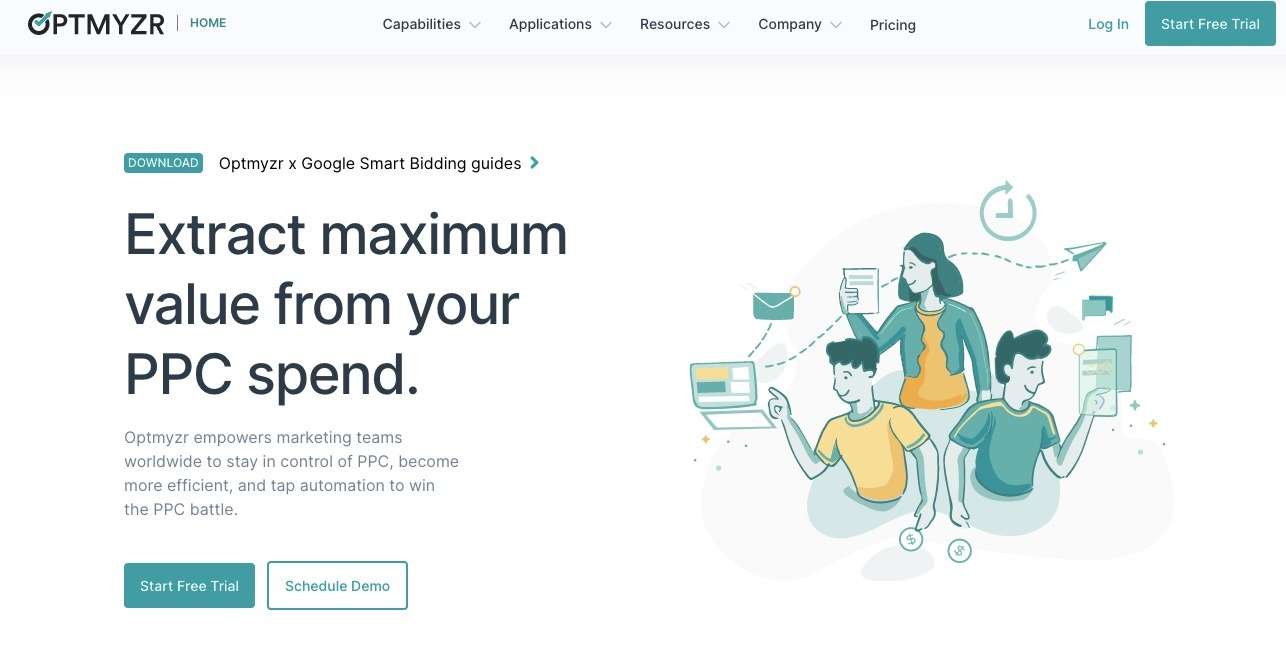 Optmyzr offers various time-saving tools for all the PPC professionals that handle Bing Ads and AdWords.
The interface has four major areas that are available to each of the subscribers. The data insights collect raw data from AdWords and Bing Ads, thereby turning them into data visualizations.
Account managers get huge help to see highlights and trends that they can apply to guide several optimization techniques and strategies.
Furthermore, you can use the report builder to create beautiful PDF and web-based reports that you can share with stakeholders and clients to display the value of PPC ads and what it brings to their organization.
Features
Geo heatmap and One-click optimizations
Adwords scripts and historical quality score tracker
Shopping campaign Bidder and Splitter
Optimized dashboard and history
Google Analytics reporting and hours of weekly analysis
Integration
Optmyzr integrates with CallRail, Google Workspace, Google AdWords, Google Analytics, Facebook.
Pricing
Offers a free trial
The pricing model is available on a subscription
Price starts from $449.00 per month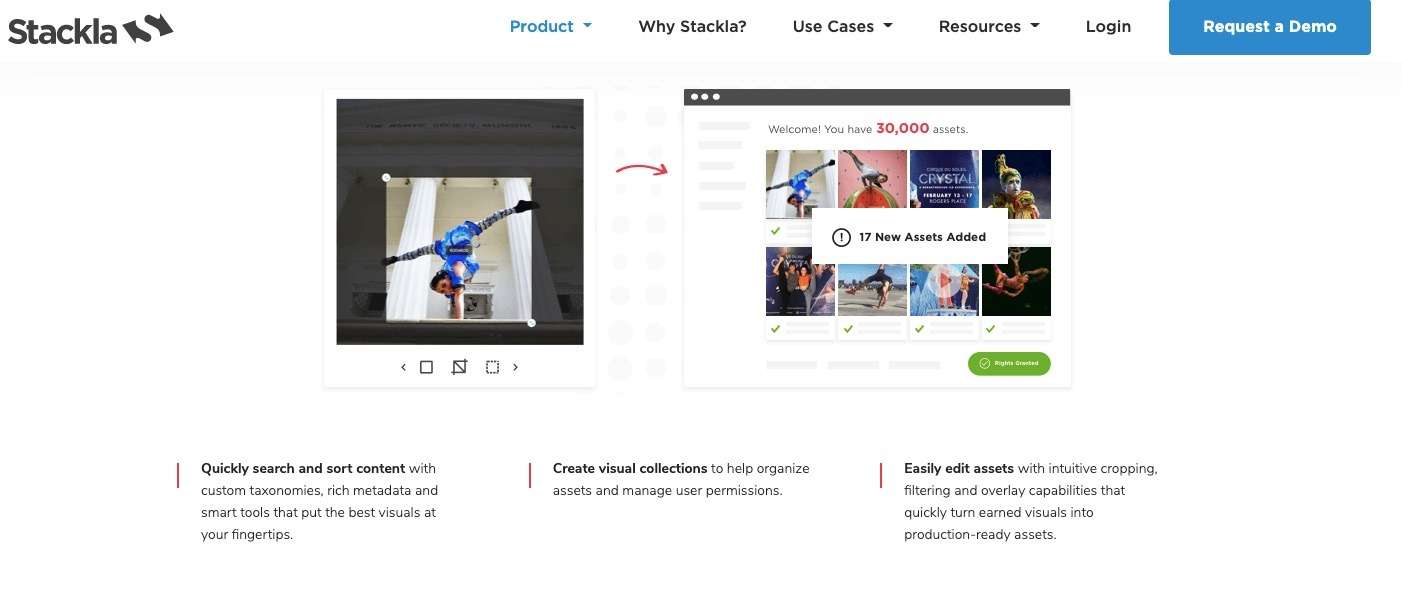 Stackla rectifies the bigger challenges of the modern market that needs effective visuals for supporting channels and audiences with their campaigns.
It is placed at the bottom of the marketing stack to create rich visual libraries with its asset manager, organic influencer tool, and AI-powered user-generated content (UGC) platform.
With advanced ML technology, Stackla identifies the performance of content patterns and moderation habits and brings you real-time recommendations. This helps you post better content, saving you time and effort effectively.
Features
Targets audiences
Brand management and categorization
Content management and filtering
Custom data sources call to action, and moderate views
Geolocation, geotargeting
Social media marketing, performance reports, and management
Third-party integration
Integration
Stackla integrates with Drupal, Zoho CRM, Oracle Bluekai, Yammer, Mailchimp, Insightly, Magento Commerce, Google Analytics, Zapier, Content Hub, and the list goes on.
Pricing
Request your Demo here .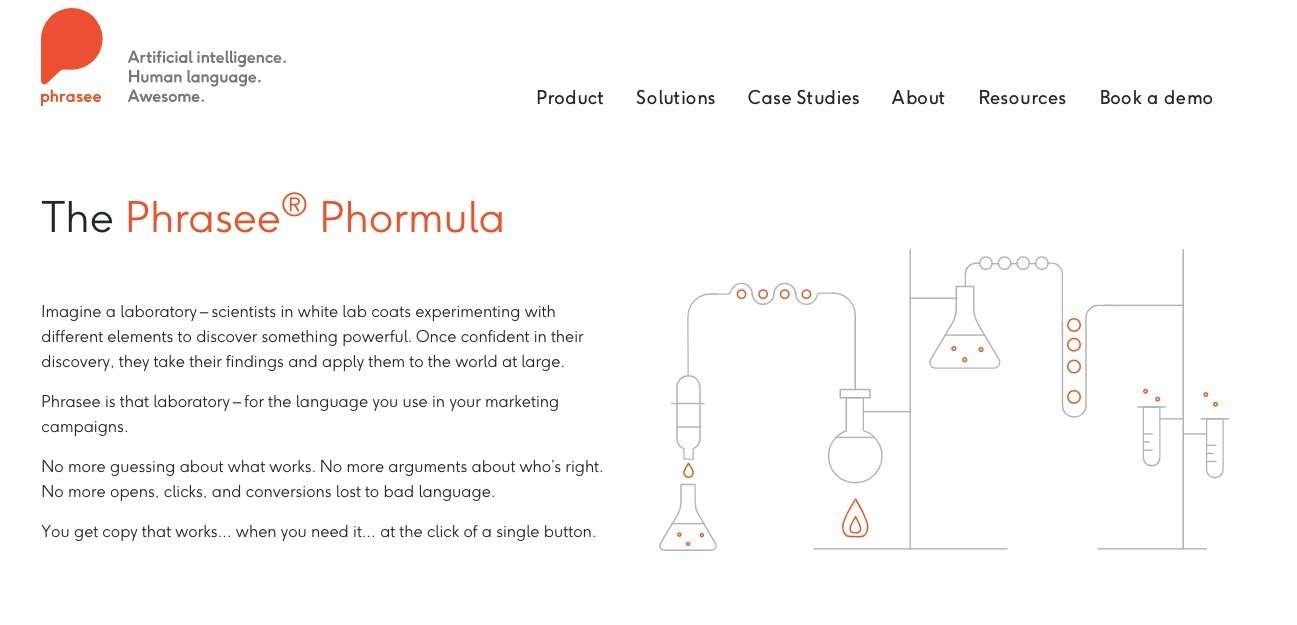 Phrasee is a marketing copy tool powered by artificial intelligence. It uses a natural and original language generation system and thorough and deep learning algorithms for creating several brand-compliant marketing copies for platforms like Instagram, and Facebook, and push notifications automatically.
You can use it to frame better subject lines regarding emails.
It gets together aptly, and the messaging feature is completely based on data-driven insight and is not based on a human instinct in any way.
Features
Offers brand management and email copy management
AI-powered copywriting
Dynamic content and thorough learning
Split testing
Push notifications management and Facebook and Instagram copy management
Integration
Phrasee integrates with Salesforce Marketing Cloud, Sailthru, IBM Watson Campaign Automation.
Pricing
Book a demo to know its pricing.
All the small and medium-scale businesses add force to their marketing initiatives by leveraging the intuition and clever email marketing of Automizy to generate leads and convert them into sales.
The sleek design of Automizy is extremely user-friendly, and the interface manages several campaigns, unlike other legacy platforms.
Automizy guides consultants and marketers to achieve optimal outcomes with its robust analytics component.
Features
Has customizable CTA's and emails
Tracks ROI
Custom branding and drip campaigns
subscribe/unsubscribe
Mass email delivery
Customizable areas
Hot and cold lead separation
Audience tagging and segmentation
Integration
Automizy integrates with Unbounce, Zapier, and WordPress
Pricing
Offers a free trial
The pricing model is available on a subscription
Price starts from $9.00 per month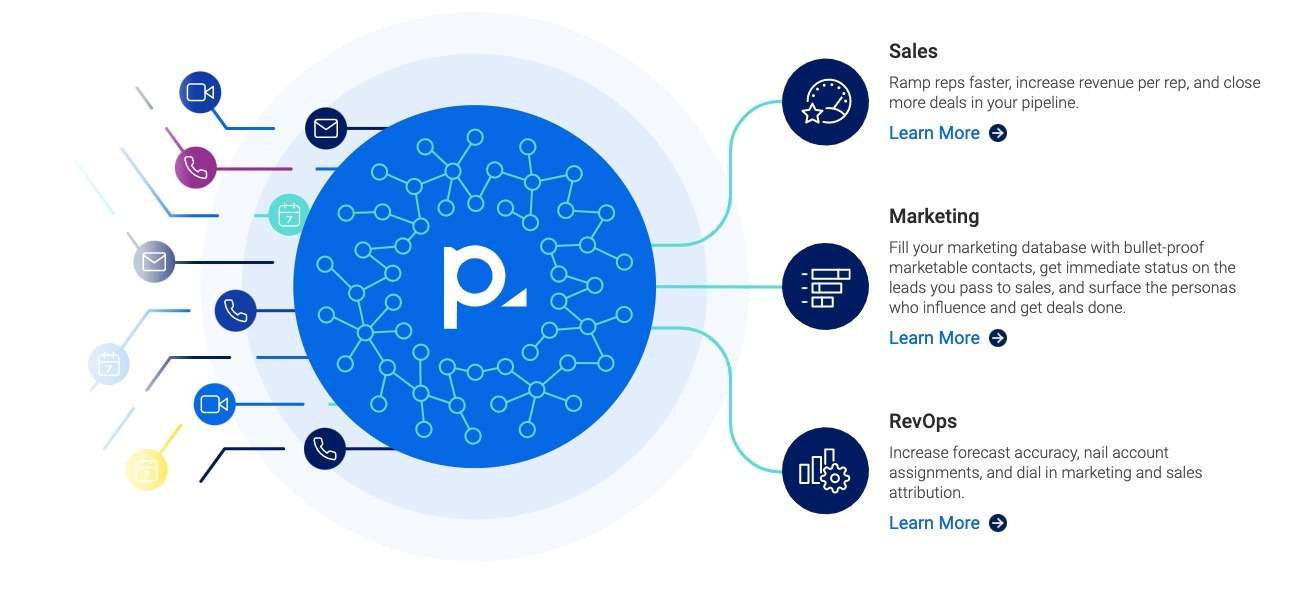 People.ai is an AI-powered platform dealing in predictive sales management that automatically catches sales activity from CRM systems, calendars, emails, and dialers.
This solution was created to offer personalized revenue insights to the sales and marketing teams to elevate growth.
Before data enters your CRM, People.ai filters all sensitive content automatically. AI-based algorithms build contacts and manage in-between applications.
Features
Tracks ROI
Data, goals, channel, meeting, opportunity, training, and call management
Collaboration and dashboard
Field Sales, campaign, document, contact, leads, performance
Predictive analytics and sales trend analysis
Integration
People.ai integrates with Dialpad, Skuid, Okta, Outreach, Vonage Contact Center, Microsoft 365, Google Workspace, Tableau, Truly, and Salesforce Sales Cloud.
Pricing
The pricing model is available for free as well as on subscription.
Conclusion
With this, we come to the end of this guide which listed a brief detail about some of the most powerful AI and Machine learning marketing tools that you can try today.
Whether you are looking forward to using existing software or enhancing your ability to better understand customer behavior, you can always rely on an AI tool.
Though each of the tools discussed here is quite helpful, HubSpot and TARS are insightful, easy, and simple to use.
So, let the tools do the work for you, and you can concentrate better on strategizing your operations.