Sales management tools and software offer you a better way to track your prospective customers and generate more revenue.
It optimizes your day-to-day processes so you can easily monitor your pipeline and maximize your monthly sales.
In this article, I have put together ten sales management apps that are best suited for startups and offer scalable features to accommodate the growing business.
They all are designed to help you boost your client engagement. But unlike customer relationship software, they exclusively focus on making the process simple for you.
If you aren't sure what differs CRM from sales management technology, let me briefly explain the clear distinction between the two first.
Difference Between CRM and Sales Management Software
Sales management and CRM technologies are often used interchangeably to handle sales activities and customer communication.
But while the former is created to optimize your workflow, the latter covers a broader range of other functions as well.
What is a CRM?
CRM is an all-in-one solution to oversee your funnel and customer engagement.
It allows you to store your client data, run your email campaigns, track your lead's interactions, and give a personalized experience to your buyers.
While most of its features do involve sales management, companies mainly use it to build strong relationships with their buyers.
What is Sales Management Software?      
Sales management software is designed to simply help you sell better.
It cuts down on your menial tasks, tracks your progress, and offers insight into best practices.
Its core function mainly comprises automating your administrative jobs and summarizing your efforts into measurable charts.
Which One Is the Better Choice?
It depends on your business requirements.
If you prefer a tool to supervise both your sales and contacts, a CRM is the best choice.
But if you're looking for a platform exclusively to record daily activities and evaluate your performance, a sales management platform is the right fit for you.
While startups need both to successfully run their business, what functions you want to improve at the moment will help you pick out the suitable option.
Now that we've discovered the main differences, let's dive into the ten sales software I have listed below to explore their features.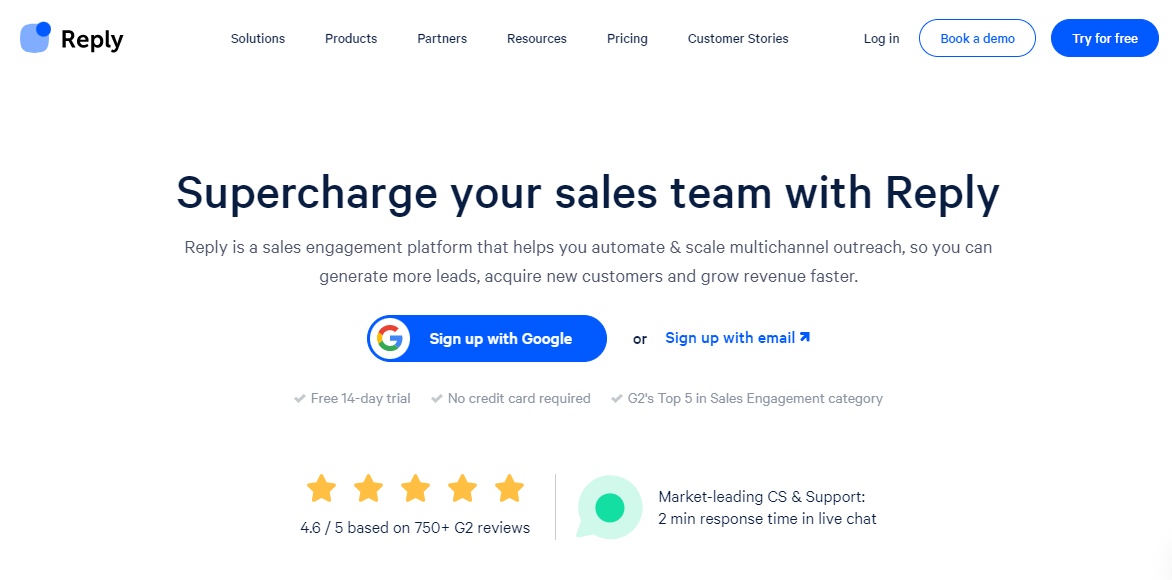 Reply.io is a user-friendly sales engagement software that offers tons of smart features to optimize your sales outreach.
You can create a personalized sequence, schedule different times for each step, and easily upload your contacts to send the entire thread in bulk.
It has a powerful sales funnel builder that also comes with preset templates and advanced AI-powered content suggestions to help you improve your email copy and launch multi-channel campaigns.
In addition to cold campaign automation, it provides you with the option to segment your contact lists and save your conversations.
With Reply.io, you can manage your contacts, execute a well-structured funnel strategy, collaborate with your team, and measure your success.
Here's a summary of its core features.
Features
Email templates.
AI-powered sales funnel builder.
Multi-channel outreach.
Contact segmentation.
Chrome extension.
Dialer and Call recording.
Team collaboration.
Reporting.
Integrations.
Price
Reply.io charges between $50 to $70 per month.
HubSpot Sales Tracking is a free app that offers workflow automation, deal management, and communication functions.
You can use it to build a full-fledged sales pipeline and personalize it to match the structure your company prefers. With its task management function, you can share your input with your team over the best way to quickly convert leads into customers.
It also offers a smart scoring option that compares your current leads with your past data and categorizes them accordingly to bring up the most profitable deals for you.
Overall, HubSpot shares all the essential functions to get you started.
Here're its core features.
Features
Tracking dashboard.
Deal management.
Pipeline.
Meeting scheduling.
Email integration.
Workflow automation.
Mobile App.
Price
Hubspot Sales Tracking Software is part of CRM and is free to use. To unlock advanced features, you can also buy the complete suite for a minimum of $45 a month.
Gong is a powerful revenue intelligence platform that tracks your customer interactions to help you identify the best way to pitch your product and services.
It records all your emails and calls in a timeline format, so every time you follow up with leads, it gives you a quick history of what you discussed with them.
Along with the conversation trail, it shares valuable statistics on your team activities to evaluate their performance and discover who delivers the best pitch you can duplicate for others.
You can also build a library of all your successful call records for your team development.
On a whole, Gong chiefly focuses on improving your sales.
Here're its core features.
Features
Conversation timeline.
Call record and notation.
Transcription.
Statistics.
Deals visibility.
Resource library.
Integrations.
Price
Gong provides personalized price proposals according to your company's size and niche.
Salesloft is a tough competitor to Outreach and offers three major packages to cover the different stages of your funnel.
Its prospect package provides you with automation functions to efficiently manage your appointments and leads.
Its sales product shares a scoreboard for each prospect to evaluate whether the deal is lucrative enough to continue. Additionally, it has analytics sections that deliver valuable metrics to forecast the best strategy to convert your leads.
Its engagement package gives you tools to personalize your services and improve the user experience.
Combined, they help you track your sales, identify opportunities, and close your deals faster.
It is an excellent suite for companies that are in the service industry and mainly rely on their sales reps to bring in more business.
Here're its core features.
Features
Workflow automation.
Pipeline dashboard.
Dialer.
Email option.
Call recording and transcription.
On spot notation.
Cold calling optimization.
Analytics.
Integration with CRM.
Price
Salesloft provides custom quotes based on your requirements.
Outreach is a sales engagement platform that helps businesses increase their pipeline visibility and boost their work efficiency.
It organizes your prospective clients into a digestible list so you can easily keep tabs on the open deals and timely detect leads that require nurturing.
You can merge Outreach with your Gmail account and initiate the sales process directly from your emails. It also allows you to automatically add a new task to your email sequence in the middle of your deal if things go south and you need to improvise.
But what makes Outreach's specifically appealing is its Kaia intelligence bot.
Kaia evaluates your call conversations and displays the best packages on the spot, so you don't have to waste time backtracking to get the information from the product page.
In addition, it records and highlights your verbal promises to remind you later as you begin your sales process.
Let me summarize Outreach's core features.
Features
Data-driven analytics.
Preset engagement sequences.
AI-powered conversation platform.
Pipeline visibility.
Work timeline.
Task management.
Gmail integration.
Price
Outreach quotes custom prices. You may have to contact customer service to learn more about it.
Zendesk is a customer service software that specializes in automation and after-sales support.
It extracts your tickets from external platforms and organizes them in a list to help you manage them easily.
You can track the source of your query, use multiple channels to connect with your customers, and set predefined replies for instant responses. It provides a chatbot to cut down on your time and offers workflow automation to create an email sequence.
Zendesk also has a built-in dialer to call directly from your dashboard and simultaneously record your conversations.
If you want to optimize your sales process and significantly improve customer experience, it's an excellent tool for you.
Here're its core functions.
Features
Helpdesk support.
Email automation.
Ticket tracking.
Call record.
SMS message.
Integrations.
Analytics.
Mobile CRM.
Price
Zendesk shares different plans in the range of $19 to $99 per user.
Revenue.io is an AI-powered telecommunication platform and offers process automation and team development features.
It allows you to send and receive calls, record your conversations, and redirect clients to the right salesperson.
It has a built-in conversation guide that gives you insight into your engagements and offers coaching on how to make your pitch more powerful and effective. You'll even receive suggestions during the call to get the right information to share with your clients.
If you frequently communicate with local and international customers on call, go for Revenue-io. It works well for any business type and supports multiple systems.
Here're its core features.
Features
Cross-platform app.
Conversation AI.
Productivity guide.
Call routing and disposition.
In-build dialer.
Integration with Salesforce.
Chrome extensions.
Price
Revenue.io provides custom plans for startups.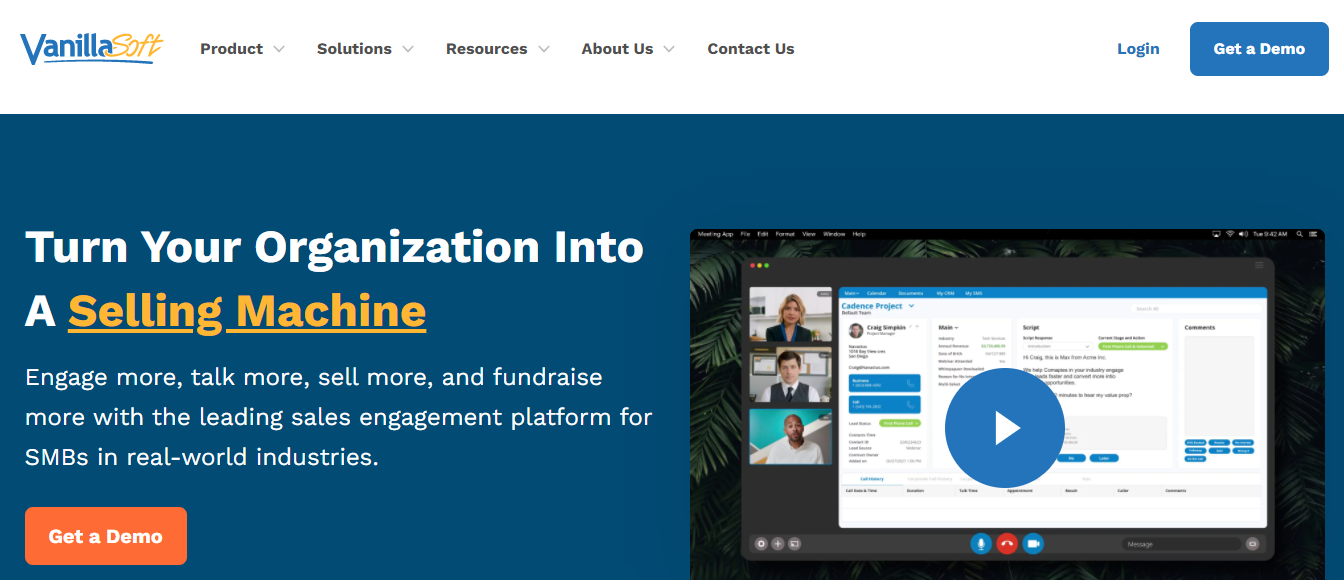 Vanillasoft combines telecommunications and CRM functions to boost lead engagement and drive more sales for your online business.
It shares multiple conversation venues and a routing option to help you extend your reach and leverage every possible channel to close your deals.
You can store voice templates here for instant responses, leave notes after each call for later review, and get updates on your leads.
It also has an advanced appointment feature that lets you set up an auto-reminder thread so you don't miss any potential customers.
Vanillasoft is best for making calls, creating follow-up emails sequences, scheduling appointments, and converting leads.
Here are its core features.
Features
Auto dialing and Routing.
Call recording.
Lead tracking.
Appointment scheduling.
Automation.
Routing.
Script builder.
Price
Vanillasoft charges a minimum of $80 per month.
InsideSales gives you a virtual workspace to record your day-to-day activity and measure your performance.
It has a powerful playbook suite that collects your prospect data and shares smart solutions on how best to approach them to increase your success rate.
With this information, you can extract valuable leads, build a proven sales cadence and automate follow-ups to keep you updated on everything.
It also shares a gamification function to run healthy competition between your team members and compare individual performance.
Overall, Insightsales gives you a clear picture of what you've achieved and how you can make it better.
If you lack the resources to gather intelligence on your lead behavior manually, this is an ideal software for you.
Here're its core features.
Features
Sale cadence and automation.
Buyer insight.
Lead score.
Custom rules application.
Gamification.
Analytics.
Report sharing.
Price
InsightSales quotes tailored prices.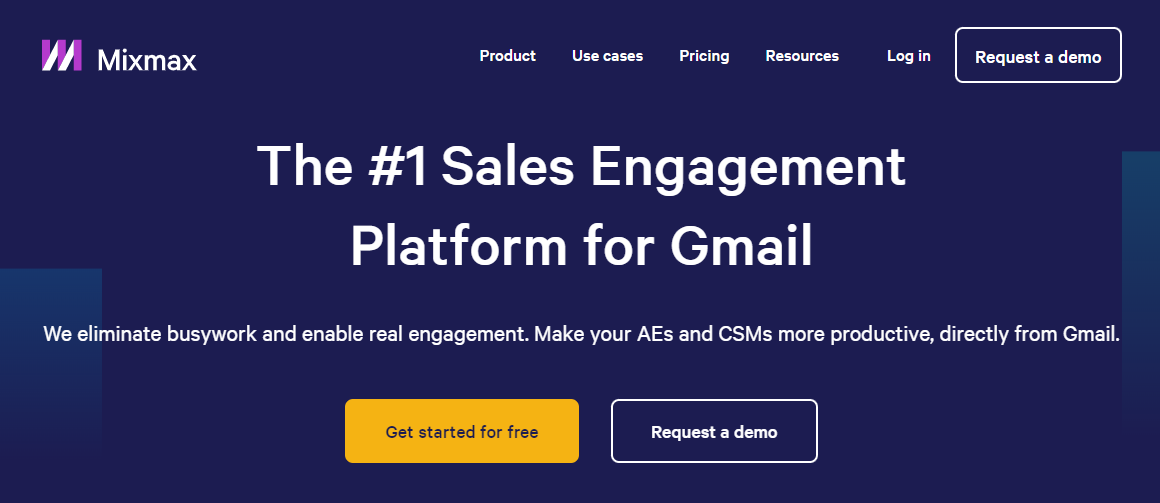 MixMax is an ideal sales management platform for those who mainly interact with their clients on Gmail.
You can sync your inbox and conduct a wide array of functions from a single dashboard, including cold calling, lead tracking, engagement, and scheduling.
It provides interactive features and product previews to personalize your emails and engage your customers. It also has a powerful tracking function to help you forecast your success rate so you can put all your efforts into pursuing potential buyers only.
With MixMax, you can call your clients directly from your inbox, share your calendar via email to let them set an appointment date, and collaborate with your team to discuss strategy.
Let me summarize its core features.
Features
Gmail integration.
Email tracking.
Conversion metrics.
Automated sequence.
Call record.
Team collaboration.
Calendar sharing.
Price
MixMax offers its starter plan for free and charges $10 to $50 for premium products.
Conclusion: Why Should You Go for a Sales Management Software?
Sales management software helps you build a centralized platform for your sales department.
With a formal procedure in place, your team can automate tedious jobs, so they spend less time on administration and more on selling. What's more, you would also be in a better position to measure your team's activities and identify weak strategies.
Companies that have well-established processes generate 28% more revenue than those with an ineffective management system.
I recommend exploring this option. Good luck!