CRM offers you the best way to store your customer data and manage your sales pipeline.
It helps you keep track of your leads, improve engagement with your clients, and help you discover future business opportunities. 
It is also one of the must-have software for any startup.
Let's cover the basics first.
What is a CRM?
A CRM is a customer management software that centralizes all your sales activities and lead interactions.
You can use it to create your client profiles, oversee your sales funnel stages, handle all your communications channels, and run customer support. 
It provides you with sales automation to reduce your workload and summarizes a large amount of data into digestible charts to identify gaps and opportunities. 
To summarize, it's a productivity tool that makes customer engagement easy.
Why Should 

You

Invest in CRM Software?
Establishing your business is highly challenging. It takes a tremendous amount of hard work, dedication, and time to build it from the ground up.
Because of the overwhelming nature of the job, 65% of Startups typically face management issues in the early stages of their business. 
A CRM tool offers you an established system to manage your sales. With valuable customer data within your reach, you can give your clients a personalized experience, boosting your conversions.
Those who have introduced CRM solutions to their organization have seen a 29% increase in their sales revenues. And today, almost 95% of customer-centric companies consider it a crucial part of their business.
I recommend exploring it. Since most CRM offers flexible features, you can easily tailor it to match your requirements.
If you're a solopreneur or currently working with a small team, check out the 15 best CRM tools I have listed below.
They are well suited for startups like you and provide both essential and scalable features to grow your company.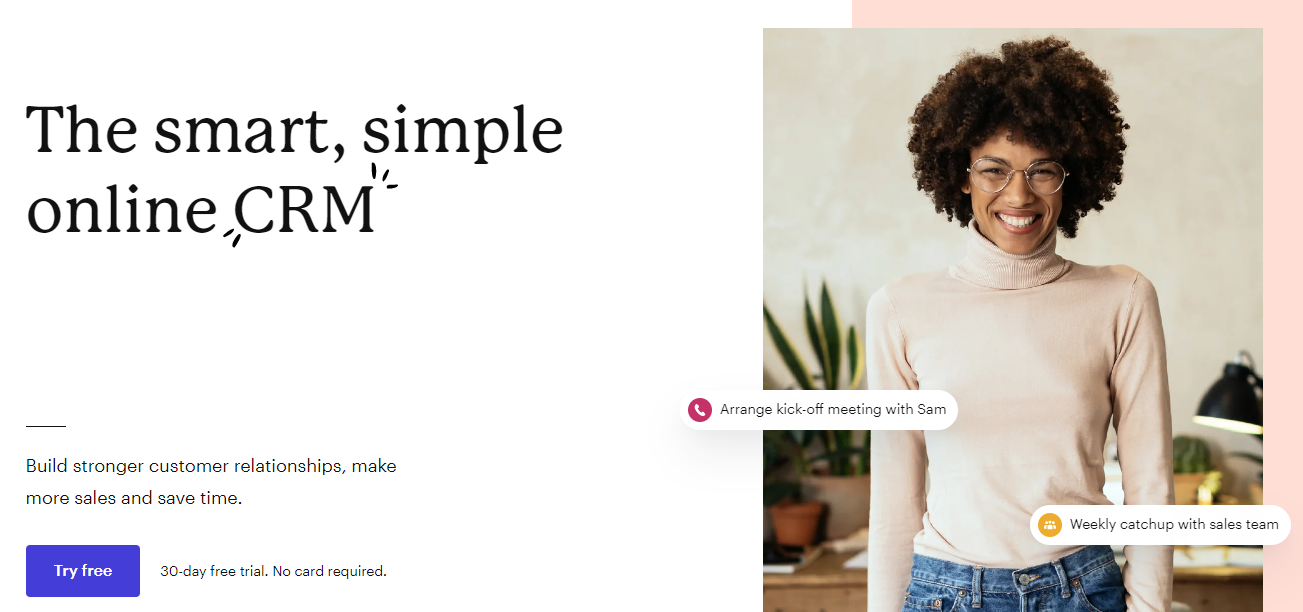 Capsule CRM is a beginner-friendly platform that provides basic sales automation functions to startups.
Its dashboard offers a visual representation of your pipeline to get a quick glimpse of your funnel and has advanced filter options to extract leads that need urgent attention.
You can set up multiple customer journey workflows, create custom tags to define valuable clients, and gain insight into key metrics to make informed decisions.
You can also connect CapsuleCRM with your Gmail account and build a two-way channel to operate it from your inbox.
Features
Various sales pipelines.
Robust reports.
Email Integration.
Data sharing.
Customer segmentation.
Mobile App.
Price
CapsuleCRM charges $18 per month for a small team and $52 per user for established enterprises.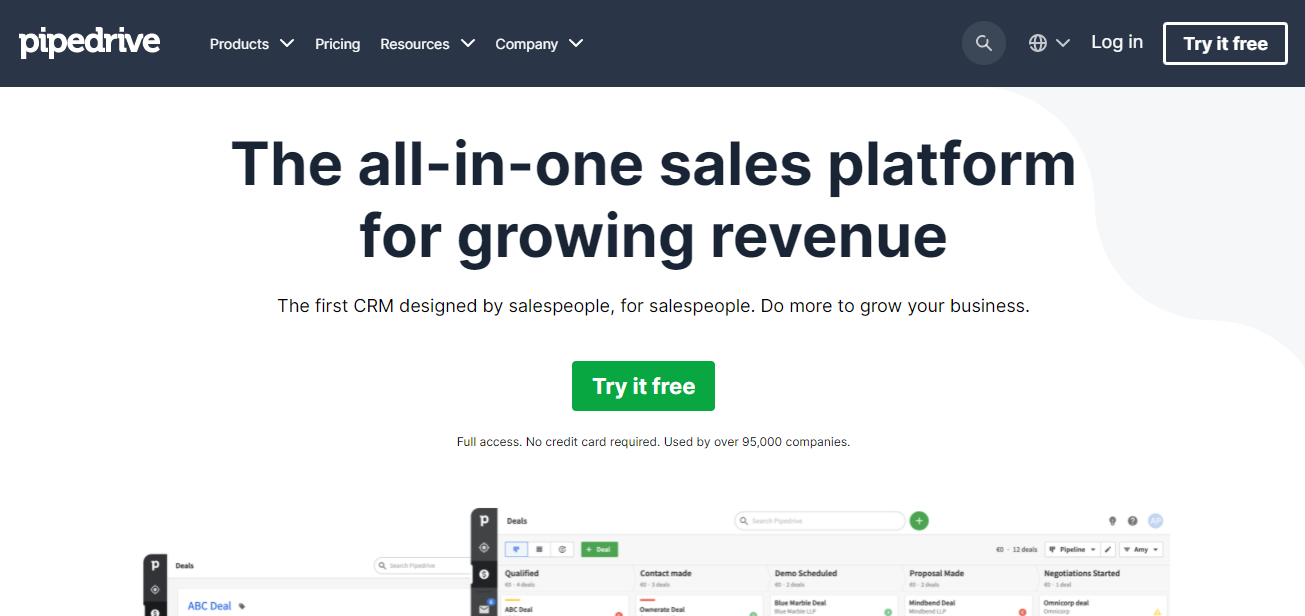 Pipedrive is ideal for startups that need a user-friendly yet powerful tool to handle their growing sales activities.
It allows you to create deals, build triggered follow-up email sequences, and set up a calendar for quick reminders.
You'll have a visually appealing contact file to keep a timeline of your conversations and a neat pipeline management dashboard to get a bird' eye view of your progress.
One of Pipedrive's features that I found most appealing is the custom guest field in the contact profile.
You can add multiple persons to a single profile to keep all their conversations in one place.
It is an incredibly useful function, particularly for B2B organizations that often deal with more than one representative from their client's company.
Features
Clean IU.
Sales automation.
Deal management.
Lead tracking.
Contact management.
Reporting.
Email communication.
Integrations.
Excellent customer support.
Price
Pipedrive shares four monthly subscriptions between $13 to $100.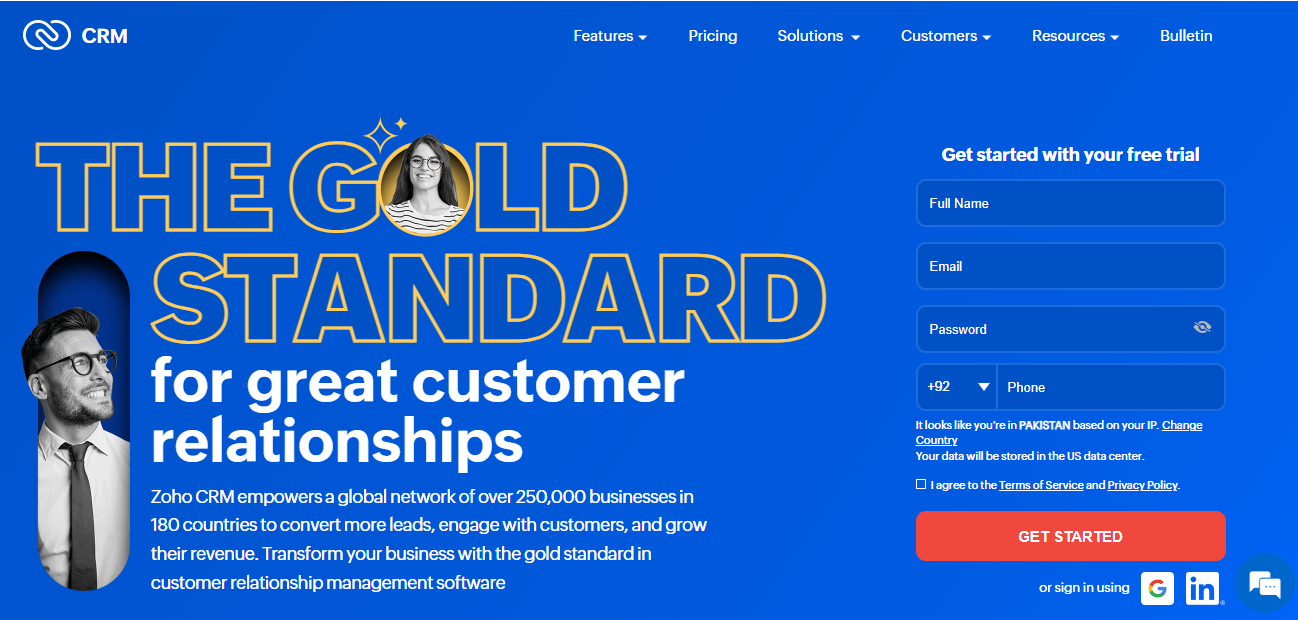 ZohoCRM is designed for small to mid-sized organizations and offers flexible features to support several types of businesses.
You can personalize your customer journey, keep track of your leads, and reduce your workload with sales automation.
It shares various communication channels, complete process management, and tons of useful customizations.
If you're interested in a multi-purpose tool, it also provides a suite called Zoho One for small businesses that prefer to centralize their entire business operations. It's mostly used by solopreneurs who want to avoid the hassle of using multiple apps for different departments.
Overall, ZohoCRM is incredibly easy to set up and allows integrations with several third-party apps to upgrade your functions.
Features
Custom dashboard and sales pipeline.
Lead Scoring.
Workflow automation.
Bulk Emails.
Customer support.
Smart suggestions.
Guest Access.
Price
ZOHO CRM shares four plans charging between $14 to $52 a month.
Hubspot Sales is one of the most popular, comprehensive, and user-friendly CRM software you'll find on the market.
It provides you with both essential and scalable automation to help you manage your sales and grow your business.
You can create personalized contact lists, maintain a record of your conversations in the respective customer profiles, and set reminders to make sure you don't miss out on anything.
You can also automate your entire email chain, log your calls, schedule meetings, and generate quotes.
Its dashboard gives you a canvas view of your pipeline to drag and drop your deals as you progress, and analytics to find growth opportunities.
Features
Conversation trail and call tracking.
Contact filter.
Team collaboration.
Automatically sync and update customer records.
Pipeline dashboard.
Live chat.
Mobile App.
Quote generation.
Integrations.
Price
Hubspot starter plan is free of cost and its premium Sales CRM product charges a monthly subscription of $45 per month.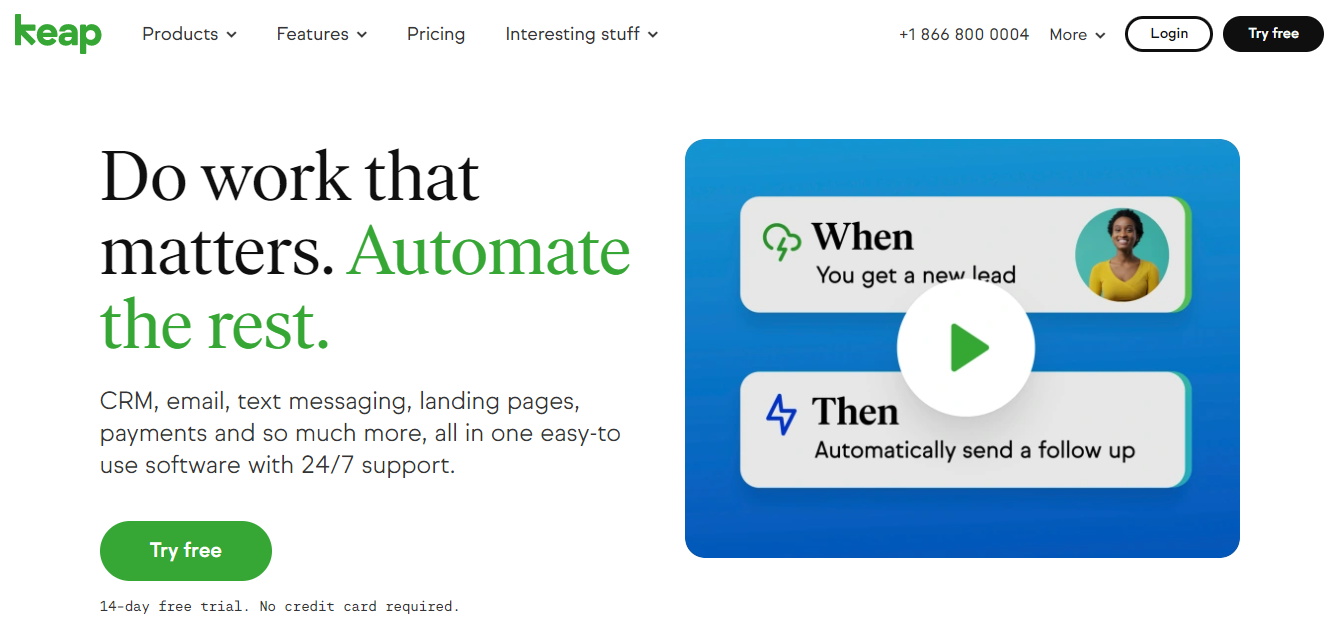 Keap offers you more than just a basic CRM platform, providing you with both sales and marketing automation features to successfully manage your customer journey.
You can interact with your clients on your smartphone, build a professional pipeline to track deals and keep all your invoice records in one place. You can also create personalized messages and use email marketing to nurture and capture more leads.
Keap shares several workflow automation templates to help you get started. With it, you can simplify your sales funnel and improve customer engagement.
Features
Automate lead capture.
Mobile communication.
Customer segmentation.
Built-in appointment scheduling.
Email marketing.
Integration.
Invoicing.
Price
Keap offers a Lite plan for entrepreneurs, charging $56 per month.
OnePageCRM breaks down your sales funnel into an activity stream, contact pages, and a visually appealing pipeline.
It provides you a listicle view of your company's activities and a forecast dashboard to get quick updates and plan your next strategy.
You can import customer information directly from your social media network, convert them into potential leads and add them to your pipeline to oversee your deals.
Each contact page provides in-depth information on your clients, allowing you to build individual action sequences to offer them a personalized experience.
Features
Easy contact import.
Activity stream.
Contact pages.
Pipeline management.
Forecast view.
Email inbox.
Mobile App.
Third-party integration.
Price
OnePageCRM offers monthly plans for $10 to $20.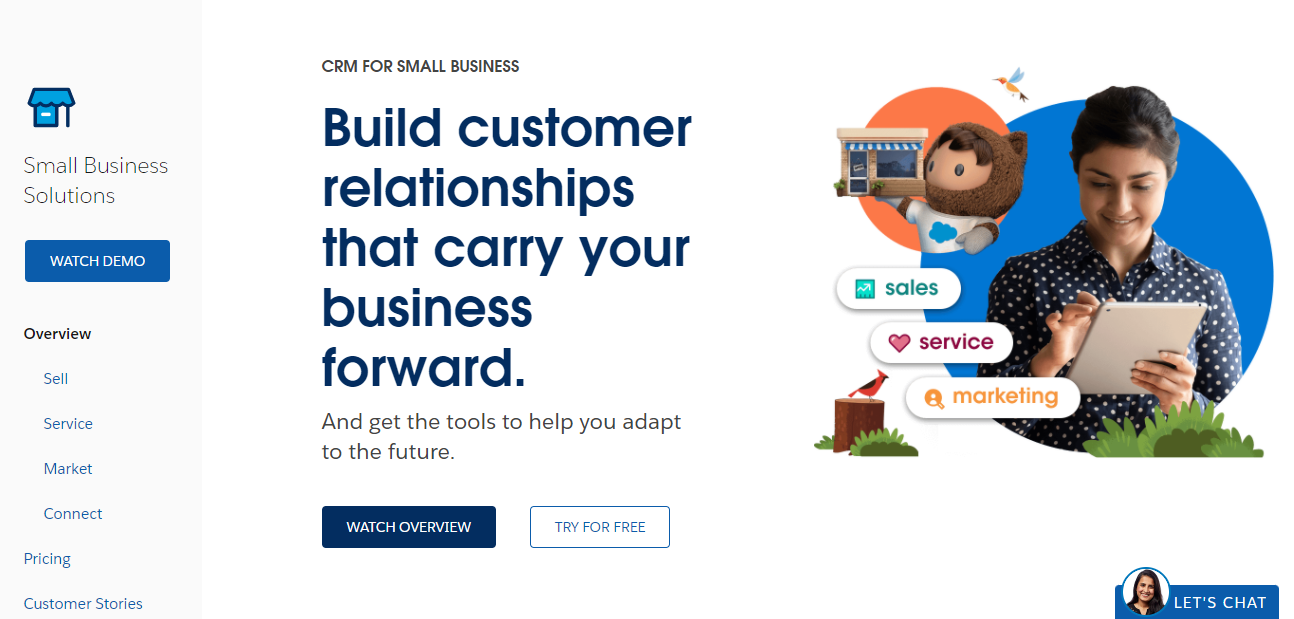 Salesforce is a leading CRM software that's been around for two decades and still enjoys a strong position in the market.
It has been gradually extending its features every year and now offers a CRM solution for small businesses to help them better manage their sales operations.
You can easily track your lead pipeline, maintain uninterrupted customer support, oversee accounts of your valuable clients, and invite teams to collaborate.
It provides you with tools to set up a unified customer database, build customizable lead paths, and automate some of your workflows.
Salesforce additionally gives you access to its add-ons to expand your functions as your business grows.
Features
Contact integrations.
Opportunities pipeline.
Leads list.
Automation.
Preset templates.
Robust reporting.
Customer support services.
Prices
Salesforce for Small Business offers three plans starting at $25 per month.
Freshworks provides two major CRM products to help you manage your sales and marketing funnels.
Its multi-purpose suite gives you a 360-degree view of your customers to discover gaps and find business opportunities. If you prefer a consolidated platform, go ahead and check out its suite of software.
But if you want a classic CRM to lock leads and boost revenues, you'll love Freshsales.
It is exclusively designed to expedite your sales cycle and strengthen the relationship with both your potential and existing customers.
You'll have the option to connect with your clients on multiple communication channels, record your conversation trail, and monitor your pipeline from your cellphone.
It also provides an analytics section to review progress and an AI assistant to offer smart suggestions.
Features
Sale cycle templates.
Content management.
Powerful automation.
Multiple communication channels.
AI-assistant.
Reporting.
Integrations.
Mobile version.
Price
Freshsales charges a minimum of $15 per month.
Insightly provides a simple CRM that compiles all your sales activities into neat panels and visual progress bars.
You get a decent contact management tool to gather in-depth information on your contacts and keep separate records of your deals, projects, and conversations.
It shares different dashboards to manage your projects, leads, and opportunities individually. In addition to it, it lets you create reports of your activities for your team.
You can also get an inbox and a calendar to check your email directly from it and set reminders.
Overall, Insightly CRM has all the essential functions to make your job easier.
Features
Multiple Dashboards.
Detailed contact forms.
Conversation tracking.
Auto-Lead assigning.
Workflow automation.
Email integrations.
Prices
Insightly offers three plans for $29 to $99 a month. You can also use it for free to explore it.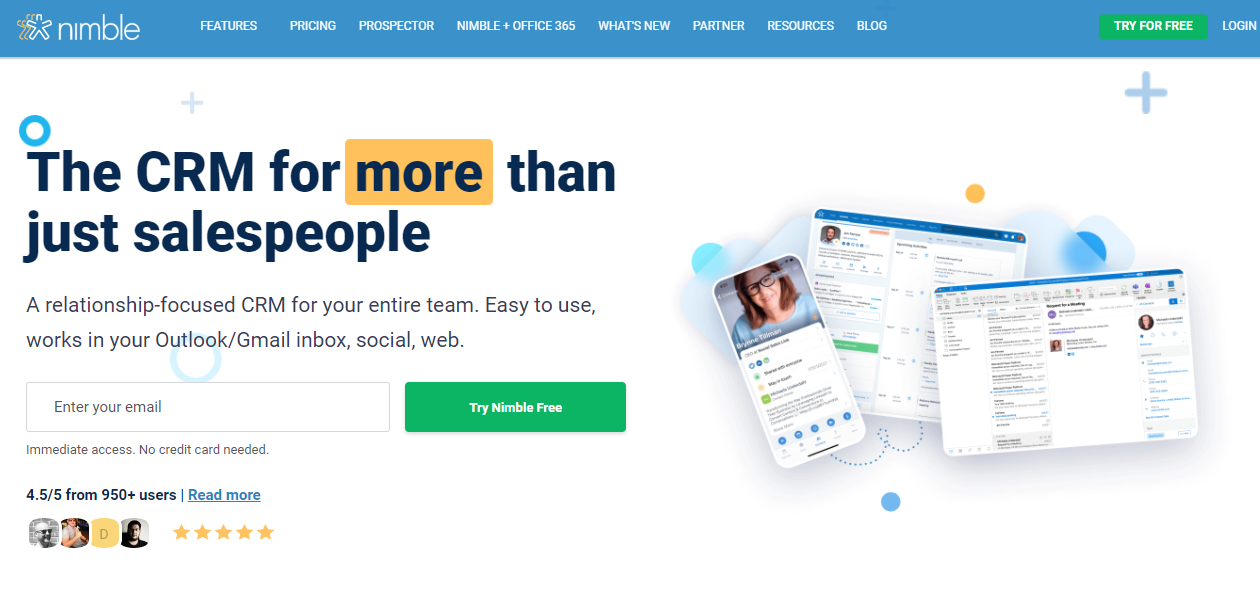 Nimble is a good choice for businesses that have a large social network and need a powerful contact management feature to oversee them.
It automatically extracts all scattered customer data from your social profiles and organizes it into individual profiles.
You can segment your prospects into groups to send bulk emails, identify promising leads with smart tracking, and use a visual pipeline to close deals.
In addition to contact management, Nimble provides email marketing campaign automation and robust analytics to help you generate more sales.
Feature
Smart segmentation.
Content management.
Email marketing.
Sales pipeline dashboard.
Browser extension.
Mobile app.
Price
Nimble offers a standard package for $25 a month.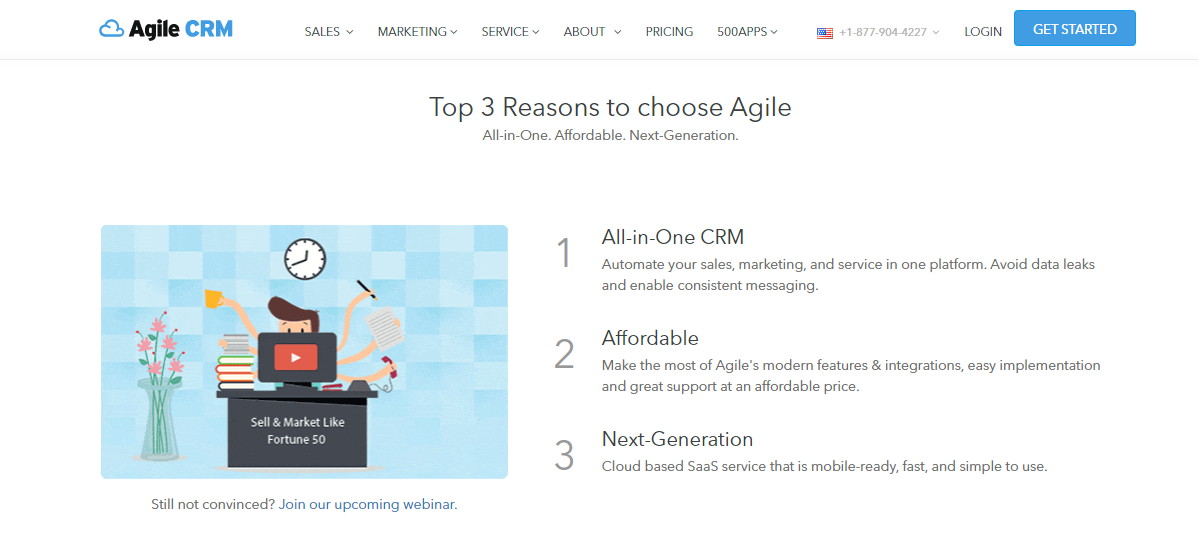 AgileCRM provides advanced sales, marketing, and customer support features to both B2B and B2C organizations.
It offers a diverse range of functions to optimize your social media presence, sales funnel, and team productivity.
You can design marketing campaigns within minutes, connect with your existing customers with visually appealing newsletters, and establish a helpdesk to handle tickets. You'll also find a gamification section to boost your team's morale and increase the potential for more orders.
With AgileCRM, you can easily manage contacts, streamline your workflow, provide seamless customer service, and nurture relationships.
Features
360-degree view of your customer.
Marketing campaign builder.
Email tracking.
Pipeline management.
Helpdesk.
In-depth reporting.
In-house productivity tools.
Integrations.
Chrome extension.
Price
AgileCRM is free to use. To get more features, you can purchase its premium plans for $9 to $48.
EngageBay, like AgileCRM, is also a multi-purpose freemium solution, but it offers you the option to buy the sales CRM as a standalone.
Its dashboard has a simple IU comprising a list of contacts, deals, automation, calendar, and reporting in a single panel.
You can create your pipeline from scratch to design the structure you're already familiar with and assign tags to make filtering deals easy.
Its automation functions optimize both your internal and external workflow, saving you from menial tasks like directing leads to sales or sending follow-up emails.
Overall, it's a pretty robust CRM and a good option to consider.
Features
Customer highlights.
Contact management.
Customizable pipeline.
Calendar and Tasks.
Integration with Gmail.
Tagging.
Call record.
Live chat.
Price
EngageBay offers its basic plan for free and premium plans for $11 to $40 a month.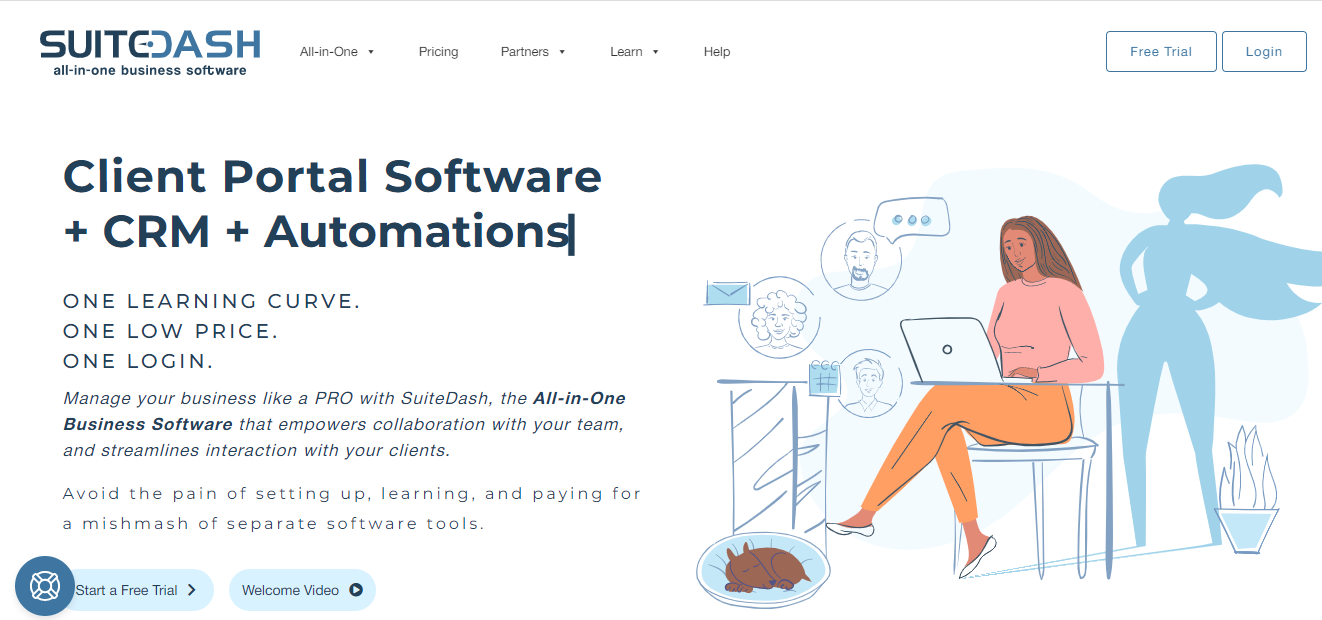 SuiteDash is what I would call a true all-in-one solution for B2B businesses.
It not only offers a CRM to manage contacts but also shares powerful functions to boost customer engagement and oversee your projects.
You can capture leads with email marketing, track your prospects with a robust pipeline, generate invoices to convert leads, and share data with your clients to establish relationships.
Its marketing and white labeling sections allow you to give a unique experience to your customers, while its automation actions help you comfortably manage your workflows.
The feature that stands SuiteDash apart from others is its client portal.
You can build a custom portal for your customers to include them in activities that require their input. It's a handy function to offer progress reports and get approvals from your clients.
Features
Contact and project management.
Email marketing.
Custom branding.
Billing.
Marketing and sales automation.
Client portal.
Price
SuiteDash's monthly subscription costs between $19 to $99.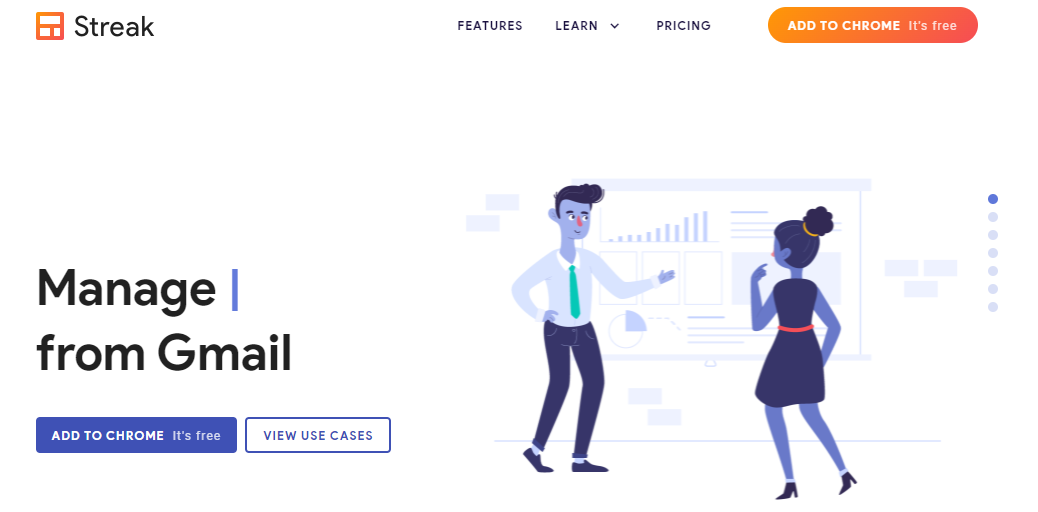 Streak is a basic CRM software that offers you a way to optimize your workflow from your Gmail account.
You can build pipelines inside your inbox for anything from lead converting, business development to recruiting.
With its mail merge option, you can send bulk personalized emails directly from your dashboard so you won't have to manually edit each message. Its conversation tracking feature creates a trail of your emails to give you a timeline of your interactions.
Streak makes customer engagement remarkably easy, allowing you to organize, share, and convert your leads effortlessly.
Features
Custom workflows.
Conversation trail.
Mail merging.
Email snippets.
Call logging.
Mobile App.
Price
Streak offers a free chrome extension to operate the basic functions. If you work with a team, go for its pro plan. It will cost you $49 a month.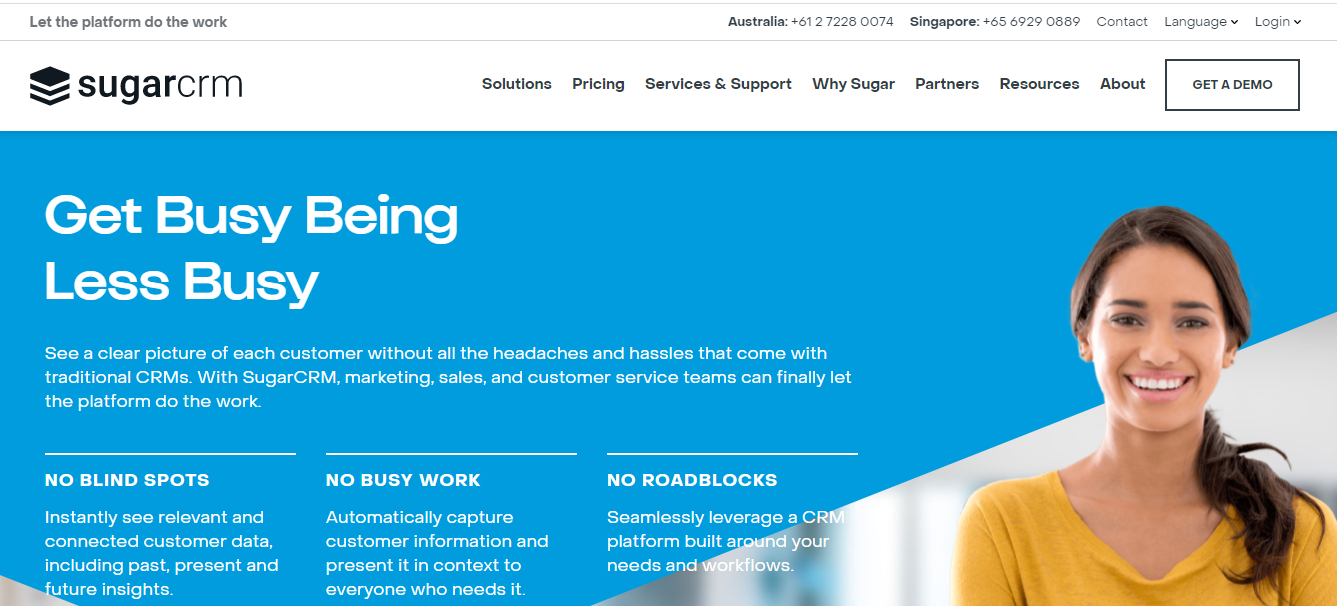 SugarCRM handles all your sales funnels, marketing campaigns, and customer services.
It has a highly robust dashboard that provides a comprehensive view of all your activities to forecast future opportunities and take immediate actions. With its automation feature, you speed up quote approvals, create marketing campaigns, capture leads, and quickly close the deal.
It also allows you to sync your email list to its database and operate the software via your Outlook inbox.
It is an ideal tool for companies that have a small set-up at the moment but are currently scaling their business.
Features
Advanced dashboard view.
Sales automation.
Content management.
Marketing campaign.
Email integration.
Mobile friendly.
Customer support portal.
Price
SugarCRM shares a professional plan for startups at $52 per month. You can also buy its enterprise plan for $85 a month.
Final Word
Many startups started using a CRM in the early days to develop a secure system to efficiently manage their customer engagement.
It not only saves their administrative costs but increases their productivity, helping them generate more sales.
If your brand is growing steadily, you'd eventually need one to make your sales and customer management job easier as well.
We hope this list helped you find the best CRM software for your startup.