Struggling to convert your leads into paying customers?
No worries. 79% of prospects never move past the consideration stage anyway, and most business conversions typically range between 2 to 3%.
If your sales are meeting the above benchmark, you're doing well. If not, then the problem is probably with your sales funnel strategy.
A sales funnel is the visual representation of your prospect's journey to the purchasing cart.
You take over qualified leads from your marketing department, anticipate your SQLs hangout places and nudge them subtly towards the sales cart.
Now, sometimes your prospect abandons the journey in the middle because they're not yet ready to buy your product or services.
Perfectly normal.
But when it continues for a long time, it's time to change your sales funnel strategy.
Here are the 20 best sales funnel examples to help you brainstorm fresh ideas.
Some brands might be unknown to you, but since they've well-structured sales funnels, I thought them worth mentioning.
(By the way, if you're unfamiliar with the customer journey, you'll find the in-depth explanation here.)
So, without further ado, I will start with Adobe.
1. Adobe Inc—Free Trials and Membership
Adobe is an animation and multimedia SaaS enterprise that offers a myriad graphic design, video editing, and printing software against monthly subscriptions.
If you look at its sales funnel, Adobe employs a combination of tutorials and trials to entice qualified leads into becoming paying customers.
Take Adobe Photoshop, for example.
Many learn about Photoshop from professional designers. Right?
Adobe builds prospects' interest through YouTube tutorials. As the potential customer enters the consideration stage, Adobe offers a free trial as bait to lead them further down the funnel towards its Creative Cloud space, which is its distinct selling point.
Once you gain entry, Adobe upsells multiple apps to generate subscriptions.
Its sales funnel has worked well for Adobe, earning it over 12 million subscribers, today.
2. Help Scout— Competitive Features and Demos
Like Adobe, Help Scout also employs a straightforward sales funnel, but unlike Adobe, it doesn't have the privilege to leverage tutorials to gain customers.
Help Scout is a B2B SaaS company that offers helpdesk solutions to small businesses. As their target market is entirely different, Help Scout shares information through demos instead of user-generated content.
Demos help you highlight your competitive features. By bringing attention to its value proposition, Help Scout has sprinted several customers away from its rivals. Check out its customer stories section, and you'll find the proof.
Help Scout also has simplified its free trial. You don't need to add credit card details to avail of the free trial. All Help Scout requires is your name and email address.
That's how Help Scout converts leads.
3. Buffer—Optimized CTA and Attractive Plans
This company has an ideal sales funnel.
Buffer not only knows how to embed social media into its marketing funnel, but how to lure SQL to buy its paid plan.
We will not dwell deep into its marketing secrets given the article's subject, but you'll find its sales funnel here interesting.
The moment you land on its homepage, Buffer will offer you three distinct choices— learn how the tool works. Check out its plans, or "Get Started" immediately. It uses a clever mix of contrast and text to draw your eye to its CTAs.
Buffer additionally attracts leads with its free trials and demos. Buffer also follows a low-cost business model that adds further enticement to the deal.
Suffice to say, there's a reason Buffer entertains 160,000 customers.
Study its sales funnel. It's one of the proven structures of most SaaS companies.
4. Russell Brunson—Free Book
Russell Brunson is an online marketer, influencer, and author of the U.S.A. Today bestselling book, Dotcom Secrets. He has sold over 250k copies of his books using one irresistible tactic in its sales funnel that worked wonders for him.
A free book—or in marketing terms, a lead magnet.
Russel Brunson offers a free book to its new prospect to upsell them his other books.
The author employs a series of videos and pop-ups to drive you toward the deal. Once you're ready, the author asks you merely to bear the shipping costs.
Russell Brunson's strategy is ideal for those who can't provide demos to convert leads. This way, the prospect gets a free product, and the seller, a potential customer.
Aayush's Note
Russel Brunson is not your typical marketer. He is a very flamboyant, in-your-face kind of marketer. His favorite sales funnel tactic is using his books as a Trip Wire product. A Trip Wire product is offered for free, but you are charged a few dollars (In this case, shipping of the book) and then you're put on a mailing list for the next tier, high-ticket products. Much like every other scam artist does. He isn't a scam artist himself, but his tools facilitate most of the shady practitioners of internet marketing with a proven road map.
5. Warby Parker—Unique Free Trial
People typically opt for online eyewear because they're comparatively affordable than your brick-and-mortar store's product. But the trouble with online shopping is that nearly half of customers end up receiving ill-suited glasses.
Since Warby Parker relies on online sales, they found an inventive way to solve the problem. Warby Parker offers its customer to try the glasses at home before ordering the fresh pair.
How?
Their site displays a free test CTA on its homepage.
The CTA will lead you to the product page, offering limited glasses for the 5-day test drive. Once you select the five samples, they will ship you the pairs with a return label on the box to send back the samples.
An ingenious sales funnel, isn't it?
For a minimal shipping charge, Warby Parker earns a satisfied and repeat customer.
6. Paypal—Referral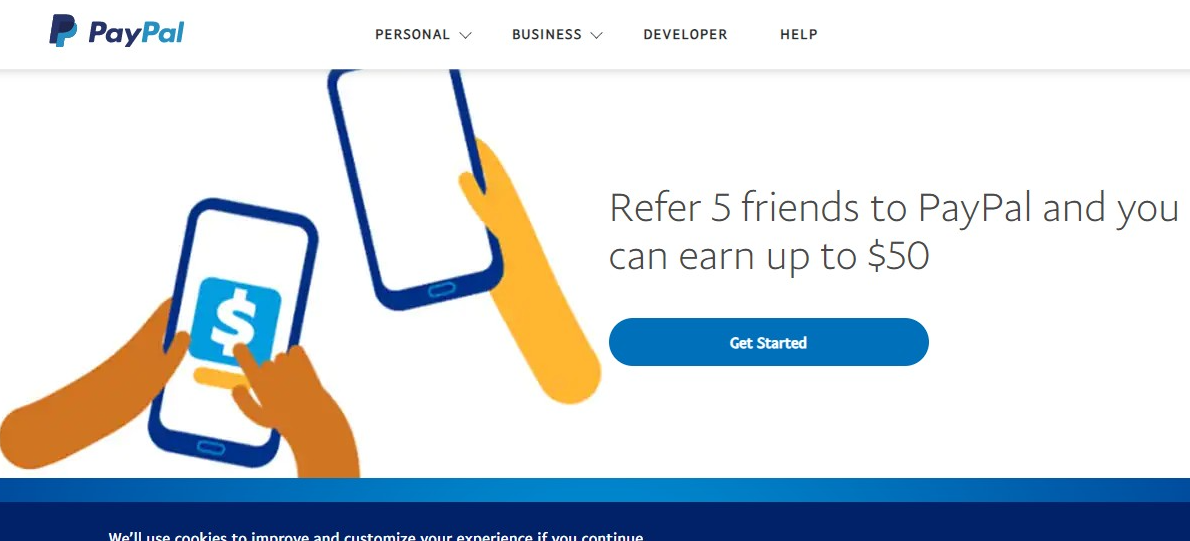 As an online funds transfer company, Paypal naturally can't practice a standard banking sales funnel. To compensate for its lack of a brick-and-mortar presence, PayPal uses an online referral system to get customers.
The sales funnel consists of receiving an invitation from a friend, waiting for the eligibility period, and earning first-time customer rewards.
This method serves both the marketing and sales departments. How?
A typical purchase funnel consists of awareness, consideration, and decision stages, right?
Theoretically, the marketing team manages the first half while the sales team handles the second half. When you adopt a referral system, you reduce the drawn-out consideration stage by attaching monetary benefits to the deal. Your customer sends the referral, and your potential customer gets right into the decision phase.
Paypal generates high ROI employing such a word-of-mouth tactic.
7. Tesla—Simplified Order Processing
Tesla is a multimillion electric vehicle brand that quickly climbed to the top by using game-changer sales tactics.
It completely disregarded third-party franchise services and employed a direct-to-consumer sales funnel to generate revenues.
Tesla's sales funnel consists of merely three steps. Get registered, watch the live launch, and order online. Yet, the ease of the purchase process brought 180k orders within 24 hours when Tesla launched its first car.
Of course, much is credited to its marketing funnel for bringing such a huge audience, but Tesla's customers particularly found its sales procedure positively relieving.
Over the years, it has often tinkered with its sales funnel to make it as user-friendly as possible. Tesla still holds the dominating position because of its customer service.
I shared an in-depth article on Tesla's Marketing Model a while back, if you're interested in learning how they sold electric vehicles online.
8. Netflix—Meticulous Sign up Procedure
People often avoid online streams for security reasons. Netflix leverages this pain point to generate subscriptions.
In the early years, Netflix provided free trials to new users. The 30-day free streaming coupled with the secure account earned it over 200 subscribers. Following the COVID situation, Netflix removed the free trial, but it is still sensitive to its prospect concerns and offers a risk-free experience.
Netflix has a straightforward and slightly elaborate sales funnel for the benefit of its users. The landing page displays a clear CTA leading you to a nearly 5 to 6 step membership procedure where everything is mentioned in simple terms to leave no space for confusion.
If your business is subscription-based, I suggest signing up to study the Netflix sales funnel.
9. Sephora—Loyalty Programs
Sephora has worked hard to make itself a one-stop shop for all fashion enthusiasts. It features nearly 3000 brands, owns its own private label, and successfully runs 2600 stores!
What sales funnel strategy has Sephora employed to generate revenues in billions?? The answer is its Customer Loyalty Program.
It first launched its Beauty Insider program in 2003, offering purchase points to its customers to encourage sales. Later, it opened its beauty bar to provide pre-order consultation services to help visitors choose well-suited products. Over the years, Sephora has teamed up with other brands mainly to improve user experience.
These innovative sales techniques brought it to the limelight, and now Sephora enjoys a top position in the cosmetic industry.
Moral of the story? Focus on a customer-centric sales funnel.
10. OptinMonster—Convertible Sales Copy
As a lead generation plugin, OptinMonster is certainly not lacking in sales funnel ideas. It engages multiple channels to increase its conversion.
On its homepage, OptinMonster will attract you with its product and previous customer's fun facts. If you pause for a moment merely to consider your options, OptinMonster will quickly flash a lead magnet pop-up to keep your attention.
As you click on its pricing page, the site will welcome you with influencer testimonials, sales deals, and a money-back guarantee badge. Even if you decide to try out a plan, OptinMonster will try to hurry you with its limited-deal timer.
In other words, OptinMonster applies every trick in the book to persuade its prospects.
OptinMonster's incredible copy is its sales funnel winning feature.
11. Backlinko—Sales Emails
Backlinko is owned by well-known SEO expert Brian Dean, who runs emails to sell his courses.
Brian practices a straight and narrow sales funnel for Backlinko. Send a series of nurturing emails followed by sales emails to get enrollments. Simple.
Initially, of course, Brian generates qualified leads through SEO marketing and his blog content. But once you subscribe to the email, Brian regularly shares a newsletter brimming with SEO tips and actionable links leading to his product.
You must be wondering why a marketing guru would pick such a basic, and according to some, rather obsolete sales technique for his business?
The truth is, sales emails still influence 59% of lead buying decisions. A personalized sales email makes people feel nurtured, increasing the chances of conversions.
Brian is well aware of this and sends customized emails to connect with his audience.
Backlinko sales funnel tells us that sometimes a straightforward strategy is adequate for a micro-niche.
12. Mailchimp—Personalized Pricing Plan
Mailchimp primarily provides email and marketing automation services to small business owners who can't afford large-scale marketing.
Since its target market roughly comes under a middle-income group, Mailchimp captures customers by offering a personalized pricing plan.
Let me briefly explain its sales funnel.
Mailchimp displays two distinct CTAs. You can directly start using Mailchimp or take your time comparing the plans.
Now, the real bargaining begins at the pricing page. Mailchimp allows you to customize your plan according to your contact number. This method gives prospects control over their plan, allowing them to save costs by limiting their contacts.
Mailchimp essentially understands its audience struggles and creates its sales funnel accordingly.
13. Crazyegg — Curiosity Inducing Copy
Crazyegg helps you identify the pages your visitor finds interesting to improve your site traffic.
Given its product nature, Crazyegg, like most SaaS companies, leverages its blog posts and home page to convert leads. But unlike many, it embeds anticipation in its content to awaken its prospect's curiosity into taking a test drive.
It has set up a four-step sales funnel for its users. Share your URL, mention your email, select your preferred plan, and fill out the form to start your 30-day trial.
The first step builds anticipation in its audience, and the seamless sales funnel makes sure they quench their curiosity.
Explore the site to see it firsthand.
14. Skillshare—Multiple Touchpoints
One of the well-known learning platforms, Skillshare connects aspiring professionals with niche experts and earns from subscription fees.
As Skillshare is a third-party platform, it operates several sales funnels.
Let's look at its Team Plan sales funnel.
At the top corner of the home page, you'll find "Team plan" CTA that will take you to a landing page designed for companies hoping to acquire courses for their entire team. The page contains clear CTAs for demos, pricing plans, and enrollments. Down the page, Skillshare displays more CTAs to lead you to the demo site.
The site further offers free accounts and courses to help you get familiar with the platform.
Skillshare's sales funnel, in a word, has multiple touchpoints to retain its users.
15. Dulux—AR Demo
Famous for its quality paint, the 60 years old company has always capitalized on its product aesthetic to attract customers.
In the last few years, Dulux has found an inventive way to showcase its product.
It offers an AR app for Android and iOS users that lets you virtually see how your chosen paint will look in real-time. The app sales funnel lets you save your ideas, find the nearest store location and make an in-store purchase.
As AR increases your sales by 40%, naturally, it boosted Dulux revenues, as well.
Dulux's site sales funnel is equally engaging.
It has installed a quiz feature giving you the option to pick the right color, discover a template for inspiration, and get suggestions.
Do check out Dulux. It has one of the best sales funnels.
16. Bogs—Shipping Perks
Built for comfort, Bogs is not only famous for its sturdy boots but warm brand voice, and attractive cart options.
Its sales funnel starts from the splash page, offering discounts on your first order and subdued, minimalist visuals draw your eyes to the "Shop Now" CTA.
From there, you'll find yourself at the product page containing all the details mentioned in colloquial language. At the checkout point, you'll enjoy three payment options and free shipping and returns.
Bogs highlight free shipping multiple times throughout the buyer's journey.
Everyone knows free delivery influences a buyer's decision. Bogs simply took advantage of it and offered it on its regular merchandise.
Bogs' brand voice and postal benefits are two noticeable features of its sales funnel.
17. Patagonia—Product's Perceived Value
Patagonia boasts the sustainability element and side perks in its sales funnels to convert leads.
Its homepage displays volunteer projects to let people know it contributes to society. On the product page, Patagonia particularly mentions it uses recycled material to highlight it is environmentally-friendly. To further encourage buyers, it points out that 1% of purchases go to the community.
Patagonia's checkout points are also optimized for its customers. You can select from four delivery methods and have the option to pay from PayPal.
Another interesting stage in Patagonia's sales funnel is the Ironclad Guarantee. A guarantee reduces the risk factor and settles people's minds, ultimately influencing their decision.
So, yes. In a way, Patagonia increases its product's perceived value to generate sales.
18. Zappos—Customer Service
Zappos might be a retailer, but it follows in the footsteps of Amazon regarding structuring the sales funnel. It grew its business using a customer-centric approach, and it clearly shows in its sales funnel.
Take its product page, for example.
You'll find every minute detail that a shoe buyer typically considers mentioned under each product. It offers space to ask queries regarding the item, shares, its customer reviews, and displays other products people liked.
Not all retailers list such an in-depth product description or provide feedback on features. It has designed its sales funnel to ease the buying process.
Zappos has always been customer-centric, but after being acquired by Amazon, its process has positively improved.
19. Uber—Simplicity
Uber has dominated the market for introducing innovative ride-hailing services but also for creating a simple operating system.
If you observe its sales funnel, it makes up straightforward CTAs and self-explanatory steps to make navigation easy. It additionally offers plenty of side benefits such as rewards points, discounts, and deals, to retain its customers.
If you're a driver, you'll be asked to download the app, provide the required documents for approval, and start receiving rides. No drawn-out procedure.
The same is said for passengers.
Uber initially attracts leads through a referral program and generates revenues from fares.
But more than that, it gains customers by making its products easily accessible. That is what makes its sales funnel successful.
20. Ikea—Shopping Experience
Ikea's online sales funnel is remarkably targeted.
The home page will lead you directly to the manual page, briefly explaining how to order online from Ikea.
It doesn't entice its visitors with visuals or new arrivals; it sticks to a straight path.
Now, if you want to experience a live version of a sales funnel, plan a trip to Ikea.
Ikea's in-store sales funnel offers a marvelous shopping adventure. The store holds properly decorated rooms to showcase its latest items and upsell its products. The strategically placed Isles draw your eyes towards products you never thought to buy until now.
So even if you have come to purchase a pillow, you'll probably checkout the side table lamp.
I highly encourage visiting the store. If not to study its sales funnel, then to get a memorable experience.
Conclusion
If you take your time observing the above 20 examples, you'll realize their sales funnel itself isn't unique, rather, every brand has embedded distinct elements.
Take Bogs and Patagonia.
Both are retailers, both emphasize their product's perceived value, and both offer shipping perks. Their sales funnels are merely personalized.
Study the above examples and find out how they have molded their funnel strategies to suit their target market and try the same.