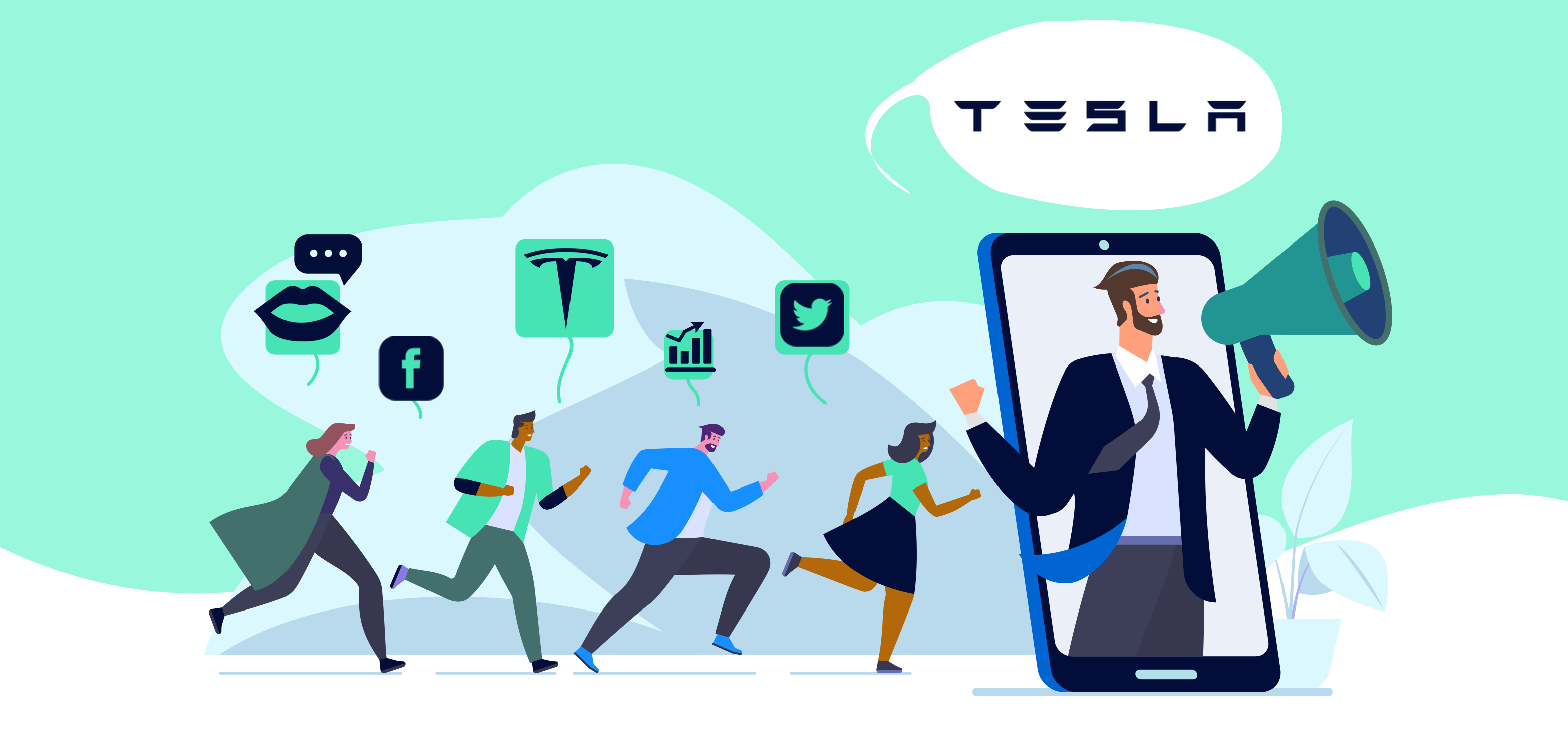 Tesla has made quite a stir in the market these past few years.
The company not only introduced groundbreaking electric cards but declared a zero-advertising policy.
You'll not see any Tesla commercials or static advertisements.
Yet within two decades, the electric car company dominated the market, surpassing Toyota, Volkswagen, and even BMW.
How did Tesla gain over US$31 billion in revenues without spending a dollar on ads?
Tesla's success story holds a treasure of lessons for emerging businesses.
It tells us a company doesn't have to pursue paid advertising to scale its business.
Here are 12 key lessons you can learn from Tesla's marketing strategy.
1. Introduce Innovative Feature to Gain Competitive Edge
Many startups offer unique value propositions to make them stand out from the crowd.
When Tesla made a daring move to pick up a previously rejected project, its action also brought the company to the limelight.
I am not sure if you're aware, but the electric vehicle is not a current invention.
The idea was introduced in 1870 and has long since been whispered about to be that of the future of our generation. It's only when General Motors mass-produced cars, that the shift in the auto industry begins to take shape.
But as our infrastructure was premature for such electric cars, no project came to fruition—until Tesla took up the mantle.
The company spent almost a decade building a lighter, faster, and appealing car. Now, Tesla produces thousands of vehicles annually.
84% of brands highlight their innovative products specially to gain attention. It brings them 63% of traffic, increasing their conversions.
Flaunt your innovative product features to generate leads.
2. Use Market Segmentation to Reach Your Target Audience
Every seasoned marketer knows segmentation helps you discover your target audience.
But there's another advantage to it that many often overlook.
You can use market segmentation as a ladder to reach your target audience, as Tesla did.
Sound vague? Let me explain how Tesla benefited from it.
Tesla wanted to launch sustainable and affordable vehicles for the upper-middle class. But, since the electric car was still a fairly new concept, the company thought to try a different approach to reaching its customers.
Tesla initially targeted luxury sports car lovers to enter the market. After the company received funds from the sale, Tesla manufactured vehicles for its real target market.
Now, each Tesla model is convenient, affordable, and geared towards an eco-friendly audience.
You must be wondering why plan such a complicated business model when you could've focused on your audience right from the start.
Since early production was expensive, Tesla designed elite cars to absorb the cost. Once sufficiently funded, the company later produced mass vehicles.
3. Enlist an Influential CEO to Gain Recognition
A social CEO can dramatically affect your company's image.
An influential personality gives a face to a business and builds a brand out of a mere enterprise.
When Tesla enlisted Elon Musk to become its CEO, the company didn't just gain a genius mind. His influential position and over 5 million active followers inadvertently boosting Tesla's brand visibility.
He is the key to the company's success, and it would be safe to say there wouldn't be a Tesla without Elon Musk.
Today, whenever someone talks about Tesla Motors, they always associate it with Elon Musk.
That is the power of influential leadership.
56% of marketers already use influencers to create brand awareness. More are slowly embracing the leader-influence combo leveraging their CEO's influence to increase brand recognition.
This is a lesson worth pursuing.
4. Employ Word of Mouth to Boost Your Reach
Tesla is one of several companies you don't see but "hear" about it from somewhere. The company leaders actively spread the word and drove traffic to their site.
This particular approach is one of the reasons Tesla could sell over a million cars.
Word of mouth motivates 74% of buyers to purchase a product because people not only favor the opinion of a friend over a stranger but love sharing it with others.
Someone noticed the brand, spread the word, and generated interest. If the product features are recommendable, your customer will unknowingly market it to you.
Since Tesla's cars are indeed recommendable, Tesla's CEO Elon Musk favored word of mouth to promote the product.
Regardless of your company's size, this marketing method will work all the same. While direct advertising undoubtedly brings in tons of traffic to your site, word of mouth is a cost-effective channel that breeds customer loyalty.
Tesla is a prime example of it.
5. Seek Multiple Routes to Increase Brand Visibility
As a general rule, companies employ multiple channels to increase brand visibility.
Tesla also shares the same perception and pursues several marketing methods.
One of Tesla's famous advertising tactics refers program. You might think referral is veritably another name for word of mouth, but unlike the latter, the former isn't free.
A referral is a full-fledged system based on the "give and take" formula—you refer me to your friend, and I will reward you in turn. It has worked surprisingly well for the company.
Another channel Tesla often uses is social media. The company leverages its founder's celebrity status and cross-promotes its vehicles.
One example is the launch of the Tesla Roadster SpaceX Duo—another enterprise owned by Elon Musk. The joint efforts brought attention to both brands and earned massive traffic.
Tesla organizes test rides, launches various events, and practically gives away free cars to promote its product.
The lesson to learn here is that while word of mouth is undoubtedly the best marketing method, it's not the only route to increasing your brand's visibility.
6. Show Transparency to Build Trust
Tesla is incredibly candid about its successes and challenges. The company openly shares its future goals, production obstacles, and buyer's reviews.
One of the classic cases of Tesla transparency is Elon Musk's revealing of his master plan.
In 2006, Tesla's co-founder Elon Musk made a proclamation on the company's blog. He publicly disclosed his master plan for the company, letting the world know his secret.
Elon Musk's level of transparency portrayed the confidence he had in his products, which then, strengthened customer trust in the company.
Transparency allows you to increase your brand credibility. By being open with your audience, you can tackle negative feedback.
While I am not suggesting you bare your soul to your audience, you can, to some extent, show transparency to inspire confidence.
Trust me. 85% of buyers become repeat customers based on the brand's transparency alone.
7. Make Buying Process Easy to Improve User Experience
Creating a simple buying process improves the user experience. Most prefer a straightforward procedure, and if it's online, all the better!
Tesla took notice of this and made the entire buying process online.
The procedure involves something as simple as making an appointment for the test drive.
From there, you can conduct everything online. The company website contains all the information you need to make an informed decision.
While some may consider it an inconvenience, surprisingly, many are all right with it.
You see, people find car buying terribly frustrating. In fact, 72% delay the purchase merely because of the buying hassle.
Tesla removes the intermediary and takes charge of the whole procedure. It saves time and improves the customer experience.
84% don't mind paying extra if the company provides excellent customer service. Simplify your buying process to improve the user experience.
8. Offer After-Sales Services to Retain Customers
Tesla has time and again proved that excellent after-sales service makes a vast difference in retaining customers.
The company is well-known for its remarkable customer service.
Anytime someone needs car maintenance, they can book an appointment and get it done as quickly as possible. If there is a delay, Tesla provides a loaner to their customer.
What you'll find most delightful is that Tesla's staff give genuine recommendations. If your car has no urgent repairs, the representative will urge you not to go for it. It's something you'll probably not encounter at other car franchises.
Succulently put, while every top-notch brand offers after-sales services, not all provide good customer care. It's the reason 89% of people usually switch to other brands.
Strengthen your after-sales to keep your customers from slipping through your fingers.
9. Build Your Community to Develop Brand Loyalty
Your online community can help you connect with your audience on a personal level. The interaction gives your customer a sense of belonging, and it fosters loyalty toward your brand.
Tesla has also developed a comfort zone for its users.
You'll come across several Tesla communities where you can get authentic content. The company shares the latest updates on its Twitter account and listens to feedback to improve its products.
Moreover, Tesla's owners genuinely care about their customer's opinions and actively engage with them.
You can judge Tesla's commitment from the fact that when a user tweeted his opinion over the car mechanics, Elon Musk gracefully acknowledged it.
Many are gradually taking up a customer-centric approach and running communities to provide a discussion platform to users.
Build your brand community to create your fan base.
10. Stick to Your Goals
If you read Tesla's mission statement, you'll realize the company has certainly lived up to it.
Tesla's first vision was to build electric cars. When it accomplished the goal within a decade, Tesla made another bold promise to become a renewable energy provider.
Over the years, the company has produced solar chargers and offered alternative solutions to homeowners.
Recently, Tesla announced the development of solar neighborhoods using in-house energy storage products.
The company aims to build a sustainable community in the future.
Despite its decade of success, Tesla remained true to its original goal and has indeed accelerated the world's transition to sustainable energy. 
It is why Tesla's business model is still working splendidly and will continue to be strong.
What I am trying to say is consistency keeps you on track.
If you have a clear vision in mind, develop long-term goals and stay committed to them. Most businesses fail miserably because of inconsistent objectives.
Set a clear mission statement for your company. It will act as your guiding light.
11. Surprise Your Competitors by Standing with Them
Regarding rivalry, pulling each other down is a pretty common practice in the business industry.
But Tesla doesn't follow in the footsteps of its precedents.
In fact, the company openly encourages competitors and urges them to build better cars. Tesla even made its patent open-sourced to allow access to everyone.
Last year, when a China-based group entered the competition, do you know what Tesla did?
The company announced its intention to open its charging station to everybody!
You've got to give it to Tesla. For a company that competes with renowned manufacturers like Ford, Tesla is certainly bold.
If you think about it, Tesla's competitive strategy is extraordinarily insightful.
By supporting its rivals, Tesla has established itself as more than just a car-selling enterprise.
Healthy competition, no doubt, helps you keep improving. But embracing rivalry makes you appear genuine. It inspires brand loyalty and leaves a long-term positive effect on your company.
12. Volunteer Your Services
People's buying habits have changed in recent years. They are becoming more conscious and preferring eco-friendly products.
Tesla made its entire existence based on building eco-friendly vehicles. The company manufactures every product with climate health in mind and takes pains to mention it repeatedly.
One would think changing the future of the auto industry is a sufficient contribution from one company.
But no! Tesla often takes part in charity projects and lends relief support to less privileged areas.
You'd be surprised to know Tesla additionally runs a non-profit science foundation as a tribute to its inventor.
Take up your ethical responsibility and contribute to the world.
Conclusion
Tesla has crossed many obstacles during the years.
Yet, among the challenges, controversies, and production failures, Tesla triumphed over-the-top vehicle brands and made a name for itself. 
Tons of businesses have used some of Tesla's techniques with great results.
85% of small businesses rely on word-of-mouth advertising to generate revenues.
SaaS companies often use a referral program to attract customers. Businesses are now increasingly focusing on customer service.
Imagine the impact of all 12 lessons if you apply them to your business!
Take inspiration from Tesla's success.
The company has certainly demonstrated a brand can establish itself as a market leader, even without traditional marketing, if they put their mind to it. 
Want to learn more about Tesla's marketing techniques? Check out another Tesla case study.