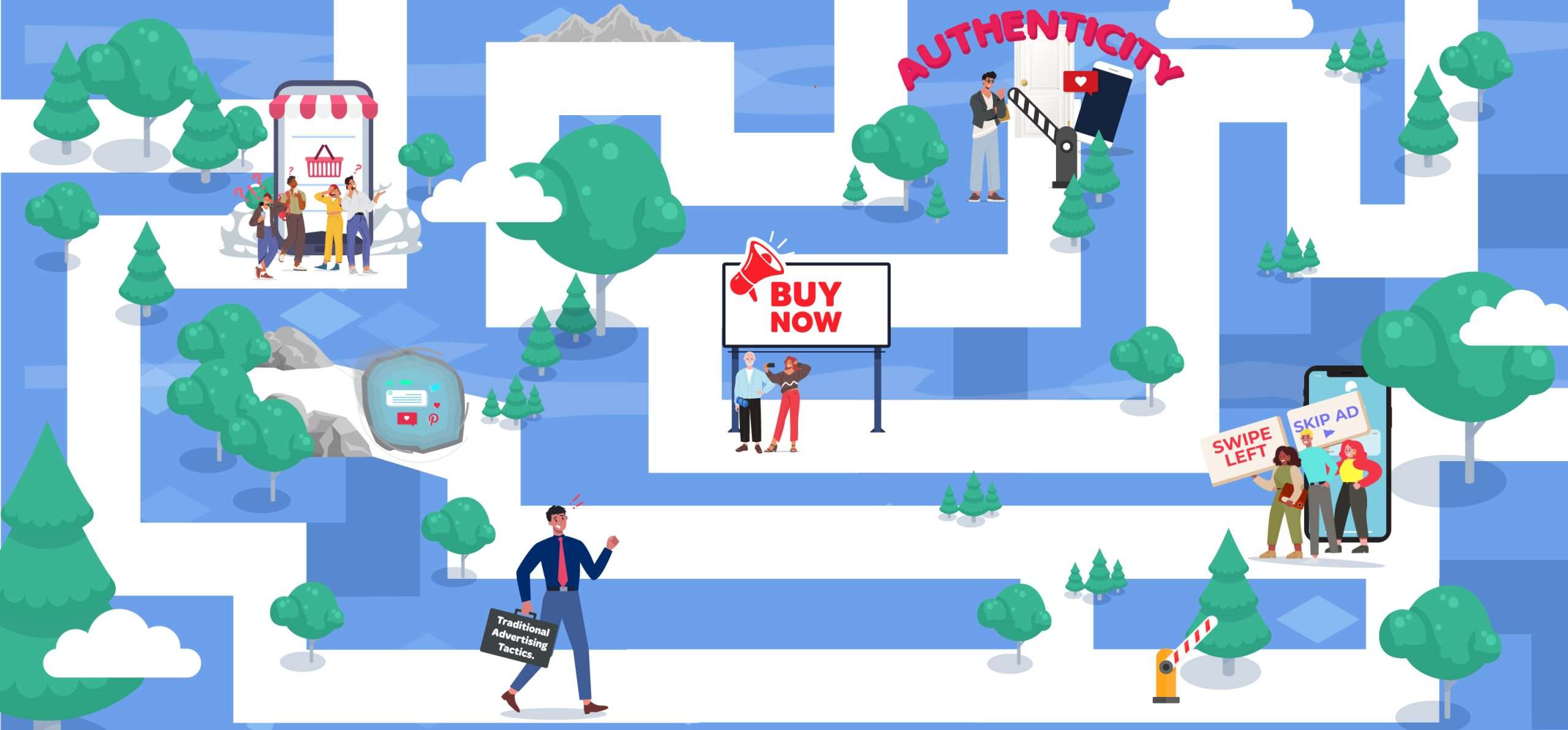 Marketing to Generation Z is both highly profitable and worth pursuing for various reasons.
However, like almost anything else in life, it isn't very easy.
Generation Z differs significantly from other generations such as baby boomers or even millennials.
They embrace distinct values, support different causes, defend different ideas, and consume unique content.
In fact, Twitter is the newspaper for them.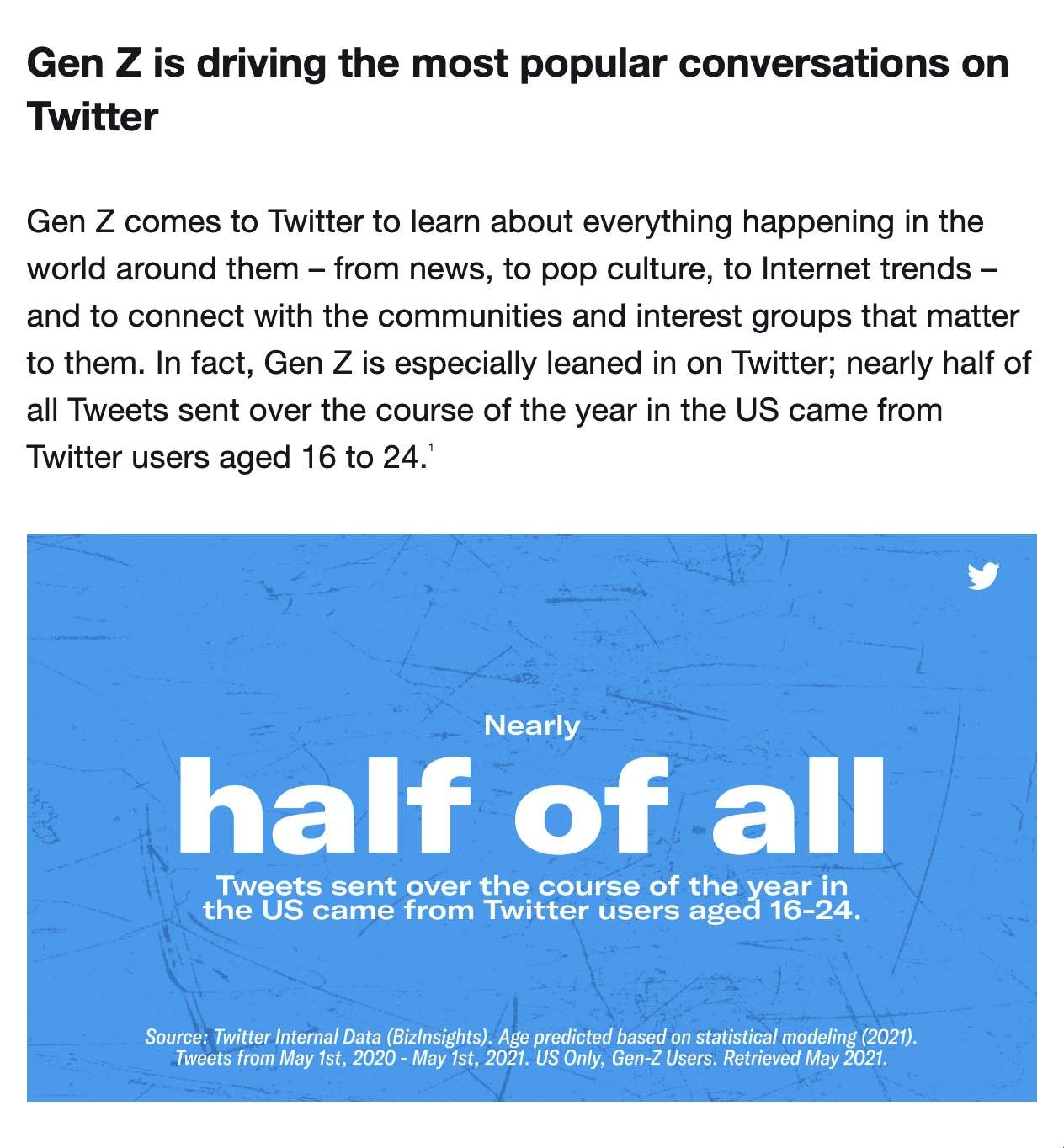 That is why it is essential to adapt to their new norms and communicate in their language to effectively convey any message you wish to deliver.
This is your ultimate guide as a marketer, providing you with the best practices to learn and implement, enabling you to effectively advertise any product or service to Generation Z, a weird yet lucrative group of individuals born between the years 1996 and 2010.
What is Generation Z: Who They Are and What They Value?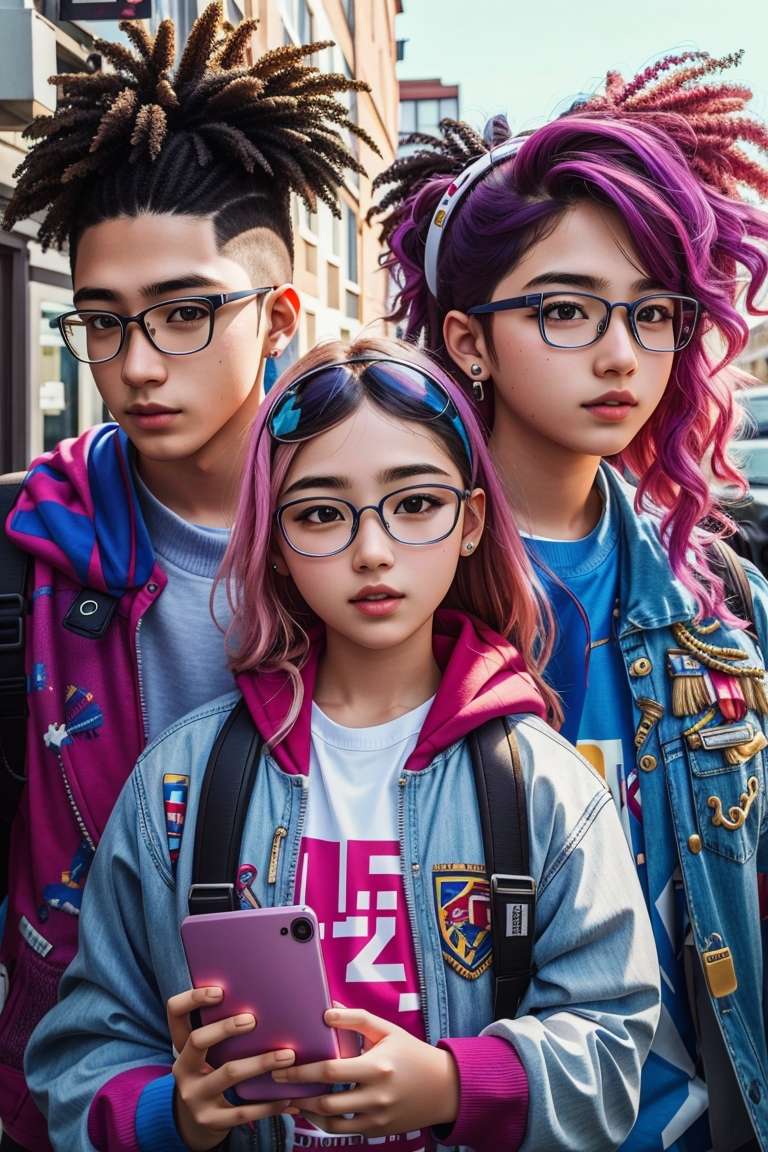 Generation Z, also known as Gen Z, refers to individuals born between 1996 and 2010. This generation has been dabbling with & shaped by various factors, including, but not limited to:
Advancements in technology (such as cryptocurrencies, LLMs, and the Metaverse)
Early exposure to loans (which sometimes resulted in bad debt)
And the impact of the COVID-19 pandemic.
These events have significantly influenced the way Gen Z lives their daily lives.
According to McKinsey, Generation Z places a higher emphasis on finding purpose and meaning in life compared to any previous generation.
Stanford research suggests that Gen Z tends to be more pragmatic and realistic in their approach, rather than idealistic.
Moreover, Generation Z is the first cohort to grow up surrounded by rapidly evolving technology. They have been immersed in a world of constant technological change (Source).
Similarly, many studies are conducted around Gen Z. Here is a collective summary:
They seek meaning in their actions and endeavors.
They value a healthy work-life balance.
They display less aversion to risk and often possess an entrepreneurial spirit.
They embrace diversity and inclusivity.
They tend to be financially cautious.
They are passionate about addressing social issues.
And they are independent learners.
Now that you are aware of Generation Z's preferences, let's further enhance your knowledge and understanding by exploring some important Gen Z-related facts and statistics.
Some Insights and Interesting Data About Gen Z
These statistics will not only help you better understand Gen Z's preferences but also provide awareness about their areas of high and low investment, thanks to real numbers.
Gen Z and Social Media
Gen Z and Values
A Gen Z customer is 77% more likely to pay attention to an ad for a brand that supports gender equality (Source).
61% of Gen Z-ers prefer brands that offer secure storage and protection of personal data (Source).
39% of Gen Z would feel loyal to a brand that matches their style (Source).
Other Gen Z Opinions From Reddit Discussions
Approximately 62% of Gen Zers surveyed in the UK and US by McKinsey said they would explore other brands, even if they have a favorite brand. Gen Z consumers are not as brand loyal as Millennials (Source).
Gen Z wants brands to demonstrate change and care about issues like climate change and sustainability. They are more conscious of product messaging and awareness (Source).
Visual design holds significance when targeting Gen Z. Apps and websites tailored to Gen Z often prioritize visual design (Source).
To summarize the key points from these statistics: you need to create a loyal brand that prioritizes people and causes as much as the products (as Steve Jobs proposed) and learns to communicate using their language (speaking their slang, being active on the platforms they use, etc.).
Now that we have covered the numbers, let's explore some of the best and proven strategies you can implement, starting from now, to better target Gen Z.
5 Best Strategies To Do Gen Z Advertising Like A Pro
1. Consider Their Values
Understanding the core values of Generation Z is the first step in unlocking the potential of your marketing efforts.
The key values of Gen Z include diversity and inclusive culture, well-being and mental health, justice and equity, resourcefulness and independence, mission and purpose, authenticity, tech savviness, and many more.
These values influence how Gen Z approaches work, relationships, and their impact on society.
Burger King's "Moldy Whopper" Campaign is an excellent example of genuinely considering Gen Z's values.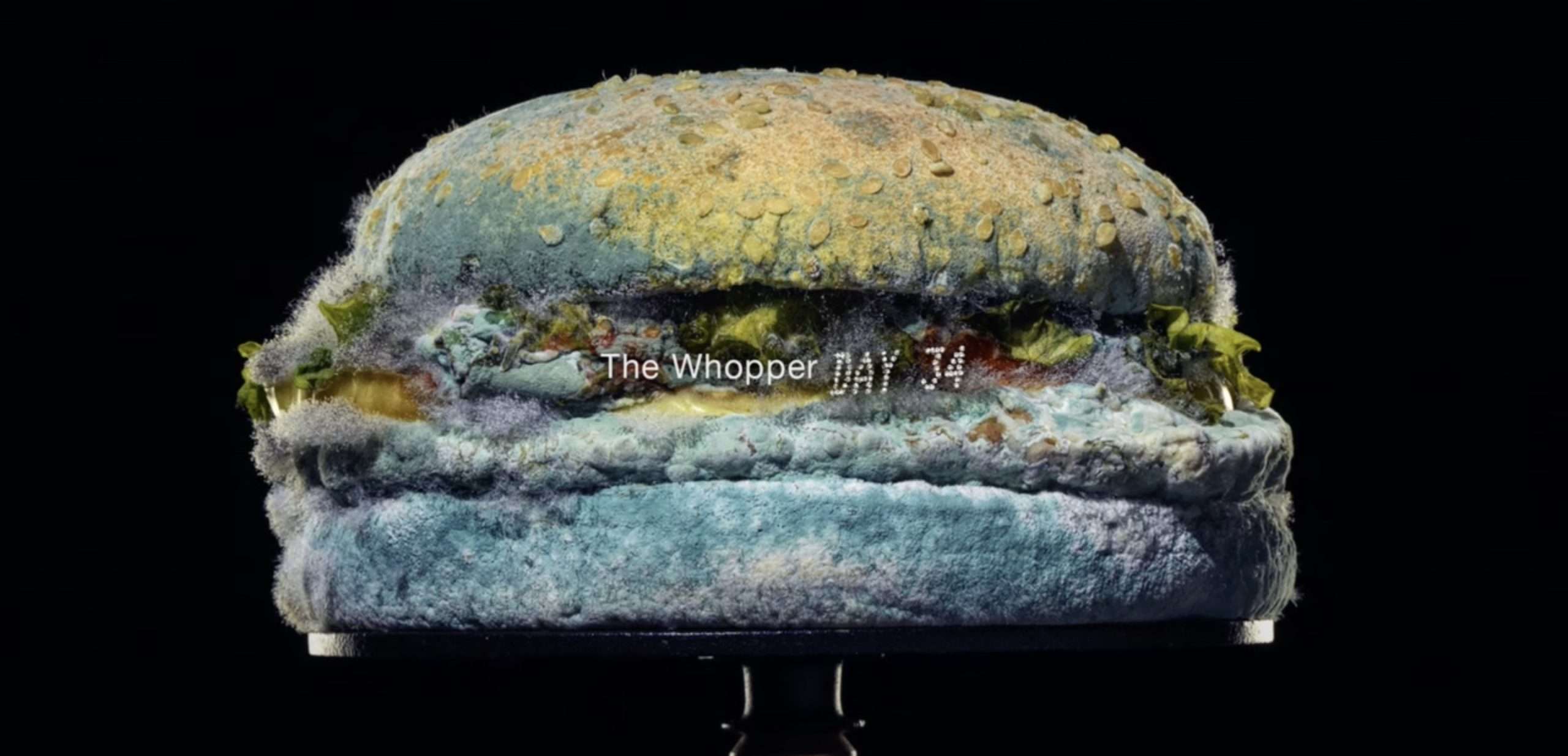 Burger King launched a campaign featuring a moldy (fungal/infected) Whopper to emphasize their commitment to eliminating artificial preservatives from their food.
This campaign resonated with Gen Z's desire for transparency and healthier food choices. It also showcased Burger King's dedication to upholding its values and garnered attention and positive feedback.
2. Embrace Social Media & Influencer Marketing
If you want to advertise to Gen Z, it is important to focus on social media because this generation is usually on most, if not all, social media platforms.
According to a survey by Morning Consult, YouTube is the most used platform among Gen Z, followed by Instagram, TikTok, and Snapchat (in that order).
They spend a whopping 4 or more hours a day on social media alone.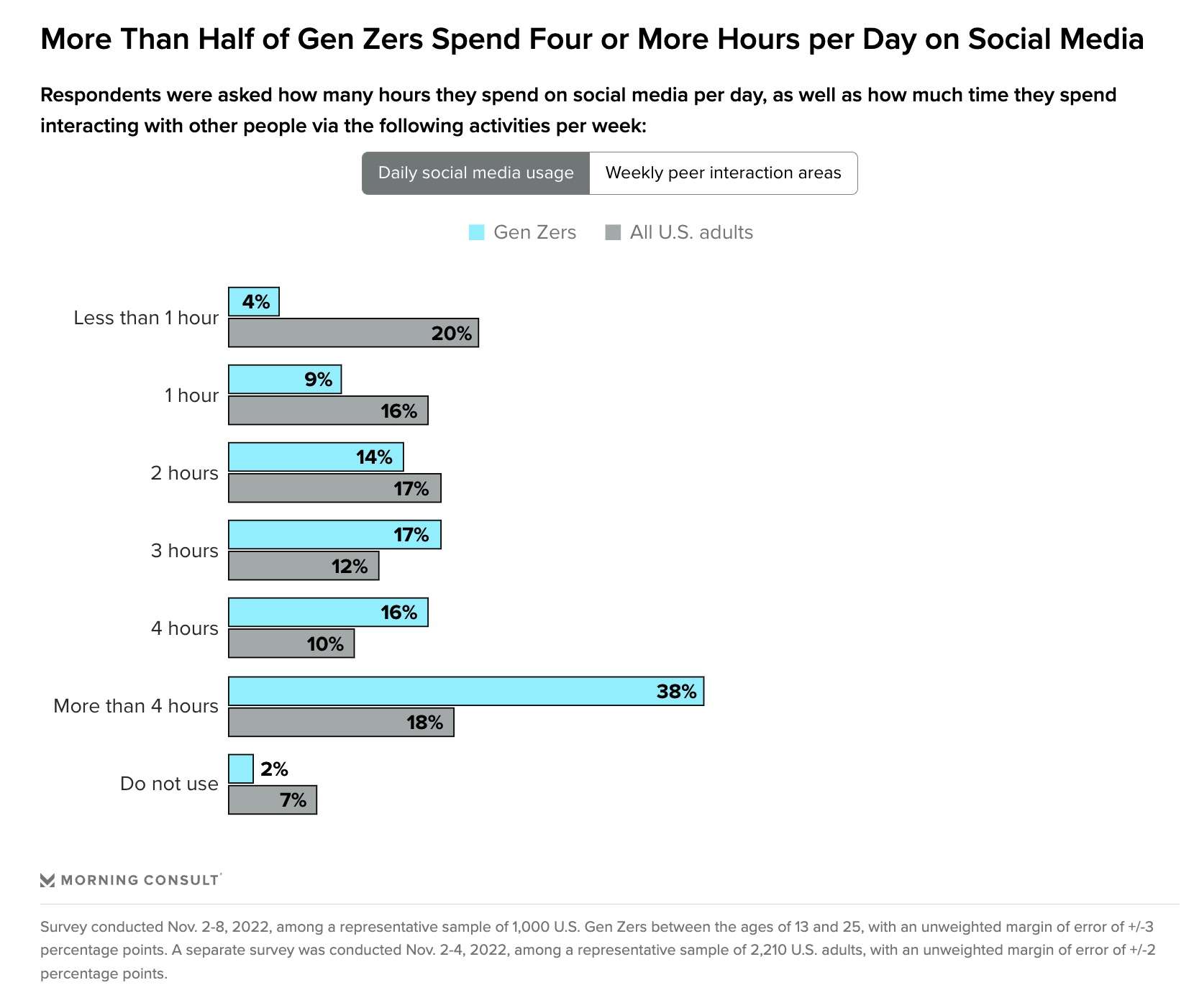 Here are some reasons why social media is an effective way to reach Gen Z:
Authenticity: Gen Z values authenticity and is more likely to engage with content that feels real and genuine. Social media is a platform where you can showcase your personality and values, which can help you connect with Gen Z on a deeper level.
Entertainment: Gen Z is looking for entertaining content that prioritizes engagement over conversions.
Influencers: Gen Z is interested in watching more video content and is more likely to respond to influencer marketing. Social media is a platform where influencers can showcase products and services to their followers, helping you reach a wider audience.
To effectively market to Gen Z on social media, consider the following tips:
Create like a creator: Instead of approaching social media like a traditional brand, try to create content that feels more like a creator. Be authentic, creative, and engaging in your posts.
Avoid going straight for the sell: Instead of pushing sales messages, focus on creating content that provides value, entertains, or educates your audience. Build a relationship with them before making a sales pitch.
Make use of the comment section: Gen Z is highly engaged on social media and values two-way communication. Encourage your audience to leave comments, ask questions, and share their thoughts.
Amplify your brand's beliefs and values: As highlighted earlier, Gen Z is passionate about social and environmental issues. Showcase your brand's beliefs, values, and commitment to causes that resonate with Gen Z.
Build meaningful influencer and creator partnerships: Gen Z is more likely to respond to influencer marketing. In fact, 54% of the Gen Z population thinks that influencer marketing is the most effective marketing channel. Collaborate with influencers or content creators who align with your brand values and have a genuine connection with their Gen Z audience.
Remember, marketing to Gen Z on social media requires a focus on authenticity, entertainment, and engagement (an extreme example but think Mr. Beast). The more, the better.
3. Personalize Using Their Slang
Generation Z tends to use loads of slang words while communicating, both to make the conversation engaging and speedy.
Just to make sure we're on the same page, here are some popular Gen Z slangs:
"Lit": This slang means something is exciting, fun, or cool.
"Slay": This slang means to do something exceptionally well.
"GOAT": This slang stands for "Greatest Of All Time."
"Fam": This slang refers to "family" or "close friends."
You get the idea!
McDonald's totally "slayed" it in 2021 when they dropped a commercial featuring rapper Travis Scott.
The commercial shows Scott ordering his "usual" meal at McDonald's, which includes a Quarter Pounder with cheese, bacon, and lettuce, a medium order of fries with BBQ sauce, and a Sprite.
The meal was named the "Travis Scott Meal," and it went viral on social media, becoming a sensation.
"It's lit" is a Gen Z slang term that means something is exciting or cool, and it was used in the commercial to describe the meal.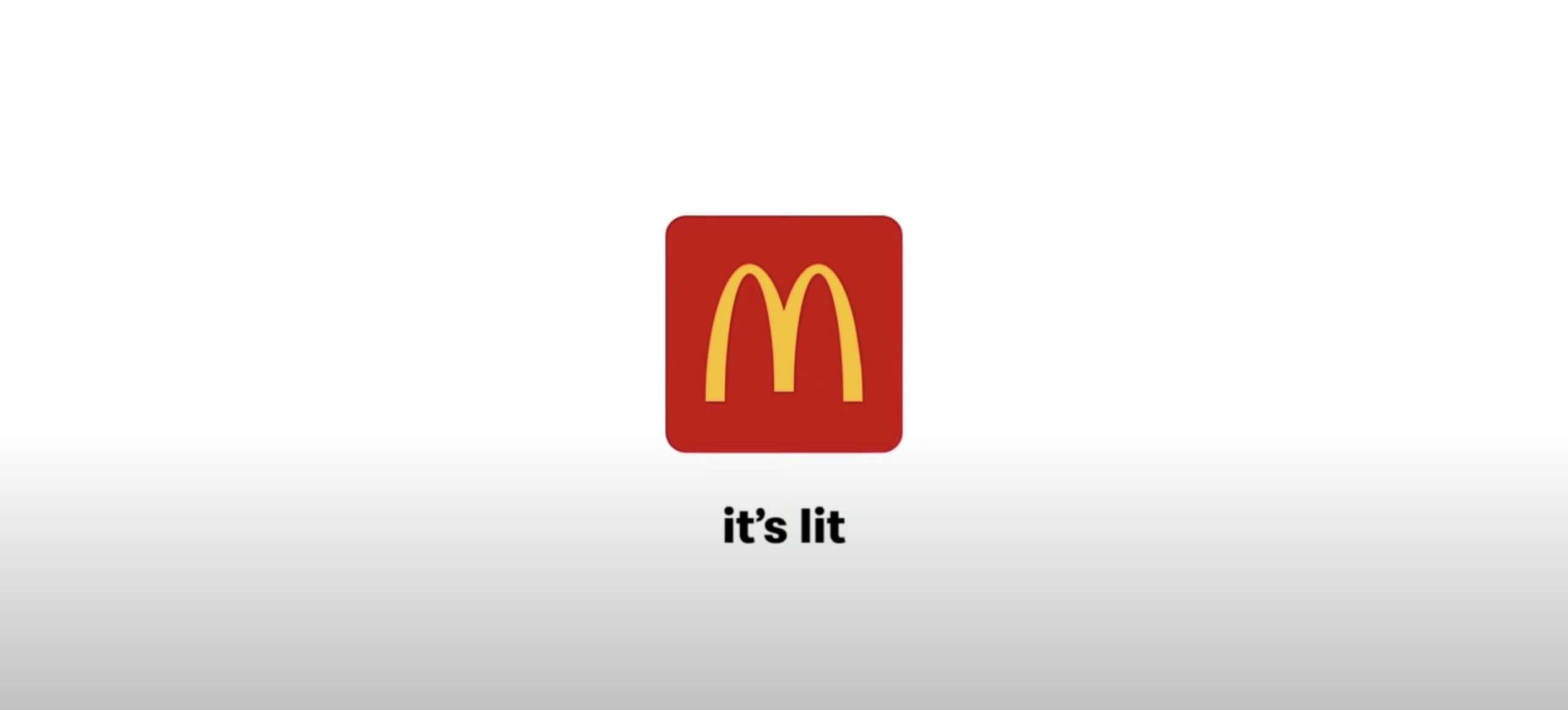 4. Consider Their Music Preferences
Gen Z spends more time with music than the overall population.
In the United States, those aged 13-24 spend an average of 3 hours and 43 minutes daily listening to music, which is approximately 40 minutes more than the rest of the population (Source).
Incorporating the right kind of music into your marketing efforts can be challenging.
Here are some tips and techniques that can help:
Utilize TikTok
TikTok has emerged as a powerful platform for music promotion and discovery among Gen Z. To leverage TikTok for music marketing, focus on showcasing your personality, sharing experiences, and utilizing features like duets to collaborate with other musicians.
Leverage Streaming Platforms
According to a report by Spotify, 42% of Gen Z Spotify users in the U.S. have heard a song on social media and then searched for it on Spotify.
Consider running digital audio campaigns on platforms like Spotify, where Gen Zs actively create, curate, and experience culture in real-time.
Focus on Sound Marketing
Sound marketing, including audio branding, can effectively capture Gen Z's attention. Consider creating catchy jingles, tones, or messages that align with Gen Z's preferences.
When executed effectively, music can yield greater results as it is memorable and can leave a lasting impression.
5. Preference for Creative and Entertaining Ads
In addition to disliking ad interruptions while enjoying content, Gen Z also tends to be highly engaged when advertisements are humorous or entertaining (source).
Just Eat successfully achieved this with their advertisement featuring Snoop Dogg. Released in 2019, the ad showcases Snoop Dogg rapping about Just Eat's food delivery service.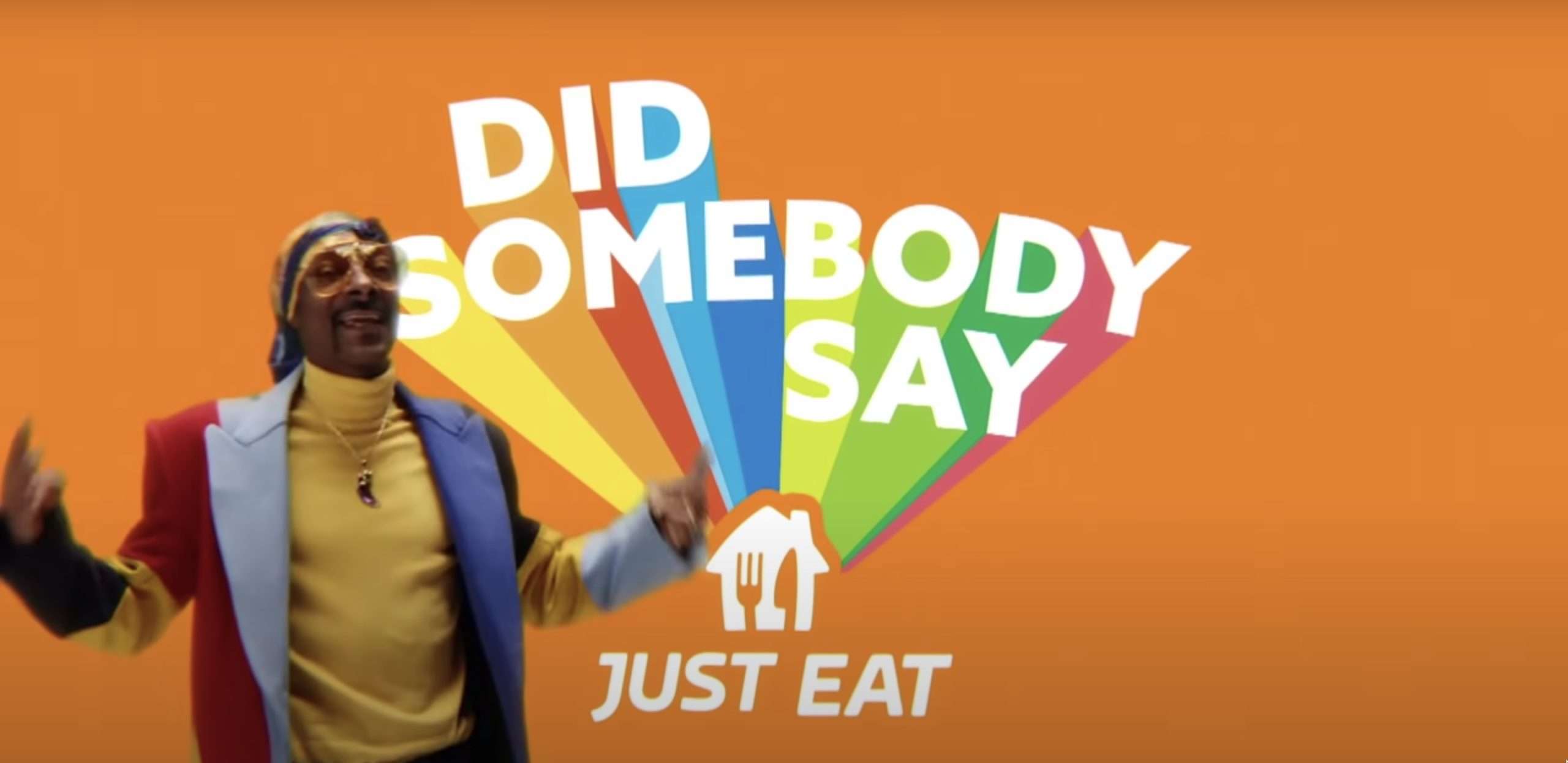 The advertisement has received praise for its humor and creativity.
Here are several reasons why I believe it resonated well with Gen Z:
The ad prominently features Snoop Dogg, a well-known rapper and cultural icon who is popular among Gen Z.
The ad incorporates a catchy hip-hop beat that immediately reflects Snoop Dogg's distinctive style.
The ad is light-hearted and amusing, with Snoop Dogg rapping about his favorite foods and placing orders through Just Eat.
The ad is relatable to Gen Z, as many of them frequently order food online and can identify with the convenience offered by Just Eat.
The ad is well-produced and visually appealing, characterized by vibrant colors and playful animations.
Overall, this advertisement serves as an excellent example of how humor and entertainment can effectively connect with Gen Z audiences.
Theory can only take you so far. When all of these lessons are executed, you see results. Here are some tools to help you execute faster.
Tools & Software For Gen Z Marketing Success
From social media advertising platforms to audience engagement and monitoring tools, here are some of the best handpicked tools that you push you one step closer to better Gen Z marketing:
SARAL (For Influencer Marketing)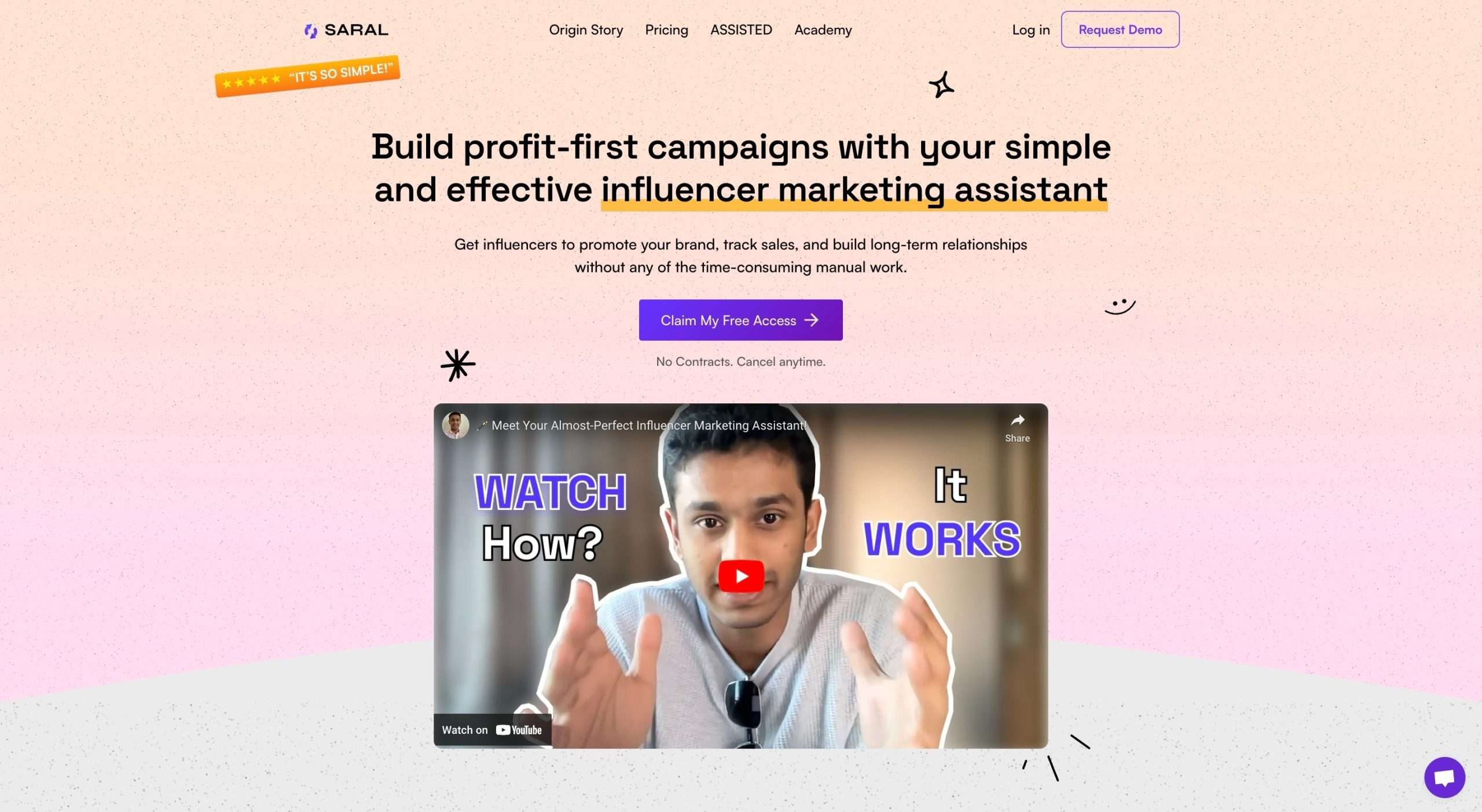 SARAL is an influencer relationship management platform designed to assist you in implementing effective influencer marketing strategies. 
It offers a range of features and tools to simplify the process of finding, managing, and tracking influencers.
SARAL provides access to a database of over 150 million creators, ensuring you never run out of influencers to reach out to.
It streamlines the outreach process by offering an automated email tool. You can send personalized emails to hundreds of influencers directly from your own inbox, saving you time and effort.
SARAL also offers an Academy section where you can access industry secrets and learn best practices for influencer marketing.
Landbot (For Communication Automation)
Landbot is a no-code chatbot platform that allows you to build conversational experiences from end-to-end.
Landbot can be used to create interactive landing pages that capture potential customers in an interactive conversation from the very first touch-point. 
The bot can ask questions to instantly determine customer profile, interest, or level of qualification, and unqualified leads can be sent on a nurture path that reflects the preferences gathered during the chatbot conversations.
Landbot can be used to provide on-site, real-world services such as providing business location and opening times information and answering other common questions.
Landbot can even be integrated with Google Sheets & Zapier, allowing you to automate tasks and streamline workflows.
Overall, Landbot can help you engage with Gen Z customers by providing conversational experiences that are personalized, interactive, and convenient.
Livestorm (For Virtual Events and Webinars)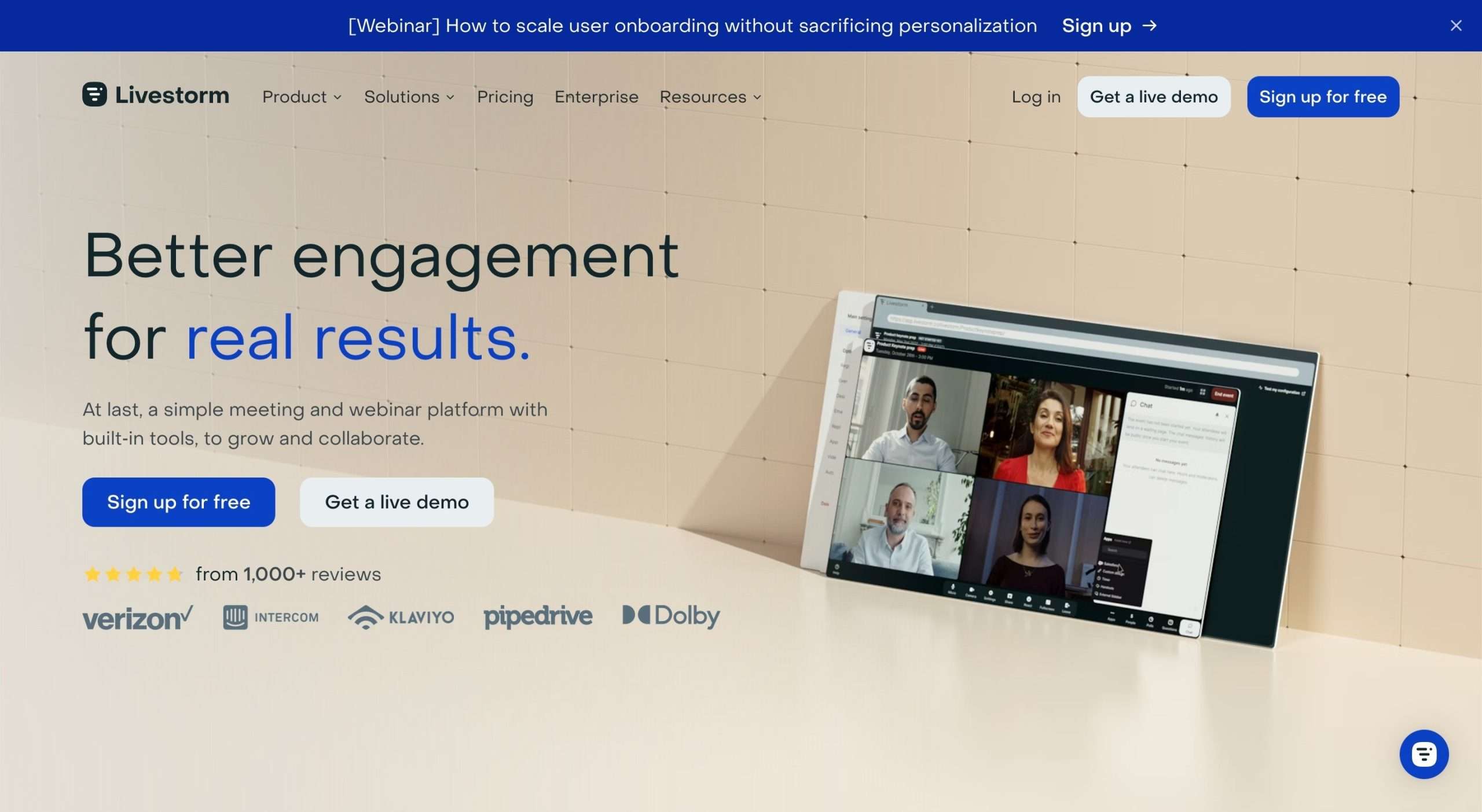 Livestorm is a webinar platform that offers several features that can be useful for advertising to Gen Z.
Livestorm offers features like a customized live experience, breakout rooms, and Q&A live answer notifications to create an interactive and engaging virtual event. 
Powerful analytics features and integrations with other tools like HubSpot, Mailchimp, and Zapier also provide a holistic view of event performance.
Livestorm is a browser-based virtual engagement software that can help you host webinars and events on all major browsers and devices. 
It can help you nurture potential attendees through all stages of the event process, from event promotion and registration to attendance and follow-up. 
It offers features like beautiful event landing pages, automated email reminders and follow-ups, and virtual event hosting.
Sendible (For Social Media Automation)
Sendible is a social media management tool designed to help you effectively manage your social media presence.
Sendible supports popular social media platforms like Instagram, TikTok, Facebook, LinkedIn, Twitter, YouTube, and Google Business Profiles. 
This allows you to manage your Gen Z marketing campaigns across multiple platforms from a single dashboard, saving you time and effort.
With Sendible, you can schedule your social media posts in advance, including Instagram Stories and TikTok videos.
Gen Z appreciates authentic and visually appealing content. 
Sendible offers customization options, such as adding visuals from GIPHY, Pexels, or Canva, and a built-in image editor to tailor your content for each platform.
Sendible also provides a centralized inbox where you can respond quickly to audience comments, direct messages, and mentions.
Wrapping Up
Marketing to Generation Z requires a nuanced approach, and understanding of their values, preferences, and unique characteristics.
By implementing the strategies discussed in this guide, you can enhance your marketing efforts and effectively engage with this lucrative demographic.
Social media is the playground where Gen Z spends a significant amount of time. Leverage platforms like YouTube, Instagram, TikTok, and Snapchat to connect with them authentically.
And don't be afraid to embrace Gen Z's language. Incorporate their slang to connect with them on a deeper level.
Now armed with these insights and strategies, it's time to take action!
Start incorporating these strategies today and witness the impact they can have on your marketing success.