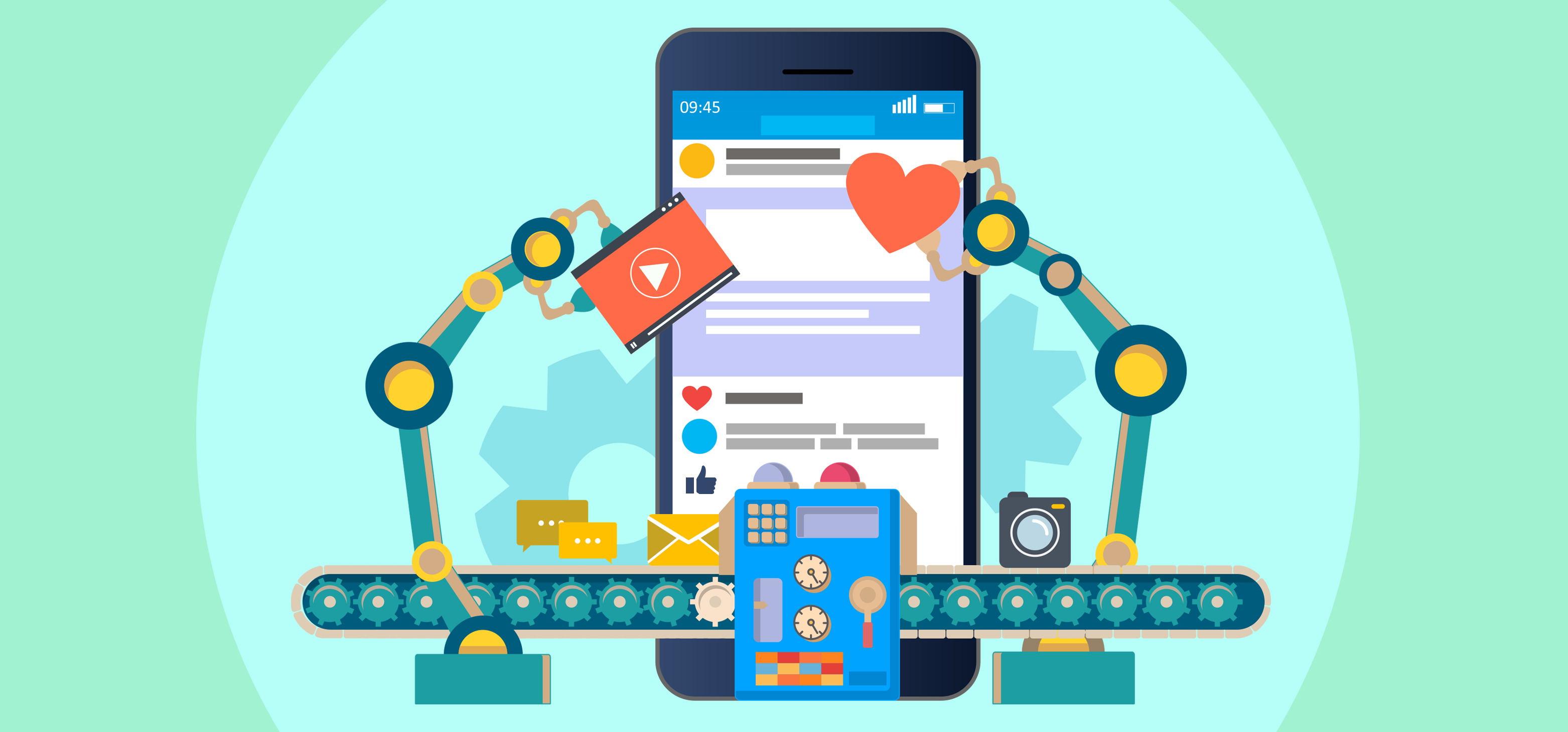 Do you want to cut down on the precious time you spend on social media?
Or, would you like to remain at the forefront of your social media management and marketing activities?
When more than half of the world's population uses social media, the need for social media marketing to expand your business is really crucial nowadays.
The majority of teenagers, and even adults, spend almost 2 hours daily on the internet and social media platforms, be it on Facebook, Twitter, Instagram, YouTube, Reddit, and other social platforms.
However, merely posting on social media doesn't work in the present digital world. To increase your social media following and gain your audience's trust, you need to keep up with the latest social media trends and constantly monitor your audience's behavior.
Here comes the imperative role of social media automation tools. Today, in this post, we will talk about the 15 best social media automation tools:
So, let's dive in!
What are social media automation tools, and why do you need them?
Social media automation tools allow you to automate your social media publishing to accomplish more in less time. With this, you can not only save your time and increase efficiency but also boost the return on investment (ROI) of your social media initiatives.
These tools help keep you on track and make the most of your social media activities. As a matter of fact, there's a social media automation tool for everything.
Whether you need help scheduling posts, improving your entire content strategy, or managing comments and engagement, these tools will always be helpful.
Here are the top 15 social media automation tools that can help you automate your social media tasks and level up your engagement game.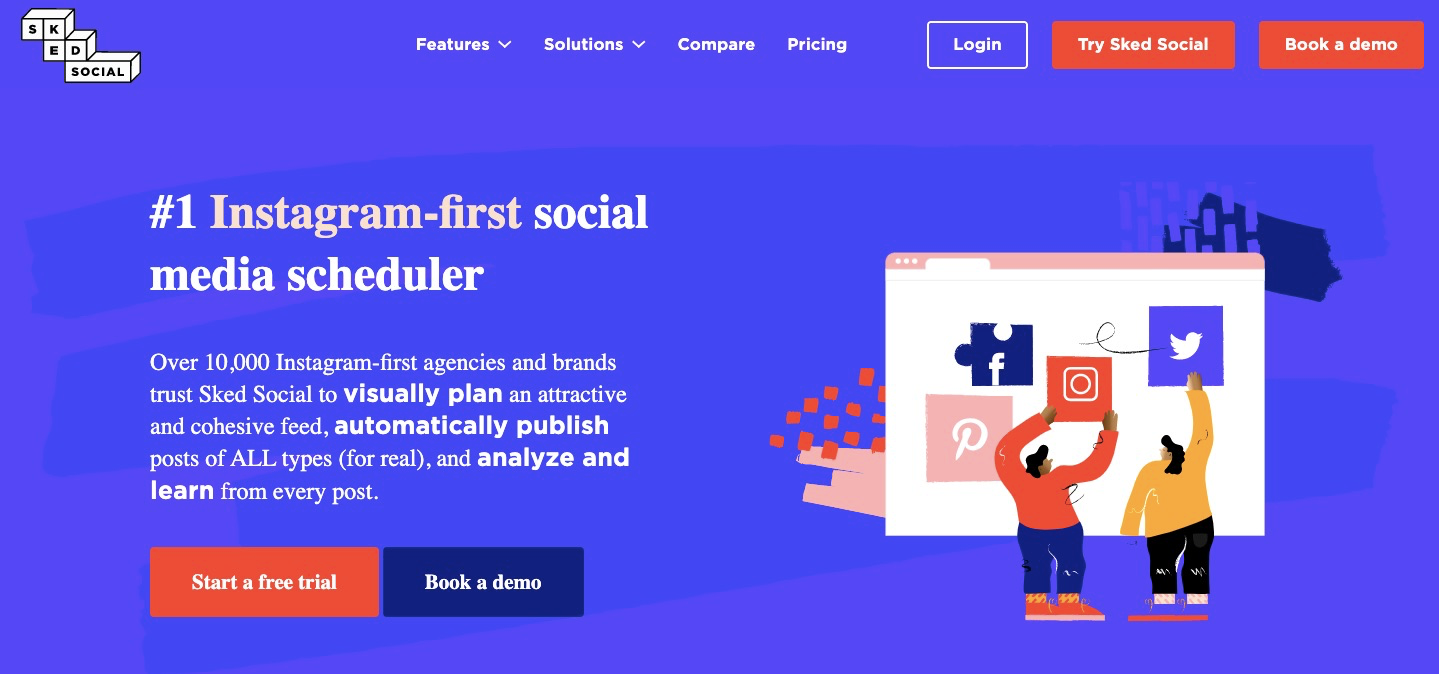 Sked Social is a feature-rich social media automation tool that allows users to organize, monitor visually, and schedule Instagram stories and posts to boost engagement and get better results out of it.
It was specifically created for companies and brands to repurpose, share and cross-promote their best Instagram content to other social media platforms, including Facebook, Twitter, TikTok, YouTube, Pinterest, etc.
The tool is highly compatible with any device. All you have to do is create and upload your content, and then you can check how your posts are performing, make changes in your content and also add new content as and when required.
Sked Social helps customers worldwide grow their audience on various social media networks and create amazing content loved by their audience.
Features: 
It creates visually appealing and integrated Instagram feeds for your brand, increasing your brand's reach and online visibility.
It automatically posts on your behalf, so you don't have to check in every time you post.
Though the tool focuses on Instagram first, it allows auto-post on other platforms – Facebook, Twitter, YouTube just as easily.
The tool may also help you build your fan base and revenue with trendy hashtags and tags.
Additionally, the platform provides incredibly detailed and valuable Instagram analytics. This data aids in the improvement of your company strategy.
It enables you to collaborate effortlessly with your team and freelancers on multiple accounts.
Pricing:
Get 20% off on Sked Social when you use our coupon code – SqueezeGrowth.
Sked Social comes with a 7-day free trial, and if you wish to continue further, then Sked Social offers three premium pricing plans:
The Fundamentals plan costs $25 per month and includes all the essential features.
The Essentials plan is for $75 per month, where you get access to unlimited users, product tags, UGC sourcing, and competitor tracking.
The Professional plan is the most elite plan with powerful team collaboration and post statutes. All of this is available at $135 per month.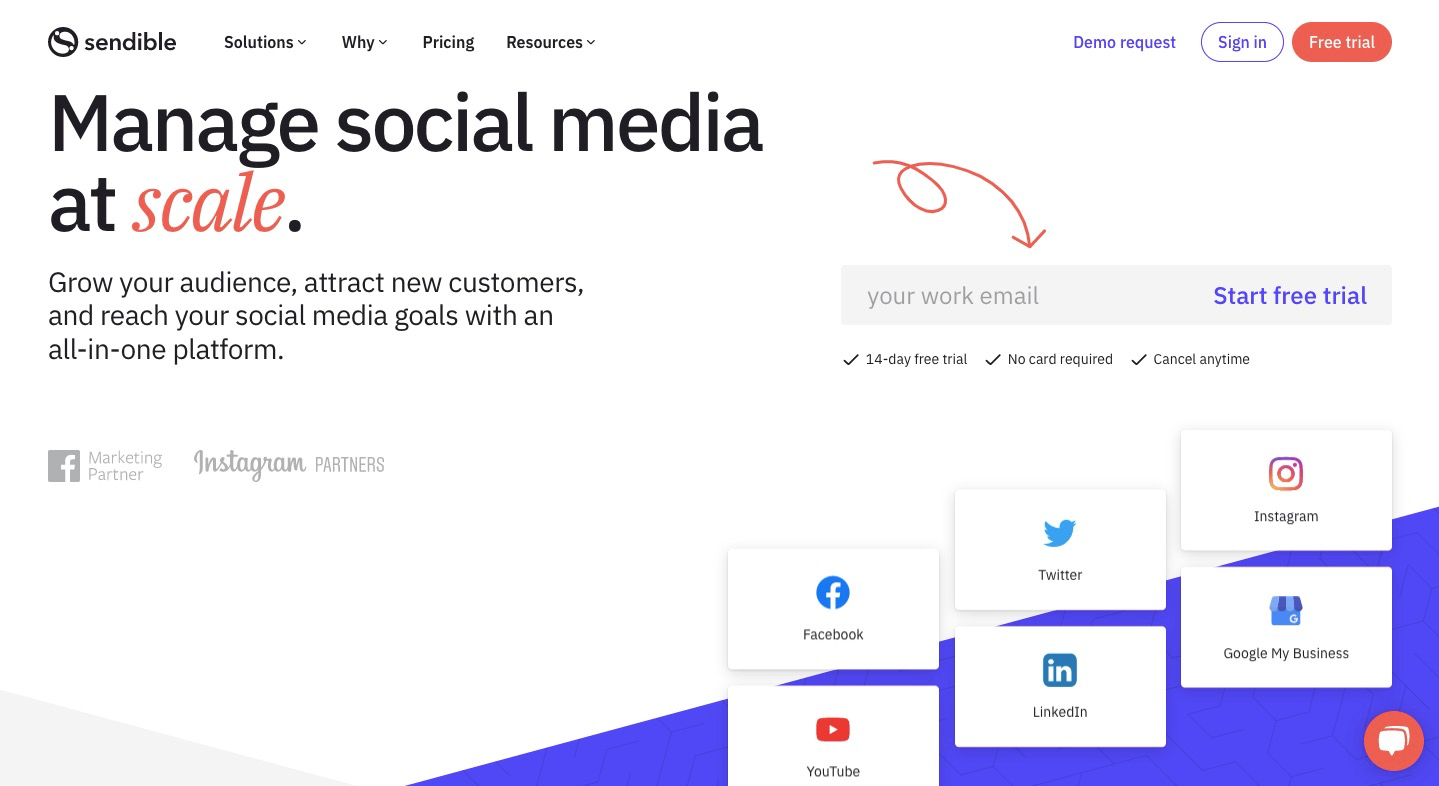 Sendible is a program that allows you to schedule posts, respond to followers, make reports, and collaborate with your team, all by automating your social media channels.
It allows you to schedule individual campaigns on various social media networks, and you can easily control how your campaigns are delivered directly from your dashboard.
It can produce and schedule content for as long as you need it. You can also customize your content for different social networking sites by using tools like emoticons, links, etc.
Features: 
It provides a content library that allows you to store some saved replies and hashtags to add them anytime in your posts.
You can also customize your dashboard according to your brand theme in order to attract more customers.
The single social inbox allows you to keep track of all of your social media conversations in one place.
Sendible is integrated with Canva, YouTube, Dropbox, so you don't have to switch between applications to create content.
When you are in trouble, take the help of its outstanding and devoted customer care service.
 Pricing:
30-day free trial
Starter Plan:  The plan costs $29 per month and gives the single-user access to 12 services.
Traction Plan:  This plan is for  $89 per month and includes three users and 48 services.
Growth Plan : This plan allows seven users with 105 services for $199 per month
Scale Plan:  This plan is priced at $399 per month and offers 12 users and 192 services.
Sprout Social is an all-in-one social media management tool that consists of several in-built tools to help you manage your social media. From social media scheduling to monitoring and engaging, Sprout Social is capable of integrating multiple social media tools within one platform.
Sprout Social is also among the few social media automation solutions that include CRM functionality, giving you a thorough overview of your consumers and their interaction with your brand. The feature allows you to provide better service to your customers, which helps develop more positive and personal relationships with them.
Furthermore, with its robust set of features, the tool helps in coordinating and delegating the task effectively. Thus, it is highly suitable for small businesses, agencies, and enterprises to optimize their social media marketing strategy and ease the publishing process.
Features:
It includes a smart inbox tool in which you can keep track of all your brand mentions for various social media profiles and respond to them timely.
You could track your social media campaigns and get automated social media reports that you can schedule to share with up to 25 people monthly or weekly, making social media reporting a breeze.
Its analytics tools allow you to keep track of your followers, posting numbers, link clicks, and changes in your social media interactions.
The tool also supports saved replies so that you can semi-automate your engagement yet make it feel personalized.
The 'Viral Post' feature of the tool uses the AI to decide the best posting times for your social media posts and automatically publishes it whenever your followers are most active.
With the Bot Builder feature, you'll be able to develop and deploy customer support chatbots to automate consumer interactions on sites or platforms like Facebook and Twitter.
Pricing:
Sprout Social has a 30-day free trial period and then three different types of pricing plans that determine the number of profiles you can have and which features you can access:
Standard Plan (Monthly $89):  This plan includes five profiles, and if you need an additional profile, you can purchase it separately by paying a nominal fee.
Professional Plan (Monthly $149) : The professional plan supports ten profiles. It includes competitive reports for Instagram, mentions, tagging for message content, viral post feature, and integrations.
Advanced Plan (Monthly $249):  The advanced plan also supports ten profiles and includes all the features of a professional plan in addition to some more advanced features.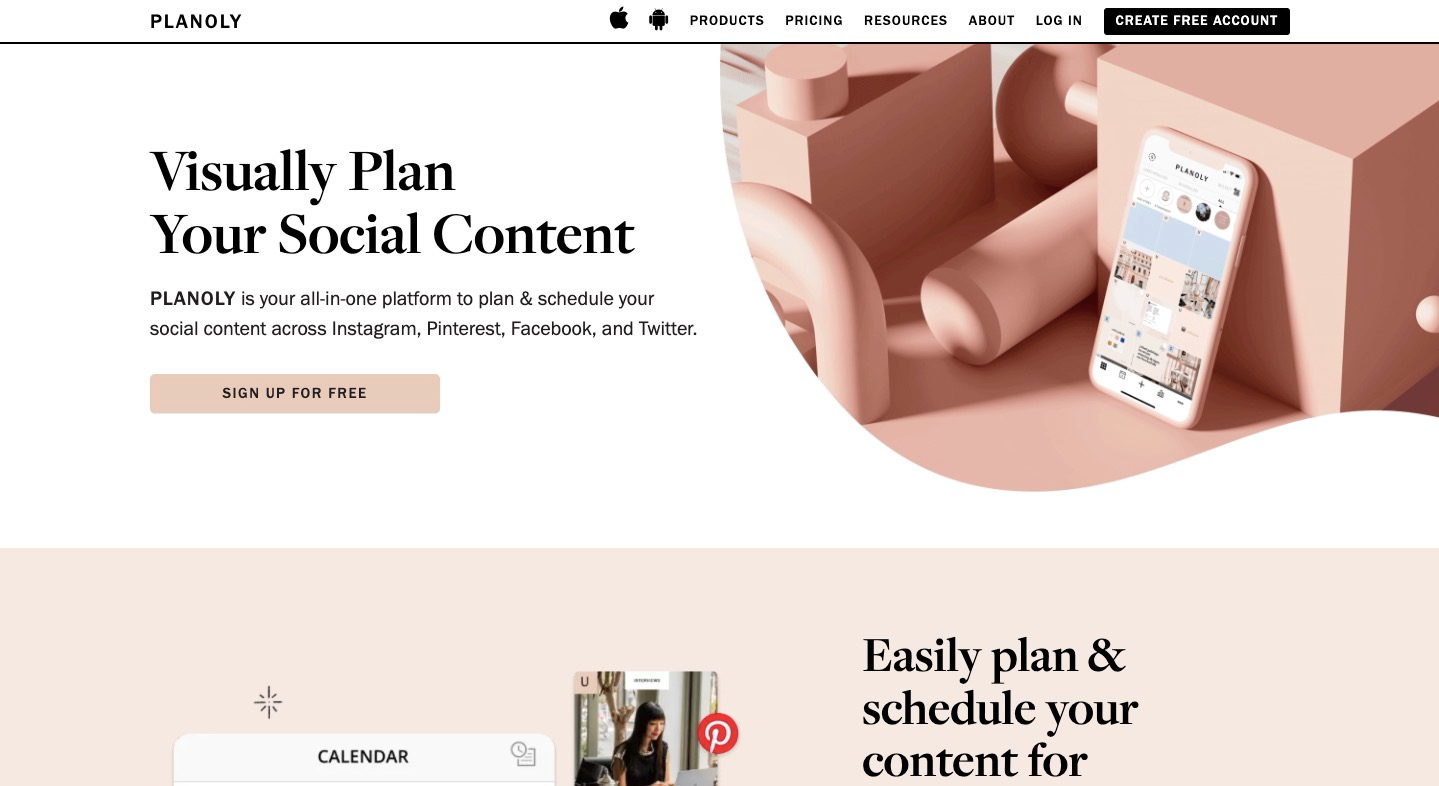 Planoly is yet another Instagram social media automation app and web dashboard for managing, planning, scheduling, posting, and tracking Instagram posts. Users can use this automation tool to actively modify their posts and content before going live on Instagram.
All thanks to the simple design of Planoly, you can easily drag and drop pictures and videos onto the platform to see how they will appear on their Instagram profile feed, change it as per your profile aesthetic and then schedule them.
Planoly is an amazing platform for anyone looking to sell their products or promote other products.
Features:
Though the platform is specifically focused on Instagram, you can also visually plan your content for other social media platforms, including Facebook, Pinterest, and Twitter.
The dashboard is intuitive and simple to use, with no learning curve.
The method of scheduling and publishing content is simple and rapid.
You can stay organized and see scheduled posts in the long term with this sleek, simple, and advanced content calendar.
Hashtag management is simple in Planoly as it automatically adds your pre-researched hashtags when publishing a post, thus saving your time in typing the hashtags again and again.
You can utilize its 'placeholder' feature to plan content ahead of time on your Instagram grid.
The platform's team management tools make it simple to engage alongside various team members.
Pricing:
Planoly offers a free plan that allows up to 30 media uploads in a month, and with this, you can integrate only two social profiles – one Instagram and one Pinterest. Other than this, the tool offers two pricing plans:
Starter Plan: This plan costs $11.25 per month and includes two social profiles. You get 60 uploads per month on each of your profiles.
Growth Plan: This plan is priced at $19.50 per month and includes two social profiles again. However, unlike the starter plan, you get unlimited uploads on both of your profiles.
Professional Plan:  This plan is for $36.50 per month and provides 2 Instagram profiles and 2 Pinterest profiles with unlimited uploads on both profiles.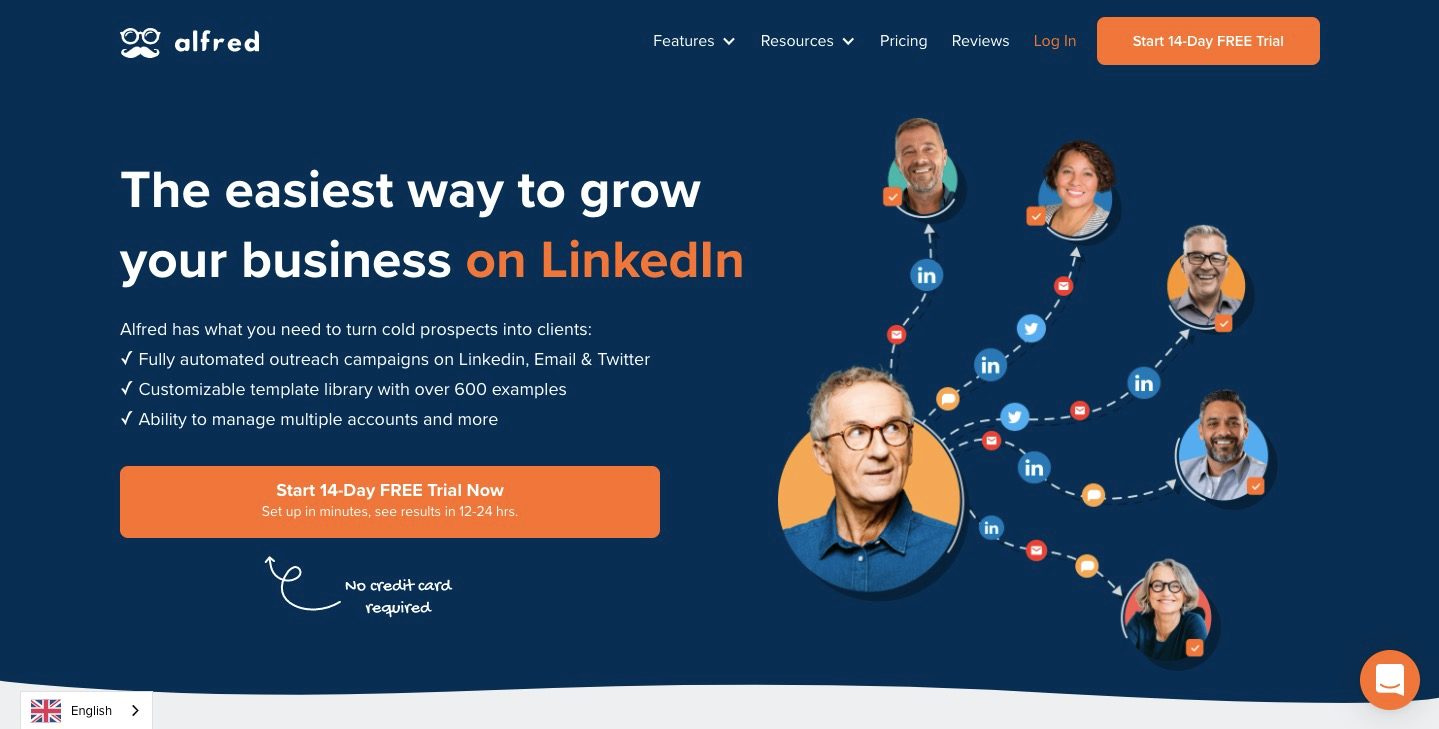 In marketing, building connections is significant. Meet Alfred is a LinkedIn automation software that excels in facilitating personalized interactions. The tool has everything you need to convert cold prospects into long-term clients.
Alfred simplifies the multi-channel sales pipeline by allowing you to find potential clients on LinkedIn, view their profiles, send a personalized request and then follow up either via email or Twitter DM. This increases the chances for you to establish a connection with your client wherever they are.
The tool also makes it simple to sell on LinkedIn and interact with clients in the right manner. The tool makes it easy to automatically send a customized request based on your prospect's industry or title, which instantly helps engage with clients and get concrete outcomes for your business.
Features:
It offers access to 600+ customizable templates suitable for any industry.
Alfred's in-built LinkedIn CRM system helps you to organize and manage your business contacts using tags, notes, filters whichever way you want.
It enables you to manage your entire team by making onboarding multiple members hassle-free, assigning individual roles and responsibilities, analyzing each campaign's performance, everything from a single control panel.
You can connect your Meet Alfred account with more than 3000 applications and tools and effectively run your business in one place.
To find your potential clients, you can target people from the LinkedIn group you're a part of, people from a LinkedIn event without being connected to them, and people from LinkedIn posts that get high engagement.
Pricing :
Meet Alfred offers its users a 14-day free trial to decide whether the tool is helpful for them or not. Other than that, they have three different plans you can either pay monthly or quarterly.
Personal Plan: $29
Business Plan: $59
Sales Navigator: $39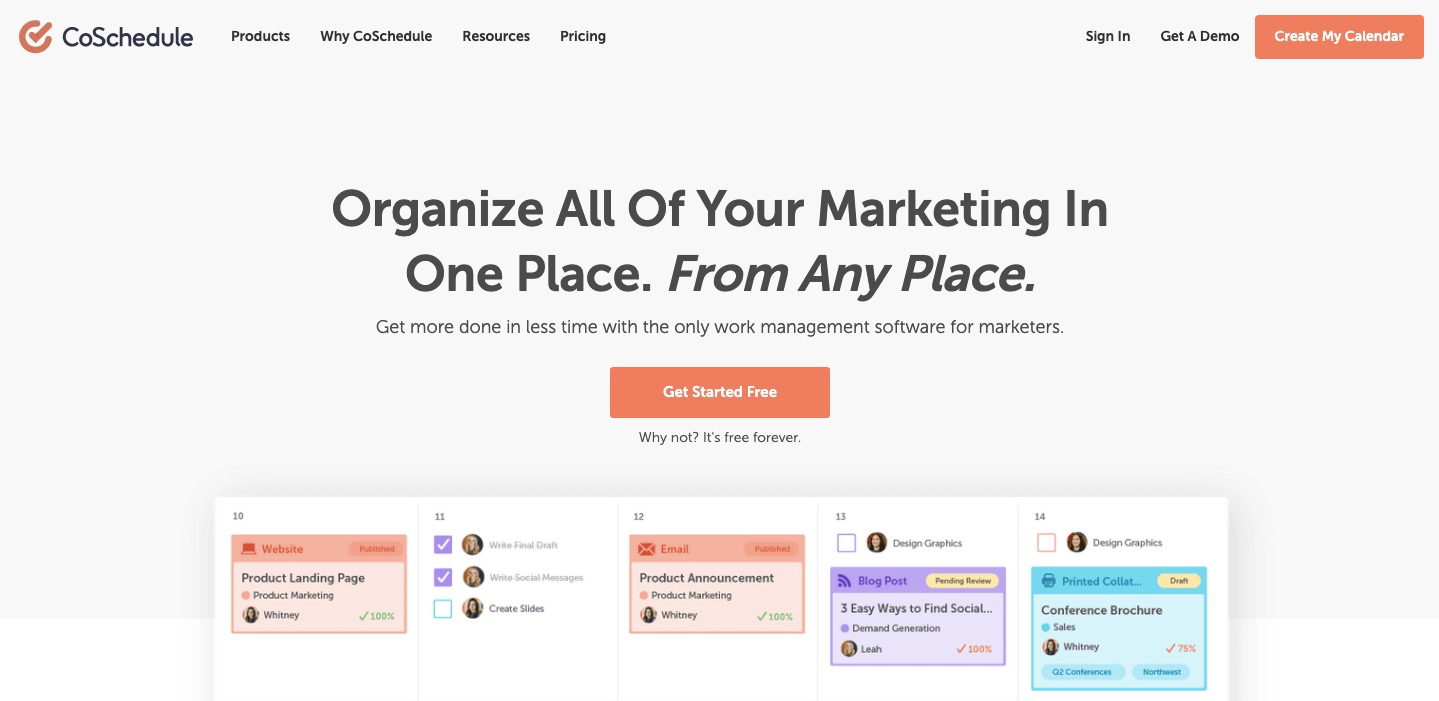 CoSchedule is a social media management tool that helps you schedule your posts across different social media platforms.
Since it is also a comprehensive marketing calendar, you may drag and drop your social media posts onto your calendar, and it will make your posts live at the most suitable time. You can even schedule up to sixty posts, all in advance with CoSchedule.
With CoSchedule, you can manage all aspects of your social media promotion and analyze which of your content posts received high engagement and generated good results.
With CoSchedule, you can also monitor and collaborate with your team to produce posts, content, events, assignments, and projects for social media sites like Twitter, LinkedIn, Facebook, Pinterest, Instagram, and Google Plus.
Overall, CoSchedule is ideal for marketers, bloggers, content creators, and start-ups who would like to keep track of all of their activities related to social media, content, events, emails, and so forth in one place.
Features:
Among the top features of CoSchedule is that it integrates well with WordPress.
It is suitable for businesses of all sizes. However, it focuses on companies with an active blog or running website.
The tool allows you to build a read-only calendar so that your team can see what's coming up next.
CoSchedule recently added a feature to the Headline studio that allows users to create better headlines to boost their traffic.
Pricing: 
CoSchedule offers two plans:
The basic plan costs about $39 per month and is great for those having a small team consisting of one or two members.
The other one is the CoSchedule full marketing suite which is perfect for large teams and an established organization with multiple operations. The pricing for this plan varies with the requirements, so you have to contact their sales team and get your quote.
NapoleonCat is a cloud-based social media automation platform that integrates well with Facebook, Instagram, and Twitter. It allows you to publish social media content, engage with your target audience and monitor social media analytics.
One of the most powerful features of Napoleon Cat is that it helps in automating your social customer campaign, so you would not have to respond to each customer's text message.
As a result, you can stress ways of making the system work much more effectively while the tool handles the hard work of engaging with your audience.
If you are looking for a simple and easy-to-use social media automation tool that helps you schedule your posts, streamline your content strategy and establish an interpersonal relationship with your customers, then Napoleon Cat is perfect for you.
Features:
You can automate your customer service experience with Napoleon Cat to build more meaningful connections with your customers.
Its social inbox feature allows you to sign in from your top social media profiles (Facebook, Instagram, Twitter, LinkedIn) so that you can manage the notifications of all platforms in one single place.
The analytics feature gives you the breakdown of metrics on your social media profiles to help you analyze what to improve and what all your competitors are doing.
The automated social media moderation feature allows you to hide comments as well as avoid spam messages.
Pricing:
Napoleon Cat provides three pricing plans:
Standard Plan:  It starts at $27 per month for three accounts and one user.
Pro Plan: I t starts at $55 per month for three accounts and one user.
Enterprise Plan:  Contact NapoleonCat for customized pricing if you have more than fifty profiles or thirty users.
Free Trial: 14-days
ZOHO Social is a brilliant social media marketing tool ideal for social media managers and small to large-sized businesses. It has a variety of capabilities, including keyword tracking, planning, and scheduling posts.
It assists businesses in optimizing their social media channels to target their audience smartly. You can easily schedule several posts as you want and track keywords and trends using Zoho Social.
This tool will also allow you to collaborate with your team while also keeping track of social conversations and brand mentions. Facebook, Instagram, Twitter, LinkedIn, and Google My Business are just a few of the social media networks that the tool can help you monitor.
Features:
Its SmartQ feature suggests the best time for posting to get the most engagement from the followers.
Using its CRM interfaces, you could communicate with customers and generate possible leads via social media outreach strategy.
Its Brand Inbox feature allows you to view the messages of all your social profiles in one single place.
You can make viable publishing decisions based on data analyzed by Zoho Social's prediction engine.
Pricing:
Free Plan
Standard Plan:  $15 per month
Professional Plan:  $35 per month
Agency Plan:  $275 per month
Agency Plus Plan:  $400 per month
Hootsuite is another social media automation tool for scheduling social media posts and keeping track of your competitor's activities. With this tool, you can repurpose the content of a single platform for various other platforms without having to produce each piece of content from scratch.
Hootsuite is suitable mainly for larger businesses because it allows you to bulk schedule up to 350 posts at once. In addition to this, the tool's Inbox Features have saved replies, allowing you to respond back to your customers on social media quickly. This way, you can save a huge amount of time and guarantee that no reply gets lost along the way.
Features:
The automatic social media posting feature of Hootsuite lets you see all of your social media streams from one location.
It provides valuable insights with social media reports at any time you want to see how your social media marketing strategy is functioning.
You will know right away if someone retweets or mentions you, and you'll be able to respond at the same time.
Hootsuite integrates well with over 35 apps, including Instagram, Facebook, LinkedIn, Twitter, Google+, etc.
Pricing: 
Professional Plan:  $29 per month includes ten social profiles and one user.
Team Plan:  $129 a month for 20 social profiles and three users.
Business Plan:  $599 a month for 35 social profiles and five users.
Enterprise Plan: For this, customers can contact Hootsuite to know a customized quote.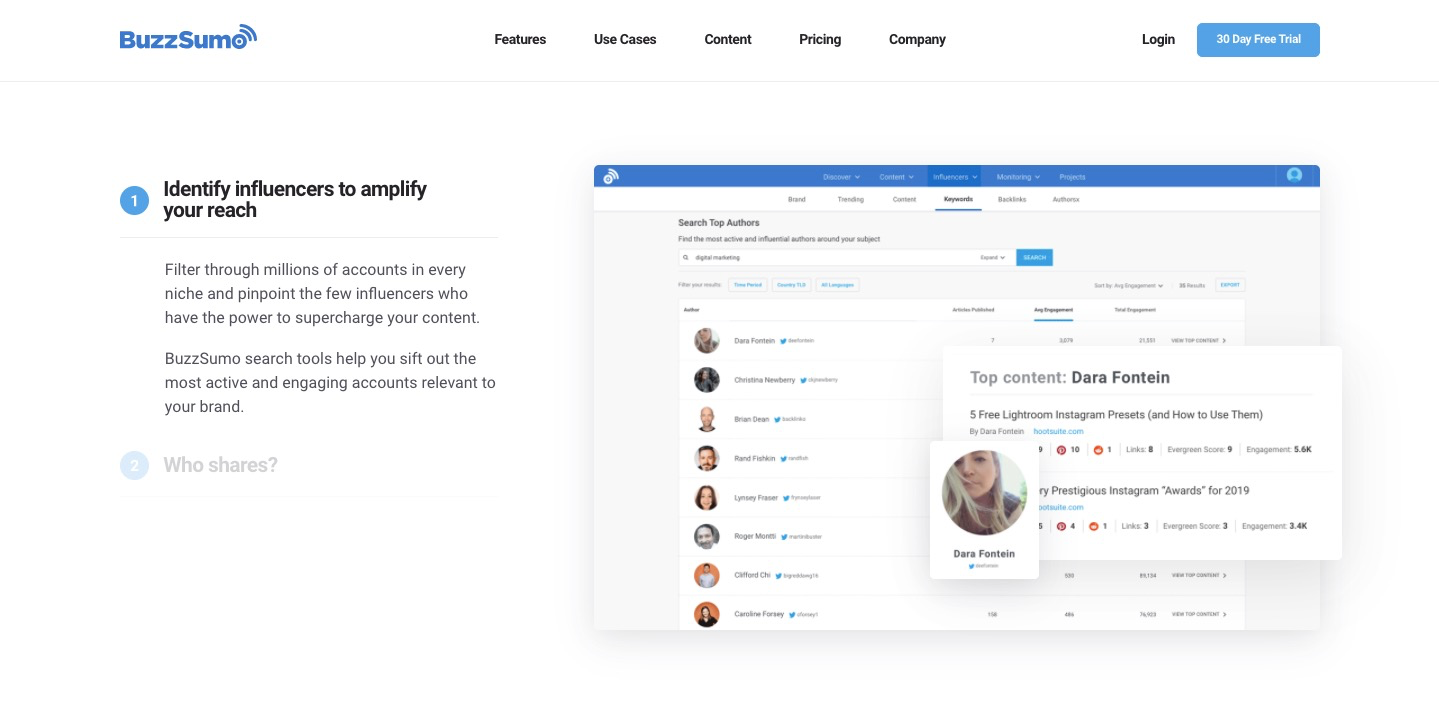 BuzzSumo is another cloud-based social media search platform that helps you ace your content marketing game by providing solutions for all your content-related search and social media analysis.
The tool aids you in discovering trending topics, new keywords, and customer questions, all while analyzing what's relevant for your brand.
Other than this, BuzzSumo tracks your competitor's activities and shows which social media platforms your competitors are leveraging to interact with their target audience.
With BuzzSumo, you can also create outreach campaigns for the promotions of your already published posts using the data of the list of sharers the tool provides for each social media platform and for each content piece.
Features :
BuzzSumo helps monitor your brand reputation and notify you immediately every time your brand get mentioned on the internet.
It helps find out the most commonly asked questions for the popular keywords in your niche.
The tool assists you in finding influencers in your niche and cultivating solid relationships with them.
Pricing: 
Pro Plan: $79 per month (Unlimited searches, five alerts, and 5000 mentions)
Plus Plan:  $139 per month (Unlimited searches, ten alerts, and 10000 mentions)
Large Plan:  $239 per month (Unlimited searches, 30 alerts, and 20,000 mentions)
Enterprise Plan:  $499 per month (Unlimited searches, 50 alerts, and 20,000 mentions)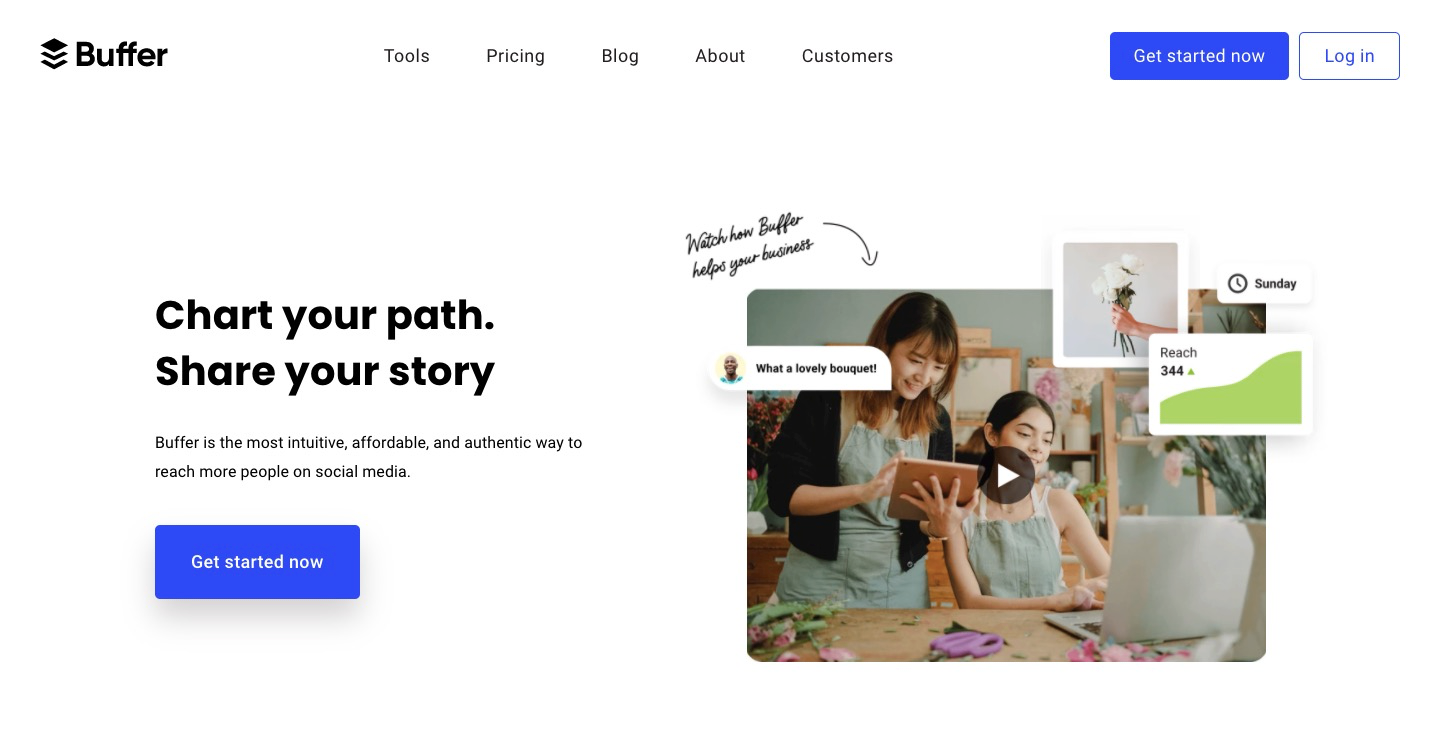 Buffer is a handy and prominent social media management tool that helps businesses and brands create and post successful social media content to drive meaningful results from it. It mainly offers three features – Publish, Reply and Analyze.
As the name suggests, the Buffer Publish feature is excellent for planning, scheduling, and posting content. You can easily drag and drop your content pieces in your content calendar schedule with its clean and intuitive interface.
Buffer Reply is one of the new features added by Buffer to help businesses manage all their social media conversations in one place. Undoubtedly, it helps save a lot of time in checking all the messages individually.
Buffer Analyze displays the analytics report of your social media post's performance by showing key metrics, including reach, engagement, and followers.
Features:
The tool makes it easy to customize each post based on the social media platform you'll be using.
This automation tool will show you when the ideal times are to send forth your campaigns.
Buffer offers unique benefits in terms of automation and user experience; uploading new content is simple, particularly with a Chrome extension. There's a window that instructs you about what to fill out next to the posts, such as the description, image, social networks, and the particular times the post will be sent out.
The tool provides a superb campaign analytics feature that gives you valuable insight into how your social media initiatives are compared to those of competitors.
Pricing:
Buffer offers a 14-day free trial. After that, its monthly subscription starts at $12 and goes up to $85 if paid yearly.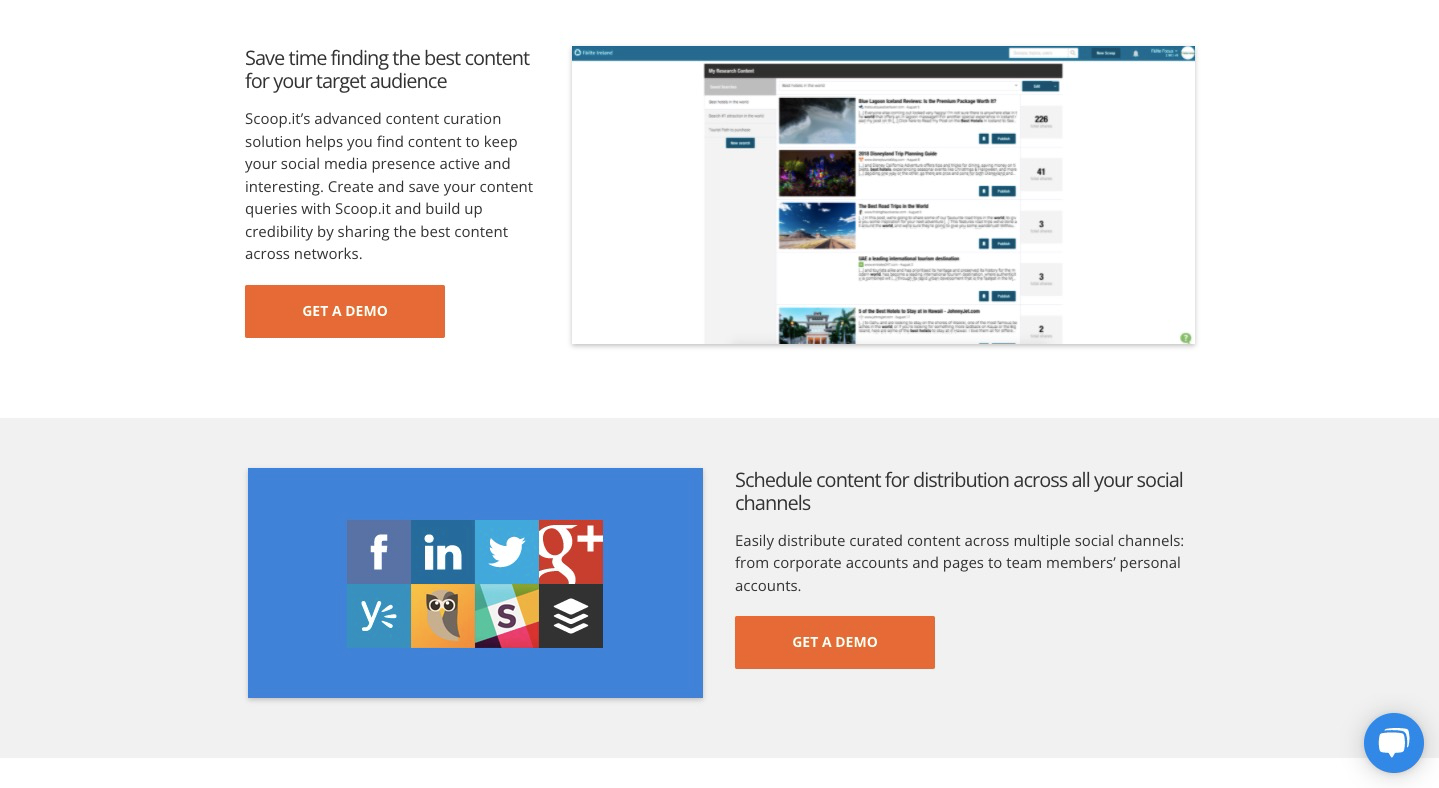 Scoop.it helps you collect content from over 35 million web sources and share it in a personalized and relevant way that represents your brand image and goals.
It can also be used to create an intelligent social media calendar that instantly highlights when your content needs to be scheduled for your social media and blog channels.
For content marketers, the tool is social networking and content curation tool. You can create specific topics, post your thoughts, and connect with like-minded individuals. In addition to this, users can create content from any third-party source using the content director feature, and with the click of a button, you can easily post your idea on your favorite social media networks.
Features: 
It informs its customers about popular topics on a routine basis, based on the keywords they enter.
You can easily share your content across many social media channels with the auto-scheduler.
Scoop.it provides detailed analytics for each content performance across each social media platform in a visually impressive and user-friendly manner.
Pricing:
Scoop.it has a free plan where you can create your best pieces of content and then share them with your social media followers.
For beginners, freelancers, and solopreneurs looking to boost their online visibility, there's a Pro plan for $14.99 per month when you can create unlimited content on several topic pages and share it with your followers.
For small businesses and social media marketers looking for a more comprehensive solution to increase their content reach, you can opt for a Plus plan that costs $67 per month and provides more premium features.
Large organizations and companies with diverse content curation and monitoring needs can go for an Enterprise plan that costs $416 per month.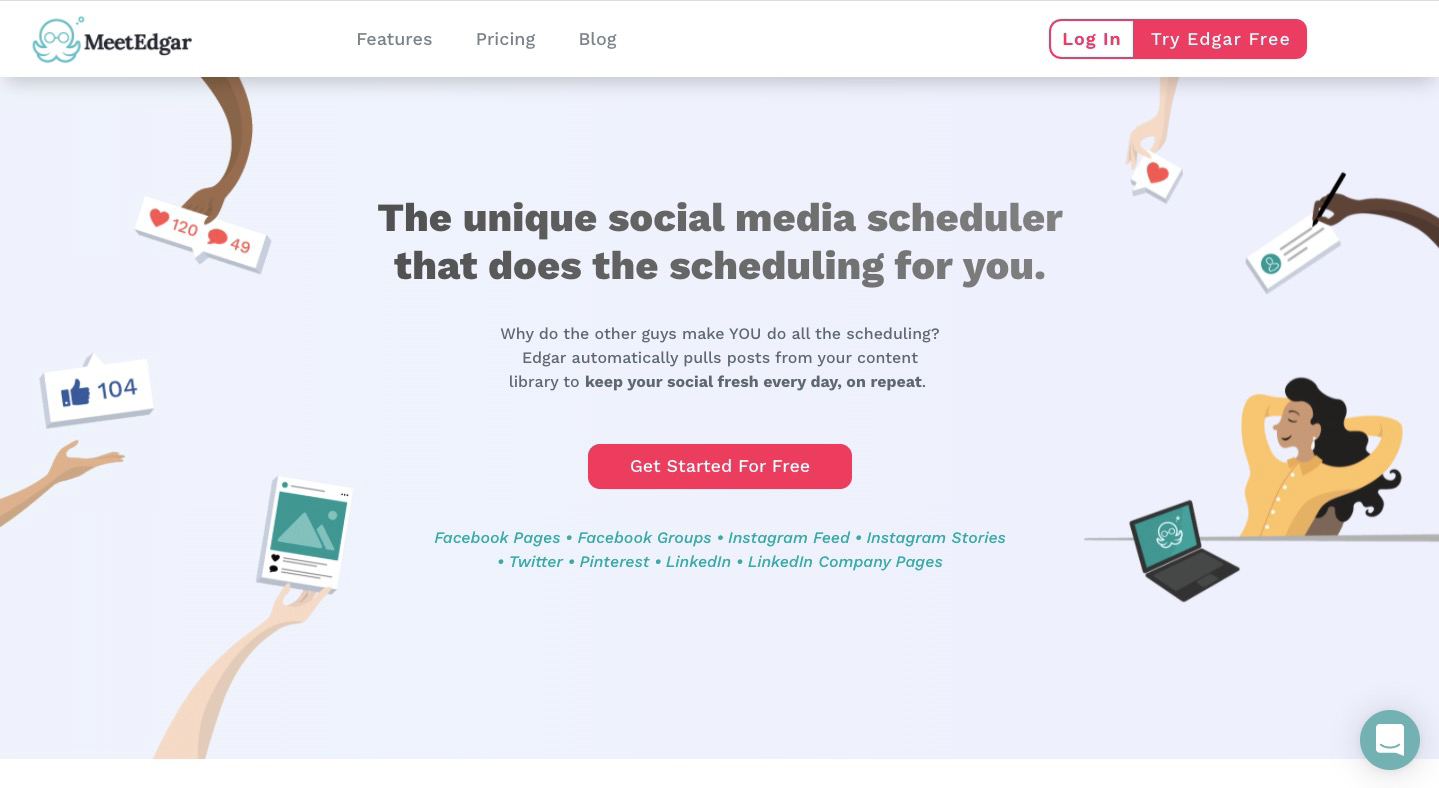 MeetEdgar is a highly innovative approach to social media automation that manages resharing of your content and optimizing social traffic for various social media channels such as Facebook, Twitter, Instagram, Pinterest, and LinkedIn.
It allows you to create a content library to share across several platforms, and it will automatically schedule it for you, even repeat postings. Not just that, the tool can even create more variations of the same content to keep things fresh and interesting always.
Features :
With the push of a button, the tool can also generate five variants for every update.
It allows you to run A/B test variants on your updates to see which content is by far the most compelling.
It offers an everlasting publishing queue that enables you to never run out of ways to schedule your posts.
It also offers category-based detailed scheduling, which allows you to divide your content into categories and plan it accordingly, so your audience never gets bored.
 Pricing:
Eddie Annual Plan:  $24.91 per month ($299 per year)
Edgar Annual Plan:  $41.58 per month ($499 per year)
Free Trial: 7-days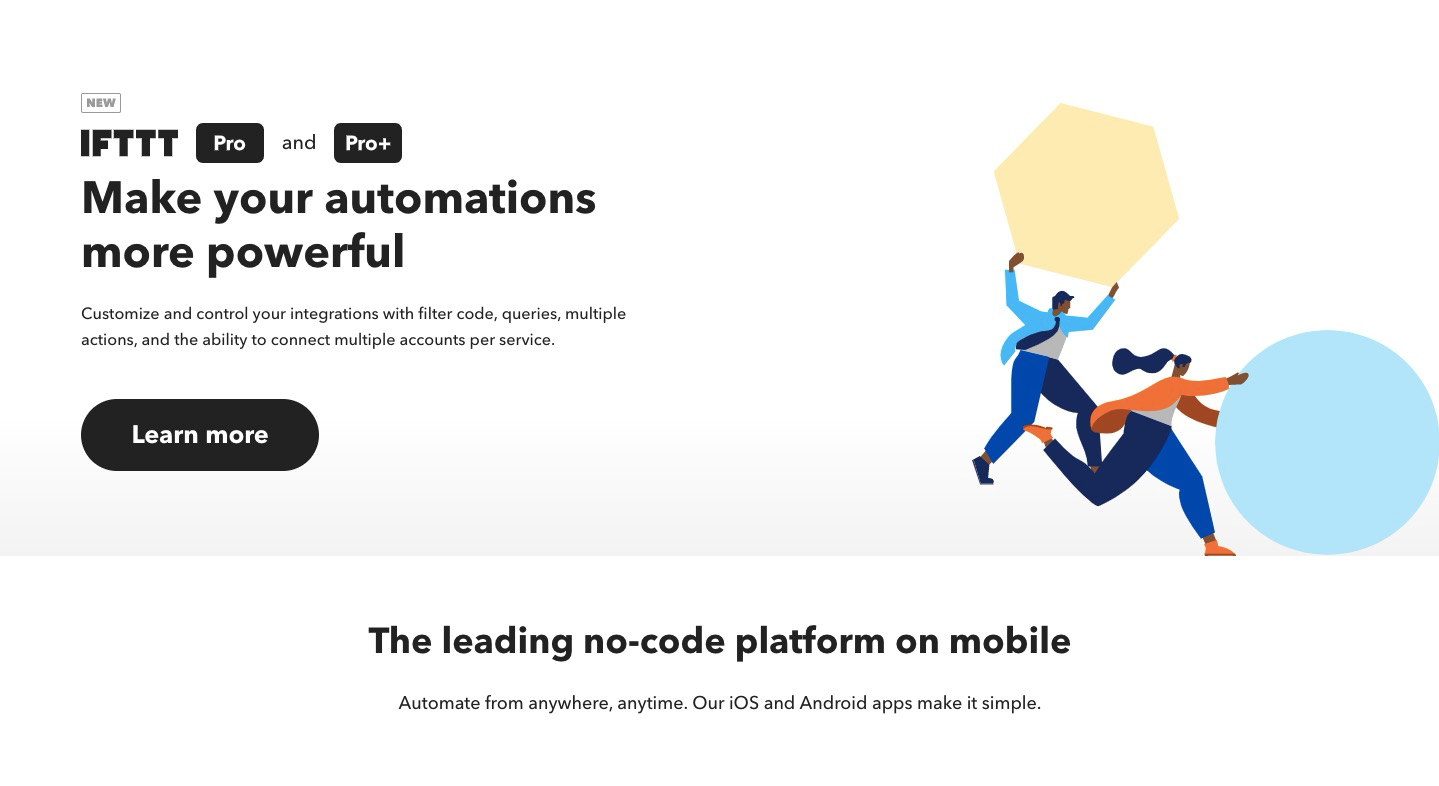 "If this, then that," in short, IFTTT is a free application that allows you to create your own rules as to how multiple tools, applications, and social media platforms interact with each other.
It helps to automate tasks between different social networking platforms, and also with other social media apps like Gmail, Dropbox, etc., and even within other social media automation tools like Buffer.
The tool uses "applets" to connect several platforms, enabling you to share posts across several social media platforms automatically.
With it, you will be able to save your new Instagram photos to Dropbox, sync your images of Twitter and Facebook profiles, tweet your Instagram posts as native photos on Twitter, and upload Facebook Page changes to LinkedIn Pages via Buffer as well.
Features:
Few applets among many are:
Fresh WordPress content is pinned to a Pinterest board.
When a specific hashtag is applied to an Instagram post, it is also shared on Twitter at the same time.
Once your Facebook profile photo is updated, you can also update your Twitter profile picture simultaneously.
Pricing:
Users can choose between three monthly pricing plans: $3.99, $5.99, and $9.99.
There is also a custom pricing option where you can negotiate your own pricing. However, the price has to be a minimum of $1.99 per month.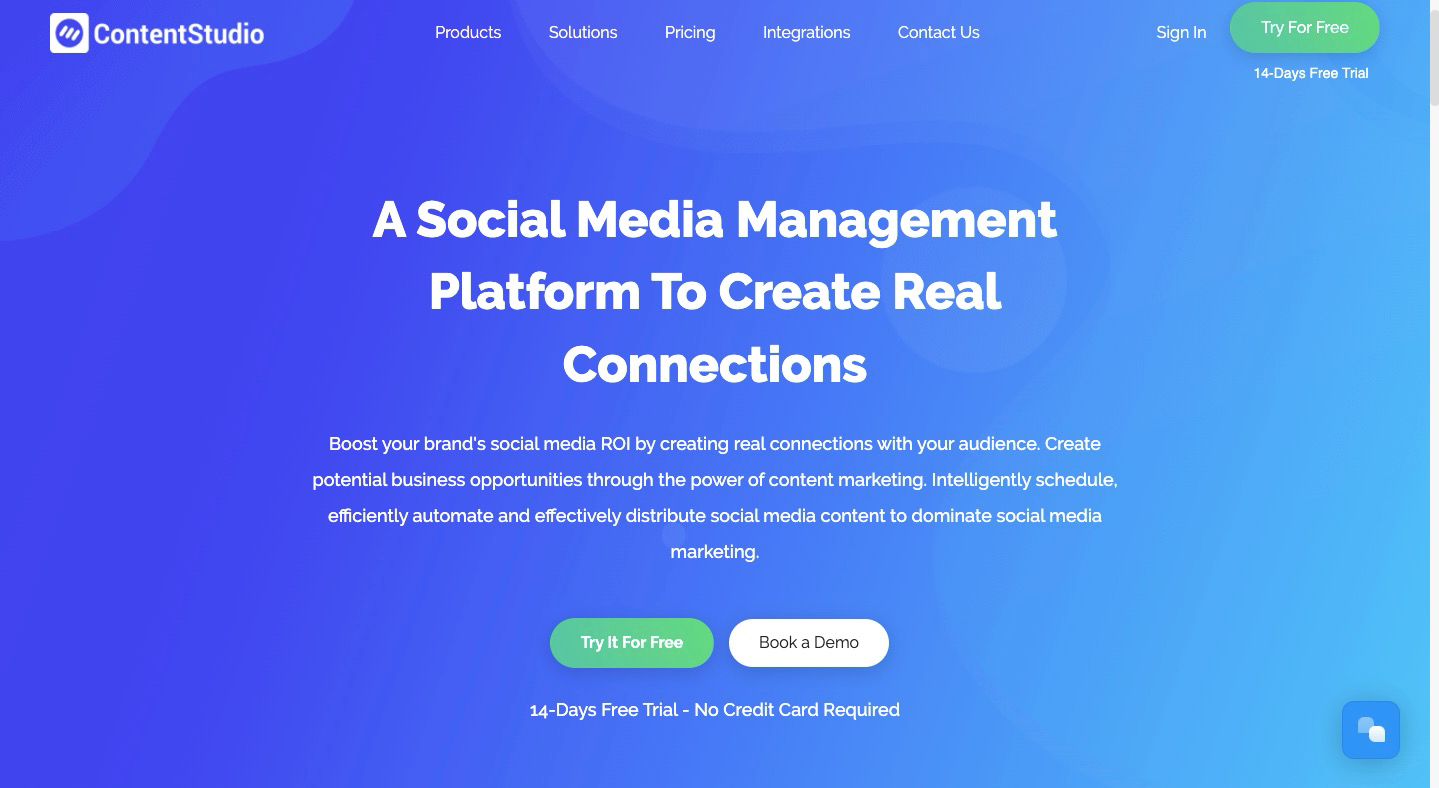 ContentStudio is a data-driven and AI-powered content marketing automation and social media management solution that lets you find, write, and share the finest content across various social media and blog channels.
The tool enables you to create content based on relevant search terms you have pre-researched. With this, you can collect trendy topics both from social media and the web, in general, to create content before even it gets viral.
Besides that, with ContentStudio, businesses can create social media campaigns by combining articles, videos, images, quotes, and other media content to make their social channels more attractive and engaging.
It offers a set of tools for publishing, scheduling, analytics, and automation, all of which are designed to make social media working and collaboration easier for you.
Features:
It provides you with meaningful social media analytics that further helps you make more informed business-related decisions.
The built-in planner and calendar aid workflow and Collaboration.
It gives you relevant and popular content suggestions to optimize your content marketing strategy.
It lets you manage all your social media conversations from one place and deliver better and more relevant content to your followers and customers.
Pricing:
Pro Plan:  $49 per month
Small Plan:  $99 per month
Medium Plan:  $199 per month
Large Plan:  $299 per month
Conclusion
Over time, social media marketing has changed a lot, and it necessitates persistent dedication on your part to be able to provide relevant content to the end-user.
And to achieve that, you need the top social media automation tools that can help you level up your social media marketing and generate positive results from it.
Even though all the social media automation solutions we listed above are excellent, Sked Social, Meet Alfred, CoSchedule, NapoleonCat, Sprout Social, Planoly, and Zoho Social stand out due to their extensive feature set at reasonable pricing rates.
However, with that said, what suits you best depends totally on your social media goals and needs.
So, instead of jumping right into the premium plans, you can start by leveraging their free trial to automate your social media activities and then deciding to invest in the best social media automation tool.