LinkedIn is an incredibly resourceful platform for B2B companies to connect with their target market and generate qualified leads.
But with over 300 million people actively using it, it takes time to scout your prospective customers and persuade them to buy your product and services.
Automation software offers you an efficient way to tap into that large pool of resources and quickly convert leads. They help you attract your audience with relative ease, so you can put your productive efforts into growing your businesses.
Let me briefly give you an overview of an automation tool and how it works.
How Does LinkedIn Automation Help You?
LinkedIn is exclusively designed with a B2B marketing funnel in mind. It refines your connection list, optimizes your drip campaigns, and automates your repetitive tasks to simplify your workflow.
With it, you can increase your outreach and improve your prospecting processes to quickly close deals.
Almost 85% of organizations have adopted automation for this very purpose.
Let's dive into the ten LinkedIn automation apps I have put together.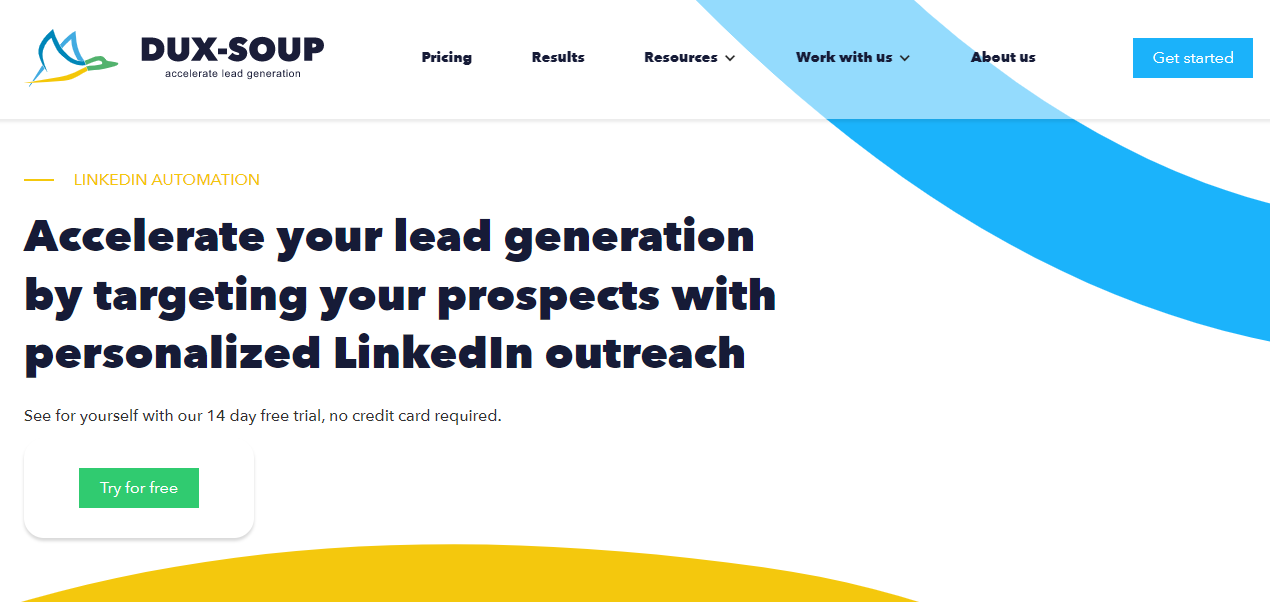 Dux-Soup offers basic LinkedIn automation to attract and generate qualified leads.
You can set up a follow-up message sequence and add rules to make your drip campaign more targeted and efficient. With its chrome extension facility, you can quickly identify potential leads from search results and run profile visits on auto to invite only those meeting your conditions.
You can also integrate it with popular CRM including Hubspot, and buy its add-ons like email scraper to unlock advanced functions.
The feature that makes Dux-Soup stand apart, though, is its campaign monitoring.
It shares a visual representation of your sales funnel to get daily updates and keep track of your prospects.
Here're its core features.
Features
Lead generation automation.
Search filters.
Auto messages and invitations.
Profile tagging.
Progress tracking.
Integrations with third-party CRM.
Add-ons.
Price
Dux-Soup provides several plans to accommodate different company sizes. If you're a solopreneur, you can start it for free and later upgrade it to its Pro Plan for $15.
For teams and agencies, it charges a minimum of $135 per month.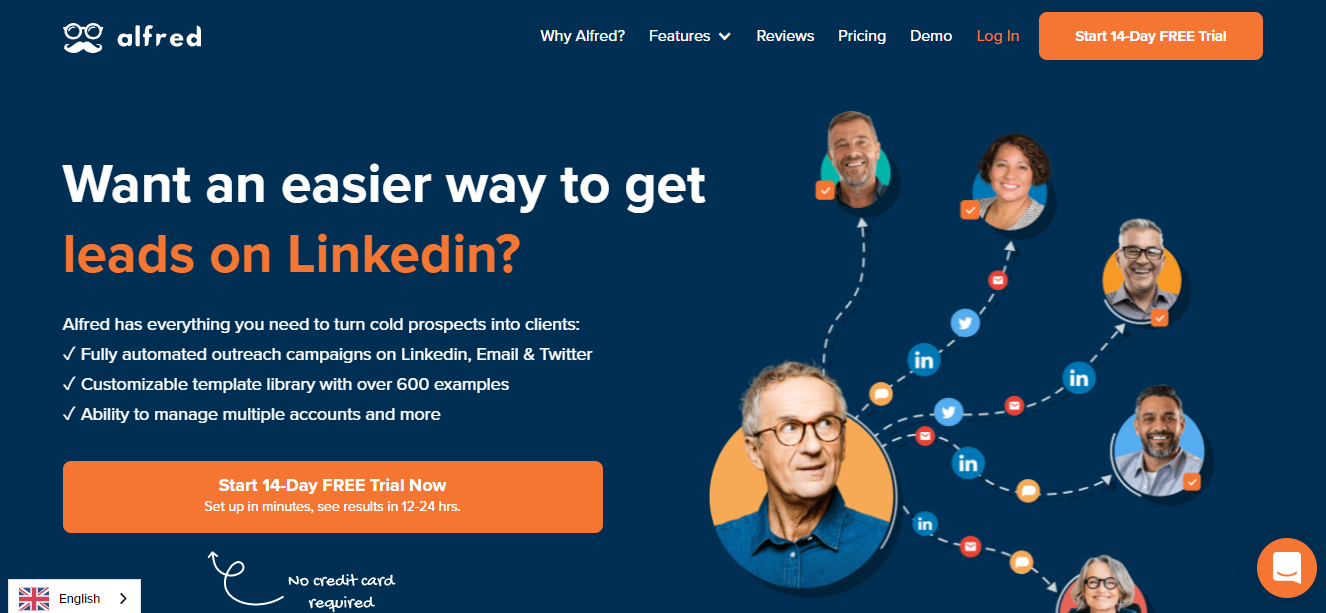 Meet Alfred is a versatile software that provides you with everything from lead scraping, campaign management to engagement.
It offers an in-built search filter to gather the list of your profiles without using a sales navigator account.
With its advanced sequence automation, you can control how you want to approach your prospective customers and when you want your campaign to run. Its template library gives you access to hundreds of pre-defined messages to personalize each campaign and set up automated responses.
It also allows you to schedule LinkedIn timeline posts and set greeting messages with Meet Alfred for birthdays, new roles, and job anniversaries. This feature helps you to keep your profile active and stay connected to your customers.
To summarize, Meet Alfred provides you with tools to efficiently manage your campaigns, conversations, and workflow.
Here're its core functions.
Features
Lead Scraping.
Advance drip campaigns.
Template library.
Message personalization and email signature.
Smart Inbox.
Linked Post scheduling.
Admin control.
Team management.
Price
Meet Alfred offers three plans from $29 to $39. You can take a 14-day free trial or book a Demo to explore the software.
Zopto is ideal for startups or agencies looking to both expand their outreach and optimize their marketing funnel activities.
It allows you to set up your own campaign schedule, run A/B testing to compare progress, and tag profiles to track your leads.
When coupled with your sales navigator account, you can swiftly organize your contact list and fine-tune your target market. It also has an email scraping tab under each campaign to collect IDs and target your audience through InMail services, which it provides for free.
It is a remarkably simple tool, yet it offers advanced automation functions to control every aspect of your prospecting.
Let me share its features.
Features
Robust automation.
Multi-users.
Time-zone settings.
Dashboard Inbox.
InMail message service.
A/B testing.
Templates and Profile tags
Custom branding for agencies.
Analytics
Team Support.
Price
Zopto starter plan costs $215 per month. If you manage multiple accounts, you can try its growth plan for $395 per month.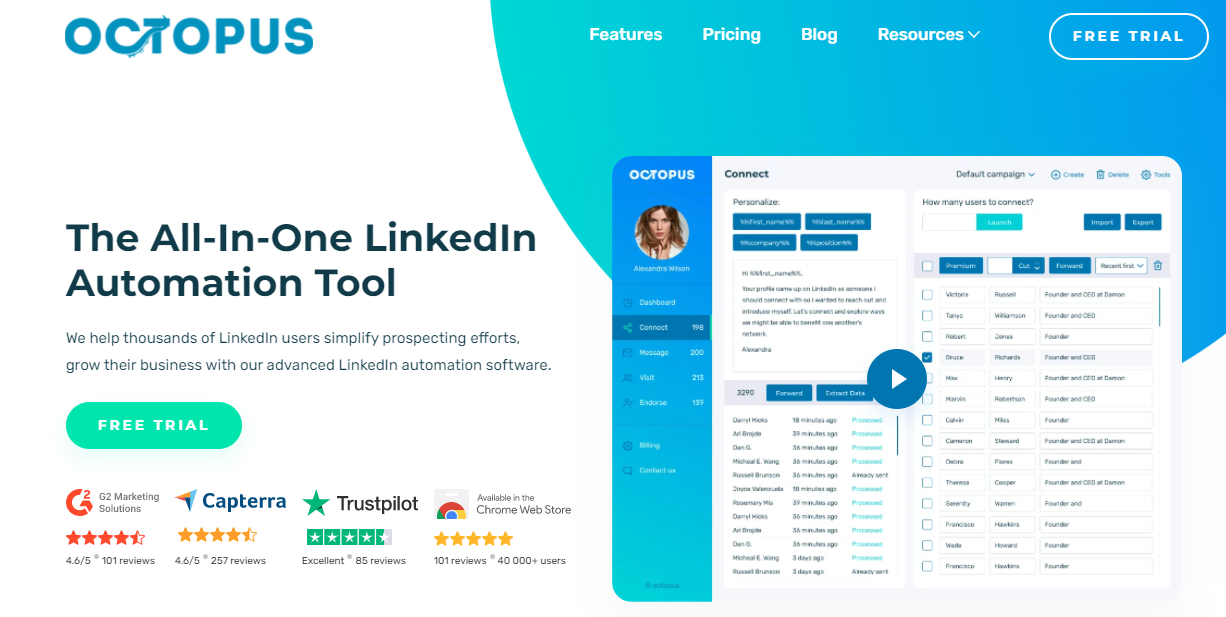 Octopus CRM is a beginner-friendly LinkedIn tool for lead capturing and workflow automation.
You can use it to create multiple campaigns, embed publish-ready templates to draft quick invitations, and send bulk connection requests to attract prospects. It also offers several auto-messaging functions to engage your audience, including endorsements, personalization, and emails.
What most people love about Octopus, though, is its efficiency and ease of use.
You can attach its Chrome extension to your LinkedIn account to mass transfer your leads and launch your campaign within minutes.  All you'd be required to do is specify the action you want to pursue and the number of prospects you expect to target. Octopus CRM does the rest.
Here're its core features.
Features
Bulk connection requests and messages.
File export.
Email invite.
Auto-Endorsements.
Activity Notifications.
Analytics.
Third-party integrations.
Chrome extensions.
Supports all LinkedIn account types.
Price
Octopus CRM shares four monthly plans ranging from $10 to $25.
If you're looking for workflow automation only, its Pro version is best, otherwise, go for its unlimited plan. It unlocks both basic and advanced features.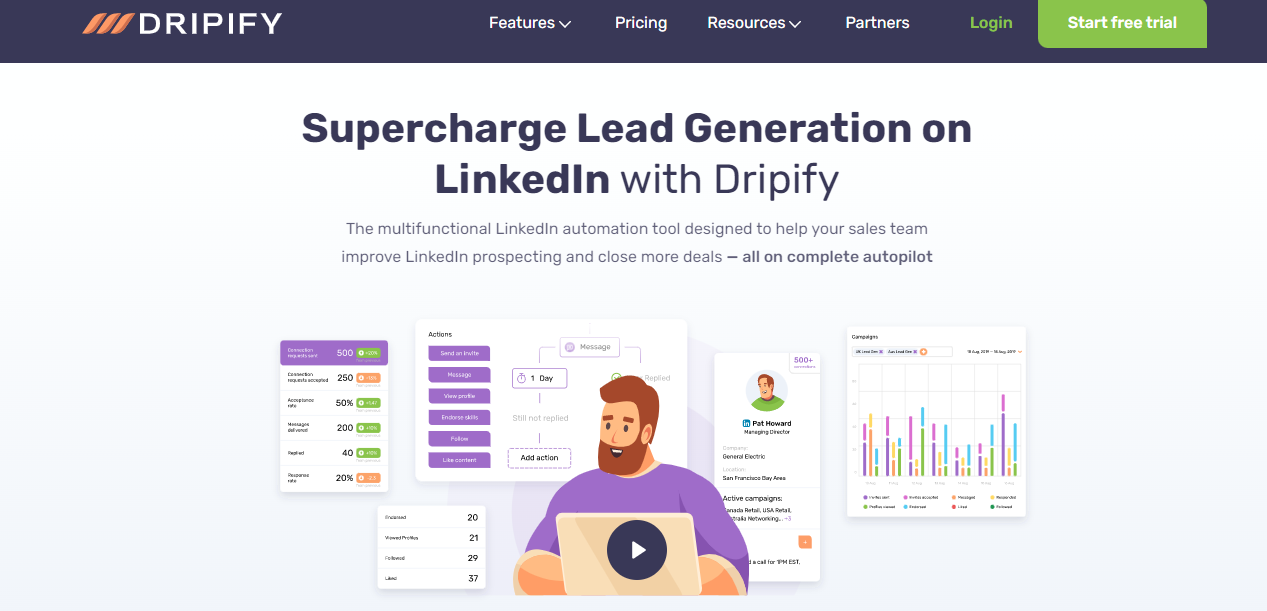 Dripify is also an excellent tool to automate your funnel, engage your leads, and keep track of your progress.
It has a flexible sequence builder that allows you to design basic to intricate drip campaigns and create alternate paths for better outreach.
You can use its sales funnel templates to save time, add calculated breaks between follow-up messages to avoid spamming and set your entire workflow on autopilot.
It additionally provides an in-built inbox to continue your lead nurturing directly from the dashboard.
What makes Dripify more appealing is its message customization. You can add up to twenty variables to your message and personalize them for each funnel stage. It's an incredibly useful tool that makes your content appear human-like.
Dripify also lets you invite team members, assign roles and monitor their activities. This feature is ideal for managers who work with a business development team.
Let me summarize its functions.
Features
Campaign Builder
Message personalization.
In-build Inbox.
Content Templates
Team Onboarding.
Advanced Analytics.
Activity control.
File export.
Price
Dripify charges $60 to $100 per month to avail of its services.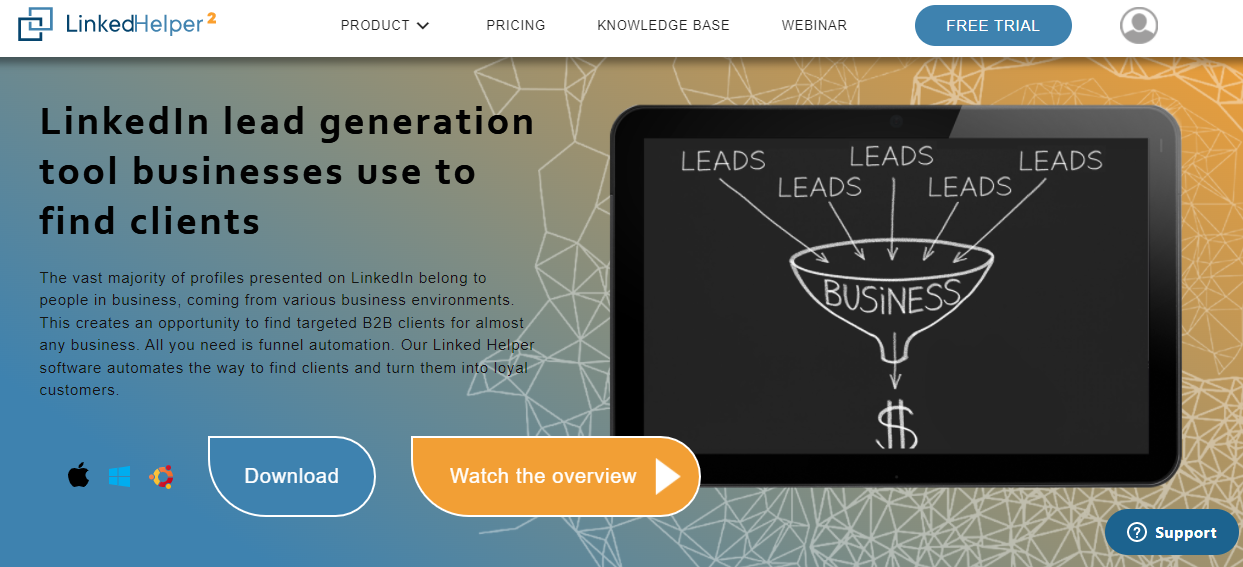 Like, Alfred, LinkedHelper 2 shares an extensive list of features designed to speed up your sales process. But it's comparatively more flexible and diverse in its functionalities.
It has a smart search filter that detects potential leads through likes to narrow down your list so you don't put your efforts into unrelated contacts. With its data extraction action, you can collect emails from LinkedIn profiles to target those who might be more approachable to emails.
It also has an editor that allows you to put conditions not just on your campaigns but on your messages as well. It helps you avoid spamming people with unnecessary messages and losing your prospect.
Overall, it's excellent software for lead generation.
That said, it has a bit of a learning curve. If you've little to no experience with LinkedIn tools, you may have to familiarize yourself with it first. But once you get the hang of it, it will make prospecting easier.
Features
Data scraping.
Campaign builder.
Multi-users.
Bulk invite and messages.
Robust Personalization.
Advance Research option.
Conversation filters.
Analytics.
CRM.
Price
LikenHelper 2 starter plan is free to use, while its premium subscriptions cost $15 to $45 per month.
Interestingly, it doesn't restrict its functions to certain plans. You can opt for any plan to avail yourself of all features.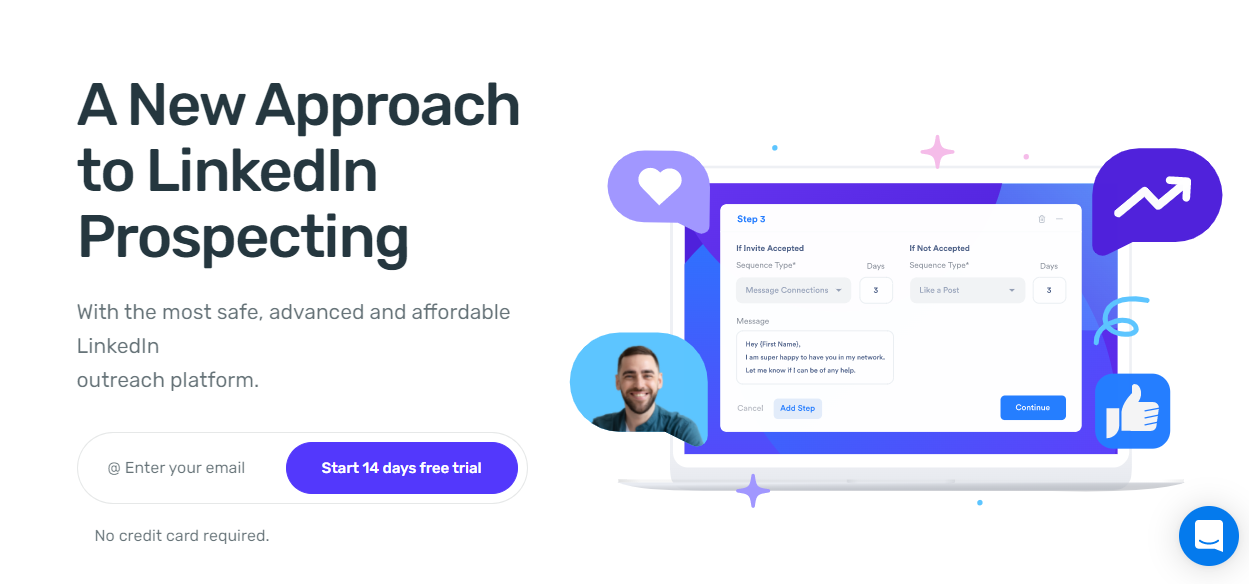 If you've never used a LinkedIn automation tool before, I recommend We Connect.
Not because it's a basic app or a simple extension like Octopus CRM. It is just super easy to navigate. With a visually appealing dashboard and a step-by-step campaign format, you can dive right into it without needing to explore its functions.
Anyway, coming to its features, We-Connect has all the essential automation you should expect from LinkedIn software. You can send mass invitations, automate follow-up messages, schedule campaigns, and control your daily limits.
It also provides you with analytics to keep track of who viewed your profile, how many have responded, and what connections you can explore to increase your reach.
One of its features I found particularly interesting was its fallback function on its message templates. We-Connect has a default variable option that switches the first name to "hello" or specified phrases in case your lead doesn't have the first name on its profile.
It's something you'll rarely find in other popular apps.
Let me summarize We-Connect's core features.
Features
Auto invitation and messaging.
User-friendly analytics.
Inbox and notifications.
Campaign builder.
Advanced Automation
Safety measures.
Integrations.
Price
W-Connect's monthly package costs $49.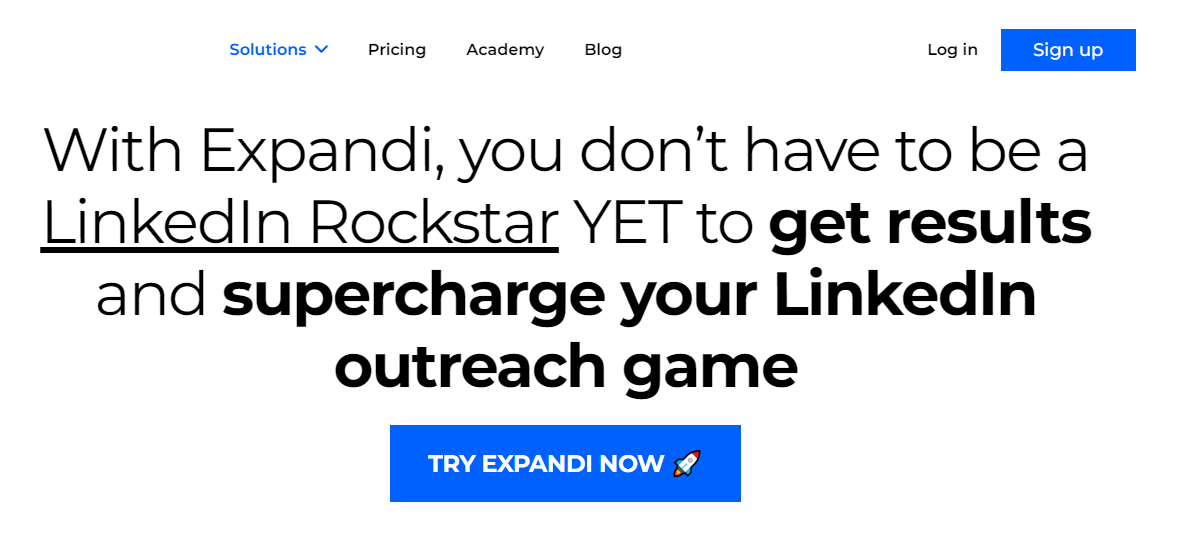 Expandi helps you accurately target your audience with advanced filters and personalized messaging.
It has a search section that allows you to extract contacts from general LinkedIn results and event pages, both to create specific lists for different campaigns. It also provides advanced filters, like blacklisting, to make sure you're attracting the right person.
With its custom messaging, you can automatically add images and GIFs to personalize your conversations and increase engagement. In addition, you can also tailor your messages based on your audience's interests with a dynamic placeholder variable.
The DPV is one of Expandi's powerful features that makes your messages stand out and helps you improve your response rate.
All in all, it's an excellent tool for those who cater to a diverse market.
Let me summarize Expandi's core features.
Features
Contact scraping.
Multiple accounts management.
Dynamic placeholder variable.
A/B testing.
Message personalization.
Campaign optimization.
Team collaboration.
Integrations.
Price
Expandi's plan starts from $99 a month.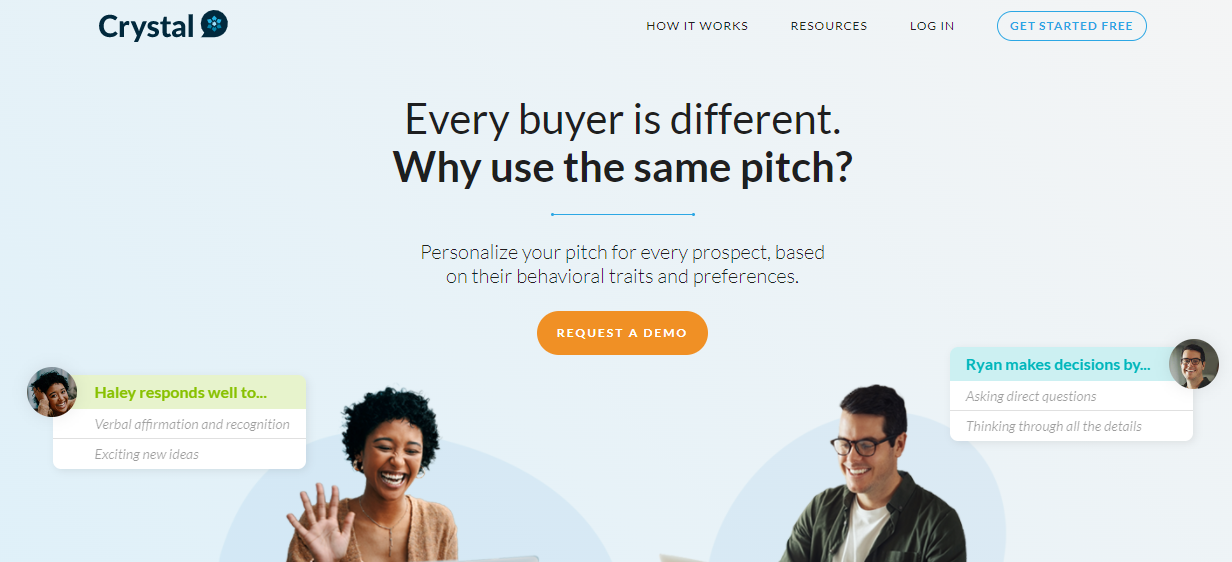 Crystalknow gives you deep insight into your prospective customers to understand what makes them tick and how to leverage it to convert them into your client.
It is an analytics software that primarily focuses on early research to help you build a tailored marketing strategy.
You can use it to identify your prospect's personality, learn what motivates them to take action, and filter profiles with less potential for conversion. It provides a complete playbook on how to deliver your sales pitch and how to negotiate with your lead to close the deals successfully.
This saves a lot of your time, allowing you to personalize your communication for each client and build relationships, not just revenues.
It's an amazing tool, particularly for companies that target industry leaders and entertain few but valuable B2B accounts.
Here're its core features.
Features
Chrome extension.
Personality predictions.
Supports all LinkedIn profiles.
Smart tips to improve your sales pitch.
Email templates.
Playbooks.
Profile Comparison.
Price
CrystalKnows charges a minimum of $49. You can also sign up for free to explore it.
PhantomBuster performs a diverse range of functions to help you generate more leads. But unlike traditional automation tools, it is more focused on data mining than campaign management.
You can certainly use it to generate profiles, send mass invites, create follow-up messages, and track your campaign. But PhantomBuster excels at data gathering mainly.
With it, you can mine IDs for email marketing, scrape event data for Webinar campaigns, collect posts from your lead's profile for better insights, and pick out active prospects. It allows you to extract any available information from LinkedIn and use it to expand your outreach.
Let me summarize its core features.
Features
Data extractions.
Auto invites and connection requests.
Follow-up messaging.
File Exporting.
Profile finder.
Auto-endorsements and Timeline post scheduling.
Price
PhantomBuster's starter plan is free to use, but it's extremely restrictive. To uplift the limit, you can upgrade its plans for $30 to $900, depending upon your requirements.
Word of Caution
LinkedIn takes data privacy very seriously and has in place certain triggers that catch any excessive or abnormal activity. This means if you're mass sending requests without any specified limit, you might find yourself immediately kicked out for spamming.
The good news is most software comes with control options to put a threshold on your activities.
Just set up a cap on your daily actions, and you can safely operate your LinkedIn campaigns. Good luck!