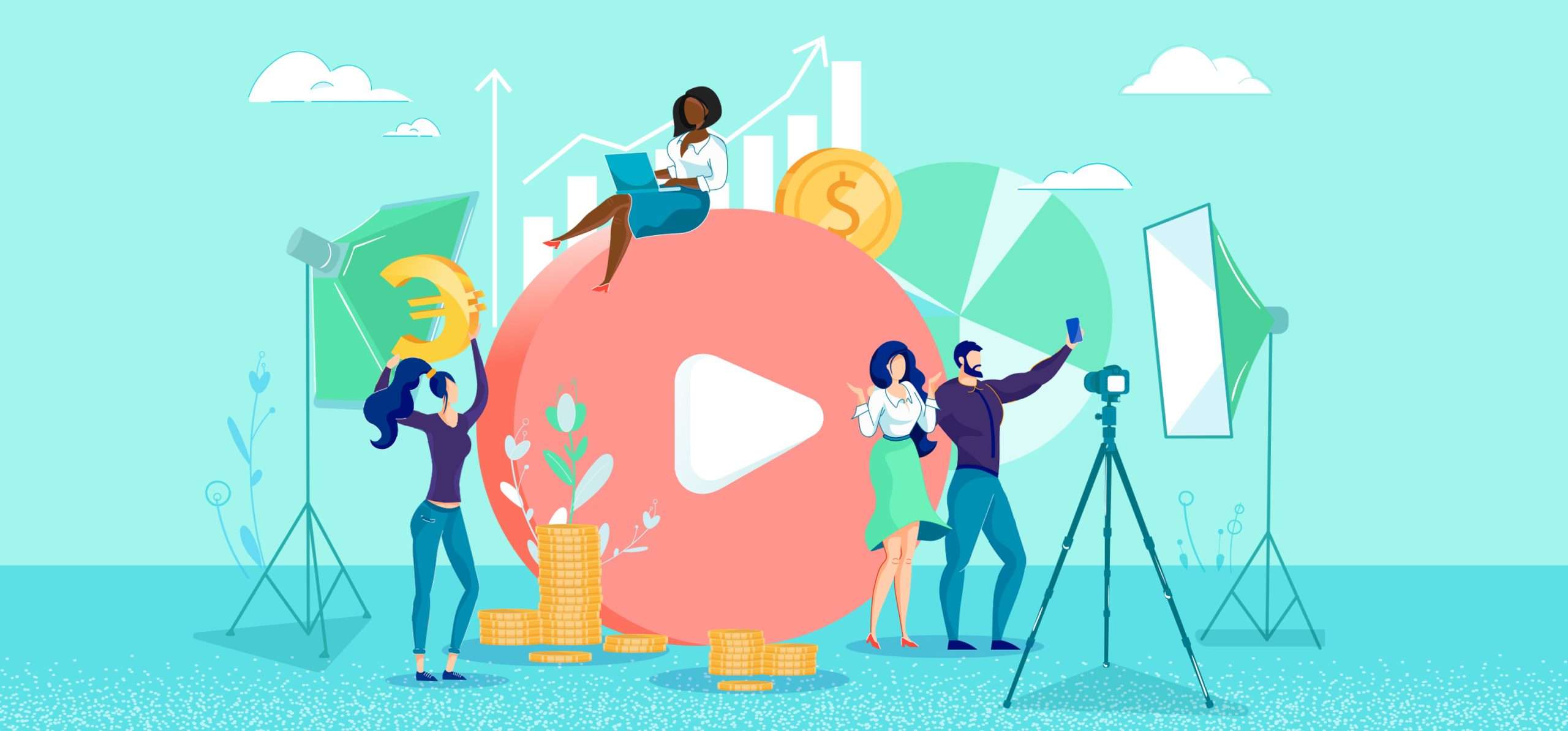 Influencer marketing is one of the top strategies to raise brand awareness and gain more exposure.
Businesses get incredible results with this marketing tactic and make around $5 for every dollar they spend on such promotions.
But connecting and managing influencers can be a bit tricky. 
It takes time to sift through thousands of profiles and oversee multiple partners. Unless you have a team to delegate, you might find it difficult to run your program.  
With tools like Influencer marketing platforms, you can expedite the preliminary research and automate your process. They cut down your time and centralize your workflows to make the operations manageable.
What is an Influencer Marketing Tool and What Does it Do?
Influencer marketing tools are SaaS platforms that offer software and services to connect and source influencers for product promotions.
You can consider them marketplaces as well since they provide a large database of content creators. But these platforms also deliver you tools to negotiate contracts and run campaigns. 
In this article, I have shared some of the best influencer marketing platforms for B2C, e-commerce businesses, and agencies. The list covers various tools that support small, mid-size, and large businesses.
Let's review them.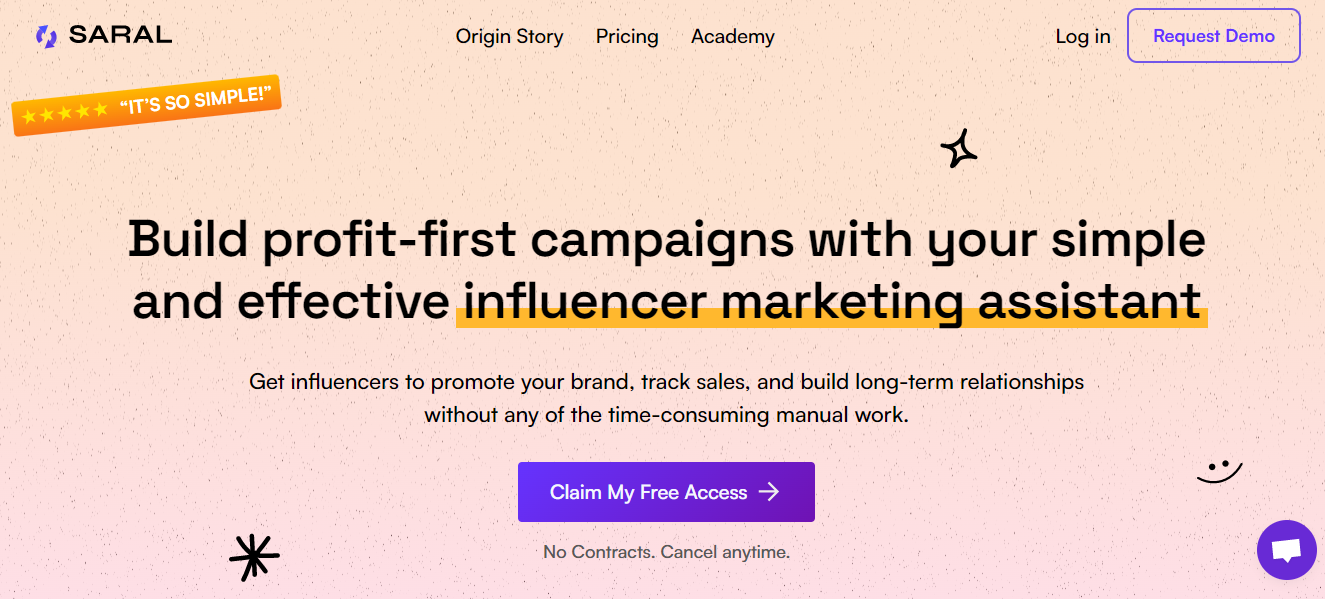 SARAL helps you establish an influencer marketing program and find top partners for collaboration.
You get access to over 150M content creators and outreach tools to connect with interested parties.
With application forms, email templates, and chrome companion, you can reach out to multiple people at once, shortlist the best brand ambassadors, and ship free products in bulk. The dashboard shares a Kanban board to let you easily keep track of each process.
SARAL provides a dedicated manager, as well, for those who need assistance with their influencer program. They offer one-on-one strategic sessions and handle basic operations on your behalf.
Core Features
Influencer discovery.
Application form.
Email outreach.
Multiple campaigns.
Bulk-shipping.
Tracking and analytics.
A dedicated manager.
Price
SARAL monthly packages start from $199.
You can try it for free and cancel it anytime.
If you're on the lookout for a simple influencer marketing tool, Collabstr is ideal for you.
It provides a search engine to find partners and offers payment support to negotiate deals. You can optimize your search by city, price, and followers, and add product categories to further shortlist your results.
You don't have to pay any upfront amount to use the search engine. Collabstr holds your payment until you approve your selected partner's content. With instant chat, you can connect with influencers and remain in contact with them throughout.
You can ask Collabstr to manage campaigns for you as well. All the influencers on the platform are vetted by the company, ensuring you get the best quality profiles for product promotion.
Currently, Collabstr hosts creators from around 19 countries and offers contracts for as low as a $250 budget.
Core Features
Influencer discovery from YouTube, TikTok, and Instagram.
Search filters.
Vetted profiles.
Contract templates.
Global access.
Campaign posting.
Instant chat.
Budget-friendly options.
Price
Collabstr prices are not listed on the website. Contact sales to learn more about it.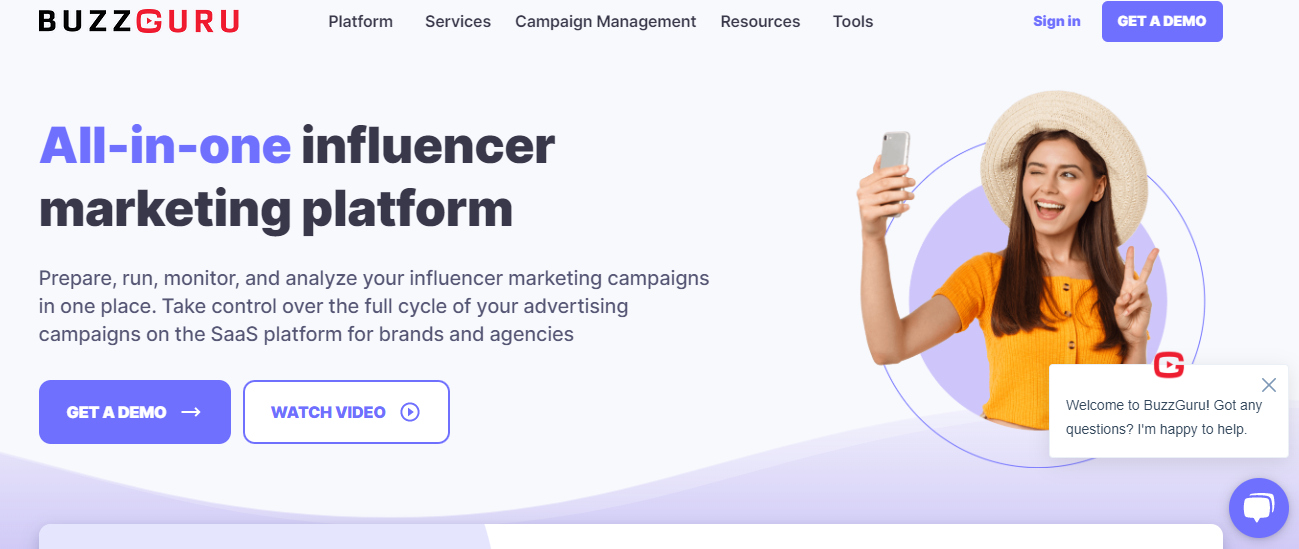 Buzz Guru is ideal for those who sell digital products or applications.
The platform enables you to run market analysis, establish your influencer program, create campaigns, and track results.
You can find best-matching portfolios with smart filters and assess their popularity with the analytical tool. To optimize your strategy, you can choose influencers based on your audience's interests and run forecasting to predict success.
You can also evaluate the partners who are already in your program. It would give you a general idea of your past investment effectiveness.
Core Features
Influencer discovery from YouTube, TikTok, Instagram, and Twitch.
A database of over 27M creators.
Smart filters.
Profile and content vetting.
Market and competitor analytics.
Campaign management.
Tracking and reporting.
Reporting downloading.
Multi-user account.
Price
Buzz Guru provides quotes on request. Get a Demo to explore the platform.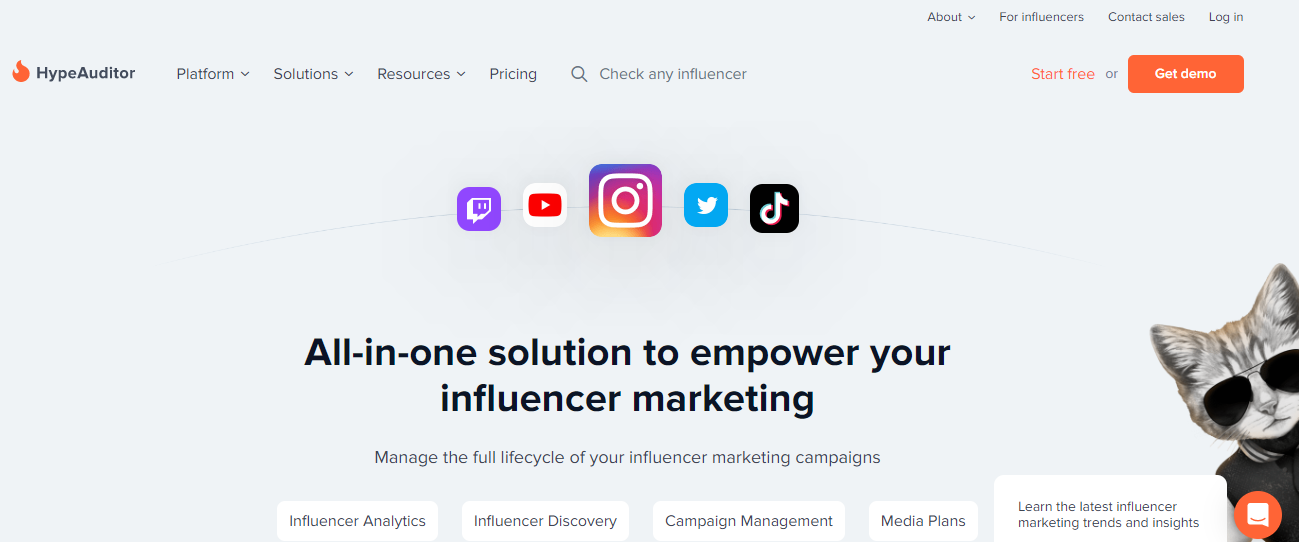 HypeAuditor delivers a suite of tools to establish and manage your influencer marketing program.
You get access to a database of around 68M content creators from TikTok, Instagram, YouTube, and Twitter with search filters to quickly shortlist and recruit top influencers.
You can perform engagement analysis to weed out fake profiles and analyze brand mentions to vet potential partners.
To save time, you can email a dozen people simultaneously and semi-automate your workflows.
Other notable features of HypeAuditor include competitor analysis, contact management, Shopify integration, and a media plan for presentations.
Core Features
Influencer discovery and recruitment.
Profile vetting.
Email outreach and proposals.
Workflow automation.
Contact management.
Tracking and analysis.
Benchmarking.
Shopify, WooCommerce, Magento, and PayPal integration.
Price
HypeAuditor shares prices on request. Schedule a free demo to get the quotes.
Creator IQ delivers an enterprise solution. It provides you with a centralized platform to recruit, engage, track, and pay influencers.
You can attract top influencers from over 190 countries, get quick stats on their popularity level, onboard them with a branded portal, and send payment through multiple methods.
You'll also find lots of other useful automation tools to save time and comfortably run your program.
For instance, you can apply smart filters to discover the right partner based on topics and mentions. Or, you can monitor your progress and share a "before" and "after" picture with the management.
I recommend checking out its website to explore all its features.
Core Features
Influencer discovery.
Brand monitoring.
Campaign management.
Multiple payment methods.
Tracking and analytics.
One-on-one coaching.
API.
Price
Creator IQ shares prices on request.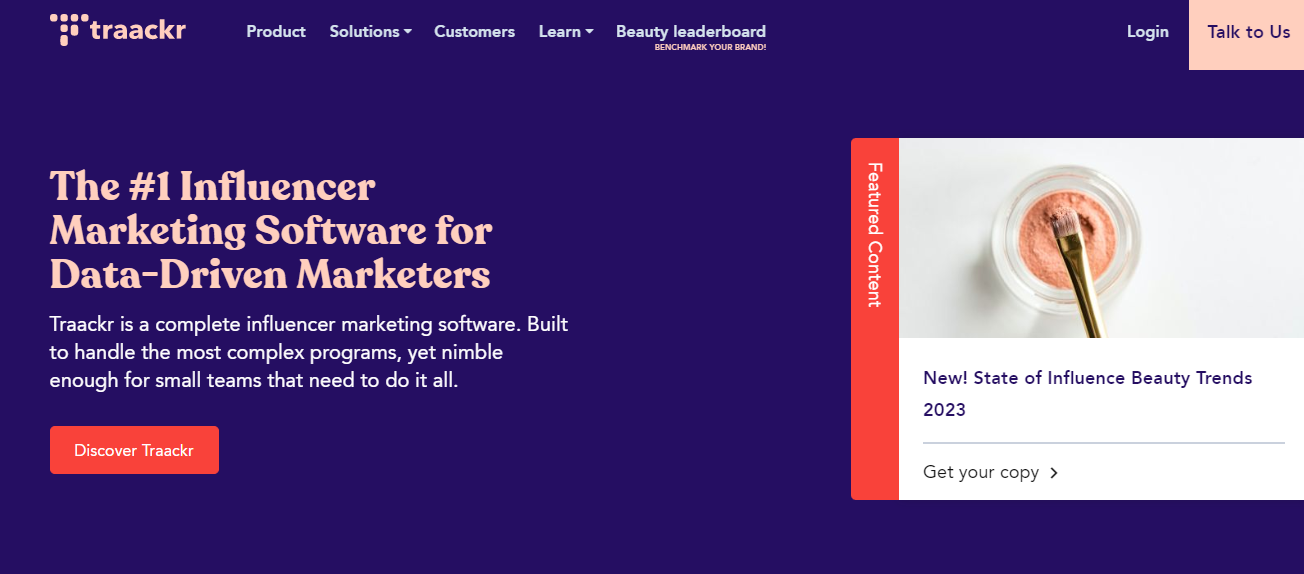 Traackr is best for both brands and agencies.
Brands can find partners and influential people who're already talking about your product and services. They can run a competitive analysis to get market insights, build an email list for gifting campaigns and create custom workflows for both organic and paid campaigns.
E-commerce store owners can set up affiliate programs and pay commissions directly via the platform. They can easily integrate Traackr into their stores and establish their commission structure.
For agencies, Traackr delivers approval workflows and progress reports, so they can keep their clients appraised of their influencer marketing efforts. Agencies can recruit micro, nano, and top influencers to entertain multiple clients.
Core Features
Influencer discovery and vetting.
Organic and paid campaigns.
Affiliate program for e-commerce businesses.
Tracking and analytics.
Custom workflows.
Competitive analysis.
Benchmarking.
Price
Traackr delivers prices on request. Contact sales to get the quotes.
Klear enables brands and agencies to attract top influencers from major social networks and blogs.
It has a powerful search tool with multiple filters like demographics, hashtags, and audience to find micro-influencers and assess their engagement level.
You can evaluate the authenticity of the selected influencers and analyze their content to see if they would be the best fit for your brand. You'll have the option to tag potential partners and save them for future projects.
Through CRM and an influencer portal, you can run campaigns, sign contracts, share briefs, and process payments. You can also monitor brand mentions and generate reports for the management.
Core Features
Influencer discovery.
Advanced filters.
Portfolio analysis.
Application form.
Campaign management.
Communication portal.
Social listening.
Tracking and reporting.
Price
Klear shares prices on request. Schedule a demo to learn more about it.
If most of your target audience comes from Instagram, try ViralMango.
It's an emerging platform that lets you find and collab with Micro and Nano influencers.
The software is built for both influencers and brands, offering a pool of 50k content creators for easy reach. You only need to publish a campaign and set a budget; the relevant parties will come to you for collaboration.
Once your proposal is accepted, the platform automatically distributes the reward based on influencer engagement and reverts the remaining balance to your account.
ViralMango currently supports only monetary compensation, but you can create a combination of cash and gift packages.
Core Features
Instagram Influencer discovery.
Creator marketplace.
Cash and gifting campaigns.
Kanban board.
Workflow automation.
In-app chat and email notifications.
Tracking and analytics.
Dedicated manager.
Price
ViralMango prices are not listed on the website, but the minimum campaign budget is $500.
Contact sales for the demo.
Aspire offers influencer marketing services and software to e-commerce businesses.
Brands that need expert assistance with influencer marketing can get in-house team services to help them with the main operations and strategies.
For those needing a quick way to make sponsorship deals, Aspire provides a marketplace of creators and a software product. You can discover Macro and Micro-influencers, connect with distinguished customers for partnership, and essentially invite anyone for collaboration.
You can customize your outreach campaigns and set up an approval system to ensure your partner sends the right message to their audience. With pre-built image rights, you don't have to worry about copyright issues.
Core Features
Influencer and affiliate marketing.
Search engine.
Social listening.
Campaign and communication management.
Tracking and analytics.
Content listening.
Custom workflows.
Integration with Gmail and Shopify.
Price
Aspire delivers quotes on request.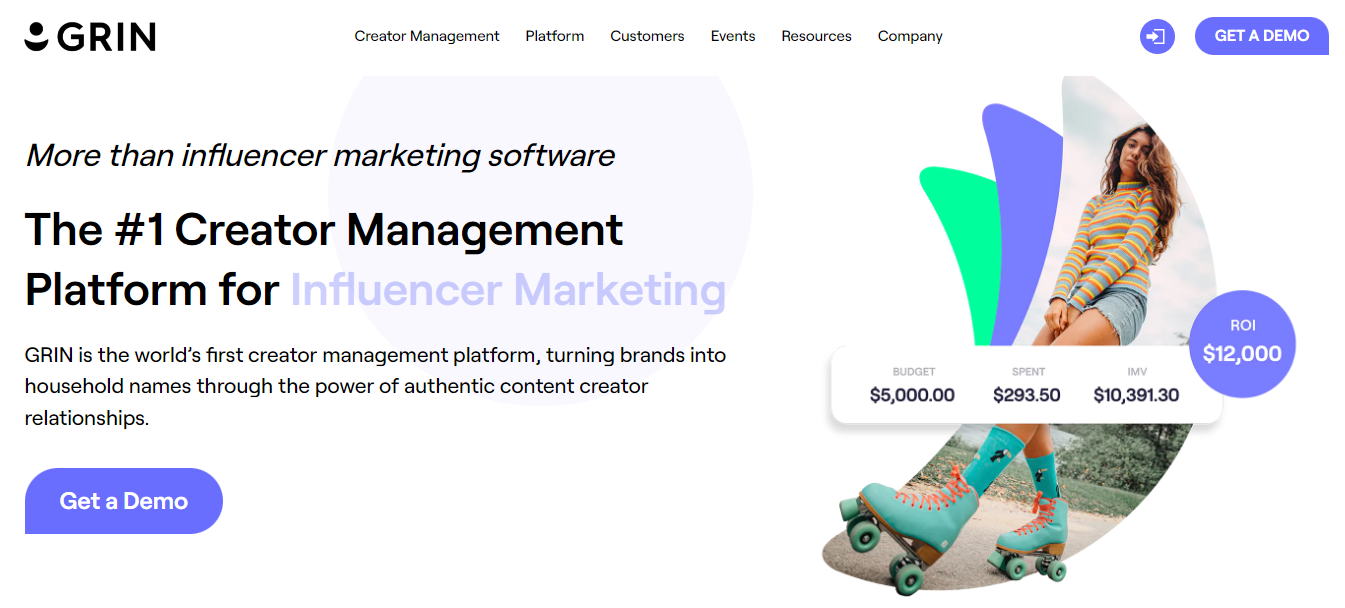 Grin is a content management platform for e-commerce brands.
It delivers a search engine for influencer discovery, a CRM to manage them, a product seeding workflow to send out gifts, and integration with PayPal.
With look-alike and social listening tools, you can quickly find influencers with similar interests and connect with people that meet your criteria.
All your posts and influencers remain in one place, allowing you to manage relationships and track campaigns with ease. You can download top-performing posts and repurpose them for more brand exposure.
Grin also allows integration with Shopify for product shipping.
Core Features
Influencer discovery and collaboration.
Affiliate program.
Advanced filters.
Email templates.
Product seeding.
Payment support.
Content management.
CRM.
Reporting and analytics.
Integration with Shopify, WooCommerce, and third-party productivity apps.
Price
Grin provides quotes on request. Schedule a demo to explore it.
Influencity is one of the leading influencer marketing platforms. It enjoys a good rating on review sites and offers decent pricing packages.
For $170 to $350 per month, you can access 170+ creators, perform unlimited searches, vet around 150 profiles, and track performance.
You'll also get a centralized platform with reports to manage your campaigns and share results with your team.
The best thing about Influencity? You can customize your entire plan to suit your needs. You can change your plans anytime you want.
Core Features
Influencer discovery.
170+ database of creators.
Search filters.
Profile vetting.
Campaign management and tracking.
Reporting and forecasting.
Influencer comparison analytics.
Custom plans.
Price
Influencity charges $168 to $698 per month. You can take a 7-day free trial.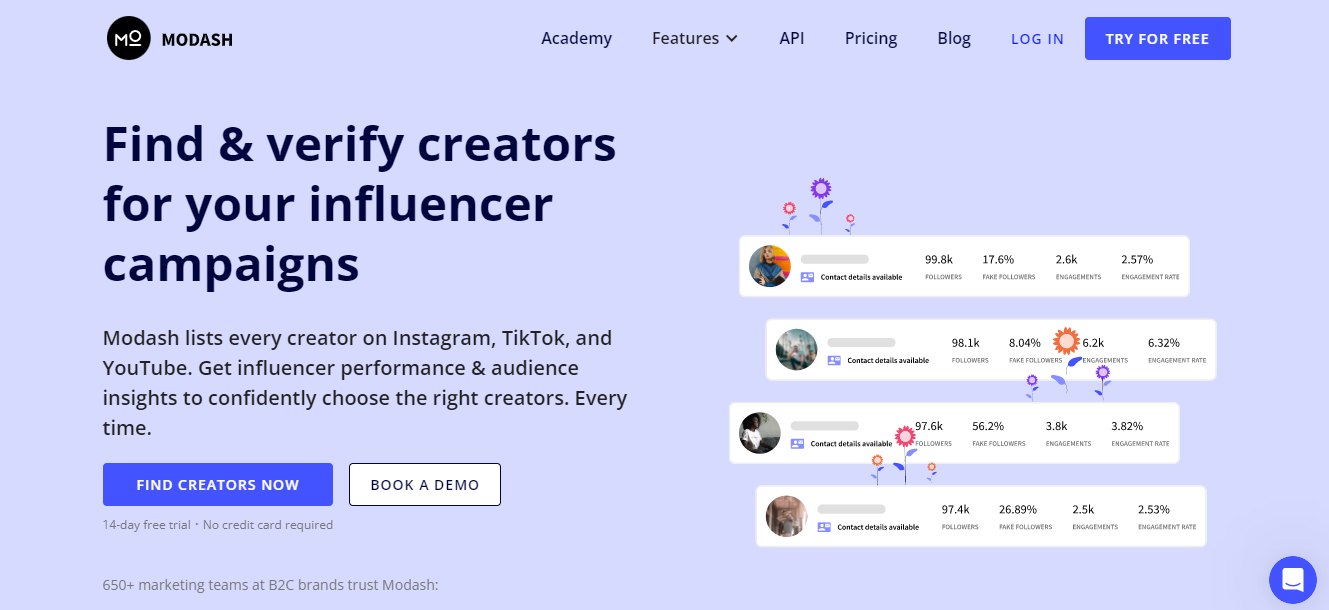 Modash lets you recruit influencers from YouTube, Instagram, and TikTok.
You can look through a global database of 200M creators for partners and apply advanced filters to extract relevant profiles. What's more, you can audit the list to detect fake profiles and collect emails in bulk for outreach.
For custom workflows, you can opt for an enterprise package and use the API to integrate Modash features with your existing tool.
With its user-friendly management platform, you can easily keep track of your influencers and monitor their performance.
Core Features
Influencer discovery from YouTube, Instagram, and TikTok.
Bulk email export.
200M+ creator database.
Profile vetting.
Campaign management.
Post monitoring.
Reporting and analytics.
Team invitation.
API and add-ons.
Price
Modash's monthly prices start from $120. You can try it for free and buy an enterprise solution for $1,350.
Conclusion
Before you pick any tools for your brand, be sure to compare their features. 
Influencer marketing platforms aren't all alike. Some share powerful search engines to help you recruit Micro, Macro, and nano influencer, while some lean more toward workflow automation.
Look for functions that come as a priority and shortlist them for your influencer marketing program. Good luck!