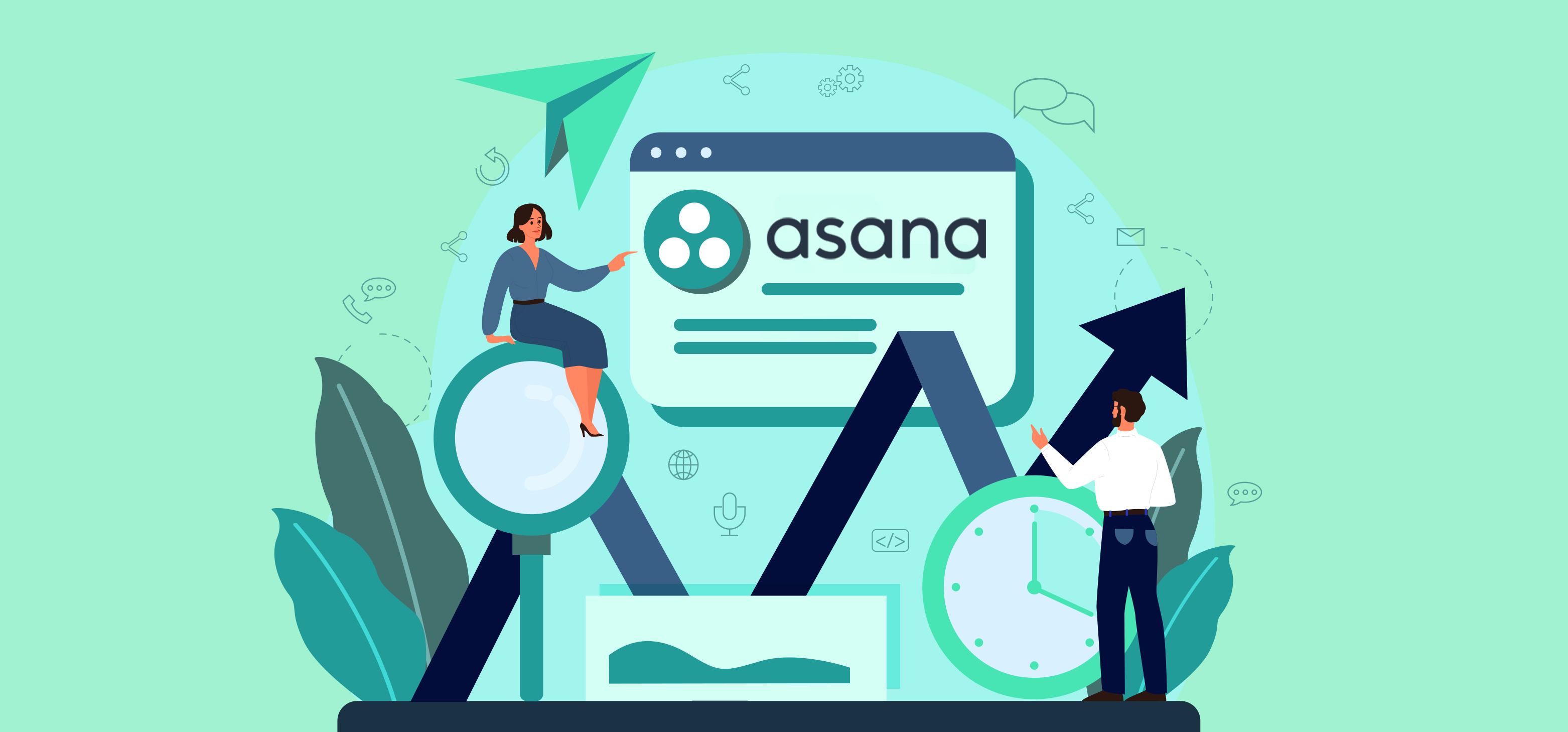 Asana has become one of the most used project management platforms within a short span.
It has undoubtedly made a splash, and for a good reason, if you take everything that it has to offer into account.
We can't deny that it's an excellent tool for small businesses.
The responsive design is pretty efficient, and it has all the features needed to boost a team's productivity. It even includes the option to customize the dashboard as per your requirements.
And it allows you to set priority for tasks according to their urgency and value. Yes, the popularity of this tool really surprises no one.
But even with everything that Asana offers, it sometimes becomes mandatory to look for alternatives. Maybe the complex user interface is a problem. Or less experienced project managers want something a bit simpler. There's no reason to fret.
As functional as it is, Asana is definitely not the only option for project management tools. There are many other alternatives that can come in handy. Each has its own set of pros and cons, and it's up to you to figure out which Asana alternative will work best for your requirements.
But we can give you an insight into the various options that you have.
So if you are looking for a robust software tool or something more advanced than Asana, you won't find yourself lacking options.
Let's take you through the various Asana alternatives that you can consider for fulfilling your team's requirements.
ClickUp is one of the best Asana alternatives for not only offering nearly similar features but also extending a wide range of customization options.
Like Asana, ClickUp's core functions consist of project management, team collaboration, and work productivity. You can create separate spaces for departments, split your project into tasks, and automate a few actions to save time.
But what stands ClickUp apart from others is the extensive personalization.
While Asana, of course, offers tons of customization functions, ClickUp precedes in the department. It gives you a free hand to design your project and provides over 35 clickapps to personalize your workspace.
The tool also supplies several workspace formats to make monitoring easy. You can take a quick peek at your assigned, ongoing, and completed tasks in a list form, switch to a visually appealing chart board, or display it in timeline format.
The dashboard is highly flexible, allowing you to embed anything from a checklist to tables.
If you're looking for an affordable yet powerful alternative, I recommend ClickUp. The app's basic plan is completely free.
Pros
The platform has visually appealing features and a well-structured hierarchy structure to simplify project management.
It offers extensive customization actions.
You can collaborate with your team in the chat channel and highlight someone through mentions. People involved will receive a notification on every mention.
You can estimate the completion period and track your time to avoid work overload.
You can embed media and store spreadsheets. It allows access to documents and folders from both mobile and tablet.
Cons
ClickUp has a bit of a learning curve. While the platform is user-friendly, the excess features make it appear complex to some.
This tool rivals ClickUp in most of the areas. But Where ClickUp trumps personalization. Hive wins in team collaboration.
Hive's main panel gives quick access to your projects, groups, and teams. Under projects, you can create and monitor all your tasks, add Hiveapps to expand your workspace, and view your projects in different formats. The layouts are flexible and similar to Asana and ClickUp.
Hive also offers an intuitive workspace. Inside each card, you can change your status, add multiple assignees, attach labels, and even compose mail.
The feature that makes Hive a distinct communication panel. It allows you to drop a quick message to your entire team, send it to a select few, or communicate directly with individuals. More, you can conduct video conversations with your team.
If your project requires constant communication with your team, you'll find Hive, a great alternative to Asana. This app is also free to use and further offers free trials and demos to test the paid plans.
Pros
It has a user-friendly workspace, allowing you to edit and update directly from your task box.
Provides access to a large collection of apps and integrations.
Its analytics section summarizes your entire activity in visually appealing graphs.
You can connect your account to several cloud storage locations, import your tasks from other platforms, and share your files.
You can directly communicate with your team members and involve them in decision-making through a shared inbox and access to projects.
Cons
Hive desktop version is more responsive than the mobile version. Those who often use mobile to access the app might struggle with this tool.
This freemium tool is particularly designed for both personal and professional projects management. It offers an excellent user experience and provides a wide array of features to solopreneurs, small companies, and mid-size enterprises.
Its project feature allows you to create your projects and tasks from scratch. This provides you with the opportunity to customize your layout to your liking.
You can also import the Asana board to Notion, saving you time to re-visualize your board.
The platform's noticeable feature is note-taking. You can add as many blocks as you can inside your notes, embedding calendars and files, and attaching a checklist. Summarily put, you can use your notes as a separate planning board.
If you prefer a simpler version of Asana, Notion is an excellent choice.
Pros
You can set up a hierarchy system by restricting permissions to certain actions and secure your account with single logins.
Its to-do list is more advanced.
You can easily track your team's progress and check individual efforts by hovering over the card.
Offers a well-structured space to organize your thoughts, meeting notes, and documents.
Provides templates and features for several niches, from design, product launch to remote team management.
It has excellent phone support.
Cons
Some of its features might be too simple for large organizations. If you manage complex projects, go for ClickUp or Hive instead.
This tool offers an entirely different layout than Asana, yet provides all the essentials features you'd need to manage projects.
Like any other typical project management tool, it offers space to plan your project, create tasks, track your performance, and collaborate with your team. But unlike other tools, you'll not see a typical dashboard.
Basecamp dashboard instead consists of cards—or camps—instead of lists.
Company, team, and projects divide the visually appealing dashboard making it easy to navigate. A project manager can perform six major functions, including setting up a schedule, building a message board, creating check-ins, and sharing docs actions for each project. You can also add your client to save time updating them on work progress.
Basecamp additionally displays group activities, individual assignments, and communication channels at the top main panel. If you manage a remote team and want a project management tool without bells and whistles, this tool will work well for you.
Pros
The platform is intuitive and remarkably straightforward. Every main function is displayed on one page, including the admin setting.
It provides visual boxes for each action, whether you're creating a project, adding to a to-do list, or building a team.
Features multiple team communication channels.
You can customize your notification period to avoid distractions.
Allow access to clients to view progress.
Extends a check-in function to monitor the remote team.
Separate workspace for document storage and sharing.
Cons
It's comparatively expensive. If you don't mind the cost, go for it. The platform offers a 30-day free trial to new users.
This one's a pretty functional Asana alternative for users. It is primarily designed to make sure that new businesses can handle everything efficiently and in less time. ProofHub is a straightforward yet simple tool that has quite a lot to offer.
This online project management app enables teams to organize and keep track of every project's status and even collaborate while working. The interface is orderly, making sure that no one has to struggle hard to get the hang of it.
Yes, there are some features that this tool is missing.
For instance, it can't be used for budgeting and invoicing. However, considering the price, ProofHub undoubtedly proves to be an asset for project managers. And it charges a fixed rate monthly, irrespective of how many people use the platform.
Pros
Features a wide range of tools along with a simple interface that enables users to sort the project management tasks efficiently
The platform can be used to allot tasks to multiple users, unlike Asana.
You can add a due date for every job easily.
It provides you with the option to comment and discuss in real-time with the team.
Equipped with Kanban boards, enabling the project manager to keep an eye on every task
Features the Gantt chart using which users can change plans for a project
Enables users to review and proof files via the integrated proofing system
Offers complete control to the users
Cons
Yes, ProofHub is quite a powerful tool. But it is a bit expensive, which is why those working on a tight budget can find it out of reach. And it doesn't offer any free plans.
This one manages to stand out mainly due to its simplistic design. And of course, the varied features are a definite benefit. Businesses working on a tight budget will find a valuable ally in Trello.
The software has a free version too. Project managers can use it to collaborate with multiple participants. And unlike Asana, wherein the free version can also accommodate fifteen members, there are no such restrictions with Trello. The interface is smooth and responsive too.
The best thing about Trello is that although it's pretty intuitive, it's the most user-friendly project management tool you will find out there. Indeed, even non-technical users won't find the tool overwhelming. The smooth learning curve makes it easy for the whole team to work on Trello without any hassles.
Pros
Features a simplistic design that is easy for newcomers to learn
Provided with a wide range of features to get the tasks done quickly
Files can be instantly shared, and you can also make comments in real-time.
Also includes a search feature
Various productivity tools, including email applications and time tracking, can be merged into it.
Has robust cloud management wherein users can see where they can get stuck beforehand.
The drag and drop feature makes managing tasks pretty easy.
It has a mobile application
Enables project managers to monitor everything closely
Cons
It's not the best option for extensive projects. You won't find it of much help regarding creating estimates or similar other tasks.
This is one of the most reliable Asana alternatives. After all, there's a reason that many worldwide consider ProjectManager to be their most trusted platform. And the software has many awards to its name, too.
The most appealing thing about this software is that just about anyone can use it, irrespective of the size of their projects. It is designed with a customer-oriented approach. So you can be assured that it will include all the tools you need to manage your job efficiently.
There's a lot that you get with this online project management tool, including interactive Gantt chart views, task lists, calendars, and so much more. Even light budgeting tools form a part of the platform. Indeed, ProjectManager gives little room to complain.
Pros
Can be used for comparing the estimates and progress of every project
Allows you to keep tabs on the progress of every project efficiently
Features a straightforward and robust interface that provides you with optimal user-experience
One can use this tool for adding comments and attaching files easily.
Has exceptional customer support for new clients
Provides all the features that a project manager can need, including tools for tracking, planning, and reporting tasks
Managers can update individual tasks and groups from anywhere
The tool can be accessed from anywhere worldwide
Can be customized as per the requirements with ease
Cons
Of course, ProjectManager isn't without limitations. Although it is pretty reliable, it's expensive too. It does have a free version, but that one is provided with minimal features. You must be ready to pay at least $15 every month to make the most of the software.
Interestingly, Jira initially started as a tool meant to track bugs. But the specialized software has come far since then and now enables users to be more efficient and productive.
The best thing about Jira is that it offers you ample scope for customization. You can merge numerous productivity applications with this one. So it can meet the needs of just about everyone.
Jira is just the project management software every agile team needs. Those looking for something that will enable them to manage the various aspects of the project swiftly will find this an excellent choice. It has multiple tools, including Kanban boards and scrum. Once you get the hang of this platform, there's no looking back.
Pros
It supports various technologies, including Scrum and Kanban, enabling users to deal with tracking issues and creating stories.
You can use it for tracking bugs
It lets you know the time spent on every task.
Keeps you up to date with modern features due to frequent interactive updates
Users can change data as per their requirements easily
Features a simple interface that team members can use for collaborating with one another easily
Allows the team to customize the software
Can easily be accessed through mobile phones
Cons
Keep in mind that users have to adhere to a set of rules while using Jira. Many can find this somewhat limiting. Furthermore, the software is pretty technical, so non-tech users can find it a bit tedious.
If you want to use an award-winning project management tool, you will find Wrike a worthy Asana alternative. Indeed, it's capable of making your project management processes quick and smooth.
The best thing about this platform is that it continues to grow and incorporates new features that many project managers will find valuable. It initially started as an online tool that could be used for work management and team collaboration. But since then, many related features have been added to it.
Indeed, the app recently included a new feature wherein it predicts when a project is falling behind schedule. Not only that, it even highlights possible causes!  Setting it up is pretty simple, which is definitely a bonus.
Pros
Can be used for planning, scheduling, and keeping track of progress in real-time with a few mere clicks
Has easy navigation making it user-friendly for the entire team
Provided with storage facilities making sure that pivotal information remains confined to only authorized persons
Equipped with tags and folders' features via which users can tag the member they want to share the specific file with
Enables team members to sort files by projects and tasks, thereby highlighting the presence of particular issues
Allows the project manager to monitor every detail closely, including group and individual activities
Features a collaboration tool that is excellent for productivity
Can be accessed through mobile phones via applications
Cons
While the platform really doesn't have any significant problems, some users have an issue with its customizability.
You will find Workzone to be quite similar to Asana. The primary difference between the two platforms lies in user-friendliness.
Of course, there's more to it. Workzone can do a lot more than Asana. It is provided with many useful features like displaying portfolios and task dependencies, among other things.
Contrary to popular perception, Workzone covers quite a lot. It incorporates features like collaborative tools and time tracking. But it also goes a notch higher to help you with advanced analytics. Yes, it is a bit expensive, so those with a limited budget might not find it to be an ideal choice.
Pros
It's integrated with Microsoft and hence allows you to share project files and excel sheets easily.
Users can customize to-do lists for every team member and even mail them through automation.
Provided with a unique interface that enables users to sort documents by projects
Features a responsive design and interface, saving a lot of time
Enables project managers to keep an eye on everyone's responsibility
Teams can keep their data confidential with this one
Cons
The platform isn't without its problems. For one thing, it does not provide the number of hours required to get a job done. And it has some glitches which can hamper the user experience.
This is an ideal Asana alternative for those project managers who feel their team's schedules change too often. Team members can access their work anywhere with this one, making it quite a reliable ally.
This project management solution is pretty easy to use. Additionally, it's designed keeping the requirements of technology teams in mind. So, it has all the features such teams can need and is pretty intuitive too.
LiquidPlanner is pretty dynamic and provides users with valuable assistance in various aspects of project management. It has a simple, single-view interface that makes organizing and keeping track of everything a whole lot easier.
Pros
Has excellent customer service to provide assistance to new clients
Provides the feature of advanced user permissions
Equipped with many advanced features
Offers a free starter plan
Is easy to use with drag and drop simplicity
Features Rich tracking and resource management
Is pretty responsive
Cons
The main problem with this platform is that it can be challenging to get the hang of it. One will need to put in some time and effort to understand the platform. And it's a bit expensive too.
Final Words
Finding project management software that fulfills all your requirements and meets your criteria to the letter can be challenging. It's vital to take all the factors into account, including features, pricing, and user experience, before taking the final call.
However, ClickUp and Hive outperform the rest. I highly recommend these two!
You might  like to check out our list of the best project management software.