Kajabi is an incredibly versatile learning platform that offers you everything you need to kick-start your knowledge business and sell digital products.
But there're other equally efficient apps available in the market that deliver both all-in-one and exclusive solutions for specific niches.
If you want to run an online coaching site or create a membership platform, check out the 15 software I've compiled for you. They share similar features to Kajabi and might give you the exact tools you are looking for.
Let's dive in! 
Systeme.io is an all-in-one marketing platform for online course businesses.
It offers an intuitive drag-and-drop website builder and a robust editor to produce quick lessons and create drip content.
You can run email marketing campaigns to attract new students, publish blogs on your site, and set up an affiliate program to produce brand ambassadors. It also provides a sales funnel and split testing to automate and optimize your pages.
One other thing. You can design upsell and order bump strategies with Systeme to generate more revenues.
Core Features
Site builder.
Online courses and webinars.
Automation.
Email marketing.
Blogging.
Sales funnel.
Affiliate program.
Payment integration.
Price
Systeme is freemium software that charges $27 to $97 for its premium plans.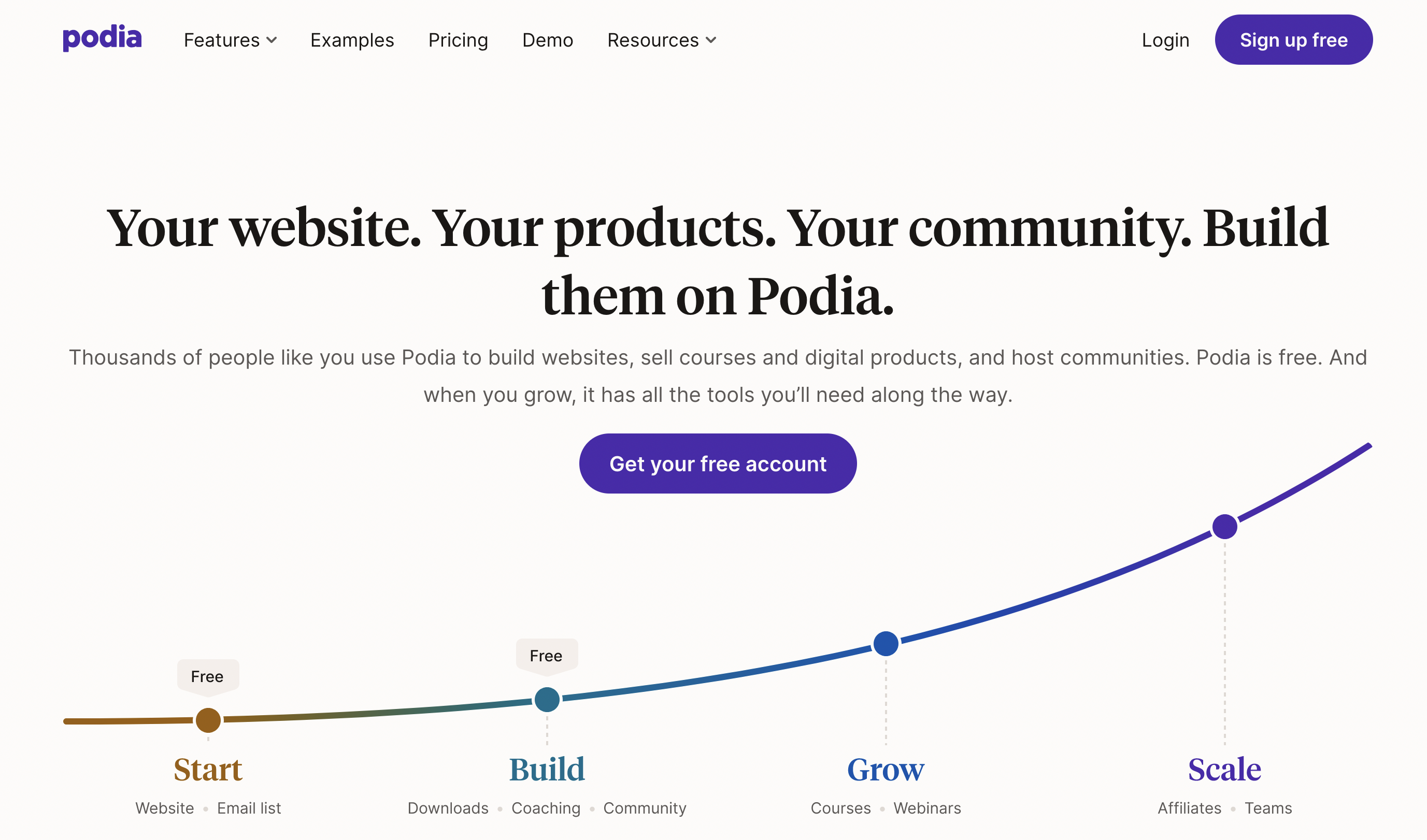 Podia makes it easier to publish video courses, sell digital products, and offer private coaching.
You can design stunning landing pages, build sales funnels, set up one-on-one sessions for exclusive mentoring, and run live Webinars.
It has a flexible checkout model that lets you provide multiple payment options and discounts to your customers.
In addition to builders, you'll gain access to marketing tools like email and community platforms to generate more leads and engage existing students.
Core Features
Courses, downloads, private sessions, and live videos.
Video hosting and quizzes.
Pre-sell option.
Community.
Website builder.
Drip content.
Email and affiliate marketing.
Coupons and bundles.
Chat.
Price
Podia's shaker plan is its best-selling product, which costs $75 per month. It also offers a free basic plan.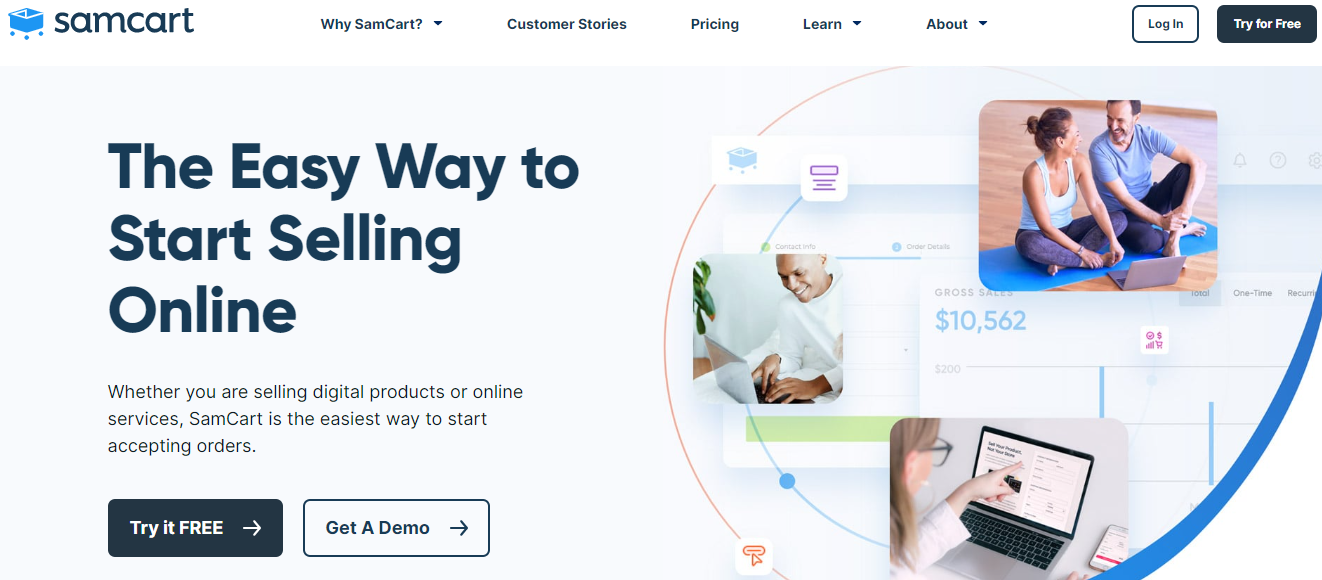 SamCart is designed to support almost all types of service businesses.
Here, you can create beautiful landing pages, upload unlimited videos and set up a subscription-based payment model in multiple currencies. It allows you to develop tailored checkout pages, split test different variations to optimize layouts, and create several marketing touchpoints to drive more conversions.
SamCart additionally delivers a separate app to give you the option to manage your coaching business from your smartphone. You can also add a customer portal to let students manage their memberships.
Core Feature
Unlimited courses and videos.
Website builder.
Membership model.
Quizzes and assessments.
Funnels.
While labeling.
Discounts and upselling.
Payment integration.
Course app.
CRM.
Reporting.
Excellent support.
Price
SamCart's monthly plans start at $49 a month.
Teachable is widely popular for its scalable and user-friendly model. It provides a hosting platform and intuitive builders to kick-start your teaching business and gradually grow your audience.
You can use it to create an online site, design video lessons, take live sessions, and produce drip content. It delivers pre-defined course layouts for quick launch, but they're customizable enough that you can tailor them to your satisfaction.
Teachable also shares several sales and payment integration options to help you offer an excellent user experience to your customers.
Core Features
Unlimited courses.
Site builder.
Themes.
Custom domain.
Drip content.
Payment integration.
Email, referral, and affiliate marketing.
Analytics.
Hosting.
Price
Teachable is free to use. Its premium plans cost $29 to $249 per month.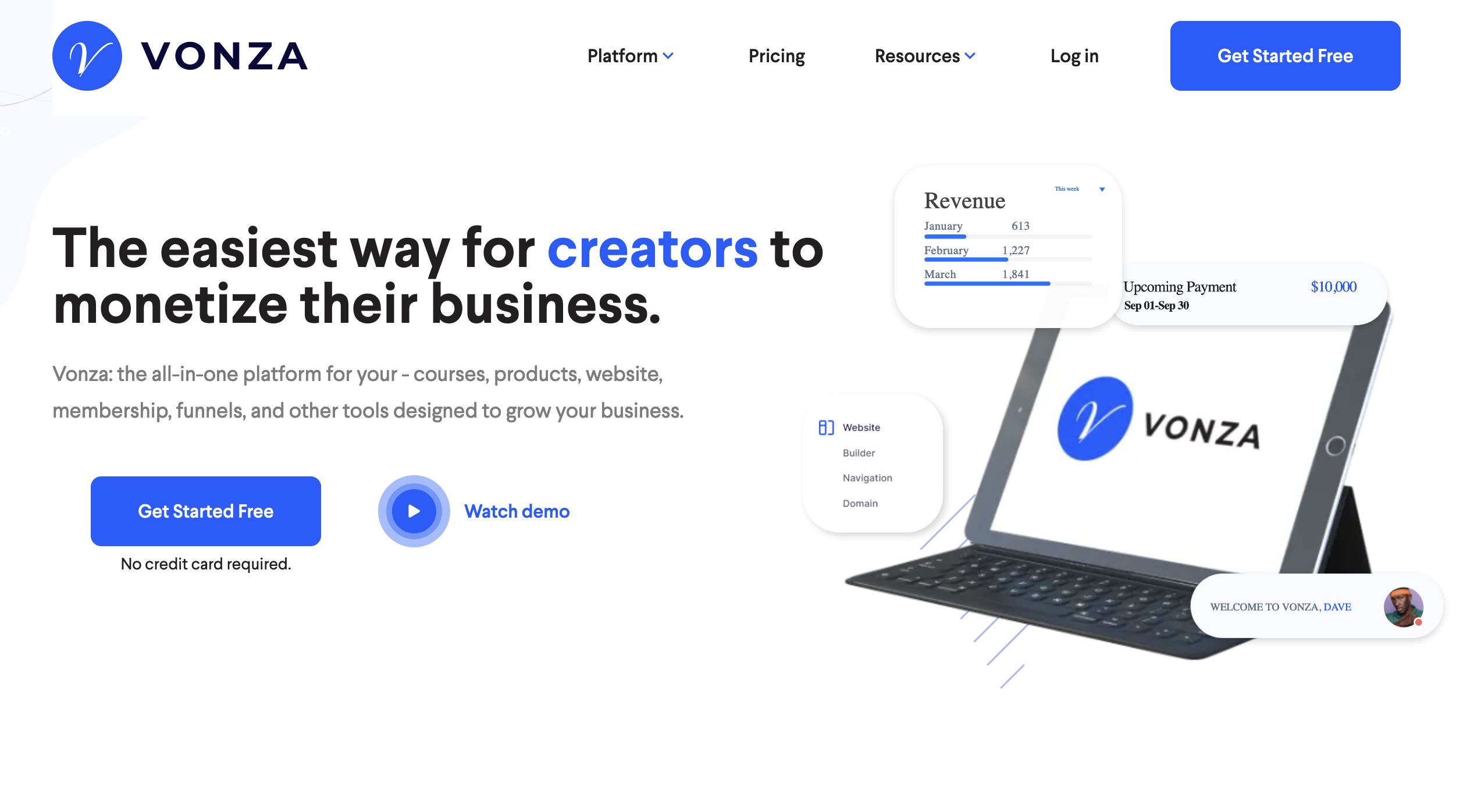 Vonza is an all-in-one platform through which you can sell courses, digital downloads, and even physical products.
It delivers a powerful course builder and sales funnel builder to develop mobile-responsive membership sites, personalized online courses, and seamless checkout pages. You can offer coupons to new customers, attach a review section on your site, and issue certificates to boost your credibility.
It provides tons of other interesting functionalities like webinars and quizzes to help you increase engagement and retain your customers.
You can use Vonza to offer other services as well. For instance, you can leverage its appointment scheduler tool to establish a consultancy platform.
Core Features
Courses and digital products.
Site builder and custom domain.
Certificate.
Email marketing.
Payment integration.
Scheduling
E-commerce store.
Price
Vonza shares four plans starting from $39 per month.
Learnworlds is best for its engagement tools. It delivers versatile activity features, allowing you to give a memorable learning experience to your customers.
You can apply image overlays, hotspots, and subtitles to your videos to make your tutorials engaging and entertaining to viewers. Your students can download transcription for later study, highlight text to take notes, and absorb knowledge at their own pace.
You can further engage them with a dozen activities, including assignments, exams, audio notes, and gated content.
Learnworlds also has a flexible checkout model. You can offer membership plans, display product bundles, and upsell low-demanding courses.
Core Features
Video and text content.
Transcription.
Course player.
Gamification.
Hosting.
Reporting.
Email marketing.
Payment integration.
App.
Price
LearningWorlds charges $29 to $254 a month for its premium plans.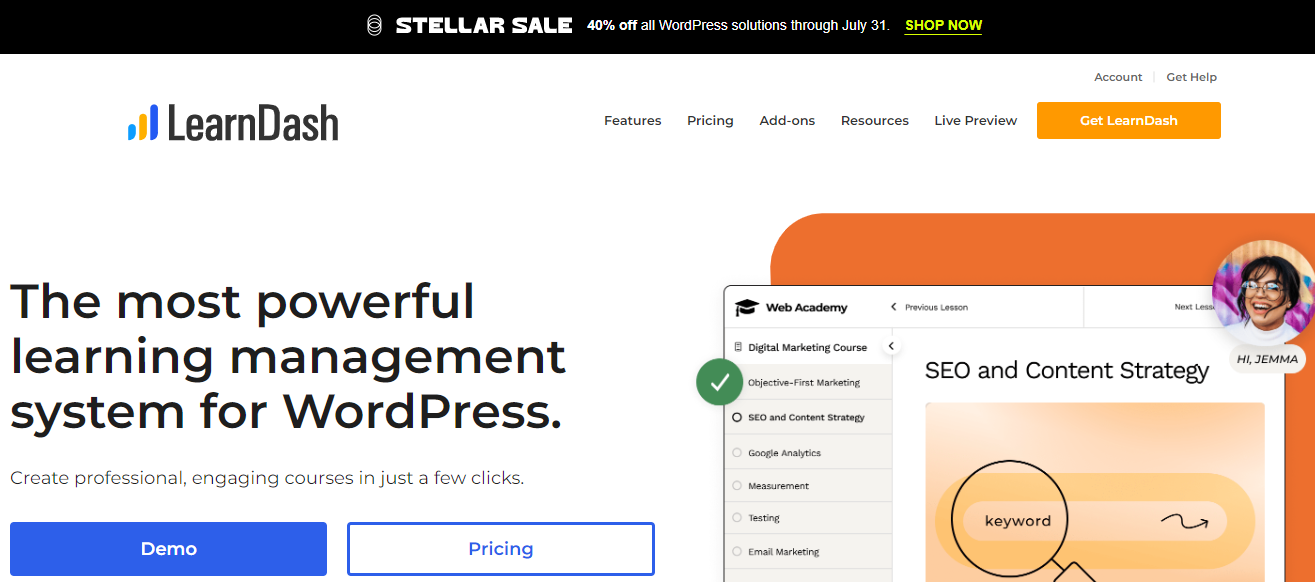 LearnDash lets you sell both one-time digital products and recurring subscriptions.
It offers simple yet visually appealing website themes comprising a three-tier plan model and checkout add-on option to help you build a personalized platform for your business.
Here, you can create a membership site and set up a recurring fee plan to receive uninterrupted payments every month.
In addition, you can also develop an eCommerce-style shopping cart and start selling your videos as products. It has coupons and discount features available to offer incentives to your customers.
Core Features
Website builder.
Theme templates.
Online courses.
Discussion forum, leadership board.
Certificates and badges.
Membership.
Multiple payment models.
Integrations.
Price
LearnDash provides both, a WordPress plugin for $120 annual fees and a monthly subscription starting at $14 per month.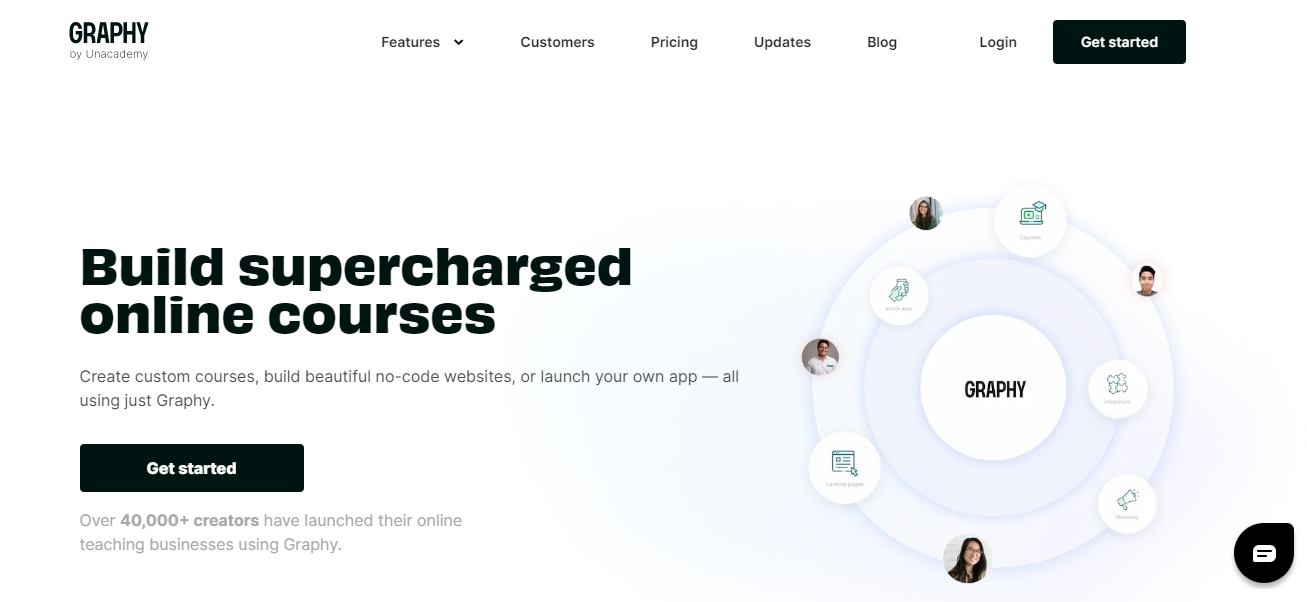 Graphy delivers some of the best online coaching solutions.
You can use it to design custom websites for free, launch multiple courses, host live sessions, and create communities. It allows you to develop drip content and schedule activities to keep your student engaged.
Its website builder is also pretty flexible, giving you the option to add blogs and testimonials to uplift your product value.
Another helpful feature of Graphy is its public community and brand app. You can leverage both to improve user experience and convert more leads.
Core Features
Site and course builder.
Custom domain.
Certificate.
Quizzes.
Sales discounts.
Live sessions.
Integrations.
Email.
White label app.
Analytics.
Integrations.
Price
Graphy's commission fee is 10% of your sales.
WildApricot is a site builder that allows you to sell subscriptions, display digital products, and run events.
It delivers a custom database to store contacts, multiple membership tiers to target different markets, and email automation to send a weekly newsletter. With its event management feature, you can additionally offer private access to online conferences and activities to nurture your customers.
Some of its core features include an eCommerce storefront, payment integrations, recurring subscription options, and donation collection.
It also provides a mobile app for members and a plugin for WordPress.
Core Features
Drag-and-drop builder.
Contact database.
Membership model.
Event management.
Email automation.
Online store.
Payment integrations.
Calendar and Donation widget.
WordPress plugin.
Mobile app.
Price
WildApricot charges $60 to $420 per month. Its starter plan is free.
Lifter LMS is an advanced learning platform that provides you with a diverse range of automation, gamification, and engagement tools.
You can create unlimited courses, post quizzes and assignments, and link add-ons to expand your functionalities. It supports almost all types of multimedia, allowing you to share worksheets, resource material, PDF downloads, and ebooks with students.
You can also use it to design lifetime offers, multiple plans, and monthly subscriptions.
Other interesting functions you can perform with LifterLSM include inviting teams to teach individual courses and adding testimonials to make your products more appealing.
Core Features
Course builder.
Media support.
Gamification.
Drip content.
Discussion forums.
Reviews.
One-time and recurring payment model.
Marketing tools integration.
Price
LifterLMS basic plan costs $120 per year.
If you plan to exclusively sell online courses, Thinkific is an ideal alternative to Kajabi.
It has no limit on the number of lessons you can create and no cap on enrollment. In addition, you can host live sessions and conduct quizzes to encourage student participation. It offers presets and customization to make your lessons more engaging.
It also provides a sales page and a community builder to attract, nurture, and retain your customers.
Another great thing about Thinkific is its usability. It delivers user-friendly editors and workflow automation to make your job easy.
Core Features
Custom course builder.
Live sessions.
Templates.
Quizzes and surveys.
Certificate.
Community creation.
Sales page.
Integrations.
Custom domain.
Price
Thinkific's basic plan is free, and its premium subscriptions start at $40 per month.
Gurucan offers nearly similar features to Kajabi.
Here, you can publish online courses, sell memberships, create podcast sessions, and host webinars. It has a powerful marketing automation funnel for running campaigns, sending push notifications, and broadcasting announcements.
Some of its useful features include landing pages, a chat session for discussion, and piracy protection.
Another amazing function of Gurucan is its white-label app.
It's an incredibly valuable tool that allows you to launch a brand mobile app for Android and iOS to provide easy access to your content.
Core Features
Unlimited courses.
Quizzes, chatbox, and downloads.
Webinar.
Custom domain.
Landing pages.
Membership.
Email and push notifications.
CRM.
Integration.
White label mobile App.
Tech support.
Price
Gurucan's monthly plans start at $99.
Ruzuku focuses mainly on improving the learning experience.
It's a user-friendly LSM app that gives you tools to publish online courses, post quizzes, stream live videos, and interact with customers.
You get tons of engagement features to keep students interested without micromanaging everything. For instance, you can create a discussion section between your lessons to encourage participation, add polls to generate more responses, and run group conferences.
It also delivers flexible pricing models, allowing you to offer free, on-time, and recurring subscriptions.
Core Features
Online lessons.
Schedule and live sessions.
Support all types of media.
Discussion forums, quizzes, polls, and social activities.
Bulk email notification.
Tracking and analytics.
Group chat.
Mobile friendly.
Admin control.
Payment integration.
Price
Ruzuku charges $75 to $125 per month.
Kartra helps you efficiently run a membership-based business. It's a marketing platform that delivers robust site builders and automation tools to launch, market, manage, and sell your services.
You can use it to design email newsletters, develop optimized subscription forms, set up appointment calendars, and build sales funnels. Additionally, you can create a ticket system and survey forms to receive customer feedback.
Its membership feature is also powerful. It allows you to grow your community and nurture your audience with video content, interactions, and moderation.
Core Features
Videos.
Memberships.
Appointment schedule.
Landing pages.
Sales funnel.
Engagement elements.
Email marketing.
Advanced analytics.
HelpDesk.
Price
Kartra charges a minimum of $99 per month.
Udemy has a standard landing page layout for course publication that allows pretty basic customization. But the one thing that gives Udemy a massive edge over other learning platforms is its business model.
It is a video hosting site that has, over the years, gathered a community of instructors and students and has grown into a large skill marketplace.
Now, it provides a single platform to find prospect customers, deliver tutorials, and manage subscribers.
If you need a place to sell your courses without the hassle of site management, Udemy is the best option for you.
Core Features
Instructor profile.
Video tutorials.
Slides, text, and projects.
Reviews and ratings.
Preset payment structure.
Email marketing.
Coupons and gifts.
Online community.
Support 75 languages.
Price
You can get started on Udemy for free. It deducts a certain percentage from your sales.
Conclusion
Kajabi, no doubt, provides you with some of the best marketing and sales features to successfully establish your coaching business. But being an all-in-one learning platform, it has its strength and weaknesses.
In this article, I've offered a few alternate options for your consideration. Take your time exploring each software before you make the final decision. Good luck!