Affiliate marketing is one of the best online businesses to start. With it, you'll only have to recommend someone's products. And once they buy from you through your link, you earn a commission.
And that's all you need to worry about. You won't have to worry about fulfillment; just recommend products.
But to get started in this business, one of the most important things to get right is your website. Not only will it affect your first impression, but it also impacts how much you can earn.
So in this blog post, we're sharing with you the 15 best WordPress themes for affiliate marketers! So if that sounds interesting, then keep on reading.
What to Look Out For in a WordPress Theme?
Before I reveal the 15 best WordPress themes to you, we should first understand what makes a WordPress theme excellent for affiliate marketers. 
At first glance, you might think that themes don't significantly impact your revenue! You could use any theme and still add affiliate buttons/links to your site to earn. 
While that's true, there are a couple of reasons why a good theme helps you to do:
Ability to Stand Out – With a custom WordPress theme, you won't look just like any other using free themes. Instead, you'll stand out from the crowd and wow your visitors. That's important as it makes you memorable, meaning they'll more likely revisit your page.
SEO Friendliness – Believe it or not, a good theme also helps you get better SEO scores, helping you rank higher on Google searches. And the higher you rank, the more free traffic you'll get.
Those are just two of the many reasons to choose a great theme. But what makes a theme great for affiliate marketers? Well, there are a couple of things your theme should have:
It should be Responsive – Responsive themes are themes that scale their elements depending on the screen sizes. That means your website will always look good. No matter if it's on desktop or mobile.
Lightning Fast Loading – Loading times play a huge role in both your website experience and how high it ranks. So instead of buying a cheap unoptimized theme, you should look for optimized themes for quick load times.
Advanced Features Built-in – Additionally to having a beautiful website, you should also have some advanced features built-in. Then you won't have to pay for more plugins and slow your website down even more.
If a theme has all three, you can be sure you picked one of the best WordPress themes for affiliate marketing!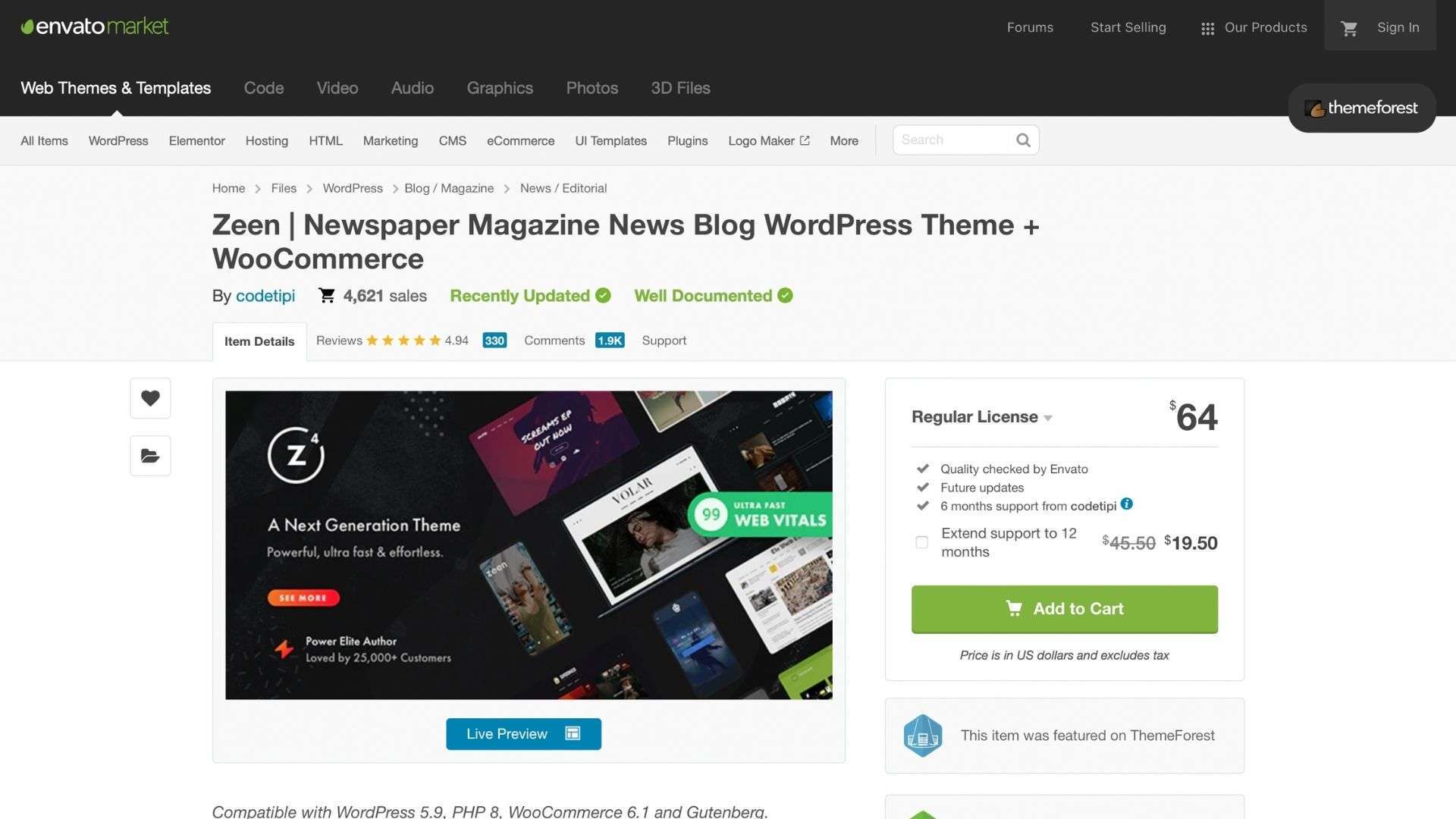 Starting our list, we have Zeen.
It's a premium WordPress theme that has a minimalist design. However, that doesn't mean it's not packed with fantastic features.
You can use Zeen for multiple website purposes. You can build blogs, magazines, and even an eCommerce store. So if you ever want to expand your business to more than just affiliate links, Zeen has got you covered.
Zeen also comes with a built-in layout builder. That means you won't need to have any coding experience. Instead, you can just drag and drop elements and make them unique to you.
And to top it all off, some great features make Zeen more unique. For example, you could let your customers choose between a light and dark mode and search for blogs through their own voices.
Continuing down the list, we have Divi. That is yet another fantastic multipurpose WordPress theme. It comes with over 200 pre-made layouts that help you kick-start your website design quicker.
And to make it even easier, Divi also comes with a built-in drag-and-drop builder.
So, you won't need to know any coding experience. However, what takes the cake with Divi is that the editor is responsive. That means you can edit how your website looks on different devices!
Divi is fully compatible with WooCommerce. That means you'll be able to create online stores, so you can sell your products like e-books if you so desire.
So if you're looking for a free and easy-to-use WordPress theme to start your affiliate marketing blog, then Divi is the right one!
ReHub is yet another fantastic WordPress theme for affiliate marketers. That usually is because of the interesting features it comes with.
It comes with 15 different demo sites. You can see how powerful the theme is and what you can expect to come included. And if you want to use one as a base, you can just add it to your WordPress website with just a click.
But what I like most is the exciting features it has. For example, you could add price comparison boxes, multivendor marketplaces, and more to your website. You can even monetize your site through paid submission packages.
So if you're looking for the most feature-packed theme for your affiliate blog, then you should try out REHub.
Next up, we have Marketplus. As the name suggests, this is a WordPress theme made with marketers in mind.
Marketplus is designed to be optimized for conversions right out the gate. That means you'll likely have better chances of success with your review blogs or products.
Along with being well-designed, you should expect to be bombarded with custom features. You have multiple widgets for sharing your contact info, creating social network icons, and more. 
You could create multiple different post types with this theme. This can be your blog posts, but also:
Portfolio pages
Team pages
And even testimonial pages
It even comes with Typography options. So if you're looking for a theme that you can highly customize, there isn't a lot that compares to Marketplus.
SteadyIncome is yet another WordPress theme perfect for affiliate marketers. It's made to help bloggers like you build their brands and start earning a steady income, hence the name.
It does that by offering you some great features. For starters, SteadyIncome has been optimized to work exceptionally well with display ads. That means you'll be easily able to create beautiful websites that aren't ruined by ugly ads.
You also get some powerful tools, including:
A newsletter subscription tool
Featured Product Display
Partner logo slider
And much more.
So if you're looking to do more than just affiliate marketing, SteadyIncome might just be for you.
Affiliates Bloglet is a clean and creative blog theme made with affiliate marketers in mind. 
That's because it's highly customizable and allows you to control your banner ad and affiliate product placements fully. That helps you create good blog reading experiences, which will increase your profits.
AAffiliates Bloglet is a responsive theme. That means your website will never look bad, no matter how big or small the screen is.
And with the added benefit of having a price of free, you cannot go wrong with this affiliate WordPress theme. So if you don't have a big budget, then I highly suggest you give this theme a go.
Staying with the theme, we have yet another WordPress website specifically made for affiliate marketers called "Affiliate Marketingly." 
And they've done a great job. Like with Affiliates Bloglet, Affiliate Marketingly has been optimized to give you multiple placement options for adding banner ads and promoting your affiliate products.
Furthermore, the theme is responsive, meaning that you won't have to worry about how your website functions and looks on another device. Marketing will automatically scale elements accordingly for the best user experience!
Affiliate Marketingly is 100% free to use. So if you don't like the way that Affiliates Bloglet looks, then why not give this theme a try?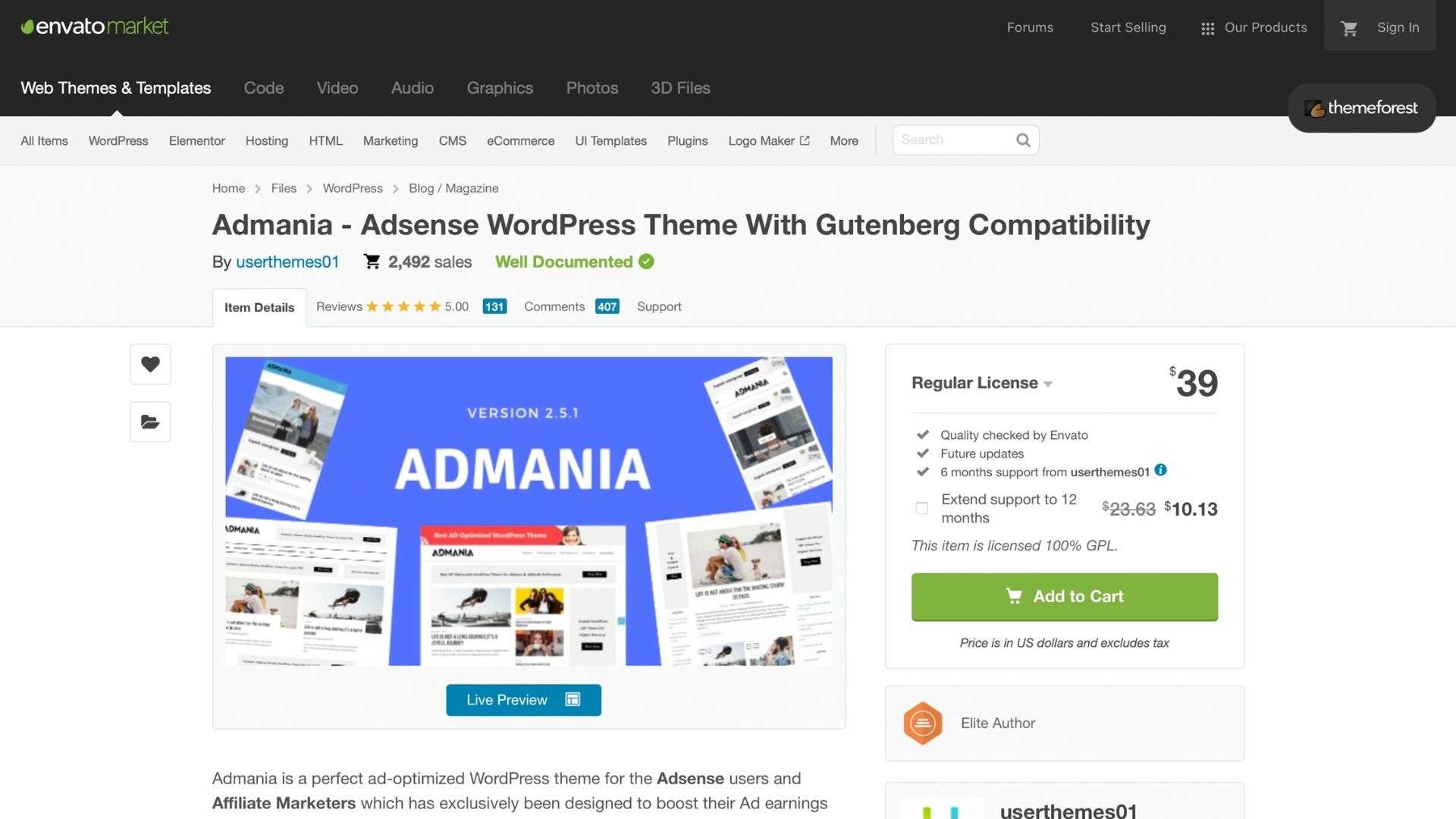 As the name suggests, the theme is made to be the best theme for bloggers to make money through display ads. And how well it does that!
What makes Admania so great is that it offers you a lot of ad space! That means you'll be able to add more ads, increasing your ad revenue that much more.
However, one of the best features of this theme is how it also has a Live Ad editor. With it, you can see live how your ads will look on your website without checking the live website for it.
Admania also is a lightweight theme. That means your website won't take as long to load, even with multiple ads. And compared to other paid themes in this list, it's priced affordably.
SpeedProd is different from other themes we've listed here. This is actually a theme builder. Using SpeedProd, you can build a whole new WordPress theme from scratch.
What makes SeedProd a fantastic is how beginner-friendly it is. It gives you many features that help speed up your affiliate blog creation, making it perfect for new WordPress users.
So why is it so great?
For starters, you won't need any coding experience to start making stunning websites. Instead, you can choose between 200+ templates and a drag-and-drop builder to customize your website to your liking.
Additionally to that, SeedProd can be used for many purposes. For example, you could create both blogs and eCommerce stores or sales funnels. It even comes with an email subscriber management system.
So if you're just a beginner with WordPress, then I highly suggest you choose this WordPress theme from all the others!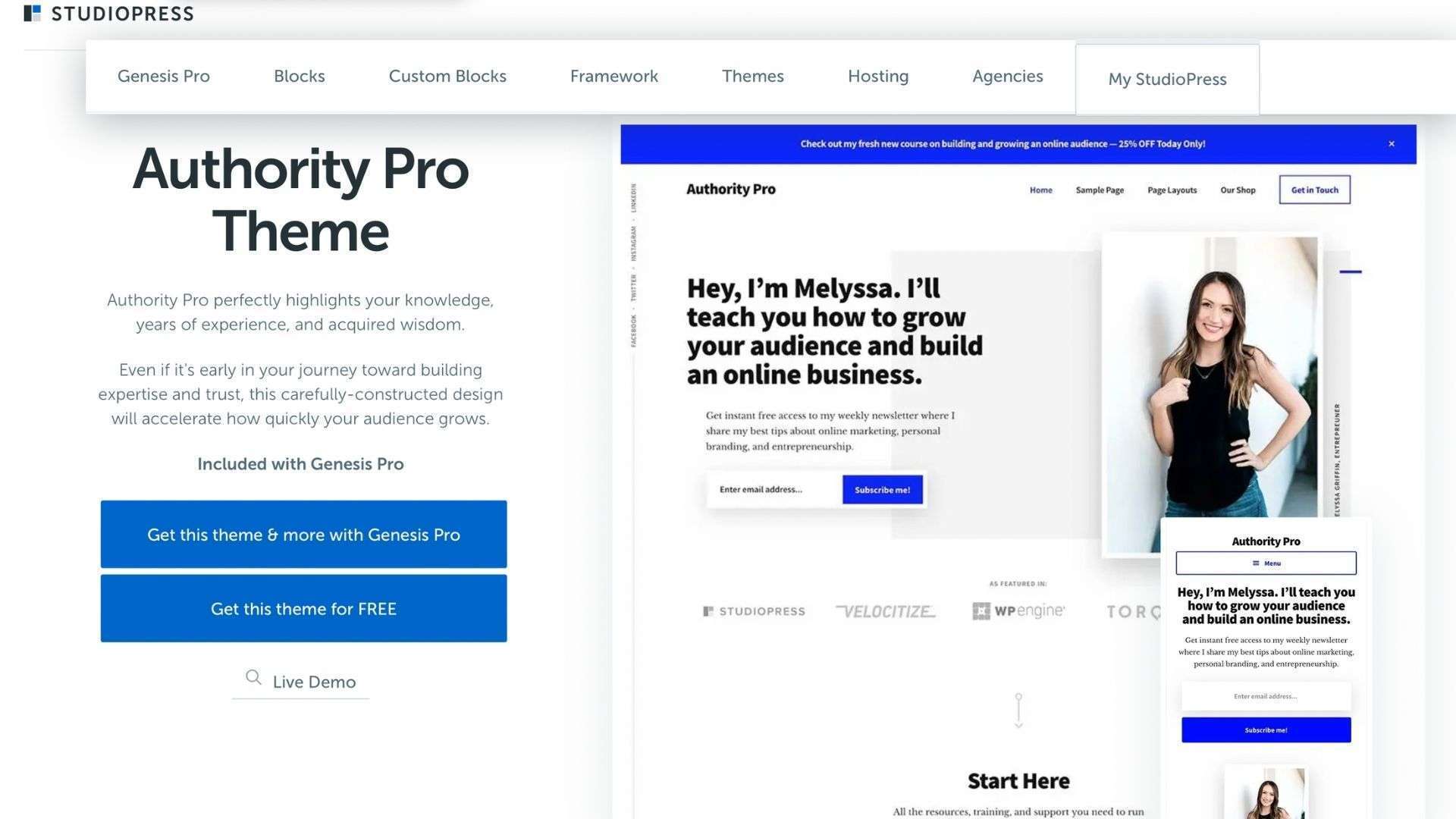 Next up, we have Authority Pro. This WordPress theme was made with authors and blog writers in mind. That means you should be expecting this theme to have features that are inclined to them.
So, for example, Authority Pro has eCommerce features that let you start selling your physical and digital books quickly. Additionally, this theme enables you to tweak everything so it will be branded as you want.
To use Authority Pro, you will also need to install Genesis Framework. The themes that use Genesis Framework rarely release an update, so your site won't need constant backend attention and you won't have to worry about your site breaking down because of an update.
Genesis themes are a benchmark in the WordPress industry, so you should definitely consider giving this one a try.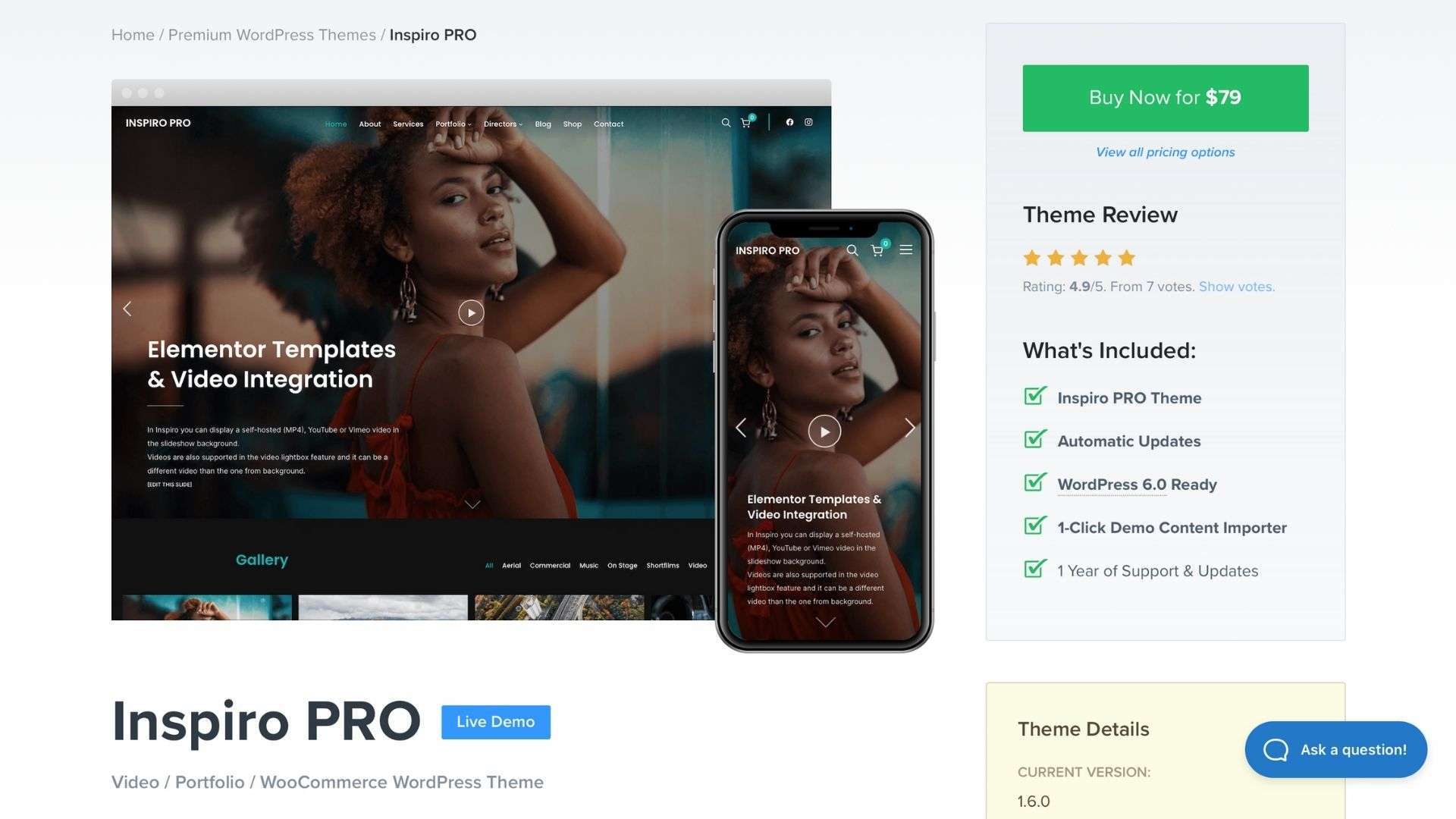 Next on the list is Inspiro PRO. This one is designed to be more of a photography and videography site. However, that doesn't mean it can't be used for affiliate marketing.
That's because Inspiro Pro is highly customizable and comes with some fantastic features.
For example, you could easily create galleries. These could be pages where you can post your YouTube reviews, which help you to sell your affiliate products even better.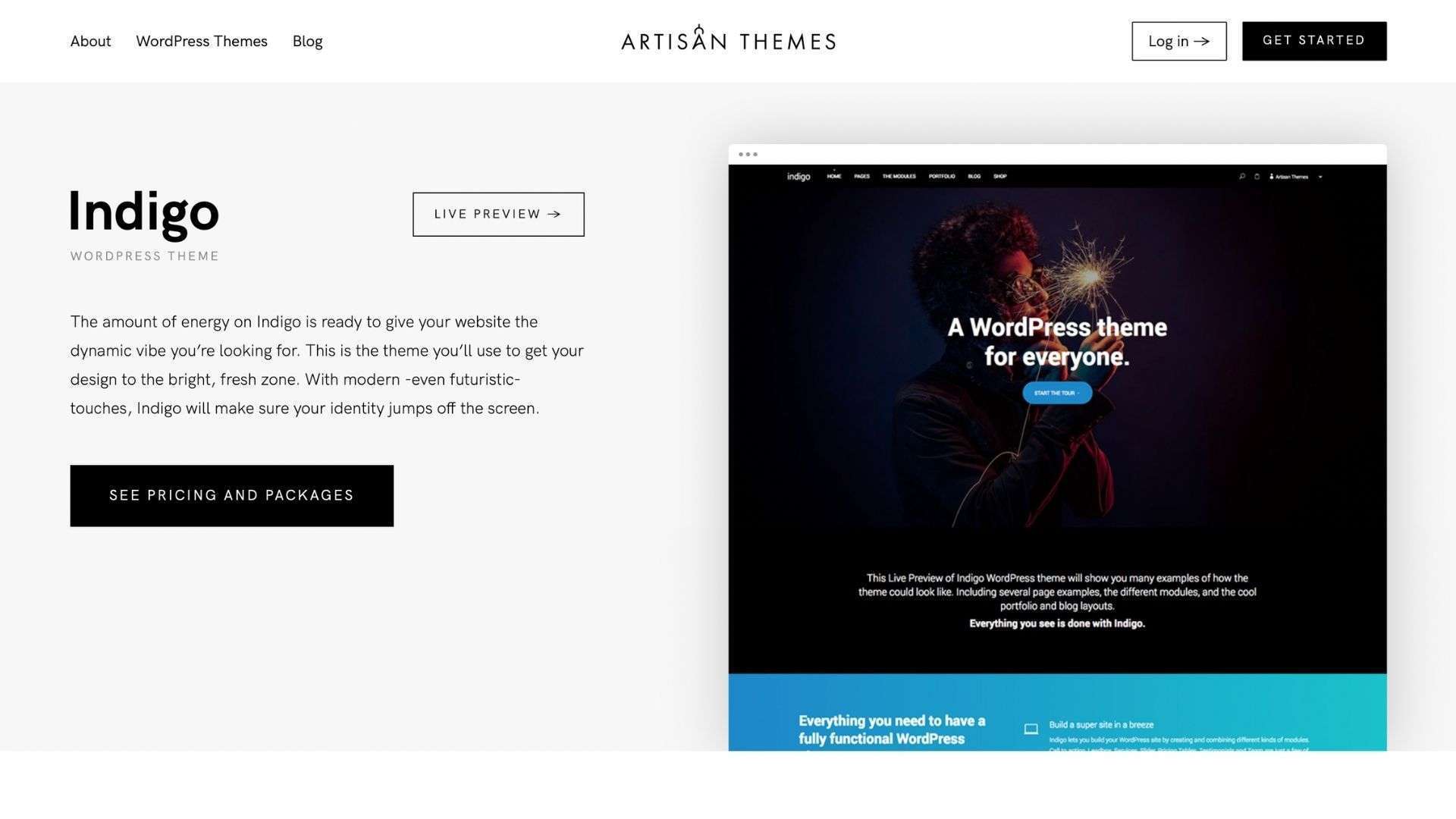 Continuing down the list, we have Indigo. It's yet another excellent WordPress theme that is made for multiple purposes. For example, you could create anything from regular blogs to agency pages and eCommerce stores.
That makes Indigo great for any affiliate marketer, as you have a wide array of tools to make whatever website you want. That will also let you get further options of monetization for the future, like selling your own products.
Building a website with Indigo is effortless. That's because of the well-designed drag-and-drop builder that lets you customize your website. Plus, it is mobile optimized and works with any WordPress plugins.
Next up, we have Nayma!
It's a WordPress theme that is filled with features and highly customizable. It comes with great features. For example, you could make pricing tables, infoboxes, call to action, etc.
It comes with eight ready-made templates to choose from. And once you've selected the one you like the most, all you need is one click, and you can start editing it on your site!
However, if you want to use this theme, be ready to have a higher budget than other themes; this one has higher-end pricing. But at the same time, you'll get a very customizable theme, making it worth every penny.
Experts WordPress theme is a little different from the rest! That's because this theme was designed for companies in the financial industries in mind. So if you're not writing about finances, this theme isn't for you.
However, if that's you, then Experts offer you a lot. For starters, this theme comes with 25 different demos. Each one looks professional, and you can use them as templates when designing your blog.
You can also create posts with different layouts. For example, apart from your usual blog post, you can create:
Services Pages
Portfolio Pages
Case studies
Plus, the theme comes with 300+ UI elements, giving you nearly unlimited ways to make your website look apart from others.
So if you're looking to create a financial niche affiliate blog, there's nothing better than Experts.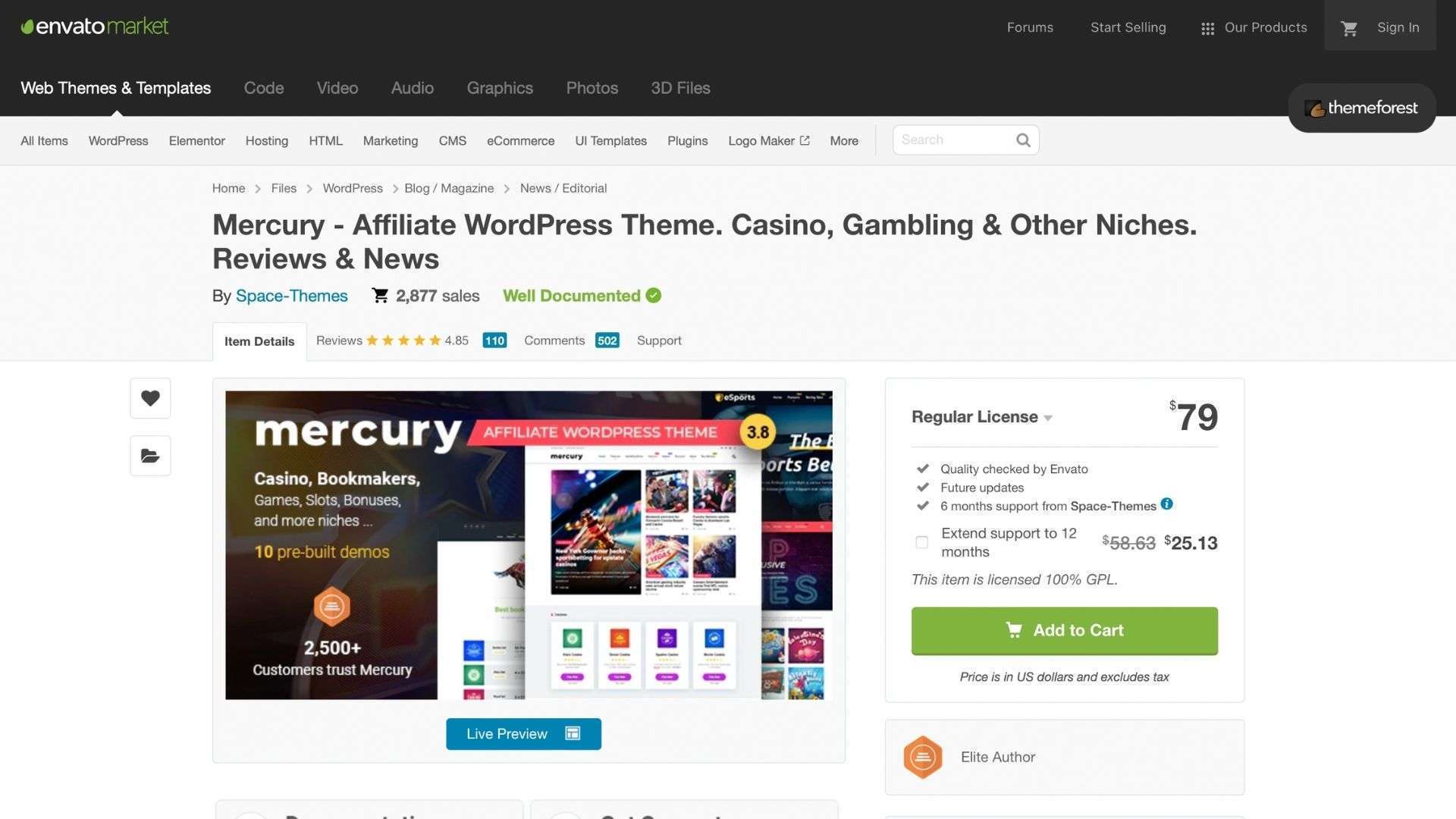 And ending this list, we have Mercury! It's yet another impressive WordPress theme.
However, just like the last one, Mercury was designed with a niche in mind. Instead of being for financial institutions, this one works best for blogs in gaming and casino niches.
That's because of the many specific page layouts it comes with. However, that doesn't mean you cannot use it for any other cases.
Along with gambling and gaming-specific page layouts, you can also create different types of posts like reviews and posts with gifts and bonuses.
So if you're in these niches, then Mercury is one of the best themes for it!
Conclusion
Themes play a huge part in the success of your affiliate marketing website. So, why not take the first step and pick the best one out.
You should first ask yourself this question: "Are you looking to test out affiliate marketing or have a niche already in mind?" Depending on your answers, you should pick the following themes:
If you're just testing out affiliate marketing, I suggest getting a multipurpose theme. That way, you can use this theme multiple times, even if you don't use it for affiliate marketing.
However, if you know what niche you're going to write about, I suggest taking one of the niche-specific themes.
So make your decision, and you'll soon have a high-converting affiliate blog making you passive income.