A sales funnel provides you with a visual guide on how to direct your traffic to the shopping cart.
Brands typically use them to map out their buyer's journey into a series of touchpoints, so they can seamlessly convert their leads into paying customers. 
If you're planning to sell your products, funnel tools will make your job relatively easier.
Here, I've listed down 15 Sales funnel software to give you the best options available in the market.
Let's check them out.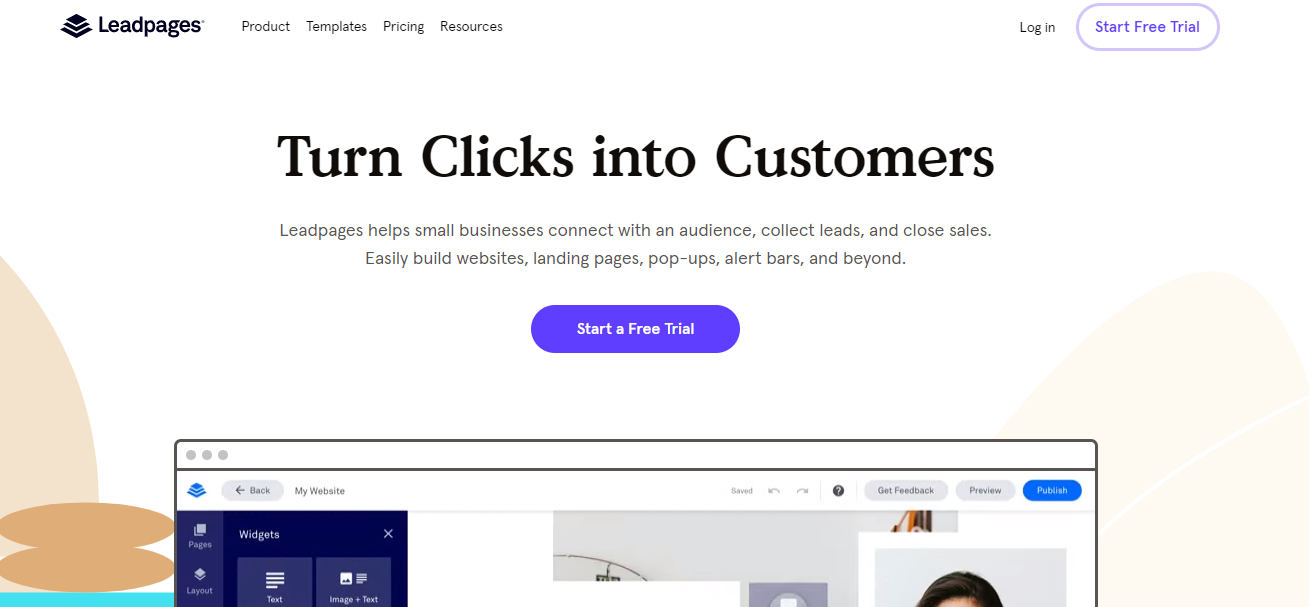 LeadPages is ideal for entrepreneurs who are looking for a beginner-friendly tool to help them get started.
It has a clean interface that takes you through a step-by-step process to create your first product launch.
With its drag-and-drop interface, you can quickly tailor the templates to your requirements and link any page to the CTA element. Its purchase form is pretty robust that allows you to add multiple shipping options and product upsell. You can also optimize your site for search engines and use split testing to discover the best-performing design.
If you prefer additional functions for complex funnels, you can upgrade the dashboard with third-party integrations.
Features
User-friendly builder.
Template Library.
Robust Purchase form.
Upsell Pages.
SEO title and meta description.
Mobile Responsive themes.
A/b testing.
Free Hosting.
Integrations.
Price
LeadPages plans start from $49 a month.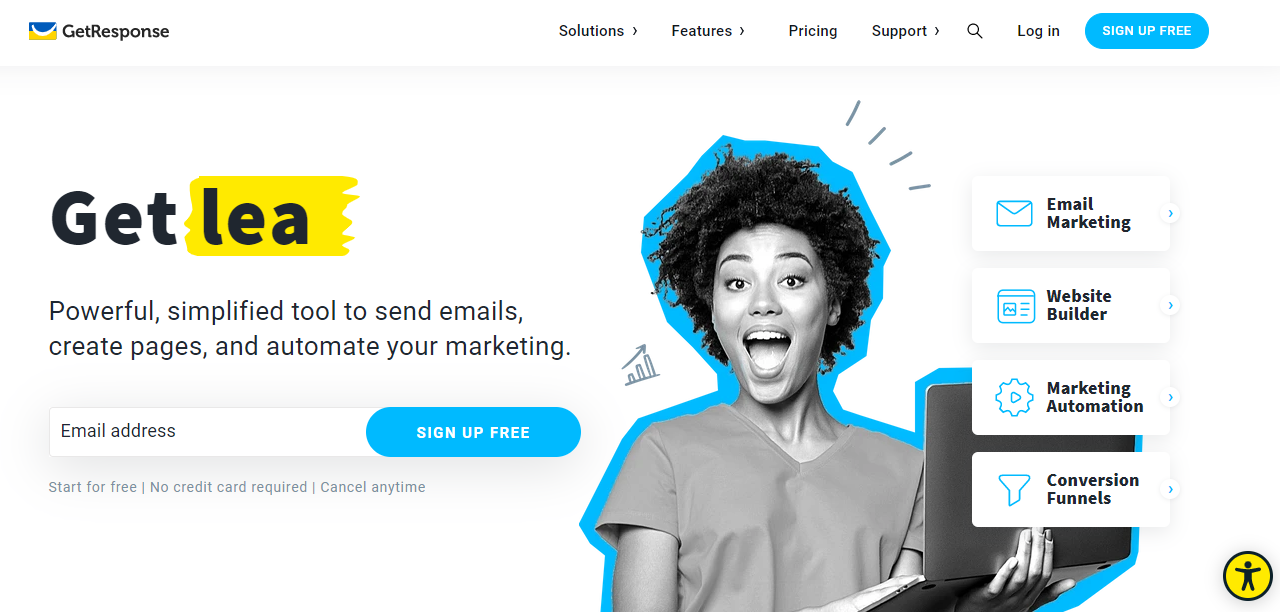 GetResponse is an all-in-one automation platform that offers you everything you need to execute your sales strategy effectively.
You can create personalized sales pages, generate URLs for promotions, build order forms to process payments, and send cart Abandonment emails to re-target.
It offers advanced email marketing functions to build targeted emails, design attractive newsletters and set up condition-based follow-up responses.
GetResponse has a feature called Conversion Funnels, which is a complete sales funnel automation suite. You get access to pre-made sales funnels, which you can edit to customize and fit your marketing campaigns and products.
You get access to everything it takes to create a sales funnel including email marketing, landing pages, sales pages, product listing, checkout software, sales tools, and webinar software. All of this, and more in one dashboard.
We rate GetResponse as the #1 sales funnel builder. Anyone can use it, even if you're a total beginner.
Let me summarize its core features.
Features
Website, sales funnel, and Webinar software.
Pre-made sales funnel and landing page templates, fully customizable.
Checkout software.
Product upsells/cross-sell.
Email and SMS marketing.
Abandonment cart follow-up.
Sponsored Campaigns.
Tracking.
CRM.
Price
GetResponse charges $16 to $98 per month. Its basic plan is free of cost.
ThriveCart offers a hassle-free way to sell your products and services.
It provides a single platform to create your purchase page, set up a fulfillment process, and build your shopping cart. With its lead generation elements, you can direct traffic to your purchase page, and use discounts and upselling to encourage more shopping.
It also has a tracking and auto-responding feature to monitor your campaign and engage your customers.
What makes ThriveCart stand apart is its flexible cart builder.
You can pretty much create any type of purchase page. The editor allows you to add text, images, video, testimonials, and payment widgets to turn your main site into your sales page.
Features
Robust Cart editor.
Full-page and Pop-up lead forms.
Product fulfillment section.
Upsell feature.
Payment split option.
A/B testing.
Auto-Receipts.
Auto-respond function.
Price
ThriveCart offers a lifetime account for $495.
OptimizePress is a WordPress plugin that helps you leverage your website to increase your sales. It's a page builder tool that lets you design an entire buying process from landing pages, purchase forms to checkout carts.
You can use its template library to pick out your niche layout, drag and drop elements in the editor to personalize your template and launch your sales page within minutes. All its layouts are optimized to generate response and increase conversions.
It is a great tool for those who generally merge their marketing and sales campaigns. With it, you can attract and direct your prospective customers to your landing page and easily collect payments with intuitive checkout forms.
Features
Multiple funnels options.
Landing, sales, and purchase pages.
Connect with multiple shopping cart plugins.
Advance personalization.
Sequence automation.
Integrations.
Mobile responsive pages.
Supports PayPal.
Price
OptimizePress's yearly subscriptions cost between $100 to $400.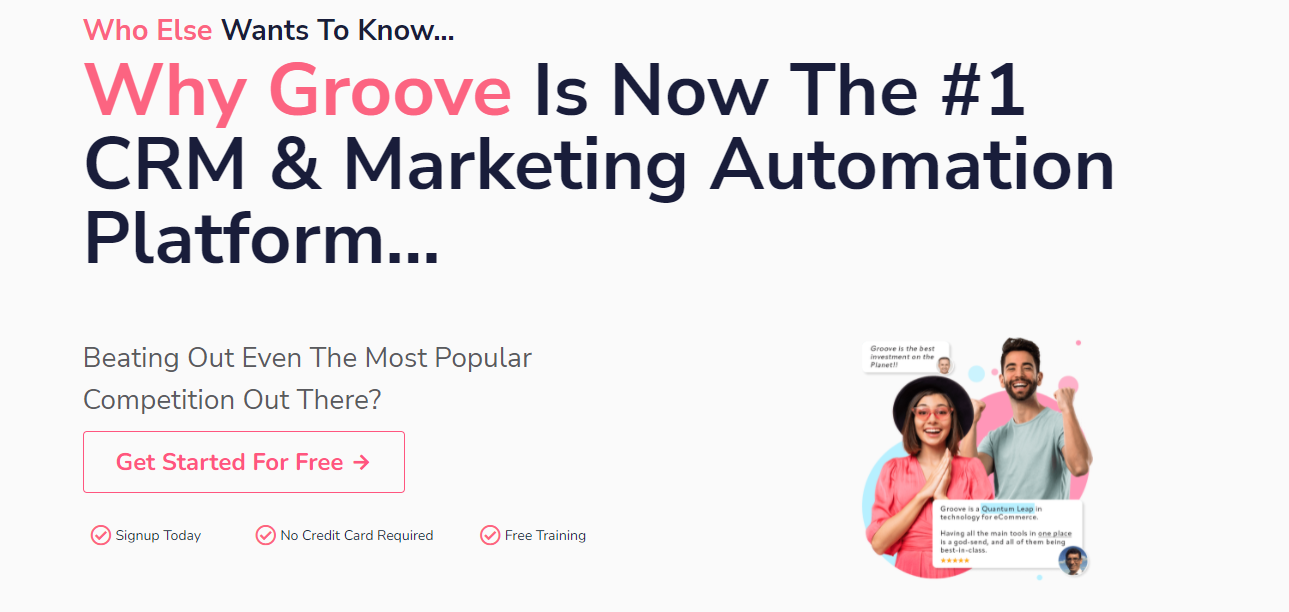 Groove is a powerful freemium CRM platform that offers a dozen tools to help you create, launch, and manage your sales funnel with ease.
You can design stunning landing pages, add flexible checkout carts, use IF and Then triggers, and set up email responses.
Additionally, you can pursue multiple channels to expedite your sales process. For instance, you can try its Membership hosting platform to publish private courses or leverage its Webinar automation to sell your products using interactive video elements.
It also shares separate affiliate platforms to let you market your products through influencers and bloggers.
Features
Site and purchase cart builder.
Advance sequence automation.
Affiliate and video course hosting features.
Interactive features.
Integrations.
Free access to team members.
Information portal.
Price
Groove's starter plan is free, and its premium subscriptions cost $100 to $300.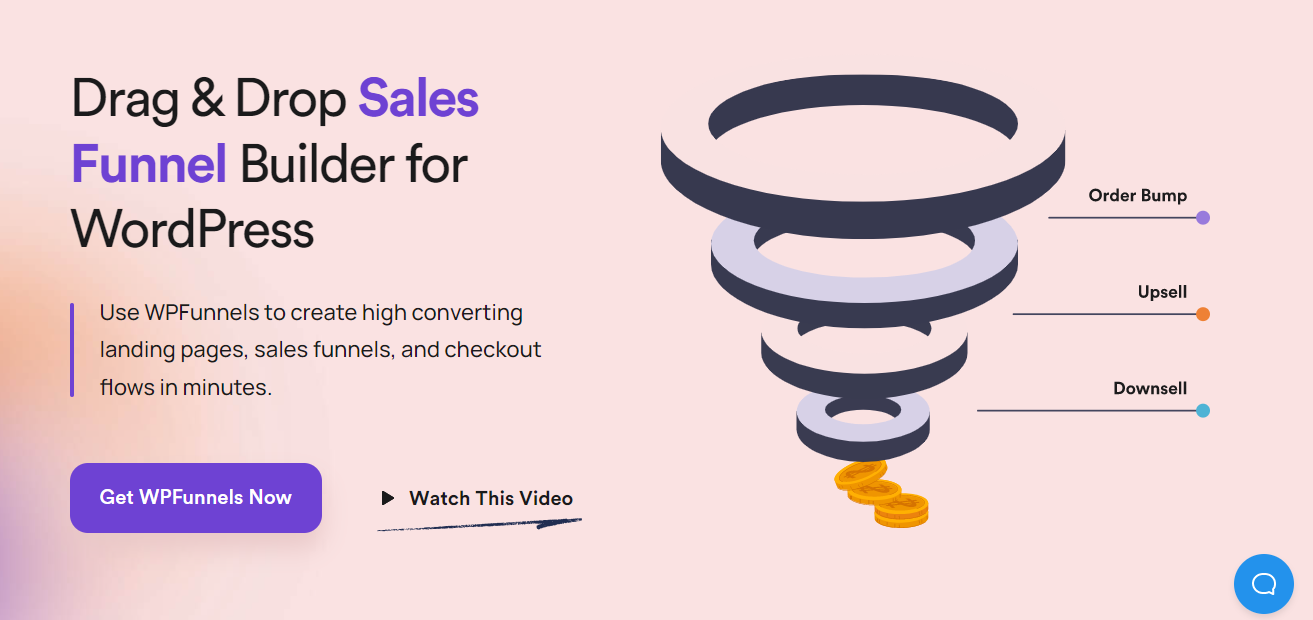 WpFunnels is a canvas-style WordPress builder that offers you a visual representation of your sales funnel.
It allows you to see each step of your funnel, so you can easily envision how your strategy would play out and map it out accordingly.
You can use its ready-made layouts to run basic campaigns or build complex sequences with conditional formatting. Its editor also offers enough customization to create the page from scratch if that's what you prefer.
In addition to page builder, WpFunnels provides you the option to add upsell and Cross-sell sections at the checkout form as well.
Features
Supports multiple WordPress Editors.
Drag-and-drop canvas funnel builder.
Conditional sequences.
Page personalization.
Optimized templates.
Upsell and Downsell option.
Integrations.
Analytics.
Price
WpFunnels' basic plan costs $97 per year.
PhoneSites is a mobile-friendly app that makes it easier for you to build and manage your sales funnel right from your cell phone.
You can design full-fledged landing pages, create multiple sequences, and automate your follow-up responses. You can also build standalone pages and add them to any existing funnel.
It offers a tracking system to monitor your performance and an intuitive dashboard to keep an eye on your goals and leads.
One of the things that make PhoneSites most appealing is its AI writer.
The smart writer automatically generates content for your social media and Google Ads. It makes it extremely useful to solopreneurs who constantly need fresh ideas for their campaigns.
Features
Website page builder.
States and reporting.
AI writer
Funnel templates.
Sequence automation.
Integrations.
Hosting option.
Helpline.
Price
PhoneSites provides three monthly packages between $50 to $150.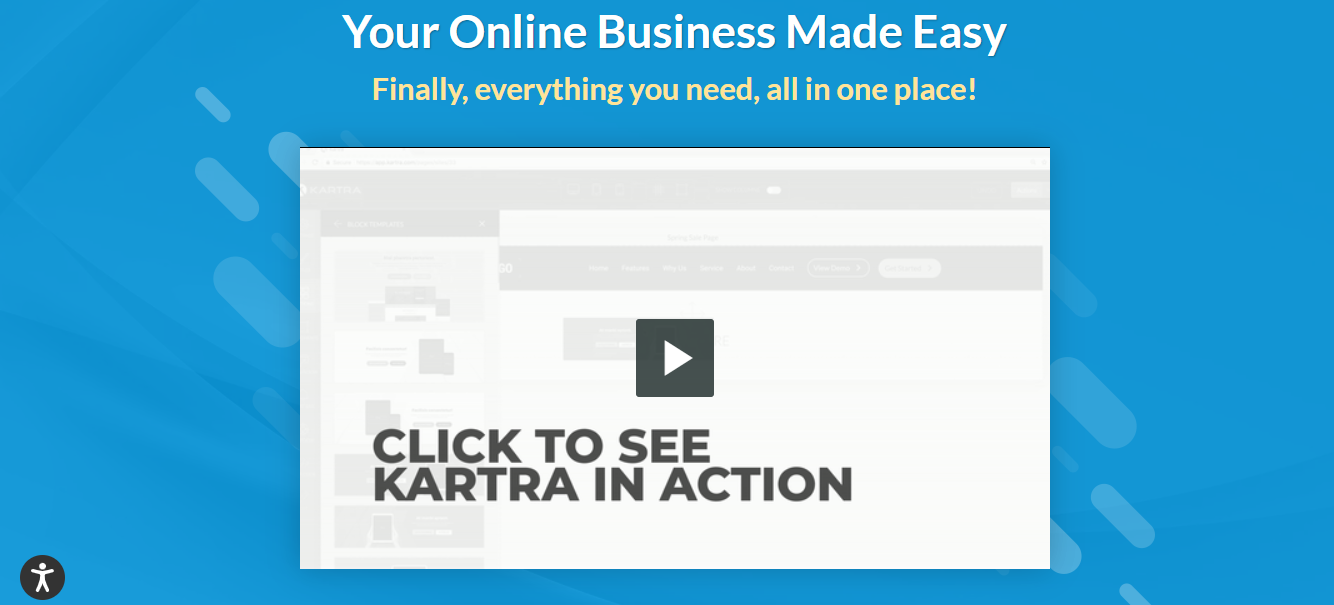 Kartra interconnects your marketing and sales activities to make it easier to sell your products.
It allows you to create visually attractive pages, mobile responsive opt-in forms, and a multi-step checkout process. It has a membership portal for those who sell online courses, and an affiliate program for an eCommerce business to promote their products.
Most of its features are similar to Groovefunnel, but whereas Groove excels at its page builder's efficiency, Kartra wins in automation and management.
Its funnel automation interface is easy, clean, and robust. You can build basic to complete drip campaigns, run split testing, and give scores to leads to improve your prospecting. Kartra also lets you manage multiple client accounts, which makes it appealing to agencies.
Features
Webpage and funnel builder.
In-built email.
Membership and affiliate portal.
Booking calendar.
Helpdesk.
A/B testing
Analytics.
CRM.
Integration.
Price
Kartra's starter plan costs $100 a month.
Simvoly is a complete solution for small business owners who prefer to create and operate their sales activities from one place.
You can build a homepage to generate leads, opt-in forms to book meetings, and payment carts to process orders. You can also schedule email sequences or send blast emails to announce new product launches or engage customers.
It provides SEO to help you increase your online presence and a white-label option to add credibility.
It is an ideal tool for eCommerce stores and subscription-based businesses.
Features
Custom landing page and store builder.
A/B testing.
Email automation.
Branding.
CRM.
Booking funnel.
Membership portal.
Analytics.
Upsell/Cross-sell.
Access to teams.
Price
Simvoly's basic plan costs $12 a month. To unlock the limit on pages and funnels, you can buy its Pro plan for $200 a month.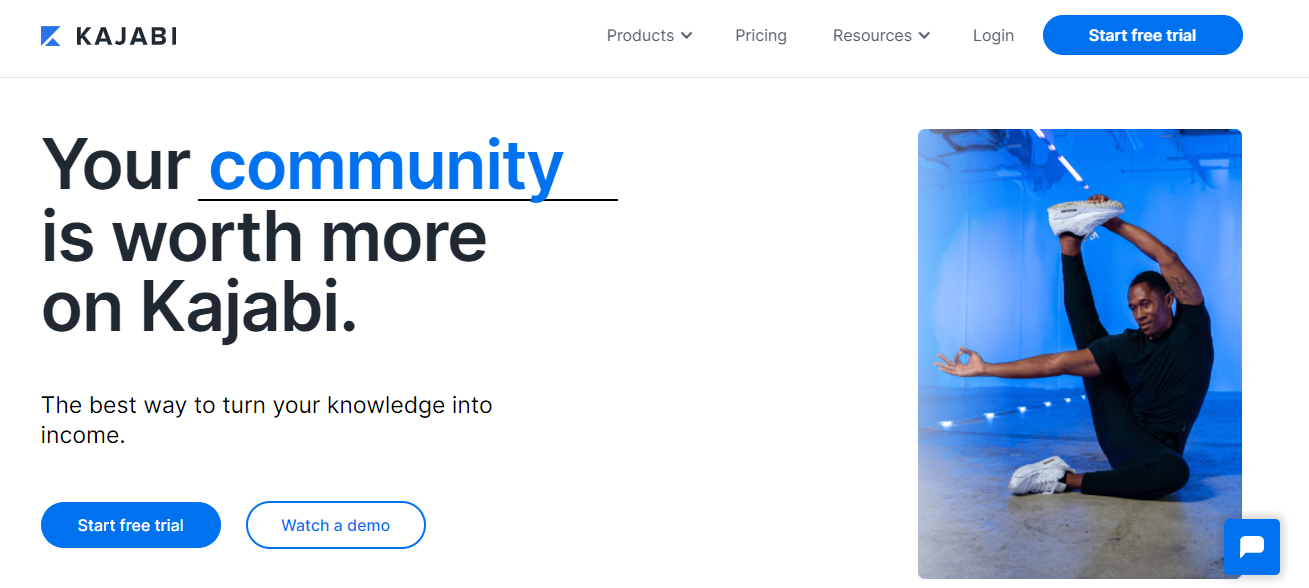 Kajabi is designed for solopreneurs, influencers, and small business owners who largely offer self-development products, such as courses and memberships.
Here, you can publish freebie opt-in lead magnets to attract visitors, run email campaigns to nurture leads, and build fully optimized pages to generate revenues.
It provides free hosting services and payment integrations to help you manage your sales funnel from its dashboard.
What's amazing about Kajabi is its smart templates. Inside each template, you'll discover illustrations of each sales funnel's stage. It's an incredibly useful feature for those who're not sure how many steps to add in a sequence to make it effective.
Features
Website and product builder.
Landing page and email marketing templates.
Marketing and sales funnel.
Supports Mobile.
Hosting services.
Analytics.
Community service.
Price
Kajabi charges $150 to $400 per month. You can take a free trial to explore it as well.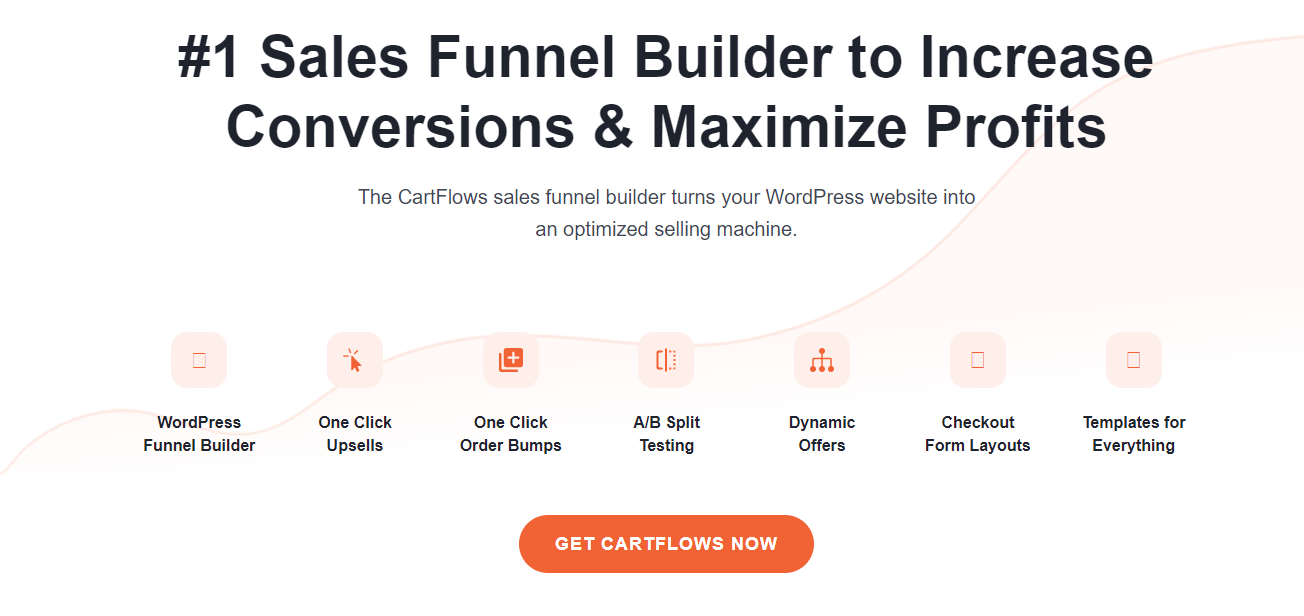 Cartflows is one of the most popular WordPress Sales funnel plugins designed to optimize your WooCommerce checkout process. With it, you can build personalized carts and replace your standard purchase page with personalized carts.
You can add custom fields to tailor your payment form, include Add-ons to upsell your products and run split testing to optimize your page.
It offers email automation to create a cart-abandonment strategy and several leads capturing features to attract customers. It also lets you use elements like one-time offers or product upsells to increase buyer retention.
Overall, Cartflows is fast, easy to use, and works perfectly with your builder.
Features
Canvas editor
Work with your WooCommerce.
User-friendly.
Supports WordPress editor.
A/B testing and previews.
Bumps and upsell options.
Condition feature.
Analytics.
Excellent customer service.
Price
Cartflows offers a yearly and lifetime plan for $240 to $1000. You can also pay your lifetime plan installments.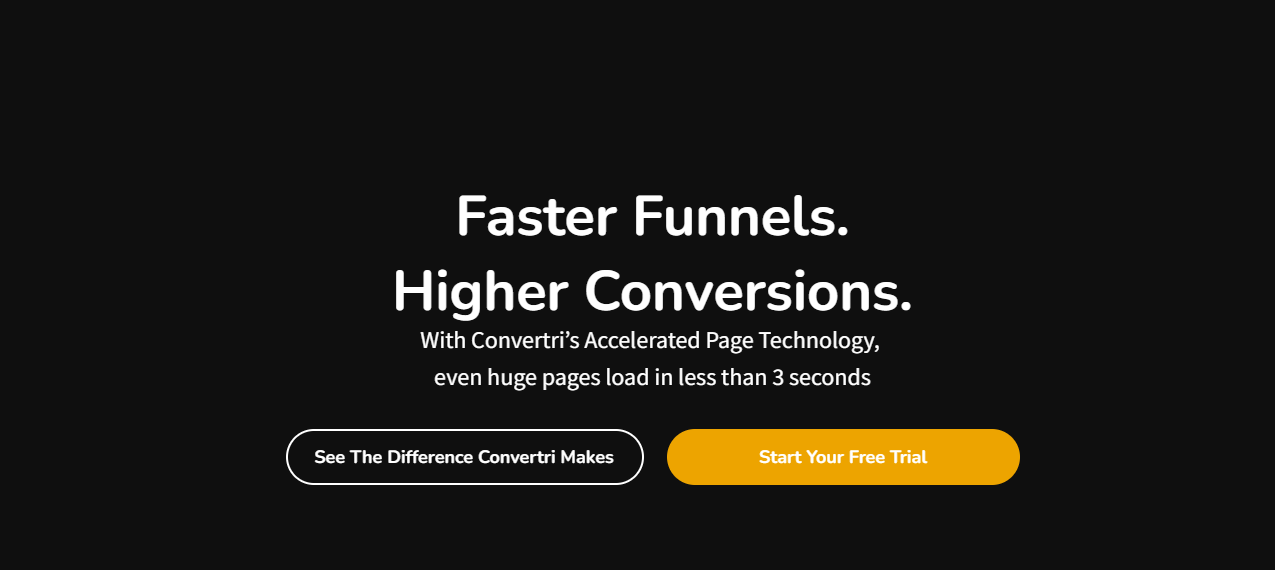 Convertri is a simple yet powerful builder specifically designed to help you sell knowledge-based products or services.
You can create Webinar funnels, attract enrollments with opt-in forms, and convert leads with fasting-loading shopping cart pages.
It offers an in-built interactive video element to boost your conversions and provides an automation feature to schedule your responses.
One of its features I found interesting is its dynamic text replacement feature.
DTR is an automation function that changes a certain text of your page when triggered. With it, you can personalize your sales page and target different market segments at once.
Features
Advanced builder.
Mobile pages.
Engagement elements.
Automations.
Dynamic text replacement option.
A/B testing.
Supports agencies.
Integrations.
Free Hosting.
Price
Convertri charges $75 per month. You can also take a free trial to learn more about it.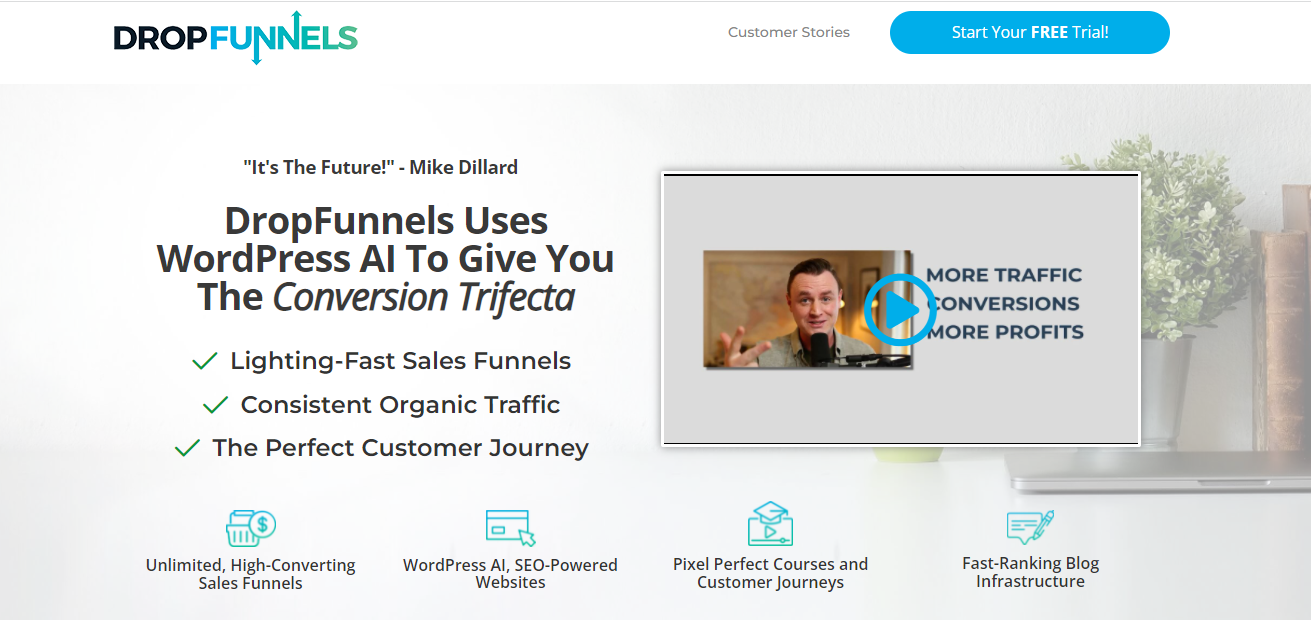 DropFunnels is a versatile builder that lets you run eCommerce sales pages on your WordPress and create full-fledged video courses.
It provides in-built engagement and visual tools to allow designing attractive landing pages without installing additional plugins.
With its funnel builder, you can create a complete payment sequence from the check-out cart, order confirmation to link tracking. The checkout form has split payment and one-time offer elements to further optimize your page.
DropFunnels is also an excellent option for influencers who use blog posts to grow their customer base. They can attach opt-in forms, and product pages to their blogs to boost conversions. Since it supports WordPress, you can add SEO elements to optimize your blogs as well.
Features
WordPress landing pages.
Video Course builder.
Checkout page elements.
SEO.
Sales Pipeline.
Link tracking.
Blog posts.
Integrations.
Price
DropFunnels charges $50 to $300 per month.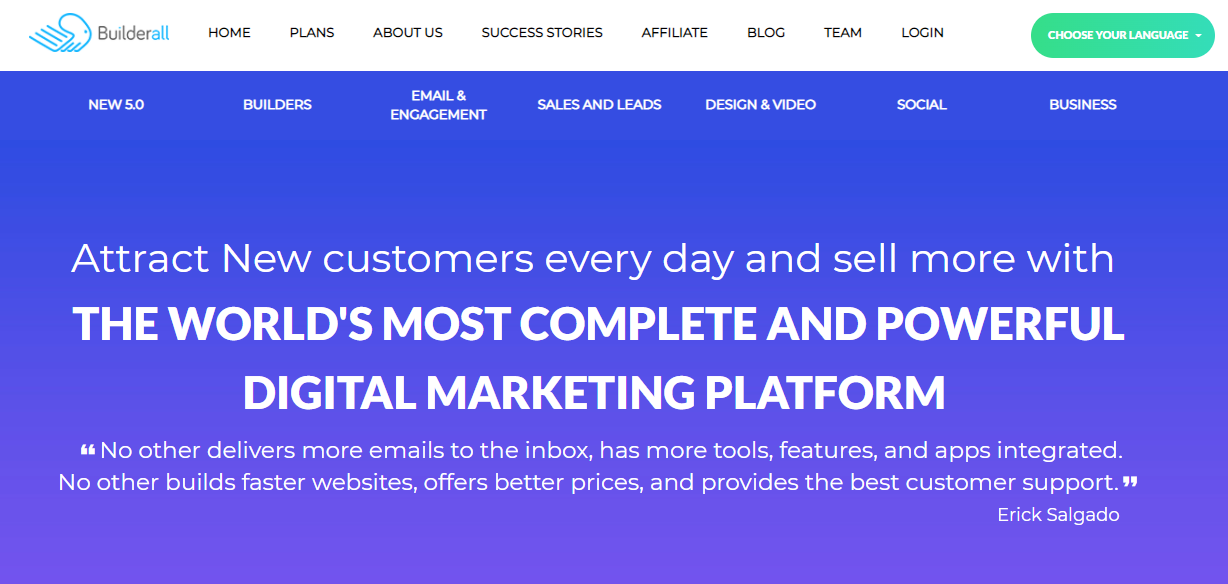 Builderall is an advanced sales funnel tool that allows you to use multiple digital channels to generate and convert leads.
It offers Mailingboss and Booking builder to set up cold email sequences and expedite your prospecting. Its Cheetah website builder can help you create attractive landing pages and connect your mailbox to get traffic from your email marketing campaigns.
It also provides chatbots to engage visitors and leads them to your product page.
Builderall additionally shares tons of custom features to tailor your sales funnel. Such as creating a webinar lead magnet and adding your CTA under live sessions so anyone interested could buy your products immediately after watching your video.
Features
Email, Landing page, and chat builder.
Marketing and sales pages.
Workflow automation.
Engagement tools.
Image and video editor.
Split testing.
CRM.
Price
Builderall charges a minimum of $15 a month.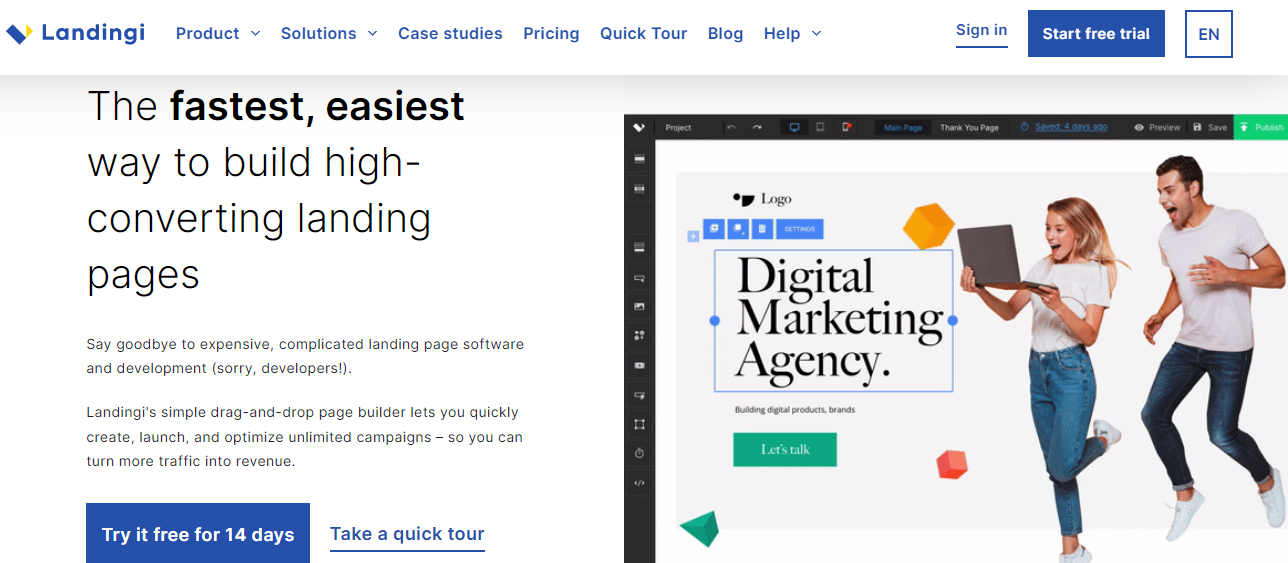 Landingi is a simple page builder but offers tons of supporting features that make it appealing to both eCommerce businesses and service providers.
You can add custom codes to launch targeted web campaigns, build a seamless payment process on your eCommerce store, and manage your orders easily in its CRM. You can also hire their in-house experts if you aren't satisfied with your current page design.
It additionally provides consolidated and separate lead states to give you data-driven insights on your campaign performance. With this feature, you can discover gaps in your strategy and make timely changes to increase your success rate.
You can install Landingi to your WordPress, integrate it with your email app, and add a team to your account.
Features
Custom builder.
Popup forms.
Automation.
Mobile-friendly themes.
Split testing.
Smart insights.
Branding option.
Integrations.
WordPress plugin.
Price
Landingi charges a minimum of $29 monthly subscriptions.
Final Word
The right sales funnel software can help you capitalize on your digital marketing channels to attract, generate, and convert more leads from your landing pages.
With it, you can accurately capture your prospective customers and ultimately boost your revenues.
37% of companies miss out on sales opportunities because they don't have established processes. 
Start using a sales funnel tool now to grow your business on autopilot and without any guesswork.
Good luck!