Didn't find the right live chat software for your startup yet?
About two-thirds of online customers are found to return to websites or apps that offer live chat. Also, most of them won't buy anything if you don't have it.
You see, there is trust associated with it. Without this tool, it would be a tricky tightrope to walk for you with the fear of being left behind.
Picking the right chat software shouldn't be a complicated process considering it fulfills your budget and requirements. But believe me, it's overwhelming when you dive into the SaaS marketplace in search of it.
Also, keep in mind, you're about to build or in the early phase of your business. And you won't have to pay an arm and a leg for live chat software.
So before you end up getting inappropriate or pricey software, why not make a wise decision to go through this article?
In this article, I am going to walk you through the 13 best live chat software that is specially designed for startups.
And who knows, one of these live chat tools might turn out to be a game-changer for your business!
1. LiveChat – Most competent live chat software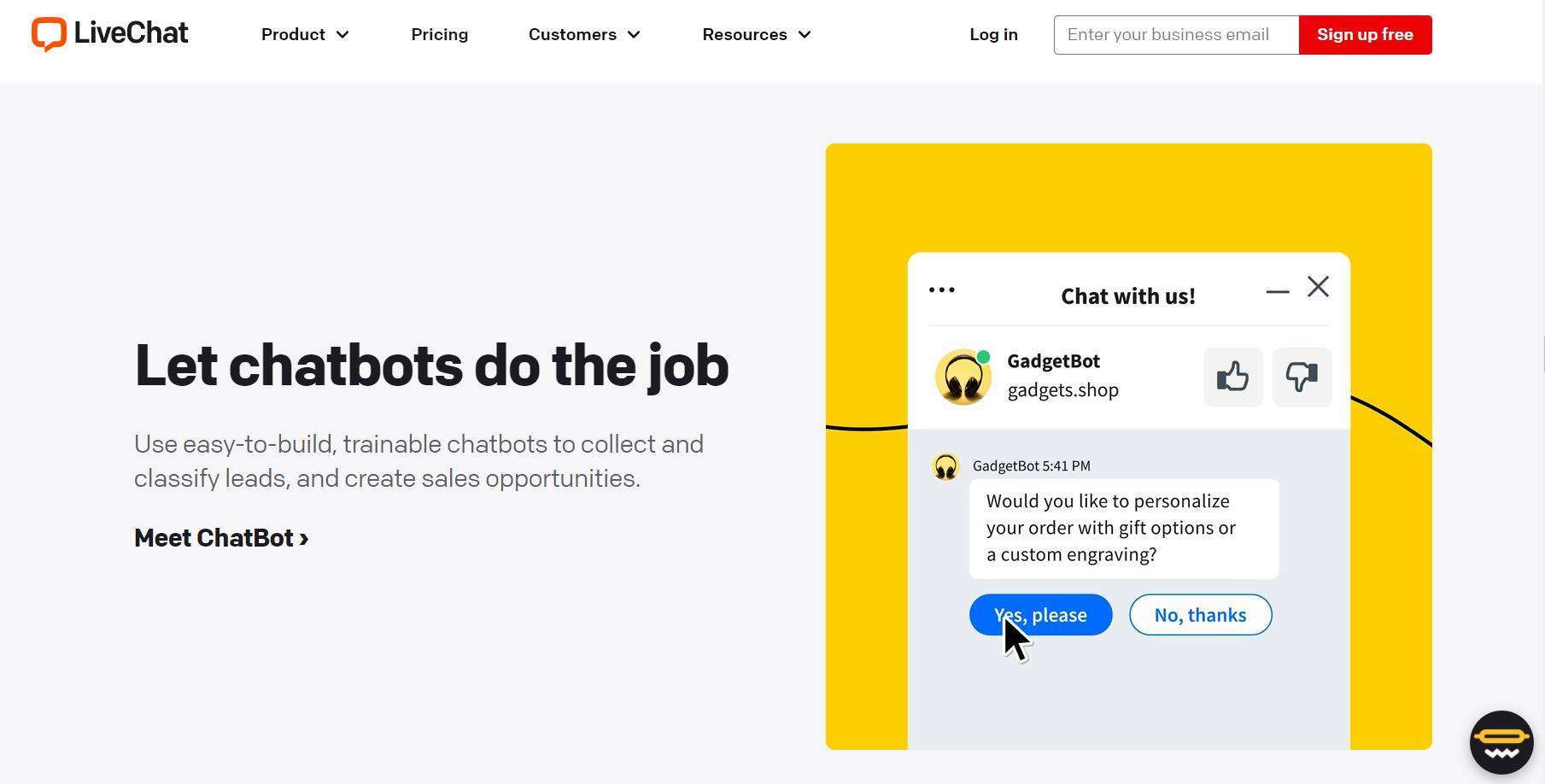 If there is any live chat software with ease of use, a polished interface, and an equally impressive chatbot, it has to be none other than LiveChat.
Naming a live chat software "LiveChat" seems like a tricky decision – maybe the creators wanted it to sound recognizable or they were out of some fancy names.
LiveChat isn't just built for startups but also supports some bigger brands such as IKEA and Atlassian. Packed with robust features, it not just builds visitor experiences but also helps you promote your brand.
LiveChat Key Features
Except for the starter plan, you have access to the complete chat history. Your agents can easily search the archives using filters such as agent name, date, tags, rating, and assignment.
With the help of AI's learning abilities, LiveChat can streamline the process by offering smart tag suggestions. Especially in cases when agents are dealing with multiple chats at the same time.
Questions asked by visitors are often repetitive. Therefore, to manage the same questions, LiveChat creates canned responses that can save you time as well as unnecessary keystrokes.
It features Chatbot integration that can take on hundreds of chats at the same time. It's pretty useful when you're looking to offer customer support beyond official hours. You can set your bot to handle incoming chats, greet visitors, answer common questions, and create tickets.
LiveChat Pros and Cons
Things we like the most:
Excellent reporting and traffic monitoring features
The use of canned responses saves time and extended keystrokes
Easy to locate specific conversations using chat tags
Impressive chatbot performance on both PC and mobile app
Chatbox supports over 50 languages
Drawbacks:
Lacks built-in email marketing features
Chatbox often terminates if another window is opened
The mobile app functionality is good but offers limited features
Pricing:
Yearly plans for an additional agent:
Starter: $16/ month
Team: $33/ month
Business: $50/ month
Enterprise: Quotes upon request
2. Zoho Desk – Most budget-friendly AI solution for live chat
Zoho Desk is one of the best products in Zoho's software suite.
And just like other products in the suite, Zoho Desk features a long list of features at reasonable pricing. The good thing is that it keeps the support system updated while introducing new features each time.
But one of its striking features is Zia, which is an AI bot that specializes in reporting capabilities.
And it really complements well with a wide range of automation features.
So can Zoho Desk be the bang for your buck?
Let's find out.
Zoho Desk Key Features
Zia features only on Enterprise plans but can multitask. You can set it to automate tasks such as ticket routing, auto-tagging, voice-to-text, automated chats and many advanced processes such as sentiment analysis of the chats.
The ticket views feature lets your agents organize tickets based on status and priority. This feature not just saves you time but also detects the possibilities of agent collisions in case two or more agents are handling the same ticket.
Zoho Desk mobile app triggers instant notifications whenever a visitor raises a ticket. Its app gives you a remote experience of handling tickets on the go and staying in touch with your customers longer.
It supports a number of integration tools that extend the capabilities beyond live chat. You can integrate with G Suite, Slack, Microsoft Teams, MailChimp, as well as Zapier if you're looking for particular add-ons.
Zoho Desk Pros and Cons
Things we like the most:
Visitor issues are auto-assigned and categorized to address the problems better.
The mobile app is user friendly and features a sleek interface
Easy to track tickets as well as agent's performance from the dashboard
The budget-friendly price tag for the startups
Drawbacks:
The search functionality of the tickets needs improvement
Limited customization options for live chat
Setting up automation is a complex process and takes a lot of time
End-user doesn't get notified when a ticket is passed to another agent
No integration with social media
Pricing: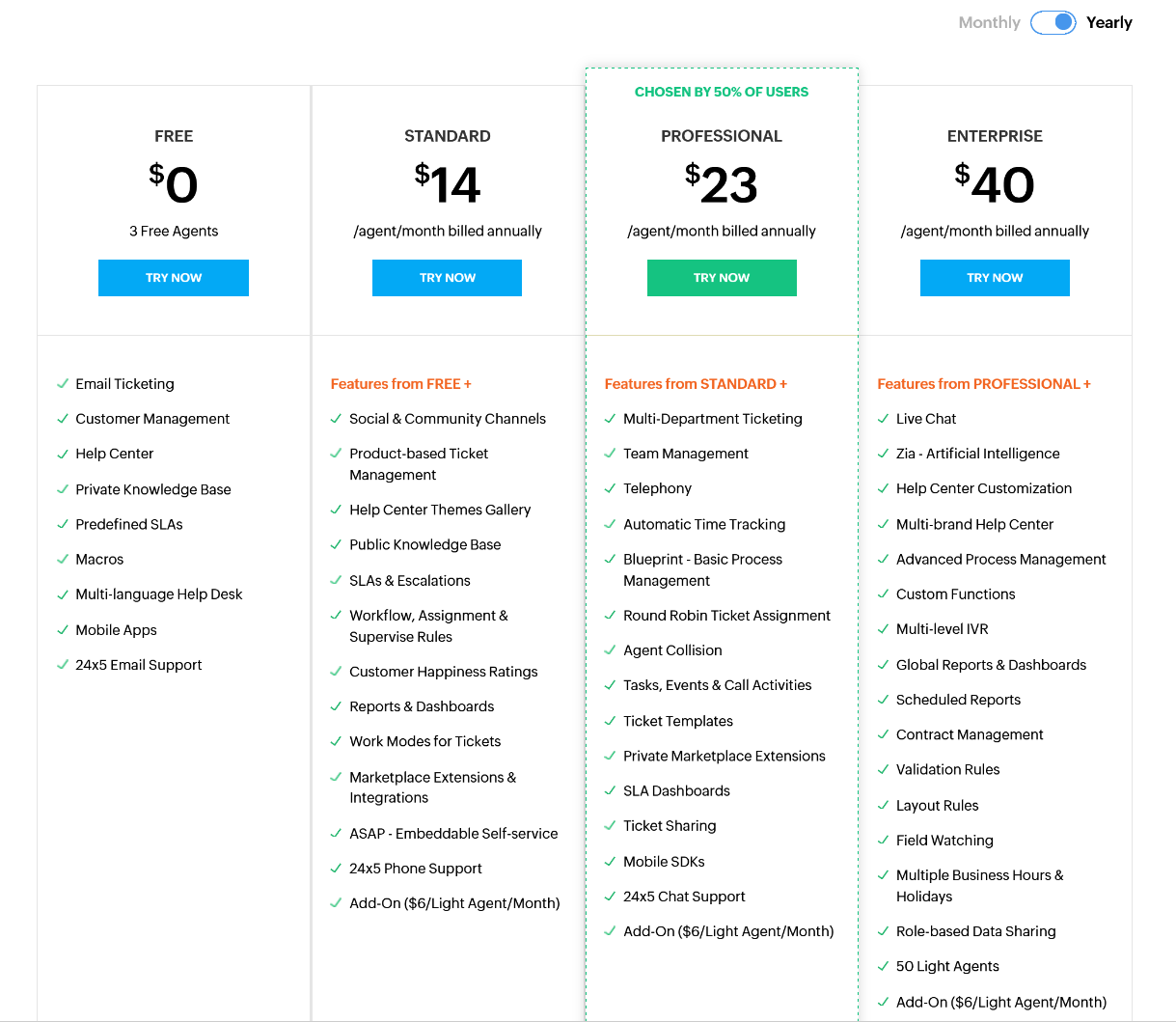 Annual pricing for an additional agent: $14/ month.
You can even include light agents for $6/ agent/ month for all the plans. A light agent is a representative, but outside your support team.
They also offer customer support and collaboration, but with restricted permissions.
3. Pure Chat – Ideal chat software for high traffic sites
Pure Chat not just focuses on visitors but also provides an intuitive platform for the support team.
The chat system is exclusively designed to manage a high volume of visitors so that no one is missed. The dashboard features all the monitoring, and customization tools to offer seamless support service to the visitors.
But it makes a striking presence by offering an unlimited number of chats at an affordable price point.
Though there is not much flexibility in its plans, you can expect truckloads of features which makes it an ideal choice for any business.
Pure Chat Key Features:
Pure Chat mobile app offers on-the-go solutions for monitoring and instant chat features. You can use the app to check the visitors in real-time, track their website behavior, and start communication with them.
You can monitor your support team's performance with key metrics such as emails, the total number of chats, chat duration, incomplete or missed chats. Response time and ratings.
Pure Chat uses the term "Engagement hub" for its chat widget. You can enable email form on the engagement hub when none of your agents are available. You can then redirect the received messages to your specific teammates.
It helps your agents generate multiple help desk tickets at a time. Though it doesn't have an in-built ticketing system, integrations like Zendesk enable automated solutions to handle a high number of ticket requests.
Pure Chat Pros and Cons
Things we like the most:
Track customer's visit behavior, conversation history and satisfaction rating
Ability to manage multiple chats and proactive chat triggers
Affordable pricing with an unlimited number of chats
Offers seamless operation on Pure Chat mobile app
Drawbacks:
Fewer options for integration tools
Notification system often gets bugged due to the high volume of tickets
Lacks in-built ticketing system
Doesn't feature multilingual chat
Logs you out if there is no activity for a certain amount of time
Pricing:
It also offers a free trial for 30 days with all the features under the PRO plan.
4. Freshdesk  – All in one customer support system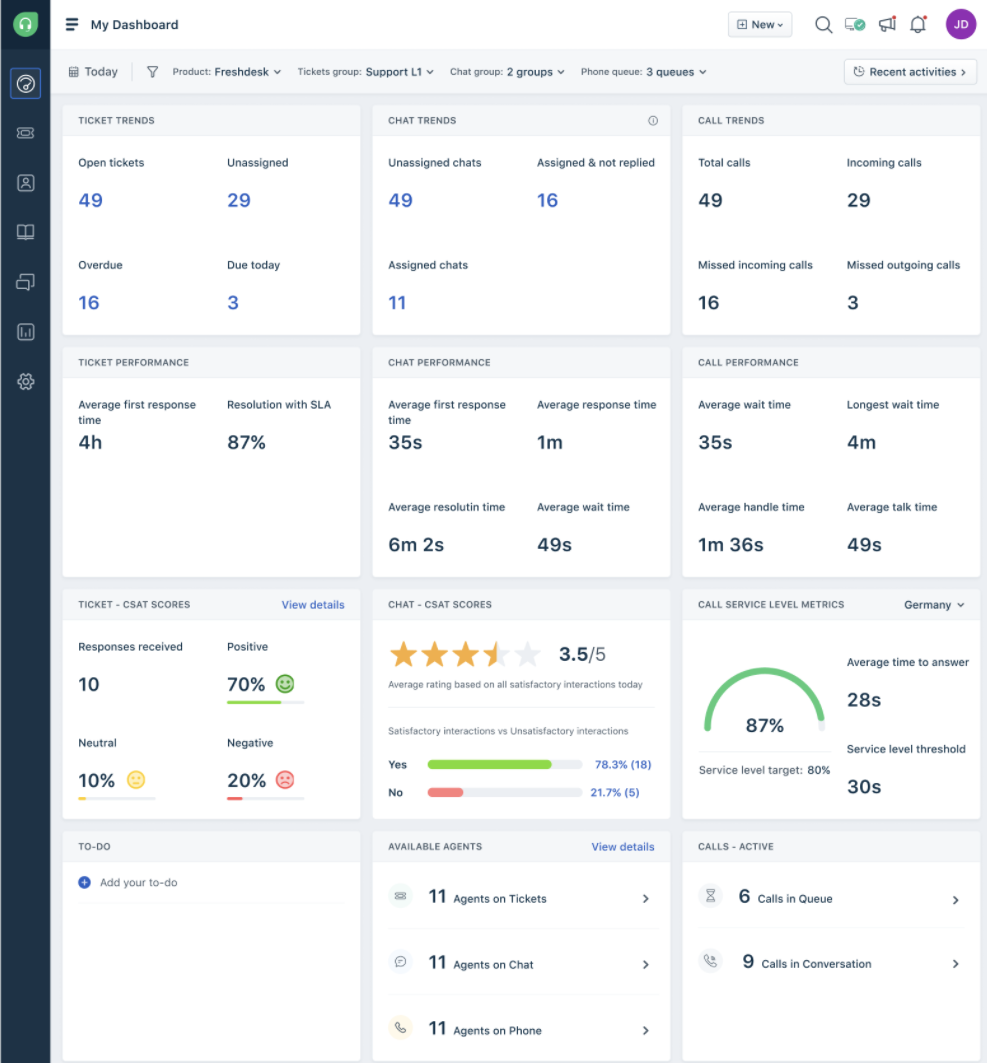 Live chat, call, sales, and marketing services, together can deliver a complete customer experience.
Freshdesk is one such example of a multifaceted support system. It supports 26 ready-to-use languages with an option to choose working schedules as per the agent's location.
Not just the features, but their subscription plans are flexible as well.
Now there are many areas where Freshdesk truly shines but lacks luster in some parts. But first, let's see what key features it has to offer.
Freshdesk Key Features
Freshdesk really stands out as a multichannel support solution. Many support processes have customer data divided across different tools, but keeping track of each of them wastes a lot of time and effort. Therefore, Freshdesk helps to unify customer interactions and makes communication easier.
You wouldn't be wrong to name it a mini call center. Your agents can seamlessly handle visitor calls via PC as well as a mobile app. It also features IVR routing and calls conferencing for better telephonic support.
In addition, the system can automate the process of converting missed calls or voicemails into tickets, which can be addressed when agents are back online.
You can assign an automatic due date to all the active tickets and keep each of your agents accountable. This feature keeps your visitors informed about the timeframe their issues will likely be resolved.
It features "Freshdesk Arcade" which is a gamification-based reward system. Everyone loves to accomplish some achievements and your agents would surely love to.
You can set goals and define badges that agents will earn after completing the tasks. The reason is to make the work less monotonous and develop an ambiance of productivity.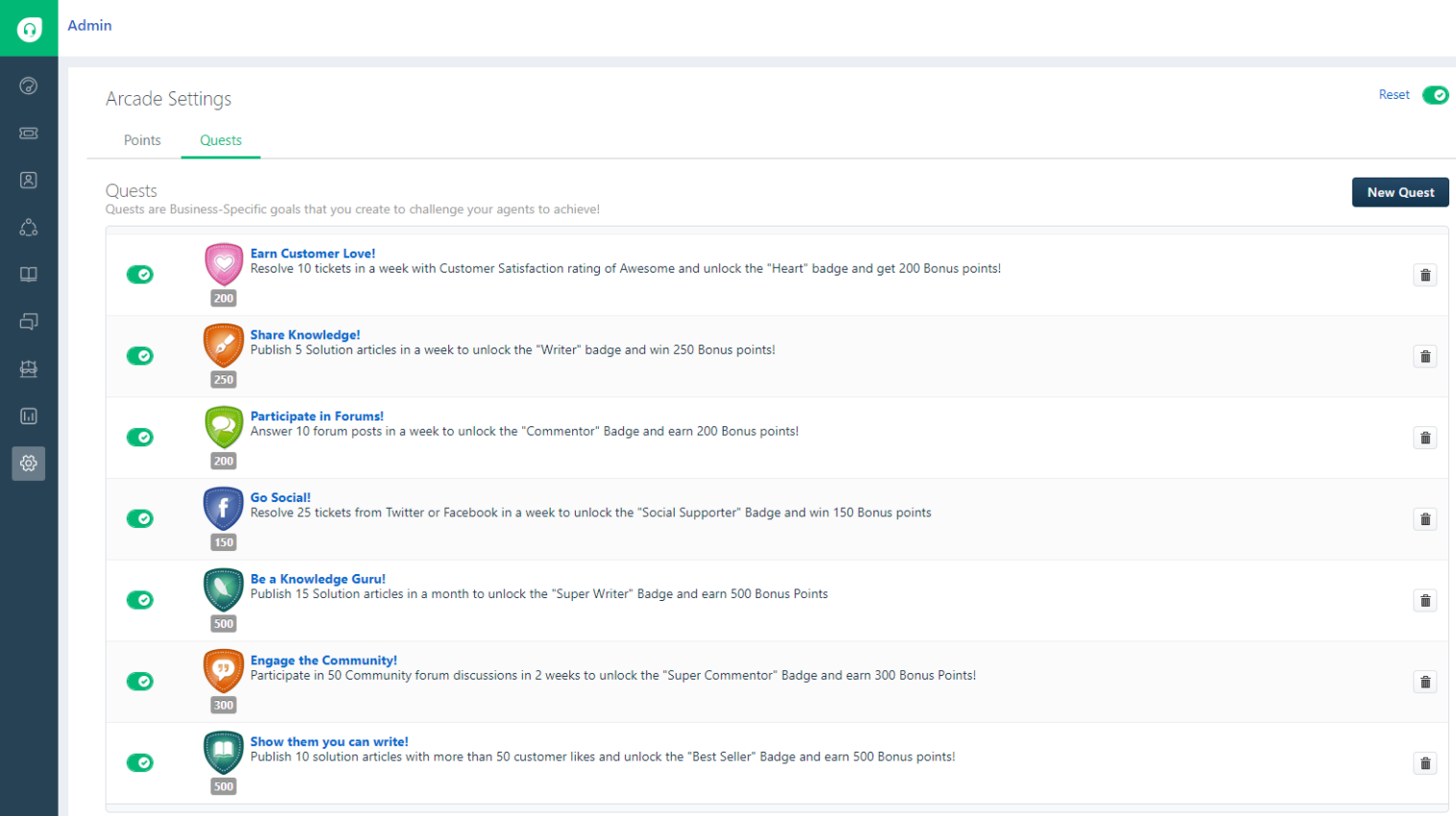 Freshdesk Pros and Cons
Things we like the most:
Personalized customer engagement features
Built-in call button that visitors can use to reach agents
Over 60 integrations with a wide array of CRM, chat, telephony, and ecommerce tools
Host of customization and personalization options
Excellent UI and feature-packed mobile app
Drawbacks:
Ticket merging should be automated from the same visitor
Agents need a bit of a learning curve to make the best use of all features
Reporting lacks many functionalities
Email notification isn't reliable and often requires manual monitoring
Email formatting takes a lot of time
Pricing:
Pricing for chatbot "Freddy" additional sessions:
$75 for 1000 bot sessions/ month
Includes live chat, voice bot and email bot. Its validity aligns with the payment cycle.
5. LiveAgent – Chat software with the most intuitive ticketing feature
LiveAgent is one of the prominent tools with supercharged help desk capabilities.
Back in 2004, the business was mainly known for its software development services.
They faced inefficiencies in communicating with their audience that laid the foundation for a support tool that could offer seamless live chat and ticketing services.
LiveAgent now serves over 150 million users worldwide and is only growing. Let's see what key features make the software stand out.
LiveAgent Key Features:
"Automated ticket distribution" lets you automate tickets to the agents using predefined rules. Your agents can also submit internal tickets using "Shared centralized inbox" to resolve any issues internally, such as visitor tickets or team management issues.
Issues are better handled when divided under specific expertise. LiveAgent makes sure each issue is categorized by different product knowledge and responsibilities. For example, sales agents should handle queries related to product purchases, orders, invoices, etc.
With "Hybrid ticket stream", the software lets you follow your visitor's tracks and threads the same ticket generated across multiple channels. Basically, it combines all the different interactions under the same ticket. For example, a visitor journey starts with a live chat which is then communicated via email or social media, and so on.
"Universal Inbox" is a one-stop platform that eases access to all the messages from the chat boxes, social media, email, phone calls, knowledgebase tickets, etc. from a single dashboard.
LiveAgent Pros and Cons
Things we like the most:
Advance ticketing features with the ease of automating, prioritizing and access
Ability to gather messages from different channels to feature on Universal Inbox
Easy to manage and search the tickets
Distribution of the tasks as per experience or knowledge
Affordable pricing for all the plans
Drawbacks:
The mobile app has poor functionality and needs improvement
Chatbox automatically logs you out when not in use for a few hours.
No referrals about how visitors stumbled upon the website
Issues with spam filter; cases of receiving spam from the same email over and over
Pricing (when billed annually):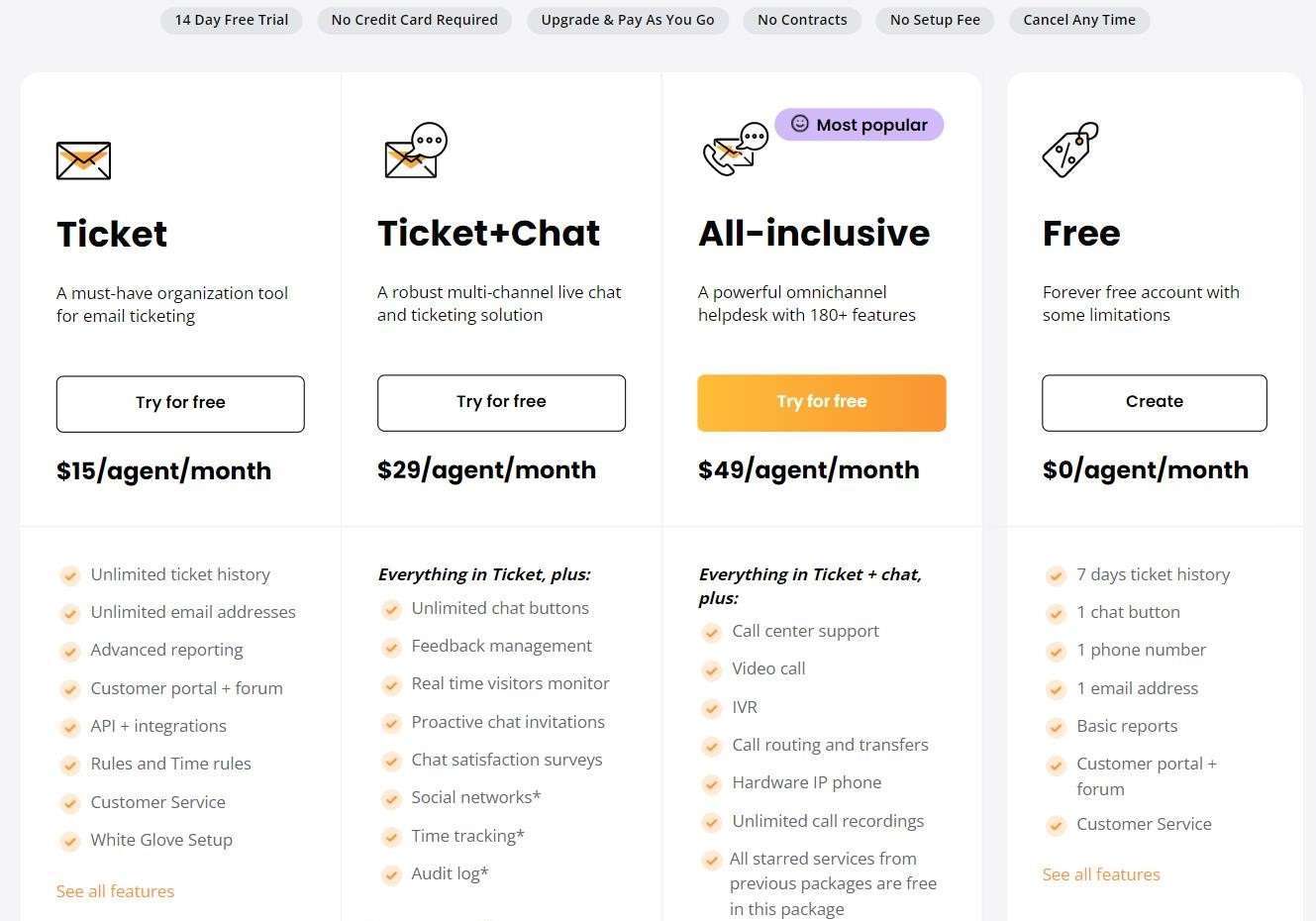 To add an agent under all the plans, LiveAgent charges you $15/month as per your billing cycle.
6. Crisp Chat – Best chat software with multichannel experience
Multichannel support is a trend among startups. Gone are the days of having a suite of different tools with an overpriced license.
Crisp chat is one such software that delivers a holistic experience of help desk, customer insights, analytics as well as screen sharing.
It's not just confined to live chats and chatbots, but also packs in marketing, CRM, and CRO features.
Crisp Chat Key Features:
Crisp chat offers ease of accessibility where visitors can reach you out via Messenger, Twitter, Telegram, Slack, SMS and Email. Here, the admin can set the live chat to automate when agents are logged out. It also features a fun game for the visitors, especially when they've to wait for the agent's reply – could be effective to reduce the bounce rate.
The MagicMap feature gives you an accurate overview of the number of visitors to your website. You can measure the response of your campaigns or ads in real-time.
MagicBrowse is a "live assist" feature that lets you guide your visitors on the shared screen using a virtual mouse. It also helps developers to use the "LiveDebug" option to identify any bugs or errors on the go.
Crisp chat uses Crisp Drip campaigns to retarget visitors, onboard and engage them with the help of different integration tools. Therefore, it features a chatbot that you can link to your marketing campaign and automate the task.
Crisp chat pros and cons
Things we like the most:
Real-time stats on the visitors' activities on the website
Screen sharing with the team to resolve the tickets on the go
Forwarding emails to Crisp inbox
Service accessible on multiple platforms
Supports a number of integration tools
Drawbacks:
Visual appearance lacks customization
Unable to restore conversation for a long time; treats the same visitor as new
Lacks natively-built ticket center
No chatbot support for pro plan
Pricing:
If you're a student or running a non-profit, you can claim a promo code for a 50% discount applicable on both plans.
7. JivoChat – Best chat software with telephonic and video support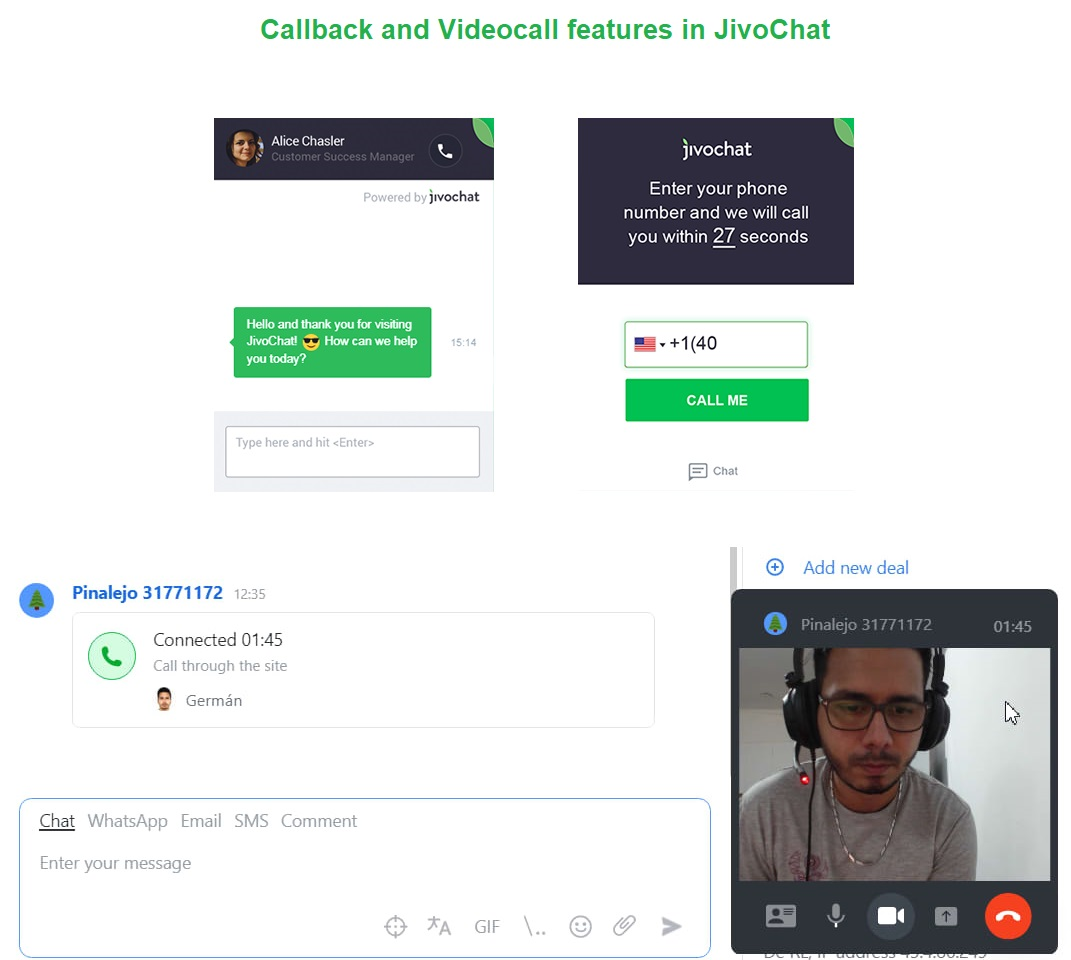 Wouldn't you bet on a chat software that offers multi-channel support with a price-per-agent plan?
If you have a handful of support staff and are looking for a reasonable plan, JivoChat can be your best bet.
Besides live chat, JivoChat features telephonic support to get in touch and know your visitors better. The whole platform is easy to deploy in a way that even non-tech-savvy people can get the hang of it.
It's easily one of the top choices for worldwide communication as it can translate into over 90 languages.
JivoChat Key Features:
You can check real-time visitor data such as pages they're exploring, browser, IP address, and country of location. So accordingly, you can cater to your response and provide personalized support to gain their interest.
With the advantage of omnichannel features, you can directly connect with your visitors via telephonic or video calls to make them feel at home. You can also send messages directly via Facebook Messenger.
Smart trigger or proactive invitation is one of the most useful features where you can actively engage your visitors in your special offers, tips, or just educate them. Not only does it boost user engagement, but it also improves the chances of conversion.
Depending on the chat queries, you can route your visitors to their respective departments or based on their location for personalized support.
JivoChat Pros and Cons
Things we like the most:
In-built audio and video call support
Quality video conferences without any blur
The mobile app provides intuitive helpdesk and JivoChat features on the go
Easy to organize and search previous conversations
Drawbacks:
The desktop interface is a bit clunky and needs improvement
Agents closing the chat doesn't update the status of their visitors
Chatbox frequently pops up, which can be annoying
Pricing:
Pricing for an additional agent (both basic and pro versions):
$29 for month-to-month payments
$19 per month when billed annually ($228 in total)
8. Tawk.to – Best free live chat software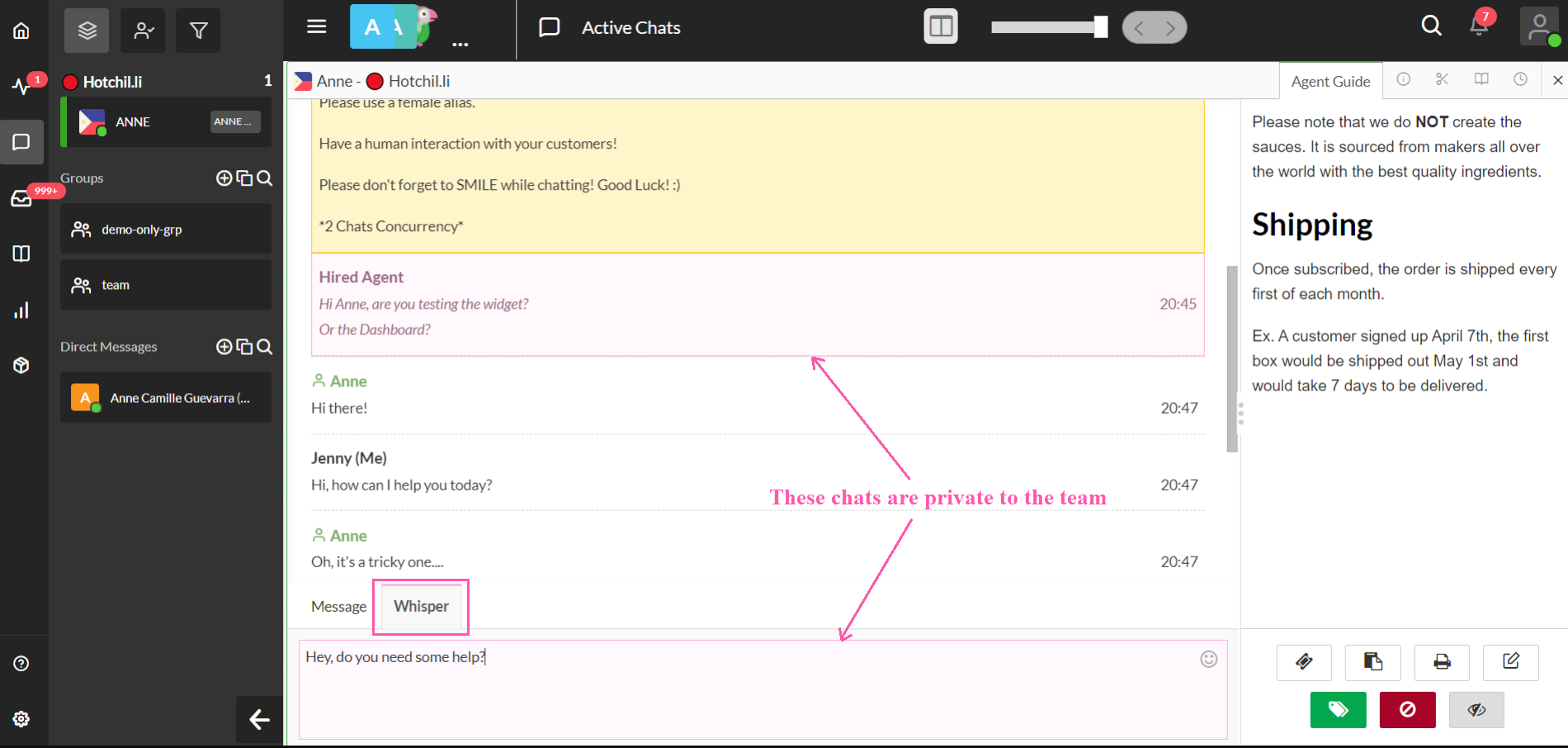 If you're starting a business with a tight budget and have almost nothing to invest in a live chat app, Tawk.to is the best choice for you.
It's a steal to have features at no cost that you'd have to pay for on other chat software.
Features like a ticketing system, canned response, automated chat triggers, customizable widgets, tagging, chat history, etc, are absolutely free at your disposal.
Now there are a few areas where Tawk.to eyes to generate revenue. I'll get into that shortly.
But first, let's see what features really stand out and what drawbacks they have.
Tawk.to Key Features
Whisper function enables private conversations with the team on the same widget where an agent is keeping up with the visitor. The chat remains hidden to the visitor. This feature really helps while training new agents, collaborating with other departments, or just troubleshooting.
Chats can be set to trigger automated messages when a visitor stumbles upon the website. It proactively engages visitors based on their actions, time spent as well as demographics. You can also customize the messages to draw them towards the marketing funnel.
Tawk.to features unlimited canned responses so that you'll never have to spend extra time typing the same phrases again and again.
When there are enough features that might need you to expand your team, you won't have to look elsewhere. You can hire their in-house chat agents and virtual assistants who can work as representatives for your business at affordable pricing.
Currently, it supports 27 languages which makes it easy to communicate with the international visitors on your site.
Tawk.to Pros and Cons
Things we like the most:
Tawk.to mobile app packs in PC-like functionalities
Some free features here are offered under premium plans by competitors
API is easy to integrate with the website
Affordable fees to hire Tawk.to agents
Free customizable knowledge base
Drawbacks:
Reporting feature lacks monitoring and customization options
A pretty limited number of integrations
The notification feature is often inconsistent
Provides very basic data on your site's analytics
Doesn't retain older chat archives
Pricing:
Pricing for hiring an in-house chat agent:
Pricing for hiring an in-house virtual assistant:
Additional tawk.to services:
Whiteboard (Remove tawk.to Branding): $12 per month
Video, Voice, & Screen Sharing: $29 per month
Rest assured, all the features are free to use.
9. Smartsupp – Best suited for monitoring visitor actions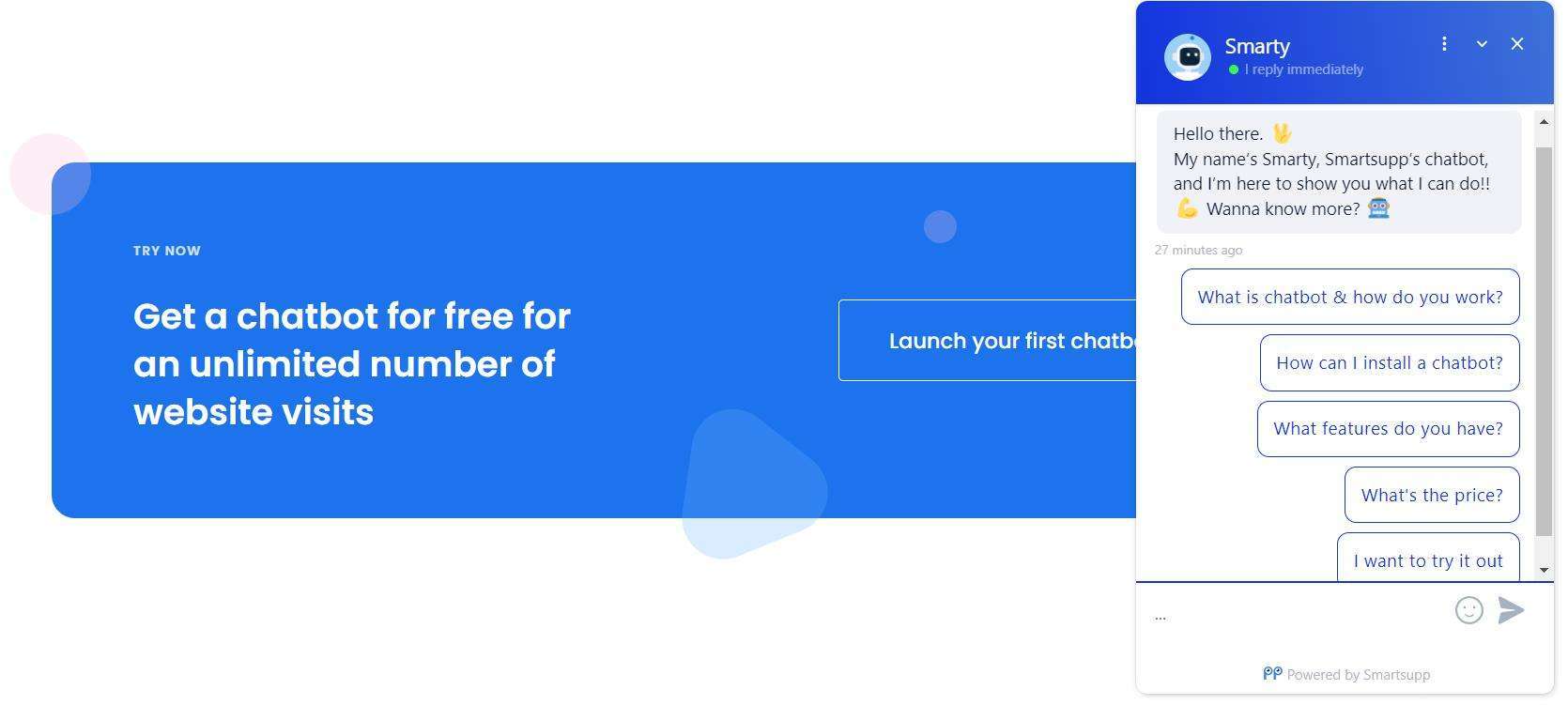 Smartsupp is one of the few chat software that offers live chat, chatbots and screen recordings altogether. You can actually see what your visitors did or where they clicked.
Therefore, this can be a pretty useful support tool for ecommerce stores or SaaS providers. Smartsupp is nothing short of features and can be your personal shopping assistant as well.
Now how is this tool any different from the competitors?
Smartsupp Key Features
Smartsupp features a robust chatbot tool, "Smarty", specialized in reaching out to your visitors and guiding them to find the right answers or products.
Smarty is a new addition to the range of Smartsupp features but comes at an affordable plan.
Your visitor's recorded screen can provide some valuable insights. From settings, you can enable "Video recording" which auto-records activities whenever someone enters your site.
For example, time spent, number of clicks, most viewed pages, etc.
Moreover, there is a difference between the number of recorded videos – 10000 recordings/ month in the Standard plan and 50,000 recordings/ month in the Pro plan.
Note that each recorded video spans 3 minutes. Also, each video is saved for 10 days from recording, which is then auto-deleted.
Using "Team shortcuts", you can enable shortcuts or pre-canned messages for your agents so that they can handle large audiences hassle-free. Setting customized messages also helps to create a common tone to reflect your brand image.
You can also set conditional messages for particular pages on your site. In case your visitor spends over a stipulated time on your website, a message will be triggered automatically.
A chatbot can be as valuable as a customer representative. By frequently monitoring chatbot statistics, you can measure its interaction with users in the form of summaries.
These summaries are nothing but 4 key aspects that define overall performance.
"Triggered" shows you the number of times a chat box has popped up during visits.
"Reactions" shows the number of times visitors have reacted to or clicked on the chatbox.
"Resolved by chatbot" shows the number of interactions whenever the chatbot button was clicked but without any message being sent
"Escalated to human" shows the number of interactions when visitors send a message in response to the chatbot.
Smartsupp Pros and Cons
Things we like the most:
The screen recording feature offers valuable insights
A number of ecommerce integration options
Unique chat shortcuts reduce response time and help in visitor engagement
Affordable pricing for ecommerce-based start-ups
Chatbot offers performance and actionable insights
Drawbacks:
Frequent notification issues on its mobile app
Has limited widget customization options
No in-built integration support with email marketing and social media
Often it misses out while tracking each person on the site
Pricing:
Pricing for an additional agent:
Standard plan: $5/ month
Pro plan: $24/month
10. Tidio – Best suited for ecommerce-based websites
There are over a dozen chat support software exclusively developed for online stores. But only a few of them offer features to personalize marketing campaigns and parallelly support your ecommerce business.
That's what Tidio is designed to do. It works really well with Shopify and WordPress. The interface is intuitively designed, supports multiple languages and features a mobile app which only makes things easier.
Also, it offers a chatbot "Tidus" with advanced automation features even on the free plan which is limited to 100 visitors per month.
Overall, most of its features are geared towards automation, communication and marketing efforts.
Tidio Key Features
Tidio offers ecommerce-specific features. On a free plan, it offers unlimited live chat and a chatbot feature with limited service. And once you've upgraded to the Chatbots plan, you'll be free to set unlimited triggered messages with customization options for widgets.
You can configure your chatbot to feature all the time or only when agents are logged out depending on the level of automation process you want to run. This works best when you start receiving a high number of visitors.
Chatbots automation feature helps you to create a workflow that can be used to trigger messages for visitors specifically for cases like returning visits, cart abandonment, product recommendations, sales offers as well as automated emails.
Email automation is yet another great feature that can fulfill your marketing efforts while saving you time. When a number of visitors enter their email id or subscribe to the newsletter, you receive rich data that can be used for marketing campaigns.
However, handling such cases manually is out of the question. This is where marketing automation comes into play, where each of your visitors can stay in touch via automated emails. You can keep them engaged with your offerings or content.
Tidio Pros and Cons
Things we like the most:
The free plan offers 3 operators, unlimited live chats and a chatbot with limited chats.
Feature-packed mobile app with seamless notification functionality
Easy to configure the automation features
User-friendly interface on both PC and mobile platforms
Discounts worth 2 months on an annual subscription
Drawbacks:
Reporting and analytics features are quite basic
No Post Chat Survey (Only Like and Dislike)
Lacks branding customization for marketing purposes
Pricing:
Tidio offers 2 months free upon annual subscription.
This means, the Chatbots plan costs $390 and the Communicator plan costs $150 yearly.
11. Social Intents – Best for slack and Microsoft team users
Many times, a software product with some great capabilities remains unnoticed in the competitive SaaS marketplace. Social Intents is one such software.
It may not feature some of the advanced chat functionality but is focused on particular areas where it does its job.
Specifically, it's designed as a solution for Slack and Microsoft Team users for optimized chat operations. So you won't have to keep an additional tab open.
Social Intents is also ecommerce-ready and can be a good support solution for your Shopify or Bigcommerce stores.
Social Intents Key Features:
The agent console is quite straightforward and lets you interact with web visitors, generate tickets, collaborate with the team, and close sales online.
Ease of customization options for the widget such as logo, colors, text, tab styles, and editing automated responses. All these elements are necessary as they define your brand identity and create visual awareness.
The chatbot uses the Dialogflow feature, which is a part of Google's cloud platform. Using Dialogflow, you can power your chatbot with natural conversation abilities. The setup is easy and doesn't require any coding skills. Once ready, you can enable live chat automation.
Now, when your chatbot is fully functional, you can personalize it the way you want. For example, you can set timers to trigger notifications like automated campaigns to pop up at particular instances.
Social Intents Pros and Cons
Things we like the most:
Ease of setup and configuration of the features
Direct live chat via Slack or Microsoft teams
Unlimited number of agents from the basic plan
Personalized branding features on the chat widget
Dialogflow helps customize chatbots
Drawbacks:
Lacks, social media and many useful integrations
The built-in analytics feature is quite limited
Chats per month are limited in the starter plan
Currently, no mobile application is in progress
No white-label widget for starter and basic plans
Pricing:
Additional chats per month and widgets are available under the Enterprise plan and are available upon request.
12. ThriveDesk – Designed for community and team management
ThriveDesk is a new addition to the list of live chat services. Though it may not be a near-likely choice for established businesses, there are certain features that can help startups "thrive".
Based on the features offered and user reviews, I can say that the tool is mainly geared towards Woocommerce and WordPress-based platforms.
ThriveDesk is worth your attention. You can find all the standard live chat features in its "standard plan". Although its pro plan seems pricier, you'll get the luxury of having unlimited agents and extended features.
Plus, they provide you with a dedicated success manager for personalized assistance and training purposes.
ThriveDesk Key Features
Community features can help you drive user engagement and increase customer lifetime value. It's a creative space where people can gather and start discussions with each other – something like a mixture of helpdesk and knowledgebase with a pinch of Facebook.
All your customers, experts, familiar or new audiences can share their diverse perspectives and solutions. Agents can also participate to guide them. Not just answers, it can help you build trust and develop a sharing culture.
Want customization options? You'll have a complete white-label platform where you can use your brand logo, colors, and custom domain to define your brand.
Visitors' participation in the community also syncs with their history. This gives you visibility into their overall journey with your brand. And guess what, you can even host webinars.
In the Team management feature, you can allow inbox permission or restrict specific team members anytime. It's useful when assigned members or a particular department need to work on tickets privately in real-time.
A Shared Inbox is yet another useful feature where you can manage all the conversations in one place and have a better workflow. You won't have to manage chats, tickets, emails and reports from separate inboxes.
ThriveDesk Pros and Cons
Things we like the most:
A shared inbox makes communication and support easier
Community feature offers unique ideas and perspectives
Ideal with Woocommerce integration
Live chat widget features an option to send offline messages
Budget-friendly pricing for startups
Drawbacks:
No development in chatbot automation yet
Knowledgebase is yet to publish learning resources
The mobile chat app is still in development
Lacks a number of useful integration tools
Not much adoption, testing, and peer reviews
Pricing: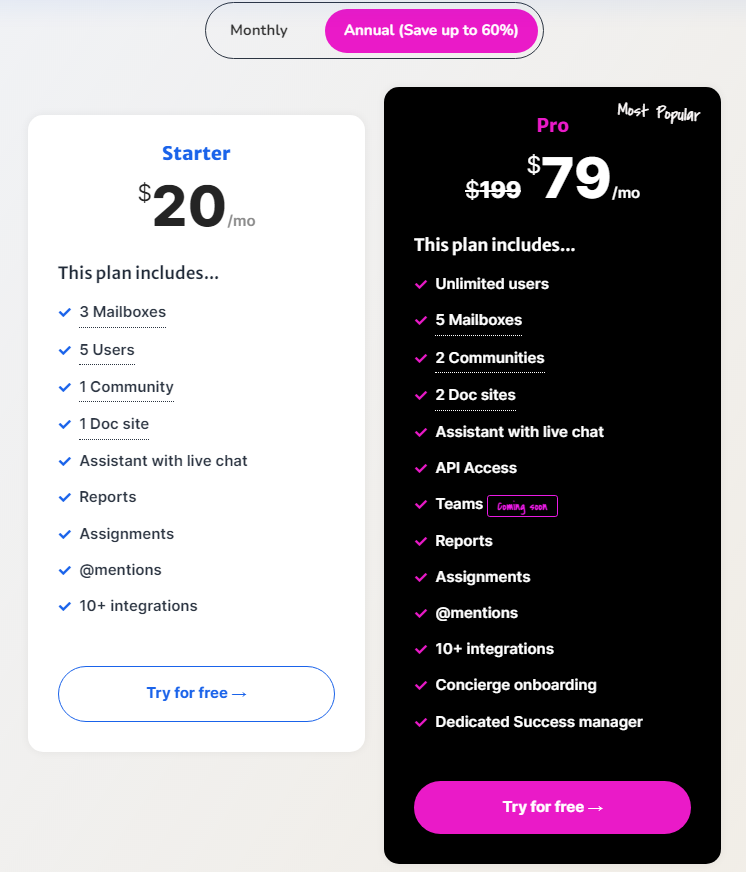 Pricing for add-ons:
Additional user: $15/ month
Additional mailbox: $10/ month
Additional community: $20/ month
Additional doc site: $20/month
Final verdict
Clearly, real-time support is the real deal for every business. But with time, the market is getting saturated and diverse.
It was a hard time for us in shortlisting the best live chat tools from the mess out there that could match the expectations of businesses. Finally, here we are with 13 such tools.
And now, it's time to decide which one of them really stood out. Well, we're considering different aspects to pick our favorite.
So if you already have a handful of chat representatives but are not interested in a robust set of features and chatbots, I think you can pick either Crisp Chat or Smartsupp.
Looking at their pricing and list of features, it's hard to judge though. But in case you're a student, Crisp chat might be the choice of chat software for you as it offers a 50% discount on both plans.
Now, if you're an individual who owns a personal store or merchandise, you can easily go with Jivo chat. Because there shouldn't be any reason to deny the features like a callback, video chat, monitoring, and CRM support at a reasonable price.
Finally, if you're an established startup and have every good reason to expand your support system, Freshdesk can be your best bet then. With a number of features and flexible plans, you'll only run out of excuses.
So I hope you've all the deciding factors by now to choose the best live chat software. Now just don't count on my verdict.
Go ahead, take your time, and try free versions to see what works best for you .