After the COVID-19 pandemic outbreak, the world underwent major transitions to adapt to the quickly changing dynamics of social interaction. One was the inevitable shift to online presence when physical presence was retrained.
This resulted in the surge of online businesses.
Statista reports that by 2025 the global e-commerce revenue will reach up to 7.4 trillion USD. Yes! You read it right. It is a lot.
Hence, it won't be an overstatement if we say that your business cannot reach its optimum in the modern digital world without an online presence.
It is high time you take your business online if you haven't already.
No need to panic if you don't know the nitty-gritty of web store building. There are some great e-commerce tools that you can use to do all the hard work of setting up a digital store for you.
BigCommerce, Shopify, and Volusion were the top three e-commerce website tools. These tools are the most convenient and effective means to build or enhance your business's online presence.
But which tool to pick amongst them can be a tricky business. To make it easier, we tested some popular website-building tools to bring you the best.
It would help to consider numerous factors when picking the right tool for your business web store. These include the nature of your operations, the target market, the scale you're operating at, and the options plus user-friendliness of the tool itself.
Sounds hectic, no? Well, that's what we're here for. We've done the research!
All you have to do is sit back, go through this extensive yet brief piece, and decide.
BigCommerce Vs. Shopify Vs. Volusion; which is a better e-commerce tool to develop an online store?
Let's take this step-by-step. We will be listing the pros and cons, key features, and pricing plans for each tool to help you decide the one best tailored for your needs.
What Is BigCommerce?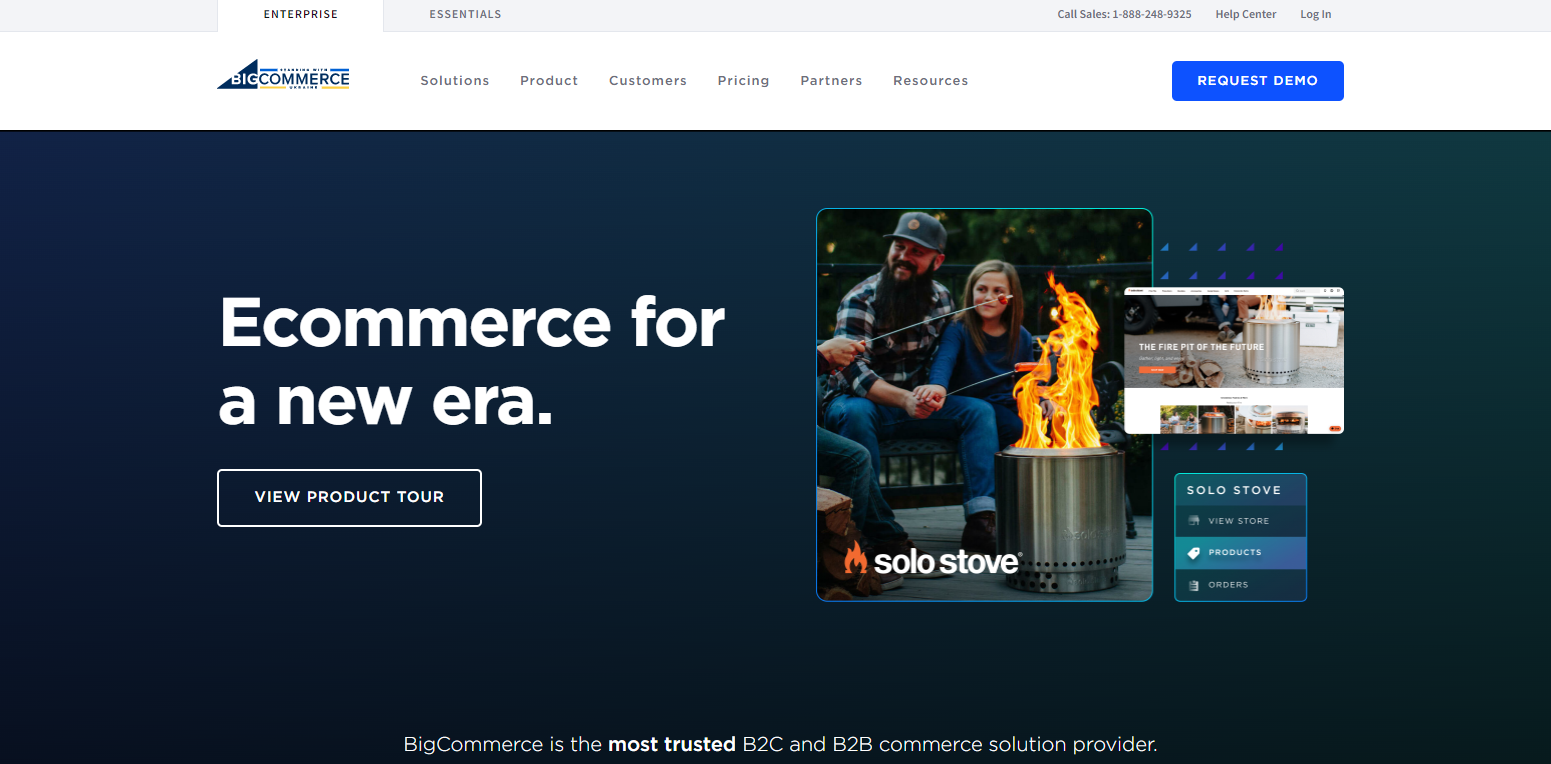 BigCommerce is the leading cloud-based e-commerce tool that provides its clients with SaaS (software as a service) services. You don't need to be all techie to use this tool.
Its user-friendly interface lets you create an online store with little effort and time. Big Commerce's most significant selling point is its all-in-one solution-oriented approach.
Be it your store setup, inventory tracking, order monitoring, customer handling, and other marketing-related actions, BigCommerce assists you through every step.
BigCommerce opens up the vast prospect of growth for your business with its innovative and user-friendly design tools; you can give your customers the best shopping experience on your website and keep them coming again and again. It also provides the security to preserve the customer's privacy and maintain your store's integrity.
It's a big plus if you know a thing or two about coding; you can use it to modify the CSS/HTML of your website and customize it as per your liking.
Are you also wondering which businesses are best suited to use BigCommerce as a setup tool?
Well, let's get to that now!
Who is the major client base for BigCommerce?
BigCommerce is full of exciting features and numerous functions that are advantageous if you know the basics or have previously used such e-commerce tools.
For newbies who are just getting started with their store setup, it might come as a hassle as you would be required to learn the technicalities of the tool.
This is an ideal tool for you if you're looking for:
Multiple optimization features such as unique URLs and the addition of micro-data
Supporting the enhancement of product listing with the addition of multiple variations
Readily available sales features
All-in-all, BigCommerce is ideal for users who've used e-commerce tools before and are more focused on enhancing website listings rather than store setups and feature additions.
What is Shopify?
Shopify is another tremendous cloud-based e-commerce tool to get your business store going from the ground up. A cloud-based feature means you can access your store from anywhere and on any device with a stable internet connection. Just imagine how this enhances the possibility for business developers to sell globally.
The wide range of merchants already using the service makes Shopify one of the best tools in the e-commerce industry. With a staggering presence in around 175 countries, Shopify does not only add a layer of trust to your business but has learned through various business booms to guide you through the optimal practices for your storefront and backend design.
Shopify, while managing its high level of service, offers various plans according to the nature and size of your business store. Its core product is standard across these plans.
This covers all the templates you need to integrate your store with the brand feel and colors you're targeting, the various add-ons required to list the products, set up different payment gateways, develop a cart system, and optimize the check-out process. You're also sorted here if you're looking to rank your store on Google organically.
Shopify provides up-to-date SEO tools to optimize your website.
For additional services, you can access both Shopify's add-on tools alongside the third-party servers designed specifically to customize your storefront. The other tools can be used for many purposes, including enhancing payment gateways and broader access to cater to your capital requirements.
Well, that's that for the significant introduction of Shopify. Let's examine which businesses are most suited to use the company's service to optimize their online business store.
Who is the major client base for Shopify?
As Shopify offers a wide range of services across the different plans available for each business type, it becomes a suitable tool for all entrepreneurs looking to conduct a significant part of their operations online.
The company has grown through its experience of catering to various global merchants. This makes the operations and set-up tools extremely accessible and equally suitable for professionals and those setting up their online presence for the first time.
However, you won't be able to access Shopify's plans if you're setting up a store to provide investment services, digital wallets, gambling services, or phone and travel plans. The company also has ethical bindings and doesn't allow setting up websites providing adult content or products.
All-in-all, if you're looking for a tool that makes it easy to set up and customize your first-ever business website, Shopify becomes your go-to option!
What is Volusion?
The final tool I've selected for comparison is Volusion. With a massive presence spanning over 20 years, and an elite customer base of over 40,000 storefronts, Volusion makes a strong case for its offerings on this list. Being another cloud-based software, Volusion allows you to access and edit your store setting from any device with a reasonable internet connection.
The company provides various plans for you to choose from according to your store's exact requirements and scale size. Their major offerings range from setting up your storefront's design to providing access to free and paid templates. The paid template design allows you to search for your exact brand theme and thus provide your customers with the most personalized shopping experience online.
Any online business manager's three most hideous tasks are setting up payment gateways, tracking the orders and inventory levels, and optimizing the cart checkout processes.
Well, with Volusion, all this is accessible via a single click. Volusion has partnered with over 50 gateways to make your web store the most user-friendly on both the front and back end.
The company does not trust a lot of third-party servers due to high SSLA requirements. However, some listed add-ons can be used to optimize and further enhance major features such as cart tracking and payment setups for your online store.
Volusion also allows you as a user to modify various HTML files, making it a coding-friendly option for your store.
Who is the major client base for Volusion?
We certainly found Volusion a great e-commerce tool for beginners and professionals. Its wide range of services regarding payment gateways and online security protocols ensures that your store is a safe site to visit for every customer.
Furthermore, the advanced plans are also suitable for those interested in customizing their front ends while availing of all the primary offerings. The company's unique store builder is its main selling feature, making the entire set-up process extremely convenient.
All-in-all if you're looking for:
The most reasonably priced plans
An easy-to-access business tool
Integrating a large number of payment gateways while protecting the customers' data
Volusion is a perfect e-commerce tool for your online business!
Which E-Commerce Tool offers the best features for your online store?
Each of these three tools has an extensive set of users and thus provides various services to ensure your store is as user-friendly and well-functioning as possible. You want a more detailed comparison before you make a final call.
So let's list down some of the major features you'd be looking for in an e-commerce tool and compare the three options based on them.
Web Design
Several features impact your web design. Let's take templates as an example. With over 280 free and premium themes and templates, Shopify takes the biggest piece of the cake in this regard.
All these templates come with appealing colors and designs. You can easily customize the overall look to implement your existing brand theme in the store.

BigCommerce, on the other hand, has less than 60 templates, most of which are paid. However, you can search store themes to match with ones that suit your preferences the best.
Volusion has 28 free and 88 premium, colorful, and well-designed templates.
Integrated Sales
In the modern digital era, both medium and large-scale businesses are relying on multiple channels to cater to various customers.
Well, how cool would it be if your e-commerce tool could integrate the sales made through your store and across other online and physical channels?
These platforms include:
Marketplaces
Physical Stores
Shopify and BigCommerce take a minor lead in social media integrations. While Shopify is fully integrated with sales and payments made via Facebook, BigCommerce supports the features via Twitter and Pinterest platforms.
Volusion wins the race regarding marketplaces accommodating a fully integrated sales and payment channel via Amazon.
For offline sales, Volusion does not allow integration with third-party servers.
In contrast, BigCommerce integrates with Square to help the users register an account that accepts various debit and credit cards, and Shopify relies on its features for this purpose.
The hardware is available at an additional cost.
Usability
Although all three tools are functionally elegant, Shopify is the easiest to set up for beginners. It has a clean and simple dashboard that helps you customize and set up the store with a matter of clicks.
You don't need any technical knowledge of coding or HTML processes in this regard.
BigCommerce and Volusion also have neat dashboards.
However, customization and coding processes are harder with BigCommerce and Volusion. This makes them slightly challenging to process for users setting up their first stores. Both BigCommerce and Volusion provide short guides and video tutorials to help the users through the setup process.
Payment Processes
Online and brick-and-mortar stores require specific technologies to accept payments via cards and bank accounts. These technologies are professionally termed as payment gateways.
The greater number of gateways a particular company supports, the more fluent and efficient the payment process is in the store.
Shopify helps your store accommodate over 100 secure gateways.
BigCommerce integrates 40 such partners, whereas Volusion allows for 34 gateways. Shopify and BigCommerce have also developed long-term partnerships with PayPal enabling the stores to get better rates on monetary transactions.
Data Security
Online e-commerce tools rely on various server networks to pace up the delivery of their stores. One such network is the content delivery network that deploys servers in multiple locations to help load and display the online content.
Shopify deploys this resource and thus has a very paced and secure network.
Moreover, it is also certified on PCI level 1 and thoroughly verified by PCI DSS. Volusion also relies on the same CDNs and is also PCI-verified. BigCommerce has its servers; it does not rely on content delivery networks. It is certified on PCI level 1 but has not received any verification from the DSS setup.
Pricing Plans
So far, we're guessing you have decided which tool you will invest in for your business.
But let us not hurry. You don't want to drain your bank account every month without weighing the value these fantastic tools provide against how much they cost.
BigCommerce and Volusion provide you with four different pricing plans, whereas Shopify comes with five pricing plans.
BigCommerce and Shopify pricing plans are almost the same, with Shopify's all three pricing plans costing 0.95 USD less than BigCommerce.
Shopify's basic plan starts from 29 USD/ month and reaches up to 299 USD/month for the advanced plan.
Volusion, on the other hand, offers a basic plan at 35 USD/ month and levels up with Shopify on professional and business plans.
BigCommerce Pricing Plan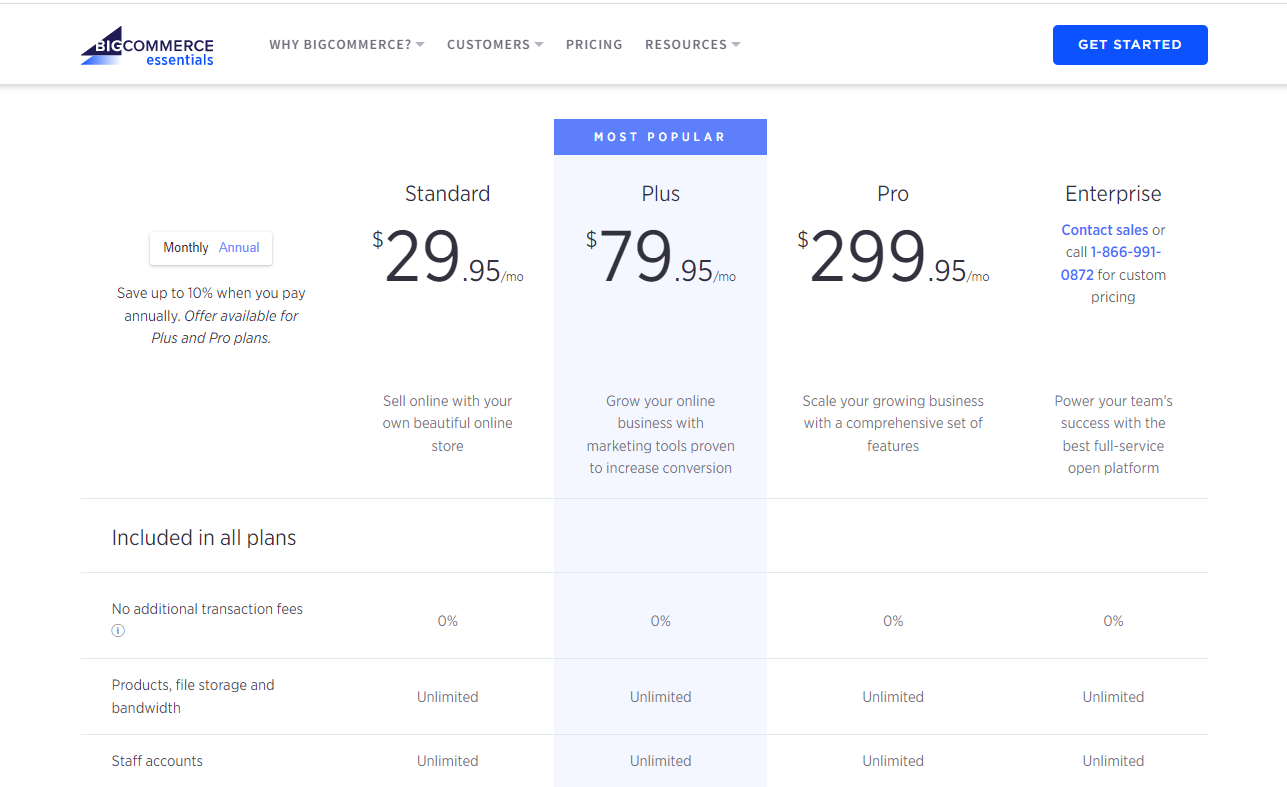 BigCommerce's most popular plan is BigCommerce Plus, which costs 79.95 USD/ month. However, buying an annual subscription can save up to 10% on Plus and Pro plans. You can try a 15-day free trial to find out the best plan for your business.
With the BigCommerce Plus plan, you reap all the benefits of a standard plan along with the customer segmentation for a differentiated experience on your website.
Along with automatic email reminders to customers about abandoned carts, easy switch between different devices for customers without losing them losing their data, and an option of saving the billing and shipping info for future purchases.
BigCommerce Pro offers the following additional features:
Finally, the BigCommerce enterprise distinguishes itself by providing the following additional features:
Multiple storefronts using a single account
Price Lists
Unlimited API Calls
Get started with BigCommerce →
Shopify Pricing Plan
The most lucrative factor to consider when buying any Shopify plan is that you can save up to 50% on Shopify plans if you purchase an annual subscription instead of a monthly one.
Just like BigCommerce, Shopify also lets you enjoy a 14-day free trial (that too without the credit card). Shopify pricing plans are more or less similar to BigCommerce, with an addition of a starter pack that starts at 5 USD/ month.
This plan is meant for those who are just beginning their online business and want a platform to kickstart. Using this starting plan, you can sell your products on existing websites, messaging, and social media apps like Facebook, Instagram, etc.
If you want more freedom and creativity, consider Shopify standard or advanced plans. With Shopify's advanced plan, you get:
15 staff accounts
Up to 8 inventory locations
Custom report builder
Shopify's advanced plan is followed by Shopify Plus, designed for large enterprises and big businesses.
Volusion Pricing Plan
Volusion brings forth its four pricing plans neck and neck with BigCommerce and Shopify. It is starting from a personal plan and scaling up to a prime.
Volusion's personal plan is ideal for small-scale businesses or start-ups. If you are working on a larger scale, then Volusion Business or Prime plan is for you. Volusion Business plan features:
15 staff accounts
Unlimited product selling
API access + Batch Order Processing
Premium support
Volusion prime plan additionally provides:
Unlimited staff accounts
$400k+ annual GMV
VIP support provision
Custom platform transaction fees
BigCommerce Vs. Shopify Vs. Volusion, Which Tool Is More Beneficial For You?
Benefits Of BigCommerce
Its user-friendly interface makes it easy to operate. You can play around with myriads of features and create the perfect online store without falling into the pit of complexities
It can be linked with a Syncee account to access a large number of suppliers
It accepts payments in over 100 currencies, offering a great exchange rate
Benefits Of Shopify
Shopify is the easiest tool to help set up your first online tools. Its dashboard is neat, and all designs and themes are available with a single click.
The stores designed via Shopify are mobile-friendly, making them ideal platforms for modern digital consumers
The wide range of themes and templates available on Shopify makes it a perfect match for those excited about the brand feel
Shopify also offers SSL certification to ensure your customers' data is always safe and secure
Benefits Of Volusion
Volusion does not charge any transaction fee, allowing you to retain all profits made on each sale
The company also provides the most reasonable pricing plans for those willing to invest lesser in new business stores
A video guide is included to help you through every step of setting up your own digital business
BigCommerce Pros And Cons
Pros of BigCommerce
Hosts number of built-in sales features
Offers in-built SEO optimization features to enhance organic traffic
Absolutely no transaction fee
Provides unlimited product variation
Offers unlimited staff accounts
Cons of BigCommerce
Need for a third party for email marketing
Lack of multilingual options
Only 7 themes are for free
Shopify Pros And Cons
Pros of Shopify
Provides industry-specific storefront themes
A user-friendly dashboard makes website management easy
No extra payment is required for server maintenance
Cons of Shopify
Unlike BigCommerce, Shopify charges a transaction fee if you use payment methods other than Shopify payments.
Limited customization unless you have the knowledge of coding
Restricts your ability to shift to another tool
Volusion Pros And Cons
Pros of Volusion
Extensive customer support with numerous integrated support features
Strong security against credit card fraud
Availability of mobile application
Efficient and quick customer support
Cons of Volusion
Lack of built-in blog feature
Do not support the selling of digital products
SSL is not free
Final Thoughts
Shopify is best for the new players in the online business marketplace, especially those who want to jumpstart their business without investing a lot.
Bigcommerce, on the contrary, is a tool that provides end-to-end solutions for both start-ups and well-established companies with great freedom of customization and creativity.
Volusion is an efficient tool providing great plans for data-driven business stores.
There's no specific answer as to which e-commerce tool is the best. All three tools target particular customers based on their store size, design requirements, product range, and nature of operations.
We recommend starting with Shopify simply because its ecosystem is very well established. However, if you don't find it suitable for your business, BigCommerce, and Volusion are both terrific alternatives.