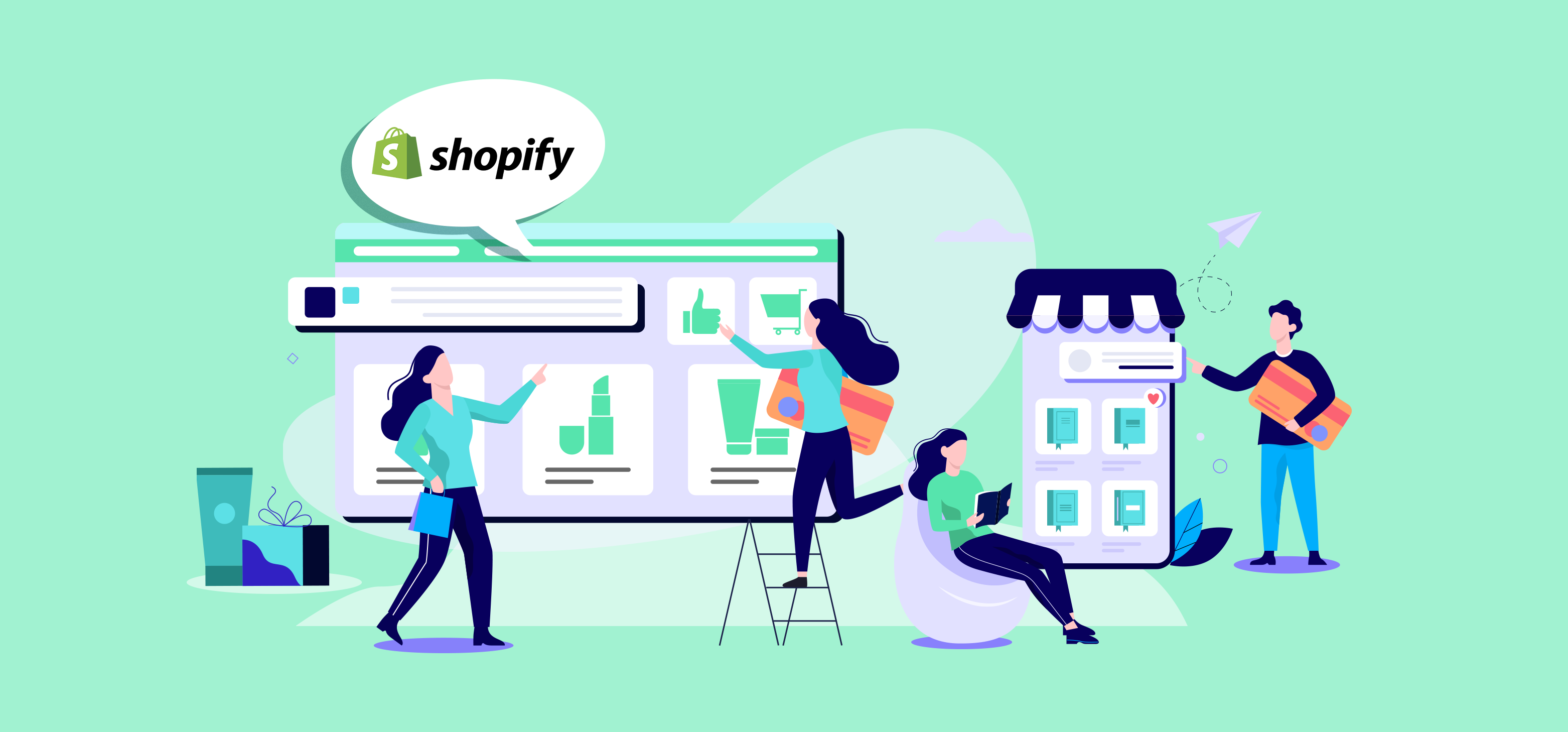 Shopify is the go-to e-commerce platform to start and grow your business by setting up an online store and selling products online.
However, with increasing demand from customers to receive well-customized products, Shopify has introduced several custom product apps.
These apps let product sellers customize their products and give a highly personalized experience to their customers.
So, what are the best Shopify applications with custom product options?
Let's find it!
Zakeke product customizer is our recommended app for custom product options.
Zakeke gives customers a user-friendly interface to make the most out of their online shopping.
It allows customers to customize any product according to their needs and requirements and visualize how it will look before purchasing it.
It provides several amazing features, including text and image customization that lets customers change the font, colors, dimensions, and text of the product images.
Its 3D and AR view lets the customers personalize the item via AR and see a live realistic model of the product that they are going to buy.
Along with this, with the help of product configurator, customers can also create their own product versions by changing elements, choosing components, as well as customizing materials, and colors.
All of these features make the Zakeke product customizer a perfect app for custom product options so that you never have to bear the angry customers complaining about the product.
Key Features
It allows workflow automation by integrating with the services of Zapier, WebHooks, Order Desk, Invition, Printful, CustomCat, etc.
Image Uploader lets customers upload their own images or choose from pre-made or pre-selected catalogs.
It allows 'PageFly integration' with which you can connect your e-commerce stores to Zakeke without misplacing layouts, settings, formats, etc.
Request a quote sending option for customers to send requests to the product seller containing all the necessary information.
Live pricing displays the exact price of the product to the customers based on their personalization type.
Pricing
It has four main pricing plans: 
Starter Pricing Plan is $8.99 per month with upto three customizable products and 10 GB of storage. It is highly suitable for the new or to-be-launched stores which aim to start offering customized products.
Advanced Pricing Plan is monthly $14.99. Compared to the starter plan, it has a maximum of 25 customizable products, 20GB of storage, extra Pro features, Zakeke logo removal option, add-ons, AR, and Realtime 3D.
Unlimited Pricing Plan costs monthly $39.99. It gives unlimited, customizable products, and storage, real-time 3D-AR, 3D Configurator, three suitable 3D materials, Zakeke logo removal option, free add-ons.
Configurator Pricing Plan is currently priced at $199.99. Its specialties include 3D Configurator, Realtime 3D-AR, Zakeke logo removal option, free add-ons, and most importantly, unlimited applicable 3D materials, customizable products, and storage.
Free Trial: 14-days.
Qstomizer is another great application for Shopify store owners to sell their products that the customers can personalize by adding and changing their own colors, messages, clipart displays, and TTF text styles.
With this app, you can add custom product designers for your multiple products including t-shirts, hoodies, stickers, business cards, and many other.
The outstanding feature of this application is the automatic filters in the images uploaded by the customer. Shopify store owners can also set custom pricing for their products based on text or image size, shape, and color with Qstomizer.
Furthermore, the app creates pre-made design templates that clients can easily use. At times, when clients are not ready with the ideas for their designs, these templates come very handy for them.
Key Features
Live Preview options allow customers to view products before buying.
It is completely responsive on any device, be it PCs, laptops, tablets, Android, or IOS mobiles, etc.
Create and store modifiable, pre-installed and ready-to-use product templates for customers.
Automated Image Filtering for creating black, white, or colorized effects.
Set a minimum pixel resolution to avoid blurry images.
Multi language translation tools.
Pricing
Qstomizer has three main pricing plans:
Basic Plan ($9.99/month) has unlimited customizations, 10 customizable products, 20 monthly paid orders, 1GB of space for customer images, no transaction charges, and the Qstomizer logo.
Advanced Plan ($19.99/month) also allows unlimited customizations and no transaction charges, along with 20 customizable products, 50 monthly paid orders, 2GB of space for customer images, and a removable Qstomizer logo.
Professional Plan ($29.99/month) also includes unlimited customizations, no transaction charges, and removable Qstomizer logo, along with unlimited products, orders, and space for customer images.
Free Trial: 7-days.
Product Personalizer by Zepto is an excellent product customizer application that allows store owners to add endless customization and options to their products.
It is best for those businesses that want to give tailor-made products to their customers and not the readily designed ones.
The tool can set up an in-line pop-up window, personalized buttons, and product form direct fields for unlimited product customization for customers. I
t allows them to choose only those products they want and customize them according to their preferences using the above options.
Another amazing feature of Product Personalizer by Zepto is that it supports the live preview feature. Using this feature, customers can visualize the product before buying it so that the final product is upto their expectations.
Key Features
Limitless product customization.
The conditional logic builder lets customers build complicated products.
Translation of text elements into multi-languages.
Set the price of every product and add an extra cost per personalization.
Saving customized texts and images and displaying them in the checkout cart.
Mass uploads are used to manage large product volumes and save time.
Add custom CSS to match the theme and brand.
Pricing
It has four main pricing plans:
Starter Plan ($9.99/month) gives a maximum of 49 personalized products, unlimited color swatches, checkboxes, image uploads, list options, and text areas or text inputs.
Starter Plus Plan ($14.99/month) gives a maximum of 99 personalized products, all essential features required for product personalization, conditional logic for hiding or showing customization options. It does, however, require additional fees for customizing options.
Moderate Plan ($19.99/month) gives a maximum of 299 personalized products, inventory control, and all the required features for product personalization.
Unlimited Plan ($29.99/month) gives unlimited personalized products and has all the required features for product personalization.
Free Trial: 15-days.
The product customizer app by Artistry is a fantastic application to sell customizable products and give your customers a live preview of their personalized items before they purchase them.
The tool lets customers customize items easily as per their needs; saves them money and time, and makes sure the product is up to their expectations.
Its visual product editor offers personalized products to customers, including their chosen images, custom text, color palettes, and more.
Other than this, its user-friendly interface is fully compatible with screens of all sizes, thereby helping you get more sales for your desktop as well as mobile users.
Overall, the application makes custom orders easier, boosts revenue, and gains customer trust in no time by showing the distinctiveness of their product before they check out.
Key Features
Live product preview options.
Easy to customize orders and download them.
Provides numerous attractive Quickstart templates.
User-friendly admin dashboards.
Pricing
It has three main pricing plans:
Small Plan of monthly $9.99 gives 10 Templates, 200 monthly custom orders, and all the above-listed features of the Product Customizer.
Medium Plan of monthly $29.99 includes 100 templates, 400 monthly custom orders, and all the Product Customizer features.
Large Plan is monthly $99 and gives 500 templates, 800 monthly custom orders, and all the Product Customizer features.
Free Trial: 30-days.
This application gives customers the liberty to design anything on any product and personalize them with the full professional support team.
It allows store owners to add a separate process for the resultant customized product based on its size, shape, pixels, and color.
With the help of the app backend section, owners can select the products that the customers can customize alongside the customized price for each product.
Within the application, you can also allocate additional price for the product as and when your customer acts, the clients can buy the product with the mentioned custom price right there in the app.
You can also save the customized design for the product which a customer can edit if needed.
Key Features
Customize product text, logo, image, monograms, quotes, etc.
Set up backend design template for any product.
Set up a custom font.
Download the SVG file of the customer's design details.
Change product color in the design panel.
Select to-be-personalized products from the app's backend section.
Pricing
It has two main pricing plans:
Premium Plan ($13.99/month).
Gold Plan ($29.99/month).
Free Trial: 10-days.
InkyBay is another great product customization application that lets visiting customers create and visualize their desired products by selecting and changing elements like text, graphics, colors, styles, etc.
It has unlimited customization options for business products, personalized and/or promotional items, apparel, etc.
The app offers advanced inventory choices and quantity discount features with it. So, now you don't require any third-party applications for the quality choices and quantity discounts.
The software is supportive of all types of printing methods, including screen-print, DTG, sublimation, etc. Thus, Inkybay is an all-in-one product customization tool that helps print shops boost their sales and save time and money.
Key Features
Real-time product visualization.
Extensive font library and clipart.
Advanced inventory choice, quantity choices, and discount.
Easy installation and configuration.
HTM5 designer tool.
Dedicated customer support team.
Pricing
InkyBay has four pricing plans with 0% commissions:
Starter Pricing Plan of monthly $19.99 gives 5GB of storage space, 10 custom products, a monthly 30 custom order, up to 2 print sides, a quantity discount, and ticket or email support.
Advance Plan of monthly $49.99 gives 20GB of storage space, 100 custom products, a monthly 200 custom order, up to 4 print sides, a quantity discount, design ideas, product options, and live support.
Professional Plan of monthly $99.99 gives 100GB of storage; a monthly 2000 product order, unlimited print sides, a quantity discount, design ideas, product options, white-label, and live support.
Unlimited Plan of $249.99 has got all the professional features, along with unlimited storage and product ordering. It has 36 months of orders available to it. Other than all this, it has free order add-ons like order API and bulk download.
Free Trial: 21-days.
Bold product builder gives the perfect online shopping experience to customers by allowing them the creation of unlimited product options or custom fields.
For instance, customers can create 1000+ variations of the same product using only one Shopify element.
In addition to this, customers can also change the colors, fonts, text background, etc., settings of multiple products before checking out.
It also helps to set conditional logic to show or hide options based on what customers select for easy sales processing.
By using this product customizing tool, users can keep track of their store's inventory and take advantage of the automatic assigning of new product prices, which reduces the workload of the store manager.
Key Features
Customization of already available products.
Build completely new products.
Product images preview in 2D or 3D format.
'Out of Stock' display message when product is not available in the store.
Create a customized form for store owners to collect customer information.
Cross-sell product options by linking to other products.
Pricing
It has two main pricing plans:
Basic Pricing Plan ($19.99/month) has unlimited options, file uploads, save option sets, batch application, full design customization, and all other option types, excluding image and color swatches.
Premium Pricing Plan ($49.99/month) has everything the basic pricing plan does, along with adjustable prices, conditional logic, cart editing options, charging for product upsell with options like gift wrapping, monograms, engraving, etc., and image and color swatches.
Free Trial: 14-days.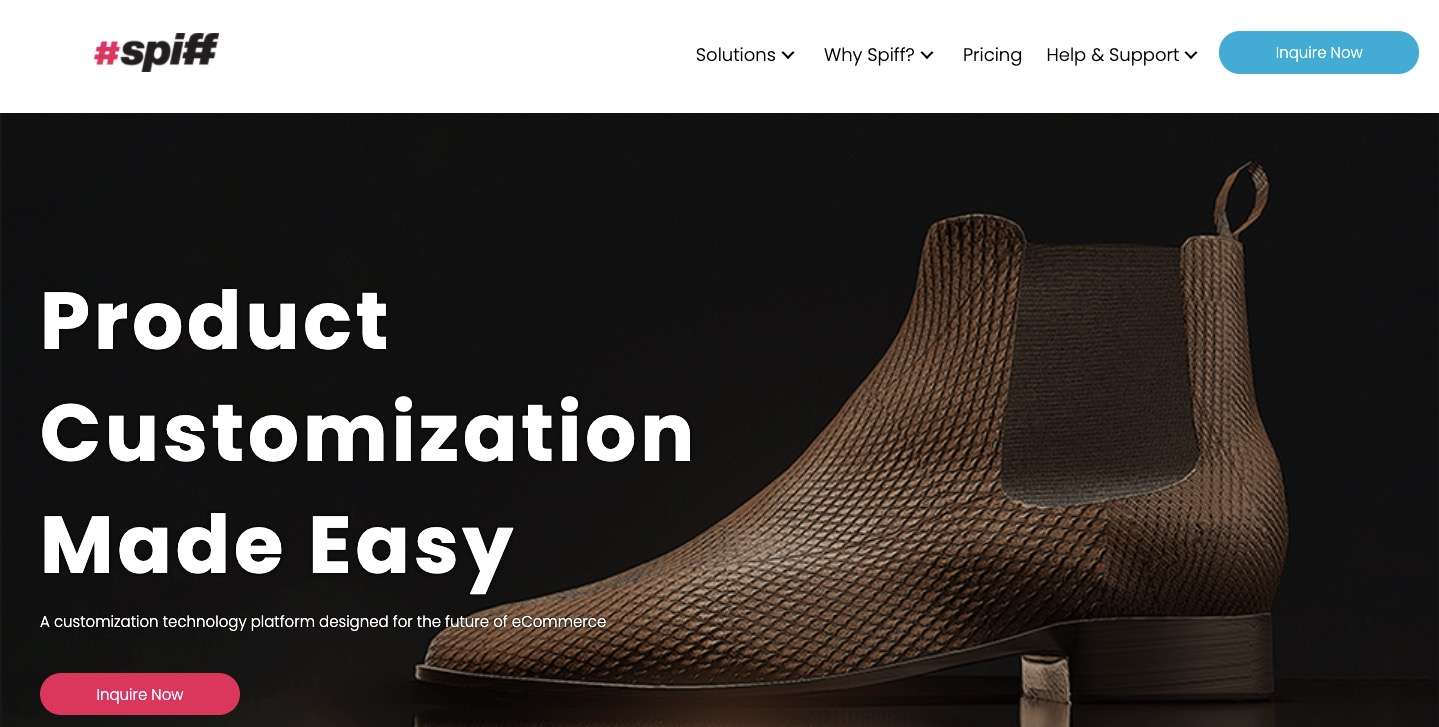 3D Product Customizer by Spiff is a powerful application used by large business enterprises to deliver large in-store campaigns for years.
The Spiff app lets store owners personalize the products in 2D, 3D real-time so that their customers can visualize the product before checking out, thereby reducing the chances of a refund.
Using the Spiff 3D Product customizer, you have complete control over what you showcase to your customers. The software is extremely useful regarding managing and amending the customer experience based on the user's data.
Not only this, the app extends to provide the customers with an Augmented Reality experience. This allows customers to interact with their selected products and customize them in 3D formats.
Key Features
Image uploads.
Turn the logo into a font.
Create backgrounds from an illustration.
AR-experience.
Customizable character builder.
Custom price setup mode.
Pricing
There are three main pricing plans of 3D Product Customizer: starter plan, customizer plan, and an enterprise plan.
Starter Plan of monthly $29.95 includes 50 products, unlimited designs, silver features, step groupings, AR, view orders, and print-ready PDFs.
Customizer Plan of monthly $99 provides unlimited products and designs, gold features, asset repository, personalized AR, advanced order routing, custom pricing, and branded 3D load screen.
Enterprise Plan of monthly $249 permits customizer features, advanced integrations, custom order routing, customer-facing services, order moderation module, imposition, and rule-setting.
Free Trial: 14-days.
Product Options + Testimonials by AAAecommerce is a must-have application for store owners to create an easy-to-use, effective and inexpensive e-commerce store.
The software offers administrative features for product option fields, testimonial forms, and custom pop-up forms.
The drag and drop builder for Product Options+ Testimonials requires no technical or programming expertise. All you need to do is to use your imagination and within a few clicks you can setup your e-commerce store easily.
Furthermore, the tool allows store owners to build additional option fields on product pages so that customers can fill in the fields easel.ly.
In addition to this, it also has the option to create testimonial forms, which are an amazing way of displaying customer faith in the product.
Key Features
It is a 3 in 1 app with three main features:
Product Options Field Features:
Creates limitless extra product fields.
Customers can fill in different fields on the product details page like text, textarea, text display, date, checkbox, dropdown, yes/no, multi-selection, radio button, file upload, etc.
Construct multiple forms and specify the product tag or collection where the form is supposed to show.
Displaying different fields for separate products.
Testimonial Form Features:
Create testimonial grids and sliders with a submission form.
Add testimonials manually to show customers.
Gather testimonials from customers via the frontend form and show, hide or put them in the shop.
Photo uploads feature to use original photos from customers.
 Custom Popup Form Features:
Easy-to-add custom pop-up features with a few clicks.
Use a form builder to create pop-up fields.
Select from pre-designed pop-up templates.
Add, hide, or remove pop-ups at any time.
Code-free drag-and-drop options.
Completely responsive for PC and mobile pop-ups.
Pricing
It's pricing starts at a monthly charge of $9.
Free trial: 30-days.
Packaging and supplies by Arcs allow businesses to have eco-friendly packaging options at a low cost.
Its free online design tools let shop owners customize the packaging of their products that suits their brand image.
All you have to do is choose the type of box you want, select its size and quantity, and then focus on its branding with your company's logo, message, and colors.
After design selection, you can receive your branded boxes in 10 days.
You can select as little as 10 boxes to start with the software. The app also enables third party integrations including Amazon, Kickstarter, BigCommerce, etc.
In total, an app is an excellent tool for Shopify store owners expecting fast delivery options and ease of digital printing.
Key Features
Easy online design packaging options.
Selection of eco-friendly materials to make boxes.
Shop owners can order up to 10 boxes.
Unbranded boxes are available as well.
Speedy delivery of product orders.
Pricing
This application by Arka is entirely free to install. However, the charges vary based on package volume and specification.
Live preview options by Webyze, as the name suggests, offer limitless product-customizable options to the customers and display a live preview of the final product directly on the store.
It contains live preview image configuration, which gets auto-updated when customers change selections, thus helping you get more conversions and sales.
With the help of conditional logic, this product customization tool lets shop owners show or hide options based on early selections.
Additionally, it has got optional fields like color and image swatches, one-line and multiline text inputs, dropdown menus, checkboxes, HTML-supported custom instructions, file/image upload fields, and image selector, etc.
The app allows instant auto-installation.
You do not require any coding knowledge to access the app and establish your e-commerce store.
The price increase feature of the app allows store owners to increase or decrease the price of the products depending on the selected item.
Key Features
Instant code-free auto-installation, which updates previews.
Allows color changes, element additions, and customizable text.
Price increase feature to raise or reduce the product's cost.
Video tutorials.
The highly compatible app embeds.
Pricing
Pricing depends on the Shopify plan the user has:
Basic Shopify Plan ($9/month)
Shopify Plan ($14/month)
Advanced Shopify Plan ($23/month).
Shopify Plus Plan ($35/month)
Free Trial: 7-days.
Custom Product builder by Buildateam is an excellent tool that provides an unlimited number of interactive and convenient product preview options, variants, and personalized options to the customers.
With this app, the customers can get 3D imaging options to view the product from every dimension. The product configuration stores transparent PNG layers for creating a full-photorealistic product preview.
The tool allows overlying the areas on the product with up-loadable images, texts, logos, artworks, and monograms. It combines the functionality of product personalization and product customization to give users the best e-commerce experience.
Key Features
Add custom CSS and JS to match the theme and create a new look for your e-commerce store.
Mobile-optimized.
Unlimited price variants and multiple cart product previews.
Color thumbnails
Interactive printable area.
Text engraving for wholesale.
Pricing
It has four pricing plans:
Product Options plan ($7.99/month) provides all the available custom options, unlimited products, tabs, formulas, logic, price change, and set up a call or free demo.
Product Builder Plan ($15/month) has everything offered by the product options plan along with a live preview, file Uploader, SKU generation, bundle builder, size, or quantity breakdown.
Live Customizer Plan ($40/month) also has everything offered by the product options plan, along with printable areas, text layers, bundle builder mode, remove.bg integration, and custom coloring layers.
Pro Plan ($40/month) is the full-version Plan with special wholesale orders, inventory management, and a high-resolution export of a minimum of 4999px.
Free Trial: 30-days.
SKYOU is a productive tool for creating customizable programs to import products online or retail stores without difficulty. The app helps you in customizing programs for popular brands like Reebok, Nike etc.
Once it receives an order, it starts manufacturing the product to ship it to the customer quickly.
With the help of this application, the user can print at any given location. SKYYOU also provides 3D design-based browsers with the help of which buyers can view their selected product in any dimension.
Overall, the app provides you with a fully operational e-commerce store focused specifically on your customers and that too, at zero cost.
Key Features
Develop, design, and publish a wide range of clothing and accessories for your e-commerce store.
Cost-free printing.
Receive orders and ship them to customers with auto-tracking
Setting product prices based on design, material, or printed area.
3D design browsers to view products in many dimensions.
Auto-language translation.
Measuring unit changes for overseas shipping.
Pricing
SKYOU, just like Arka Packaging & Supplies, is entirely free for installation.
Infinite options by ShopPad providers your buyers' unlimited product choices to personalize using texts, swatches, checkboxes, numbers, schedules, dropdown menus, etc.
Your customers can customize any item in your e-commerce store in as many ways as they want.
It boosts the sales rate of the e-commerce store by increasing their average order and lets customers utilize customized swatches for custom printing, monogramming, and other engraving products.
Other than this, the product bundling functionality allows you to add extra service charges or add-ons to the products.
You can set all the fields of your product as optional and along with that, you can also control your store placeholder and default values, making it convenient for both you and your customers to customize the product.
Key Features
Change the default values and placeholders.
Set the required or optional fields.
Create multi-selection checkboxes and dropdown menus
Build date-pickers and calendars
Set maximum and minimum values in numeric fields.
Pricing
It has only one pricing plan, the Professional Plan, which gives unlimited options, POS Support, Swatches, Conditional Logic, Product Bundles, and all the input text, checkboxes, radio buttons, dropdowns, etc.
Free Trial: 14-days.
Product Customizer by Customify empowers the customers to customize their products and visualize the final product before placing an order. Customers can easily add text, custom fonts, and images to any product.
Since your customers are located in different countries, the app offers them a translator tool to translate into their desired mother tongue.
Other than this, the app allows customers to upload unlimited images.
It also lets them save their customized items so that they can look back at it later before deciding to purchase it. Customers can also display live previews of the items to see how the final products look like.
Additionally, the app allows the users to customize the look and feel of the application as per your choice. It is completely responsive when working on Android, iOS, laptops, tablets, smartphones, etc.
Multiple high-quality servers give good performance for handling high-traffic sites.
Key Features
Live product preview.
Customers can upload multiple images.
Translator tools.
Optional extra cost-settings option.
Pricing
Its pricing plans include:
Free Plan gives standard features, 7 custom products, 10 monthly paid custom orders, and 256MB of file storage.
Basic Plan ($15/month) offers basic features, 300 custom products, 700 monthly paid custom orders, 5GB of file storage, and email standard support.
Professional Plan ($30/month) includes professional features, 600 custom products, 1200 monthly paid custom orders, 15GB of file storage, and phone & email standard support.
Ultimate Plan ($50/month) allows advanced features, API, 1000 Custom Products, 2000 monthly paid custom orders, 50GB of file storage, and phone & email priority support.
Free Trial: 14-days.
Conclusion
All the Shopify custom product apps mentioned above have their own specialties and features.
Based on your store needs, budget, and customer wants, you can pick the one that fits the best.
The best part… each of these apps offers a free trial which you can use to explore the apps further.