New to Selling stuff online?
It's no denying that selling goods online is one of the topmost activities on the internet.
And there's a good reason to raise your eyebrows because eCommerce revenues are estimated to grow past 6.5 trillion USD by the next year.
Imagine being a part of a trillion-dollar economy!
In the world of WFH, it's exciting to kickstart your eCommerce business right from the comfort of your home.
And as you're here, I hope you might have come up with your business ideas in one of these choices – selling handmade items, dropshipping, affiliate business, kitting, wholesale product sourcing, Amazon's FBA, online education, freelance services, etc.
Now deciding to turn your passions into a business doesn't take much effort, right!
But what about deciding to pick from the best eCommerce tools?
Sitting on the fence while selecting from a dozen eCommerce tools wouldn't be a profitable affair for your business. Let me make it a bit easier for you.
Shopify and Webflow are undeniably two of the best eCommerce platforms and can work with any type of online business.
Now c'mon, it's your job to choose one of them that fits snugly with your business idea!
Keep reading this head-to-head comparison between the two and help yourself decide.
What is Shopify?
Shopify is one of the best and market-leading eCommerce builder tools. It was founded by Daniel Weinand, Tobias Lutke, and Scott Lake in the year 2004 with an idea to develop a web store without investing much in coding and designs.
Shopify is easier to get started with your eCommerce business with the help of niche-specific templates and plugins. It also features an in-built app store to help you integrate advanced product or marketing features into your web store.
Shopify has a great advantage of the Point of Sale (POS) system where your customers can find your products not just on your site but in physical or pop-up stores as well.
Though Shopify doesn't have readily available drag-and-drop features, it does let you use its apps to bring forth any modifications. Moreover, you can also make some changes on the coding level unless you're a developer or get a helping hand.
At the time of writing, the number of Shopify-powered live projects is 3,762, 214 and the number of system subscribers worldwide is 5,135,372.
What is Webflow?
Webflow is a design-specific website builder that was created with the idea of making the visual toolbox customizable. The company was founded by Sergie Magdalin, Vlad Magdalin, and Bryant Chou in the year 2012.
Webflow packs in a huge library of templates and integration features without the need to pay for extra apps. And for starters, Webflow makes a great budget-friendly website builder tool.
And if you're a single niche business, Webflow is second to none.
Though the company also focuses on professional web designers that can help the business with more advanced customizations and 3D animations. So if you're a beginner without any knowledge in HTML/ CSS, you can still customize its templates as long as you don't need to dig deeper.
Moreover, you can also use Webflow as your personal blogging or non-commercial site and yet monetize on it.
At the time of writing, the number of Webflow-powered live projects is 278,430 and the number of system subscribers worldwide is 391755 .
Which one makes a better eCommerce platform?
When it comes to managing small or mid-sized online stores, Webflow makes a better eCommerce platform. It's easy to customize the page using Webflow's native website builder tools.
For example, integrating a shopping cart into your project where you can customize the web store and keep accountability of your product stock easily with the inventory management.
Here, you can enrich the product listings with the CMS and make sure that each product is inventory tracked and available for placing orders on the live website.
You can also change the interactions on the web-store where the end-users encounter messages like "out of stock" or "add a valid number of products". In case, you may set the estimated availability or offers to keep them interested.
Besides, it helps you set promotions, coupons, and payment parameters such as shipping charges, taxes, exchanges, or returns.
You can choose from many eCommerce designs depending on your product type. You can even create engaging navigation and product visualizations by integrating with tools like Aftereffects or vector animations. After all, creative visuals add to the customer experience and popularity of the site.
For example, customizing your site using holidays or festival-themed designs is a great way to engage the audience throughout the season with a likelihood of spending more time surfing.
Now, if you're talking about hypermarkets or large-scale eCommerce business, Shopify is leading the game.
The platform packs tons of features to help you manage web store development. With Shopify, you won't need to be an expert in product management.
The learning curve is a little steep and depends on your store's requirements.
But at the beginning level, you can easily create professional galleries for your products and introduce add-on features like discounts, loyalty programs, and other offers.
Additionally, you can pick high-end marketing automation tools to help you with your store's promotion and improve the shopping experience.
Having a decade-long presence at the online marketplace, Shopify houses a host of applications. The development community is undoubtedly quite strong and many developers/ agencies are minting profits out of it.
Therefore, this gives you the advantage of working with Shopify experts to shape the eCommerce business you've always wished for.
With Shopify, you'll never fall short of any functionality.
Moreover, you'll also have the benefits of working with some advanced features such as augmented reality tools, multilingual support, and multichannel support. These are the new drivers for user experience.
Consumer analytics is yet another tool that keeps you updated with the important stats such that you always have your finger on the pulse of the audience.
Lastly, Shopify features a POS (Point of Sale) system that lets you sell your products in-person (even at brick-and-mortar stores).
The app works with your Shopify account to track orders and inventory throughout your online store or retail locations.
With all such features on Shopify, your business will be one step ahead of your niche competitors.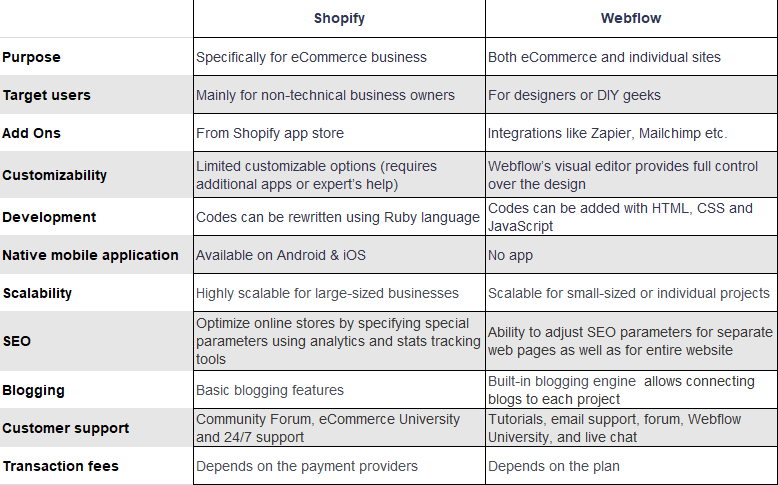 Which platform is better at customization?
Regarding flexibility in front-end design, Webflow offers you more than 500 themes to choose from.
Shopify, however, doesn't have such a huge library, but there is a diverse collection of themes for every type of business. Though both platforms have scalable customization features.
Shopify uses Liquid theme language (coded in Ruby) which lets you set up your web store without any need for coding skills. The learning curve is low and you won't need to spend much time creating your eCommerce store. But there are some limitations.
If you're a DIY person or one of those who loves to drag things around, or if it's a business need, you've got to look for a Shopify developer.
Shopify's visual canvas is built upon the idea of optimizing conversion rates. And it offers stock themes based on Liquid.
But this functionality restricts you from adding features such as custom text fields or product filter tags or file upload options in cases when merchants need their customer's data.
However, Shopify does allow you to make such customizations manually or by using page builders or third-party apps. For e.g.. Page builder apps like Shogun keep customization as simple as clicking, dragging, and dropping the items.
Shogun works well with every Shopify theme and it's easy to import the designs. (This is ideally better than Webflow) if you're non-tech savvy.
But with expensive subscription plans and a bit of a learning curve, page-builders apps may not be a favorable choice for many.
Also, note that page builder apps contain a truckload of code which may slow down your web store.
And despite having an app, there are some hardcoded components of the page that can't be changed, such as adding some functionalities on the cart page.
Instead, you may need a developer who can configure the code for your site with specific customization needs.
Webflow, on the other hand, lets you individually add unique features and specifications without tinkering with the code.
Its visual editor lets you go beyond with creative freedom to design a niche-specific and responsive template.
Webflow gives you precise control over the design with the functionality to drag things randomly.
For example, like the CSS Flexbox model where you divide the layout into sections or set any width and padding.
Though to create dynamic and more complex pages, requires professional help with some knowledge in HTML/CSS. Unlike Shopify, you don't have the luxury of page builder apps here.
Overall, Webflow offers you flexibility with dynamic custom features at a budget price.
Which tool offers the best marketing features?
Both Shopify and Webflow offer unique marketing features but are equally helpful in scaling up your business.
They also share some common marketing tools that make it easier to understand in case you're making a switch between them. Let's figure them out one by one:
1. Email Marketing
Webflow doesn't have an in-built email marketing feature. You can basically sync the opt-in forms to your email platform to build a list.
But it's quite easy on Webflow to integrate automation tools such as Mailchimp or AWeber that help you in managing your audience data and fostering better marketing strategies for your store.
Overall, with Webflow, you'll have every feature-specific option at your disposal to scale up your online branding.
On the other hand, Shopify's marketing automation is robust and feature-loaded with advanced options than any eCommerce builder.
You can keep accountability of email campaigns and give your branding a customized outlook. It also features various theme-based templates to choose from.
Whether the emails are for product alerts, recommendations, sales offers, or cart abandonment reminders.
Shopify's automation feature saves you time and improves customer outreach.
2. Social Media Marketing
Just like email marketing, both platforms offer a great many features for impactful branding on social media channels.
On Webflow, you can easily sync your products with any social media handles to dynamically showcase the merchandise as CTA (Click to Action) ads that escort you to your web store.
From creating seasonal campaigns to product promotions or launch teasers, you get every creative way to entice your audience.
Coming over to Shopify, you'll have almost similar features where you can create coupons and display ads on social media. Shopify also lets you sell your products directly on Facebook and Instagram.
There are a wide array of plugins to help you set up marketing automation. Shopify, however, discontinued two of its plugins "Kit" and "Ping" quite recently. Both plugins had every feature to set sail for marketing.
Even Mailchimp was discontinued from its app store in 2019. This might be a disadvantage for Shopify users.
But you can find similar features in the marketing sections of your admin panel. Moreover, you can also use apps from Shopify's app store. When compared with Mailchimp, however, you may find some of the features poorly integrated.
Overall, Shopify's native-built marketing features are more reliable than third-party apps.
But there is one area where Shopify truly shines and that is the multichannel support. It lets you sync your account with not only social media pages but also marketplaces like Amazon, eBay, etc.
Both Webflow and Shopify have similar marketing options at their core. But the striking difference is that Shopify can be used to market a diverse range of products and target diverse goals.
Webflow, on the other hand, is appropriate for marketing a specific range of products.
3. Search Marketing
Webflow's platform is geared towards easy configurations where you can maneuver SEO settings for each product page as well as the entire site.
It lets you create title tags, meta titles, descriptions, ALT tags, H1 tags, ranking keywords, and URL redirection.
The platform also features automatic sitemap generation that serves clean code over HTTPS and enables fast-loading pages.
Here, Web designers can access the APIs directly via its official JavaScript API client, HTTP, or third-party integration.
You can also use custom HTML/CSS codes and integrations such as MailChimp, Google Analytics, Facebook, and Instagram to foster optimization.
Lastly, you have dynamic embeds that allow you to generate SEO-friendly meta titles and descriptions automatically from each page or blog on your site.
Similar to Webflow's dynamic embeds, Shopify helps you with automated meta titles, descriptions, and URL redirection. Here, you can manage settings for individual pages that include meta tags, titles, descriptions, ALT tags, H1 tags, and ranking keywords. You'll also find that Shopify automatically generates sitemaps for your website.
Regarding analytics, Shopify does have an advanced monitoring platform where you can analyze your site's performance, customer behavior, traffic sources, and more crucial stats that help you take measures to improve your ranking.
Search engine optimization and social media optimization (SMO) go together on both platforms.
Webflow lacks in-built marketing tools but has a lot of integrations that offer advanced search marketing features.
On the other hand, Shopify has more distinctive in-built tools as well as a library of apps. And with niche-specific marketing features, you stay in a competitive advantage.
However, one can't ignore that Shopify has a basic and limited blogging setup. Content marketing is an unalienable aspect of search optimization. And Webflow features a robust content management system (something like WordPress) that helps you prepare marketable blogs for your products.
Payment System and Support 
Both Webflow and Shopify support the same eCommerce payment gateway -Stripe.
However, there is a subtle difference.
Shopify uses the native payment processor called "Shopify Payments" which is basically a Stripe spinoff (or powered by Stripe).
You may even use Stripe on Shopify.
But when you use the Shopify Payments processor, you'll be spared 2% of the fee, which is a standard transaction fee for other payment gateways.
It also supports multi-currency options to let international customers checkout with their choice of currency.
On Webflow, you can use PayPal alongside Stripe. You'll also find that Webflow has an in-built currency convertor that allows customers to check the price in their currency. And during the checkout, they pay in your currency.
Now, when it comes to troubleshooting your web store, both platforms have active support teams.
Whenever you face issues like downtime, server maintenance, security, or any operational issues, their team is always within reach via mediums like chat, call, or even forums.
Moreover, on Webflow, you'll find actual employees answering your queries.
Both Shopify and Webflow require some degree of a learning curve and you can easily access their tutorials and self-help resources.
Apps and Integrations 
Webflow lets you improve your websites' performance using different plugins and widgets.
You can embed various integrations such as Zapier, Lottie, Hubspot, etc. to add CMS-like functionalities.
Webflow also features advanced integration options such as HTML/CSS editor, automated marketing plugins, or plugins for customized header and footer.
But unlike Shopify's app store, there are no third-party features available for Webflow.
Shopify, on the other hand, provides tons of apps on its official app store.
You can install a lot of apps such as page builders, inventory management, accounting apps, etc.
Though some apps offer premium subscriptions, you can always look for cheaper alternatives or free versions.
With Shopify, you'll not just have the luxury of apps but also 3D product visualization and AR (Augmented Reality) tools to provide a unique online store experience to both customers and merchants.
Overall, both platforms offer advanced features either in the form of integrations or apps.
With Webflow's library of integration tools, you can do just about anything to scale your eCommerce business. Whereas, Shopify's app store features cutting-edge tools that position the web store in a competitive advantage.
Webflow's features may not be on par with Shopify. But considering a significant price gap, Webflow's integration features seem to be a good fit for start-ups.
Pricing
It's all bells and whistles unless the product holds value for money.
So when you're done comparing, pricing is the most important factor to consider.
Because you don't want to overspend on any eCommerce software your business doesn't need. It's even more crucial when you're just starting on your entrepreneurial journey and want to use your budget wisely.
Also note that when you're going to purchase an account on Shopify, make sure to use the Shopify Payment process.
It gives you the advantage of $0 transaction fees. Webflow, however, uses Stripe, where you've to pay a 2% transaction fee for the Standard plan. But with their Plus and Advance plans, there are absolutely no charges.
Moreover, on Webflow, you're getting an unlimited testing period where you can watch tutorials, run two projects, and have full access to designs as long as you're not live.
Webflow Pricing
Site plans: Added per site to connect your domain, invite collaborators, and enable checkouts on the web-store.
Account plans: Access to more features such as unlocking extra projects, code exports, and creating a team dashboard for collaboration.
Shopify Pricing
The regular Shopify pricing plans start at $29 per month (for Basic) and go up to $299 per month (for Advanced).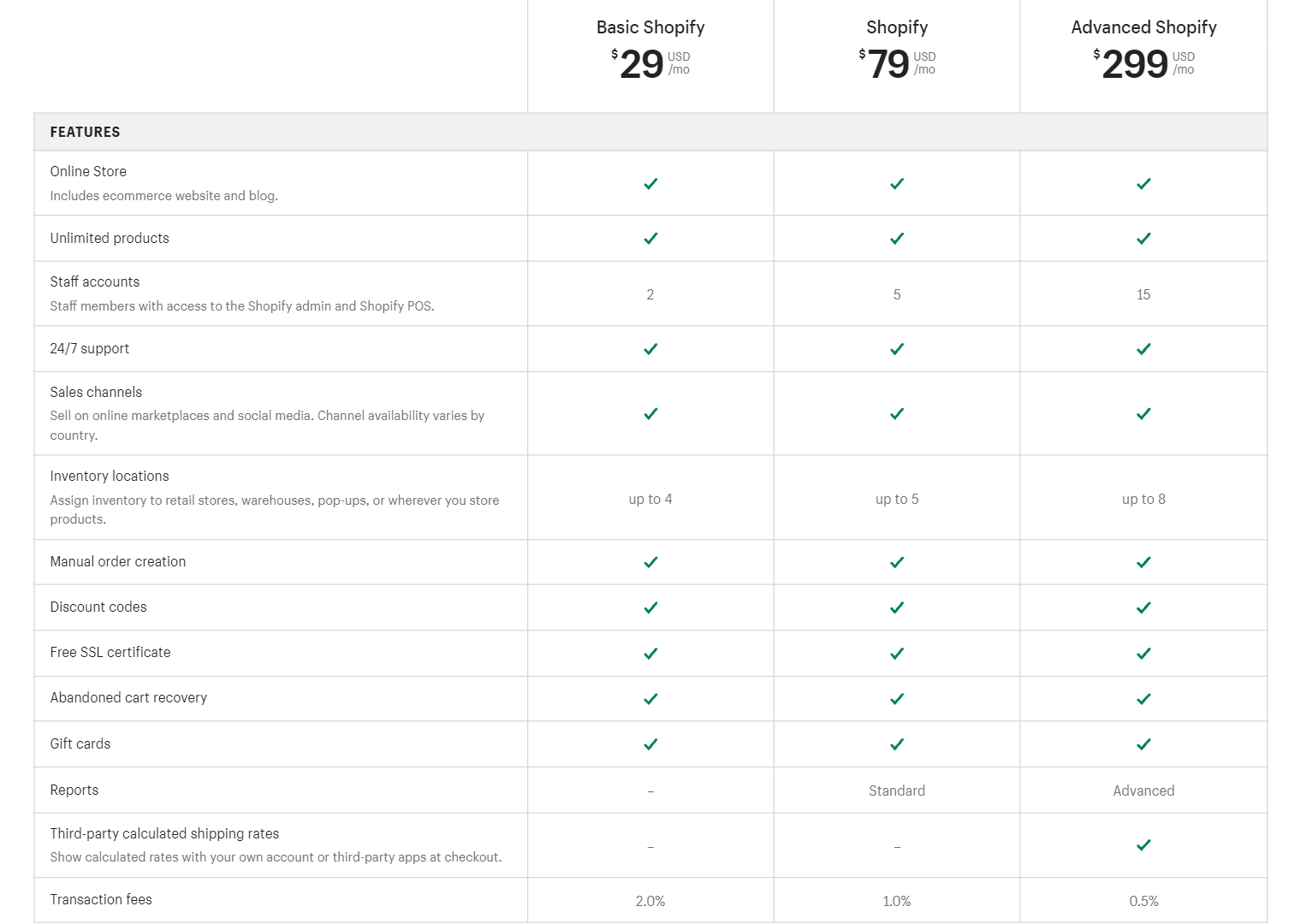 Shopify Plus pricing (meant for bigger brands) starts at $2000 per month.
Shopify Lite pricing starts at just $9 per month. It is meant for smaller brands or individual businesses.
Webflow's Pros and Cons
Pros
The visual editor is flexible for any type of customization.
No need for coding skills
Robust hosting and fast loading page builder tool
Free plan for unlimited testing to design your website
Unlimited online learning resources and active community
Cons
Unlike Shopify, there's no mobile app for Webflow
Doesn't integrate with Point of Sale
No free version is available to launch your website online.
Frequent crash or bugs issues on the page builder
Still have basic functionality on inventory management and store management
Get started with Webflow for free →
Shopify's Pros and Cons
Pros
Offers the most comprehensive range of page builder features
No coding skills are required as long as you don't need customization.
Integration with POS lets you sell both online and offline
Flexibility to add an unlimited and diverse range of products to your w eb store
Excellent customer support available 24/7
Cons
Library of third-party apps may be confusing and pricey
The learning curve is steep if you don't know about specific features.
Transaction fee for using payment processors (except on Shopify Payments app)
Unlike Webflow, customization on Shopify isn't flexible and you may need to hire a developer
The overall pricing on Shopify can be expensive if your business deals in multiple niches.
Get started with Shopify for free →
Final Thoughts
Overall, Shopify is the clear winner. There's no match for Shopify regarding its built-in features and extra plugins.
If you find something missing on Shopify, you can probably download it from the library of plugins on Shopify's app store.
But it does have some flaws and is a little expensive. And that's where Webflow fits in perfectly.
With Webflow, you'll have more control over your web store's design with a host of customization options.
Although Webflow started much later than Shopify and lacks cutting-edge features, it's still one of the best platforms to watch for soon.