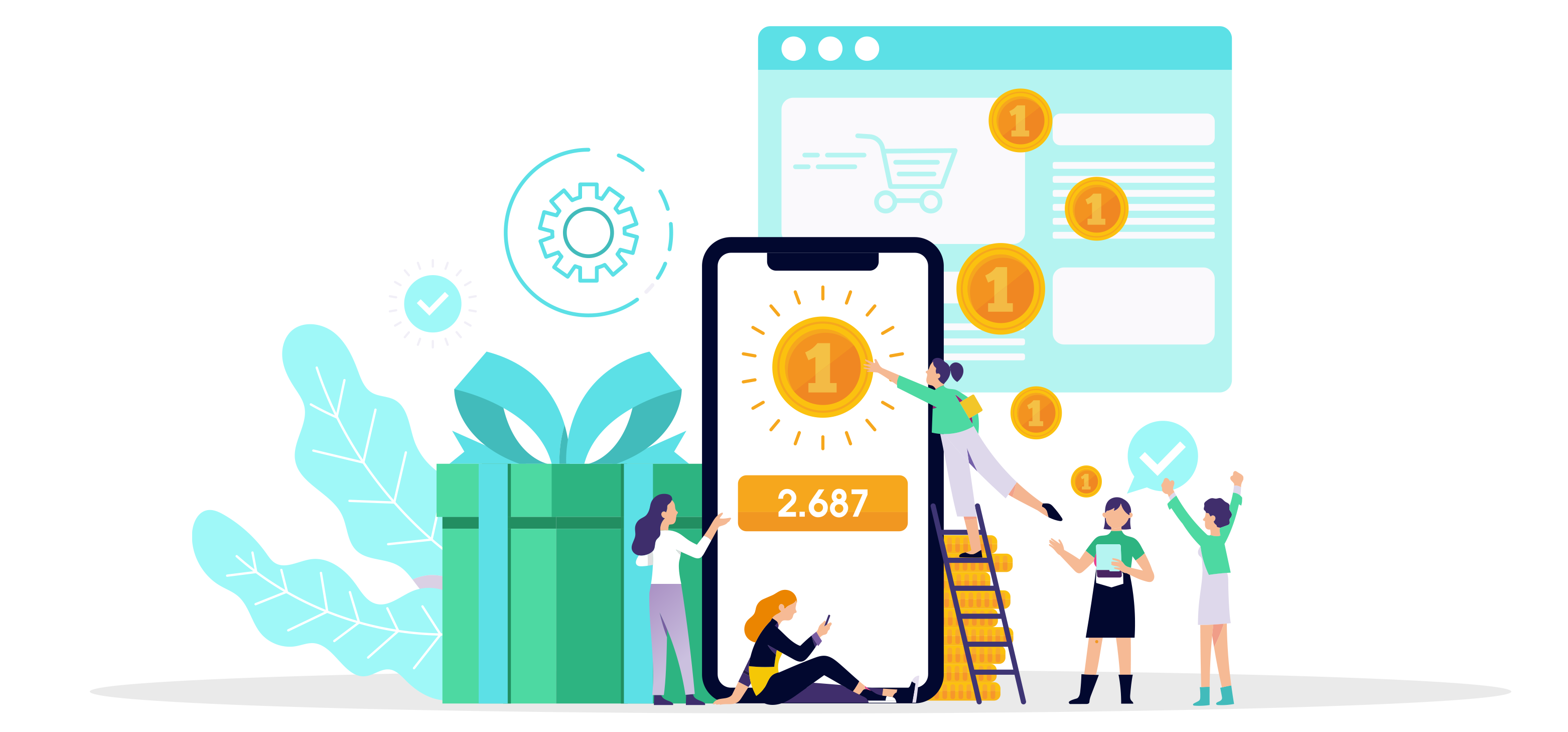 Brands typically implement loyalty programs to retain customers.
The idea is to offer your buyers enough incentives to persuade them to continue to shop from your store. 
With a Loyalty program app, you can execute that strategy much more effectively. It delivers a set of tools to create activities that boost your customer shopping experience and ultimately improve your retention rate.
The below list covers a diverse range of loyalty apps for both brick-and-mortar and eCommerce businesses. Explore what the program usually covers to choose the software product that's well-suited for the purpose.
What is a Loyalty Program?
A customer loyalty program is a marketing strategy that involves offering rewards to buyers for repeat purchases. It typically comprises discount coupons and store credits to encourage shoppers to re-visit your store or refer your products to others. 
Why do brands invest so much in loyalty programs?
To gain long-term customers.
Believe it or not, retaining your existing buyers is more cost-effective than acquiring new ones. 
Companies, on average, generate 60% to 70% of their sales from their repeat customers. With a loyalty program, you can deliver a personalized experience to your shop visitors and make them happy enough to stay with your brand.
What is a Purpose of a Loyalty Program App?
Loyalty platforms provide you with tools to establish a seamless reward system.
With their automation and personalization features, you can digitalize your memberships and offer your customers easy access to deals, gifts, and store credits.
Most also come equipped with analytics and segmentation to give you resources to understand your audience better and create targeted campaigns. 
Let's look at the 12 best apps that can help you start a loyalty program for your business.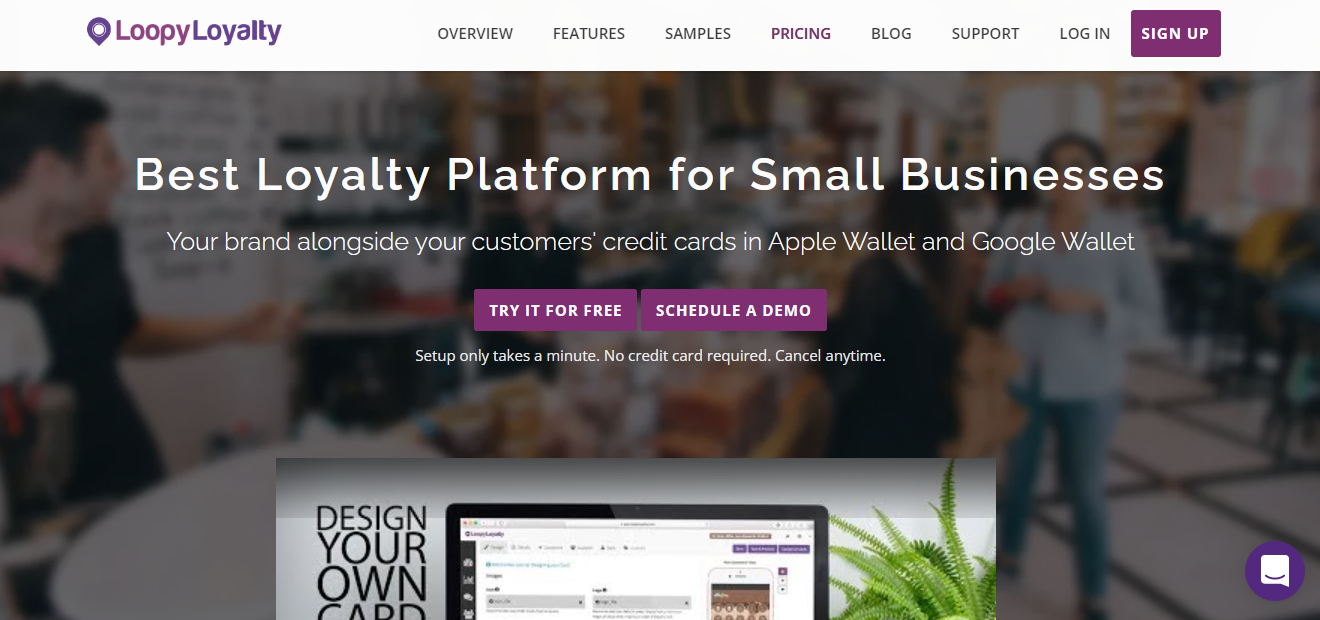 Loopy loyalty offers you a digital alternative to a stamp card.
It's a simple cloud-based platform that provides you with tools to design virtual punch cards for your customers and issue them via emails or QR codes.
With its stamper app, you can transfer a new card instantly at the checkout counter to your customers. It additionally allows you to send personalized promotional messages and set up location-based promotional campaigns to encourage impulse shopping.
Overall, it's a decent SaaS platform for small businesses and works well with Apple and Google wallets.
Core Features
Stamper app.
Custom cards.
Remote card issue.
Compatible with google wallet.
Geo-targeted messages.
Lock-screen notifications.
Analytics.
Price
Loopy loyalty shares three premium plans ranging between $25 and $95.
Rewardful helps SaaS companies win more customers through affiliate and referral marketing.
It offers three different types of referral programs and allows Stripe connection to let you set up a seamless commission payment system.
You'll have the option to pay flexible and fixed commission fees and restrict the period to weekly, bi-weekly, or monthly. It also has built-in workflow automation, so you don't have to manually punch entries every time you send the payment.
Another interesting feature of Regardful is the custom reward.
If you're running a referral program, you can offer both monetary and non-monetarily incentives for bringing in more customers.
Core Features
Affiliate and referrals.
Partner program.
Custom rewards.
Campaigns.
A/B testing of affiliate links.
Tracking.
Custom domain.
Integrations.
Stripe Support.
Affiliate finder.
Price
Rewardful charges between $29 and $299 per month.
Referral Candy is comparatively more straightforward and user-friendly.
Through this platform, you can create a basic referral program and offer multiple rewards to buyers for referring your business to friends. Moreover, you can promote your program via your website, shopping cart, and newsletters.
Referral Candy's analytics is also pretty extensive. It allows you to see who has referred your product, which channels your customer used to promote your business, and which venues brought more traffic to your store.
In addition, you can track the referred links to identify valuable customers and detect suspicious links to avoid fraudulent activities.
Core Features
Referral program.
Multiple product link options.
Custom rewards and gifts.
Workflow automation.
White labeling.
Analytics.
Fraud protection.
Integrations.
Price
Referral Candy's monthly subscriptions start from $39.
Belly is another option worth exploring if you want to create a digital loyalty program for your physical shop.
It's easy to use, works well with multiple stores, and offers tons of customization to let you design tailored rewards.
You can install a customer iPad on the store to allow regulars to redeem credit points on the spot. It automatically collects buyer data at the backend, making it easier to analyze your store's success and find areas for improvement.
Additionally, Belly offers several brand exposure features like business listing and social media integration to help you boost your reach and gain more customers.
Core Features
Customer iPad.
Custom rewards.
Segmentation.
Email marketing
Brand listing.
Automation.
Mobile app.
Integration with social media channels.
Analytics.
Access to a network of users.
Price
Belly charges $130 to $180 per month.
Loyalty Lion platform is built for eCommerce stores.
It has powerful automation that allows you to create various engagement activities to give your buyers the opportunity to collect more points. For instance, you can share points for making a specific purchase or performing a certain action, like following your social media accounts.
You can also establish nurturing projects like charity programs to let buyers make the best use of their rewards.
With this platform, you can design a custom loyalty program page, introduce bonuses for new customers, display discount vouchers at checkout carts, and offer incentives on referrals.
Core Features
Versatile reward point activities.
Referral marketing.
Customization.
Web notifications.
Segmentation.
Integrations.
Analytics.
Price
Loyalty Lion premium plans start at $400 per month. You can take a free trial to explore the app.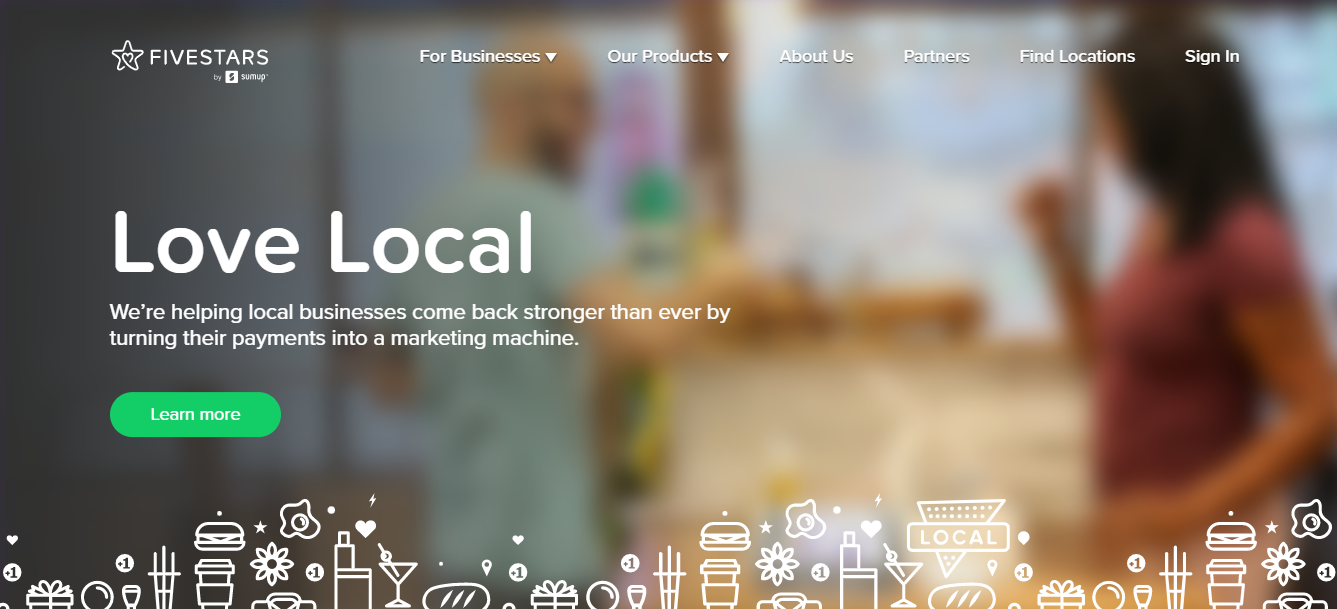 Five Stars delivers a well-structured loyalty program for brick-and-mortar small businesses.
You'll get a customer touchscreen to let your shop visitors sign up for your program at the counter while paying for their items. In addition, you'll receive built-in automation features to run promotional campaigns and engage your buyers at scale.
With this software product, you can offer credit points for each purchase, send messages to announce sales deals, and maintain a database to track your customers.
Five Stars also has a mobile app that displays nearby shops using the loyalty platform for their business. While it's designed to let customers know about new places to visit, it can also highlight your store to potential buyers.
Core Features
Database.
Customer touchscreen.
Multi-channel campaigns.
Rewards, gifts, promotional deals.
Payment gateway.
Workflow automation.
Access to a network of Five Stars users.
Mobile App.
Price
Fiver Stars shares two monthly premium plans. Contact sales to get the pricing.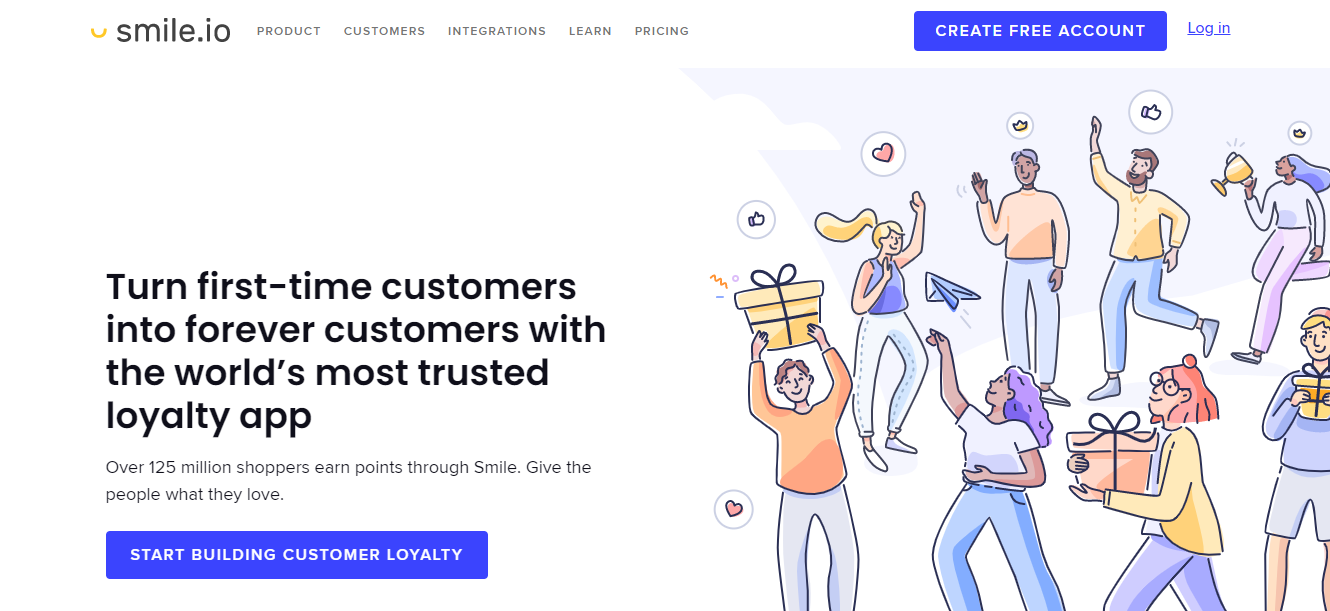 Smile is a widely popular loyalty program app that offers multiple reward options to help small businesses improve their customer retention rate.
Here, you can build reward programs to encourage more shopping, create VIP memberships for valuable customers, and set up referral programs to attract new buyers. It delivers an admin dashboard through which you can monitor your activities and measure your program's success.
Besides its core features, you'll find several marketing tools to promote memberships and engage your customers.
It also supports Shopify POS integrations that would allow you to introduce the loyalty program to your physical store.
Core Features
VIP and referral programs.
Flexible membership tiers.
Custom rewards.
Digital wallet.
Admin dashboard.
POS integration.
Social shares.
Branding.
Integrations.
Price
Smile's basic plan is free of cost. For small businesses, it charges $50 per month.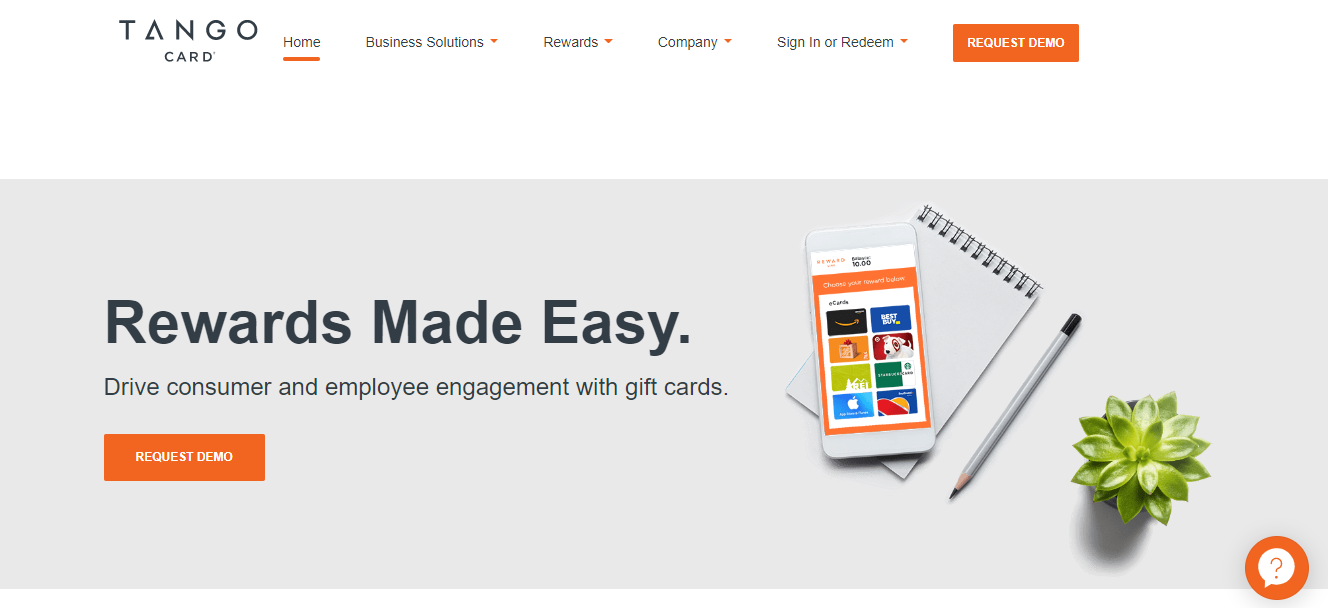 If you're looking for a simple app to nurture corporate customers and employees with e-gifts, Tango Card is ideal for that purpose.
With this tool, you can deliver holiday rewards like Airbnb gift cards to your employees, send birthday cards to loyal clients, and share limited-time promo offers.
You can also email multiple links to let recipients pick their choice of gift cards. The app features a card catalog specifically for the reward program, which displays a diverse range of local and international brands.
Tango Card, additionally, shares a reporting section that makes it easier to track your reward links and identify recipients who loved your gifts.
Core Features
E-cards, gifts, and promo links.
Over 100 reward options.
Digital and plastic cards.
Custom branding.
Reminder emails.
Integrations.
Tracking.
Price
Tango Cards provides custom quotes. Contact sales to request prices.
Appcard offers personalized loyalty programs.
It's an automation software product that uses AI technology to extract customer data from each purchase and deliver smart analytics to help you create tailored retention campaigns.
You can build six different reward strategies to target multiple audiences and integrate your program with popular POS systems.
You can also design multi-channel campaigns and set them on auto-pilot. With its customer insights and A/B testing feature, you'll have the freedom to play with different channels to optimize your promotional messages.
Overall, it's best for a retail business that runs multiple stores.
Core Features
Versatile reward programs.
Appcard touchscreen.
Integration with POS.
AI-powered customer segmentation and analytics.
Marketing campaigns.
Automation.
A/B testing.
Price
Appcard prices are not listed on its website. Request a demo to learn more about it.
Joy is designed exclusively for Shopify stores.
It's a simple loyalty program app through which you can set up a flexible reward system for both your physical and online shops.
You can use it to let your customer earn points via various activities such as successful sign-ups, item purchases, or social sharing. You can also offer bonuses for posting your product reviews. Also, you can set a limited time on your campaign to encourage shoppers to frequently redeem their points.
Another thing. Joy allows you to create pop-ups to promote your reward program on your online store. You can add your branding to match the themes and personalize the coins to make them eye-catching.
Core Features
Loyalty program.
Customization.
Review reward.
Pop-ups.
Branding.
POS integrations.
Data migration from other similar apps.
Price
Joy's starter plan is free, and its pro plan costs $29 per month.
First Promoter's features are similar to Rewardful. It offers you flexible and versatile tools to design tailored affiliate programs for your SaaS business.
You can run both public and private affiliate campaigns, provide different rewards to influencers for meeting each milestone, and set custom payment terms for commissions. You can also allow affiliate partners to offer discounts or gifts as an incentive to potential customers.
Additionally, you can automate some of your workflows to save time and effort. For instance, you can create email sequences to welcome affiliate partners and automate payments to transfer mass commissions.
Core Features
Affiliate program.
Flexible rewards.
Workflow automation.
Fraud protection.
One-click payment transfer.
Branded dashboard for influencers.
PayPal's integration.
Link manager.
Team invitation.
Excellent customer support.
Price
FirstPromoter's starter plan costs $50 per month.
Zinrelo is an advanced platform that offers loyalty programs for brick-and-mortar retail stores, eCommerce shops, and B2B companies. You can leverage its versatile solutions to create a tailored loyalty and referral program for your business.
Some of the incentives you can create with this tool include awarding points for a repeat purchase, referring a friend, or interacting on your social media accounts. It shares an omnichannel reward system that allows you to provide different access venues to your customer to earn and redeem credit points.
You can also offer your buyers the option to send a scanned purchase receipt for credit points. It's a useful feature for brands that sell their products through third-party platforms.
Core Features
Loyalty and referral program.
Flexible reward options.
Omnichannel discount system.
Customer segmentation.
Receipt scanning.
POS integrations.
Analytics.
Price
Zinrelo features separate plans for small businesses and large organizations. Contact sales to get the quotes.
Final Word
Loyalty apps offer you a better way to deliver incentives to your customers. 
With these tools, you can efficiently set up your reward system and delight your customers with credit points, gifts, and a seamless shopping experience.
Pick the best platform from the list and start a loyalty program for your business today.