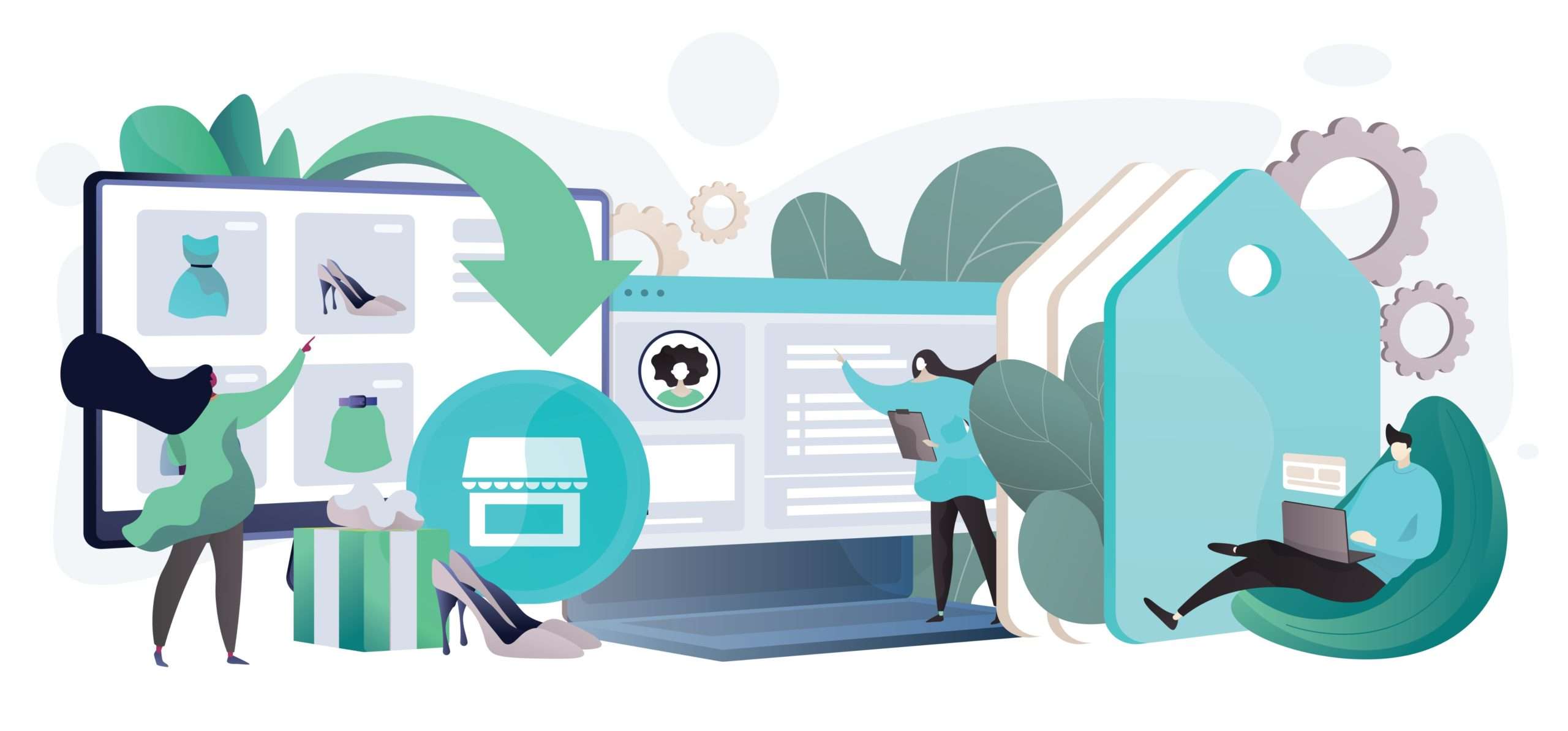 Trying to figure out which checkout software to use for your business?
We've analyzed the 9 best checkout software based on features, integrations, and design.
Depending on whether you're looking for integration into your current e-commerce platform or an all-in-one solution with already built-in checkout software, we've got you covered.
Here are a few things to keep in mind when evaluating checkout software:
Simplicity and easy-to-use: if it's not easy enough for you to use, then it won't be for your client, ultimately deterring them from checking out. Test out the free trials for the different platforms to see what works best for you.
Customizable discount rates: You will want software that gives you the ability to create different discounts. Being able to apply them to your whole store or just certain products.
Inventory management: When customers head to check out, you want to make sure that they're not disappointed when a product they've purchased isn't in stock. Make sure your platform includes inventory management features that will update based on real-time stock information.
Shipping customization: When evaluating different platforms, see if they offer the possibility to customize shipping options based on location, discounted rates, and also the number of shipping carriers they support.
Automatic tax calculator: You don't want to have to worry about adding taxes every time. Look for features like an automatic tax calculator at checkout that will make sure the proper sales taxes are always added.
Email marketing: A lot of these platforms will allow you to create and send emails at checkout, but you may need additional CRM software integration for more complex email templates and uses.
Reporting: See if they offer reporting tools that provide you with metrics on things like traffic, total orders, conversions, total sales, etc.
International Currencies: If you are looking to sell worldwide or across various continents, look for platforms that offer different currencies and language support.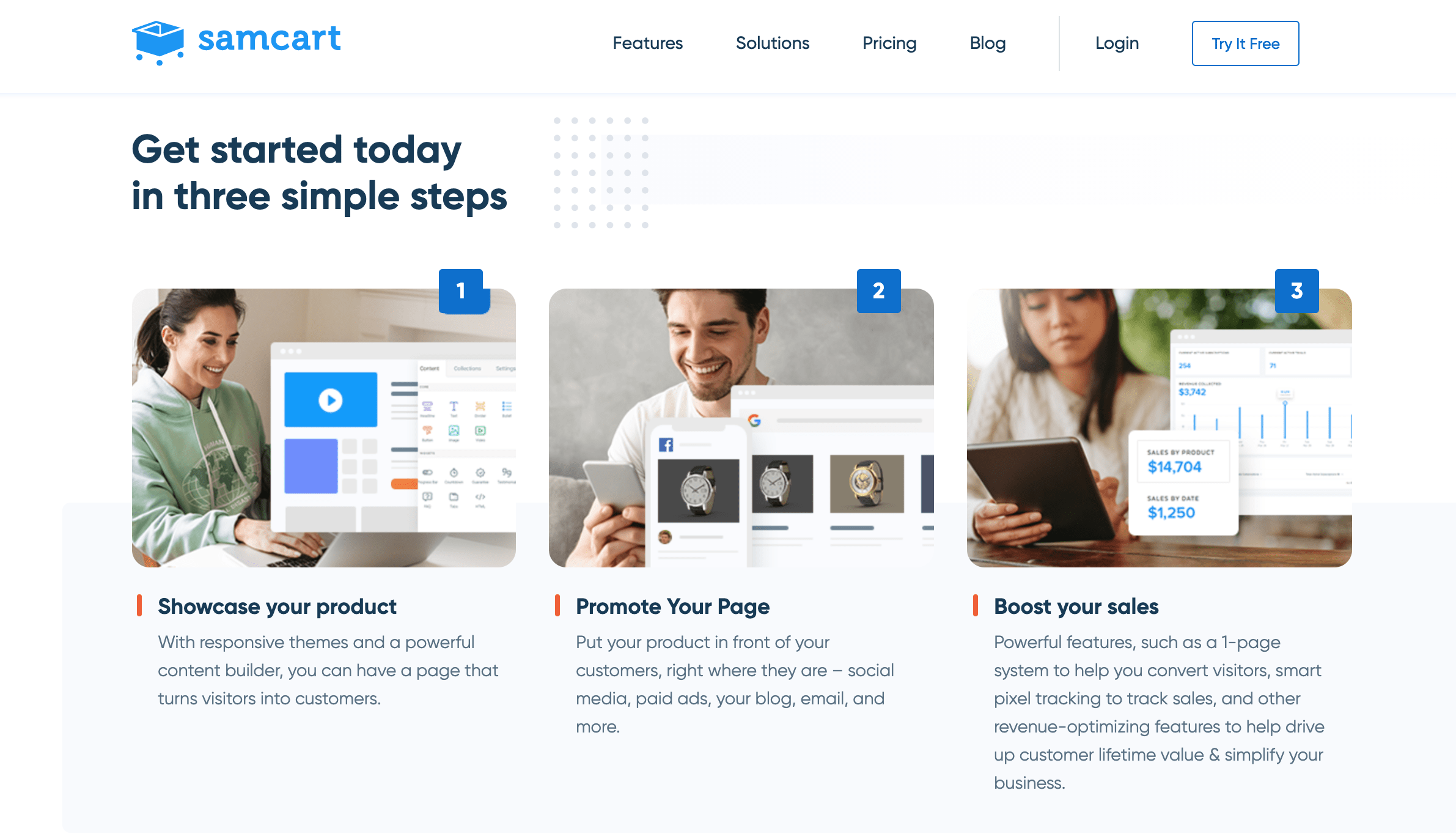 Samcart is one of the most popular shopping cart software among content creators, course instructors, and early-stage startups.
It is also our recommendation for most businesses that need a robust checkout solution. Samcart is both user-friendly and conversion-optimized to the core.
It allows you to easily start selling any kind of product using their drag and drop page builder and a library of hundreds of templates.
If you are already using a platform like Teachable to sell courses, you can use Samcart to optimize the checkout experience.
Or, if you are selling an SaaS, you can use features like subscription and pay plan, subscription recovery, pre-check-out add ons, and more to increase sales.
You can also allow affiliates to promote your product, and Samcart will handle everything – from tracking to sending mass payouts. Meaning, you won't need additional affiliate management software.
If you're a creative person whose primary focus is design, then try Samcart and you won't regret it.
So, if you want software that handles everything regarding selling a product for you, Samcart is a great choice.
Its features include the following:
Drag n Drop page builders
Conversion-optimized templates
Flexible and customizable product listing
SEO friendly
Landing page A/B testing feature
Abandoned Cart Recovery
100% mobile solution
API enabled for integrations
E-commerce upgrade features
Upsell/cross-sell
Detailed Reporting & Exports
A/B testing feature built-in
Subscription and recurring pay support
This turnkey e-commerce software offers a lot of different features and benefits, with a greater focus on marketing and SEO tools.
These advanced features help you grow your online store more quickly.
They are a great choice for small to medium-sized businesses as they avoid charging high upfront costs and transaction fees.
However, if you have a business that is bringing in a lot of sales, then this software may not be for you.
As they have revenue limits on their paid plans, you'll want something that doesn't cap after a certain revenue.
It is also a bit more technical in the backend, causing it to be less user-friendly.
So if you are looking for a very intuitive and easy-to-use software, then you may want to consider others.
Its features include the following:
No transaction fees
No product/category limits
Sell on marketplaces and social media
Accept payments instantly
Tons of integrations (CRM, email, etc.)
SEO features
Marketing tools (newsletters, abandoned carts, etc.)
Advanced reporting
Real-time shipping and tax calculation
$0-$299/month plans
PayKickstart is a highly customizable shopping cart management software.
It offers a large range of features to help you increase conversions and sales.
They are fully integrated with over 40 different service applications, offer a large option of payment gateways, membership customization features, email, webinars, and more. If you're looking for highly integrated checkout software, this one is for you.
The downsides to this checkout software are that they do sit at a higher price point in comparison to their competitors.
Although it does offer a lot of value through its features, if you're just starting and don't need anything too complex, then it may not be worth spending over $100/month.
Its features include the following:
Accept credit, debit, ACH, bank wires, and Apple Pay
Process transactions in over 32 different currencies
Integration with popular payment gateways like Stripe
Customizable checkout options and features
Integration with 60+ different apps
Works with services, goods, digital products, membership sites, and SAAS
24/7 customer support
$99-$299/month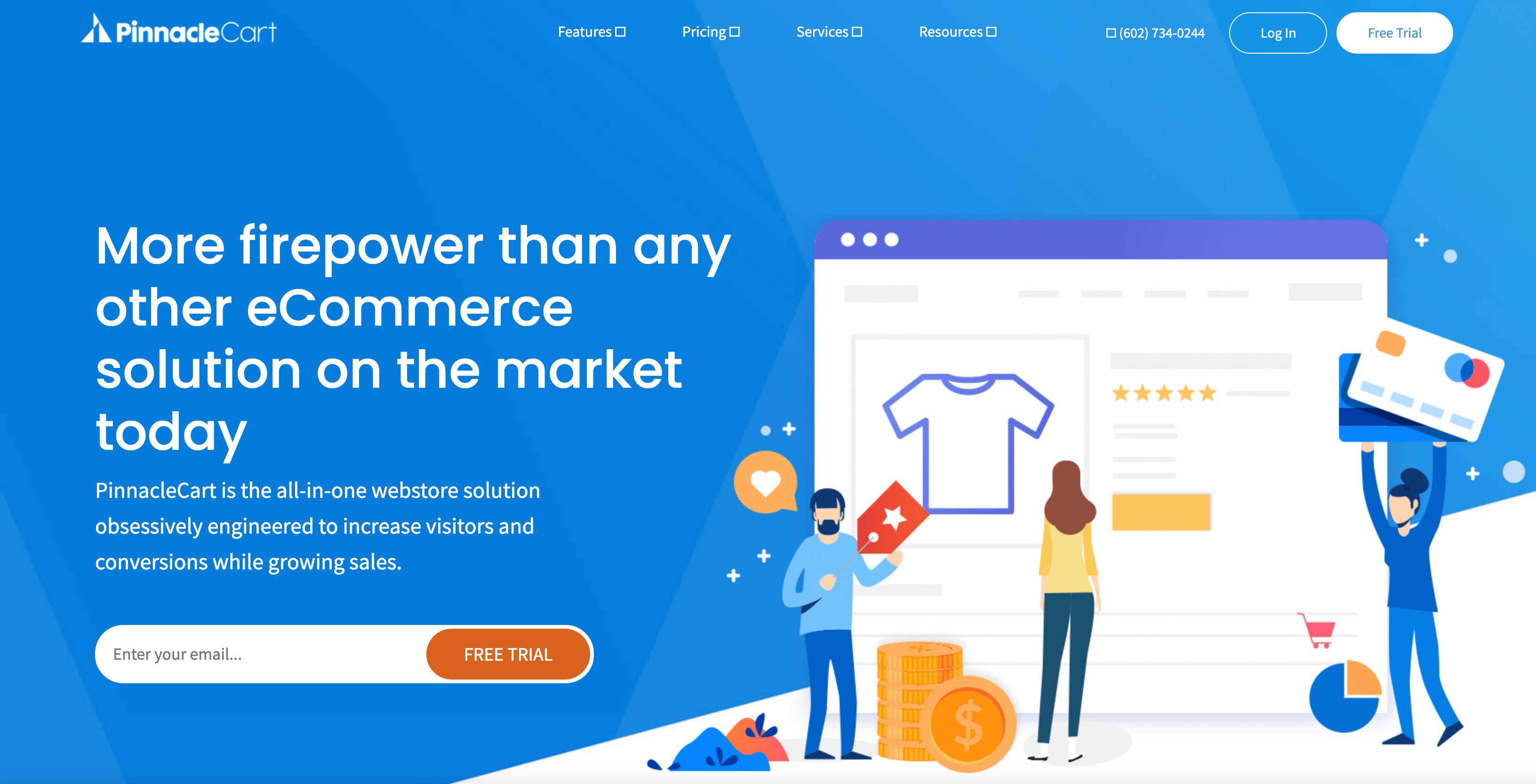 PinnacleCart is great if you're looking to focus on growth, as they have specifically engineered the software to increase sales. They will build a storefront with integrated checkout options that are optimized for both web and mobile. With features designed for growth, they allow you to customize it using their templates. All of which were meticulously designed with conversion in mind
PinnacleCart is a little bit more tech-savvy in the backend, so there's a higher learning curve for their software. Once you learn the in's and out's it's quite straightforward but does take more initial time to understand. So if you're not very tech-savvy or are looking for something that's simple to learn and use, then this maybe isn't for you.
Its features include the following:
Robust and easy to use
Conversion-focused store-front templates
Features designed for growth
Upfront cost depending on whether you host on your own or through them
No transaction fees
Completely customizable
Mobile and web optimized
Tons of integrations
Supports more than 30 payment methods and major shipping carriers
Customized shipping options
$79.95-$199.95/month plans
If you're looking for checkout software that is specifically built for WooCommerce, then Quick checkout is for you.
It's an extension that you can add to your WooCommerce website, and it will alleviate slow and tedious default checkout settings.
This is great for businesses that have already built their website on WooCommerce and want to improve their checkout process.
This checkout software is specifically designed for WooCommerce, so you cannot integrate it into other platforms. While it's great for those that already have existing websites with
WooCommerce, if you are using a different hosting platform, then you may want to consider otherwise instead of starting all over.
Its features include the following:
Reduces checkout time
Designed to increase conversion rates
Improves checkout flow
Integrates into any WooCommerce theme
Great for landing pages
$76-$229/year plans
Shopify checkout gives you, by far, the best-looking checkout page.
You may have heard of Shopify, and there's a good reason.
They provide ecommerce solutions for businesses all over the world.
The platform is easy to use and allows you to sell products on all social networks and marketplaces.
Their integrated solutions allow you to fulfill orders and customize checkout and shipping options all in one place. They're also often used for businesses doing pop-ups or brick-and-mortar stores as they offer a POS system.
However, if you're a small creative business, you may find that their free templates are quite limited as they offer less than a dozen.
While they offer a wide range of plugins, you will notice that a lot of them have their own paid subscriptions, and you end up paying several monthly costs in addition to Shopify's to maintain all of them.
Its features include the following:
100+ professional themes
Mobile commerce ready
Automatic carrier shipping rates
70 payment gateways
Automatic taxes
Email templates
Refunds
Multiple languages
Order fulfillment
Analytics
Marketing and SEO
24/7 support
$29-$299/month plans
Volusion is great for building beautiful and engaging online store websites in addition to checkout software.
The software comes with a lot of integration options, is highly customizable, and has plenty of built-in templates. These features make it very easy to use and get started quickly.
Volusion is one of my all-time favorite e-commerce software. Simply because it's extremely feature-rich yet so easy to use. 
They provide you with everything you need to optimize your store and sell more products.
Their one-page checkout system is fully customizable too. You can get creative with the checkout page and make it math your brand in minutes of editing.
Volusion is also one of the few tools that allows your customers to checkout without ever leaving your website.
So there is no hassle of redirecting customers to another URL which decreases the conversion rate.
Its features include the following:
Customizable page builder for building online stores
Conversion optimized one-page checkout software
In-built SEO features
Integrated CRM software and email newsletters
Unlimited products
Rich product listings
Product catalogs
Visibility and scheduling
Inventory management
Payment collection
$29-$299/month plans
One of Shopify's biggest rivals, as they are also an all-encompassing e-commerce solution that has integrated checkout software.
Wix is easy to use and great for new businesses or creatives looking to grow their brand.
They allow various customization options and similar to Shopify, offer free and paid plans depending on your use.
However, they tend to offer fewer options regarding shipping customization and direct order fulfillment.
Unlike their rival, Shopify, once you select a template for your website, you cannot change it again. You would then have to create an entirely new site.
It includes the following features:
Custom and branded checkout pages
Support for PayPal payments
Shipping management
Promotional coupon management
Inventory management
Tax management
Order management
Mobile optimized
$20-$35/month plans
X-Cart is a flexible and customizable shopping cart solution and offers a wide range of features and integrations. The pricing plans make it accessible to small and medium-sized businesses, and it is a great choice for those who are looking to build a marketplace online. They also provide templates to custom build a website and integrations to help grow your presence online.
However, if you're looking for something less technical, this may not be for you. As X-Cart requires you to do manual coding when you are using the self-hosted versions of X-Cart. This also means that you will have to pay extra for technical support if you want that as an added service to the checkout software.
Its features include the following:
120+ payment gateways
Customization tools
E-commerce hosting with various platforms
25+ analytics tools
Chat with vendors
Express checkout for local and international buyers
Customizable templates
1000+ X-Cart apps to help you customize
$29.95-$399/month plans
Ready to bring your business online?
Remember to evaluate all of the different options and choose based on what is most important to you and your business.
Whether it's simplicity, design, or integration, there is checkout software for everyone!