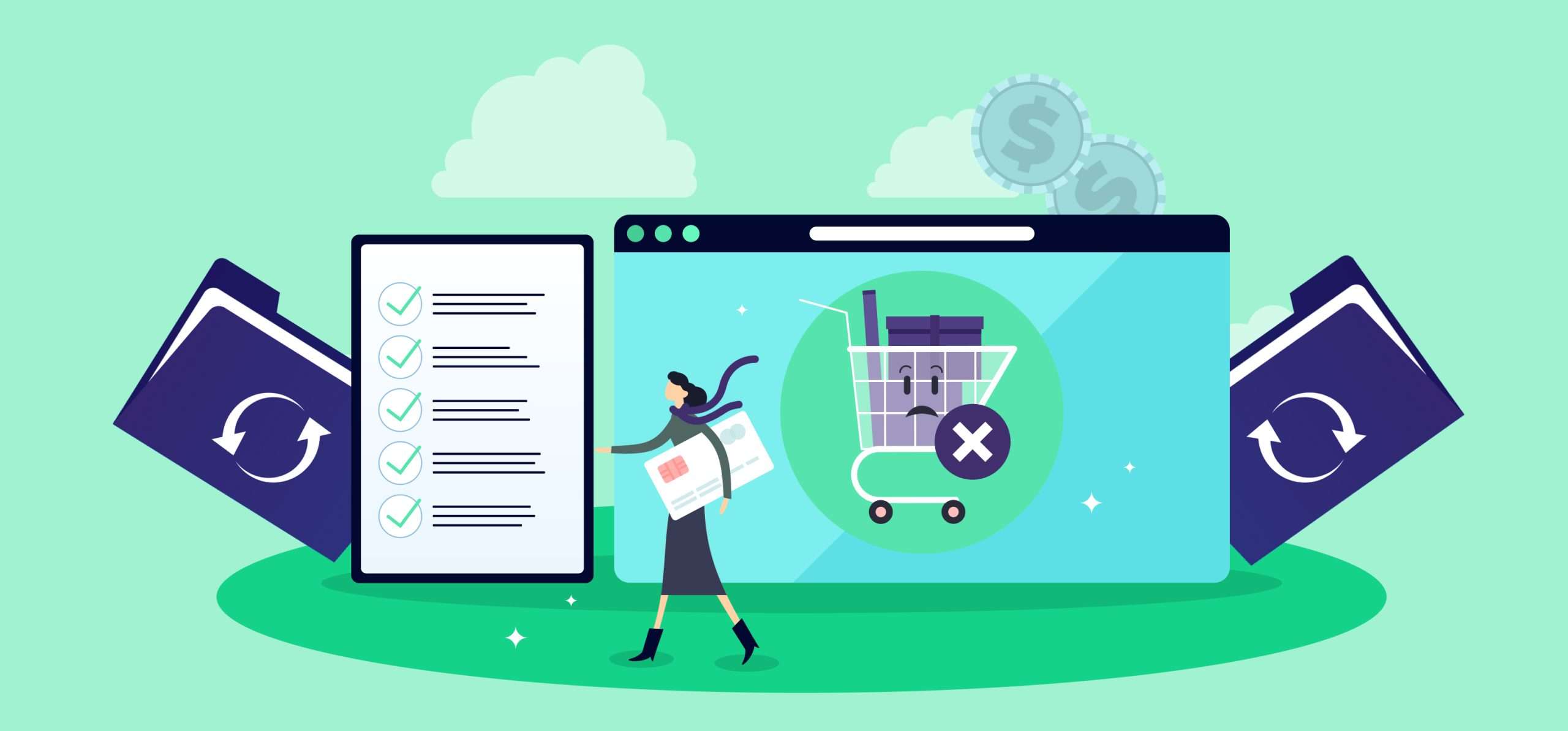 Abandoned cart apps play a critical role in recovering lost sales and revenue from customers who added your products/services to their cart but didn't complete the purchase for various reasons.
In fact, according to one study, the average cart abandonment rate is 69.99%, and it continues to rise each year.
If you operate an e-commerce business and are facing similar challenges, I strongly believe that you can benefit from abandoned cart apps for your Shopify store, which we will discuss in this article.
These apps offer a variety of useful capabilities, including:
Automated email campaigns
Cart recovery tracking
Exit intent pop-ups
Push notifications
And more!
Avada is a powerful Shopify app that offers a range of features to help merchants convert visitors and build long-term customer relationships.
With its omnichannel approach, including email marketing, SMS, push notifications, and WhatsApp, you can effectively engage with and follow up on your customers.
Not only that, Avada also provides automation, mass mail, newsletter, and SMS marketing functionalities to recover sales from abandoned carts.
It even offers sales popup forms that enable the creation of various popups, such as discount pop-ups and coupon pop-ups, for capturing leads.
With Avada, you can also segment your contacts and provide product recommendations and order creation SMS in an organized manner.
Analyzing and monitoring campaigns is as easy as creating them, thanks to Avada's advanced campaign reports.
Lastly, one of the best things Avada has to offer is automation workflows, which include systematised workflows for abandoned cart recovery, abandoned checkout recovery, and welcoming subscribers.
Useful Features
Omnichannel approach: email marketing, SMS, WhatsApp, etc
Automation workflows for recovering sales from abandoned carts
Advanced campaign reports for analyzing and monitoring campaigns
Mass mail and newsletter functionalities
Sales popup forms for lead capture
SMS marketing capabilities
Pricing
When it comes to pricing, Avada has a free plan that allows for 12,000 emails and 500 contacts. The PRO plan costs $16/month and offers unlimited contacts and upto 12,000 emails per month.
Lastly, we have the ADVANCED plan, which costs $47/month and comes with unlimited contacts and a limit of upto 18,000 emails per month.
Both the paid plans come with 14-day free trial.
Abandoned Cart Recovery Email by Care Cart is a reliable and comprehensive solution for recovering abandoned carts and increasing sales on Shopify.
Its Intelligent Tracking capability tracks abandoned carts and all abandoned checkouts to convert potential customers.
Next is the spin wheel, which includes a "Spin-a-Sale" feature where your audience can play a wheel of fortune-style game to win discounts and make a purchase.
Additionally, the email capture feature requires anonymous users to provide their email before adding any product to the cart.
Web Push Notifications: Boost abandoned cart recovery and sales through automated push notifications that users can subscribe to.
No matter which devices your customers are using, Care Cart restores the abandoned cart across all devices, thanks to Persistent Cart.
I also appreciate its reminder system (known as Abandonment Protector), which sends reminders to customers who have added items to their carts but moved away to another browser tab.
This feature is genuinely helpful!
Lastly, you can shoot an automation of a series of customizable abandoned cart recovery emails that are responsive and visually appealing.
Useful Features
Spin Wheel
Email Capture
Web Push Notifications
Persistent Cart
Abandonment Protector
Order Recovery Emails
Pricing
Besides a 14-day free trial, Care Cart offers two options to choose from:
The basic plan (completely free)
And a PRO plan (priced at $14.99/month)
Consistent Cart is a powerful Shopify app that simplifies multi-channel marketing and helps you recover and capitalize on abandoned carts.
With its easy implementation, time-saving automation, and comprehensive features, you can effortlessly build lasting customer relationships and increase sales.
Consistent Cart seamlessly integrates with the most popular frameworks and tools in the market.
Successful multi-channel marketing doesn't have to be complicated or time-consuming.
Consistent Cart provides pre-made templates for emails, SMS, and push notifications, allowing you to set up and launch your campaigns within minutes.
Even better, Consistent Cart enables you to monitor the performance of your campaigns, including how shoppers progress through the cart abandonment funnel—from adding items to the cart to making the final purchase.
Additionally, Consistent Cart's list-building tools allow you to capture more leads, including prospective customers, and sync them to your subscriber list.
Useful Features
Pre-made templates for Email, SMS, and Push Notifications
Automated and marketing campaigns
Cart activity monitor & recovery flow
Real-time site activity tracking
Cart and device syncing
Pricing
It is free to get started with Consistent Cart. There is, however, no mention of its paid plans whatsoever.
Omnisend Email Marketing & SMS is a fantastic tool designed to help you elevate your marketing efforts. It's all about boosting your sales by supercharging your email and SMS marketing strategies.
Omnisend makes it incredibly easy for you to create stunning email marketing campaigns.
But Omnisend doesn't stop at email marketing.
It also assists you in growing your email list by offering features like exit-intent popups and spin-to-win signup forms.
Omnisend offers over 20 ready-made automations that allow you to personalize your marketing efforts and generate more sales.
For example, with just one click, you can set up abandoned cart emails, reminding potential customers to complete their purchase.
Additionally, you can create welcome workflows to greet new subscribers and target customers who have browsed your store without making a purchase.
To top it all off, Omnisend seamlessly integrates with Shopify Flow, making it even more convenient for you to manage your marketing campaigns.
Useful Features
Email marketing campaigns
Popups for lead generation
Ready-made email templates
Abandoned cart workflows
Integration with Shopify Flow
Pre-built automations
Pricing
Omnisend offers a free plan that allows you to reach up to 250 contacts with unlimited list size.
If you're ready to scale up, you can upgrade to the Standard plan for $16/month, which gives you access to 6,000 emails per month and up to 60 international SMS.
And if you really want to supercharge your marketing game, the Pro plan at $59/month allows you to reach up to 2,500 contacts, unlimited emails, and even includes advanced reporting and 24/7 priority support.
PushOwl is a web push notification tool that enables you to gather store visitors as subscribers with a single click, eliminating the need for personal information such as email or phone number.
This allows you to effortlessly create a subscriber list and send targeted web push notifications directly to their device screens, informing them about your products and offers.
What sets PushOwl apart is its ability to instantly capture and market to anonymous shoppers.
By utilizing the web push notification channel, you can quickly convert these anonymous shoppers into paying customers.
Moreover, once you activate the automated sequence feature, PushOwl takes care of the work for you.
It sends personalized reminders to customers who have abandoned items in their shopping carts, enticing them to return and complete their purchase.
Useful Features
Collect subscribers instantly with the native opt-in
Craft web push campaigns in minutes using Campaign Creator
Recover abandoned carts with the automated sequence
Understand customer behavior and utilize cart details
Track the performance of your web push marketing
Works seamlessly with the latest Shopify themes
Pricing
PushOwl offers different pricing plans to cater to businesses of all sizes.
The Basic plan is free.
For more advanced features like abandoned cart automation, shipping notifications, hero image support, subscriber details, and email reports, you can upgrade to the Business plan for $19/month or $180/year.
Sendvio is an all-in-one solution designed to increase your sales and drive customer loyalty through email and SMS automations, pop-ups, and email campaigns.
With Sendvio, you can prevent lost sales, encourage repeat purchases, convert visitors into loyal customers, and achieve so much more!
One of the standout features of Sendvio is its selection of over 20 pre-built workflows, each tailored to specific scenarios.
These workflows include advanced segmentation tools, allowing you to personalize your automations based on each customer's interactions.
You can effortlessly set up email sequences and SMS messages to be sent at the perfect moment, maximizing your chances of converting potential customers into paying ones.
Additionally, Sendvio offers a range of high-converting pop-up templates to help you capture and convert store visitors into subscribers.
Useful Features
Schedule automated email and SMS sequences based on customer interactions
Advanced segmentation tools to target specific customer groups
High-converting mobile responsive popup templates
Automatically sync with Shopify segments or import with ease
Pricing
Sendvio offers a free plan allowing you to reach up to 500 contacts.
Sendvio offers three paid plans:
The Starter Plan, priced at $11/month, allows you to reach up to 1,000 contacts.
The Growth Plan, priced at $38/month, lets you reach up to 10,000 contacts.
For those with bigger ambitions, there's the Business Plan at $98/month, which lets you reach up to 30,000 contacts.
Recart is a game-changing tool that enables you to set up targeted and highly engaging two-way messages to actively engage customers throughout their entire shopping journey.
When you sign up, you not only gain access to a comprehensive feature set but also receive the support of a dedicated SMS expert, along with a team of professionals who will implement and optimize everything on your behalf.
Recart's automated flows are specifically designed to recapture lost sales and convert them into successful conversions.
For instance, when a shopper adds items to their cart but fails to complete the purchase, Recart's app springs into action.
Within just one hour, a personalized text message is sent to the shopper, leveraging the fear of missing out (FOMO) when they are most likely to make a purchase.
In the case where the shopper still doesn't make a purchase after 72 hours, Recart follows up with an incentive-driven SMS, such as a discount, to entice them back.
With its built-in A/B testing feature, you have the ability to determine what strategies work best for your business.
Additionally, the real-time analytics provided on the dashboard allow you to track your results and make data-driven decisions that enhance the effectiveness of your campaigns.
Useful Features
Targeted, highly engaging two-way messages
Timely reminders sent 60 minutes after cart abandonment
A/B testing for optimization
Built-in analytics with real-time dashboard
Personalization with product images, store name/logo, and customer details
Pricing
Recart offers a 21-day free trial period, after which you can choose to upgrade to the STARTER plan, priced at $299/month.
Carti is a fantastic app that simplifies the process of recovering abandoned carts, helping you recapture lost revenue and increase your profits.
With Carti, you can build a powerful multi-channel cart recovery strategy in just a few minutes.
It offers a range of automated features, including SMS, email, push notifications, and Viber reminders, to bring back those customers who left their carts behind.
One of the key benefits of Carti is its simplicity.
You don't need to spend a lot of time or resources to implement it. It provides pre-designed abandoned cart recovery templates and flows that work quietly in the background to recapture lost sales.
You can send multi-channel abandoned cart reminders to ensure a consistent and effective recovery process.
Additionally, you can use browse abandonment push reminders to re-engage shoppers who showed interest but didn't convert.
And if that's not enough, Carti even allows you to add SMS abandoned cart recovery, where a friendly SMS nudges shoppers to complete their purchase.
Useful Features
Enables a powerful multi-channel cart recovery strategy
Offers automated features including SMS, email, Viber reminders, etc
Provides pre-designed abandoned cart recovery templates and flows
Supports browse abandonment push reminders to re-engage shoppers
Includes SMS abandoned cart recovery feature (nudge theory)
Pricing
Carti offers a free plan and a 30-day free trial on all paid plans, which start from $4.99/month.
Retainful is an innovative approach to abandoned cart recovery that utilizes automated email campaigns to re-engage customers who have left their carts behind.
One of the powerful and time-saving features of Retainful is its drag-and-drop email builder, which allows you to customize every aspect of your cart recovery emails.
This customization helps in creating visually stunning and highly engaging emails.
Similar to many other alternatives, Retainful also provides pre-built templates and workflows, making it effortless to launch your abandoned cart recovery campaigns instantly.
Another fantastic feature of Retainful is its dynamic coupons. These personalized discounts enable you to entice hesitant shoppers and give them an extra push to complete their purchases.
Moreover, Retainful offers real-time analytics that provide valuable insights into customer behavior.
Useful Features
Drag and Drop email builder
Pre-built templates and workflows
Personalized cart recovery emails
Dynamic Coupons
Live cart tracking
Real-time analytics
Easy integration with eCommerce platforms
Pricing
Retainful offers a free plan for up to 300 contacts and provides a two-week free trial for its paid plans.
The STARTER plan is priced at $19 per month and allows for 2000 contacts. The GROWTH plan is priced at $49 per month and accommodates 5000 contacts. Lastly, the PROFESSIONAL plan costs $199 per month and supports 25000 contacts.
Abandon Aid works its magic by sending automated emails to customers who have abandoned their shopping carts.
These emails can be personalized, giving you the chance to include a tempting discount code or other incentives to encourage customers to complete their purchase.
Talk about a second chance to seal the deal!
One of the nifty features of Abandon Aid is instant order recovery notifications. You'll be notified in real-time when a customer completes their purchase after receiving an email from the app.
By using Abandon Aid, you'll have access to real-time order analysis technology.
This means you can gather valuable insights into customer behavior, identify trends, and make data-driven decisions to further optimize your strategies and increase your sales.
Useful Features
Simple and straightforward setup process
Automated Email Recovery
Personalization options including the inclusion of discount codes
Instant Order Recovery Notification (real-time)
Pricing
Abandon Aid offers a 7-day free trial. After that, it's $10/month.
CM Commerce is an email automation platform specifically designed for ecommerce stores like yours.
With CM Commerce, you can easily create automated email campaigns that will boost your sales and elevate your business to new heights.
CM Commerce offers pre-built automated email journeys, allowing you to send abandoned cart reminders, personalized welcome series, and order receipts effortlessly.
Crafting beautiful and mobile-friendly emails is a breeze with CM Commerce's drag-and-drop email builder.
Choose from a variety of stunning templates recommended for the type of automated email you're sending, and customize them to align with your brand.
Useful Features
Pre-built automated email journeys
Drag-and-drop email builder
Ready-to-go popups
Integrations with various ecommerce platforms
Access to a library of email templates
Pricing
CM Commerce has a free plan. Its Starter plan costs $9/month. The Growth plan costs $29/month.

Last but not least, we have SMSBump – a tool for Shopify store owners aiming to address cart abandonment and boost sales.
With SMSBump, you can create exceptional SMS experiences for today's mobile shoppers.
It enables you to send the right message at the right time, ensuring that your customers receive timely notifications and updates.
One of the standout features of SMSBump is its automation capabilities.
With over 30 pre-designed SMS flow templates, you can establish automated sales processes that work tirelessly for you.
SMSBump also empowers you to launch persuasive SMS marketing campaigns.
Craft compelling text messages and pair them with captivating visuals to convert your subscribers into long-term customers.
With SMSBump's analytics, you can monitor relevant metrics such as revenue, ROI, orders, costs, and subscriber growth.
Useful Features
Create exceptional SMS experiences for mobile shoppers
Send timely notifications and updates to customers
Automation capabilities with over 30 pre-designed SMS flow templates
Launch persuasive marketing campaigns
Craft compelling text messages and pair them with captivating visuals
Monitor metrics such as revenue, ROI, orders, costs, etc
Pricing
SMSBump has a free plan with a 30-day free trial on its paid plans. The Growth plan costs $19/month, the Prime plan costs $59/month and the Powerhouse plan costs $199/month.
Our Final Verdict
Don't let abandoned carts be a source of lost sales for your e-commerce business.
Take action today and start recovering those potential customers with the help of abandoned cart apps.
With features like cart recovery tracking, exit intent pop-ups, and A/B testing, you can optimize your strategies and increase your chances of converting abandoned carts into sales.
Take action now and turn abandoned carts into successful conversions, recovering lost sales today!