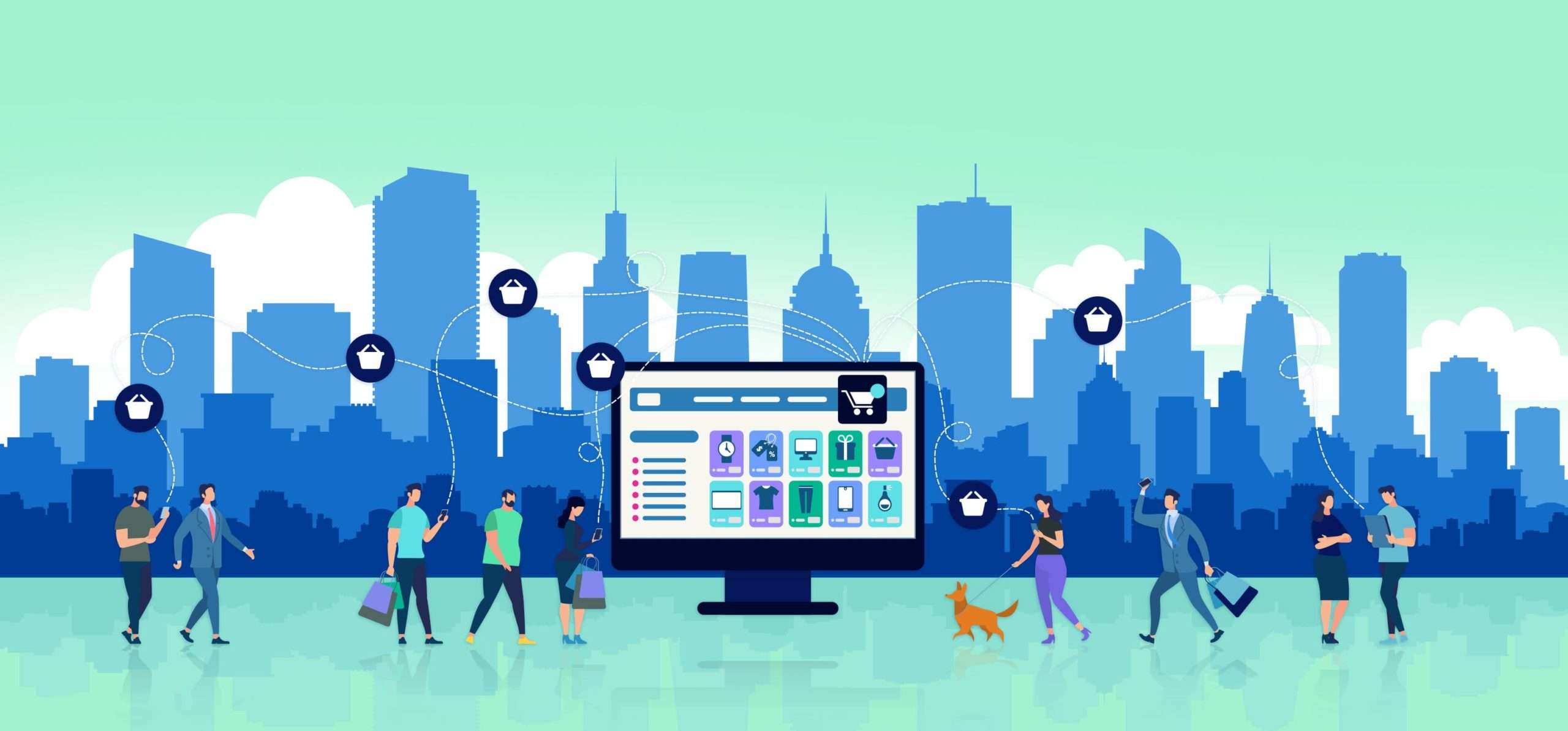 Thinking of selling stuff online?
Maybe you have a physical store but have no idea how to go online?
Whatever your reasons are, it's a now-or-never phase for you to get into the ecommerce business.
Because the global ecommerce market has already surpassed the $5 trillion mark and is expected to go beyond $6 trillion mark by the next year.
Also, physical stores are becoming a thing for holiday shopping. So more room for online stores.
And a huge opportunity for you!
However, looking for the best ecommerce platform can be tricky as hell. Just like thinking about the flavor you want to add while preparing ice cream during your summer holidays.
There are many of them. But we also found that many people are so random and overlook the stark differences.
Eeny, meeny, miny, moe and yeah, this one can sell stuff online and can make money, they say.
Sigh, glad to know something new.
They jump on the bandwagon, go with whatever first thing they hear about, and further down the road, they realize it's not working.
That's why we're here to walk you through each of the platforms folks have been bragging about but don't know exactly what they're for.
And yes, you can sell those ice cream flavors also.
Here you go.
1. Shopify (Best for both online and bricks & mortar stores)
Shopify is a market-leading platform and offers an excellent opportunity for businesses struggling to sell stuff online.
It's fully hosted and gives you a ready-made solution to take your store online. But it gets even better when you're a part of a huge development community. Quite similar to WooCommerce.
When you ask about functionalities, customer support, or learning resources, Shopify excels in each department.
You'll have access to tons of extensions. Yes, it could be pricey or overwhelming at times. But there is no argument that Shopify is equally valuable for both starters and enterprises.
Shopify features we like the most:
Multichannel capability to sell your products online, offline, or on social media platforms. The "$5 starter plan" is a fun way to sell your products directly on Facebook and Instagram.
Huge collection of over 3200 extensions on its app store. It also lets you use Shopify's stack to develop a customized storefront.
Solid built-in analytics feature to get deeper insights into marketing, sales, and your audience's in-store activities.
24/7 customer support for all the users. Plus, active community forums and massive learning resources.
Opportunity for developers to become a Shopify partner and earn an attractive revenue share.
How good is the selling and supplier service on Shopify?
You can sell any type of product, membership plans, or even ticket bookings. What makes it even great is that it supports multiple languages and seamlessly connects with 100+ payment partners.
But with the in-house Shopify Payments, you can avoid the commission fee. It also accepts Bitcoin.
Now, when it comes to product sourcing, you'll have an abundance of choices. You can easily connect with dropshippers, print providers, and even niche-specific suppliers like Vegan Cosmetics.
What is its design up to?
Shopify may not have a wide array of themes, but they are professionally designed and have editing capabilities. Its Premium templates feature some of the best interactive UI designs you can find on-site builders.
But if you're on a budget, you can go with one of the 18 free themes. They may not be as aesthetically pleasing, but you can customize them with your coding skills.
Recently, they've launched Online Store 2.0 which is specially geared towards developers.
In this new store, you'll find an improved theme editor and sophisticated developer tools to create optimized, bug-free, and fast-loading templates.
Shopify SEO review:
Shopify's layout is built upon crawl-friendly code. The on-page SEO implementation is easy for beginners. Though, there are frequent issues with automatic sitemap generation that may not index the page properly.
The blogging feature is also not quite flexible to use. But if you can mess around with the code, you can gain some level of control.
Or else, you can find some great SEO extensions on its app store.
What about marketing and selling on social media?
Shopify is nothing short of digital marketing features. It can help you with content marketing strategy to not only improve organic rankings but create authority across social media channels.
Thanks to Shopify Email, automated email campaigns have never been so easy. You can also design your own branded templates and create customer groups. All that for free.
Shopify is accessible almost everywhere, which is a great way to connect with influencers and boost your affiliate strategy.
But above all, it offers great advantages to Basic plan users. Unlike most of the platforms, beginners can access most of the scalable marketing tools for a less monthly fee.
Does it include abandoned cart recovery?
Yes, on all the plans. Note that Shopify removes cart information after three months.
And coupon builder?
Coupons, discount codes, and gifting options are available for all users.
Shopify Pros and Cons
Pros:
A wide range of options for integration
Best for both technical and non-technical individuals
Ability to add an unlimited and diverse range of products
Excellent global outreach and multi-language support
Access to a number of dropshippers
24/7 customer support for all the users
Cons:
Integration tools may be confusing and pricey
Customization is sensitive and may slow down the page loading speed
Multi-currency not accessible unless you're a Shopify Payments user
Pricing: Is Shopify a good option for beginners?
Shopify is undoubtedly a go-to platform for beginners. But considering the price of add-ons and themes, the budget constraints could be a barrier to exploring the peak potential of the site.
In addition, its low-cost plan "Selling for Starters" for $5/month is an affordable way to run campaigns on social media.
2. SamCart (Best for content creators or artists looking to sell digital products)
There is nothing more fun than creating a course out of something you're good at and selling them online.
Content creators have huge earning potential. But because of the saturated online space, most of them fail to tap into their niche audience. This is where SamCart comes into play.
The platform is specifically geared to uploading your digital content, marketing across multiple channels, and auto-enroll your audience. And the fun part is you can even open your merch that perfectly complements your offerings.
There are many more features that creators would love to explore in the SamCart. Let's check them out.
SamCart Features we like the most:
With SamCart's affiliate center, you can create your own sales team, where you can designate your own special tracking link. A great way to promote your content and generate sales.
It features a unique 1-page checkout experience, that can potentially improve your average order value. Such as 1-click upsell and bump offers to persuade customers for more attractive offers before they checkout.
Revenue optimization features such as pixel tracking, cart abandonment, and advanced reporting to gain insights and engage with your audience accordingly.
Creator U program where you can access workshops, live training, blueprints, templates, etc. from successful creators. Great for learning untold marketing strategies and making the best use of SamCart tools.
How good are selling and supplier services on Samcart?
It's mainly built for digital content. Moreover, you can integrate with Zapier and connect your store with print-on-demand services like Printful and Printfection.
The multiple-currency support is good. But it features only PayPal and Stripe gateways.
What is its Design up to?
Design is a basic drag-and-drop interface and not much customization. Themes are pretty limited, but each of them is well optimized for fast loading times. There are also design options for the check-out page. You can even change the theme language.
SamCart SEO review:
Comes with basic SEO settings, but lets you optimize each product page to get indexed by Google. However, it lacks built-in blogging. So, you may connect to WordPress via Zapier to enable blog posts for all products.
What about marketing and selling on Social media?
You can't use email marketing directly but can integrate with Mailchimp or AWeber to automate your email campaigns.
Also, there are no direct integrations with social media. So, Zapier lets you connect with Facebook, Instagram, and Twitter and automates the process of sharing the sales links.
Does it include abandoned cart recovery?
Yes, but it's available on a higher plan. So to get it for free, you may integrate with Mailchimp.
And coupon builder?
Yes, it features built-in coupons.
Samcart Pros and Cons
Pros:
One of the best options for content creators
Conversion optimization such as 1-page checkout, bump offers, etc.
Tons of learning resources and video courses
Ability to sell physical, digital and membership products
Comes with the sandbox mode
Cons:
Doesn't offer a wide range of options for extensions
Advanced selling features in costlier plans
Payment gateway is limited
Pricing: Is SamCart a good option for beginners?
Even though the Launch plan falls short of robust features, you can use some of them via integrations. For example, abandoned cart emails, and customized thank you pages on MailChimp's free plan.
3. Sellfy (

Ideal for selling digital products with in-house print-on-demand)
It takes a long journey to become a successful creator. But only a few clicks to bring your fans and followers together.
Sellfy is a special ecommerce platform that works best when you're already a content creator on YouTube or social channels.
Most of the sellers on Sellfy are designers, writers, tutors, musicians and filmmakers. That means you've many options for selling digital content.
Ebooks, courses, software, animation, design, stock photography, videography, and any type of audio content like music, voice-overs, podcasts, and audiobooks.
Now, Sellfy is also known as one of the best print providers online.
So, even if you're one of those viral artists on Instagram and have no idea what to offer, you can sell your creativity to your followers. Isn't merchandise a cool gen-z way to promote yourself?
Features we like the most:
Has a built-in print-on-demand feature that lets you sell branded products like apparel, clothing, drinkware, bags and many stationery items.
Sellfy's file download tracking makes sure there is no such unauthorized distribution of your content. Buyers will receive a special download link with a limited number of download instances.
PDF stamping feature lets you automatically add your buyer's email ID to each page of the purchased ebook or PDF file. Great way to curb piracy.
Comes with built-in email marketing, analytics and cart optimization capabilities to help you with sales.
How good are selling and supplier services on Sellfy?
Sellfy supports multichannel selling and offers a secure way to sell your digital products.
There is no dropshipping service, though. Other than the POD products, there is no straightforward way to sell any other physical products.
However, they support only two payment processors – PayPal and Stripe.
What is its design up to?
There are only 5 store themes on Sellfy. It also lacks robust customization features. But yes, you can customize page layouts, colors, texts, navigation, headers, footers, etc, that fit your niche.
Overall, its minimalist design should be fine among your audience if they're more interested in you rather than the look of your online store.
Sellfy SEO review:
Sellfy offers basic SEO features. But technically, Sellfy's SEO is not meant for your site to be found solely via ranking but is mostly focused on helping you promote to an existing audience base.
What about marketing and selling on Social media?
Email marketing is one of Sellfy's built-in marketing features. You can additionally use Facebook and Twitter ad pixels to create ads for your store and track the performance.
And because of multi-channel support, you can sell your products on your website, social media, YouTube end screens, etc.
Does it include abandoned cart recovery?
Yes. You can also configure automatic functionality, but they're accessible on higher plans.
And coupon builder?
Yes, Coupon codes are available in the form of discount expiration timer, percentage and limited redemptions.
Sellfy Pros and Cons
Pros:
Unlimited digital content uploads
Built-in print-on-demand service
Content protection against piracy
Supports multiple currencies
In-depth learning materials on Sellfy University
Live chat support for all users
Cons:
Limited themes and low on customization
PayPal and Stripe, are the only payment gateways
Not for dropshipping or selling own physical products
Limited number of extensions
Pricing: Is Sellfy a good option for beginners?

I think there is no Sellfy-sh motive behind the pricing. Go as you grow.
That's why they offer a flexible plan for creators of all levels. No transaction fee and a two-year plan with a cheaper monthly fee as well.
4. WooCommerce (Best ecommerce platform for WordPress site owners)
About 94% of WooCommerce-based ecommerce stores are built on top of WordPress. But if you're not on WordPress, you're out of luck.
Its content management system is unparalleled and offers a crazy amount of flexibility. Thanks to its open-source ecosystem.
WooCommerce has undoubtedly one of the largest developer communities in the world and brings tons of earning potential. So basically, you can "WooCommerce for a living".
Yes, it takes some effort in customizing and consistently monitoring updates and compatibility issues. Yes, it lacks a dedicated customer support channel.
But overall, you'll have full creative control over the functionalities.
WooCommerce features we like the most:
Tons of free and paid extensions on the WooCommerce marketplace and are able to integrate with the WordPress plugins as well.
Extensive developer and vendor community with tons of learning resources.
Support for multiple languages, payment gateways, and local currency.
No limitations on selling the number of products or types of products.
Built-in reporting and data analysis for the complete overview of website performance.
How good is the selling and supplier service on WooCommerce?
You can sell unlimited physical products, SaaS-based products, and memberships. The support for multiple languages, payment gateways, and currencies gives you the advantage to expand your services across the world.
You can create an Amazon-like multivendor store using WC Vendors Pro to boost your marketing and sales.
Now, WooCommerce may not have a long list of dropshippers. But you can find some top-notch sellers on WordPress, such as Syncee, AliExpress,  and Zendrop.
What is its design up to?
WooCommerce features almost 45 themes. Not enough room for choices, but most of them are affordable yet aesthetically professional.
Moreover, if you're really looking into options, WordPress can put you in search mode for a long.
Now, don't ask about customization capability. You already know what such open-source tools are capable of.
However, be careful when you're switching themes! You may lose valuable content if you don't follow its guide properly.
WooCommerce SEO review:
Your store inherits the SEO capabilities from WordPress. So, it completely depends on your choice of the plugin on WordPress.
For example, you can look for an ecommerce-focused plugin from Yoast SEO, which is different from its standard plugin. Yoast SEO has been one of the widely used plugins on WordPress sites.
And they have a similar set of controls on its WooCommerce-based plugin.
Now, what to say about blogging?
Well, WordPress is known for its best-in-class CMS functionality and control over the content.
What about marketing and selling on social media?
Both WooCommerce and WordPress are nothing short of plugins. You can expand the capabilities of your store with the right plugins.
From automated marketing to reporting, you just need to plug in the right tools to measure your site's performance.
WooCommerce works great with social media sites. No matter if you're on Facebook or Instagram, you can engage your followers with campaigns based on their feed.
It also gives you an option to up-sell and cross-sell, which can ultimately prompt your buyers to close more sales.
Does it include abandoned cart recovery?
Yes, you can find both free and paid abandoned cart recovery plugins.
And coupon builder?
Of course, you'll never run out of coupon plugins and unique ways to promote your offerings. For example, Smart Coupons and Retainful are worth checking out.
WooCommerce Pros and Cons
Pros:
Seamless integration with the plugins
Multiple payment gateways and localization
Flexibility to add and sell any type of products
A strong community of developers and store owners
Advanced marketing and analytics features
Cons:
Handling multiple vendors or dropshippers is cumbersome
It May require coding skills or expert help for dynamic customization
It can only be hosted on WordPress
Pricing: Is WooCommerce an affordable platform?
WooCommerce is a free-to-use ecommerce platform, which is a great option for beginners. It doesn't have any pricing plans. Only the transaction charges.
But remember, the more tech-savvy you're the less you will spend on the plugins. So, it completely depends upon your coding skills.
5. Shift4Shop (Best place to find a diverse list of suppliers)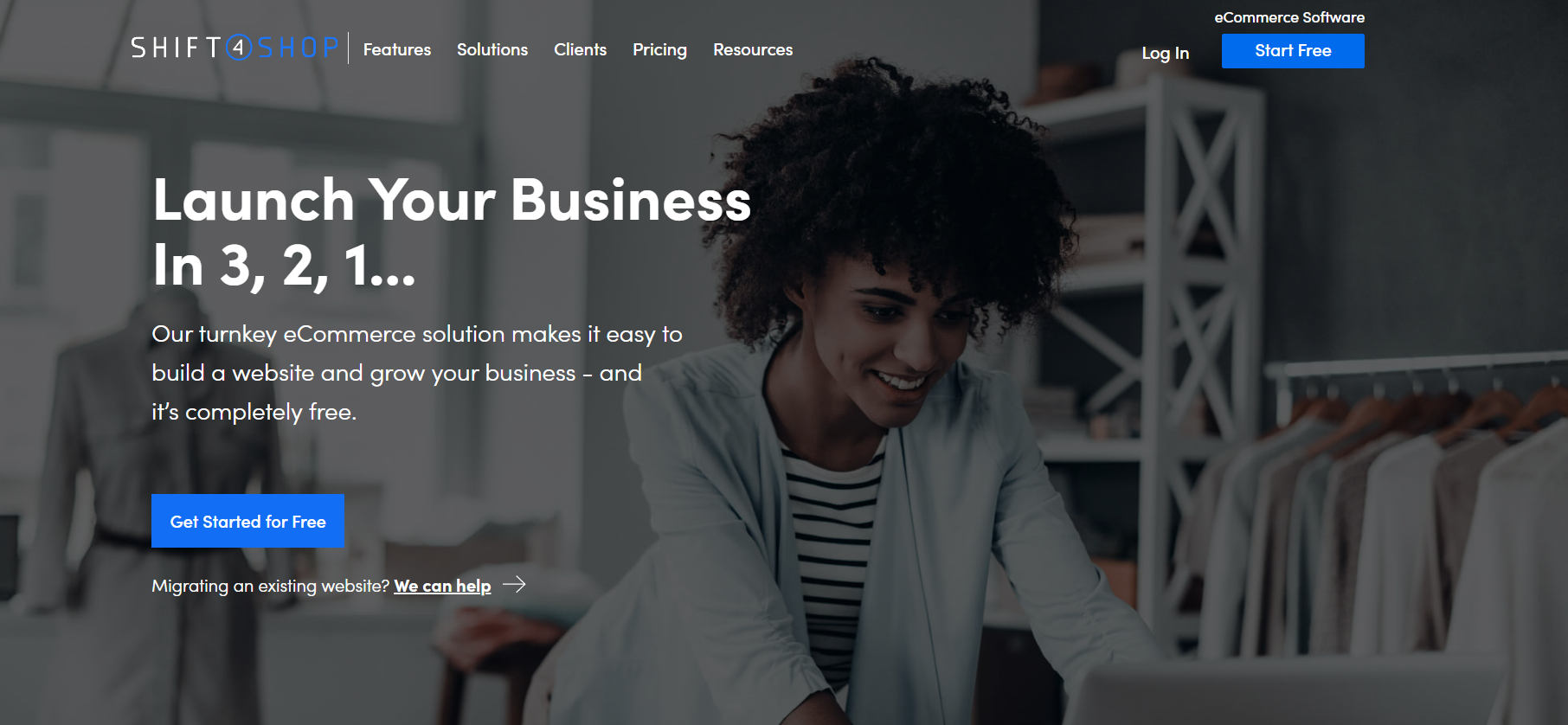 Shift4Shop is a rebranded name for ecommerce giant, 3dcart. It was recently acquired by payment processor firm "Shift4".
When Google was yet to be launched, 3dcart was one of the few platforms that offered online inventory and shipping capabilities.
And now, after the acquisition, the renewed site builder seems to hold up to a similar reputation in the ecommerce space.
Especially, their free enterprise-grade plan is a good selling point. You can not only have an unlimited inventory of products, but enjoy almost all the features it has to offer.
Impressive isn't it?
Shift4Shop features we like the most:
350+ integrations on its app store for almost all ecommerce use-cases. 20+ product suppliers including wholesalers, print providers and independent manufacturers.
Ability to manage SEO, Facebook Shop, Google Analytics, and a range of marketing tools from a single dashboard.
Supports selling digital products and an unlimited number of physical products. It also features POS for brick and mortar stores.
Offers customer support 24/7 via email, phone, and live chat on all plans. In addition, it is an online knowledge base with hundreds of video tutorials and guides.
Features an ecommerce forum for Shift4Shop users to stay connected with fellow merchants.
How good are the selling and supplier services on Shift4Shop?
You can partner with wholesalers, print providers as well as manufacturers on any of these dropship platforms: Doba, AliExpress, Worldwide Brands, and Inventory Source.
Shift4Shop is not just known for feature-flexibility, but also for flexible use of payment gateways. So, unless you're on a free plan, you can choose from 100 payment gateways with no extra fees.
What is its design up to?
Shift4Shop features a number of free themes. But considering a range of options and categories, I found most of them quite similar to one another.
Although you can use your CSS skills to customize the page, you'll still be limited to its font styles and primary colors.
Meanwhile, if you're really serious about your design skills, Shift4Shop offers you an earning opportunity by designing unique themes for its merchants.
Shift4Shop SEO review:
Shift4shop offers a suite of built-in SEO tools and a blog editor that can help you with content marketing strategy.
They also have built-in Google Analytics so that you can keep track of your SEO traffic without making extra efforts.
SEO prompt is yet another feature that is pretty unique to a site builder. It's like a pop-up that reminds you of some useful recommendations while optimizing the product page.
What about marketing and selling on Social media?
You can create campaigns in the form of newsletters, automated post-purchase emails, drip campaigns, or cart recovery emails.
Have some followers on Facebook?
It's easy to set up a Facebook shop and advertise your range of products to your followers.
In addition, they feature an affiliate program where you can reward your customers whenever they refer your products to other shoppers.
Now, there is a unique feature called "Make an Offer" which lets your shoppers submit their bids on products they like to buy at a reduced price.
Does it include abandoned cart recovery?
Yes, it has a built-in abandoned cart saver but isn't included in the Basic plan. So to avail of the benefits, you need to pay for the integration.
And coupon builder?
Yes, available for all plan users. You can also offer coupons in the form of in-store credits.
Shift4Shop Pros and Cons
Pros:
Range of integrations for almost every ecommerce use case
Good user support on all the plans
A number of sellers to partner with
Flexible payment with the support of 100+ payment processors
Complete suite of SEO and marketing tools
Cons:
Global outreach falls short
Basic plan has fewer features than the free plan
Free plan accessible only to US-based users
Pricing: Is Shift4Shop a good option for beginners?
Doesn't the price remind you of BigCommerce?
Overall, Shift4Shop seems to be a profitable investment for beginners, considering the diverse range of suppliers and payment services.
6. Ecwid (If you want to upgrade your existing site to a scalable ecommerce store)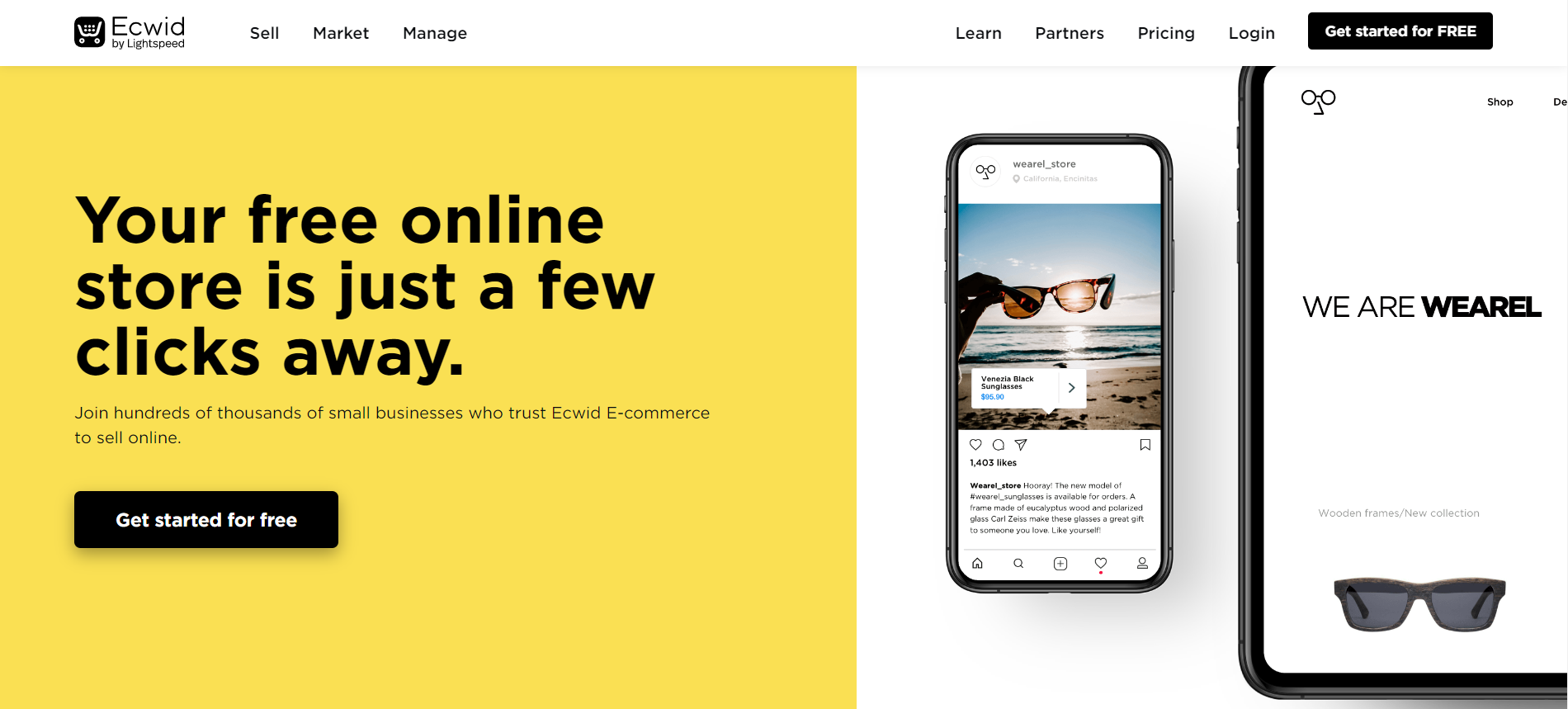 Why consider building another website for ecommerce when you already own one?
Ecwid is a kind of tool that integrates with your existing website and builds an ecommerce layer on top of it.
The fact is, it really cares about your budget and is easy to manage. No matter if your site is built upon WordPress, WIX, Drupal, or Squarespace, you can find many Ecwid-supported plugins on such platforms.
Now, even though you're completely new to this and have never owned a website, no need to worry!
You can access a number of video tutorials that will walk you through the process of building your first store on Ecwid.
Ecwid features we like the most:
Integrating Ecwid to an existing site works by adding the widget or specific HTML code. That's how Ecwid is known by the term "Ecommerce Widget" which can be embedded on the frontend of the site.
Ecwid's Instant site is a quick and beginner-friendly one-page ecommerce builder to get your site online-ready without much configuration.
Comes with easy and flexible inventory management. You can configure different SEO, sales tax calculation as well as shipping options for your products in inventory.
Auto-translation of websites as per the location. The platform supports 53 languages and over 50 payment gateways including PayPal, Square, Stripe, etc.
How good are selling and supplier services on Ecwid?
Ecwid partners with a number of dropshipping and print providers.
You can also sell on marketplaces like Amazon and Etsy right from your site, or use its point-on-sale for your physical stores.
What is its design up to?
Offers over 70 niche-focused themes to select and create a market-ready storefront in no time. It also supports gif format that can draw the attention of your visitors as they scroll down the product catalog. Better than the regular static images.
Drag-and-drop functionality is quite basic. But if you're familiar with coding, you can go to Ecwid's CSS editor for in-depth customization of your storefront.
Ecwid SEO review:
It features a built-in SEO tool, but has some limitations. For example, you can't change your product's URL once named.
Also, it lacks an AMP version of your product page that could improve response times on mobile devices.
The blog format is basic and lacks optimization features. But if you're integrating the Ecwid's store with your preexisting WordPress or WIX site, you can make the most out of this functionality.
What about marketing and selling on Social media?
It has a dedicated email marketing system and integrates pretty well with social media channels. Ecwid makes it easy to sync your products and sell directly on Facebook, Instagram, and TikTok.
Also, Ecwid makes it easier for you to export your product catalog to marketplaces like Amazon, Etsy or Google Shopping.
Does it include abandoned cart recovery?
Yes, especially, the automated cart recovery email is a great feature for sales and conversion.
And coupon builder?
Yes, you can choose from different types of coupons like percentage, fixed value, free shipping and even gift cards.
Ecwid Pros and Cons
Pros:
Works great with content management systems
Supports multiple languages and multiple payment gateways
Decent options for dropshipping business
Affordable price plans
Many video tutorials and helpful podcast sessions
Cons:
Limited drag-and-drop customization
Falls short on advanced SEO feature
Limited third-party integrations
Pricing: Is Ecwid a good choice for you?
If you're not looking for robust customization functionality and don't want to spend a lot of time managing your site, Ecwid is the perfect tool for you. Saves both time and money.
7. Magento (For a serious team of developers & marketers who want to scale)
If you're looking for an all-in-one ecommerce solution with full creative control, Magneto is the perfect platform.
Magento has always been a robust open-source ecommerce builder. But now, as a part of Adobe Ecommerce, it extends the capabilities of Adobe's creative ecosystem to bring scalable business solutions.
Unlike other tools, Magento isn't geared toward non-technical users. If you see, its architecture is well suited for enterprises that can handle high website traffic.
But is it useful for small-scale businesses?
Of course. If you're a team of skilled developers and can make your own way to deal with the complexities of this platform.
Once you get hold of it, you can make the most out of its features.
Magento features we like the most:
With Adobe Campaign, you can connect with the audience, make the most out of customer data and create personalized shopping experiences – all using automation.
Integrate with Adobe's Creative Cloud and build responsive and customizable templates for your online store.
High-end POS system for seamless inventory management, cross-channel promotions, in-store purchases or returns.
Magento Marketplace features a wide range of plugins with one-time yet at a reasonable price.
How good are selling and supplier services on Magento?
Though Magento doesn't feature in-house product suppliers, you can always find whole sellers or credible sources online. AliExpress, Salehoo, Doba etc. are some of the reliable ones to integrate with.
Magento is built to manage large inventories and high-volume sales. Therefore, it features built-in payment processors like Square, PayPal, Braintree, and Stripe to handle large-scale transactions.
What is its design up to?
The open-source nature and ease of integration with Adobe's Creative Suite give you full creative control over your site's frontend design. The page builder workspace and CMS have a rich assortment of customization tools.
Magento's marketplace, however, doesn't have many pre-designed theme options. There are a couple of plugins, but they charge you a lot.
Instead, you may want to check third-party theme providers like Theme Forest for pre-designed templates.
Magento SEO review:
When it comes to code structure, Adobe's Magento fares better than the old Magento. The meta-data capabilities are improved.
Also, thanks to Adobe's partnership with Fastly. Real-time image optimization can drastically improve page response times, no matter how large the online stores are.
Speaking of large stores, manual optimization could be tricky a-times. That's why Magento marketplace has some of the best-paid SEO plugins to fulfill your optimization goals.
Layered navigation from Plumrocket, SEO toolkit from Amasty, SEO Suite from Mageworx, URL Rewrite Regeneration from Lassche Web development are some of the recommended plugins.
What about marketing and selling on Social media?
Magento falls short when it comes to built-in marketing features. This is because all the advanced and AI-enabled marketing tools are included in their Experience Cloud, which is geared towards large enterprises.
And they're expensive as hell.
So as a startup, you can find a number of affordable plugins on its marketplace for automation, shipping and logistics, order management and social sharing use cases.
Obviously, they can never match the capabilities of Adobe's AI suite. But for an open-source platform, these plugins make a great investment to boost marketing capabilities.
Does it include abandoned cart recovery?
No built-in abandoned cart recovery. But you can find a reliable plugin such as:
DotDigital's marketing automation or the one from Aheadworks.
And coupon builder?
You can only apply discounts, but it lacks promotional or campaign-based coupons. So again, you need plugins.
You can also use Adobe Express to design some eye-catching templates for your coupons for free.
Magento Pros and Cons
Pros:
Feature intensive ecommerce software
Open-source architecture and full creative control
Impressive loading time
Suited for online stores with a large inventory
Robust marketing, analytics, and store management
Seamless migration from old Magento account
Cons:
Steep learning curve
Need for skilled developers
Need to figure out supplier services on your own
When it comes to server requirements, Magento is power-hungry
Pricing: Is Magento a beginner-friendly platform?
Magento has basically 2 versions: Adobe Commerce Cloud and Community Edition.
While Commerce Cloud is an expensive deal, its Community Edition or open-source version is absolutely free. You'll only need to pay for domain and hosting services.
However, the platform is definitely not for beginners. But if you're a team of developers and marketers starting off on an ecommerce journey, Magento is a solid platform. Also, it doesn't have any transaction costs.
8. WIX (For independent store owners who don't like geeky stuff)
Want to build an ecommerce store without even touching a line of code?
WIX is that sweet spot for you if you want no technical stress. It's a self-hosted platform and pretty much like a Lego toy.
Just choose your template and drag-and-drop elements to customize your store in the easiest way possible.
WIX is mainly geared towards beginners and medium-scale businesses. But some of their advanced tools are equally capable of building high-end stores.
Overall, if you're looking for a low-risk solution for your first online store, WIX is a great value for money.
WIX features we like the most
Accepts multiple payment methods, local currencies, multiple language support, and 0% commission on all paid plans.
WIX's Ascend plan offers marketing and automation tools and unlocks more advanced features you may not find in your regular subscription.
Automatic inventory tracking helps you keep track of up to 300 products, including their variants and colors.
Ability to sell physical products, digital downloads, online booking, event management, hotel reservations, music, or video streaming services.
How good is the selling and supplier service on WIX?
Because of multi-currency and language support, WIX's international selling capability is growing each year. You can sell any type of product, bookings, and even subscription services.
You can connect with a handful of dropshipping platforms on the App Market. For example, Modalyst, AliExpress DSers, and Spocket are the most reliable and vetted suppliers.
For print-on-demand services, you can choose between Printful and Printify.
What is its design up to?
It has a serious lack of design capabilities for business and ecommerce plans. In case you're not tech-savvy and want a minimalistic web store, it's perfectly fine for you.
Initially, you'll be prompted with the ADI feature, which is basically an AI tool that does all the design jobs for you. WIX Editor, on the other hand, gives you a bit of control.
However, if you're serious about the overall UI of your site and looking for advanced capabilities, Editor X can be a great deal for you. But it comes at a price that may not be ideal for everyone.
WIX SEO review:
WIX's built-in SEO functions can help you rank your store. But there are some issues with the page loading speed. This might be due to the overall structure of the website, which is likely to have code bloat.
But there shouldn't be any problem for the starters. Such issues occur on sites with high traffic and selling tons of products.
What about marketing and selling on social media?
Just like the design, there's nothing impressive about WIX's marketing features on any of the ecommerce plans.
Agree, it's easy to sync your product catalog and sell on Facebook and Instagram. But there is a serious lack of automation and customer management.
So to fill this gap, WIX offers you a complete marketing suite on its Ascend Plan.
Call it a marketing ploy; you'll get a personalized solution with features such as email campaigns, a professional video maker, task reminders, customer management, and much more.
Though, the plan doesn't come cheap.
Does it include Abandoned Cart recovery?
Abandoned cart recovery is available on all the plans. Basic users can also send automated recovery emails.
And coupon builder?
Yes, you can create different types of coupons for any campaign or reward any returning customers.
WIX Pros and Cons
Pros:
Tons of niche-focused themes
Supports multichannel and multi currency selling
Sell any type of product, subscriptions or bookings
Phone support and live chat under the regular plans
Integration options on App Market
Cons:
Pricier plans on Editor X and Ascend
Difficult to switch to a different template
Page speed issues in heavy online stores
Pricing: Is WIX ideal for beginners?
WIX is specifically built for non-tech savvy or beginners. But for advanced store capabilities, they offer tools like Editor X and Ascend.
Pricing for Editor X starts at $29/ month. Whereas, Ascend starts at $10/ month.
9. Zyro (The new favorite in the ecommerce town)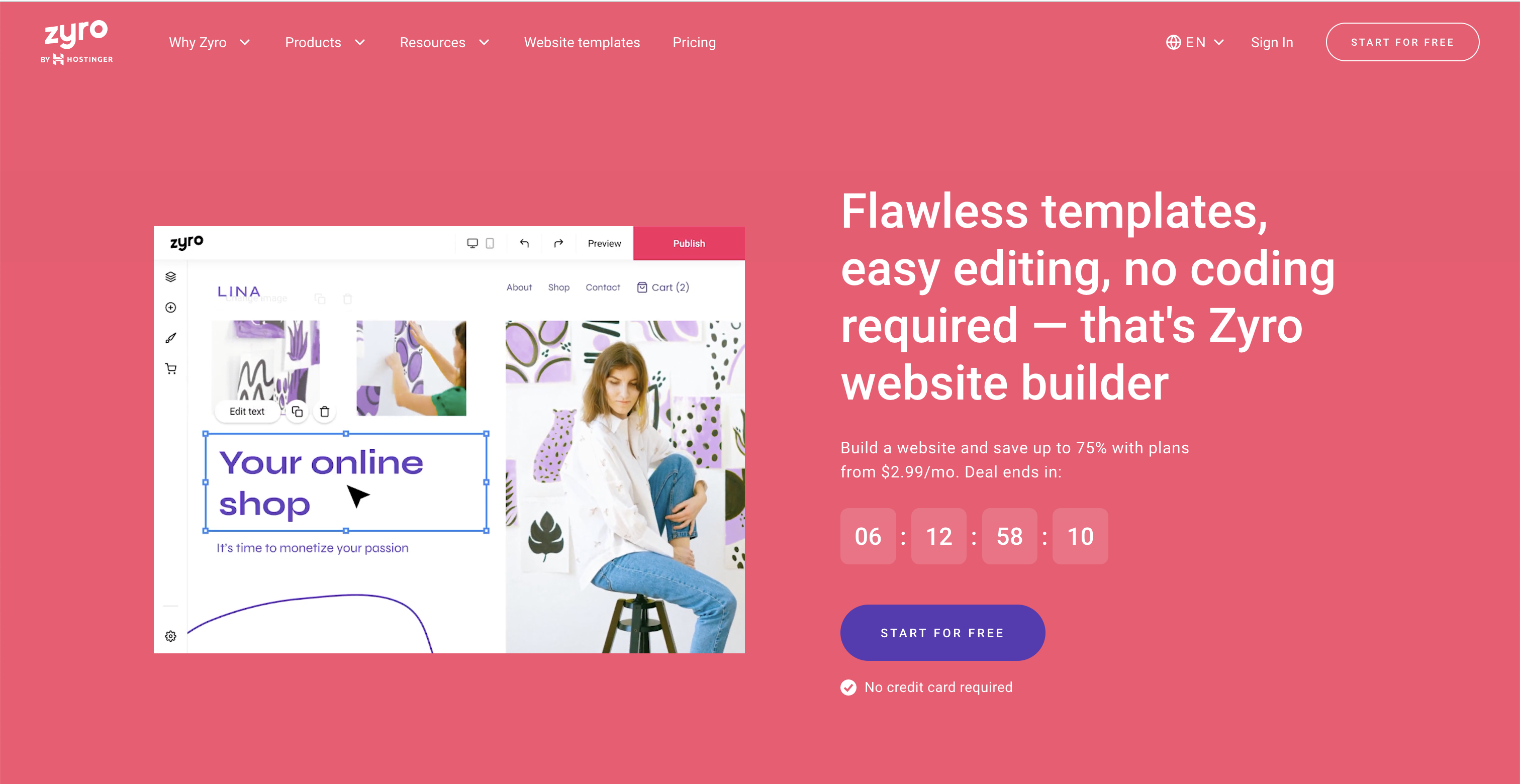 It may sound like "Zero" but speaks volumes when it comes to building an online store. Established in 2019, Zyro is catching up pretty well with many established ecommerce platforms.
You may not find a long list of features and fancy customization tools. But even with limited marketing and analytics integrations, Zyro is definitely an attention-grabber.
In addition, you'll also love its AI-powered features that may help you with content generation, heatmap analysis, and website building process.
But what may attract you the most is its price point.
Zyro Features we like the most:
Packs in robust omnichannel marketing tools at affordable pricing. From the single dashboard, you can manage inventory, CRM and even marketing campaigns.
Provides a package of AI tools. For example, AI Writer, Blog Title Generator, or AI Image Upscaler that does the heavy lifting for you while you're busy. Also, the Slogan Generator to create a catchy tagline for your campaigns.
AI heat map that gives you insights into your audience's actions like clicks or scrolls in the form of temperature-esque color patches. A great way to analyze your site's performance.
Zyro Roadmap helps you keep track of their feature offerings and see what they've in the pipeline. You may also submit your suggestions.
How good are selling and supplier services on Zyro?

You can integrate with some of the best dropshipping suppliers and custom print providers like Spocket and Printful. Only applicable for Advance Store users.
Also, Zyro accepts purchases from 70+ payment gateways across the world.
What is its design up to?
You can pick from over 100 niche-focused ecommerce templates. But there is not much to do with customization.
Moreover, you may like the Grid system where you can see the grid blocks while you move the elements. Really helpful in resizing or aligning the elements.
Alternatively, you can hand over the task to the AI Website Generator if you don't want to mess up your head in website building.
Zyro SEO review:
Though website builder is said to have optimized SEO design, the technical aspects are still basic. But with built-in digital marketing tools, it has the potential to drive traffic from different channels.
Its blogging feature may not be as intuitive as WordPress CMS. Moreover, AI writers can help you in preparing content to some extent.
What about marketing and selling on Social media?
It comes with a complete marketing suite that includes Facebook pixel integration, Pinterest tagging, Snapchat pixel integration, Google Analytics and heat maps.
However, integrated email marketing features are only available on the advanced plan.
Does it include abandoned cart recovery?
Yes, it includes abandoned cart recovery but is accessible only to Advanced store users.
And coupon builder?
Discount coupons and gift card features are available only on the Advanced plan.
Zyro Pros and Cons
Pros:
Budget-friendly pricing
Supports multiple languages, currencies, and payment gateways
AI tools can be handy at times
Sell digital products with secure storage
Decent number of dropshipping integrations
Cons:
SEO features are quite basic
Issue with switching templates
Customization is pretty basic
Can list only up to 100 products in the Business plan
Pricing: Is Zyro a beginner-friendly tool?
If you're on a tight budget, the pricing can certainly "zyro" your worries.
A business plan is ideal for starters but has serious limitations. So, you may start with the Advanced Store considering the affordable price point.
10. BigCommerce (For both small & large enterprises who want multi-storefronts)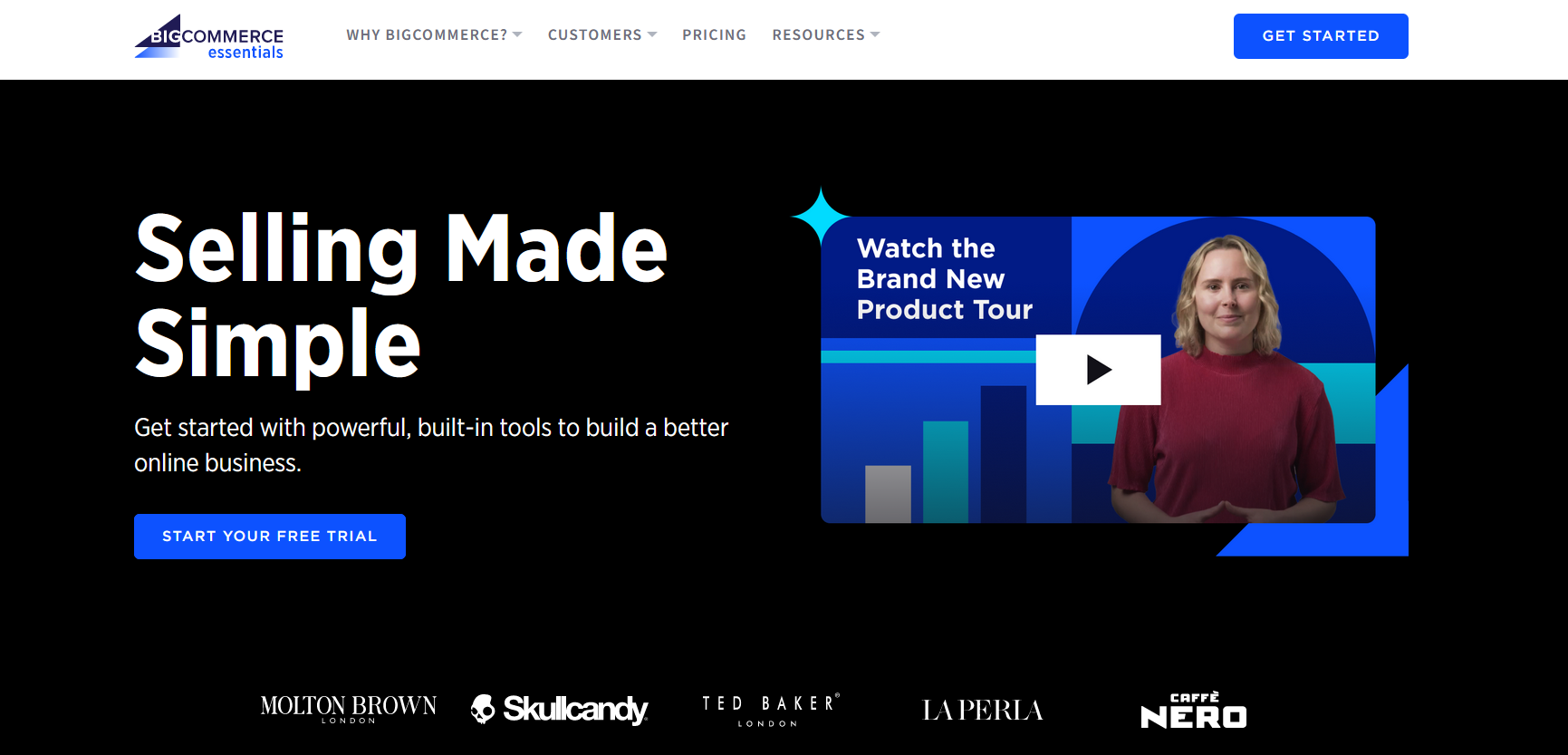 BigCommerce is a sophisticated ecommerce builder tool. Although its market share is far behind WooCommerce, you'll notice how aesthetically similar they are.
But with SaaS power, comes less responsibility. So, unlike those open-source platforms, you don't have to worry much about manual controls. And yes, it is self-hosted.
Traditionally known for serving big enterprises, beginners are now finding it pretty reasonable to bank on.
If this is your first time, you may feel a bit overwhelmed with the flood of features.
But it does a good job in keeping the management of your site from the management of your store. So the configuration stays free from clutter.
Might take some time to get hold of it, but it's worth your investment.
BigCommerce features we like the most:
Doesn't take any slice of your sales and lets you showcase an unlimited number of products in your store.
Tons of freemium integrations, a large pool of developer community, and extensive learning resources.
Automatic updates and compatibility of plugins give you an easy time working on the platform.
Cross-selling functionality gives you the freedom to sell your products on physical stores, Amazon, Walmart as well as social media channels.
Ease of syncing your inventory to keep track of your orders, streamline omnichannel selling, and provide a personalized shopping experience.
How good are selling and supplier services on BigCommerce?
You'll find a number of dropshippers and print-on-demand providers to integrate with. Some of them are free to join, while others have some recurring fees.
BigCommerce also supports a unique payment model called BOPIS which is great for customer experience.
For example, if you have a brick-and-mortar store, your customers can go to your web store, pay for items online, and later pick them up from your store like a boss. Visit anytime. No more waiting in line.
They've quite a widespread influence. Currently, they're offering services to 100+ countries and support over 250 local payment gateways.
What is its design up to?
Free website templates are just okay to go with. But for more professional templates, you may need to pay something like $150 to $300.
Talking about customization, it lacks options for typography and page editing. You can't delete or relocate the header and footer.
But for the most part, you'll have some editing freedom and can add HTML code for a few changes.
BigCommerce SEO review:
Because of built-in SEO features, you only need to make minor adjustments without configuring a lot of stuff.
Blog editor seems quite rudimentary to me in contrast to WooCommerce. Still better than buying an add-on.
BigCommerce also focuses on improving the response time and overall UX of the storefront. And so, they utilize AMP and Akamai Image Manager to improve content and image optimization, respectively.
What about marketing and selling on Social media?
BigCommerce's marketplace comes with a number of integration options to ease your digital marketing and campaigning efforts.
You can tap into your audience with the built-in Facebook Shop in the form of a product feed. Product filtering is yet another striking feature that helps in searching for the product with ease – quite similar to Amazon's.
With the Persistent cart feature, your buyers won't lose the saved products when they switch devices.
But one thing that doesn't make sense to me is, that in spite of a significant price difference between Standard and Plus plans, there is no significant difference in the marketing features.
Does it include abandoned cart recovery?
Yes, but not under the Standard plan. Though integration options are available in the marketplace.
And coupon builder?
Over 70 coupons, discounts and gifting options are available for all the users.
BigCommerce Pros and Cons
Pros:
Robust multi-channel integration
Product sourcing options and store management
A wide array of payment gateways
Built-in marketing tools and SEO features
Excellent customer support services
Cons:
Abandoned cart feature available only on expensive plans
Limited customization options for the product pages
A lot of learning curves and a bit complex for starters
Pricing: Is BigCommerce a good option for beginners?

The Standard Plan is a perfect fit for beginners. Plus plan, on the other hand, doesn't seem to offer good value for money.
It's disappointing to see that with a significant price difference, there is not enough feature difference between them.
11. Square Online (Best platform with $0 plan and support services)
Thinking of pop-up retail, handicraft store, café, professional service, or anything similar?
Well, Square is your go-to solution, then.
In fact, Square is beneficial for you if you're planning to start an ecommerce store as an additional channel. Not as the main or the only selling channel.
So, it makes an ideal choice for physical store owners. You'll also need Square's payment system before going online.
Moreover, you'll love the feature accessibility on its free plan. You only need to pay square's processing fee. But with the free plan also comes square ads.
Now let's see what unique features Square Online has to offer.
Square Online features we like the most:
Square offers different point-of-sale devices to make payments via swipe, chip-based cards, and mobile wallets.
Wholesalers can create password-protected product pages which can be visible only to your approved customers.
Features a built-in CRM system that gives you a 360-degree view of your buyers.
Unlimited bandwidth and storage on all paid plans. Plus, you'll get a free domain for a year and connect to a custom domain as well.
Square's marketplace features tons of add-on tools. You can even integrate with other ecommerce platforms like WIX, WooCommerce, etc.
How good are selling and supplier services on Square Online?
It's always better to have a physical store or offline services to receive the full benefit of the platform. And how about exhibitions or music events?
Of course, it can be used for limited-period services too.
Square Pay is the built-in payment gateway that accepts PayPal, Apple Pay, Google Pay and many popular credit cards. Now, besides your in-store services, you can also use dropshippers like Spocket or Printful as your side hustle.
What is its design up to?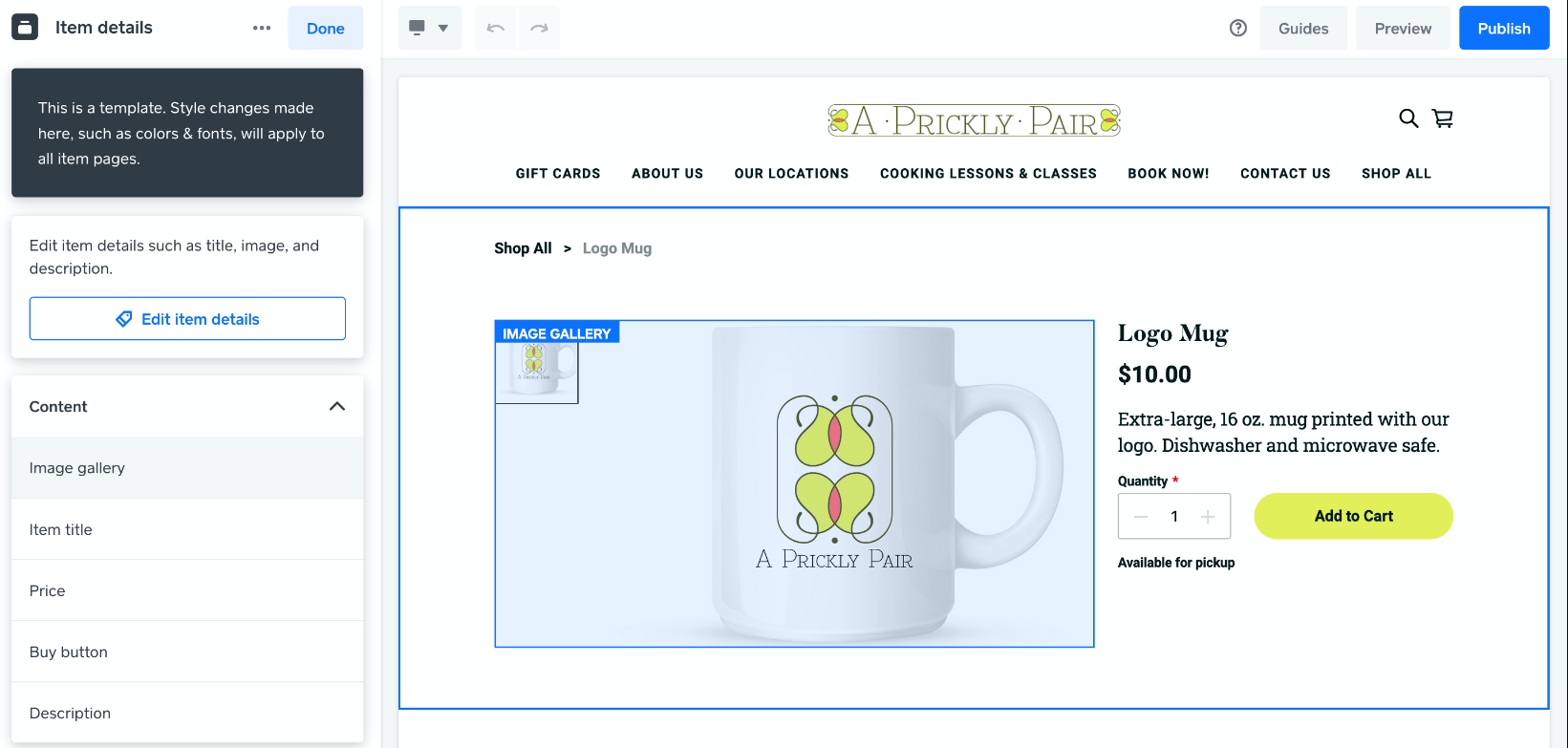 Square Online falls short on options for the overall aesthetics of the site. Although it features limited themes and typography options, you can still play around with the smooth drag-and-drop editor.
However, there is nothing for designers as it lacks HTML/CSS customization. In fact, the idea is to offer a minimalist way of creating a site so that you can focus more on the business part.
Square Online SEO review:
Square Online's SEO features are pretty basic. But the good thing is that you can access them on all the plans. The on-page SEO editing option features on every page to make sure none of them is left unoptimized.
In addition, they have a blogging tool they call Stories to keep fresh content and updates for your visitors. You can also set the look of your product or story pages to feature on social media channels whenever your visitors share them.
What about marketing and selling on Social media?
Square Online's email marketing capabilities are one of the best I've seen on any ecommerce site. You can set automated triggers based on your audience's activities.
It also features a customization tool to create any type of campaign for your audience.
Now you can sync your campaigns with your POS system so that you can send both one-off and recurring emails as well as via text message.
You can also make use of social media channels by adding shoppable posts and offers directly to your followers.
Does it include abandoned cart recovery?
Yes, but the feature is only available on Performance and Premium plans.
And coupon builder?
Yes, all users can access coupon builder.
Square Online Pros and Cons
Pros:
Affordable tool for small online or offline stores
Access to a lot of features for Free plan users
Easy to link your store POS and website
Set-up and configuring the store is a no-brainer
Integration with dropshippers and print providers
Cons:
Limited theme options and customization
Lacks advanced SEO functionalities
Lacks multi-currency support and payment options
Pricing: Is Square a good option for beginners?
Square online is no doubt a low-risk investment for beginners. However, on the Free plan, the storage and bandwidth are limited to 500 MB only, but unlimited on the paid plans.
12. Prestashop (For business owners who love programming and customization)
Prestashop is a unique open-source ecommerce builder. On paper, it's free software and the only thing to pay for is the hosting service. But that would be an understatement.
If you're not familiar with programming, Prestashop could be a tricky and expensive deal for you.
The default theme isn't that good and needs you to undergo a lot of configuration. But yes, the level of flexibility it offers comes as an advantage for developers.
Another advantage is that the site is backed by a huge community. Something like WooCommerce.
But don't get overwhelmed when you see its marketplace. You can find some of the modules or plugins for free. But most of them are quite expensive.
So, it completely depends upon your level of coding skills and how careful you're when choosing your extensions.
Prestashop features we like the most: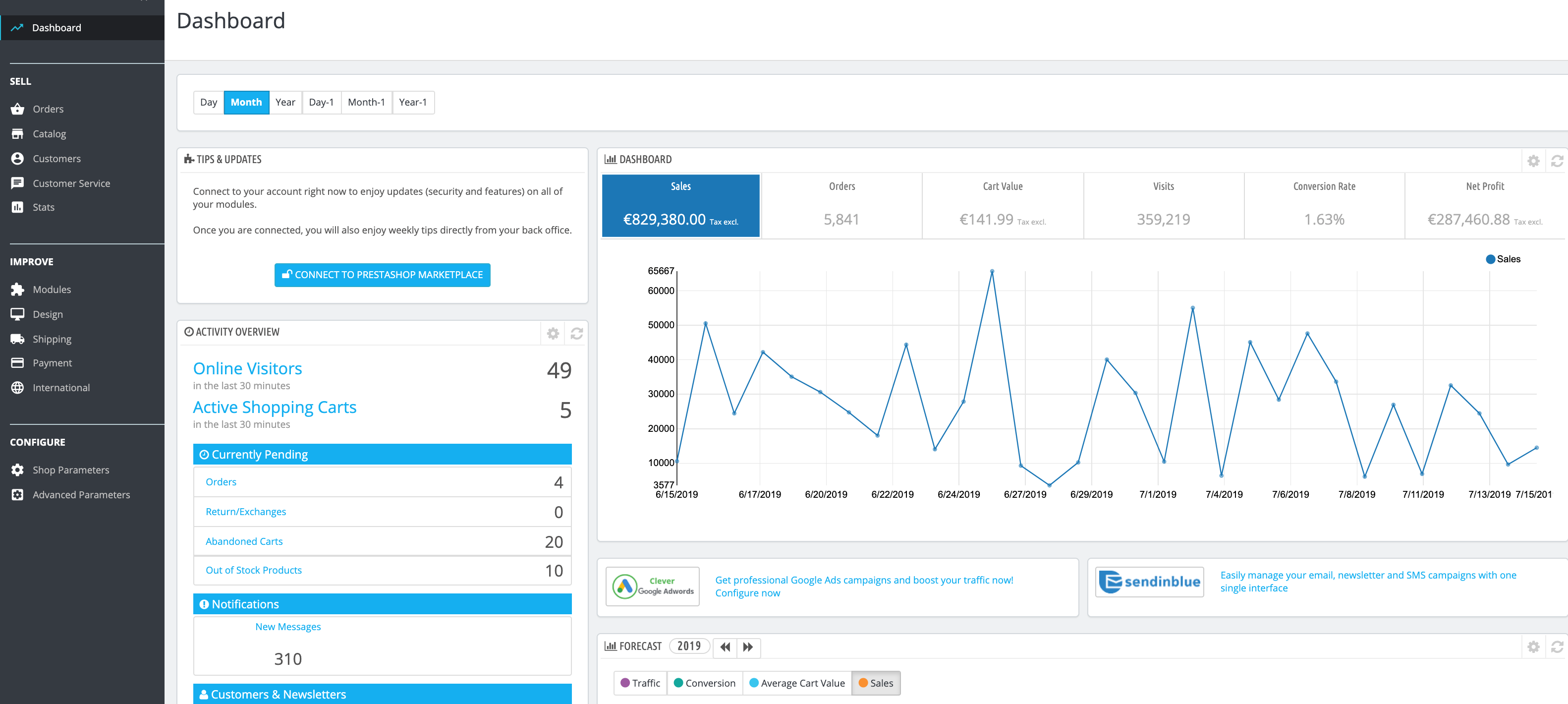 Prestashop has an intuitive and user-friendly dashboard. Its single dashboard interface makes inventory or order management easy, no matter how complex it sounds.
There are two packages: Prestashop Essentials and Prestashop Platform. Essentials is a sales-oriented package for beginners. Whereas, Platform is an all-in-one ecommerce solution geared towards enterprises.
"Essentials" is a free downloadable tool kit that covers sales, marketing, payments and analytics. It comes with 4 modules: Marketing with Google, Facebook, Checkout with PayPal and built-in metrics.
"Prestashop Platform" is a fully hosted solution where you can use a complete suite of ecommerce tools to expand your website. However, the plans are quite expensive.
Supports over 250 payment gateways including PayPal, Amazon Pay, Authorize.net, etc. The checkout page features localization, which makes it flexible for customers to pay in their currency.
How good are selling and supplier services on Prestashop?
You can find a number of suppliers in the modules. But their prices vary a lot. For example, AliExpress dropshipping costs $102, whereas Big Buy is priced at $365 per year. Unfortunately, there is no cheaper option and all other supplier services are priced within the range.
Moreover, localization makes it easy for your buyers to pay in their local currency and methods.
What is its design up to?
Prestashop comes with over 2000 niche-focused themes, but none of them are free. They all are quite expensive. Moreover, you can check out a third-party site PrestaHero, which offers some decent quality themes for free.
Prestashop SEO review:
SEO features are fairly good. But for solid SEO practices, you may require a dedicated plugin like "SEO Pack Premium" which costs $456.
Although PrestaShop tries to stand head-to-head with WooCommerce, the lack of a built-in blog is a serious setback.
So if you're really looking to add a blog editor to your site, you may go with Prestablog.
What about marketing and selling on Social media?
With multi-platform access, you can use the same product feed and promote them on social media or on Amazon.
You can also sync your entire product catalog to Google Merchant Center in a few clicks.
Also, you don't have to pay for email marketing extensions when you can use free add-ons like Mailchimp or SendInBlue.
Does it include abandoned cart recovery?
No.
But you can have it under most of the paid email marketing plugins, along with personalized emails and automation features.
And coupon builder?
Unfortunately, no.
You need to throw a few extra bucks for a coupon builder tool.
Prestashop Pros and Cons
Pros:
Open source and depth of customization
Strong developer community
Lots of learning resources
Suited for both beginners and enterprises
A wide range of plugin options
Cons:
Plugin dependency may cost more for non-technical users
Featured tools are easy to follow but difficult to manage
Only email support; dedicated support is quite expensive
Pricing: Should beginners care about Prestashop?
Prestashop Essential is free software and is ideal for beginners. Initially, the charges are only for hosting solutions:
$2.08 per month on Hostinger
$1.04 per month on IONOS 1&1
Whereas, advanced Prestashop hosting starts from $470 per month, which is focused on enterprise ecommerce.
13. Big Cartel (If you're an independent handicraft or digital artist)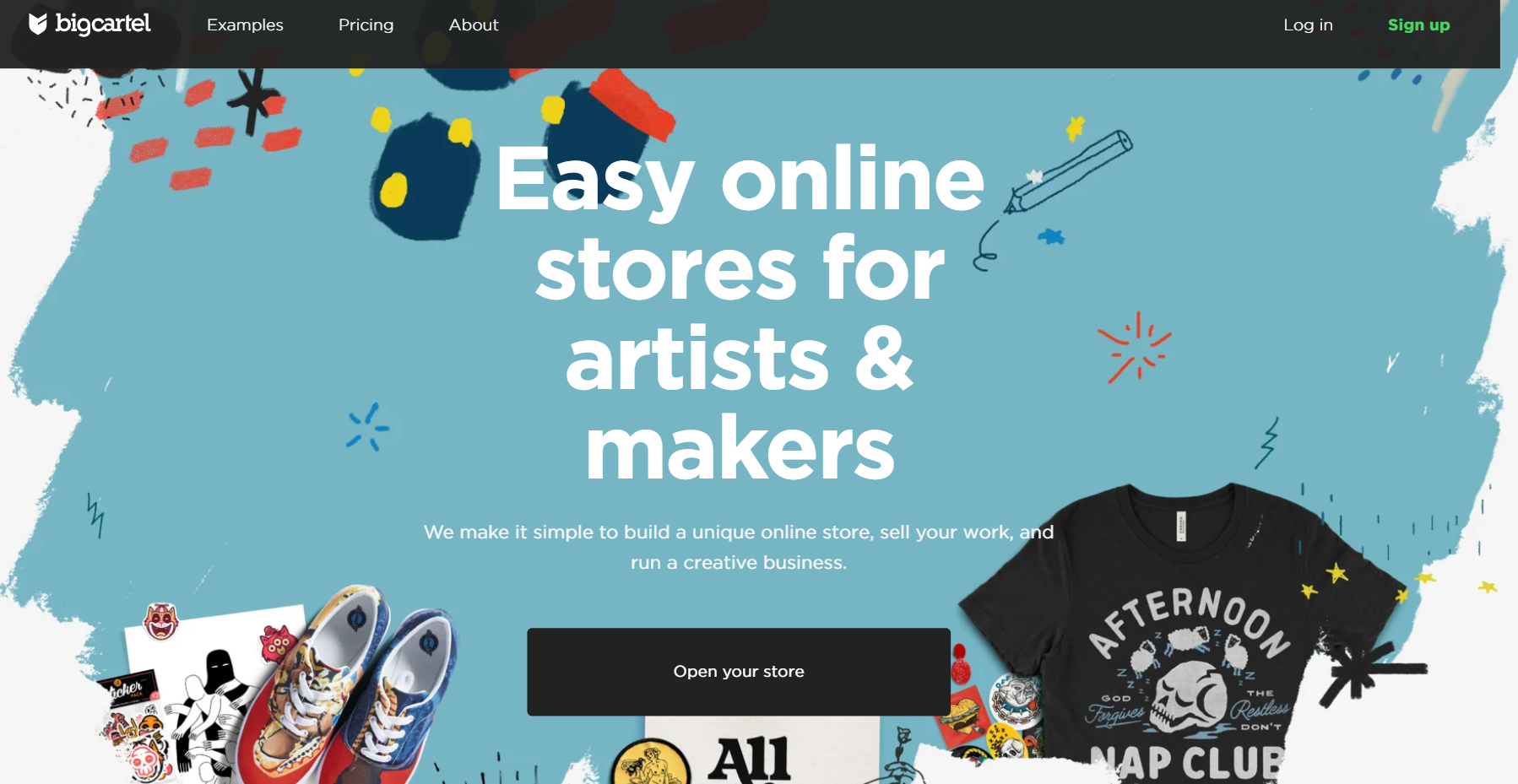 Are you an independent artist who wants to make a living without messing up yourself in the complex ecommerce formalities?
Big Cartel is one of a kind that does most of the heavy lifting while letting you focus more on your passion. To be honest, it's less of an ecommerce platform and more of an exhibition.
One shouldn't be wrong to call it "the Etsy killer".
Unlike such saturated marketplaces, Big Cartel doesn't leave your hopes in the luck of receiving the attention of your audience.
The platform doesn't have a robust set of features. But it can definitely help you set your handmade products apart from mass-produced junk.
Big Cartel Features we like the most:
Unlike Etsy, you can sell your products independently without having you compete with niche artists.
You can sell handmade paintings, illustrations, home decor, wooden and ceramic crafts, clothing, cosmetics, etc. It also supports POS systems to sell them in a physical store or exhibitions.
Features like selling in-person, $0 fees, inventory tracking, built-in drop-shipping, and order management make it bang for the buck.
Big Cartel lets you sell digital products with the help of its partner platform, Pulley. You can sell music, photography, e-books, templates, graphics, software, and fonts with complete security. Its plan starts at $6 per month for up to 25 products with a file size of less than 100 MB.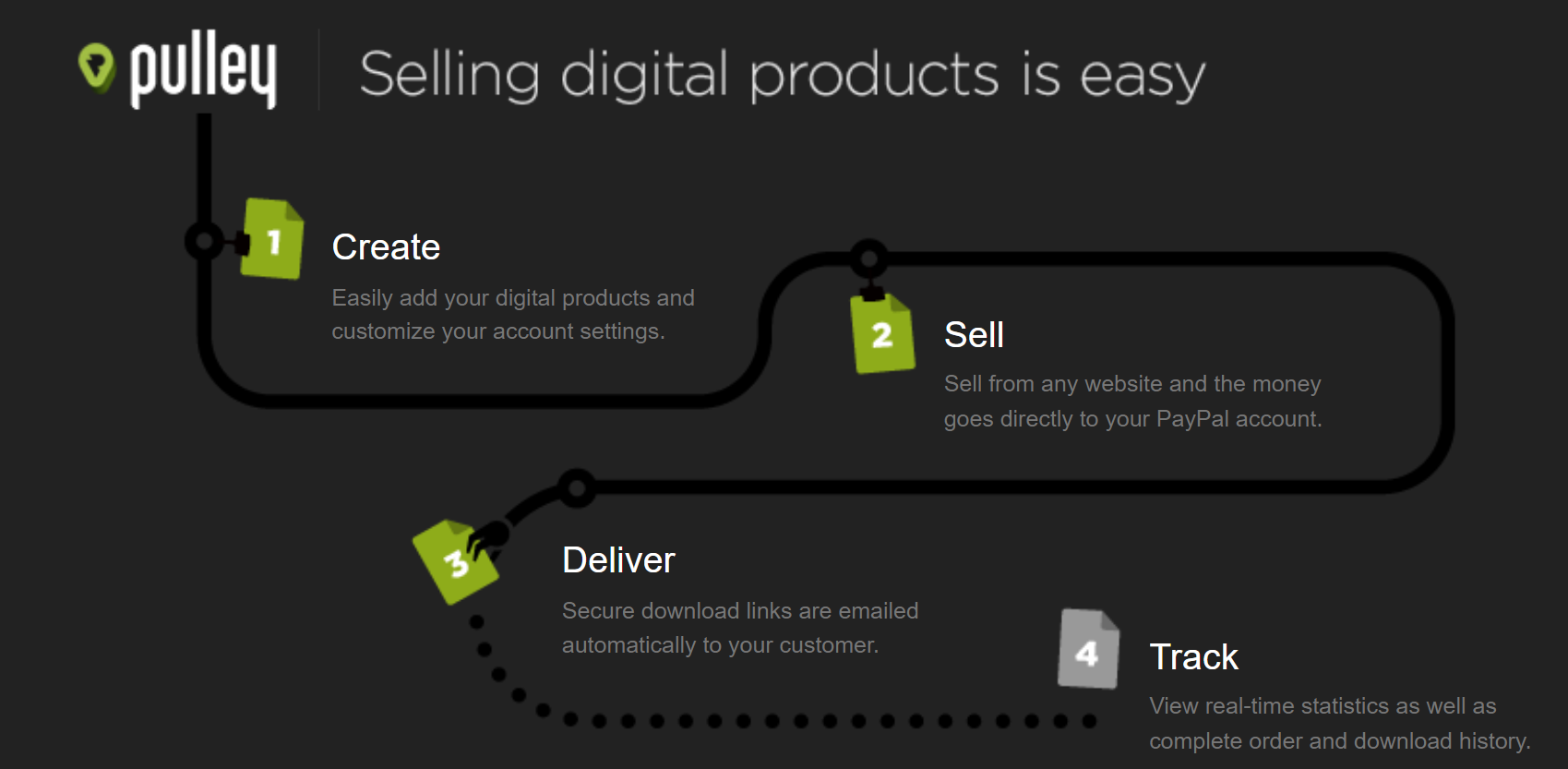 How good are selling and supplier services on Big Cartel?
For the physical products, you need to integrate with Pirate Ship, which provides logistics to 55 countries.
To make the most out of your business, you can integrate your store with the print providers: Printful and The Art of Where.
Currently, it offers only three payment processors: Stripe, PayPal, and Apple Pay.
What is its design up to?
Minimalistic, yet beautiful. They've only 18 themes that are aesthetically about music, handicrafts, paintings and similar creative disciplines.
Customization is basic. But if coding is your second art, you can go on to tweak your theme's HTML/ CSS code.
Big Cartel SEO review:
SEO is somewhat decent. But there are issues with changing your product's URL and meta descriptions. So, you need to be precise while listing them.
There is also a lack of built-in blogging functionality. So, you may need a reliable extension like DropInBlog.
What about marketing and selling on Social media?
For an effective email marketing campaign, you need to connect Mailchimp or AWeber with your store.
You can also set up Facebook and Instagram shopping and turn your followers into your customers.
Does it include abandoned cart recovery?
No.
To access this feature, you'll need to integrate your store with Mailchimp. A free plan would be enough to get started.
And coupon builder?
Not a standard coupon builder, but includes time-sensitive discounts and promotions.
Big Cartel Pros and Cons
Pros:
Supports multiple currencies
Affordable price plans
Built-in dropshipping services
Supports in-store selling
Low learning curve and quite easy to start
Cons:
Limited themes and inventory
No built-in blogging and average SEO performance
Limited payment processors
Pricing: Is Big Cartel an affordable option?
Price for selling 50 products: $9.99 per month
Price for selling 500 products: $19.99 per month
Plans for selling digital products using Pulley app: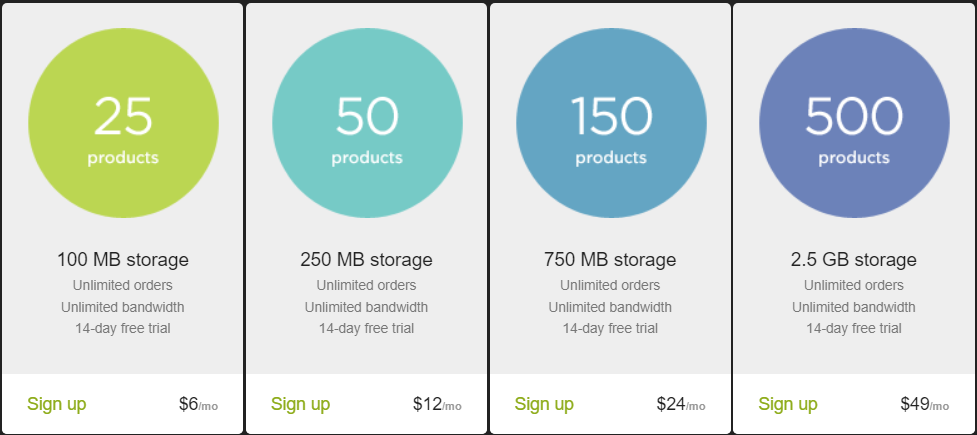 There is no commission or transaction fee on Pulley.
Additional storage costs $100 per 10 GB. Note that, any extra storage doesn't increase the number of products. It depends on the file size.
14. Volusion (A demanding platform for beginners in dropshipping business)
Volusion pops up first in my mind whenever I think of a site builder that can help me start my dropshipping business without burning a hole in my pocket.
For 20 long years, Volusion remained one of the most demanding ecommerce platforms among store owners, especially those with non-technical backgrounds.
It's easy to follow along the site-building process. You'll find some key built-in features that come as paid add-ons on many platforms.
But you can't overlook its lack of product expansion capability.
Yet, for most parts, Volusion is a bankable tool for selling your products online. Even offline.
Volusion features we like the most:
Excellent inventory management functions. You can easily control your stock and auto-create purchase orders when they're running low.
Wide range of consumer dropship products. Ability to sell digital products such as stock images, videos, ebooks, audio files and even software.
Comprehensive reporting feature that includes ROI tracker to get details on campaigns, ads, affiliate programs, etc.
Support services and knowledge base are good. Active team response via email, phone, and ticketing system.
How good are selling and supplier services on Volusion?
You can connect with Doba or Kole Imports which hosts over 250 wholesale suppliers and manufacturers. Currently, services are limited to the US, Canada, Europe and Australia.
They only accept payments via Stripe, PayPal, and Global Payments. Recently, they've added Amazon Pay and are looking to include more payment processors.
What is its design up to?
Designs are quite limited. Currently, they feature some 11 free themes and 34 premium ecommerce templates. But the premium ones are pretty expensive.
Thankfully, Volusion comes with a solid built-in editor with customizable capabilities. So if you're familiar with coding, you can tweak your free themes and won't complain much.
Volusion SEO review:
SEO features are fairly equal for all plan users. Its on-page SEO tactics are among the top-notch ecommerce platforms.
Going a step further, you can also use conversion rate optimization with Justuno integration, which lets you engage your audience using targeting and segmentation methods.
What about marketing and selling on Social media?
Volusion's cross-selling functionality makes it easy to control every channel right from your admin.
Its "Deal of the Day" is a unique landing page builder feature that lets you promote the products of your choice through email, Facebook, Twitter, or anywhere else.
You can perform Google Ads and enable automatic social feeds on all the plans. Plus, many more sales-driving integrations for every user.
However, your Personal plan lacks a proper email marketing feature. Another let-down, it doesn't directly support blogs. So, you may need to create a subdomain for that.
Does it include abandoned cart recovery?
Yes, but only for the Professional and Business plan users.
And coupon builder?
Yes, anyone can create coupons and discounts.
Volusion Pros and Cons
Pros:
Easy to get started without much configuration
In-depth resources and customer service
Marketing and inventory management
Comprehensive analytics and reporting function
Satisfactory customer support in all plans
Cons:
Doesn't provide a blogging platform
Falls short on niche-focused themes
No abandoned cart and newsletter in the Personal plan
Pricing: Can beginners rely on Volusion?
Volusion doesn't seem to be a lucrative option for starters. Inventory in Personal Plan is ridiculously low.
You'll also have to pay a transactional fee on top of your monthly fee. However, if you're ready to throw some $70 per month, the Professional Plan does offer some valuable feature sets for your store.
15. OpenCart (An open-source platform with multi-store capabilities)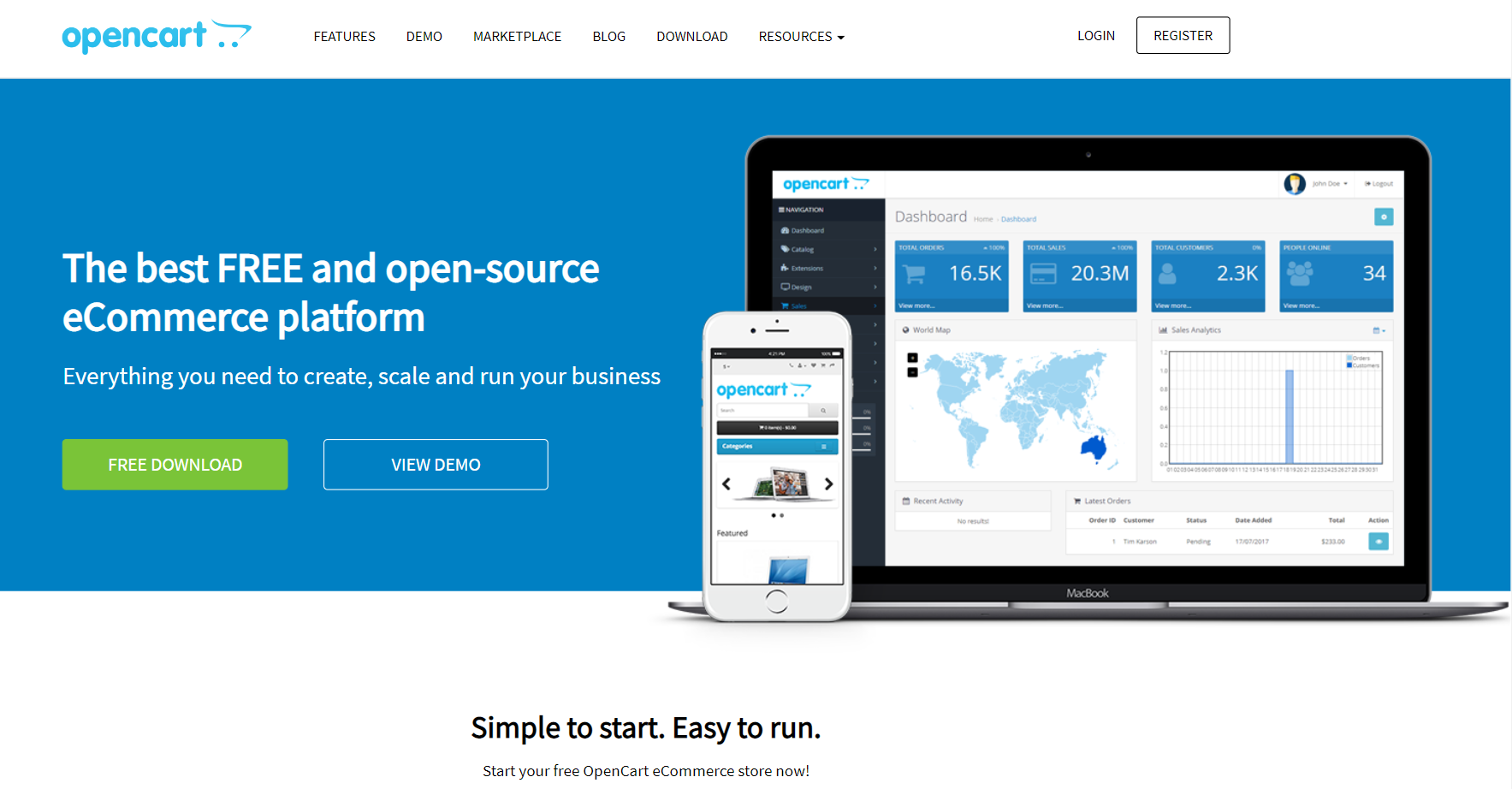 OpenCart is a free open-source ecommerce platform. If you're already familiar with PHP, you can build a powerful web store with many premium functionalities at absolutely no cost.
Sounds like a great deal?
Well, it depends. If you're like a mechanic of your own car and want complete creative control, then yes.
But if you're expecting a web building solution like WIX, then OpenCart is certainly not for you.
The good thing is that you don't have to pay a monthly fee for the integration tools. They all have a one-time purchase model. Now, let's see if this customization-rich platform is a good investment for your ecommerce dream.
OpenCart features we like the most:
OpenCart lets you create multiple stores without having to perform an installation multiple times. Not every open-source ecommerce has this single installation feature under single admin management. Not even WooCommerce.
You can even set a different theme or look and feel for multiple stores while still being able to manage them all under the same admin.
With 13,000+ extensions, OpenCart leaves nothing for you to make excuses about its features. A bit overwhelming, but you'll enjoy the freedom of customization and open-source community.
You can sell both physical and digital products. Currently, it offers 53 payment methods like PayPal and Square. Others can be used as integrations, which also include Bitcoin.
How good are selling and supplier services on OpenCart?
You can find some decent dropshippers in the marketplace like Wholesale2B or AliExpress that lets you import your choice of products.
Besides multiple payment gateways, you can also use Afterpay to let your customers pay in 4 installments.
What is its design up to?
It comes with tons of themes and most of them have outdated designs.
But the good thing is, you can customize them all as per your needs. You can even buy material themes in the marketplace. They even have a  customizable layout.
OpenCart SEO review:
Opencart has decent SEO functionality. But you may not make some key SEO modifications without using SEO plugins.
If you're familiar with HTML, tinkering around with the code could be of some help. But for optimum results, you can go with some of the SEO packages available in the marketplace.
What about marketing and selling on Social media?
No need for extensions. The built-in marketing tools are enough for you to create and track marketing campaigns.
Features like email marketing, affiliate marketing, and Facebook pixel are of great help. It also lets you integrate Amazon and eBay into your storefronts.
Does it include abandoned cart recovery?
No.
However, you can get extensions with automated email functionality at a budget price.
And coupon builder?
Yes, for free percentage or flat rate-based coupons.
You may also use the coupon feature that comes with the cart abandonment extension.
OpenCart Pros and Cons
Pros:
Open-source and no monthly cost (unless you're on the cloud)
Active discussion forum and good learning resources
Multiple payment gateway options
Strong community and a number of development partners
Cloud-based as well as can be installed locally
Cons:
Lacks a number of pre-equipped features
Most of the themes look outdated
Built-in SEO features are pretty basic
May require a lot of customization
Pricing: Is OpenCart an affordable platform?
OpenCart for desktop is free to download and use. But you only need to pay for a hosting solution like A2 Hosting, which starts at just $2.99 per month annually.
However, they offer dedicated support separately, which costs $120 per month. Additionally, there are other paid enterprise services worth checking out.
OpenCart also offers cloud hosting to make it more accessible, easy, and secure while you're on the move. Its yearly pricing starts at $15.40 per month.
Final Thoughts
That was it.
Fifteen best ecommerce platforms – there is a lot to chew on before you choose. But by now, I hope you're able to shortlist a few of them as per your preferences. And then, you can narrow them down further.
For example, I'm well versed in coding and looking for an online store builder with full creative control over its customization. So, I found that WooCommerce, PrestaShop, and OpenCart have everything I want.
Next up, I would try each of them and see what syncs well with the idea of my store.
Folks, this could be a bit time-consuming process!
But I'm sure you would come up with a platform that can help you realize your ecommerce dreams.