Payment processor software allows you to accept credit card and bank transactions from customers.
It is a convenient and secure method for both e-commerce and brick-and-mortar businesses, enabling them to handle digital transactions with ease.
In this article, we will explore the top software and platforms that deliver payment processing services. I have also covered the core features of a standard processor for comparison.
What is a Payment Processor and What Features to Look for?
A payment processor is a third-party vendor through which you manage online and in-person card/bank transactions.
It acts as a middleman between a merchant and a bank or a financial institution and handles all the back-end communication to facilitate payment transfers.
The top Features to Look for In a Payment Processor are;
Multiple payment gateways support.
Best processing fees.
Embeddable checkout or integrations with your website.
Global transaction option (for online businesses.)
Tracking and reporting.
If you run a brick-and-mortar store, you should also consider platforms that deliver POS or any other in-person payment system, like a QR kit. Several vendors in the below list sell these services.
Let's check out the 12 best payment processors and review their core functions.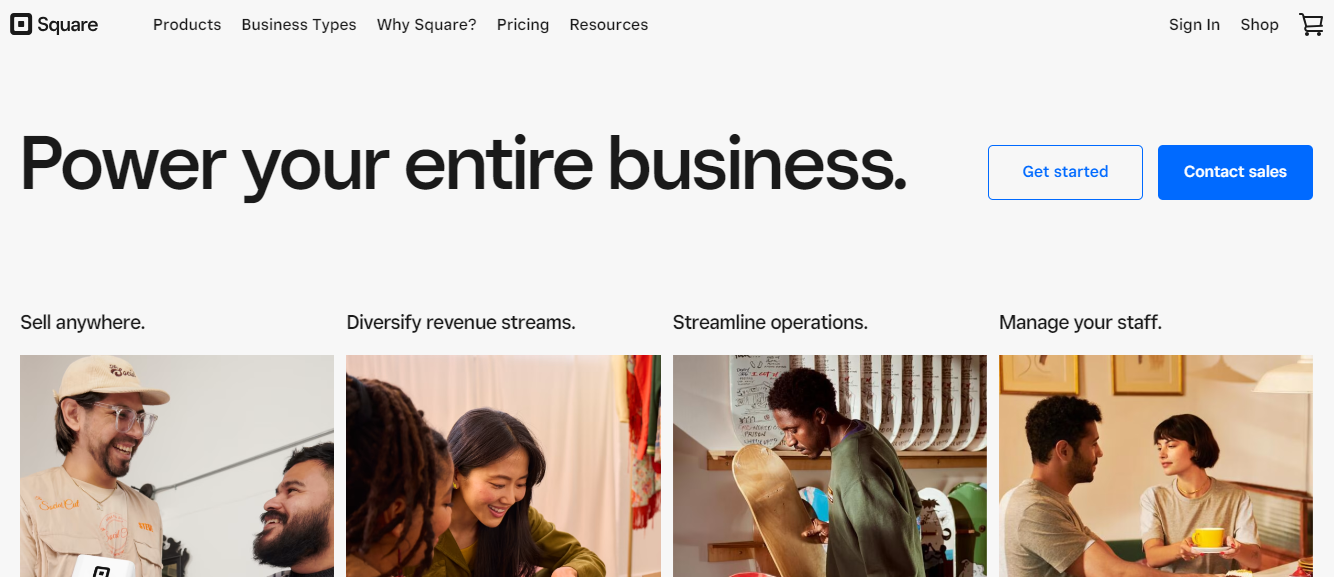 Square offers a suite of business tools and a payment processor.
Brick-and-mortar stores and services businesses like restaurants can get POS hardware with a pre-configured payment processor.
For e-commerce stores, Square provides payment links that can be embedded into buttons. You can further add installment options in your checkout cart to make your product attractive.
If you are just starting out, you can build a mobile responsive e-commerce page with Square and manage your orders and purchases online.
Square's most appealing feature is its free plan.
You can create a free account without any setup or monthly charges and pay only for the transactions. The monthly fees are only included in the premium packages.
Core Features
POS system.
Online, remote, and installment payment methods.
Mobile payments.
Business tools for e-commerce stores.
Banking services like loans.
Integration with social platforms.
Tracking and reporting.
API.
Price
Square's basic processing charges for online payments are 2.9% + 30 cents.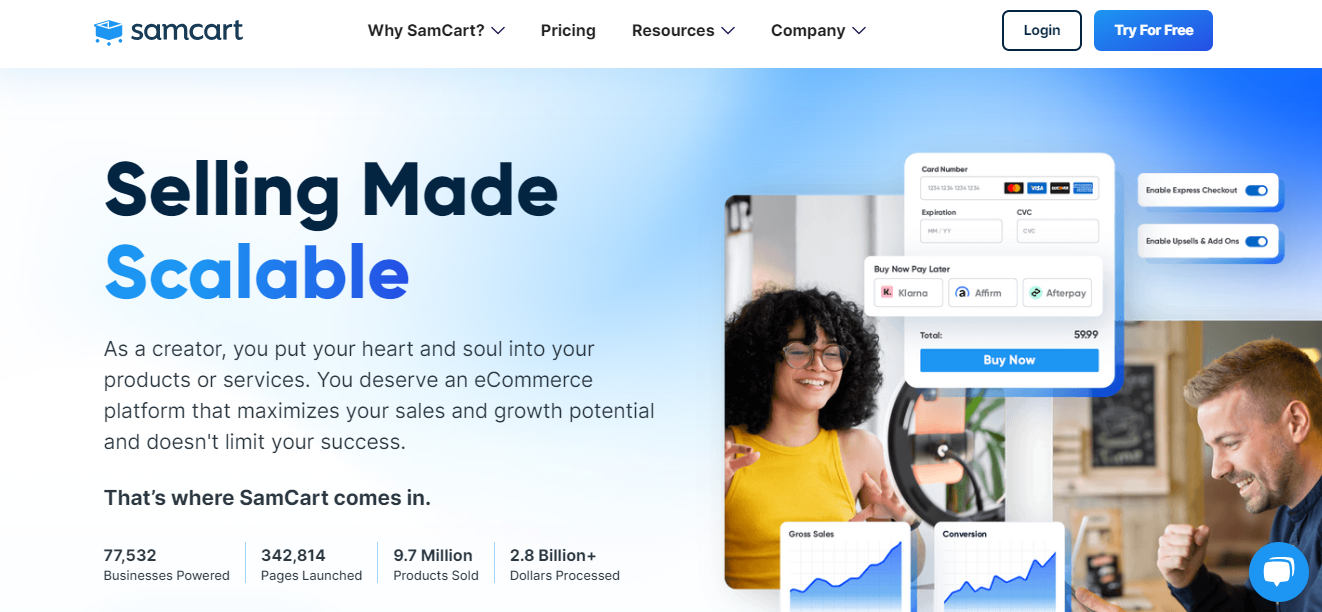 SamCart is a checkout cart software for digital product sellers. Content creators can use this app to create, centralize, and automate their checkout workflows.
With its pre-defined templates and the drag-and-drop builder, you can quickly design professional and mobile-responsive product pages for your store.
For payment collection, you'll get a built-in processor and a number of flexible payment features to customize your pricing structures.
The app doesn't charge any processing fees and provides Sales and VAT support in the package. You can also connect third-party processors to the cart to expand your reach.
Core Features
Shopping cart for digital products.
Multiple payment methods.
Subscription management.
Discounts and upselling options.
Product page templates.
Workflow automation.
Integration with other processors.
Reporting.
Price
SamCart's monthly packages start at $59. You can take a free trial to explore the software and get live support for a small fee.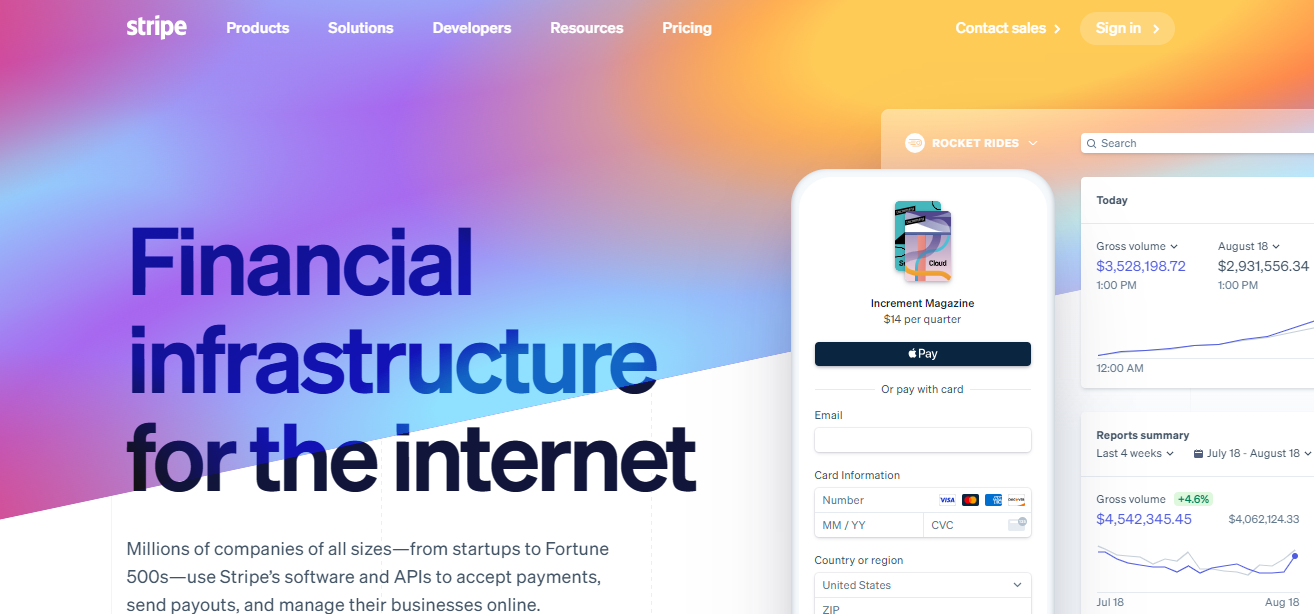 Stripe is widely used by small businesses for online payments. It's easy, hassle-free, and versatile enough for all industries.
You can offer 20 payment methods to your customers via Stripe and run different pricing models like subscriptions and Pay-as-you-go. Its built-in cart is fully-features for online purchases.
If you have a physical store, you can use it on the hardware and accept in-person credit card transactions as well. It centralizes offline and online channels to make tracking easy and integrates with popular business operation applications.
Overall, Stripe simplifies the payment transfer and provides a smooth experience to both merchants and customers.
Core Features
Global payment processor.
One-time, recurring payments.
Embeddable checkout cart.
Simplified PCI compliance and fraud prevention.
Multi-currency support.
Integrations and API.
Unified dashboard.
Reporting.
Price
Stripe per-transaction fee is 2.9% + 30 cents. If you process a large number of transactions, you can ask for custom packages.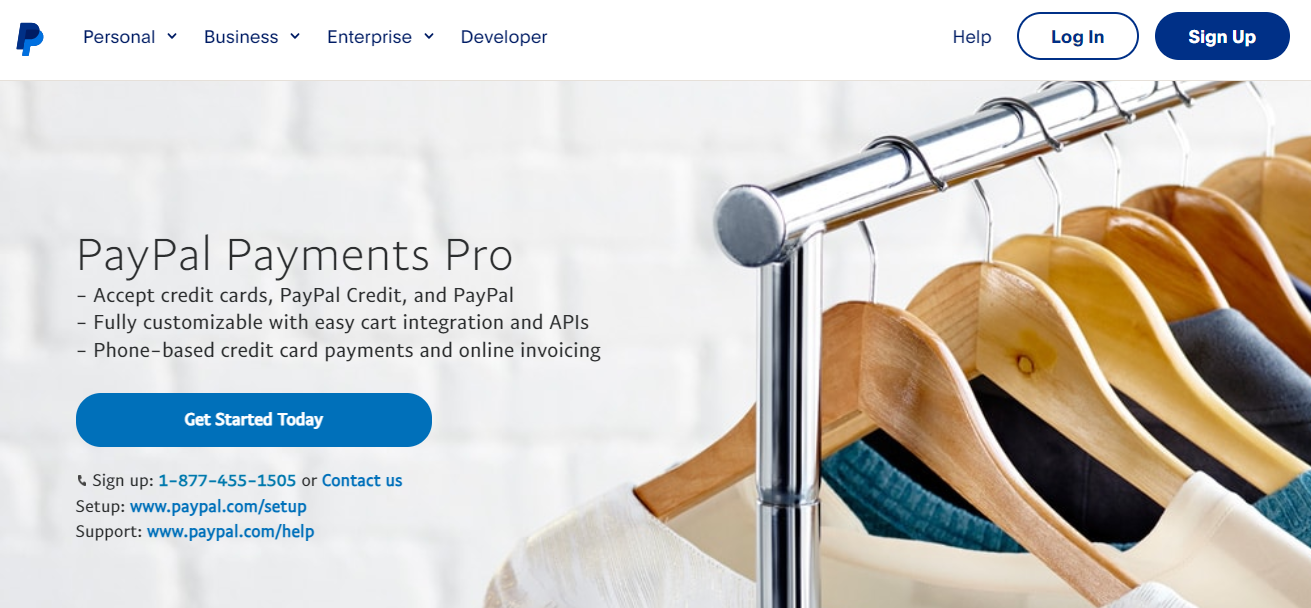 PayPal is the oldest and one of the most commonly used payment processors.
It was initially launched as an online payment transfer service provider for B2B businesses, but it has expanded its product line to include shopping payments.
PayPal Pro is its e-commerce product. 
It integrates with Shopify, Etsy, and WordPress websites and accepts major checkout options, including credit card and phone payments. 
It also supports multiple currencies and delivers a secure checkout experience to customers. 
The processor works well with popular carts and can be customized.
PayPal Pro is available in UK, US, and Canada at the moment.
Core Features
Online transactions.

Credit/debit card, bank transfer, phone, and in-person payments.

Customizable.

Support major carts and e-commerce platforms.

Multi-currency transactions.

Simplified PCI compliance.

Dashboard.
Price
PayPal Pro charges a flat fee of 2.89% + $0.49 per transaction plus a monthly fee. Here's a list of its fee structure.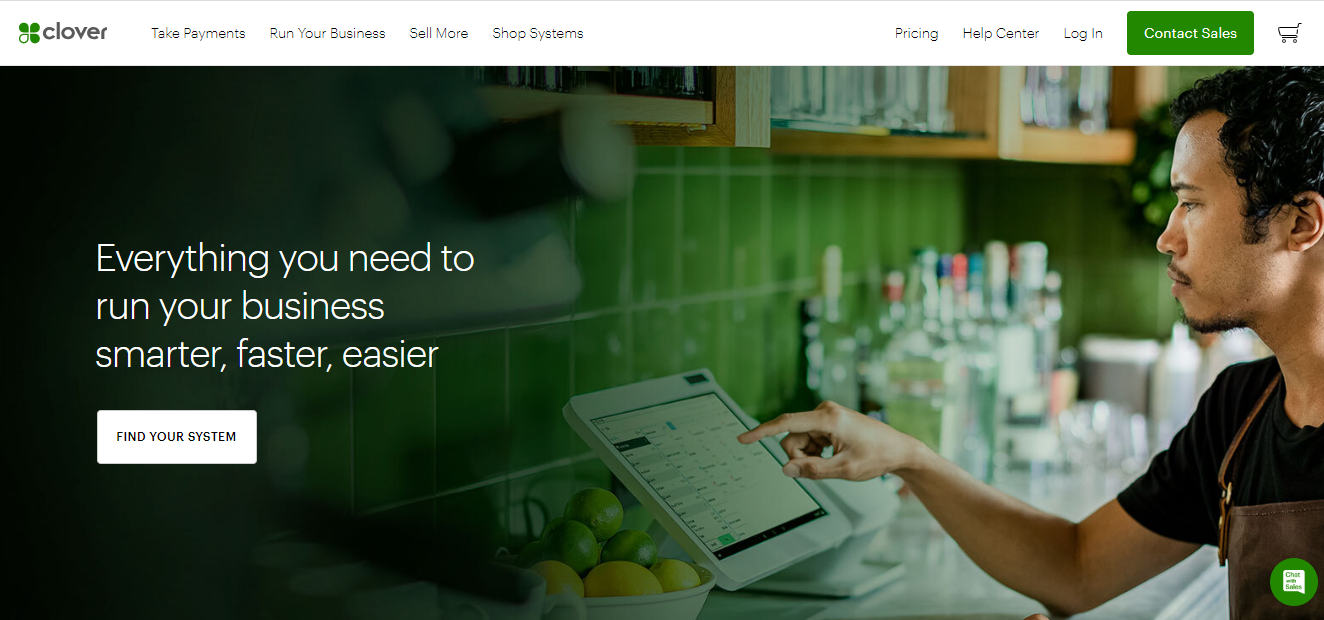 Clover provides POS and online payment solutions.
It delivers a complete POS system for brick-and-mortar stores that can be tailored to fit most business operations.
To accommodate e-commerce business owners, Clover offers a website builder and a dashboard. You can take orders, process payments, and accept bookings via the dashboard.
If you work in a service business, you can also generate invoices and accept payments through emails.
Some of the payment methods you can process through Clover are; credit/debit cards and mobile payments like Google Pay. Its POS system has extra options for check and cash purchases.
Core Features
Card reader and POS system.
Online ordering.
Credit cards, checks, and cash payments.
E-commerce business tools.
Virtual terminal.
Invoicing.
Integrations.
Price
Clover shares custom packages for its POS system. You can pay one-time or monthly fees, it's up to you.
Its card transaction charges are 2.3% + 10 cents.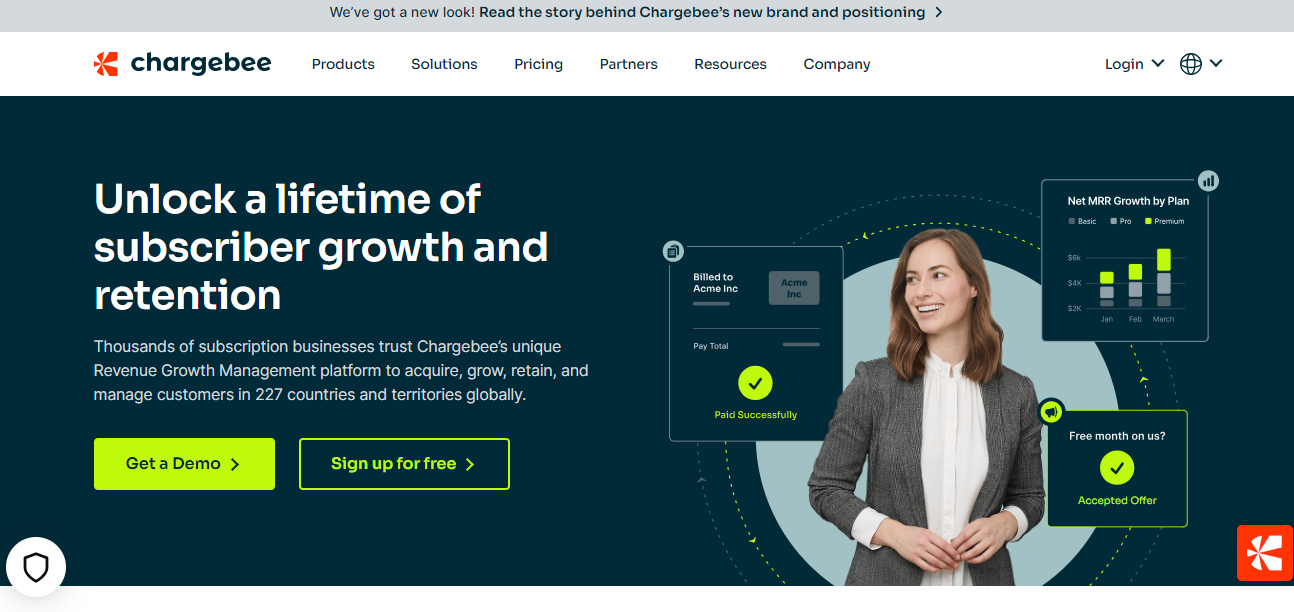 Chargebee is ideal for SaaS businesses.
It's a billing software product that allows you to create a subscription-based pricing structure and process recurring payments.
A few things you can handle through Chargebee include invoicing, payment processing, card transaction failure handling, and tracking.
You can add 29+ payment methods to your checkout page and accept local currencies to sell services globally.
As Chargebee is a billing software, you can manage different pricing models and automate everything to save time. To centralize your data, you can connect Chargebee to your accounting software.
Core Features
Invoicing and billing.
Recurring payment processing.
Workflow automation.
Online and offline invoicing.
Multi-currency and global tax support.
Third-party integrations.
Reporting and tracking.
API.
Price
Chargebee's basic plan is free, and the premium package costs $599. It additionally charges 0.75% on monthly billing.
Lemon Squeezy is a good alternative to Chargebee.
Like Chargebee, it's a billing platform that provides payment processing and subscription management to service-based businesses.
You can sell your products globally and accept purchases from 135+ countries. With its instant payment methods, you can give up to 20 payment options to customers and allow them to make transactions in their local currency.
Other core functions of Lemon Squeezy are fraud prevention and failed payment recovery. You can enable the three-tries option in the billing section to recover failed transfers and automatically block any transaction that appears irregular.
Core Features
Subscription management.
20+ payment methods.
Multi-currency support.
Fraud prevention.
Failed payment recovery.
Workflow automation.
Dunning.
Auto-tax collection.
Revenue insights.
API.
Price
You can get started on Lemon Squeezy for free. It charges 5% + 50 cents per transaction.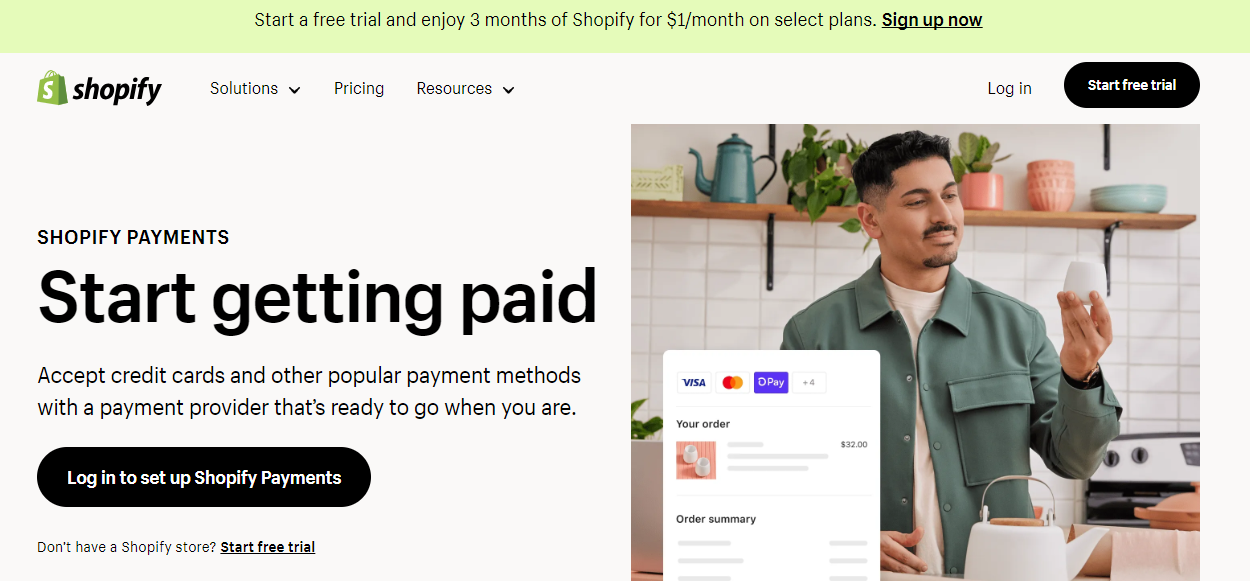 If you run a Shopify Store, you can manage online payments without choosing a third-party payment processor.
Shopify offers an in-house payment option to every merchant, which, when enabled, allows them to receive payments from credit cards and other popular gateways.
You will have the flexibility to accept purchases in local currencies and track all your transactions. With its 3D secure checkouts, you can easily prevent fraudulent entries.
The only drawback of this product is its accessibility.
Shopify Payments is available to stores in specific countries only. If your residency is in the supported countries, this can be a hassle-free solution for you.
Here's the list of countries it supports.
Core Features
Built-in payment processor.

Multiple payment methods.

Secure checkout.

Local currency support.

Tracking and reporting.

No processing fees.
Price
Shopify doesn't charge transaction fees on the "Plus" account—save for some exceptions.
Mollie offers both ready-to-use and tailored payment solutions. With this platform, you can integrate popular gateways with your website and use the API to customize your checkout workflows.
In addition to shopping cart payment integration, Mollie delivers recurring payment and invoicing options for SaaS businesses. You can easily manage subscriptions and send payment requests to your customers.
One other thing.
For merchants who run online and brick-and-mortar businesses together, Mollie shares several payment transfer methods. They can set up a POS system in their store or accept payments through QR codes.
Both offline and online payments can be managed through Mollie's unified dashboard.
Core Features
Online transfer.

Multiple in-person payment methods.

Recurring and invoicing.

Refunds.

Website integration.

Dashboard and reporting.

API.

Multi-device support.
Price
Mollie only charges transaction fees. The rate for each country and payment gateway, however, is different. Check out the transaction fees here.
If you are on the lookout for a bank-to-bank payment processor, go for GoCardless. You can use it to process direct debit payments from your website.
This platform allows both recurring payments and invoicing. You can set up monthly invoicing for your services and send payment requests via email. 
If you want to add a one-time payment option, GoCardless also provides a feature called Instant Bank Pay that can be embedded into your checkout cart. 
You can make as many transactions as you want and collect payments in 30+ currencies. There is, however, a maximum limit on the transaction amount. Check the FAQ to find the limitations.
Core Features
Bank-to-Bank transactions.

Recurring and one-time payments.

Global transactions.

Failed payment recovery.

Customization.

Direct Debit Guarantee

Multi-currency support.

Integrations and API.
Price
You can try GoCardless for free. It charges 1% + £0.20 for UK transactions and 2% + £0.20 for international payments.
You might have to pay monthly fees for customization and branding.
Venmo is a widely popular mobile payment platform for peer-to-peer transactions. Over 80 million people use this digital wallet app to send and receive money from peers.
You can use Venmo for business transactions as well.
It offers a business profile specifically for merchants, via which they can take payments for products and services.
The profile comes with several interesting perks.
For instance, if you have a small brick-and-mortar cafe, you can accept payment via a QR code. Or, if you run an online entertainment website, you can integrate Venmo with your site.
This app is ideal for US-based small business owners who have a PayPal account and need an alternate mobile payout option with it.
Core Features
Mobile payment.
QR kit for in-person transactions.
Generous transaction limit.
Tipping option.
Professional social profile.
Customization.
Integrations.
Price
Venmo's per transaction cost is 1.9% + $0.10.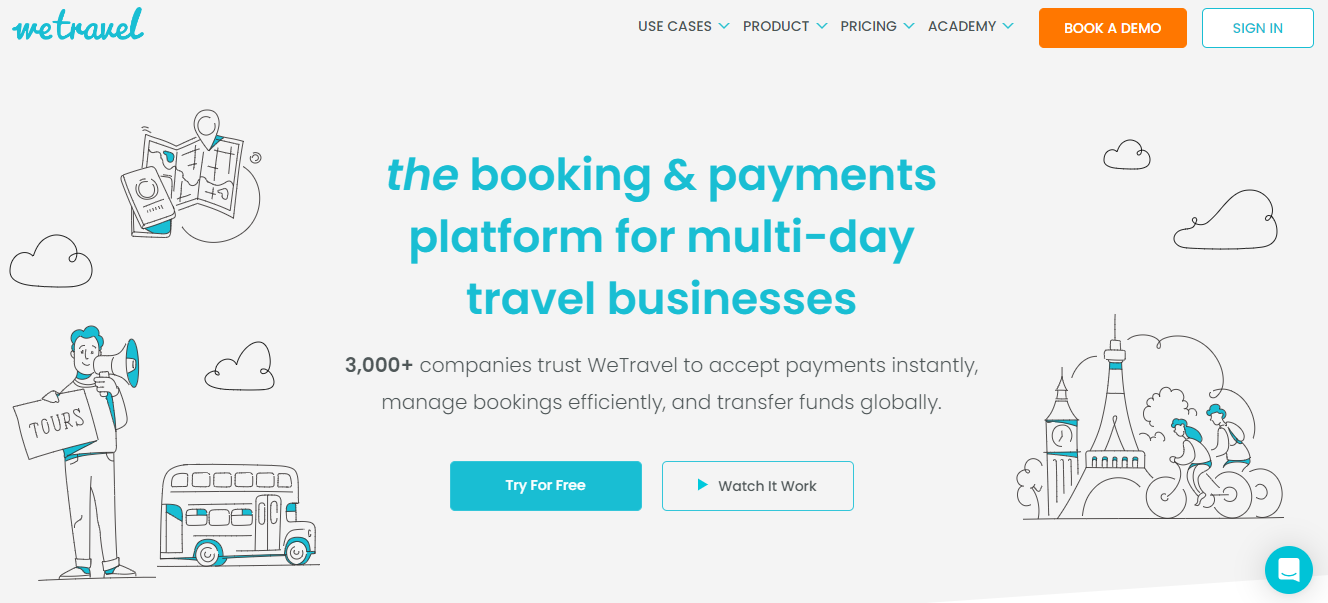 We Travel is built for travel and hospitality businesses. It provides you with tools to accept bookings, collect payments, and process global transactions.
You can create a trip page and embed a calendar widget into it to make booking easy. For a more seamless checkout experience, you can integrate We Travel with your business website.
Your customers will be able to book trips from their smartphones and make payments in 25 currencies. With custom options, you can create flexible pricing packages and automate basic communication.
You can give We Travel dashboard access to your team and let them manage bookings.
Core Features
Booking management.
Global transactions.
Business tools.
Embeddable checkout.
Flexibility.
Branding.
Mobile friendly.
Team invitation.
Multicurrency support.
Price
We Travel's basic plan is free, and the premium packages start from $79. Its per-transaction charges are 1% + 30 cents.
Final Words
While shopping for the best payment processor software, be sure to check their customization features and accessibility.
Most of the platforms support all the major payment methods to make purchasing easy and smooth. But some like GoCardless and Redde are well-suited for specific businesses only.
Note down the payment methods you want for your store and shortlist platforms that match your requirements. Good luck!