Still stuck with the Excel sheet for managing your finances?
Well, it's time to change the old-school way of accounting.
You know, the financial operation is the most sensitive aspect of a business.
Generating sales is the first main challenge for any startup. But when your business starts to take off, you really need to get serious about managing your financial data.
How much does someone owe you?
Is your cash flow calculation correct?
Are your transactions secure?
Are you efficiently tracking your tax details?
There are tons of such questions that may overwhelm you while you have financial responsibilities on your shoulders.
But if you're really looking for a hassle-free and secure way of handling all such problems under a single roof, you can either go for Sage or Quickbooks.
Both Sage and Quickbooks are time-tested tools and among the top choices for an accountant.
But which one to choose?
Is Quickbooks a better choice for your business, or is Sage that you need?
In this comparison guide, we're going to narrow down the essential aspects of both the tools and explore the deciding factors for you.
Why Sage and Quickbooks?
Many reviews and recommendations conclude that Sage and Quickbooks make a perfect bookkeeping companion.
It's always good for a business to have a clean record whenever an audit is conducted. Both Sage and Quickbooks align with the ethics of finance management.
They come with both desktop and cloud versions so that you can have secure access whether you're in the office or on the move.
So on whichever platform you're on, you'll surely reap these common benefits:
Easy and secure access to the data
Financial visibility
Accounting accuracy
Cash flow management
Time-saving automation
Reduces calculation errors
Real-time reporting
Inventory management
Employee payrolls
Customized invoicing
Ease of collaboration
Inbuilt tax compliance
Less paperwork
Improves decision-making process
Now let's dig deeper and compare QuickBooks with Sage Accounting.
Sage is one of the oldest accounting companies that focuses on enterprise-grade financial management.
Based in the UK, the company was founded by David Goldman, Graham Wylie, and Paul Muller. In 1981, they came up with the idea to develop a bookkeeping software for a printing company to manage records and repeated accounting tasks.
Since then, Sage has been delivering the same commitment to offering seamless accounting services. Besides, it offers ERP, CRM, and HR services for scalable business solutions.
Considering multiple modules in the software, they feature a number of products for both holistic and focused business applications.
But the most popular among them are Sage Business Cloud Accounting and Sage 50 Cloud Accounting.
Sage's "Business Cloud Accounting" is a native-cloud solution specially designed for small businesses.
Whereas, "50 Cloud Accounting" is a desktop-based software built for enterprises only. The desktop software is resource-heavy, but cloud access makes it quite flexible.
Both of them offer comprehensive accounting solutions for any type of business.
Now there are 31 Sage products in total.
So, you can either choose from the two core products for a complete solution or look for supplementary products to augment your accounting experience.
Some of them are: "Sage Timeslips" to track time and record billable hours of customers, "Payroll" to manage year-end salary of employees, "100 Cloud" for manufacturers and wholesale distributors, "Sage HR" to manage the workforce, etc.
Quickbooks kicked off its accounting services journey right after the launch of Sage. The software was the first flagship product developed by Intuit in 1983.
Earlier that year, developers Scott Cook and Tom Proulx took Quicken's codebase to create a personal financial management tool specially geared towards beginners.
So technically, Quickbooks is a simplified version of Quicken (now acquired by HIG capital) that ultimately marked the establishment of Intuit.
Today, it holds the highest market share among small businesses and is only continuing to grow with time. It's because of their unmatched accounting solutions that deliver ease of use, improved productivity, and peace of mind.
Quickbooks features two core products: Online and Online Advanced.
"Online" is fast-growing and cloud-based accounting software for small businesses and individuals.
Whereas, "Online Advanced" is a comprehensive solution offering analytics, automation, and enterprise-grade services.
Besides, you can also find add-on services such as:
Payroll, helps you keep track of the employee's billable hours, payroll taxes, and HR management.
Payments, that enable flexible transactions and track all the monetary actions.
Time, for scheduling tasks for employees, time tracking, team management, and interactive reports.
Live, where you can hire a pro advisor to help you with your accounting goals.
Which software is easier to use?
Sage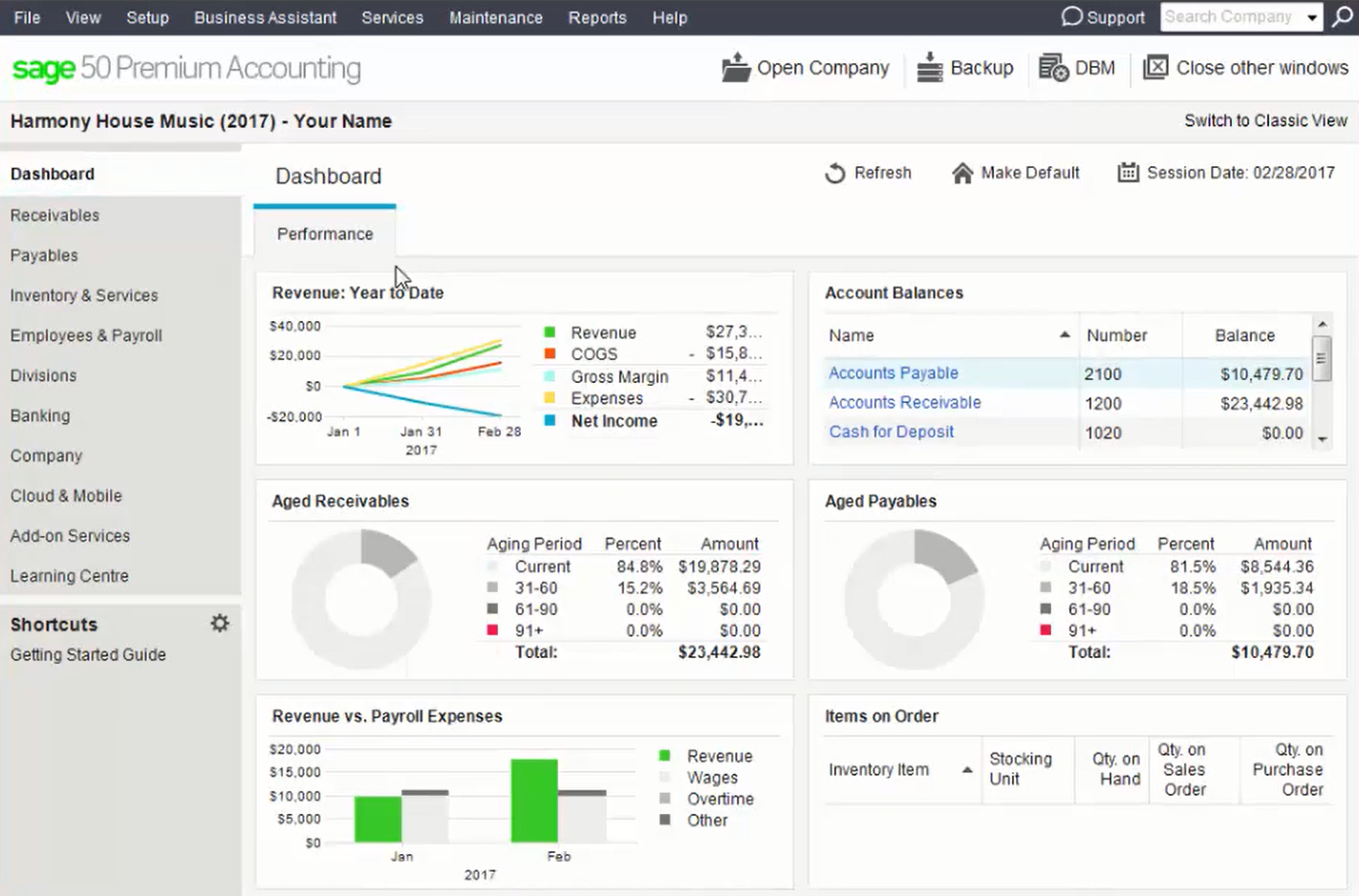 With Sage, you need to have a basic understanding of accounting. It was designed with an accountant in mind.
Specifically, when we talk about its core product, "Sage 50cloud Accounting", it's resource-heavy and tailored to multi-industry use cases.
It welcomes you with a flowchart-style home screen that presents the flow of transactions and how each function is connected throughout the system.
Whereas, its native-cloud version is comparatively easier to use and doesn't scare you away with multipage tools and settings. You can see how cleaner and graphical the dashboard is in the screenshot below.
To make things easier, all of their products feature a product tour that walks you through setting up and creating charts of accounts.
With status tracking, it ensures you won't branch off into other tasks while you're creating records for customers or vendors and managing inventory of items.
You can keep track of the purchase orders, serial numbers of products, invoices, and item history for your ecommerce store without any hassle, for instance.
It's peace of mind when you've not just on-premise but one-stop cloud access to the account.
And this makes multi-user collaboration easier.
User roles are quite customizable, and you can set different levels of access so that they can work together in real-time.
Ever feel the need to change the look, you can customize your financial details on the Dashboard with colors, fonts, and layout along with the parameters you want to see.
Besides, you can also customize your invoice forms, add a logo, and drag and drop elements.
Automation is yet another feature that saves you time and keeps you updated about important payments. Also, with AutoEntry, you can capture invoices from your phone and let the tool do all the hard work.
All in all, there's a bit of a learning curve and a complicated setup. You'll also find that the user interface is quite outdated and may be overwhelming if you're using accounting software for the first time.
Quickbooks
Quickbooks features a modern UI and is easier to use. It starts with a quick tour where you need to follow steps like entering basic details of your business.
You will also go through a few simple questions and a basic setup that aligns the tool as per the type of your business. For example, setting up rules for particular transactions, assigning vendors, employees, etc., saves you a lot of time in the future.
Now, adding your existing transactional data is straightforward on Quickbooks. You can enter the details manually, although it's time taking.
But to import your data quickly from CSV or Excel format, you may need an expert to avoid messing things up.
Just like in Sage, the dashboard in Quickbooks gives you a graphical overview of your business performance, such as sales, profits, losses, expenses, linked bank accounts, etc. There is not much room for customization, though.
Moreover, you can set your preferences as per changing accounting needs. You can even set the appearance to dark mode if it feels easier on your eyes.
Doesn't this look amazing?
Sage users may see this with envy, but anyway.
Quickbooks doesn't have much of a learning curve when you're on the cloud. But things are different on its desktop version.
It features a flowchart-style homepage and user interface that pretty much resembles the Sage Accounting software. Not quite as complex as Sage, but it does require some training.
As it focuses on enterprise solutions such as manufacturers with complex inventory, navigation may not be as easy as in the cloud version.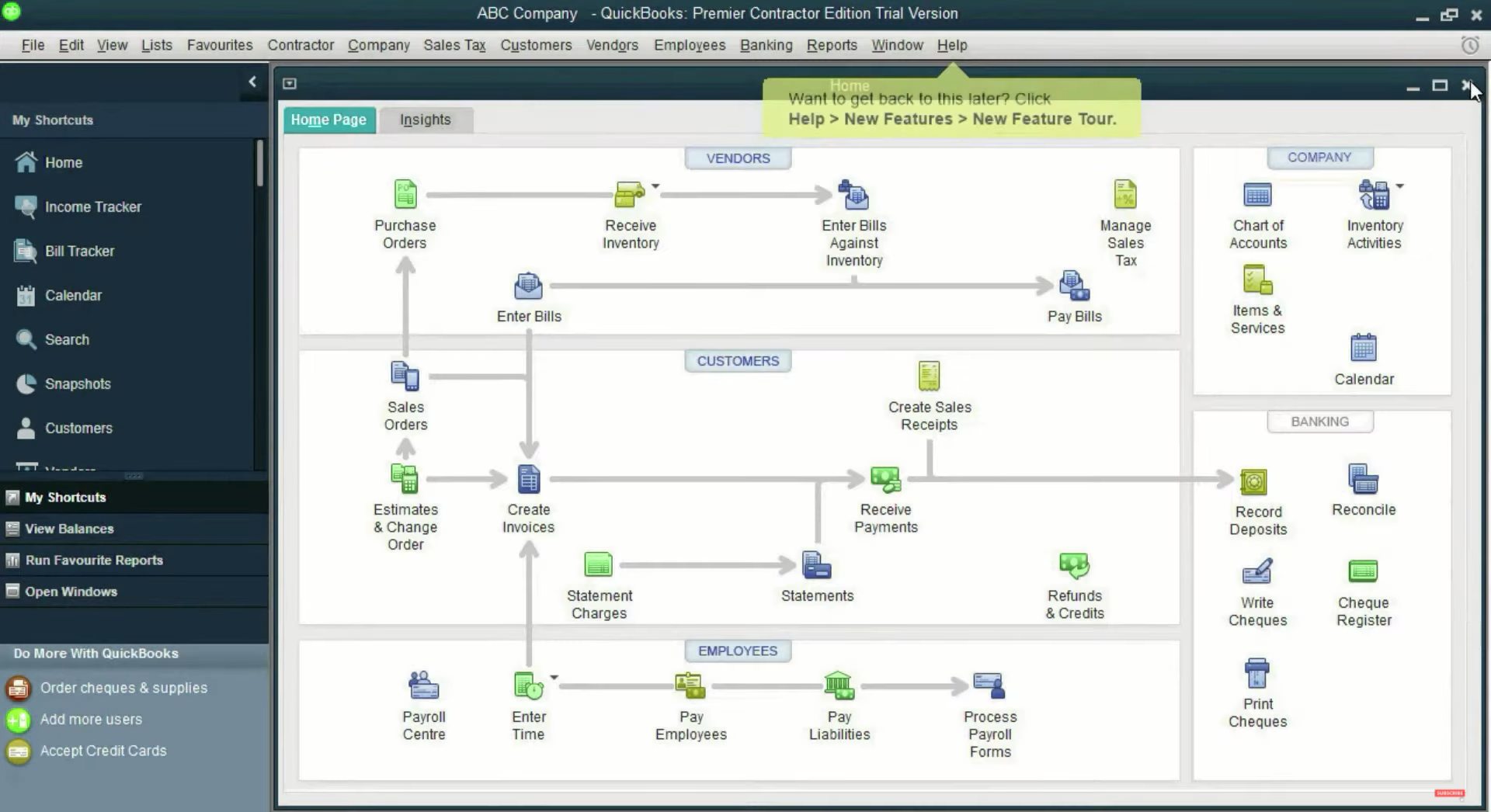 Does Quickbooks offer a better mobile app? 
The challenge is real for a mobile app when it has to deal with multiple financial elements.
When we talk about Sage, especially the "50cloud Accounting", it's hard for an app to encapsulate every element of it.
Although they claim to have mobile apps, most of them just don't show up on Play Store and App Store.
They also had 50cloud Capture, which used OCR to read photographed receipt data and upload it to the cloud.
But it seems most of their apps were not successful and discontinued.
The only useful Sage app right now is "Sage HR" which seems to be a good accounting solution for employees and payroll management. And it has pretty good ratings.
Quickbooks, on the other hand, has successfully brought the idea of mobile accounting to life. For now, it may not have the capabilities to mirror every functionality of desktop software.
But Intuit has made considerable efforts to provide a concise accounting solution for people on the move.
For example, you can perform transactions, check financial records, get alerts on bills, set notifications for employees or vendors, and make calls or email to your contacts – all in just a few taps.
The UI works well on both Android and iOS platforms and is easy for beginners to get started with. It's easy to navigate, and you can set your screen with shortcuts to commonly used features.
You can even capture receipts which then scan the financial data and transfers them to the expenses form within a few seconds. Invoices are as detailed as they're on the PC version. They're easy to create and send on the go.
Though it misses out on detailed views on sales, product records, contractors, taxes, and recording time worked.
Yet, the app manages to pull off common accounting challenges that can keep you on track with finances without having you linger on your desktop.
Features that make Sage and Quickbooks the most likable accounting tools
Sage Key Features:
Sage is a robust desktop software backed by cloud technology which makes accounting more scalable and flexible. Experienced accountants have long relied on the capabilities of this software.
But what really makes Sage a reliable accounting companion?
As the name says, Cash Flow Manager lets you peek into the types of transactions such as invoices and purchases. You can also filter the view to see your cash flow within a particular period. 
Auto-bank reconciliation gives you a clear picture of your purchase history, invoices, and bank feeds while securely linking to the bank account. 
The inventory management system helps you keep track of your assets in a cost-effective way so that you never run out of stocks. Successful inventory management means better customer relationships. 
Simplified HR solution that gives you insight into the amount of spending on projects, estimates, employee payroll systems and job records.  
One-click reports on your expenses, profits, payables, inventory, etc. It features an interactive visual dashboard to help you make informed decisions. You can then export detailed reports to shareable PDF or CSV formats.
Sage's Security Shield is a cybersecurity solution from Sontiq that keeps an eye on credit reports, cyber frauds, and feed scans the Dark Web to see any mention of personal information. It also manages cloud backup recovery to retrieve lost or corrupted data. 
Seamless integration with Microsoft 356 to boost your productivity. Microsoft Office automatically syncs the contacts with the accounting software. Excel makes a great platform to store exported reports. And its cloud service securely creates backups of your data.
Quickbooks Key Features:
Quickbooks is undeniably the most widely used accounting software in the world. The reason is that a number of startups are banking on its feature-rich services to improve financial control and productivity.
So let's see what key features make Quickbooks a staple accounting solution. 
Income Tracker provides a clear picture of your financial transactions, a filtered view of your income and expenses, and your multiple banking activities in one place. 
Automatic bank feeds help you spend less time on manual entry, ease the bank reconciliation process, and resolve any transaction discrepancies.  
Extensive reporting that shows you where your business stands. You can fetch financial records, know how much your customers owe, sales reports, banking and payrolls, and much more. 
Advanced inventory management lets you monitor real-time inventory operations. It eliminates overspending, improves cost calculation and asset management, and simplifies distribution while working with the manufacturers.
Improved receipt management where you can capture receipt data using a mobile app that automatically categorizes the financial details to import and review. 
Customer grouping that automatically adds or replaces customers based on order, balance, and location. It helps you to create emails for targeted groups, send payment reminders, and make automated statements. 
With Mileage tracking, you can enable your phone's GPS to automatically track miles during business trips, which then produces a shareable report. You can also set it to categorize personal and professional trips.
How well do they integrate with third-party apps?
Small businesses need to rely on multiple tools such as CRM, payment processors, and marketplace facilitators to monitor their business activities. 
The problem is, that all the generated data exists in different places. And the process to get a complete picture of your business requires you to toggle from one window to the other, which is unnecessarily time-consuming.
That is why Sage and Quickbooks feature a number of integrations that easily sync granular details about your business so that you can see everything in one place.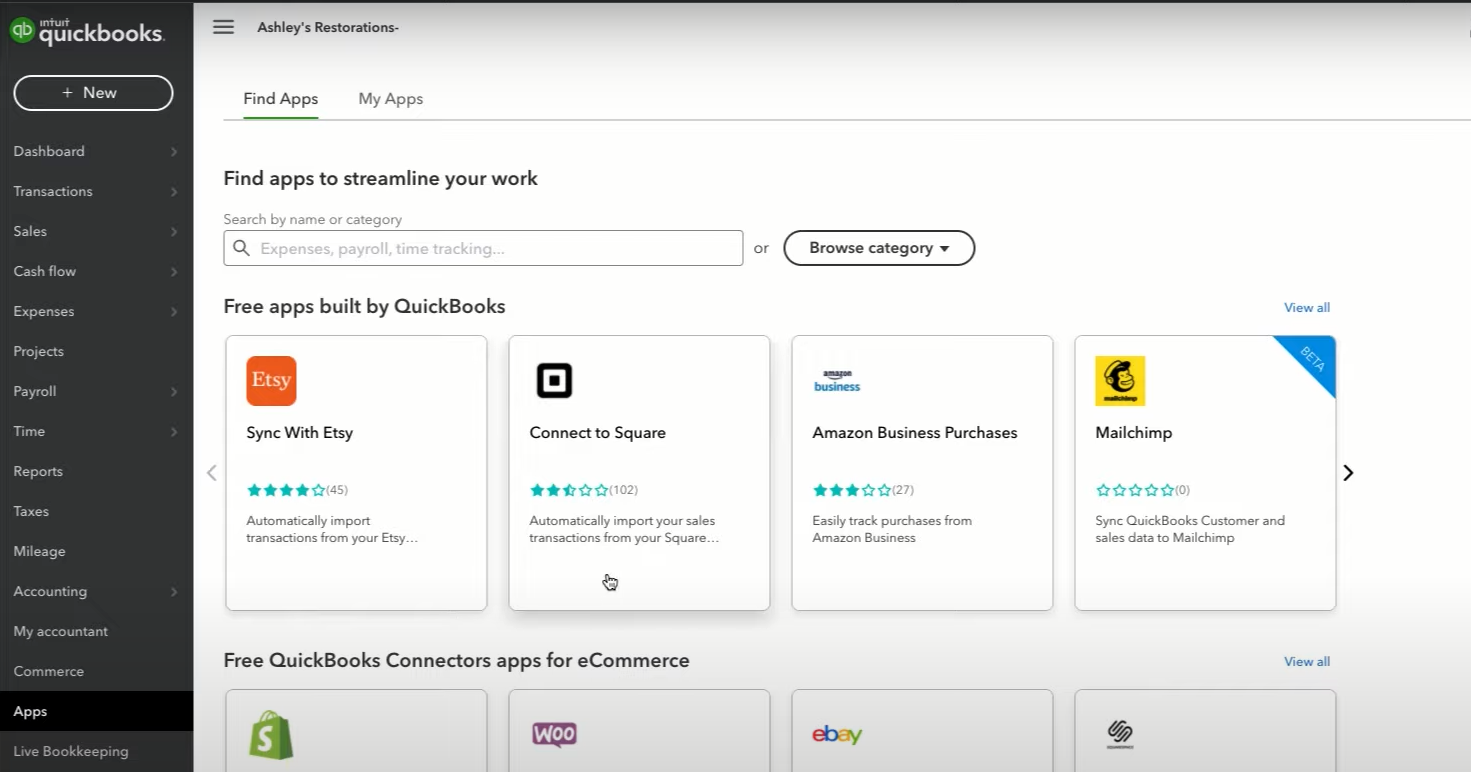 Quickbooks offers about 650 third-party apps, and you'll never run out of options.  
Additionally, you can avail of partner offers on selected apps that offer discounted subscriptions and cashback. 
Partner offers on selected apps that offer discounted subscriptions and cashback. 

On the other hand, Sage marketplace features significantly fewer applications. However, they're not as straightforward to integrate with the software as in Quickbooks. 
Also, there is a difference in the number of apps listed in the US marketplace (89 apps) from that in the UK's (158 apps). 
But that doesn't matter as long as it can serve the accounting needs of almost any industry. You can apply the filters to see the integration options available within your category.
Note that third-party apps integrate really well with their online platform. Just a few clicks and you're done.
Whereas, integration on desktop software requires multistep configurations. The process is still the same as it was a decade ago, when they lacked guided steps to follow through.
Which software provides better support and learning resources?
Customer support and learning resources often go unnoticed while you're too busy comparing features and functionalities. For some software, they might not be a big deciding factor.
But when it comes to accounting software, they play a key role in shaping your business, especially if you're new to it. First, let's see what Sage's learning and support services look like.
Sage offers two low-cost plans for its cloud accounting tool, and they offer: 
24/7 online chat
Live Q&A chat with the success coach
Online drop-in Q&A
Email and phone support
Pre-recorded webinars
Online community on sagecity.com
Instructor-led video guides
Self-service resources
In addition, Sage's desktop version (50cloud) has even richer support and knowledge base:
Free training courses and learning materials at Sage University
Recorded and live instructor sessions 
Free expert consultation for installation guide, customization, troubleshooting, tax assistance as well as year-end walk-through
Unlike Sage, Quickbooks doesn't have phone support for its introductory plan. But they offer enough learning and support that are helpful for beginners:
Live chat and email support
Video library
Pre-recorded webinars
Online community
Self-service resources
Quickbooks Global Community
Now, Quickbooks offers four other plans for different sizes of business. But premium support is only available on the Advanced plan, which includes on-demand online training, and 24/7 VIP support via phone or live chat.
Additionally, you can find experts or pro advisors by location and area of expertise for a live consultation.
Overall, Quickbooks doesn't disappoint with the range of learning resources and support it offers. Whereas, Sage doesn't discriminate with its different plans when it comes to premium support.
Sage is complex but makes sure none of your accounting needs to remain untouched.
QuickBooks pros and cons
You should use Quickbooks because…
Modern UI makes it easier to use
Affordable plans for small businesses
Best for self-employed and beginners in accounting
Tons of learning resources
Global community forum to learn from people
Complete suite of accounting tools
Multi-user collaboration feature
Productive mobile application
Tons of integration apps
Good customer support
But there are some drawbacks like…
Functionalities not categorized as per specific industry needs
Phone support only available on the Advanced plan
Limited number of users on Essentials and Plus plan
Limited invoice customization options
Sage pros and cons
You should use Sage because…
Accounting solutions for multiple industries
About 30 supplementary Sage products for complete business solution
Affordable introductory plans for beginners
Desktop software seamlessly syncs with the cloud version
Phone support and live chat on all the plans
SageCity, an online community forum
On-demand courses at Sage University
Live consultation with Sage experts
Tons of learning resources
But there are some drawbacks like…
Huge price difference when the number of users increased
Steep learning curve
Outdated UI and complex navigation
Set up and configuration are often confusing
Pricing geared towards large enterprises
Sage Pricing
Sage is known for enterprise applications. But its entry-level plan is an attractive deal for startups and freelancers looking for an affordable accounting tool.
"Sage Accounting" plan is basically priced at $25 per month.
But with current offerings, you can avail of it for just $7.50 per month for the first 6 months.
In addition, you can access AutoEntry's automated data entry service for 3 months (partner offer) where you can capture receipts and invoices and let it import data into the cloud.
Once over, you can separately buy credits from AutoEntry's site.
Now, for medium to large-sized businesses, there are three pricing options when billed annually.
Sage plans get even pricier when you add users. Moreover, this is only applicable to Premium and Quantum users.
So in case you're onboarding a handful of users and your accounting needs are limited to a few months, you can better go for the monthly plan:
Premium Accounting: $52 per month per user
Quantum Accounting: $87 per month per user
Get started with Sage Accounting for free →
Quickbooks Pricing
Quickbooks is a go-to software for small to medium-sized businesses. The standard pricing for each of their plans is:
Simple start: $25 per month
Essentials: $50 per month
Plus: $80 per month
Advanced: $180 per month
Currently, they're offering a discount of 50% for 3 months, which looks like:
In addition, you can hire a professional bookkeeper for $50 per session who does all the hard work for you in setting up and customizing your account – all in front of your eyes.
Now, if you're a freelancer and deeply interested in Quickbooks' user-friendly system, nothing can beat this deal: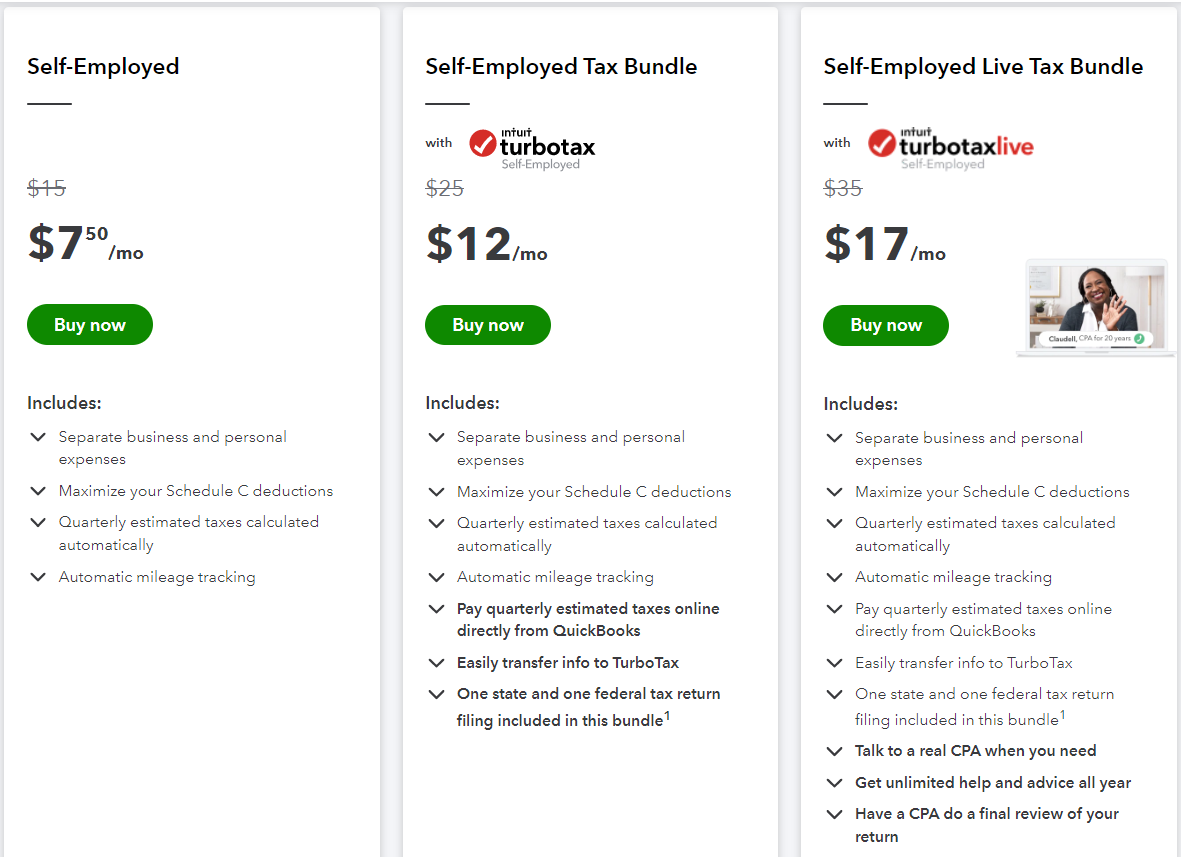 Note that, you can also book the live bookkeeper feature for $50 per session with any of the above plans.
Get started with Quickbooks for free →
Final words
Overall, both Sage and Quickbooks are among the best accounting software companies have been using for years. But when it comes to deciding between the two, none of them is better than the other.
Both tools have their own merits.
But the facts are simple.
Quickbooks is well known among entry-level accountants. Whereas, Sage has been a reliable tool among seasoned accountants and big enterprises.
Though, Quickbooks is also a good option for big companies. But Sage's ability to provide functionality specific to any type of industry remains unmatched.
So, no more paper-packed office rooms. And no more obsolete tools that make you do all the hard work.