Unlike full-time jobs, freelancing provides flexibility.
You get to choose your preferred working hours during the day and get to work from anywhere in the world.
With that opportunity comes a cost. As you are your own boss, you need to decide what's perfect for you and make decisions accordingly.
And sometimes, it can become challenging to handle the expectations of multiple clients at a time.
As a freelancer, productivity apps can really help you ease the process, save more time, and get more done in less time without burning out.
Here I share the 25 best productivity apps for freelancers that will support your freelancing journey and make the process more productive.
Brain.fm is a music app centered on improving your focus and productivity through scientifically proven music.
The company uses ‌patented technology in creating music that helps you get in the zone faster and be productive for hours without interruptions.
The best part?
There are a variety of genres regarding choosing music. They have specific sections for each music (like creative work, focus, relaxing music, etc.)
No matter what type of work you indulge in as a freelancer, Brain.fm will truly help you in progressing towards your journey far more efficiently than listening to any random song on a music streaming service.
Key Features
Scientifically proven music to focus
Variety of music to suit your mood and preference
Distraction-free battle-tested sounds for maximum productivity
Offline download access
Pricing
The free version of Brain.fm gets you five focused sessions for free. To get unlimited focused sessions and more, you can go with their premium plans. It costs $6.99 per month.
Shift (or TryShift) is a productivity app for desktops and is created for people who need to be in the zone while they are working.
It makes the browsing experience mesmerizing and keeps us from opening queer tabs and distracting ourselves.
Shift brings all your apps, websites, and extensions into a common interface which allows you to switch between apps without much willpower. With Shift, you never have to worry about logging in again and again and remembering your passwords.
It gives you one more solid reason to stay focused and productive even while browsing.
Key Features
Global search bar to search for all your saved apps
All your favorite apps in a single interface
Create personalized workspaces
Pricing
The Basic plan is free and allows adding upto 2 Gmail accounts and some other features. To get access to adding unlimited apps, emails, etc, you can ‌either go with an Advanced plan that costs $99.99 per year or a Teams plan that costs $99.99 per user.
Akiflow is an application that helps you do more by automating routine chores. If you're a professional who needs to get more done in less time, Akiflow is the app for you.
Akiflow makes it simple to organize your day-to-day activities, complete with task creation, reminders, and status monitoring.
Using Akiflow, it's simple to manage your tasks and do more in less time. Everything you use to get things done is brought together in one place, from your calendar to your Slack team communications and more.
With Akiflow, you can have all of your work in one place and get back to what matters. If you have something important coming up, you can use their notifications feature to get reminded ahead of time.
It's simple to update your team on your availability, organize your projects, and avoid scheduling conflicts.
Whether it's an email, a Slack conversation, or an Asana issue, Akiflow can turn anything into a task that can be given to anybody on your team.
Key Features
Automate your workflows
Stay organized and on track
Notifications to keep you reminded
Schedule availability
Task & project management
Pricing
If you're interested in trying Akiflow, there is a 7-day free trial for the paid plan available. The monthly fee for the paid plan is $15.
You can never go wrong with Loom if you are constantly communicating with your clients. Loom makes the conversation engaging for both parties and increases your authority and trustworthiness among your clients.
While explaining any topic to your clients, you can, with Loom, record your screen and cam and present the pitch beautifully with annotations, etc.
After recording the video, a unique link is created that you can share with anyone to view. Instead of typing, you get to speak and this increases ‌trust and acceptance rates. Also, you can save some amount of time compared to writing from scratch.
Without scheduling meetings time and again, you can reach your clients or customers in a more competent manner.
Key Features
Screen and video capturing
Browser extension
Analytics to track ultra-specific data
Easy video sharing
Pricing
The free (they call it starter) plan allows you to create up to 25 videos of up to 5 minutes each. The Business plan offers a 14-day free trial and then costs $8 per month.
If you are a Mac user and if you love to keep things organized on your device, then you will love Magnet.
Magnet allows you to multitask in a good way. By dragging and dropping windows into any corner of your screen, you can neatly work on multiple windows side by side. 
It saves time switching from one app to another. With their keyboard shortcuts, you can divide apps into any size you want.
Magnet app is a great help for people who need to keep multiple tabs open and like to multitask without losing their minds out.
Key Features
Keyboard shortcuts to save time
Supports vertical screens
Can also operate with easy drag and drop
Pricing
The app is exclusive for Mac users and costs $7.99 on the Apple store.
Lucidchart is an interactive diagram software that lets you automatically create real-time collaborative flowcharts and bring them to action.
With Lucidchart, it is possible to not only automate the processes through diagrams but also the people by assigning them roles on a particular block of the flowchart.
This makes it very easy for the assignee to complete the work and pass it on to the next assignee as per the diagram.
Drag and drop features can be used to create responsive diagrams and countless integrations help along the way.
Key Features
Premade templates for multiple use cases
Total control over diagram creation
Export and analytics
Drag and drop
Pricing
The free version of Lucidchart allows you to edit 3 documents and access 100 professional templates.
For more, you can choose from any of the two premium plans:
Individual ($7.95 per month)
Team ($9 per month per user)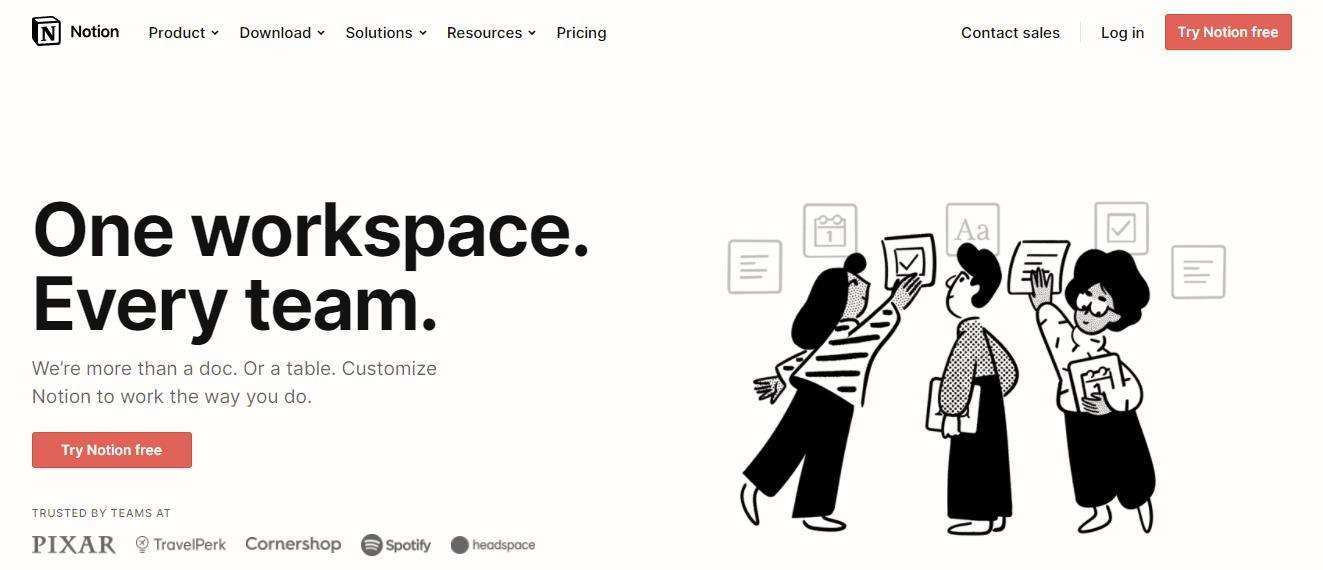 As a freelancer, you can use Notion for multiple tasks.
If you are into coding, you can use Notion to create separate pages for all your programming languages notes and make them visually appealing and easy to access.
If you are a freelance writer, you can write blog posts on Notion and even create a website from scratch.
If you are a project manager, Notion's pre-built templates can help you build and run an effective project workflow.
However, I have experienced that ClickUp is more powerful if you are serious about effective project management.
Overall, Notion can act as your habit tracker, finance manager, note-taking app, and much more, all thanks to the variety of features embedded into their templates.
Key Features
Easy to build a personal website
Act as a multitasking productivity tool
Makes pages aesthetically pleasing
Easy to access from all devices (browsers and apps)
Pricing
Notion has an unlimited free plan. Their premium plans follow two pricing models:
Personal Pro ($4/month when billed annually)
Team ($8 per month when billed annually. Here you can invite your team for free)
Calendar is your ultimate calendar and scheduling tool with built-in features that make it easy for you to find free time slots, create schedules and more within clicks.
One of the coolest and most demanding features is the custom link. Here, you can create a link and share it with anyone with whom you want to fix a meeting.
He/she, upon seeing your calendar and free time slots, can choose the preferred timing for both parties.
This is just one of the features, you get calendar analytics to make you more productive. It helps you analyze where you largely spent the most amount of your time.
Key Features
With artificial intelligence, your calendar grows smart upon usage
Analytics to examine your time
Find free time for meetings with a link
Pricing
Calendar does provide a forever-free plan with basic functionality. They have two premium plans:
Standard ($6 per month – ideal for individuals and small teams)
Pro ($8 per month – ideal for large teams)
Newton is one of the most advanced email productivity apps for freelancers. 
You'll enjoy its clean interface, along with tools like a calendar and document scanner that allow you to keep organized across multiple projects. (Plus, Newton integrates with Slack so you can keep your team on task too.) 
Newton's brilliant swiping gestures make it easy to quickly clean out your inbox by archiving messages or marking them as complete.
You can also take advantage of task management by using Newton's Inbox feature, which groups all unread messages into one stream. This allows you to focus on your most important emails and archive or complete less important ones when you have time. 
With a responsive user interface that takes full advantage of iOS gestures, it's a great productivity app for freelancers who are always on the go.
Key Features
Get your email organized
The smart inbox sorts messages into categories
Full-text search capabilities
Pricing
While not completely free, Newton Email does come with a 14-day free trial. If you would like to continue after that, you can subscribe to their premium plan for $49.99 per year.
Canva is an all-in-one graphic design app that's perfect whether you're a total beginner or an experienced freelance designer.
It comes with a simple user interface, powerful editing tools, and flexible templates. You can even connect to your social media accounts and automatically pull in content from sites like Flickr, Facebook and Instagram. 
Canva's photo editor allows you to make quick and easy edits before you upload your finished product to a social platform. For visual learners, Canva is a great choice that still offers professional features.
Canva's mobile app also makes it easy to share your creations on almost any platform.
Key Features
Beginner-friendly graphic design tool
Countless ready-to-use templates
In-built image, video, graphics fetcher
Pricing
Canva offers a free version, which is great if you are just starting with graphic design. Their pro version costs around $12.99 per month and can be used by up to 5 members.
Dropbox can be used, as a freelancer, to organize all your files and documents safely and securely in a place that can be accessed by anyone that you want.
Like Google Drive, you can access all your files from any device considering its cloud storage facility. You can use it as an image hosting platform as well.
But unlike Drive, Dropbox helps you act on your files, meaning that your team members can see the files and even comment and collaborate on the same.
You can even connect super apps like Slack and Zoom and make the overall workflow even more amazing and productive.
Key Features
Share your files easily and quickly
Access your files from any device synced
Collaborate easily on the uploaded files
Pricing
The free plan from Dropbox allows you to utilize up to 2 GB of storage. If you are looking for more space, there are five upgrade options:
Plus ($11.99 per month – ideal for individuals)
Family ($19.99 per month – ideal for families)
Professional ($19.99 per month – ideal for individuals)
Standard ($15 per user per month – ideal for smaller teams)
Advanced ($25 per user per month – ideal for larger teams)
Smart Copy is an AI writing tool that saves you time by expanding paragraphs and coming up with new ideas to write about.
In short, this tool helps you avoid what many writers call writer's block and helps you write pieces in minutes that would originally take hours.
Be it writing an email, coming up with a vivid description for your ad campaign, or expanding a paragraph for your article, Smart Copy does all and more in a snap.
Once you assign a topic to it and set the language and tone of the piece, the AI will start doing its job by coming up with new ideas.
Key Features
AI writing with minimal errors
Checks facts and stats more efficiently
Saves hours in writing long articles
Helps create compelling taglines, email copy, and much more
Pricing
Smart Copy does come with a free plan where you can use their generation feature ‌5 times a day. For unlimited features, you can try their Growth plan that costs $49/month.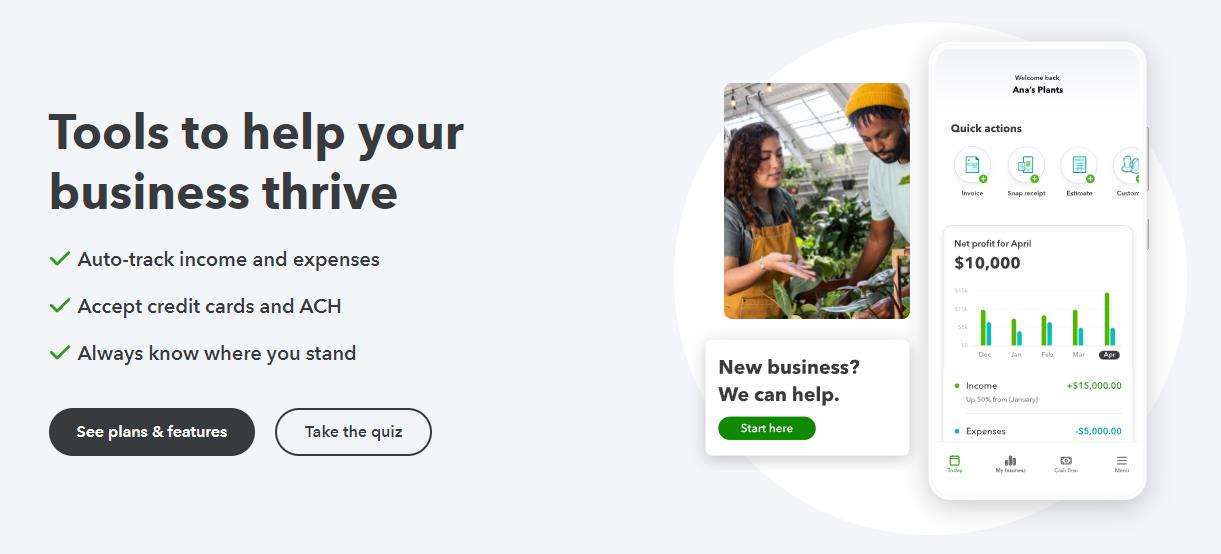 If you're a freelancer or the owner of a small business, you should consider using accounting software to keep track of your cash flow, payments and expenses.
QuickBooks is popular accounting software that can help freelancers, and small businesses keep track of their finances. However, it's important to note that QuickBooks isn't a replacement for professional accountants. 
In fact, it was originally designed to assist small business owners with crunching numbers as opposed to advising them.
QuickBooks has a simple design that you can use to create invoices, enter receipts, manage payments, and more.
Key Features
Manage and track your finances

Cloud accounting

Time tracking
Pricing
QuickBooks offers a 30-day free trial. The premium plans ideal for freelancers cost $7.5 per month.
Email is an inseparable part of any freelancer. Is it better to save time in sending emails with a similar theme to multiple clients?
Text Expander helps you do just that.
In a nutshell, it creates custom shortcuts for you that you can use while writing an email to autocomplete the sentence.
Let's say, for instance, you write similar emails to multiple prospects. In this case, pasting emails, again and again, can be tiresome. Here, Textexpander will do the job in seconds..
The only prerequisite to using the snippets in your email is to download their app on that specific device.
Key Features
Custom snippets for different themes
Time saver
Minimum efforts for maximum productivity
Pricing
The free test drive for Text Expander is 30 days and then there are 3 premium plans for you.
Individual ($4.16/month – ideal for individuals)
Business ($10.41/month – ideal for a team of up to 9 members)
Growth ($13.54/month – ideal for a team of up to 50 members)
Iris Mini is a highly helpful tool for every freelancer working hard day and night who needs to rest his/her eyes for maximum efficiency.
Iris Mini helps avoid eye pain that is caused by the blue light emitted from your devices. The app is very lightweight and available for almost all devices.
After downloading, you can just turn towards the settings and either make it automatic or manual to create a blue light filter.
Also, better restart your device for the tool to work properly.
Key Features
Blue light filter for eye protection
Super easy to use
Automatic mode smartly adjusts the brightness as per the necessity
Pricing
Iris Mini is a forever-free plan that is satisfactory if you don't want much customization regarding choosing a color for your blue light filter.
The premium plan is for those who like to tweak color and temperature. You can get Iris Mini Pro for a lifetime for a one-time fee of $9.99.
Buffer is your all-in-one social media marketing and engagement tool. It not only helps you schedule posts, weeks and even months in advance; it also helps you track your performance for each post and help determine what's better than what.
You will get in-depth insights on your published content with other metrics and graphs to measure current performance and forecast ‌future reach.
With the help of the reports and data, you can create custom reports and share them with anyone, as a case study or just as a reference. It is very useful for a freelancer who is into social media marketing and is handling multiple social media accounts.
Key Features
Helps you determine the best time to post and the frequency
Schedule posts for the whole month in a day
Link and manage all social handles easily
Pricing
Buffer has a forever-free plan with basic features and three social media accounts. They also allow you to try the premium plan for 14 days. The premium plan costs $6 monthly.
Forest is a unique approach towards personal productivity and the best thing about it is that it works like a game. It helps you improve your concentration and focus.
It is very simple to use. Once you download the app, you have to start the timer in the app and start working. If you complete the set timer without closing the app, one tree grows in your virtual forest.
Every time you accomplish the timing successfully, you get to grow the trees as a reward.
This allows you to work on what you are doing without touching the phone and it works like a charm for many, including me. With Forest, you will avoid looking at the notifications and turning yourself up towards the distractions.
The best thing?
Whenever you plant a virtual tree, the Forest team will plant a real tree.
Key Features
Stay productive, and focused plant trees
Keeps from multitasking
Timer creates urgency
Also works in pc (chrome extension)
Pricing
The app is free to use.
Whether you are a beginner freelancer or an expert, you need to keep learning, to keep learning to stay relevant in this fast-changing world.
Audible helps you do just that with their collection of audiobooks for almost every fiction and nonfiction book on the planet.
Whether you are up for a commute or in a gym, Audible helps you utilize the time better by listening to great audiobooks of any genre that you like..
Key Features
Listen to any audiobook conveniently.
Access to podcasts and books of every genre
Any new bestseller is instantly available on Audible
Cancel your membership at any moment
Pricing
Audible provides a 30-day free trial. After that, you can choose from either of the two best options:
Audible Plus ($7.95/month)
Audible Premium Plus ($14.95/month)
Writer is the AI writing assistant used to polish the existing writing pieces and craft new ones with care.
If you are a freelancer and especially a freelance content writer, copywriter or anyone who needs to write more in the process, then you can rely on Writer in enhancing your document.
Be it marketing, writing emails, business documentation, creating a content strategy, editing, etc, the use cases are endless.
This wasn't even the best part.
If you are working as a team of freelance writers, you can collaborate efficiently through Writer.
The list of features provided by this tool is highly useful. You get an advanced AI grammar checker, plagiarism checker, personal snippets creator, writing style checker, and the list goes on.
Key Features
Custom snippets and snippet shortcuts
Writing clarity and grade
Custom rules
Uninterrupted collaboration
Pricing
Writer is a freemium tool with a 30-day-free trial to use all premium features. The pro plan starts at $11 per month and a yearly subscription saves you 25 percent with a total of $99 per year.
Sunsama is an easy-to-use productivity and day planning app to find more time and get more things done in a hassle-free manner.
Despite it being focused on productivity, and to-do apps, it is not limited to that.
It comes with a lot of other features that will, as a freelancer, create regular schedules and help you find your most productive hours of the day with the help of their progress bar and time tracker.
Key Features
Minimalist pomodoro timer
Daily Planner (to-dos, journaling, reflection, etc.)
Tasks and calendar synced in a single interface
A progress bar and time tracker
Pricing
Sunsama offers a 14-day free trial. Their premium plan is a fixed cost of $20 per month. If you choose to go with the yearly plan, you pay $16 per month.
ClickUp can be useful for almost any type of freelancer because it is more than just a project management tool.
Whether you work as a team or are a solo freelancer, you can use ClickUp to brainstorm ideas, create marketing reports, create rich-text strategies, and much more all inside the app.
Features like Notepad help you capture your ideas and convert them into action whenever you are ready. Another great one is the Priorities flag. It helps you prioritize one task over the other.
Have a look at this article by ClickUp to know about all the app features to boost your personal productivity.
Irrespective of your expertise in any niche as a freelancer, ClickUp has use cases in categories ranging from project management to CRM.
Key Features
Prioritizing your tasks
Setting highly specific deadlines
Advanced notification settings
Workload measurement
Pricing
For limited personal use, ClickUp has a forever-free plan. Their premium plan is divided into three categories:
Unlimited (for small teams – $5 per person per month)
Business (for mid-sized teams – $9 per person per month)
Business Plus (best for multiple teams – $19 per person per month)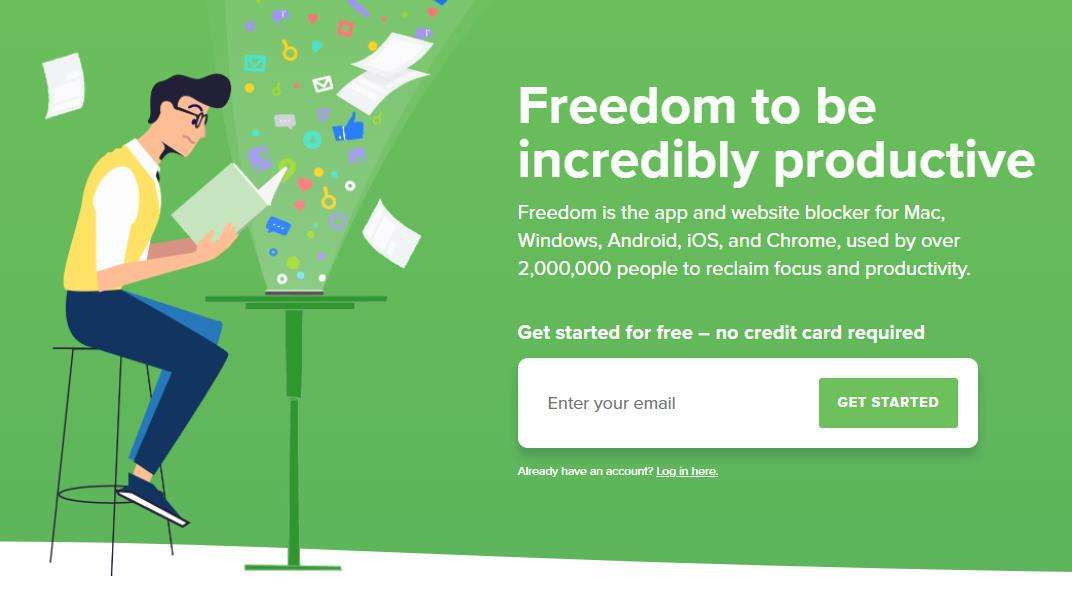 Being a freelancer, it is important for you to constantly check for new messages and emails from your clients to keep up with the projects/work.
But as per Freedom, you lose 23 minutes of sheer focus each time you look at a notification, which is why Freedom was born.
With Freedom, you can block websites, block apps, block the internet, and even create blocklists to block specific apps at specific periods.
You can even sync the changes across all of your devices to stay focused and keep yourself from distracting notifications, at least during your peak productive hours.
The fun does not have to end here yet. With their built-in ambient noises, you can listen to calm music to eliminate background noises.
Key Features
Website and apps blocker
Internet detox assistance
Create custom blocklists (e.g. apps to block in the morning)
Ambient noises
Pricing
Freedom provides a unique 7-use-trial, meaning you get to use 7 blocking sessions and some features for free.
A single premium plan is further categorized as per their billing periods:
Monthly plan ($6.99 per month)
Yearly plan ($2.42 per month)
Forever plan ($77.40 for a lifetime plan at a one-time cost)
The price for the forever plan is relative and may change anytime as per the company's guidelines and policy.
Zenpen is not some sort of productivity tool that manages and automates your tasks. It is rather a simple, minimalist and distraction-free text editor and a note-taking tool.
It is a website that allows you to write and save your written documents.
What's so unique about it, then?
Firstly, it does not require any external downloads. It is free to use and can be accessed from any web browser. 
Along with that, it offers very few options, unlike its alternatives. This helps take the decisions fast and get things done quickly rather than playing with the options for minutes.
After writing anything, the text gets automatically saved and you can revisit the site anytime to access the previously written text.
Key Features
Clean note-taking app
Save documents automatically (also provides downloading options)
Offers light as well as dark mode
Pricing
Zenpen is completely free to use for all.
Ahrefs is an all-in-one suite of SEO tools to grow your online business with the help of their tools ranging from keyword explorer to competitor analysis.
For a freelancer diving into the fields of SEO, research, content creation and so on, Ahrefs is one of the best tools to go forward with.
Be it analyzing a potential keyword to write an SEO-optimized article or doing a competitor website analysis, Ahrefs has truckloads of data that helps you make better decisions in each step.
In fact, they constantly keep adding data based on searchers' queries in the search engines to provide fresh insights to their users.
While it is true that Ahrefs has a lot of learning curves, ‌once you master at least the basics, there is a lot you can do with it.
Regarding choosing an SEO tool as a freelancer, SEMrush is also a good alternative to consider.
Key Features
One-click data export in masses
Comprehensive competitor analysis
Keyword explorer
Content explorer (hot content finder)
Pricing
Ahrefs does not have a free plan, but it does have some free tools you can use with limitations. Some of the free tools include a backlink checker, keyword generator, etc. You can find the list of all free tools in the footer section of their homepage.
Ahrefs offers a 7-day-trial for $7. If you are ready to upgrade to the premium plan, you can choose from any of the four options:
Lite ($99/month)
Standard ($179/month)
Advanced ($399/month)
Agency ($999/month)
Slack is a communications app that promises to boost your teamwork by 23%, get 45% fewer emails in your inbox, and schedule 21% fewer meetings than usual.
With over 2400 integrations, you can integrate Slack with some of your other favorite apps (like Zoom, Google Drive, etc.) to increase efficiency in the process.
For a freelancer, it is a super productivity tool as you can save communication time that would otherwise be wasted writing and replying to emails for hours.
The best thing about Slack is that you can create custom workflows that will automate some of your routine actions and act as your assistant.
Key Features
Highly encrypted chat security
Voice and video calls on the go
Creating distinct channels for different purposes
Let your coworkers know about your status (preferred work hours)
Pricing
Slack has a forever-free plan. The basic pro plan starts from $2.67 per month, while the business plan costs $5 per month.
Conclusion
These are some great productivity tools that can improve you, as a freelancer, and help you achieve goals that you thought weren't possible.
After using most of these tools for a sustained period, I'm confident they won't only make you more productive but also make you more creative.
Most of the apps offer a free trial. You can give them a try to check what fits your work and life.