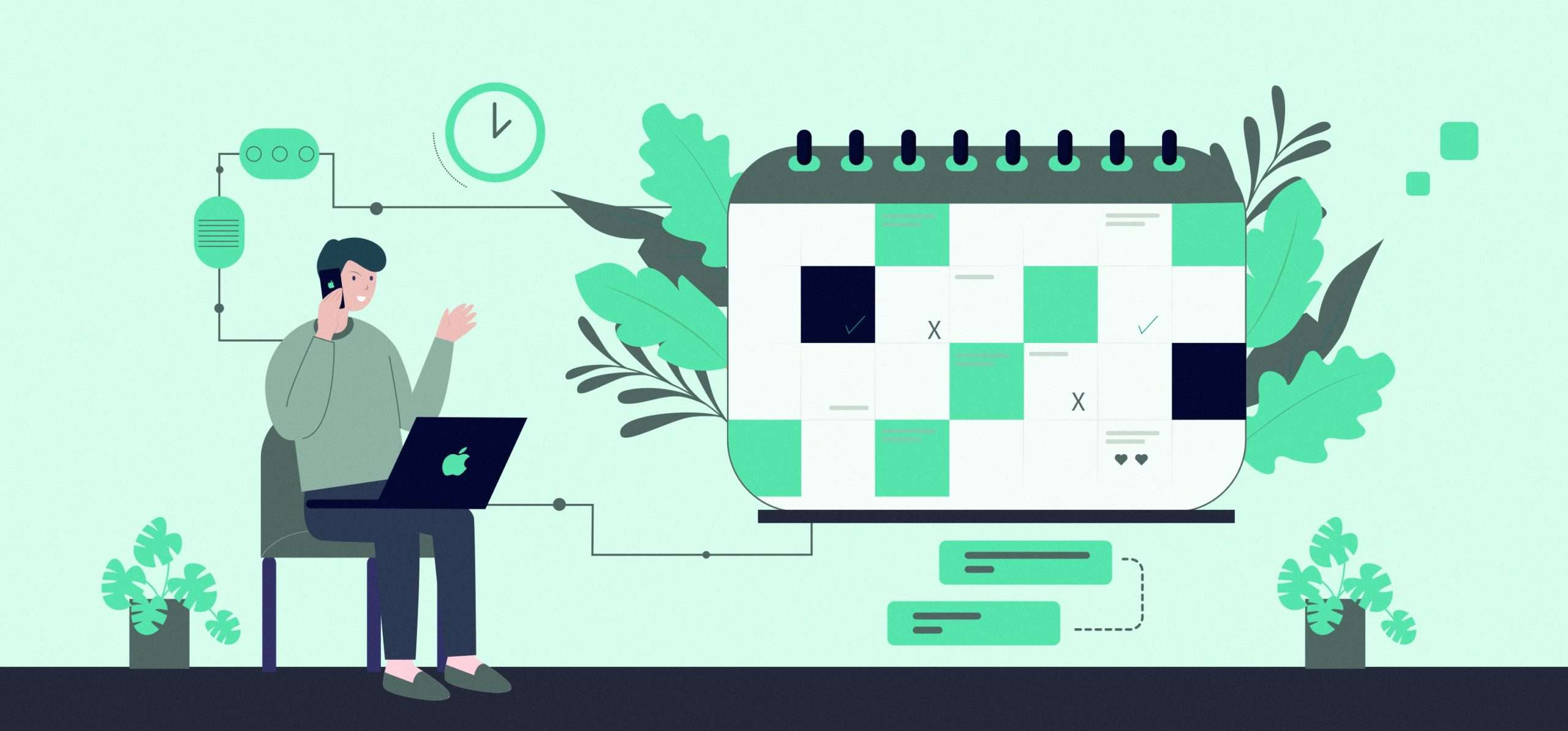 Regardless of whether you're a business owner or a professional, it's difficult to stay on top of everything you need to do.
In case you let this data whirl around in your mind, you'll end up un-focused and frantic.
Everyone, in these modern times, depends heavily on to-do lists and calendars for day-to-day tasks.
Be it a trip to the grocery store or catching an important meeting, calendars help us stay on schedule and organized.
When you pull out the hectic to-do list from your brain and plug it into the right app, you end up more focused on important tasks without trying to remember things you were supposed to do.
There is a solution – calendar/to-do lists app. These applications let you share either a whole schedule or select appointments with others.
However, choosing a reliable and best app might be tricky, which is why we've done the heavy lifting for you.
Aayush's Note – TL;DR
I've used most of the calendar and daily planner apps for Mac. But my all-time favorite has been Todoist.
Followed by Any.do and Fantastical. If you're looking for an easy-to-use yet powerful, feature-rich calendar app, try Todoist. After giving it a try, if you don't think it is the right choice, try Any.do or Fantastical.
Continue reading for an in-depth review on each.
Below, we've reviewed the top 9 best calendar to-do lists apps for mac, so you spend less time finding the right tool and more time being efficient and productive.
Todoist is worth every penny if you're looking for a great to-do list app that works on every platform.
It lets you organize your tasks, either by yourself or in collaboration with others.

Now, they've even added Kanban boards through which you can view tasks and manage your workflow. You can easily add tasks to your to-do list, schedule a date and switch to the calendar view.
Imagine, instead of a physical board divided into multiple columns, you could have a flexible system that you could use in any number of professional or personal ways.
Additionally, you get access to grouping and new sorting options that divide your tasks into groups wherein you can make fast decisions and quickly make sense out of the information.
It's a cloud-based service – meaning you don't have to worry about your data as all your notes, tasks, or events get synced automatically to any device you use.
The best part is the user-friendly interface packed full of features that make it an excellent productivity app for your Apple devices.
At no point, using the app feels overwhelming despite having a lot of features. It might take you a little time to get to the core of the app; however, the more you use it, the more features you discover.
And, let's not forget the color-coding system that helps you differentiate between important tasks. Moreover, the drag-and-drop feature makes it easy enough to reorder tasks and subtasks.
Basic features:
Intuitive calendar feed – organize your schedule, tasks and check all of them at a glance.
Creation and assignment
Due dates
Task prioritization
Recurring tasks
To do lists
Drag and drop editing
Mass updates
Todoist price for macOS: Starts at $3 per month (includes free basic plan)
The Bottom Line
Given the robust collaboration features, excellent UI, and apps for every mainstream platform, Todoist is the best productivity and to-do list app on this list.
If you've no idea where to start and what to look at, the macOS calendar might be a cakewalk for you.
Not everyone sits at the big desk and manages busy executives, thus making macOS best for personalized use.
The default apple calendar available on your device is clean and simple to use, functional, and syncs with your iPhone and iPod without any trouble.
It has got a bunch of useful settings on the default page that allow you to customize your calendar – the way you want.
You can add and create uncountable local calendars, and all of them will sync using iCloud.
Adding appointments is easy with its click-and-drag feature. Simply click-and-drag to add multiple events and appointments to the calendar.
If, in case you're not satisfied, you can add calendars from Yahoo, Google, Exchange, or AOL accounts.
The macOS calendar offers additional features to explore, such as setting alerts, time zone support, showing events for an entire year, and many others.
But, there are a few downsides with the macOS calendar.
If you want tasks and appointments on the same page, this app won't cut it.
However, plenty of integrations can help you resolve that. Next is, you can choose a lot of days to show in a week but can't add or remove days from a week.
Basic features:
Multiple accounts in one calendar
customizations
Invite and be invited
Put your event on the map
The Bottom Line
The macOS calendar is simple and easy and covers all the calendar basics.
However, as mentioned above, this might not be a great pick if you want to manage executives and tasks alongside your appointments.
On the other hand, it comes by default with Mac's products, so testing one can help you decide if it's a fit or not.
The default calendars do a decent job, but you'll need to shift to a better tool if you want more.
Fantastical comes to your rescue if you need a calendar that works for all Apple devices and still works efficiently.
Backed up by frequent reminders and event management, Fantastical is a robust calendar tool that caters to all your requirements.
The best part, everything syncs seamlessly across your devices which makes it very powerful and useful.
It comes with a simple and clean interface that shows events daily, weekly, and monthly.
Surprisingly, you can create a menu-based interface or leave an audio note to create as many events as you want.
Fantastical has got even better with its updates. You'll get a weather forecast to make you aware of forthcoming events.
It even includes a comprehensive collection of calendars for TV, Sports, Holidays, and much more to stay on top of what's happening.
What's more, the "Time to Leave" feature will alert you right when it's time to leave for a meeting. But, it's disappointing to say this feature won't work if you're based in India.
Let's not forget the user interface that looks quite welcoming and makes the whole navigation process simpler and easier.
Basic features:
Calendar sets on all devices
proposed meeting times
Robust integrations
Templates and time zones
Task improvements and weather forecast
Fantastical price for macOS: It starts at $5.49 per feature per month.
The Bottom Line
Besides the weather forecast feature's limitations, Fantastical has lived up to its reputation – just like the name "Fantastic" says.
The only downside we can think of is its high pricing, but it's worth it if you spend more time on calendars and are serious about being organized and staying on schedule.
It's hard to keep up with modern life challenges and tasks without having a great to-do list app.
A perfect calendar app reminds you of what needs to get done and when with appropriate alerts and reminders. That's where Any.do comes into the picture.
Regarding the best to-do lists and calendar app for nearly every platform, Any.do takes the cake.
Any.do does an outstanding job with its minimal and sleek design that lets you focus on important tasks without getting distracted.
Moreover, the collaboration feature helps you collaborate with teams easily and get regular updates and feedback timely.
With more features racked up, Any.do has done a great job providing a flawless user experience.
The interface really shines on mobile platforms but struggles on desktop and web versions.
It easily integrates with existing calendar apps to import events or appointments. The color codes feature are surprisingly good that help you keep everything in order.
Other parts of the app aren't as polished but give a tough competition for its excellent checklist and to-do list feature.
Well, it's not suitable for businesses dealing with tough and huge to-do activities, but it finds a great spot for brilliantly keeping your meetings and appointments in order.
Basic features:
Shareable to-do lists
Location-based reminders
Drag-and-drop interface
Multi-device sync
Any.do price for macOS: Starts at $5.99 per month (billed monthly). Also, it comes with a free version but with certain limitations.
The Bottom Line
The free version is pretty cool, and you get plenty of tools, making it the best all-in-one calendar app.
Its unique features and support for many platforms may draw you in, but the user experience isn't something to talk about.
So, if you don't mind the UI, Any.do is the perfect calendar for all your requirements.
Another great option and better alternative to the by-default "macOS calendar" is – BusyCal.
Of course, the interface isn't smooth like Fantastical but gives you everything you'd want from a traditional calendar app.
BusyCal is a great option for those who value functions over form and don't need fascinating or a lot of features.
The menu bar functionality helps you add things quickly and directly into the calendar using natural language parsing.
Moreover, the weather forecast and moon phases have been added, which shows up in monthly and weekly views.
Unlike the default calendar, BusyCal's right panel gives access to to-do lists and tasks. What's more, you can have reminders and details atop each other.
You can add tasks or events with a single click or click-and-drop the time you want to allot. And, the best part is you can view appointments or events in 5 ways – daily, weekly, monthly, weekly, and lists.
Also, you can exert various customizations – you can change the color scheme, what shows up in the panel, and even customize the fonts.
And, if you're more into traveling, you can add a second timezone in the side panel.
Basic features:
Flexible interface
Built-in travel time
Handy todos
Natural language parsing
Quick edits and custom alerts
BusyCal price for macOS: Starts at $9.99 per month.
The Bottom Line
BusyCal is a winner for anyone who wants a break from Apple's overwhelming built-in apps.
The only downside we can think of is its high pricing, which might be a turn-off for some users.
Sitting in your home deck/menu bar, Itsycal is an ideal, convenient, multifunctional schedule application.
You can, without much of a stretch, look into a date by basically tapping on the symbol to raise a small schedule.
You can likewise rapidly arrange schedules and look through fixed meetings with only a couple of clicks.
With the default calendar app, browsing appointments and making to-do lists is no easy task – that's where itsycal comes in.
You can otherwise set up a global keyboard shortcut for opening this small calendar. Snap any day to see your events underneath, or use your console to browse dates.
However, Itsycal is not a full-calendar app but has enough features to work better than the default app.
It's recommended if you want a simple and clean design interface along with the limited scope of needs.
And, as for simple time/date/day functionality, Isycal is far more superior and excellent than Apple's solution. However, the menu bar configuration needs a little work to appeal to a wider audience.
What's more, you get dark and light themes to play with. You can even have the calendar right on your screen when working with multiple apps.
The best part is, it's highly customizable, and due to the small size, it's highly unnoticeable, which saves your mac space and makes the platform less cluttered.
Itsycal price for macOS:  Free
The Bottom Line
Itsycal is fast, light, and a great calendar app. The menu bar display feature is mind-blowing, and 90% of your work can be done by just accessing it.
Plus, it's completely free. It's simple, efficient, and a great companion.
There are no downsides; however, a few more features might make it the best calendar app for Mac users.
Informant is another calendar app that brings your notes, task manager, and calendar into one space.
Basically, it's much more than a calendar. Having three task management modes, Franklin Covey, GTD, and simple mode, in one space makes the scheduling process convenient and seamless.
The good news, you can access your special events, daily scheduling, and pending tasks in a single window.
Additionally, the informant's task manager is very flexible to work with.
Also, it offers multiple filters and supports easy switching to access the important stuff whenever you need to.
Basic features:
SmartBar navigation
Dark mode
New templates
User-friendly and clean interface
Advanced task management
Advanced location support
Tasks with subtasks or checklists
TravelAssist
New Date and time selector
Informant price for macOS: Starts at $2.99 per month.
The Bottom Line
Informant comes with a clean and beautiful interface along with smart bar navigation and template support.
However, it's still missing many important features, so if you're looking for more features; Informant won't cut it.
Next on our list is the Mini Calendar for macOS – a simple and lightweight calendar app that fits the bill perfectly.
You can access the calendar in three ways – from the doc, on the desktop, and from the menu bar.
Mini Calendar is another intuitive calendar app that helps you stay organized and on schedule with just a few clicks.
Accessing tasks and events is as simple as tapping the app's icon in your menu bar or pressing a customizable keyboard shortcut.
Being a lightweight application, the Mini calendar helps to access the monthly calendar quickly and easily.
You can even reorder items in the menubar by dragging them with a pressed Command key.
Also, you can enable an always-on-desktop calendar or pop it up by pressing customizable keyboard shortcuts, making it convenient to use when you're working with multiple apps.
And, the best part is. Mini Calendar allows you to prioritize different tasks or entries with different color codes.
Basic features:
Configurable menu bar item displays date, time, the day of the week, or just an icon with the date.
If the Dock icon is enabled, it always displays the current date and month.
Configurable global shortcut displays the popup calendar.
Configurable color of the desktop calendar.
Display sunrise and sundown times
Mini Calendar price for macOS: Free
The Bottom Line
Mini Calendar is a simple, good, and functional solution to Apple's poor design; however, some important features like popup mini calendar are missing.
In short, it's a great replacement for your old and by-default calendar apps, but nothing more than that.
Calendar 366 II is the most complete and powerful menu bar calendar for macOS.
Even though the app functions primarily as a supplement to Apple's calendar, you can manage your whole calendar in one place.
Calendar 366 II, surprisingly, is the most customizable calendar on our list. It helps you keep track of to-do's and appointments, birthdays and days, meetings, and deadlines.
The favorite part is, you can customize the menu bar the way you like it – you can change the icon, time, date, etc. easily and intuitively.
All attachments and documents get synced easily with all devices via iCloud. Further, you can accept, send, or decline invitations.
What's more, you can view appointments in various ways and add tasks quickly with its natural language processing.
The default is an agenda view, but there are a few more you can switch to – month, year, agenda, week, week with agenda, and even the current day.
In short, everything about the app is customizable, and there are various color schemes to change fonts and layouts as per your liking.
Basic features:
Easy, intuitive creation, copying, and moving of appointments and reminders by drag-and-drop
Easily invite attendees and manage invitations
Time zone support
Complete to do with a tip
Shortcuts and AutoStart/AutoOpen
Calendar 366 II price for macOS: Starts at $14.99 per month.
The Bottom Line
Overall, Calendar 366 II is a highly customizable and fantastic app. It replaces the default macOS calendar and fantastical, and it's unobtrusive.
However, there are no unique features, and also the pricing high, which might be parley for some users.
Bonus App
Rounding out the list is the Lightning Calendar, which is part of the Thunderbird mail app.
Not everyone carries a laptop or PC, and that's why we need mobile responsive designs and apps.
Even then, the Lightning calendar doesn't have its own mobile app, which might be a turn-off for many people considering this app.
The only thing that draws us to include it in the first place is, it's free and open-source, and you don't have to connect to any other calendar app to use lightning.
To get started, all you have to do is, download the app and language, and you can begin scheduling your tasks.
The range of things you can do is – create calendar entries, categorize the events or appointments by secondary themes such as vacation or Phone calls, and add an incredible amount of details on each task or event.
Additionally, you can manage multiple calendars, create your daily to-do list, invite friends to events, and subscribe to public calendars.
Basic features:
Organizes schedules
Creates to-do lists
multiple calendars
Integrates with Thunderbird
Supports standardized technology
Allows changing calendar preferences
Lightning calendar price for macOS: Free and Open-source
The Bottom Line
Price-wise and feature-wise, Lightning is a great calendar tool. It even supports multiple calendars, iCal, and CalDAV.
However, popup reminders are issues, and sometimes synchronization doesn't work as expected and might end up in duplicating events.
Over To You
So there you have it – 9 best calendar and to-do list productivity tools for your mac.
Now that you're armed with the right knowledge, it's time you consider the bottom line of every tool and pick your favorite.
If you're still confused and have questions popping up about which app to choose from, let us help you make a better decision.
Comment down your doubts, and we'll help you out!.
Share this article on: