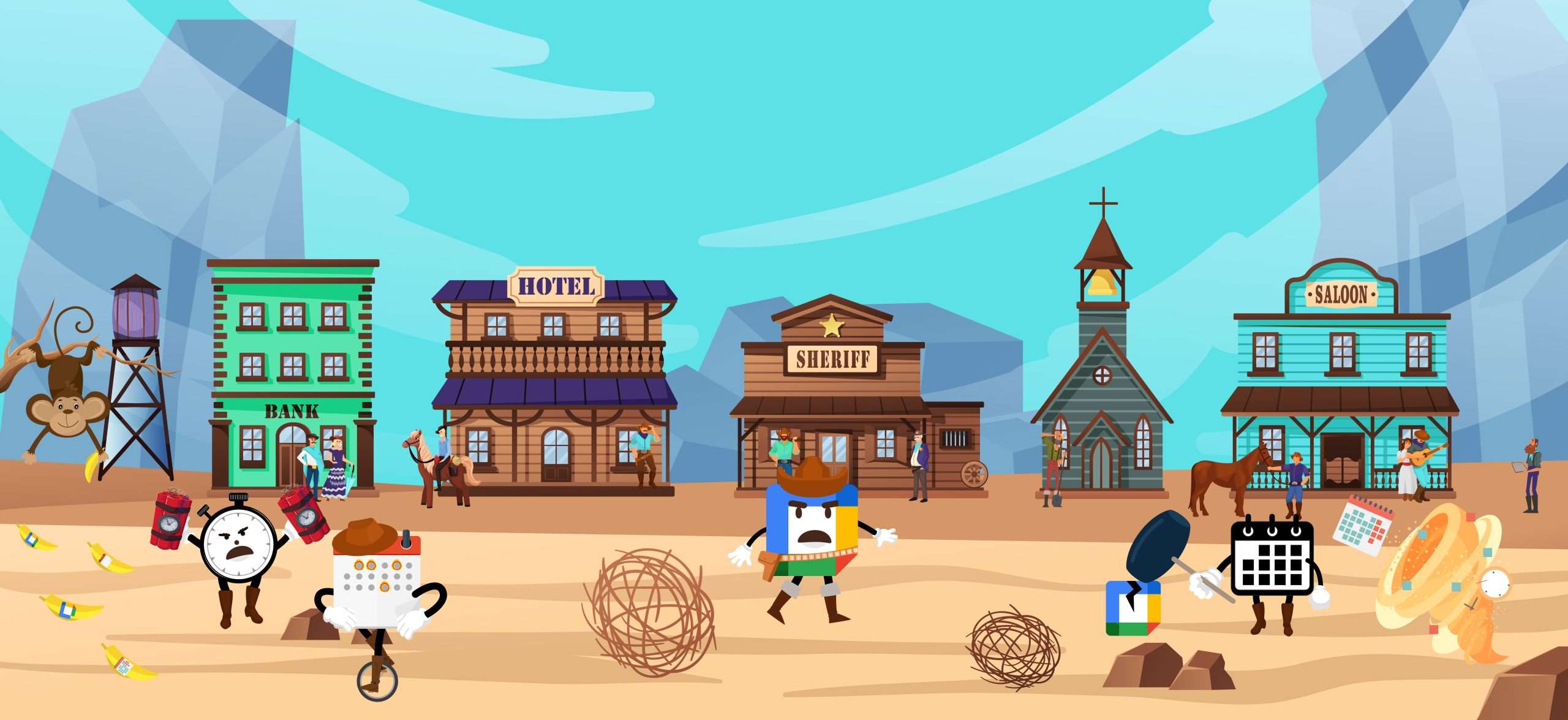 Don't get me wrong, I absolutely love Google Calendar. It's like a healthy dose of steroids for boosting our productivity.
However, as you probably know, nothing is perfect, and one size doesn't fit all.
Apart from privacy concerns, the lack of customization options for the user interface and limited integration capabilities are some of the reasons why people start looking for other calendar apps to find a better fit.
If you're reading this article, there's a good chance you're one of those people.
If that's the case, keep reading as we delve into the 12 best alternatives to Google Calendar.
These alternatives not only have a more appealing look but also offer additional features that you didn't know you needed.
Motion is an all-in-one app that automates and streamlines task management, meeting scheduling, and calendar syncing, leading to increased productivity and improved work-life balance.
With its intelligent features and algorithms, Motion helps you prioritize tasks, avoid manual planning, and save time, allowing you to focus on important work and enjoy more free time.
Motion also limits meetings, protects uninterrupted work time, and keeps everything in one place to reduce stress and improve work-life balance.
Its Intelligent Calendar takes into account meetings, tasks, to-do lists, and activities to create an optimized schedule.
By setting working hours, Motion calculates weekly tasks, meetings, and total working hours to create a custom schedule that avoids late-night work.
You receive alerts when you overcommit, helping you effectively manage your workload.
Furthermore, you can combine Gmail and Outlook calendars into one view, enabling you to see personal and work calendars simultaneously.
Calendars can be synced across multiple platforms, decluttering the calendar by merging duplicate events into one.
Motion offers a 7-day free trial. The Individual plan costs $34 per month ($19 per month when billed annually).
Additionally, the Team plan costs $12 per month per member ($20 per month with annual billing).
Useful Features of Motion
Prioritizes tasks and saves time with intelligent features and algorithms
Limits meetings and protects uninterrupted work time
Calculates weekly tasks, meetings, and total working hours to create a custom schedule
Alerts for overcommitment to effectively manage workload
Combines and syncs Gmail and Outlook calendars into one view
Fantastical is a highly versatile calendar and tasks app that offers a seamless and user-friendly experience across various devices.
With features like natural language input, event templates, task management, conference call integration, and customizable views, Fantastical aims to enhance your productivity and organization.
It's available for Mac, iPhone, and iPad, and it syncs seamlessly across all of your devices.
It allows users to quickly create new events and reminders using natural language input.
You can type in things like "meeting with John at 10 am" or "brunch with friends on Saturday" and Fantastical will automatically create an event for you.
Fantastical works seamlessly across multiple devices, keeping events and tasks in sync. It offers various powerful views, including DayTicker, Day, Week, Month, Quarter, and Year.
Fantastical also supports tasks and allows users to design and complete projects alongside calendar events.
Furthermore, they provide seamless integration with conference call services like Microsoft Teams, Google Meet, Zoom, and Webex.
And in relevance to conducting meetings with people located outside the country, Fantastical's time zone support helps users stay on top of different time zones when scheduling events.
Fantastical offers a 14-day free trial and costs $4.75/month for Individuals and $7.5/month for Families.
Useful Features of Fantastical
Cross-platform compatibility
Event and task templates
Time zone support
Widgets for the home screen and lock screen
Powerful views (DayTicker, Day, Week, Month, Quarter, Year)
Conference call detection and integration (Microsoft Teams, Google Meet, etc)
Akiflow is a productivity platform designed to centralize and organize schedules efficiently.
It offers features to consolidate all tools in one place and block time for tasks in the calendar.
You can import tasks from various tools into a universal inbox, eliminating the need to switch between multiple apps.
Akiflow even offers quick task actions, such as prioritizing, planning, and snoozing, all with time-saving keyboard shortcuts.
And just like most alternatives, you can create recurring tasks and choose a desired timezone.
Talking about meeting management, you can easily share your availability for scheduling with others, eliminating the need for back-and-forth communication.
With Akiflow's command bar, you can create tasks without using a mouse, enabling you to schedule dates, times, and duration, and add labels and priorities.
The monthly plan of Akiflow costs $24.99 per month, while the yearly plan is priced at $14.99 per month (billed annually). Both plans come with a 7-day free trial.
Useful Features of Akiflow
Import tasks from various tools into a universal inbox
Quick task actions with keyboard shortcuts and command bar
Share availability for scheduling
Schedule date, time, duration, labels, and priority
Rituals for smart and efficient daily planning
Focus mode to complete tasks faster and better
Sunsama is a digital daily planner that can help you achieve work-life balance and stay focused.
One of its underrated features is Guided daily planning, which assists you in being intentional about how you spend your time by providing a step-by-step routine for planning your day.
In addition to the daily planning and evening reflection features, Sunsama offers a unified daily view.
This view allows you to pull tasks from various platforms such as Trello, Asana, Gmail, Outlook, and meetings from your calendar.
With Sunsama's realistic daily goals, you can decide how much time you want to allocate to each task and end your workday at a reasonable time.
Sunsama also offers Timeboxing features that enable you to schedule your tasks on your calendar and complete your daily plan.
You can effortlessly browse tasks from platforms like Asana, ClickUp, Notion, Jira, GitHub, Todoist, and Trello within Sunsama and import the tasks you want to work on.
Moreover, Sunsama provides follow-up reminders for Slack messages, helping you turn them into tasks.
Lastly, with its powerful bi-directional syncing, Sunsama integrates Google and Outlook calendars into one place.
You can try Sunsama with their 14-day free trial and then choose to upgrade to their paid plan, which costs $20 per month ($16 per month with annual billing).
Useful Features of Sunsama
Guided daily planning
Unified daily view
Weekly Review and Planning
Schedule your tasks to your calendar (Timeboxing)
Drag and drop tasks from your project and task tools
Automate scheduling your tasks to your calendar
Analytics to understand how you spend your time
Cron is a highly regarded next-generation calendar app that offers advanced features and a user-friendly interface.
It provides features such as scheduling meetings, converting time zones, and supporting multiple accounts.
When you click on an event in Cron, a sidebar opens on the right side, displaying all the event information, with the main action highlighted.
The menu bar in Cron shows upcoming meetings, offers quick access to meeting links, and includes other time-saving UI/UX features.
Cron has a polished and visually appealing interface with an elegant dark theme.
It prioritizes design and pays great attention to detail.
One of Cron's standout features is the ability to compare and share availability with team members.
With just one click, you can see overlapping schedules and choose a suitable time for meetings.
This feature streamlines the process of finding mutually convenient meeting times.
In contrast to some other calendar apps, Cron provides real-time updates, ensuring that any changes made to events are immediately reflected across all devices.
Cron is free to use.
Useful Features of Cron
Create and edit repeat events
Multiple calendars and time zones
Clean setup guide
Keyboard shortcuts
Menu bar calendar
Color code events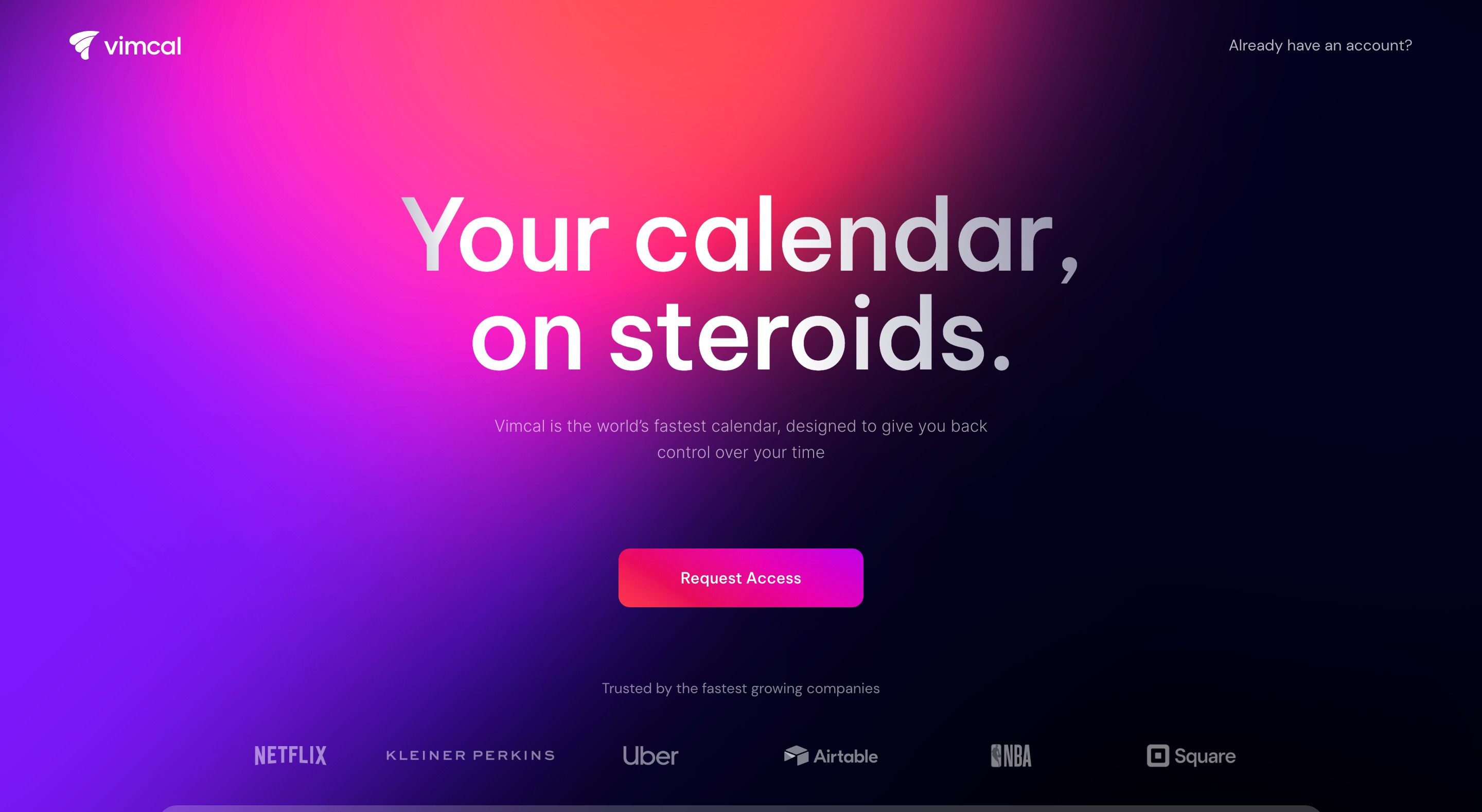 Vimcal is a feature-rich calendar designed specifically for remote work, offering powerful scheduling capabilities across different time zones.
It provides fast and efficient ways to share availabilities, with the added convenience of hotkeys and natural language commands.
On top of that, it offers extra features such as social profiles and unified account coordination.
With Vimcal, you get all the essential tools you need. It comes fully loaded with booking links, keyboard shortcuts, color coding, and polls.
Whether you're using a desktop, iOS, or Chrome Extension with Google or Outlook/Exchange accounts, Vimcal is compatible and accessible.
What sets Vimcal apart is its ability to share availabilities quickly and effortlessly.
Moreover, Vimcal takes the headache out of dealing with time zones.
With Vimcal, you can easily access any time zone in the world by simply typing the city name.
But that's not all.
Vimcal goes above and beyond with additional features.
It includes social profiles, and enhancing interaction with your contacts.
You can also activate the Do Not Disturb Mode and customize its elements according to your preferences.
As of writing this, Vimcal is currently only available for Apple users.
It offers a free plan exclusively for iOS devices.
Additionally, there is a plan available for iOS and Desktop users, which costs $15 per month ($12.5 per month when billed annually).
Useful Features of Vimcal
Designed for remote work with powerful scheduling capabilities
Fast and efficient ways to share availabilities
Hotkeys and natural language commands for convenience
Social profiles and unified account coordination
Booking links, keyboard shortcuts, color coding, and polls
Do Not Disturb Mode with customizable elements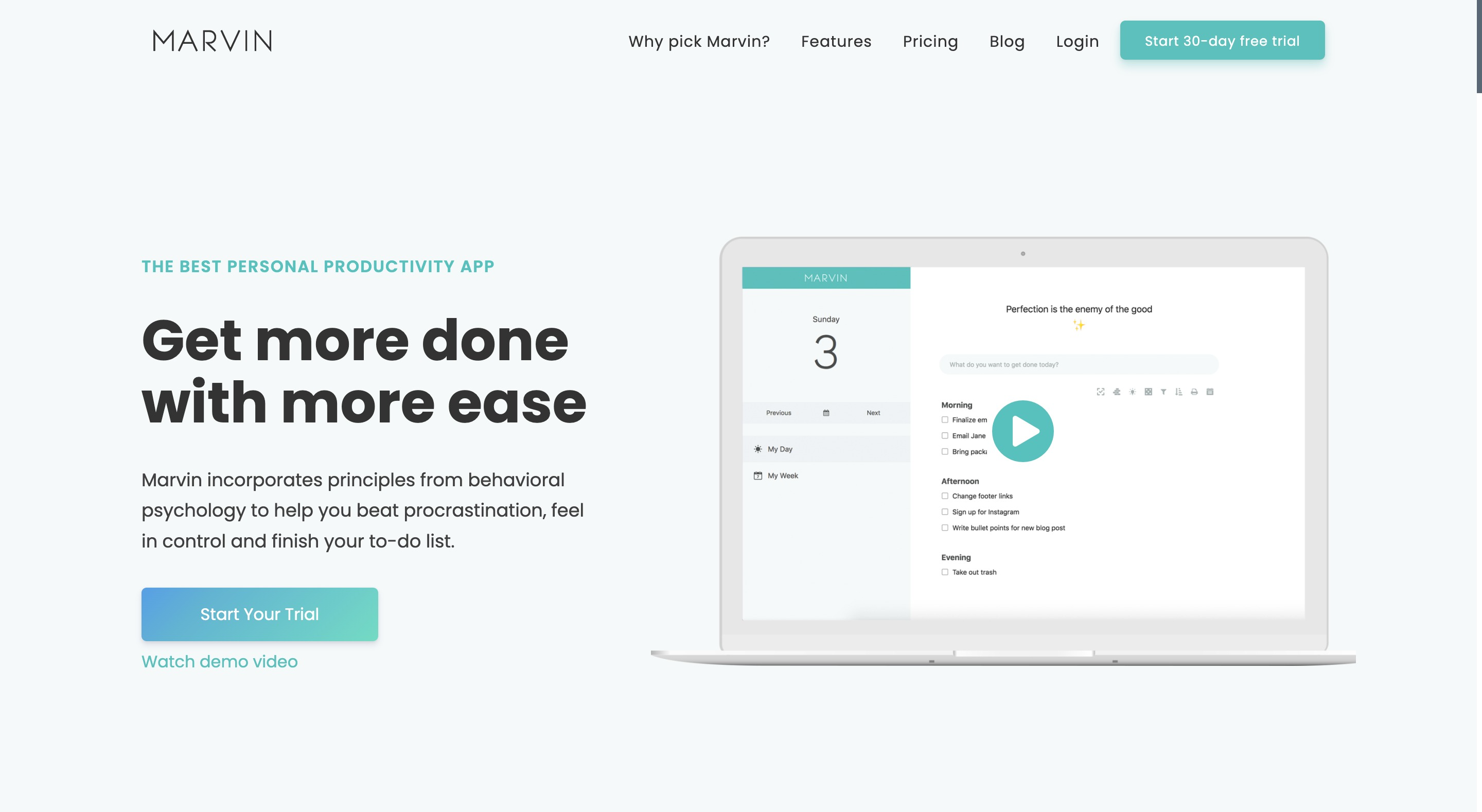 Marvin is an exceptional task manager and a daily planner that offers a wide range of customizable features to help you stay organized, boost productivity, and effectively manage your tasks.
One of Marvin's useful features is its ability to organize tasks into unlimited nested categories and projects.
This allows you to structure your tasks in a way that makes sense to you, creating a hierarchy that reflects your workflow and priorities.
Marvin also includes a full-featured calendar that seamlessly integrates with your tasks and events.
You can sync your events and tasks with other calendars you use, allowing for a comprehensive view of your schedule.
To help you meet deadlines and stay on track, Marvin offers features like due dates, do dates, start/defer dates, and end dates.
For recurring tasks and projects, Marvin provides an intuitive system that automatically generates tasks on the appropriate days.
Furthermore, it also offers a range of built-in timers, including the Sandlock and Pomodoro timers, which are valuable tools for directing your focus and increasing productivity.
Marvin is available on desktop (Mac, Windows, Linux), mobile (iOS, Android), and web platforms.
Marvin offers two pricing options: a monthly subscription and a lifetime purchase.
The monthly subscription costs $12 per month ($8 with annual billing).
Alternatively, you can choose the lifetime purchase option, which requires a one-time payment of $300.
Useful Features of Amazing Marvin
Unlimited nested categories and projects for organizing tasks
Full-featured calendar with seamless integration
Syncing events and tasks with other calendars
Due dates, do dates, start/defer dates, and end dates for task management
Intuitive system for recurring tasks and projects
Built-in timers, including Sandlock and Pomodoro timers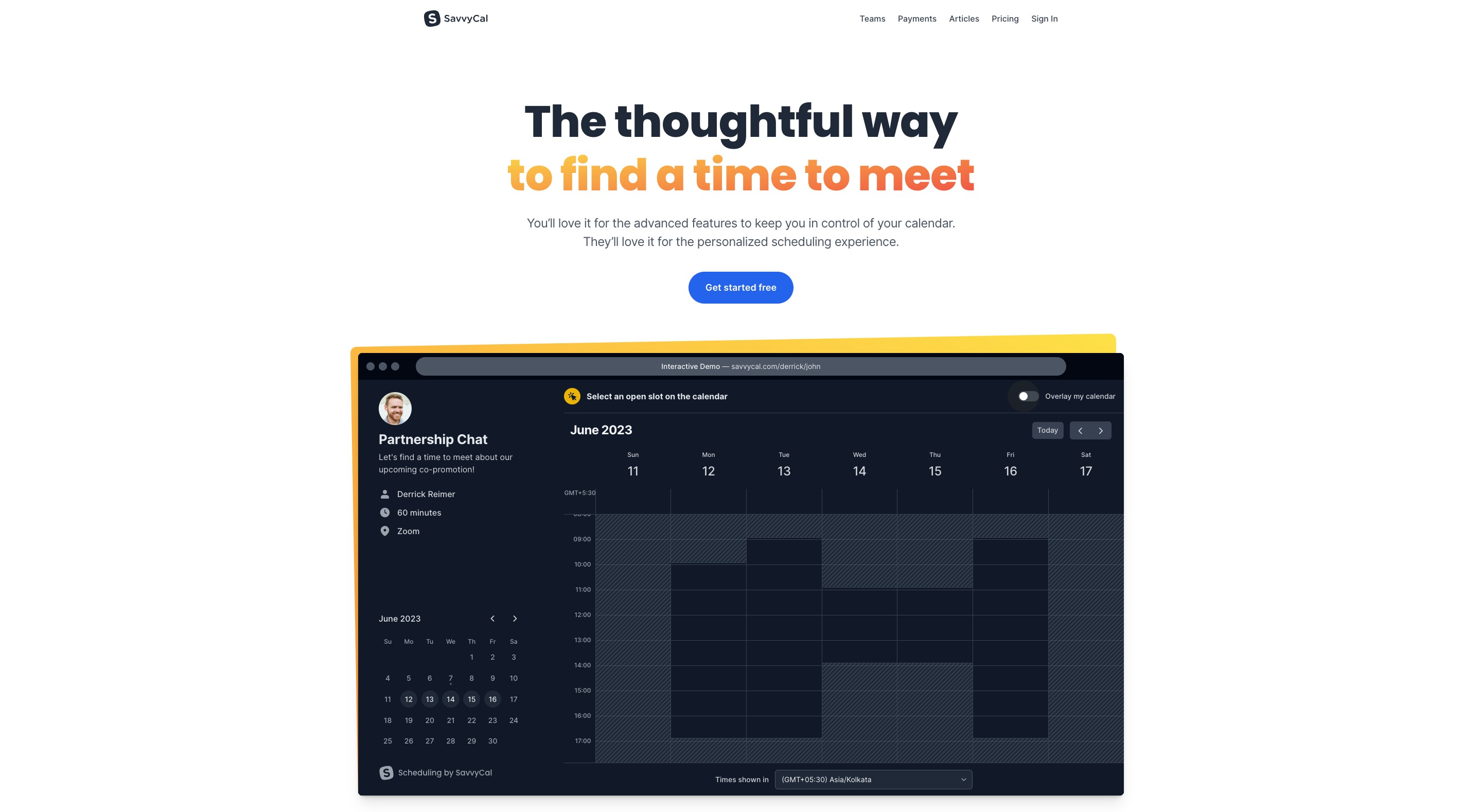 SavvyCal is feature-rich scheduling software that offers a user-friendly and personalized experience.
It provides advanced features such as calendar overlay, ranked availability, and limits on scheduling frequency.
You can set limits on the number of meetings that can be booked per day, week, and month.
Additionally, when you are traveling, it automatically updates time zones.
SavvyCal integrates with various calendar and communication tools, including Google Calendar, Outlook Calendar, iCloud Calendar, Zoom Video Conferencing, Slack, and more.
Furthermore, it allows you to embed scheduling links directly on your websites and offers ad-free meeting polls.
What's even better?
SavvyCal promises a quick and seamless switch from your current scheduling tool.
It provides a checklist to help you migrate, founder assistance if needed, and ensures a smooth transition.
Useful Features of SavvyCal
Calendar overlay to find mutual availability
Ranked availability to pick the optimal time
Time zone scheduling during travel
Automatically archive scheduling links
Limit meeting scheduling frequency
Beautiful and interactive interface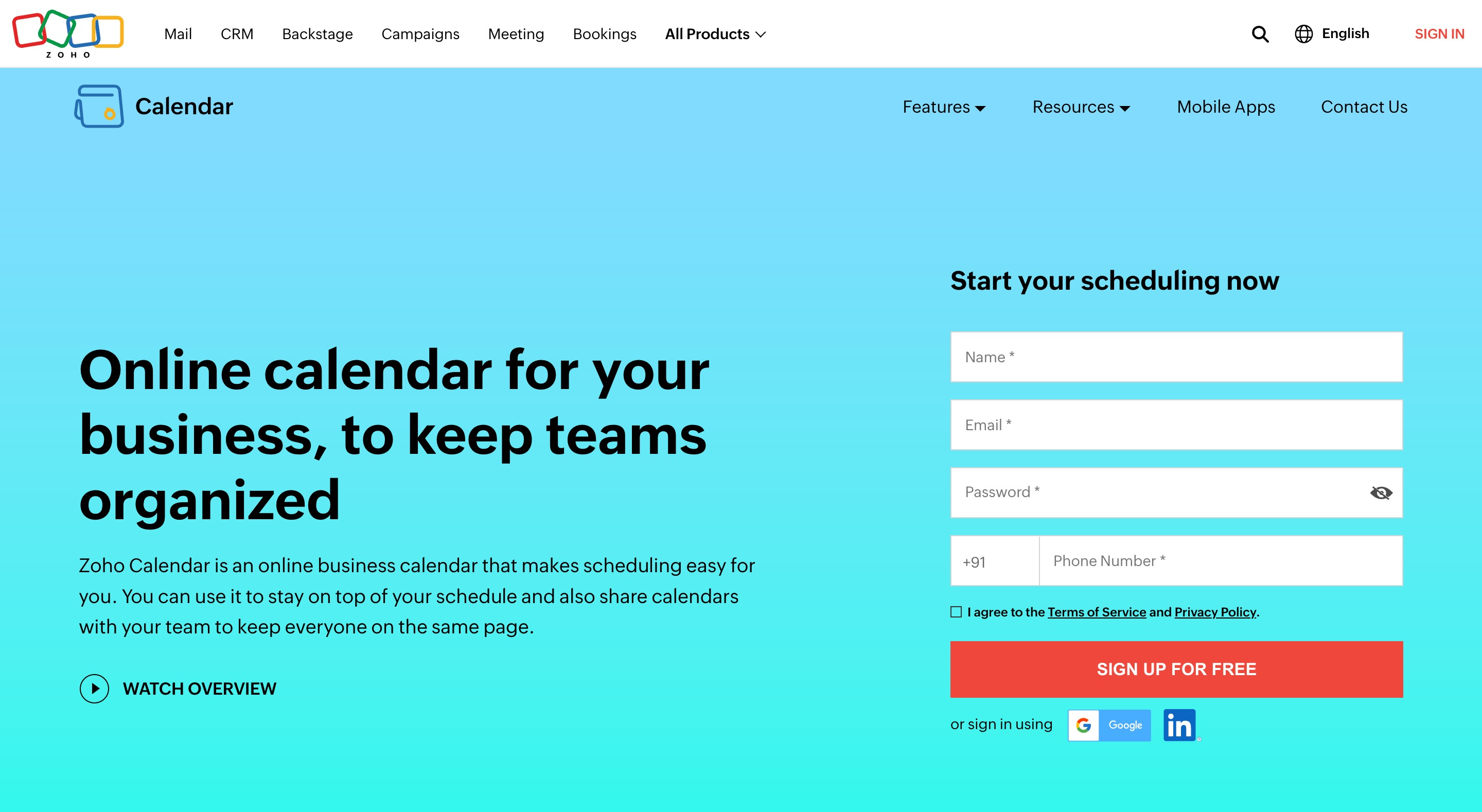 Zoho Calendar is a shared online calendar management app by Zoho.
One of the coolest things about Zoho Calendar is how it lets you plan, schedule, and invite people to your events and meetings.
With Zoho Calendar, you can easily connect with others and set up reminders for yourself. So, whether it's a meeting or a coffee catch-up, you'll never miss a beat.
Sharing and embedding calendars? Zoho Calendar makes it super simple.
You can choose to make your calendar public or keep it private, depending on what floats your boat.
Zoho Calendar has this amazing feature called Group Calendars.
It's perfect for keeping everyone organized, hitting project deadlines, scheduling team meetings, and managing all your group activities in one central spot. Talk about teamwork made easy!
Got a bunch of appointments to schedule? No worries! Zoho Calendar lets people request meetings with you, so you can effortlessly sort out your agenda and book appointments. Easy peasy.
Oh, and you can sync your calendars from Google, Microsoft Outlook, and more!
Useful Features of Zoho Calendar
Share and embed calendars
Appointment scheduling
Two-way sync with native calendars
Integration with Zoho apps (Zoho suite)
Collaboration and team management
Apple Calendar is a versatile and user-friendly app designed to help you keep track of your schedule and stay organized.
One notable feature of Apple Calendar is its seamless integration with various calendar accounts.
It can easily sync with iCloud, Yahoo, Google, and other accounts, ensuring that any changes you make on one device are automatically reflected across all your devices.
The app offers multiple views to cater to your preferences and needs. You can choose between List, Day, Week, Month, and even Year view.
Creating new events is effortless with Apple Calendar.
You can simply touch and hold a blank space in your day to quickly add a new event, or effortlessly drag an existing appointment to reschedule it.
If you frequently collaborate and schedule meetings, Apple Calendar supports sending and receiving meeting invitations with iCloud, Exchange, and CalDAV servers.
Additionally, it allows you to subscribe to various calendars, such as holidays, sports teams' schedules, and more.
Apple Calendar is available for free on the App Store and is compatible with iPhone, iPad, and Apple Watch.
Useful Features of Apple Calendar
Seamless integration with various calendar accounts
Multiple views: List, Day, Week, Month, Year
Easy event creation by touch and hold or drag and drop
Sending and receiving meeting invitations
Set reminders for important events, tasks, or appointments
Long-term planning (schedule recurring events or tasks)
TimeTree is a communication app that facilitates easy calendar sharing and coordination with others.
It allows you to share events, coordinate schedules, and discuss upcoming events in a single calendar.
TimeTree notifies others quickly when new events are created or existing events are changed, eliminating the risk of forgetting important events or miscommunications.
One of the things I really like about TimeTree is that it provides a streamlined communication platform, eliminating the need for multiple apps for messaging, photo sharing, etc.
TimeTree offers a premium version with additional features such as hiding ads, file attachments, event priority, and vertical view, available at a monthly or annual subscription fee.
TimeTree offers a simple one-paid plan option: Monthly subscription: $4.49 USD per month or an Annual subscription: $44.99 USD per year.
Useful Features of TimeTree
Shared calendar for events and schedules
Real-time notifications for new or updated events
Eliminates the need for multiple messaging apps
File attachments for events
Event priority management
Vertical view option
Cozi is a shared family calendar and digital organizer designed to manage schedules and keep the entire family informed.
It can be accessed from any computer or mobile device.
With Cozi Calendar, you can coordinate schedules in a secure location, eliminating the need for traditional calendars on walls or fridges.
The color-coded calendar allows for viewing the whole family's schedule or filtering by an individual.
Reminders help ensure that important appointments and events are not missed.
Cozi Today provides a convenient overview of the day's agenda, including upcoming appointments, to-do lists, and recently added shopping list items.
Cozi offers various features such as calendar management, shopping lists, to-do lists, recipes, meal planning, and the premium service called Cozi Gold.
Cozi is a free app with some in-app purchases starting from $19.99.
Useful Features of Cozi
Shared family calendar and digital organizer
Color-coded calendar for easy viewing
Individual filtering for each family member
Reminders for important appointments and events
Includes upcoming appointments, to-do lists, and shopping list items
Choosing The Best Google Calendar Alternative
While Google Calendar is a fantastic tool, it's understandable that it may not meet everyone's specific needs and preferences.
Luckily, there are several excellent alternatives available that can provide a more personalized and tailored experience.
Each app has its own unique features and strengths, so I encourage you to explore them further and choose the one that aligns best with your specific requirements.
Whether you prioritize automation, seamless integration, remote work capabilities, or advanced scheduling features, there's undoubtedly a substitute Google Calendar out there that will help you take your productivity to the next level.
Give one of these apps a try, and you might just discover a new favorite that rocks the hell out of your productivity.