EOR offers you a hassle-free way to outsource international employees without establishing a legal entity in each country.
They're third-party HR platforms that not only recruit staff on your behalf but also take care of local compliance and payroll processes for you.
With their expert services and self-serving apps, you can build your global remote teams within days and quickly scale your business overseas.
The below list covers the 15 best Employer of Record (EOR) platforms I have put together for you.

Deel is a global HR SaaS platform that helps you hire both permanent employees and contractors.
You can use it to find candidates across 150 countries, quickly scale your team, and automate payroll. It has an active network of local parents to ensure you always receive updated information on labor laws to minimize legal complications.
Its workflow and salary automation are also pretty robust, allowing you to set up multiple payment models, including a cryptocurrency option, and run global mass transactions.
If you're looking for simplified compliance and payroll disbursement solutions, Deel is ideal for you.
Core Features
Quick onboarding.
Automated salary calculation, including taxes and benefits.
Updated data on local laws and regulations.
Access to 150 countries.
Insights into market trends.
Integrations.
Offer Coinbase (cryptocurrency) payment withdrawal option.
Price
Deel shares separate plans for employees and contractors. Its basic plan starts at $49 per month.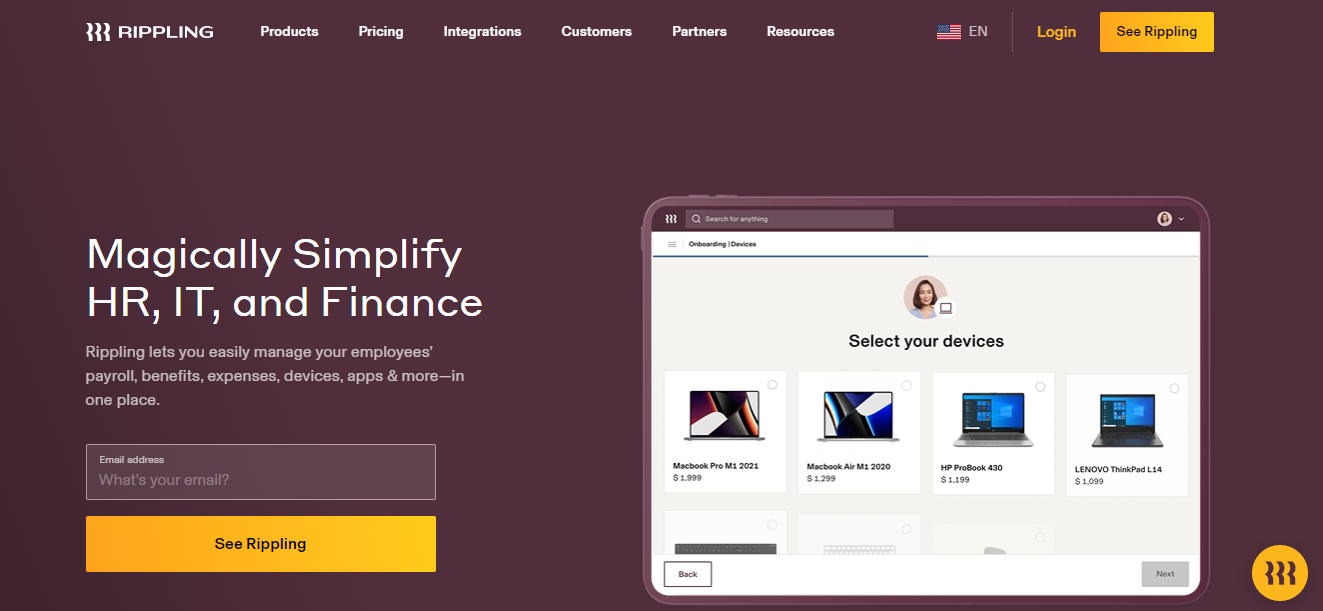 Rippling delivers separate products for HR, IT, and Finance operations.
Its HR cloud product covers both EOR and Global Payroll along with a wide range of other side services such as PEO, ATS, and benefits administration.
You can use this platform to hire US and overseas employees, issue bonuses and time offs, automate your tax and compliance, and offer health and retirement plans. The package also includes an hourly payment option for contractors and a promotion system for employees.
What makes Rippling different is its scalable system. As your business grows, you can easily switch from EOR to Global Payroll without going through any additional steps or without switching systems.
Core Features
EOR, Global Payroll, and PEO services.
Easy onboarding, transition, and off-boarding.
Fixed and hourly payments.
Benefits and insurance.
Tax and compliance management.
Workflow automation.
Employee survey.
Reporting.
ATS and LMS.
Price
Rippling charges as low as $8 per user. Contact sales to get the quotes.
Remofirst offers hassle-free international recruitment and payroll solutions. It simplifies the hiring process by providing you with the exact amount of investment you need to employ your selected candidate and then taking care of the entire onboarding process.
You can use it to recruit people from 150 countries and generate updated contracts compatible with local laws and compliance. Their team of legal experts and HR professionals will help you stay ahead of changing regulations globally, and compliance documentation are securely accessible via your dashboard.
It has an automated payroll process so you don't have to manually calculate the working hours, leaves, and bonuses of each employee.
In addition to EOR, Remofirst also delivers a contract management option. It allows you to easily hire and pay to oversee contractors.
Core Services 
Employer of record.
Contractor onboarding.
Contract creation.
Global Benefits Management (Insurance, Equity, Time Off, etc)
Equipment Provisioning around the world
Payment disbursement automation.
Hiring and termination guide.
Health insurance.
Data privacy.
Price
Remofirst charges $199 per month for its Employer of Record product. Its contractor's product is free of cost.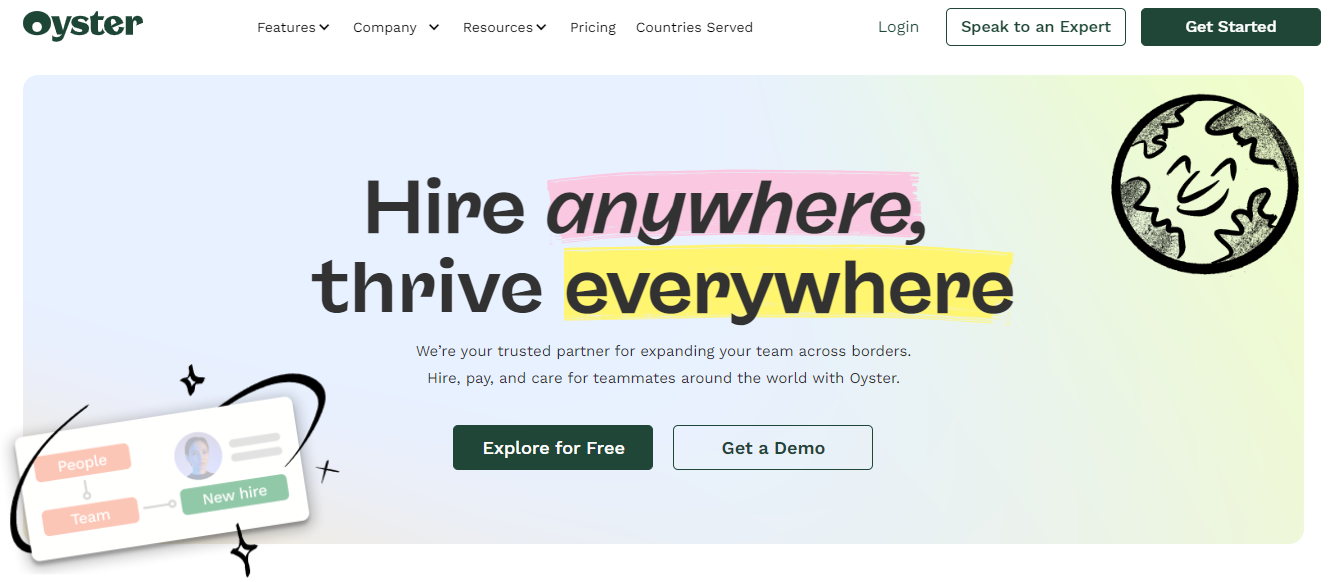 Oyster is a close competitor of Deel, offering you a similar digital platform to onboard, manage, and pay overseas employees.
It offers you a centralized place where you can manage all your recruitment workflow, from onboarding to payroll disbursement.
Here, you can gain access to over 180 countries, giving you the best opportunity to diversify your resource pool and bring versatile talent to your company.
With its self-service tools, you can also calculate the cost of hiring, keep up with local laws and compliance to avoid legal issues, and pay your employees in multi-currency.
All its features are designed for speed and security, allowing you to quickly develop distributed teams and manage them remotely. They also offer various free tools for your business, such as a Salary Calculator to help you estimate the costs of hiring an employee across the globe.
Core Features
Global recruitment and Payroll management.
Health and benefit coverage.
Strict compliance.
HR guides, reports, and courses.
Excellent support.
Partnership opportunities.
Multi-currency option.
Price
Oyster's basic plan is free and premium plans start from $399 per month.
Papaya Global offers payroll management and EOR solution to large-scale organizations.
Here, its dashboard organizes your entire personal data in one place, giving you the visibility and ease to keep up with your employee's movement and disburse salaries on time.
With its AI-powered features, you can onboard staff smoothly, maintain healthy communication, and automatically process global payroll. It not only cuts down your time, but also reduces the risk of compliance and payment errors.
Your employees also get a self-serving portal login that connects them to administration and let them perform essential functions like PTOs submission and payslip receipt from their device.
Core Features
Supports 160 countries.
Payroll automation.
Security and compliance.
Business intelligence Reporting.
Employee portal.
Integration with third-party partners.
In-house expert support.
Price
Papaya Global's Employee of Record plan costs $650 per month.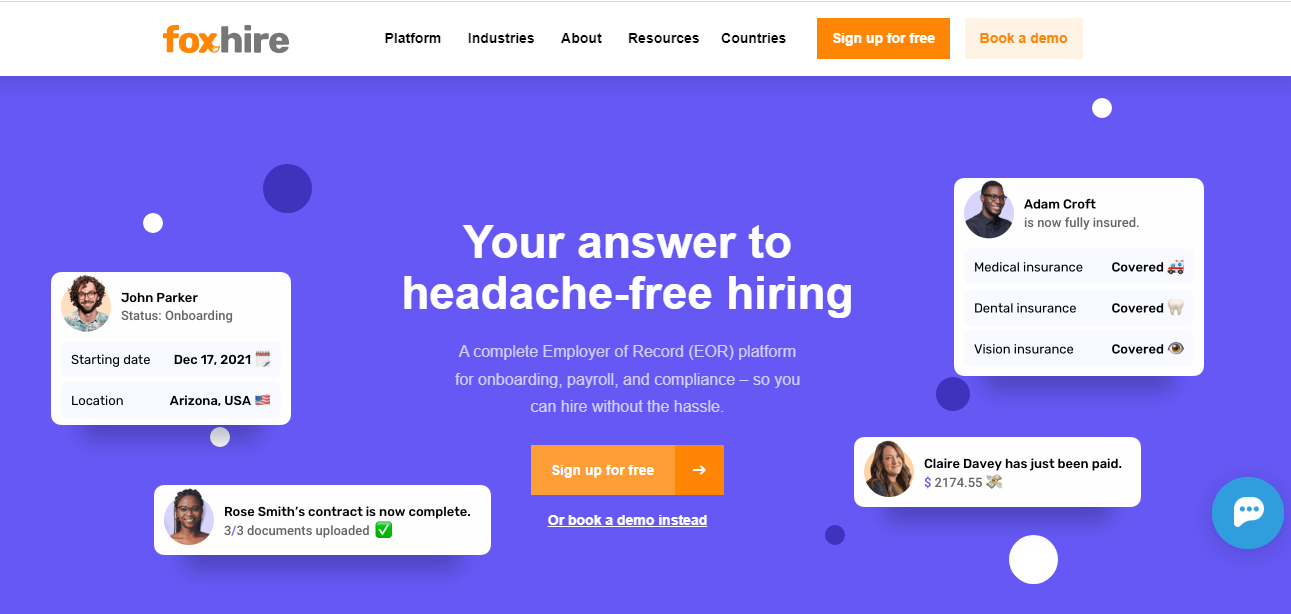 FoxHire is ideal for the USA and Europe-based recruitments.
Its EOR services cover everything from contract signing and onboarding to payroll management and health insurance.
With its intuitive digital portal, you can effortlessly hire new talent, monitor attendance, calculate salaries, and run payroll. The platform handles most of the menial tasks and legal side of the employment process to make your job incredibly easier.
Some of the things Foxhire does for you include background checks, paperwork, timesheet processing, and taxes. It also offers a list of other add-ons to get extra services, such as custom contract reviewing, drug screening, or fast document delivery.
Core Features
EOR and SaaS platform.
Attendance and payroll.
Health benefits and other employer liabilities.
Earning calculator.
Reporting view.
Add-on services.
W2 contract.
Recruitment from 20 countries.
Price
Foxhire's prices are not listed on the website. Request a demo to learn more about it.
Remote's pool of resources might not be as large as that of Deel or Oysters, but it delivers a versatile range of functions and some incredibly unique features.
As an EOR, it hosts HR experts and local partners to take care of all your legal responsibilities, leaving you to fully focus on day-to-day HR management.
In addition, it offers consulting services to walk you through essential HR areas, such as compliance, visa permit requirements, remote relocation, and team growth.
Its contractor management solution is also flexible and simple.
It provides a separate portal for you and your contractor to sync the workflow and expedite the hiring and payment process.
Core Features
Employer of record.
Payroll automation.
Health benefits and equity incentives.
Contractor management.
Remote relocation consultancy services.
Data security.
Integrations.
Price
Remote's EOR services start at $599. You can use its cloud software for free.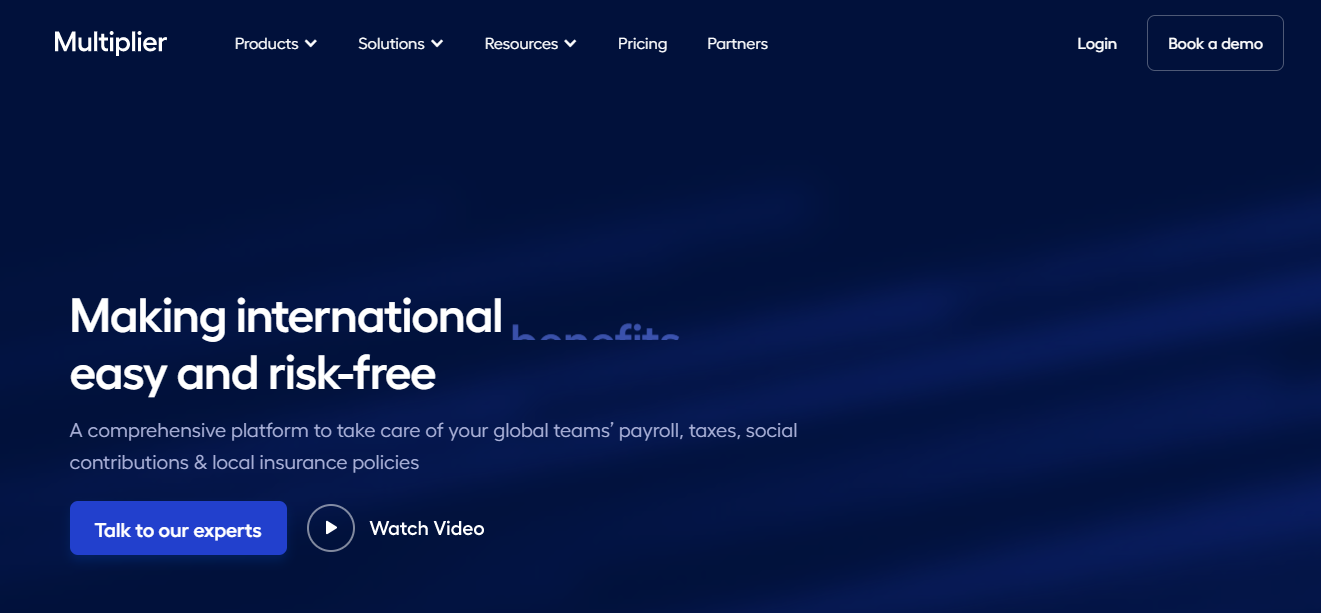 Multiplier makes it remarkably easy to hire international talent. It offers you tools and resources to recruit people from all over the world and set up different payroll methods for temporary and permanent contracts.
With the help of its EOR team, you can instantly onboard employees and pay them in 120 different currencies. Its freelancing and employee agreements are tailored for each country to ensure they meet statutory and other legal requirements.
Its dashboard also gives you the flexibility to keep track of your remote team's working hours, leaves, and official expenses so you don't miss out on any dues and pay them on time.
Core Features
EOR services
Payroll management.
Efficient workflow.
Personalized employee contracts.
Updated Insurance, leaves, taxes, and local laws.
Multi-currency transactions.
Data protection.
Price
Multiplier's monthly price ranges from $40 to $300.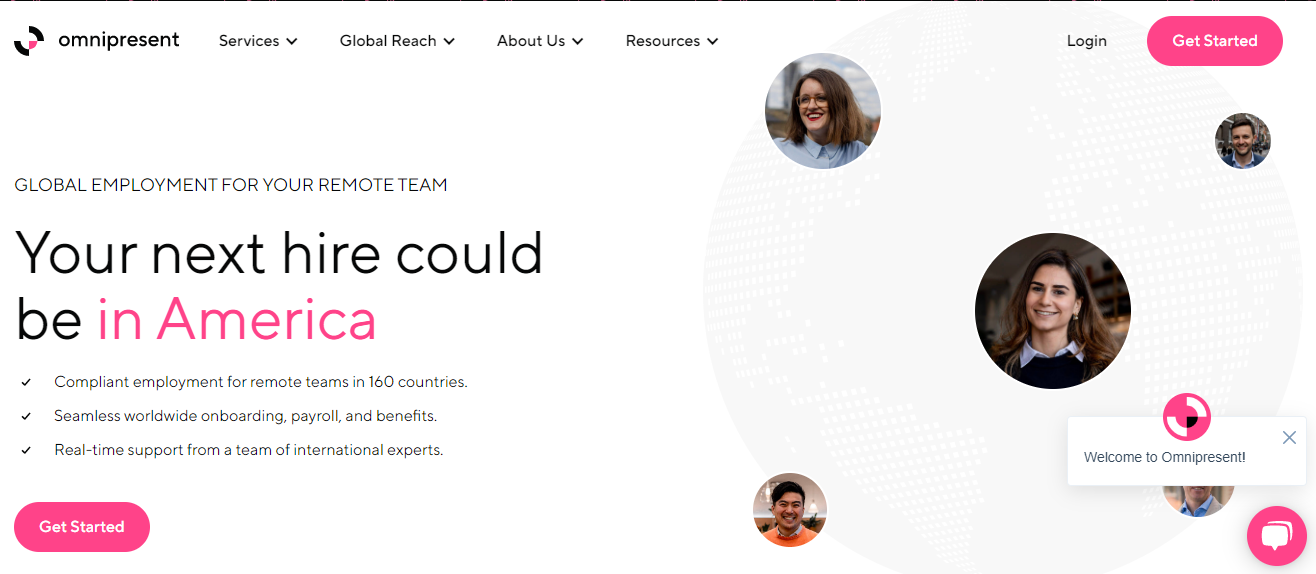 Omnipresent is a relatively new platform, but it has an excellent onboarding process and HR support.
It provides user-friendly recruitment solutions and in-house expert assistance to help you quickly build a global team and set up a seamless remote payroll infrastructure.
Some of the core services include taking care of compliance and legal processes, salary benefits, local taxes, and foreign exchange.
It also offers a powerful dashboard that shares well-organized and secure employee information to make monitoring and managing day-to-day activities easier.
Core Features
Fast and efficient team.
Onboarding, payroll, and termination process.
Leaves and reimbursements.
Compliance services.
Serves in 160 countries.
Multi-currency payment transactions.
HR support.
Integrations.
Price
Omnipresent prices are not listed on its official site. Book a call to contact sales.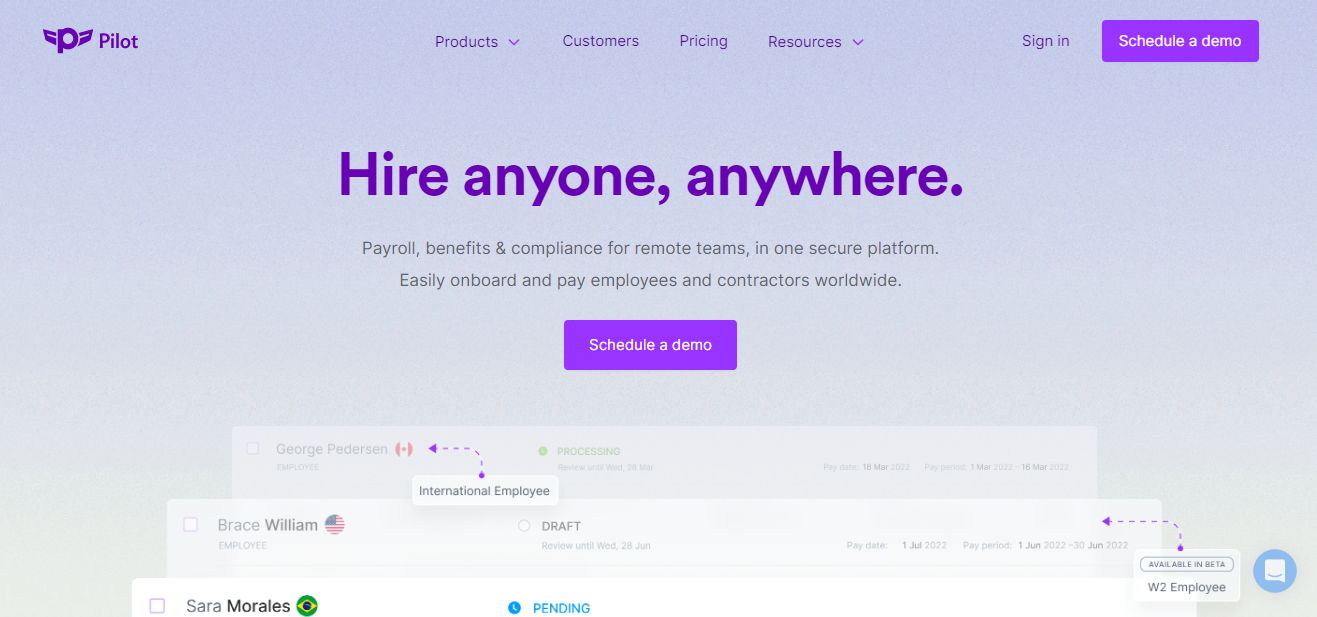 Pilot is primarily a talent acquisition platform, but its functionalities extend to payroll management, EOR services, and HR guidance.
It offers an efficient onboarding system that takes you through a step-by-step outsourcing process and makes the entire structure completely transparent. It also tailors the information to the local laws to ensure you have the right information and legal contract on hand to expedite the recruitment.
You can use Pilot to run both your domestic and global payroll, including your contractors' invoices. The platform gives you the option to incorporate local bank accounts of 70 countries, allowing you to pay invoices directly to their banks.
Another thing. If you lack the resources to manage the payroll on your own, you can hire Pilot to process your recruitment instead, as well.
Core Features
Smart onboarding.
Employee benefits option.
Global payroll management.
Access to contractors from over 240 countries.
Smooth payment integration.
EOR services.
Price
Pilot prices start at $29.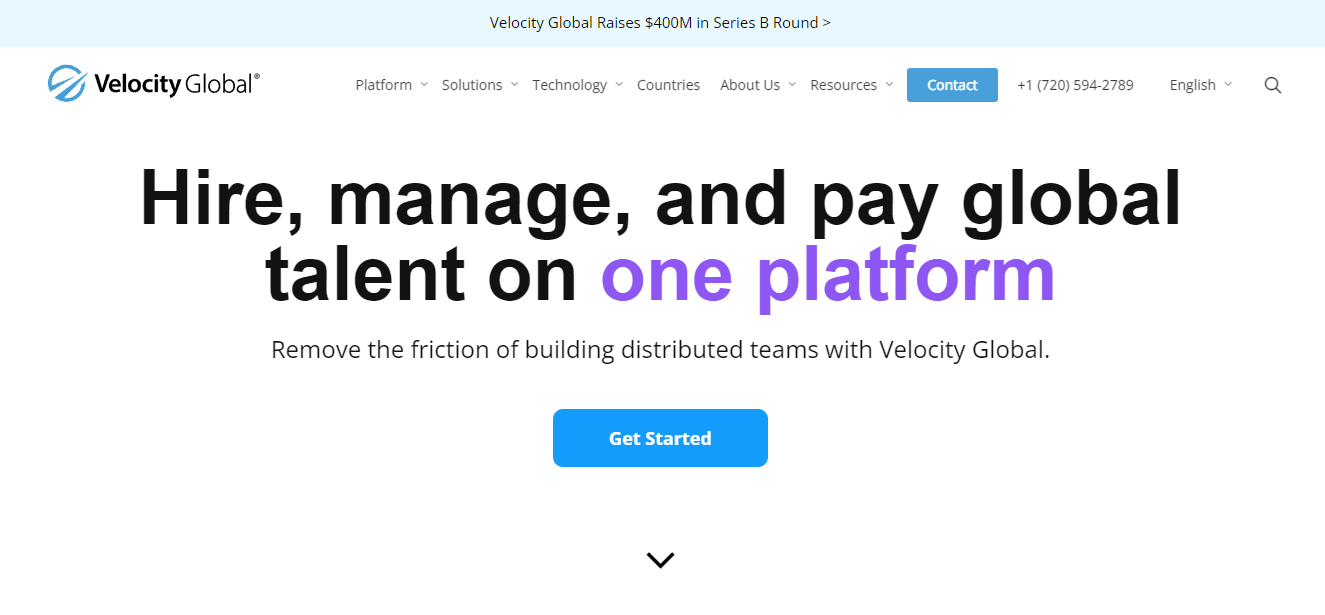 Velocity is one of the leading EOR platforms. It has access to over 185 countries and offers a complete suite of HR management services.
You can use it to build a dispersed team, hire retainers, create a well-structured payroll system, and even set up a legal entity. It hosts an excellent team of experts that handles the complexities that come with the recruitment and immigration process on your behalf.
It also has an intuitive interface that automates your workflow to cut out unnecessary operational tasks and put everything within your reach.
Additionally, it offers a classification function that allows you to keep employees and contractors separately to tag them accurately and disburse correct payments.
Core Features
EOR services.
Contractor classification and management.
Benefits and rewards.
Legal entity setup.
Global payroll.
Immigration aid.
Price
Velocity Global's prices are not listed on its website. Contact sales to learn more.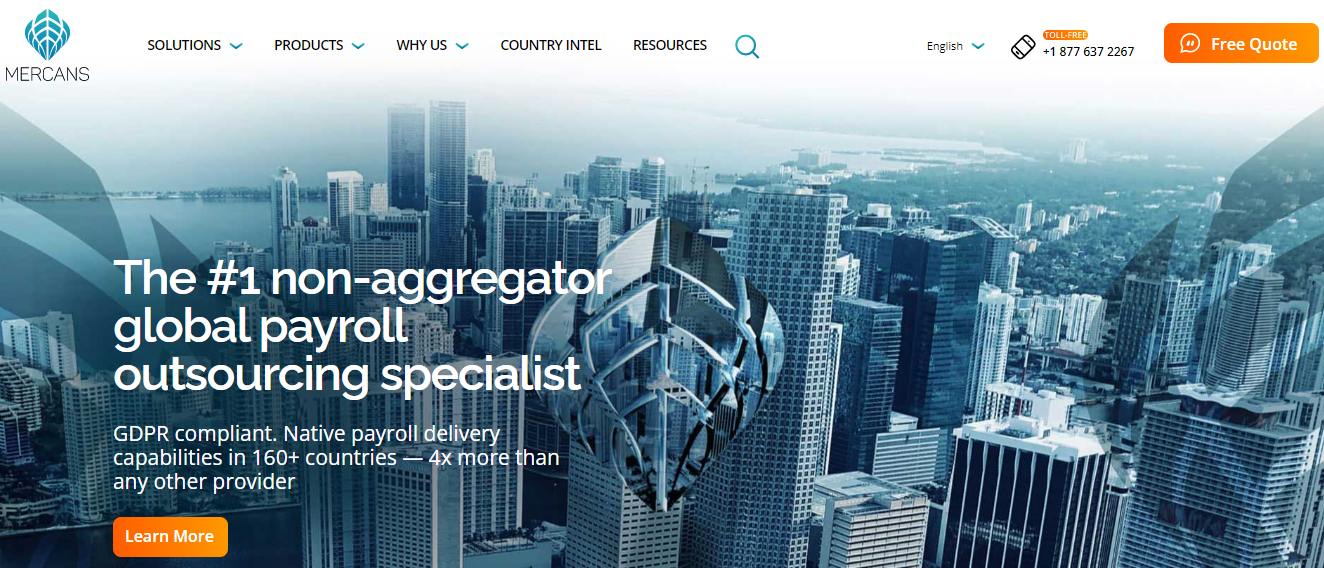 Mercans' core products comprise a global HR payroll management and an international job portal.
Its recruitment portal offers advanced functions like ATS, which makes it easier to find, track, vet, and onboard ideal candidates.
Its self-serving platform, on the other hand, centralizes your employees' records and automates your entire payroll process to create a seamless workflow. With its integrated data, you can effortlessly track working hours, approve and reject expenses, add relevant benefits and generate taxable salaries.
You can also contact its in-house team for a free consultation on human resource and management issues.
Core Features
International outsourcing.
EOR and PEO solution.
HR consultancy.
Centralized information.
Workflow automation.
Job portal.
ATS feature.
Mobile friendly.
Price
Mercans delivers quotes upon request. Contact sales to get more details.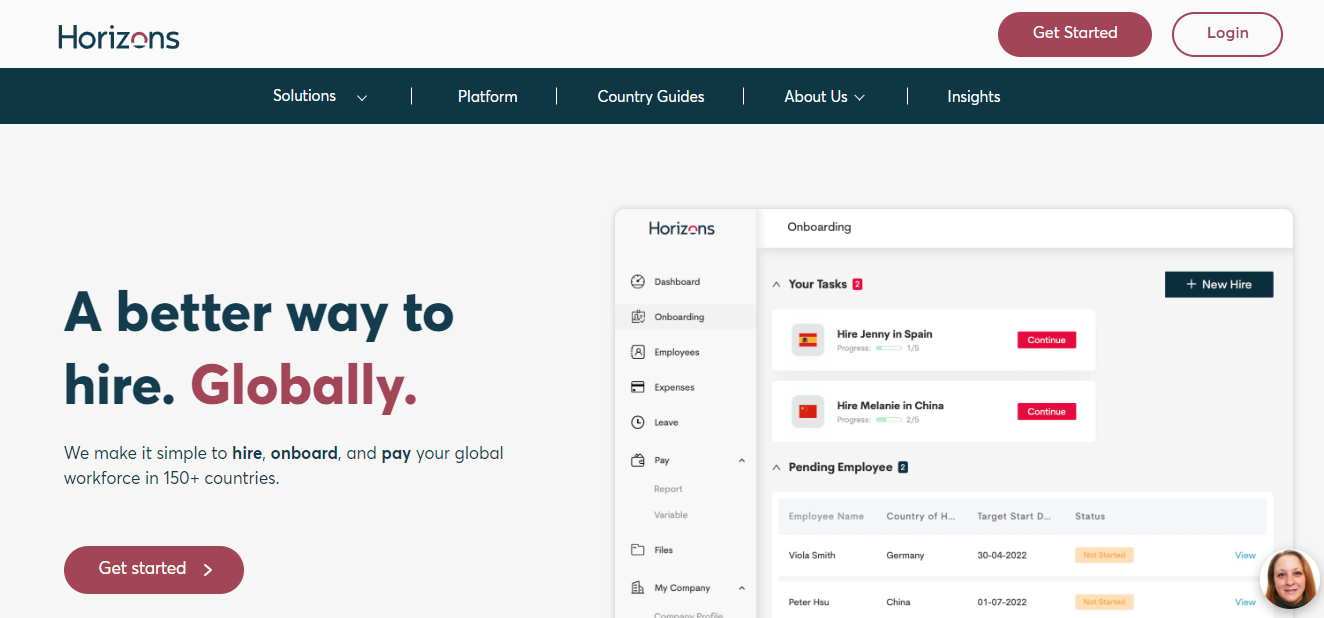 Horizons goes beyond the essential EOR services, helping you with not only legal compliance, but also assisting you in your business expansion.
It offers you both a digital platform to manage payroll and an HR team to handle hiring and administrative jobs for you. If you want to bring in overseas employees to your headquarters, it also hires people for you and takes over the immigration process.
With Horizons, you can attract remote employees from anywhere in the world, streamlines your international payments, and quickly onboard your new team members.
Core Features
Global recruitment.
Access to 150 countries.
Payroll management.
EOR.
Immigration option.
In-house team to manage legal matters.
Digital platform.
Price
Horizons' team shares custom quotes based on your geographical location and requirements. For contractors, it's $9/month per contractor.
For EOR, it is $290/month per employee.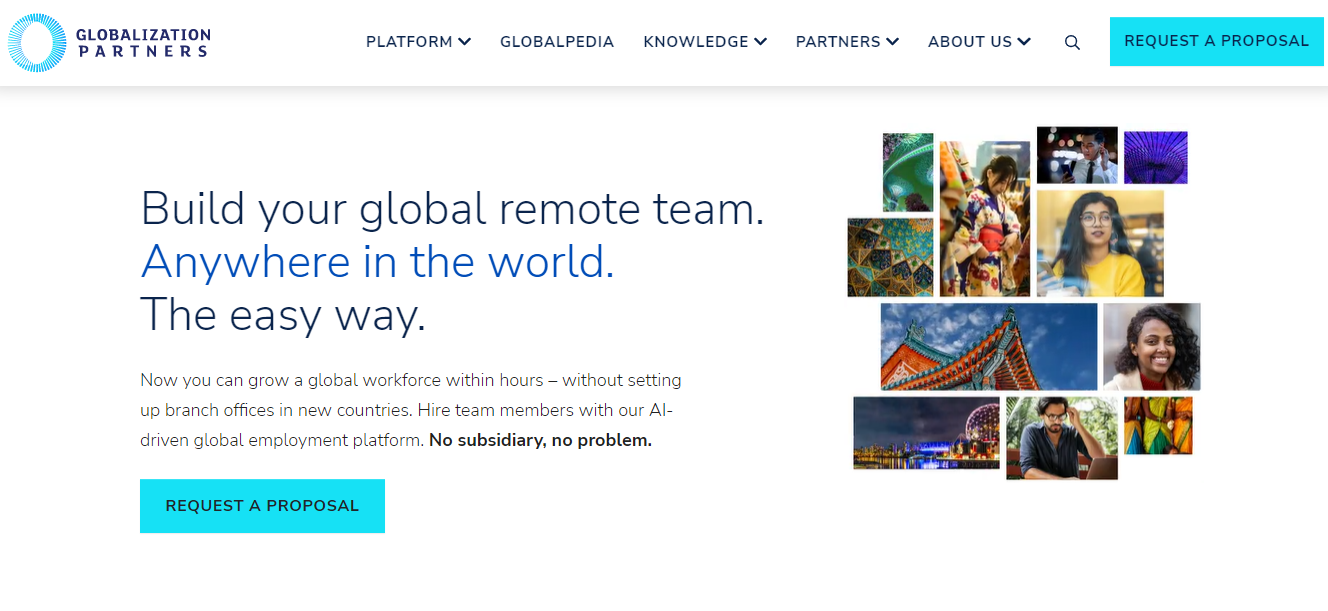 Globalization Partners provides a self-serving platform that uses smart technology to simplify the overseas recruitment procedure.
You can hire both contractors and an in-house team, easily generate compliant employee agreements, pay in 180 different currencies, and attract leads with additional benefits. It helps you find ideal employees by matching you with the local and international talent that best meet your job requirement.
Its intuitive dashboard also summarizes the recruitment data in a user-friendly format, allowing you to track time, manage expenses, and download financial reports. In addition, it offers access to country guides to give you resources to familiarize yourself with local culture.
Core Features
Smart employee finder.
Contractor recruitment.
Digital agreements.
Supports 180 currencies, including crypto.
Flexible Benefits and rewards options.
Expense management.
Local law guidance.
Mobile friendly.
Price
Globalization Partners provides quotes on request. Book a demo to explore it.
Express Global Employment is one of the oldest and most well-established international employment platforms.
It has contacts in 190 countries and covers everything from market expansion to initial setup, overseas recruitment, and immigration assistance to payroll disbursement.
You can use it to both hire and transfer your staff, organize legal documentation, develop local employee provisions, and file taxes.
It also provides business and administrative support for office supplies, renting, traveling expenses, and car leasing.
If you're looking for a platform to efficiently run a remote team but lack the resources and logistics to accomplish it, Express Global Employment is ideal for you.
Core Features
EOR.
Payroll processing.
Immigration aid.
Compensation and benefit provision.
Market expansion assistance.
Side-administrative services.
Price
Express Global Employment offers custom plans based on the services you request. Ask for quotes through its official website.
Conclusion
Platforms like EOR have now made it incredibly easy to recruit and pay international employees.
They save you a considerable amount of cost and time, offering you a great opportunity to increase your pool of resources and expand your business overseas.
Go ahead and explore the sites I have listed above to learn more about their services.
Good luck!