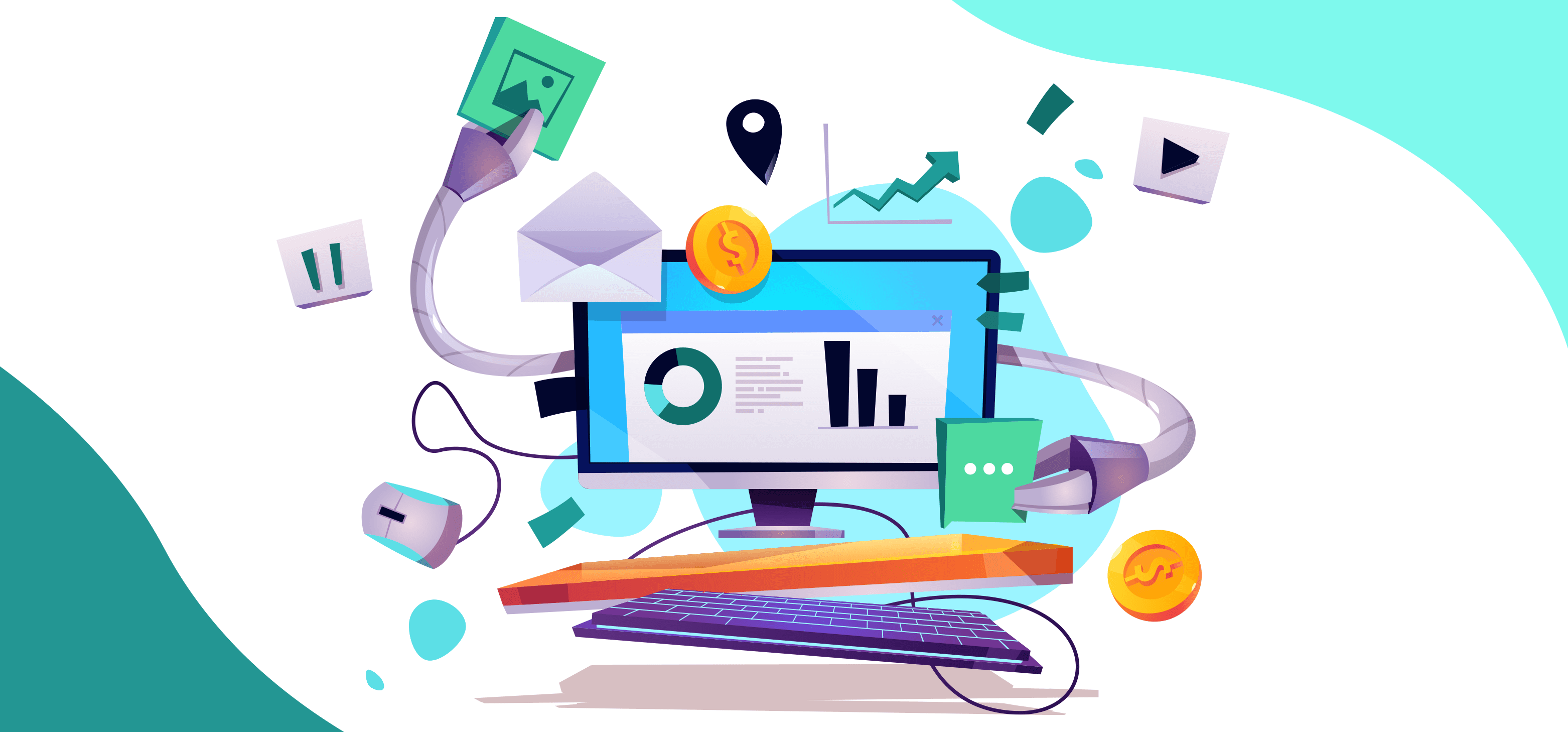 Revenue Intelligence Software are AI-powered tools that are specifically designed to help you manage your sales pipeline and make data-driven strategic decisions.
They use machine learning to deliver a clear picture of your operations, team performance, and growth trends, so you can easily keep track of your current deals and accurately forecast your sales.
If these features are what you're looking for, take a look at the 12 best Revenue Intelligence Software I have compiled for you.
They're widely popular for their robust functions and intuitive interface, making them ideal for any business size.
Gong is a powerful RI platform that focuses on conversation intelligence to help you identify gaps in your sales funnel and pinpoint areas for improvement.
It scans your external and internal communications to share smart recommendations on how to improve your execution strategy and how to win more deals.
With this tool, you can get a comprehensive view of your pipeline, so you can keep yourself updated and fix errors in the early stage.
Gong also logs interactions to increase your operation's visibility.
It retains the historical trail of your team communications to help you oversee their activities. This feature allows you to note what tactics your top performers are employing to influence their client's decisions, so you can replicate them to generate more leads.
Let me summarize its core features.
Features
Deals pipeline.
Call recording, tracking and analyzing.
Activity report.
Team monitoring.
AI-recommendations.
Advanced search results.
Alerts.
Competitor mentions.
Coaching.
Integrations.
Price
Gong provides custom prices based on your business needs.
HubSpot is another great platform you can consider if you prefer to centralize your strategic and executive activities.
HubSpot is a CRM tool that provides a separate Sales hub to let you manage your pipeline and get real-time insights into your current and future deals.
The plan includes tons of smart features, including conversation intelligence, sales playbook, forecasting, and pipeline management. You can use its conversation intelligence to discover prospecting strategies that work, leverage its playbook template to optimize your funnel, and utilize its charts to find sales opportunities.
All in all, it gives you enough visibility to efficiently oversee your team activities and monitor your deals.
Here're its core features.
Features
Pipeline management.
Conversation intelligence.
Workflow templates.
Sales playbooks.
Reporting and forecasting.
Live chats.
Email and call tracking.
Automation.
Price
HubSpot's basic plan is free of cost. To get the premium features, you can buy its paid plans for a minimum of $45 a month.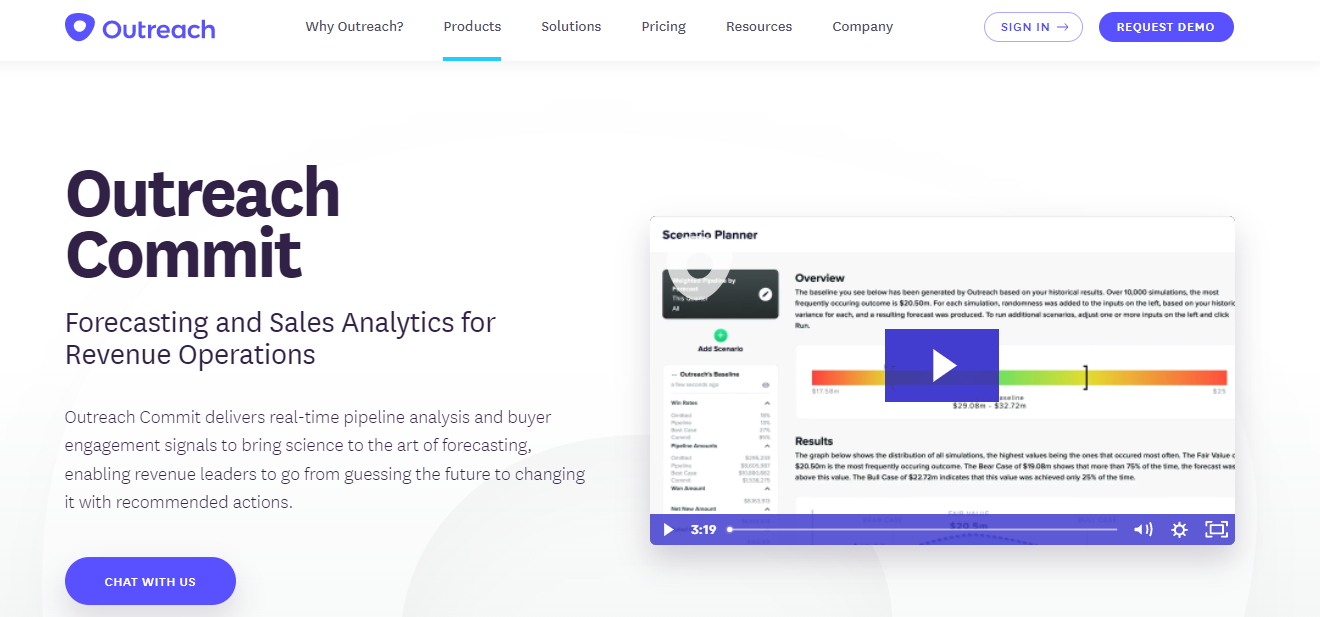 Outreach Commit delivers in-depth insights into your sales trends, potential deals, and team performance.
It shares a pipeline dashboard that continuously captures your team movements and sends signals when any potential deal is at risk. You can use it to analyze past records, set up realistic pipeline coverage, and predict weekly sales. It additionally has a search filter that lets you audit individual members to ensure they're on the right path and have everything in hand.
Outreach Commit's forecasting feature is also pretty robust. It delivers quarterly projections and generates future scenarios to show you how much sales you can expect under different conditions. It's an incredibly useful tool that can help you accurately estimate your revenues.
Let me summarize its core features
Features
Pipeline dashboard.
Risk alerts.
Team visibility.
Scoreboard.
Forecast overview.
Scenario planner.
Coaching.
Historical record.
Price
Outreach Commit's price plans are flexible. Contact sales to learn more.
InsightSquared has advanced sales forecasting and analytics features to help you make accurate revenue predictions.
You can produce 350 different types of custom reports that automatically update data to keep you well-informed.
With its powerful dashboard, you can increase operation visibility, monitor individual rep, and keep an eye on key metrics. It generates your pipeline based on your team's activities and forecasts submissions, giving you a clear picture of current and expected goals.
InsightSquared also provides a conversation intelligence function to offer insights into your team's sales methodology and prospecting tactics.
Additionally, it captures all conversations and activities directly to your CRM to make it easier for you to access related information.
Let me summarize its core features.
Features
Sales forecast.
Revenue analytics.
Pipeline management.
Activity log.
Conversation recording.
Smart recommendations.
Coaching.
Integrations.
Around 350 report types.
Price
InsightSquared shares a role-based pricing model. Submit your request to get the quotes.
Revenue.io helps you manage your deals, optimize your team performance and increase pipeline transparency.
It's an all-in-one sales engagement app that logs your activities and composes them into numbers, so you can easily oversee your operations and measure your progress simultaneously.
You can use its revenue intelligence reporting and analyze your current strategy and find growth opportunities to drive maximum sales.
Its versatile reporting and smart recommendations further improvise your team's prospecting by guiding them to take the best course of action. What's more, it automates your processes, so your team can focus more on lead capturing.
Overall, it's a great app for monitoring pipelines and generating forecasts.
Here're its core features.
Features
Pipeline management.
Sales engagement.
Team visibility.
Revenue and conversation intelligence.
Workflow sequence automation.
Robust reporting.
Integration.
Price
Revenu.io shares for custom packages. Request your quotes to get the prices.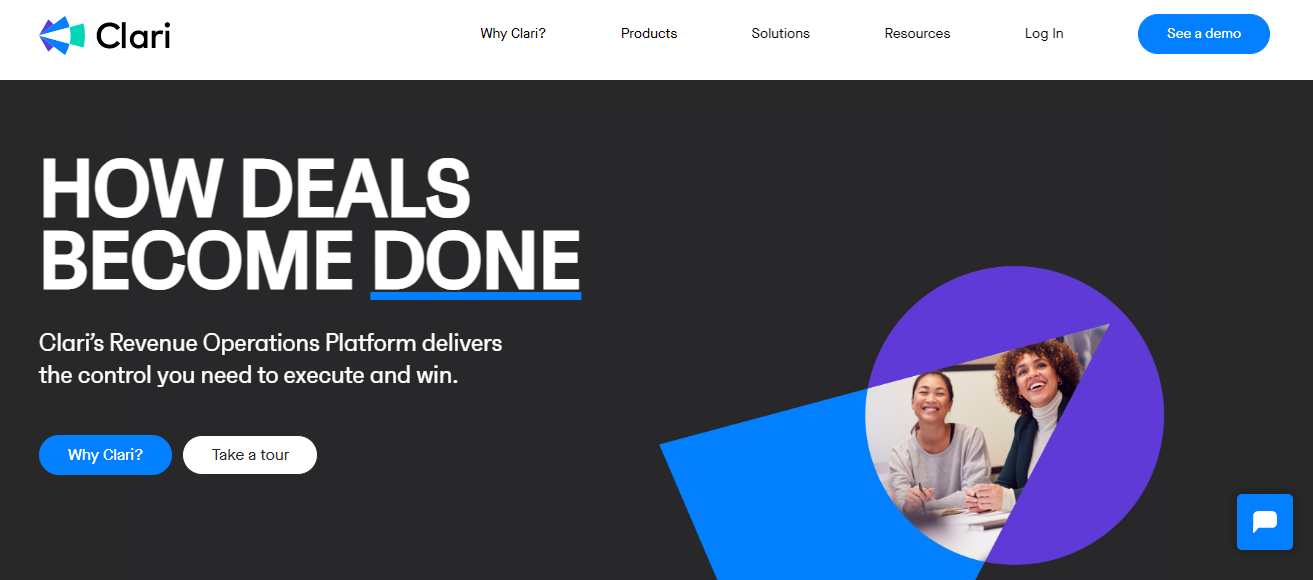 Clari is one of the popular revenue operation platforms that delivers forecasting and automation tools to drive more sales.
It pulls information from your CRM, emails, and relevant apps and produces them into actionable insights. With this data, you can make quarterly estimates, detect risky deals, monitor your sales execution, and devise your next plan of action.
Its pipeline dashboard additionally gives you clear visibility of your operations, so you can see where you stand and whether you need to pick up the pace.
One thing that makes Clari different from its competitors is its Align function.
It allows you to collaborate with your buyers to give them a personalized experience. It's an incredibly useful feature that adds more weight to your deals and boosts your success rate.
Here're its core features.
Features
Pipeline management.
Forecasting.
Analytics.
Data automation.
Sales engagement.
Coaching.
Clari Align.
Price
Clari's prices aren't listed on its official site. Contact customer support to receive the quotes.
People.ai is a robust revenue intelligence platform that provides you complete work transparency and real-time insights to accurately predict your sales.
It keeps your data organized, so you can easily scan your accounts' health and identify risks on time to avoid losing deals.
You can build a custom dashboard to highlight relevant metrics, integrate it with your CRM to automatically streamline workflow, and set a benchmark to measure team performance.
Its account management function keeps a historical trail of both inbound and outbound activities to help you better monitor your team and coach them to strengthen their skills.
It also shares a feature called "Peopleglass" that automates Salesforce data into coherent charts. It's designed to adjust the flow of information based on your management role.
Let me summarize its core features.
Features
Actionable Insights.
Account management.
Pipeline view.
Performance scoreboard.
Customization.
Peopleglass.
Integrations.
Analytics.
Price
People.ai shares custom quotes.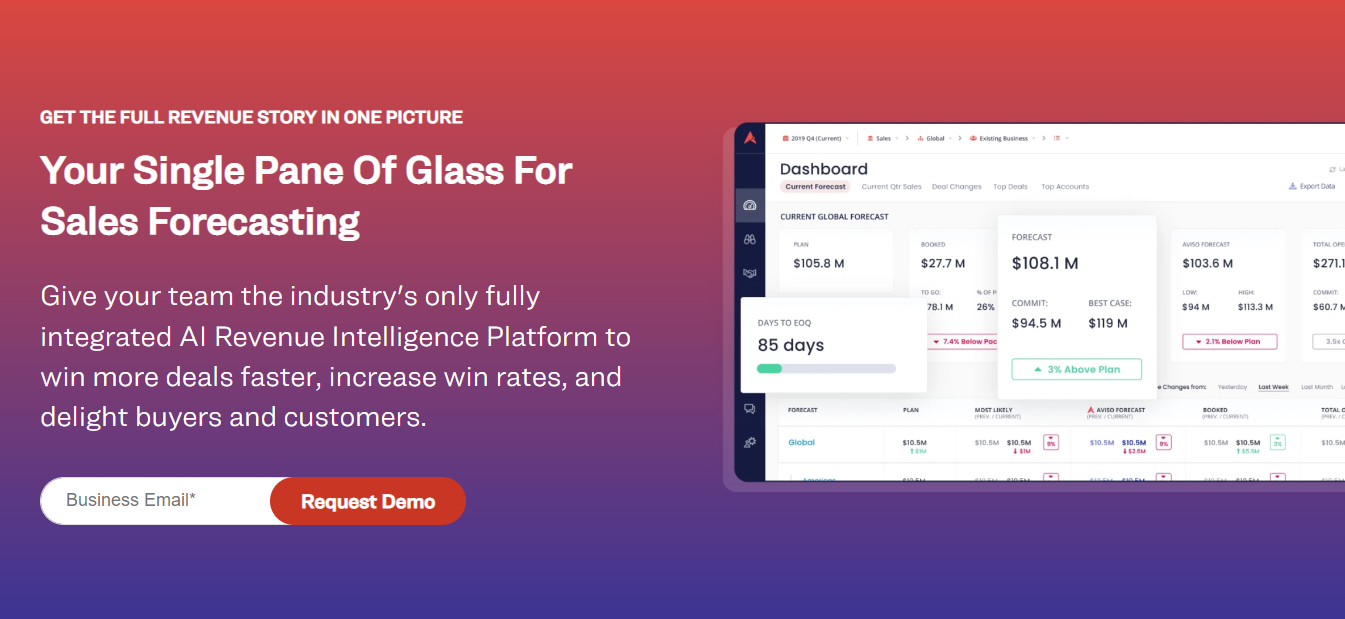 Aviso offers advanced forecasting and conversation intelligence solutions to improve your team performance and grow your sales.
It has a powerful AI that analyzes communication between reps and buyers to guide your team on the right way to approach each step. You can get access to every conversation, spot the best sales pitches and gaps, and get a one-click coach room to personally interact with the individual member.
Its flexible reporting and key metrics give you an overview of your revenues, team performance, ongoing deals, and predictions.
Aviso also offers in-depth insight into your buyer's persona and buying behavior. It gives you the opportunity to identify promising leads, improvise your marketing strategy, and fine-tune your sales pitch.
Here're its key features.
Features
Advanced forecasting.
Pipeline health.
Deals management.
Leaderboards.
Conversation intelligence.
AI suggestions.
Lead intelligence.
Revenue analytics.
Price
Aviso prices are not mentioned on the official sites. Request quotes to get details.
Salesloft provides you with a diverse range of tools to automate, manage, and analyze your revenues.
With its Candance automation and conversation intelligence, you can produce well-thought-out sales processes and refine your prospecting approach.
Its robust dashboard delivers a complete health summary of your deals in a readable format to make it easier to monitor your pipeline movement.
It also shares quick reporting in each section to ensure you have access to key metrics all the time.
Overall, it's a decent app for both basic to advanced workflow.
Here're its core features.
Features
Sales playbooks.
Conversation intelligence.
Opportunity management.
Reporting and analytics.
Coaching.
Integrations.
Mobile support.
Price
Salesloft tailors your packages based on your requirements. Contact customer care to get details.
Groove is designed for those who specifically use Salesforce to manage their funnel activities. It keeps your CRM data updated and helps you efficiently execute your marketing, sales, and growth strategy.
You can use it to automate your campaigns, run your inbound activities, log conversations, and get real-time insights. Its conversation intelligence function provides your team with valuable recommendations to help them optimize their playbook and close more deals.
Last year, it upgraded its revenue intelligence feature, introducing advanced Auto-Contact Capture that records every unidentified contact you've had in the past and adds it to your contacts as a potential lead.
It's an intuitive function that cuts down your workload and finds new business opportunities for you.
Let me summarize Groove's core features.
Features
Pipeline management.
Sales cadence.
Conversation intelligence.
ROI reporting.
Robust insights.
Auto-contact capture.
Salesforce's integration.
Price
Groove delivers custom prices upon request. You can also ask for a Demo to explore the app.
If you prefer to operate all your activities in one place, Salesforce is an ideal choice for you.
It is a popular CRM software that shares a Sales cloud plan, which includes both opportunity management and revenue intelligence add-ons.
You can use it to manage your contacts, monitor your deals, automatically assign leads to individual members, and track their activities. It offers robust reporting and charts to let you keep an eye on key metrics and make smart strategic decisions.
Its pipeline dashboard also offers a 360° view of your operations and sales forecasts, allowing you to see real-time changes and detect growth opportunities.
Let me summarize its core features.
Features
Account and lead management.
Pipeline view.
Sales forecasting.
Workflow automation.
Revenue intelligence.
Intuitive dashboard.
Mobile support.
Price
Salesforce prices change with the choice of your plan and the add-ons you want to buy. The basic subscription costs $25 per month.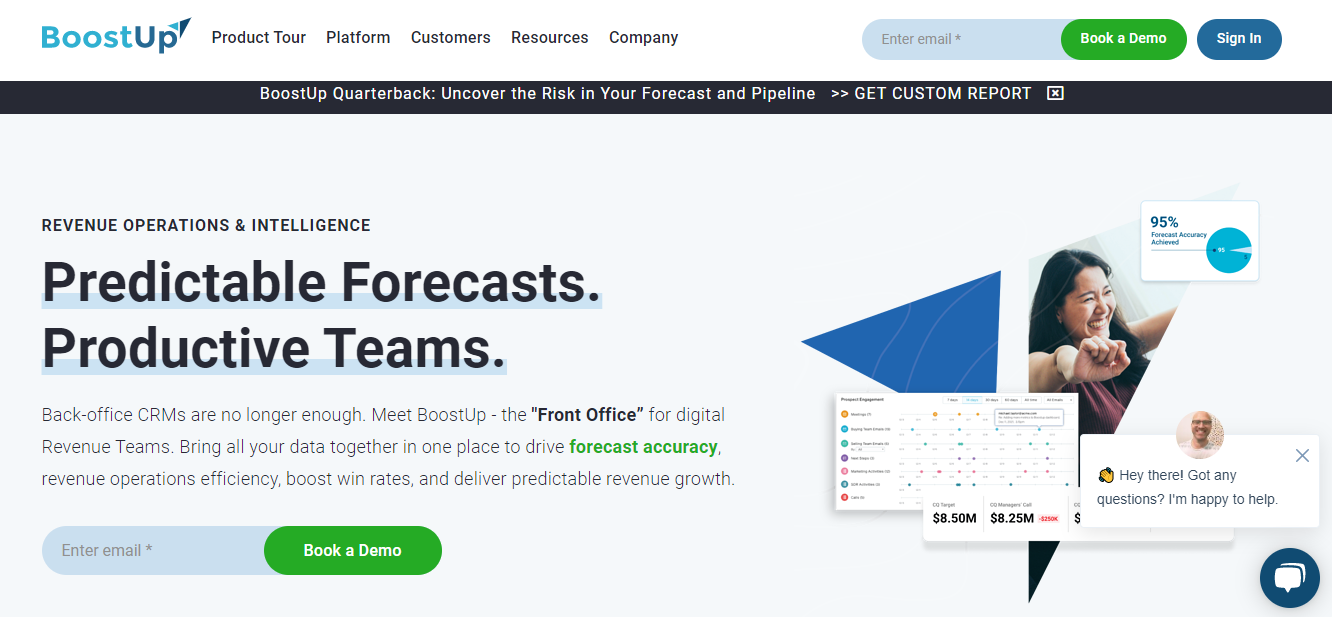 Boostup.ai is an operation and intelligence software that extracts information from your CRM and communication apps and compiles them into actionable insights.
It shares a custom dashboard that gives you measurable data on team members and their workflow. You can find out how much business each rep is expected to bring to the company, how many deals they've won, and how many targets they have met.
It also has a powerful risk management feature that allows you to break down your deals into different stages. You can leverage it to evaluate the risk attached to each deal and prioritize those with a relatively higher success rate.
Here're Boostup.ai's core features.
Features
AI-generated forecasts.
Pipeline dashboard.
Custom metrics.
Risk analysis.
Team insights.
Scoreboard.
Revenue trends.
Integrations to Salesforce.
Price
Boostup.ai provides custom plans. You can book a demo to explore it first as well.
Final Word
Revenue Intelligence Software makes it a lot easier to track your deals and predict future sales.  
But that's not the only benefit they offer. They also optimize your sales playbook and boost your team performance by 110%.
Tons of organizations use them, especially to improve their execution and coach their members.
Keep that in mind while choosing the right software.