Deel offers a simple and effective global HR solution to growing businesses.
With access to 150+ countries and in-house compliance experts, Deel has made it possible for companies to hire and pay international remote teams without establishing an entity overseas.
While Deel has everything you need to manage employees and contractors, plenty of other service providers are available in the market as well. I have reviewed some of them below, summarizing their core features and prices to help you find the best alternatives.
Let's check out Deel's top features and then explore the alternatives.
Deel's Top Features
Deel is a global HR platform that delivers a wide range of human resource products, including recruitment, background checks, payroll, and immigration.
Its core packages, however, primarily cover three services;
Employer or Record—Hiring permanent employees and running multi-country payroll.
Contractors—Recruiting independent contractors and paying them in local currencies.
Direct Employees—A digital platform to manage employees and payroll.
Deel is also an excellent platform for US PEO, but it is widely recognized and liked for its global HR services mainly.
Below, I have compiled a list of the 12 best Deel alternatives based on the above three features. These platforms come with several side features as well to simplify global workforce management for you.
Remote is one of Deel's top competitors. It provides Employment of Record services worldwide and also allows you to manage independent contractors.
Core capabilities of Remote are; international recruitment, global payroll, benefits administration, and relocation. The in-house HR experts additionally deliver free consultations on local regulatory policies.
To store employee data and manage operations, you'll receive a digital platform. The software comes with built-in compliance alerts and automation to make onboarding and payroll hassle-free.
One more thing. Remote also has a partner marketplace to get third-party services like shared space, accounting, and IT.
Core Features
Employer of Record.
Contractor management.
Global payroll.
Benefits administration.
Relocation
Customization and workflow automation.
Reporting.
Consultation services.
Third-party marketplace.
Price
Remote has four packages. Its EOR services start from $699, and the Contractor management plan costs $29.
You can get a free trial.
Oyster and Deel share a lot of common features. Like Deel, Oyster offers Employer of Record services, allows multi-country payroll, and has a simple but effective system for independent contractors.
You can hire freelancers and permanent employees from 100+ countries, provide attractive salary packages, and send payments in local currencies. Oyster has built-in systems to alert local country employment requirements and provides legal contracts to help you stay compliant.
You can upload and store documents in the Oyster digital platform and automate workflows to simplify onboarding and payroll.
If you want a workspace facility for remote teams, you can get shared workspace options on Oyster as well.
Core Features
Employer of Record and contractor recruitment.
Global payroll.
Benefits administration.
Time off and expense management.
Background checks and onboarding.
Equipment requisition and shared workspace.
Visa assistance.
Reporting.
Slack plugin and other integrations.
Price
Oyster's EOR service costs $599, and the contractor management plan costs $29 per user.
You can include add-ons in the package.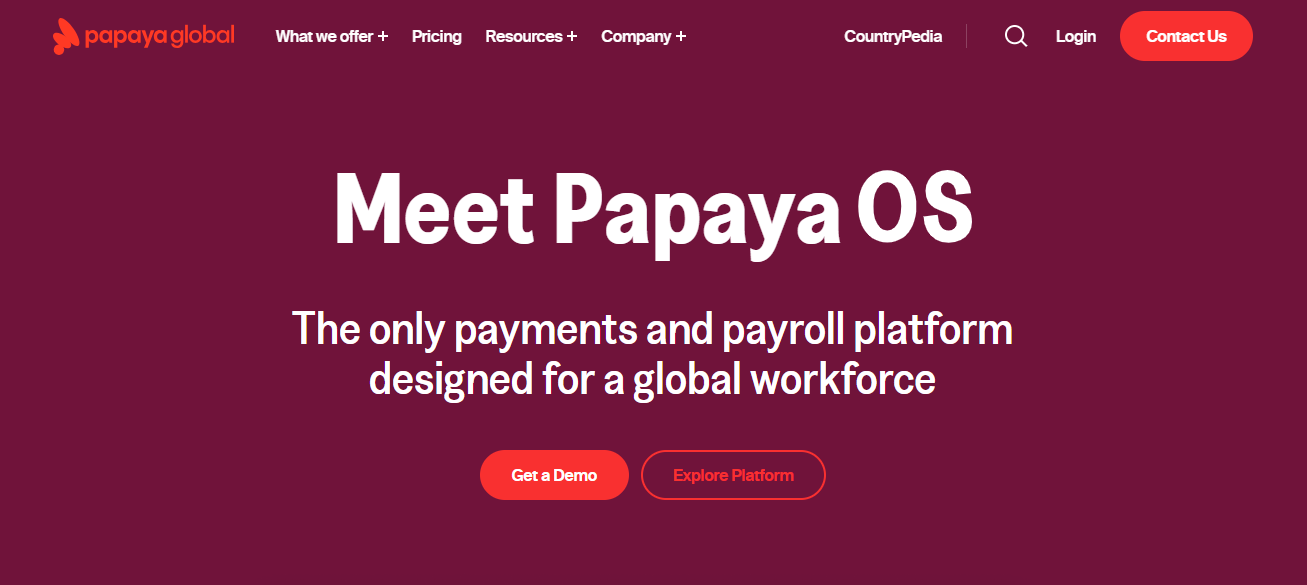 Papaya enables you to hire people in 160+ countries and run multi-country payroll.
It delivers a comprehensive platform along with some packages for managed services like EOR and full-service payroll to assist with recruitment. With Papaya's digital wallet, approval chains, and built-in compliance alerts, you can audit payroll and process payments quickly and accurately.
You can create custom approval workflows to strengthen your security and deliver payslips directly from the platform to save time. Your employees will get a self-service portal via which they access their payslips, track their expenses, request leaves, and upload documents.
If you work with freelancers, your contractors can generate invoices from Papaya and get paid in their local currencies. Payment verifications and calculations are automatically managed by the software to reduce the chances of errors.
Core Features
Employer of Record.
Contractor management.
Full and partial payroll.
Benefits administration.
Mobile-friendly digital app.
Analytics and reporting.
Integrations.
Price
Papaya charges $650 for EOR services and $190 for benefits administration. Its contractor package starts from $2.
Remofirst's core product is Employer of Record. It allows you to hire overseas employees in 160+ countries legally and make international transactions.
You can recruit and onboard teams digitally and manage daily operations via the Remofirst cloud platform. The software supports all the essential features, such as benefits administration, expenses, leaves, and bonuses.
You'll also get the option to send office equipment to remote teams and request visa assistance to relocate the top talent.
If you work with freelancers, there's a package for independent contractors as well. It covers compliant contracts, onboarding, invoice generation, and international payment.
Core Features
Employer of Record.
Contractor management.
Contracts and onboarding.
Global payroll.
Benefit administration.
Expense and leave management.
Equipment provisioning.
Visa assistance.
Price
Remofirst's EOR services start from $199. For contractors, it charges $19 per user. To get quotes for Immigration, contact sales.
Multiplier simplifies global recruitment and payroll for you. Via its intuitive platform, you can create compliant contracts, onboard recruits, provide attractive perks, and send salaries in bulk.
You'll have complete control over your employee data and get the flexibility to handle daily operations like expenses and leaves.
For freelancer payments, Multiplier provides multiple payment options. You can make international transactions via bank transfer or pay contractors with cryptocurrency.
You can hire as many people as you want and manage contractor invoices with ease.
Overall, Multiplier is a simple, straightforward, and affordable platform.
Core Features
Employer of Record.
Contractor recruitment.
Global payroll.
Multiple payment methods.
Benefits administration.
Expenses, leaves, bonuses.
Contract and invoice generation.
Price
Multiplier charges $400 per employee and $40 per freelancer. Its global payroll and insurance prices start from $20.
Book a demo to know more.
Rippling offers a centralized app for global workforce management. The platform covers HR, Finance, and even IT, allowing you to oversee your remote team from one place.
Here, you can run recruitment workflows, process onboarding, manage time off, and send payments. You'll get a base software in the package to build custom workflows and implement policies.
With its full-service payroll app, you can calculate salaries and taxes, and automate the payroll.
The best thing about Rippling is that each department is available as a separate product. You can also integrate your business tools to synchronize the data.
Core Features
Workforce management.
PEO and EOR services.
Benefits administration, leaves, and expense management.
International payment and tax calculation.
Recruitment and onboarding.
Customization and automation.
IT support.
Third-party integrations.
Mobile app.
Price
Rippling per-user prices start at $8.
Gusto is ideal for those who typically engage international contractors for projects. It's a US-based payroll software that provides an attractive package for contractor-based businesses and offers international payment as an add-on service.
Some of Gusto's notable features are; onboarding, time and attendance, talent management, and reporting. You can centralize your local and global teams, and conduct international transactions in 120+ countries.
Gusto has also recently entered into a partnership with Remote and plans to launch EOR services fully this year. It's currently in the beta phase but will be available to the public soon.
Core Features
US payroll and contractor management.
International payments in 120+ countries.
Recruitment, background checks, and onboarding.
Time and attendance.
Benefits administration for US employees.
Digital payslip.
Customization and automation.
Third-party integrations.
Price
Gusto monthly prices range between $40 and $80. For contractor-based businesses, Gusto only charges per user. You can customize and scale your package.
Atlas helps you with recruitment and visa assistance. Via this platform, you can build a distributed team and relocate your employees with ease.
Here, you can effortlessly hire people in 160+ countries, provides perks and benefits, and manage all the payroll and taxes workflows. Benefits administration and compliance options are all included in the package.
If you purchase its visa assistance package, you will receive full mobility support including housing, office space, and transportation.
Your team will also get help with work permits to ensure they can work legally in their new location.
Core Features
Employer of Record.
Visa assistance and mobility support.
Self-service portal.
Onboarding and templates.
Payroll and taxes.
Benefits administration.
Insights.
Mobile app.
Price
Atlas EOR package starts at $325, and the mobility plan costs a minimum of $1000.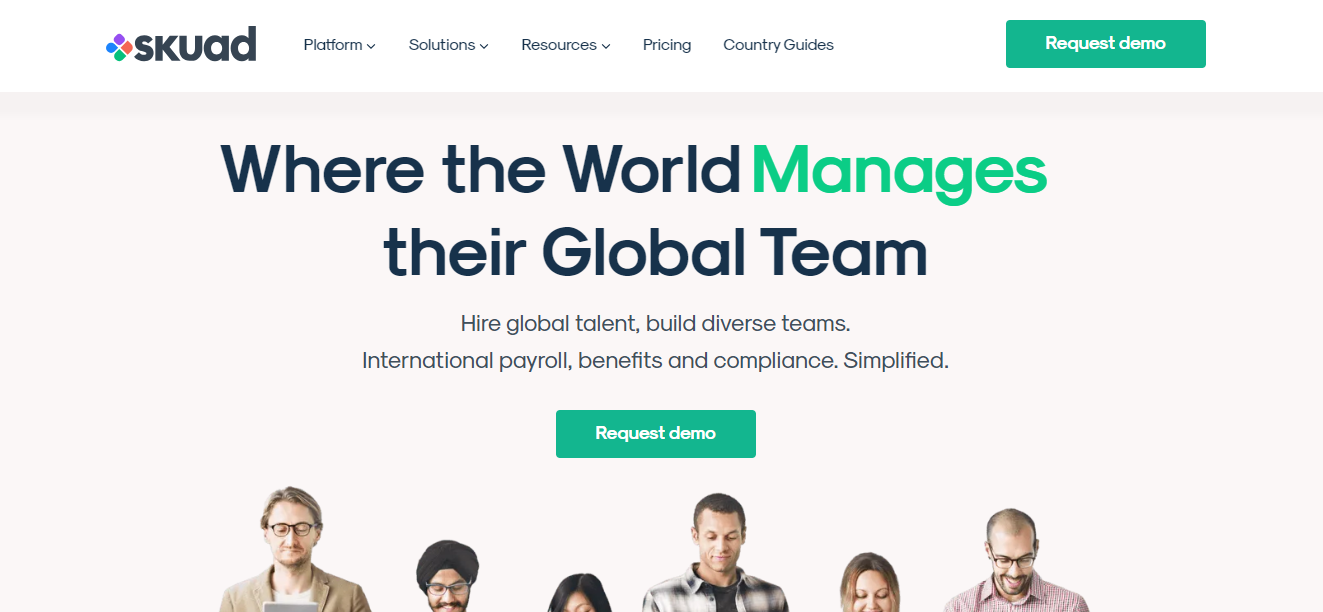 Skuad allows you to hire, onboard, and pay your international team with ease. It provides access to 160+ countries for recruitment and supports 100+ currencies for global transactions.
Via Skuad's cloud platform, you can collect signed documents, manage benefits administration, and calculate payments. With Skuad Shield, you'll be automatically guided on the local policies to ensure all the requirements are met.
Through a bulk invoice, you can process your payroll in one go and let Skuad make secure payments worldwide.
Overall, it's a good alternative to Deel.
Core Features
Employer of Record.
International contractor management.
Legal contracts and onboarding.
Global payroll.
Benefits administration.
Document management.
Auto-compliance.
Reporting.
Price
Skuad's EOR services start from $199, and the contractor package costs $19 per user.
You can customize and scale your package.
Horizons is well-suited for both startups and established organizations. It offers affordable plans, custom packages, and discounts to entertain businesses of any size.
Its packages cover compliant agreements, invoices for contractors, multi-country payroll, and taxes. You can collect tax forms during onboarding and send payments in 180+ in local currencies.
The in-house team handles all the legal and compliance challenges to make international recruitment and payroll easier.
Besides core products, Horizons offers some add-ons to extend the services. You can purchase health insurance for your team and process immigration.
You'll get access to country guides and cost simulations to predict the recruitment budget.
Core Features
Employer of Record.
Contractor payment.
Global payroll.
Contracts and compliance.
Invoices and payslips.
Tax collection.
Benefits and health insurance.
Reporting.
Price
Horizons' EOR service starts at $299, and the contractor package costs $49 per user.
You can ask for an enterprise plan.
Lano provides global employment and payroll solutions.
You can use it to hire people in 170+ countries, recruit overseas independent contractors, run a multi-country payroll, and automate workflows.
If you already have a smooth recruitment system but you need a hassle-free payroll system, you can purchase Lano digital platform to manage payments. You can integrate it with your business tools to streamline workflows.
Lano additionally delivers a digital wallet to reduce the need for multiple bank accounts. It supports 50 currencies and allows bulk transactions.
There is no setup fee for EOR and Contractor package, but you may have to pay additional charges for payroll platform setup.
Core Features
Employer of Record.
Contractor management.
Compliance.
Payroll software.
Digital wallet.
One-click payment and automation.
Reporting and analytics.
Third-party integrations.
Price
Lano charges 2.50€ per user for the platform and 550€ for EOR services. Its multi-country package starts from 30€.
Worksuite is a good option for freelancer management. It's a workforce platform via which you can centerline your data and hire and pay independent contractors worldwide.
With built-in onboarding and compliance, you can create custom processes and get signed contracts from contractors. 
Using time tracking and approval tools, you can collect, calculate and recheck contractor invoices with ease.
Through mass payouts, you can automate transactions and send payments to your team in their local currency. You'll have the flexibility to run weekly or monthly cycles and even send payments outside the standard cycle.
The software comes with plenty of side features as well. For instance, you can run a background check and generate reports for evaluation.
Core Features
Contractor hiring and payment.

International transactions in 120 currencies.

Onboarding workflows.

Time tracking and invoices.

Customization and automation.

Background screening.

Analytics and reporting.

Compliance management.

Integrations.
Price
Worksuite prices start from $500. Check out the pricing page to see the cost breakdown.
Deel core strength is global EOR. It has established its presence in the market as a hassle-free online platform for international hiring and payroll.
But it isn't the only one selling global EOR services. All the above-listed platforms share these two features.
You can choose any of them as a Deel alternative and expand your business overseas with ease. Good luck!