Not sure which venue to pursue to set up a virtual office (VO)?
VO is an ideal solution for startups, small business owners, and solopreneurs like you, who need a flexible and cost-effective alternative to a brick-and-mortar place.
It is a workspace model provided by certain platforms that furnish you with a mailing address to recognize the legitimacy of your company and office facilities to conduct business remotely. 
If you're looking for such a solution and haven't found it yet, take a look at the list of platforms I have put together for you. They all enjoy a good rating and deliver essential VO services.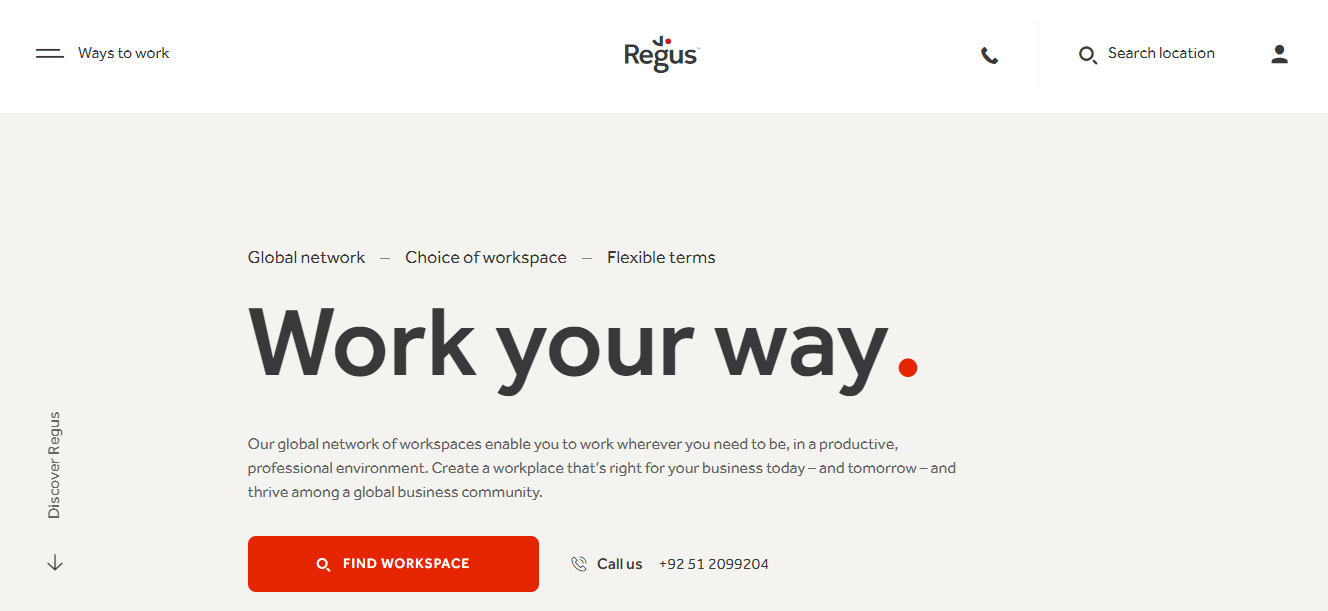 Regus offers co-working, meeting rooms, and virtual office space services. It's a well-known global company and operates in over 100+ countries.
You can use it to get a registered address to collect mail and private rooms for occasional meetings. Its VO package further includes access to several lounges to entertain clients and an on-premises representative to take calls.
You can select multiple locations to expand your business reach, relocate your mailing address anytime you want to, and book a regional phone number to forward calls.
Its in-house team also offers front-desk services to receive unexpected visitors on your behalf.
Core Services
Business mailing address and call line.
Reception desk.
Admin support.
Meeting rooms.
Lounge access.
Co-working space.
App.
Price
Regus provides quotes based on your location and the package you pick. On average, it charges $50 to $150 per month for an office address.
Wework is popular for its co-working space and private suites. But following the post-pandemic changes, it has now started virtual office services in some major cities of India.
If you pick this platform, you'll receive a legit business address, utility bills to open your bank account, meeting rooms for work purposes, and a separate parking space.
It also allows you to book conference rooms in other cities on demand with the given credits.
Overall, WeWork delivers essential legal services and business facilities to help startups and emerging entrepreneurs build a virtual office.
Core Services
Business address options in 31 locations.
Utility bills for bank documentation.
Meeting rooms.
Parking space.
Access to other offices on demand.
Price
WeWork charges ₹ 3000 per month, for a two-year contract. If you want a short-term package, you may have to pay extra for it. It offers discounted rates for long-term agreements.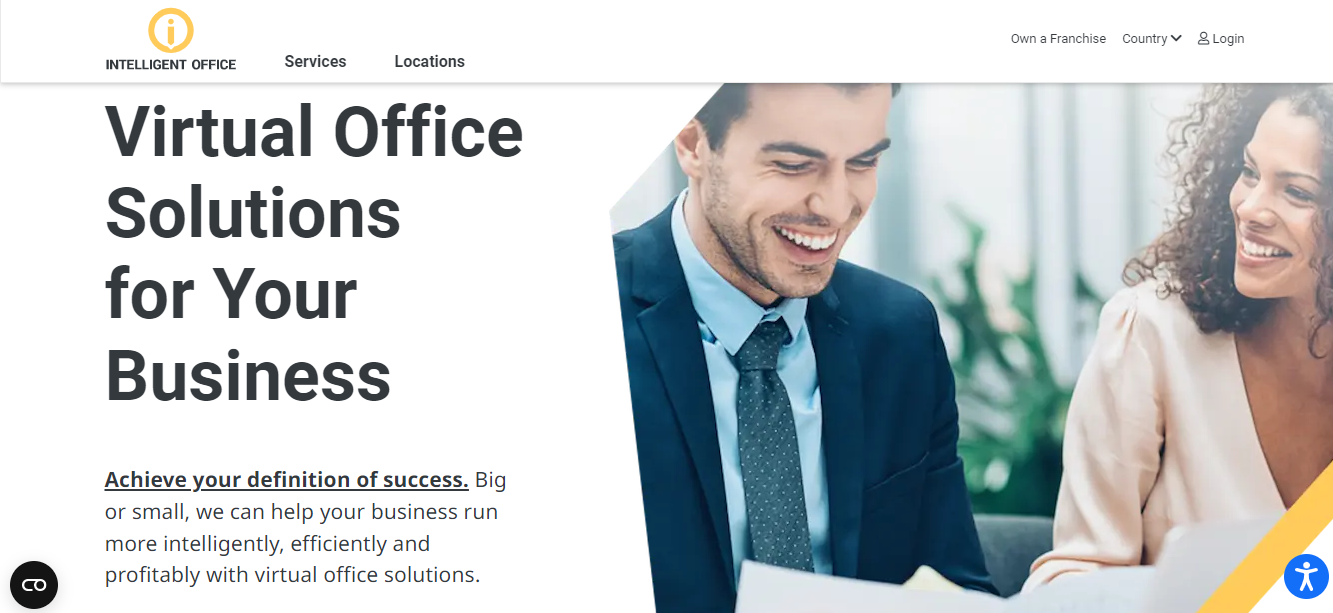 Intelligent office is ideal for US and Canadian business owners.
It offers VO services in 60 prime locations across both countries, allowing you to extend your business network, meet clients in different cities, and run remote teams smoothly.
You can engage executive suites to entertain potential clients, book conference rooms to conduct team meetings, and occasionally rent a shared workspace for a change. It allows access to the kitchen, lobby, and office equipment at your convenience to offer you a real-time professional experience.
One of its best features, though, is its virtual assistance.
Apart from a live receptionist service, you can also hire assistants to take care of admin tasks such as making travel arrangements, handling social media, and running odd jobs.
Core Services
Executive suites.
Meeting rooms.
Mailing address.
Phone calling.
Receptionist and admin assistant.
Co-working spaces in the USA and Canada.
App.
Price
Intelligence Office delivers custom quotes on request.
Alliance Virtual Offices is also a great option for establishing a physical location for your business. It charges separately for different VO packages, giving you the flexibility to tailor your plan so you only pay for the features you want to avail yourself of.
Some of its notable services include a mailing address to receive letters, a listed phone number, private offices, and live receptionist services.
You can reserve meeting rooms for up to 16 hours and get access to onsite technical support and refreshments. It provides several types of rooms and versatile booking timings to suit your purpose.
I recommend exploring its plans individually. It delivers some excellent bonus features like a call auto attendant and an appointment scheduling app.
Core Services
Work address.
Phone calls.
Receptionist.
Meeting rooms.
Shared space.
Price
Alliance Virtual Offices charges a minimum of $50 per month for business addresses and other amnesties.
Davinchi is a close competitor to Ragus and has helped over forty thousand businesses with their office setup. It runs its workspaces all over the world, offering remote places and amenities to startups and independent contractors.
You can use it to obtain a registered business address to receive mails, a corporate center to meet and greet clients, and a live receptionist service to manage admin tasks.
You can also rent an office for a day and even arrange events by the hour. Additionally, you can book conference rooms for impromptu meetings while traveling. It runs a fully operational lobby area and provides onsite amenities, including Wi-Fi, printer, and presentation tools.
Core Services
Business mailing address.
Private spaces for multi-purpose.
Day offices to receive guests.
On-demand booking.
Live and auto receptionist.
Lobby area.
Wi-Fi and tech equipment.
Food arrangement.
Price
Davinchi's starting price is $50. Request a quote to get more details.
Office Evolution is another decent platform for USA residents. It offers a modern and clean place personalized for solopreneurs and small business owners, allowing them to enjoy the corporate experience at affordable rates.
Coming to its features, it has offices in eight prime locations and provides both individual desks and conference rooms. The latter can host up to 20 participants, making it a great option for training exercises or small events.
You can also rent a micro-office that comes with a registered business address, a private mailbox, fast internet, and 60 minutes per month call answering feature.
Core Services
VO in 80 locations.
Meeting rooms.
Conference rooms, booked by the hour.
Private office.
Business address.
Mailbox.
Receptionist.
Call forwarding.
Wi-Fi.
Co-working space.
Price
Office Evolution prices start at $99 per month. To get all features, I recommend checking out its business plan. It may cost around $180 per month.
eOffice operates over 250 workspaces and services in 60 countries. Its VO package covers everything from address and phone lines to meeting rooms.
You can opt for a basic corporate mail plan to collect letters or go for a dedicated desk, it's up to you. Its desk services include full access to the internet, admin, private booths, and refreshments, allowing you to relax and comfortably perform your tasks.
Another best feature of eOffice you'll love is the company formation.
If you're an emerging entrepreneur and want a hassle-free way to set up your business, eOffice can register your business and open bank accounts for you.
Core Services
Business address.
Mail forwarding.
Local phone number and voicemail.
Management services.
Full-fledged virtual office setup.
Meeting rooms.
Co-working space.
eCards to access other locations.
Price
eOffice shares different packages tailored to specific needs. Its basic VO plans start at $130 per month, which covers the business address, call receiving, and networking.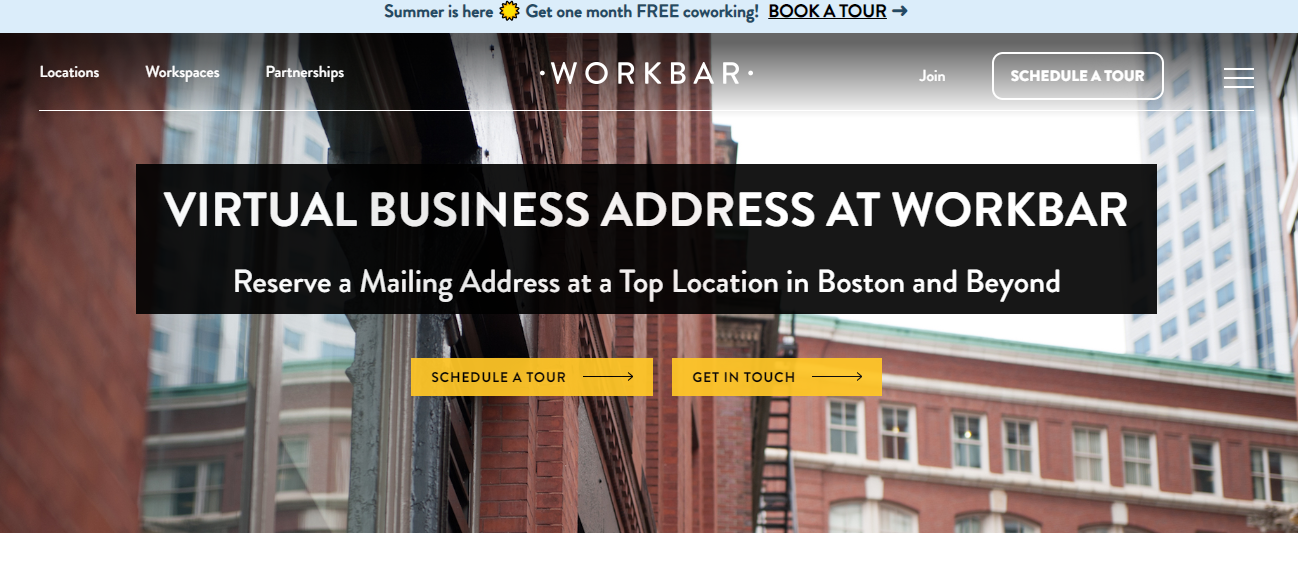 WorkBar is essentially a co-working and private workspace provider, which, along with its core services, also offers VO solutions at specific locations.
The package is specifically designed for solopreneurs and small business owners who need a registered address and occasional access to physical offices. It includes a mailing address of prime locations and letter collecting services.
You can also book private space for one day per month and meeting rooms for one hour.
What makes WorkBar a particularly appealing option is its office ambiance.
The rooms are spacious and aesthetically appealing to offer an inviting environment. Since most of WorkBar's target market comprises individual professionals and small teams, it has tailored its office to its audience's tastes.
Core Services
Serves in specific US locations.
Business address.
Mail forwarding.
Visually workspace.
Meeting rooms.
Basic amenities such as free coffee, internet, printer, and locker.
Access to kitchen and the lounge.
Price
Workbar's prices are not listed on its official site. Book a tour to learn more about it.
Pacific Workplace, like Workbar, has a relatively small reach, but it offers an excellent virtual office setup and has pleasant onsite staff.
Its VO packages are flexible and cover almost every facility you might need as an independent professional. You can rent a desk, private rooms, shared spaces, and meeting areas, along with a day pass to engage other centers while traveling.
If you prefer, you can also get a plan for exclusive mail services and occasional meeting room usage only. It provides basic office facilities and beverage serving to make working a pleasant experience for you.
Another thing that works in Pacific Workplaces' favor is its strict health code.
It follows the standard COVID-19 precaution, offering roomy and safe offices.
Core Services
Business address and mail collection.
Phone lines and call screening.
Receptionist.
Part-time and go-to office.
Meeting rooms.
Client portal for networking.
Internet, Printer, and scanning service.
Price 
Pacific Workplaces' plan ranges between $50 to $240. It also charges a basic one-time $99 setup fee.
Clevver is a company formation provider that uses a network of lawyers and tax consultants to take care of your registration, bank account opening, and licensing. Apart from the registration process, it also offers virtual office services, which include a legal address, a digital mailbox, and an official phone line.
You can choose your business address from twenty prime locations and pick both digital and physical mail forwarding options. It has an in-house team that sort and notifies you daily on incoming letters to ensure you don't miss any priority message.
You can also download its app and manage your mails yourself.
If you're looking for a platform to take care of your business incorporation and office setup, go for Clevver.
Core Services
Corporate address.
Phone line.
Mailbox.
Letter collection and delivery.
Business Incorporation.
Bank account opening.
App.
Price
Clevver price may vary by location. Use its site's search bar to find out your area and per month charges.
Industrious runs flexible workspaces and it has a pretty decent rating.
Its VO membership provides you with a physical address for your business, mail services, day passes, and meeting rooms.
While its package is comparatively basic, it operates in over 100 US locations and several global major cities. It makes it an appealing option for independent contractors who travel a lot and don't need a dedicated workspace.
Speaking of dedicated workspace, Industrious does offer that option as well, if you're interested. It's one of its core products that is designed for small businesses and supports a team of up to 12 members.
Core Services
Office address.
Mail collection.
Day passes.
Meeting room.
Access to conference rooms in other cities.
Private office, suites.
Price
Industrious provide quotes upon request. Book a tour to learn more about it.
Rovva offers a diverse range of virtual office and business support services.
It provides over 3000 physical address choices, a local telephone number registered to your company, and mail management to collect your letters.
You can use its business lounges without any restriction, rent its private office for work, and book rooms for meetings.
It also offers a suite of other products to improve your office experience. For instance, you can hire an advisor for legal and financial assistance and get document translation services from professionals. In addition, you can buy supplies from its online shop and subscribe to several health benefits.
Core Services
Company's address.
Phone number.
Business lounges.
Private offices.
Meeting rooms.
Mail collection.
Receptionist.
Price
Rovva VO package starts at £141 per month. You can also restrict your plan to a business address only. It will reduce subscription charges to £33 per month.
Conclusion
Virtual offices have now become a major part of the workspace industry.
They allow professionals to enjoy all the corporate office benefits without spending a chunk of revenue on overhead costs.
In this article, I've highlighted only the core features of each platform. I recommend visiting their sites to learn more about them.
Good luck!