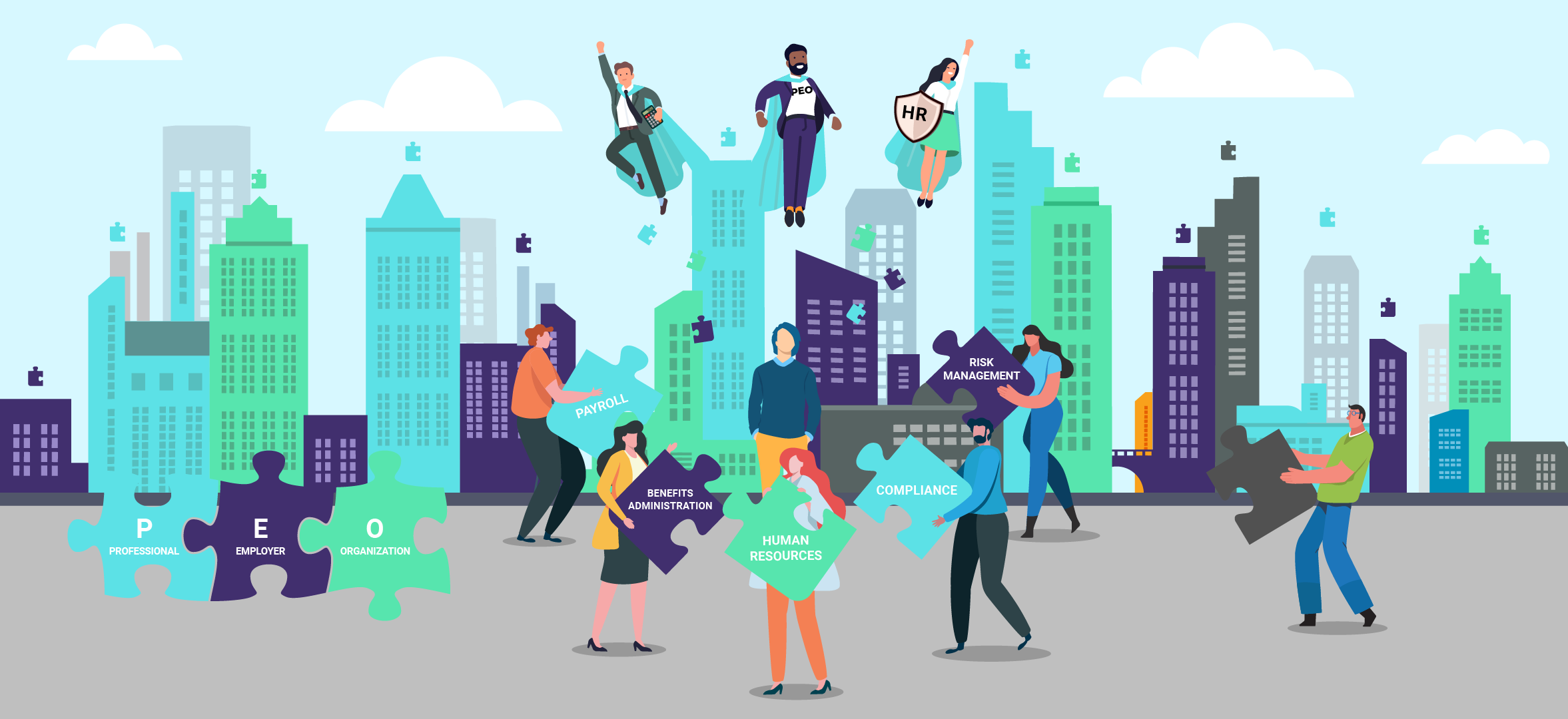 PEO platform delivers cost-effective HR solutions to growing companies.
It simplifies human resource administration, allowing organizations to expand their businesses locally and overseas with ease.
In this article, I have reviewed some top platforms that offer international PEO services. I have compared their services and packages for you to highlight their top features.
What is PEO and What Services to Look for?
Professional Employer Organization (PEO) is a third-party platform that provides HR outsourcing services to B2B customers.
Here, the client and the PEO company enter into a co-employment agreement in which the latter agrees to manage some HR functions on the client's behalf for a certain monthly fee.
While PEO platforms typically offer local HR services, many are now delivering global PEO services to help companies grow their business overseas. Their packages generally include additional features, which are tailored to meet global workforce management needs.
Top Features to Look for In a Global PEO Platform;
Recruitment and onboarding.
Payroll and benefits administrations.
Compliance management.
Government liabilities and tax service.
SaaS software to handle daily operations.
In the below list, you'll find the 12 best global PEO services. These platforms offer tailored packages for startups, growing businesses, and established organizations.
Deel is a global human resource platform. It hosts a team of HR experts and local partners that not only find top talents for you but also manage core functions on your behalf.
With Deel, you can comfortably hire people from 150+ countries, send payments in local currency, manage benefits administration, and stay compliant.
If your company is based in the US, you can avail exclusive PEO services for local teams as well. The package covers 50 states, benefits administration, wages and taxes, and HR policies. It also comes with an app to manage both US and global teams and automation to optimize workflows.
Core Features
Global and local PEO.
Employee and contractor recruitment.
Background checks.
Payroll in 100+ countries.
Benefits administration.
Compliance management.
SaaS platform.
Integrations and API.
Price
Deel's prices start at $49. You can use its software for free and get custom quotes for PEO services.
Multiplier manages several global HR functions for you. Its PEO service covers everything from onboarding and payroll to benefits administration and taxes.
You'll receive a SaaS platform to maintain your employee information and oversee regular activities, while Multiplier will take care of payroll, compliance, and legal matters.
There appear to be no additional charges for setup or onboarding. You'll be charged only for the service rendered.
Some of the things you can perform via its self-service portal include file storage, contract signing, leave and expense approvals, and payroll processing.
If you want to hire someone from overseas, you can also recruit them through Multiplier. The platform supports 150+ countries and multi-currency transactions.
Core Features
A centralized SaaS platform.
International payroll.
Multi-currency transactions.
Recruitment in 150+ countries.
Benefits administration.
Compliance management.
Attendance, leave, and expense handling.
Expert support.
Price
Multiplier prices range between $40 and $400. You can purchase payroll and insurance as an add-on.
Papaya offers global PEO services to companies with distributed teams. You can use it to plan human resource costs, handle international payroll, introduce employee benefits, and manage contracts.
You can also recruit employees and independent contractors from 160+ countries and manage onboarding and off-boarding via Papaya.
If you need advisory support or custom features, Papaya can tailor the package for you. The charges may vary per country, but its fee structure is clearly defined.
Core Features
Payroll in 160+ countries.
EOR and contractor management.
Headcount and payroll cost analysis.
Employee benefits administration.
Compliance.
Workflow automation.
SaaS software.
Integration and tech support.
Price
Papaya charges a minimum of $3 per employee. You can buy global expertise services as a separate product.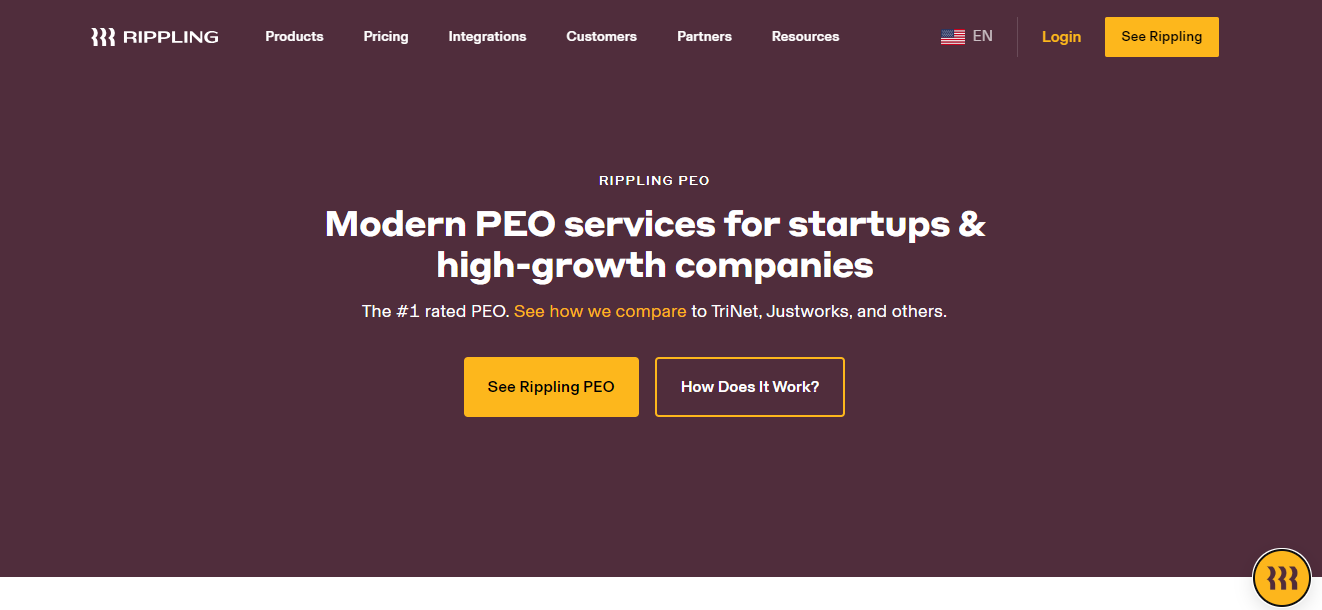 Rippling is an all-in-one global workforce management platform. It automates the HR, IT, and Finance areas to simplify operation workflows.
Top features of Rippling are; US and global payroll, international recruitment, employee benefits administration, and compliance management. You'll get several other tools to manage side functions such as attendance, expense, leaves, and training.
The best thing about Rippling is centralization.
All subscription packages come with a core software product, which unifies every feature you purchase from Rippling. Whether you are recruiting people, processing payroll, or performing admin functions, you will be able to manage everything from one place.
Core Features
International recruitment.
US and global Payroll.
Benefits administration.
Headcount and compensation planning.
Unified platform for workforce management.
Custom workflows and smart automation.
IT functions.
Analytics and reporting.
Integrations.
Price
Rippling prices start from $8 per employee. You can purchase any package separately.
Mercans delivers payroll outsourcing and global PEO services. Through this platform, you can recruit overseas professionals and manage core HR functions.
Main functions Mercans can perform on your behalf are; legal contracts, payroll and taxes, and employee benefits administration. Once you hire someone, its team manages the onboarding process and handles all payroll technicalities and compliance needs at the backend.
One of Mercans core strengths is its self-service platform. It's a mobile-friendly software product that works as a full-fledged HRM app. You can purchase it as a separate product or get it with Mercans managed services.
Core Features
SaaS platform.
Payroll outsourcing.
International PEO services.
Recruitment and onboarding.
Contracts and compliance.
Employee benefits administration and taxes.
Global payroll.
Dedicated manager.
Price
Mercans shares prices on request. Ask for a demo to learn more.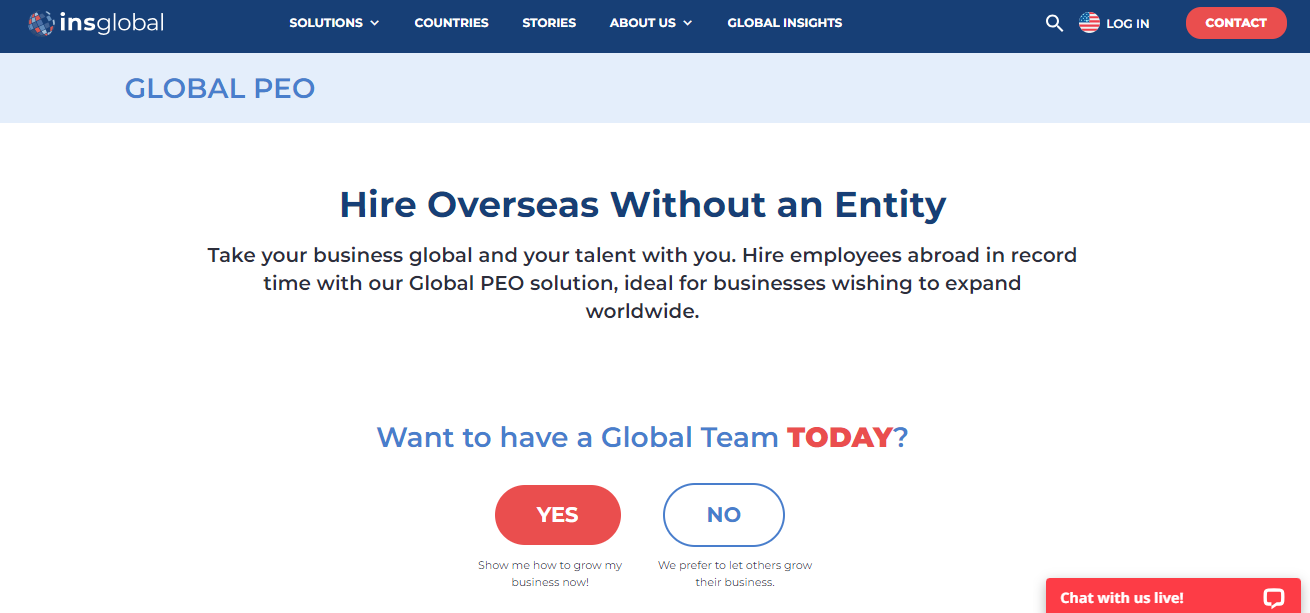 INS Global has been providing HR services to companies for over 15 years. The platform focuses on operation expansion and gives you all the resources to manage the recruitment and payroll of international teams.
Core services you can get from INS Global are; international PEO, recruitment, payroll outsourcing, and entity setup. With its PEO service, you can hire team members from 100+ countries and manage them online while staying compliant.
INS Global designs a tailored solution with HR support based on your business needs. Any company can avail itself of its services, but it's specifically a good platform for organizations in the Asia region.
 Core Features
International PEO.
Recruitment and Payroll outsourcing.
Entity setup.
Contractor management.
Compliance management.
Digital platform.
HR support.
Price
INS Global delivers custom quotes. Contact sales to get details.
Safeguard Global is a leading international HR platform. It offers a wide range of products, including global PEO and recruitment.
Here, you can hire overseas workers, turn your contractors into permanent employees, and pay international staff legally. The platform has access to 170+ countries and expertise on local laws and regulations to help you navigate the technical areas to avoid compliance errors.
If your team resides in one country, SafeGuard can design a local package for you as well.
You can also get a suite of HR services for onboarding and administration, like background checks, benefits, and performance management.
SafeGuard's digital platform can easily be integrated with your company's HRIS software.
Core Features
Global PEO.
International and local payroll outsourcing.
Recruitment.
Onboarding, administration, and compliance.
Global accounting and tax services.
Digital platform.
Analytics.
Third-party integrations.
Price
SafeGuard Global shares prices on request.
You can ask for tailored solutions.
Skuad is an emerging HR platform, but it's already competing with well-known payroll service providers. With partners in 160+ countries, Skuad makes business expansion almost hassle-free.
If you choose to go for Skuad, you'll be able to hire, onboard, and pay employees all over the world and process cross-border payments in 100+ currencies. Its digital platform automates payroll, taxes, and compliance, enabling you to oversee HR operations comfortably.
In addition to employee management, its PEO services cover independent contractor recruitment. The in-house team handles the legal contracts to ensure the hiring complies with local laws.
You can customize Skuad subscription plan to purchase full or partial services.
Core Features
International PEO.
Access to 160+ countries.
Cross-border payroll.
Contractor and employee hiring.
Onboarding.
Benefits and taxes.
Compliance management.
SaaS platform and automation.
Custom reporting.
Price
Skuad prices range between $19 and $199. You can ask for an enterprise plan.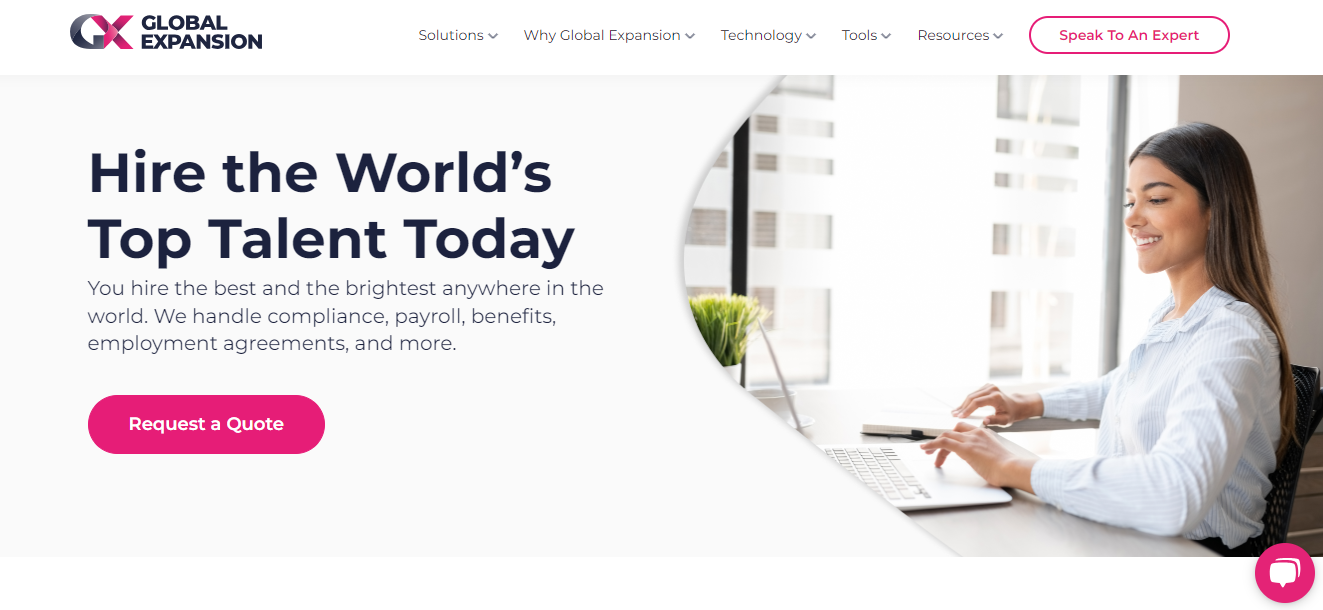 Global Expansion offers international PEO and recruitment services. Via this platform, you can find top talent, send payments worldwide, provide local benefits, and handle taxes.
You can hire any number of employees, automate payroll and taxes, and even outsource tax submissions. Its benefits administration product is also flexible and compliant. You can easily customize your employee perks while keeping local regulations in mind.
With its excellent customer care, you'll get full admin support on international recruitment and payroll.
Overall, Global Expansion is a good option to consider for HR outsourcing.
Core Features
International PEO.
Access to 214 countries.
Local benefits.
Recruitment and onboarding.
Background screening.
Compliance management.
Cross-border payments.
SaaS software.
Immigration services.
Price
Global Expansion shares prices on request. You can contact experts for tailored solutions.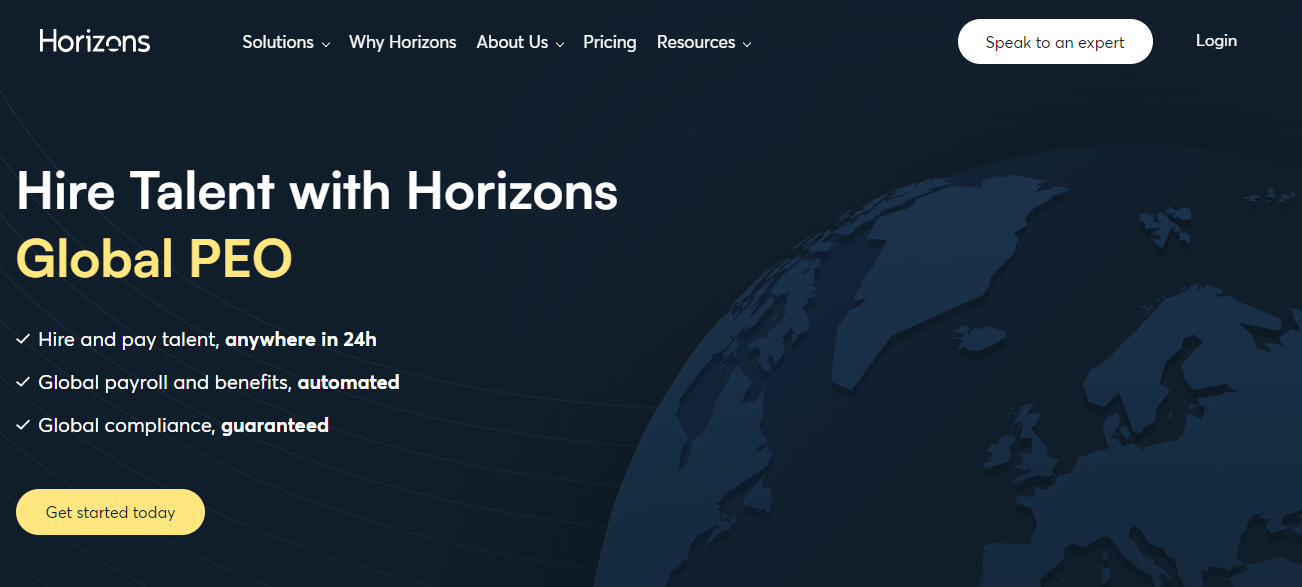 Horizons enables you to expedite and automate international HR operations.
With this platform, you can recruit overseas employees in less than three days, get salary and benefits support, automate your payroll processes, and pay your team in 180+ countries.
Horizons takes care of all the legal and compliance matters, such as contracts, terminations, and taxes.
Through its centralized digital platform, you can easily manage your day-to-day operations to ensure leaves and expenses get recorded in the payroll sheet.
If you need relocation services, you can include them in your package as an add-on. Horizons' point of contact walks your employee through every step to reduce the chances of error.
Around 1500 companies are using Horizons for global PEO.
Core Features
International PEO.
Recruitment and payment in 180+ countries.
Onboarding and offboarding.
Compliance management.
Add-on benefits.
SaaS platform.
Premium tools, such as country guides.
On-site HR assistance.
Price
Horizons charges between $49 and $299 per user.
You can tailor your plan and purchase add-ons to extend the services.
ADP offers both international and local PEO solutions.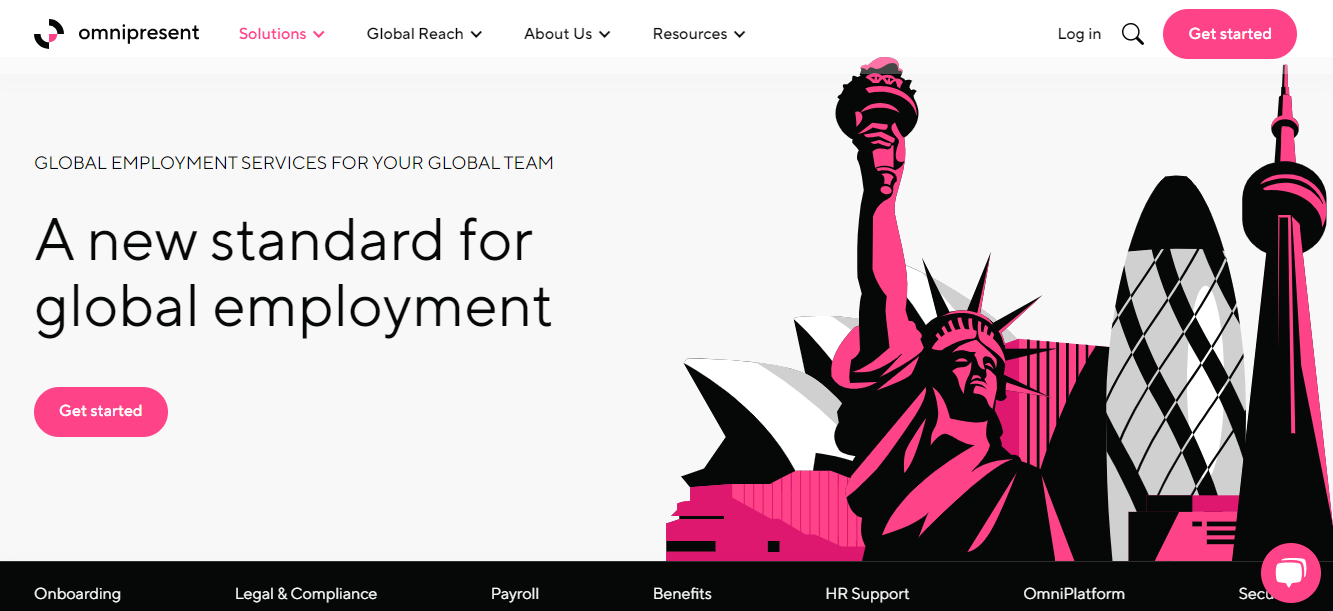 Omnipresent delivers versatile global HR services.
You can process onboarding and contract management, receive advisory services on international policies, handle global payroll and benefits, and get customer support for employees.
The in-house payroll team helps you with all the essential functions related to payroll, benefits, taxes, and government liabilities.
Its digital platform is user-friendly and secure.
You can control your team data and automate processes to save administration time. Your team can upload documents, submit requests, and get payslips from their designated portals.
People who have previously used Omnipresent find the software incredibly simple and straightforward.
Core Features 
Hiring in 160+ countries.
Global payroll.
Onboarding and termination workflows.
Employee benefits and taxes.
Compliance management.
HR support on various HR matters.
Customer care for both employers and employees.
Digital platform.
Price
Omnipresent charges a minimum of £650 per month. You can scale your package and customize the features.
Velocity Global PEO services include hiring, benefits management, cross-border payroll, and relocation. You can build your distributed team via this platform and receive HR support for onboarding and payments.
Here, each onboarding workflow is customized to your employee's country-specific laws and regulations to eliminate any compliance errors. Through its global platform, you can manage payroll and automate your workflows.
Other facilities provided by Velocity Global are international perks, visa assistance, and office space provision.
You can offer sponsorship to your employee and make the salary package attractive with perks like retirement plans.
In addition, you can provide a shared workspace option to your remote teams to improve their working experience. Velocity has access to 10,000 locations in 120+ countries for office space.
Core Features
International recruitment.
Onboarding.
Cross-border payroll.
Various employee benefits and perks.
Compliance management.
SaaS platform.
Visa assistance.
HR support.
Price
Velocity Global provides custom quotes on requests.
Conclusion
PEO services providers are well-suited for both small and established organizations.
Whether you have a small setup and need to outsource HR services or if you plan business expansion but lacks the resource to pursue it, PEO can help make things easier for you.
Go ahead and explore the above platforms to find the best PEO services for your company. Good luck!