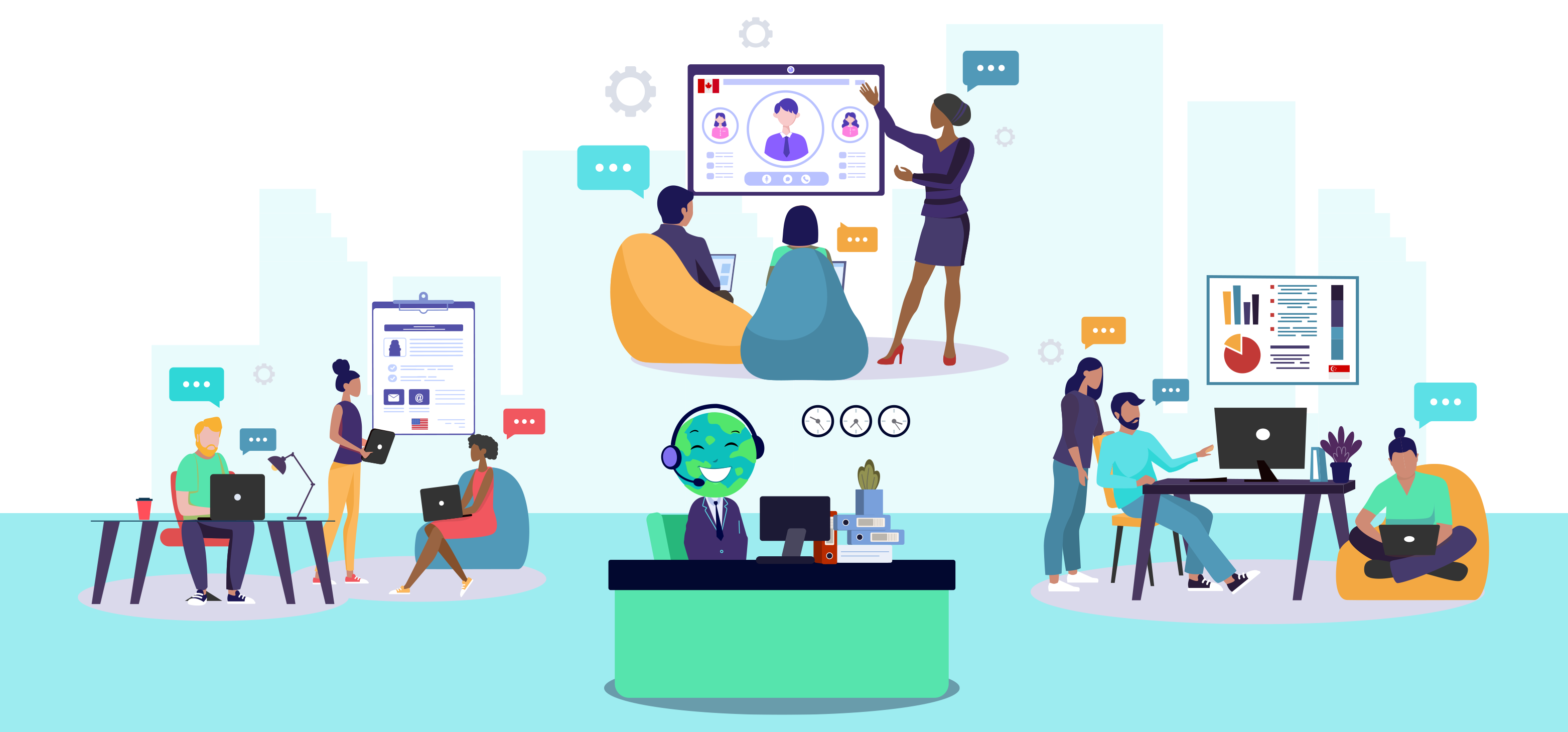 Human resource management was never a simple and straightforward procedure. HR managers really do have a difficult time recruiting suitable people by providing effective employee experience.
As a result, the deployment of effective HR platforms in the present-day workforce is indeed one of the fastest-growing paths to achieving long-term goals.
But what are HR Platforms?
A human resources management platform, often known as a human resources information system (HRIS) or human capital management, is a type of HR technical program that enables you to manage everyday human resources duties effectively.
It includes a multitude of structures and procedures to make handling human resources, business operations, and data easier.
The majority of such software provides goal-oriented capabilities that benefit them in day-to-day HR management. Furthermore, as people's reliance on AI grows, so does the necessity for trustable HR software.
It can be challenging to choose the best HR software in India because there are so many options. This is why we have compiled a detailed selection of the top HR software to assist you in weighing your options and picking the right fit for your requirements.
Below listed are some of the best HR platforms available for small businesses and startups:
Deel is an international payroll and responsive HR software that companies can use to effectively employ workgroups internationally. It is designed for remote teams, in which anyone from anywhere can be hired and paid.
You can hire full-time employees or contract employees legally and efficiently anywhere on the globe in minutes.
It also allows you to hire workers or staff members in 150 countries in minutes. Deel handles all the local payroll, perks, taxation, and legal compliance that come with accepting a job offer in another nation.
With Deel, a contract that complies with local regulations can be quickly formed, sent, and agreed to sign. In short, your company is safe from needless danger.
Features: 
The sector's greatest restrictive compliance, with regionalized employment contracts covering pension plans, taxation, and perks mandated by law.
Agreements, compliance documents, and payouts for the global organization can all be tracked from one location.
Inbuilt integrations with your favorite HR and financial reporting systems.
Pricing: 
The Contractors Plan: The Deel platform handles payroll and compliance for agreements for a monthly fee of $49 per contractor.
The Full-time Plan: Starting at $500 a month, this policy enables users to recruit full-time workers in a foreign state, so there is no need to establish a corporate structure somewhere. The platform assumes the role of Contractor of File and employs the worker on your behalf.
Bizneo HR is an HR Software that automates the entire employee life cycle so that the company reaches the highest level in its personnel and talent management. Its suite has +10 solutions that adapt to companies of all sizes:
Talent management tools.

Optimize and add value in personnel recruitment, performance evaluation and professional development.

Personnel management tools.

Helps HR teams to optimize the most routine management and processes. Either by involving employees with self-management through their own portal or by optimizing all these tasks with automated workflows.

Time management tools.

It is in charge of controlling employees' schedules, managing their work shifts and the distribution of vacations, as well as the communication and administration of absences.
Features: 
Express implementation in a few weeks for the simplest modules.

Specialized consulting, with help portal and videos included, to facilitate the implementation and use of the platform.

Materials and expertise of its consultants to help you get the most out of the tool and talent management methodologies.

API to easily migrate or integrate other providers (access control or presence, business management systems, payroll, psycho-technical tests…).

Constant update every 2 weeks to offer the most advanced functionalities in the market.

98% of customers highly satisfied with the response service of our support team.

Reduction of time and money, to achieve less workload for managers and work optimization for the teams.
Pricing:
The essential plan: it's ideal for small to mid-size companies and covers all the core tools.
The professional plan: It's best for organizations with more than 200 employees. The package provides consultations and support in addition to the essential plan features.
The enterprise plan: Large-scale companies can choose this plan to receive customized packages.
Bizneo HR prices vary with the country, company size, and package. You'll get a free demo with a consultation and a 15-day free trial to test the software.
Rippling HR is a fully-featured personnel management system that combines Payroll, Benefits, Time & Attendance, and Talent Planning, among other HR products. It can be integrated with over 400 different apps.
With this service, you will have a streamlined personnel database, configurable statistics, and charts, as well as personalized fields and alerts. Its customized statistics and charts feature allows you to create reports based on your specific requirements, such as staff turnover, app usage, economics, and so on.
Features:
It includes document control tools that allow you to virtually share, sign, and store all of your paperwork.
It provides tools for streamlining newly hired employees' onboarding.
Workflow automation, task management, and customized reports are all included.
Pricing:
It starts at $8 per month per user.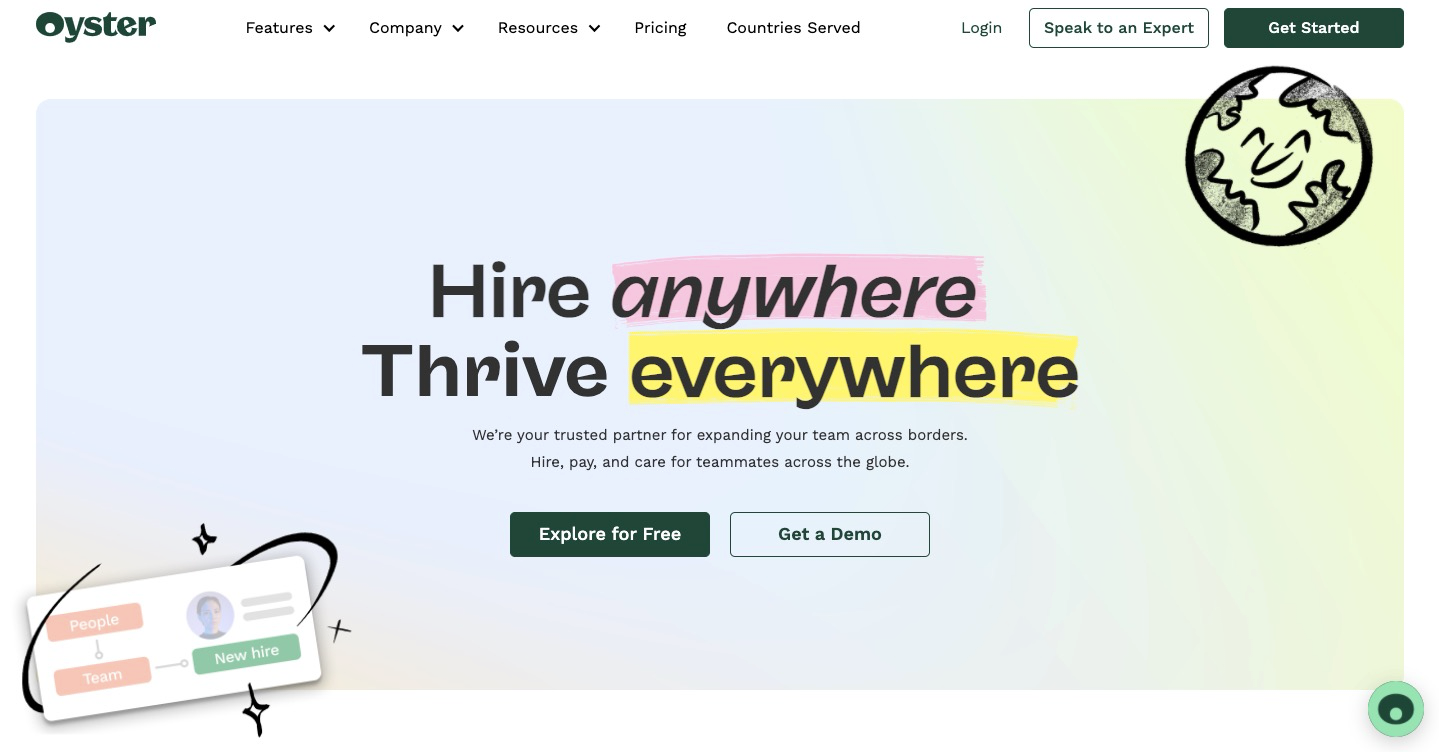 Oyster is a shared, networked talent management platform that is significantly transforming the manner in which businesses interact with the global talent pool. It specializes in assisting People Operations directors in navigating the complex procedures of recruiting, compensating, and managing cross-border teammates and valuable staff from anywhere.
The platform belongs to the PB (people business) industry and is wonderful because of its human approach to both the platform and the consumer experience. Businesses can easily use this great solution to recruit full-time or contract-based workers in a standardized manner all across the world.
Features:
With just a few clicks, you can manage all of your accumulated invoices in one location and compensate all of your worldwide teammates.
The platform additionally provides a cost-reimbursement feature that lets you pay staff for the things they need to do their job properly.
It provides coverage for teammates from over 170+ nations at fair rates under the same healthcare program.
One of the best features is that the local health benefits are available from anywhere on the planet, whether you are traveling for a short or long time.
They offer resources like country knowledge pages with all the necessary information about countries where teammates reside and a salary calculator, so they know how much it costs to employ in new regions.
They take care of the intricacies of local labor laws, so your referral can hire quickly—from anywhere.
Oyster ensures your colleagues receive timely pay in local currency, accounting for all regional taxes and contributions.
Stay up-to-date on country-specific laws regarding issues like employment taxation, wage and hour compliance, fines and fees, discrimination, and harassment.
They ensure that the benefits they offer locally translate into generous benefits in the nation where their talent resides so that they can treat your remote team members like first-class citizens.
Pricing:
Lite Plan: Free of Cost
Business Plan: Monthly $399 per employee
Enterprise Plan: Customized pricing
Consumers of all levels can benefit from the Workable platform's strong, adaptable, and user-friendly solution. It provides small and medium businesses with an easy-to-use application monitoring and hiring process tool with a variety of useful features.
Via a centralized location, you can simply examine and monitor a candidate's description and evaluate the candidates underneath a work request.
Features:
Workable gives you additional tools to discover more potential employees, so you can make better hiring decisions.
Candidates can use its sophisticated career website builder, self-scheduling interviewing capabilities, native messaging, and one-way video interview tools.
With features like inbuilt sourcing and single-click job posting, it allows you to find enough outstanding people to choose the right person for the job.
Pricing:
The Standard Plan costs $279 per month and is billed once a year.
The Premier Plan costs $659 per month and is billed once a year.
The Paygo Plan costs $129 per month for each employee.
The Breezy HR platform not only provides a supply of competent individuals, but also provides all of the tools you will need to find your ideal new team member.
This platform is best used for hiring, recruiting, and onboarding. It has tools that make it simple to ask for employee referrals, and workers would not have to worry about their suggestions getting buried in extensive email chains.
Features:
With the smartphone application, you can get most of what you need to form career choices and recruit from anywhere.
It has you covered all, whether you require a background check, character evaluation, or integration with your existing employee management system.
With its customer service center and the hiring training blog, you can choose from over 800 HR and recruitment templates and stay informed.
Since it is ISO or IEC verified, you can be assured that your data and that of your prospects are secure.
Pricing:
The Bootstrap Plan is Free of cost
The Startup Plan costs monthly $143
The Growth Plan costs monthly $249
The Business Plan costs monthly, $399
Businesses can easily contact dedicated HR managers using the Bambee HR portal. The executives do all of the duties of an in-house HR manager, such as searching, recruiting, onboarding, implementing plans, ensuring compliance with laws and regulations, labor standards, collecting data, and so much more with Bambee.
Customers prefer it because it allows businesses of all sizes and finances to get the outsourcing HR services that ought to expand. They provide a fantastic free trial and do not require you to sign any commitments.
Features:
Organizations can invite their staff to develop folders, compose notes, and share documents or files.
The platform's secure e-signature technology helps to verify important papers. This function means that the actual files are saved in the appropriate folder.
Furthermore, it enables user compliance and simplifies data file management.
Pricing:
$99 per month ($79 yearly) + a $500 one-time setup cost for 1 to 4 employees.
$199 per month ($159 per year) plus a $500 one-time setup cost for 5 to 19 employees.
$299 per month ($239 annually) + a $1,000 one-time setup cost for 20 to 49 employees.
For companies with 50 to 500 employees, custom pricing is available.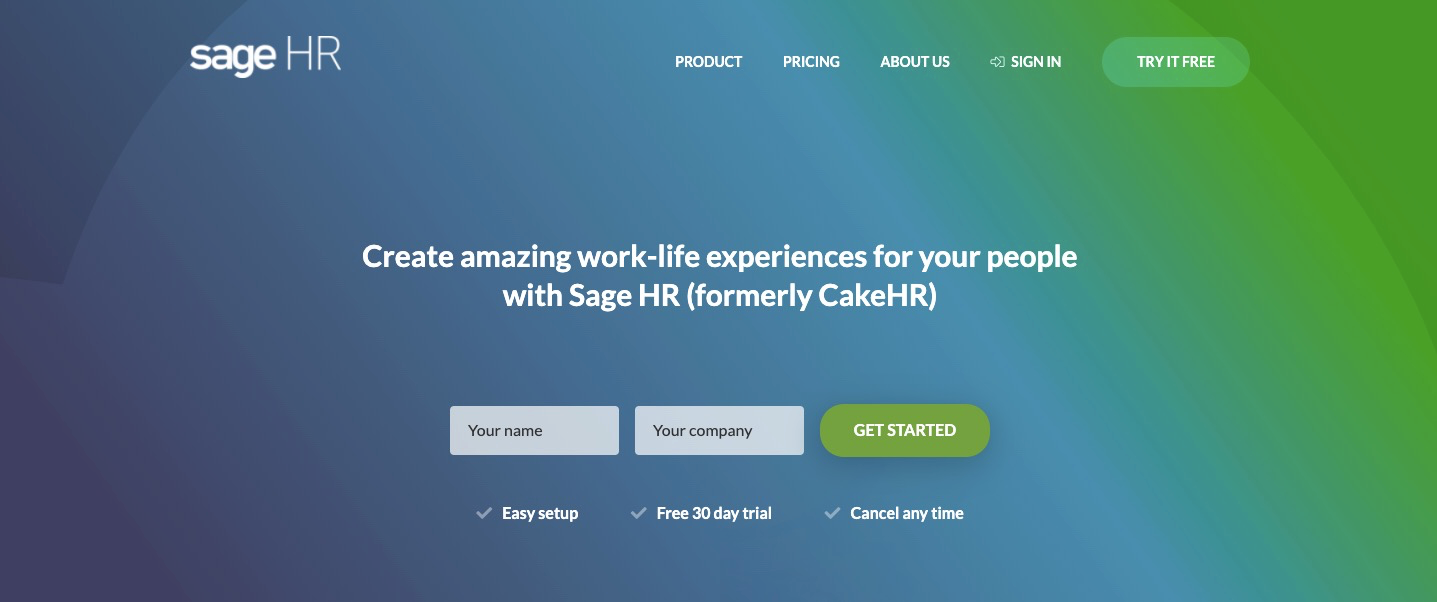 Sage offers a variety of convenient cloud business management software solutions for small and midsize enterprises. It handles various tasks, ranging from accounting and payroll to enterprise resource planning, customer engagement, and payments.
Being a leading global HR and people management system, Sage HR software synchronizes how businesses acquire, train, and retain employees.
Features:
It rapidly informs colleagues of tasks that need to be undertaken or that have been completed.
Employees can access their dashboards to check activities, calendars, and other information.
Each employee's account can be viewed and edited.
When new employees join or leave, you would be able to automate their duties from a prepared list.
Pricing:
The starting price is a monthly payment of $5.50.
Freshworks is a SaaS platform that focuses on developing solutions that will benefit everyone. Their clients include sales, HR, marketing, customer service, and the IT industry. They offer solutions that are simple to use, impulsive, and cheap to a broad range of clients.
With Freshworks, you can keep all your worker's data records, documents, and applications safely in one place. It can monitor and record time off and absences. Its Android application enables users to view the platform from anywhere at any moment. It is compatible with both iOS and Android devices.
They include over 1K applications in their marketplace and thus are affiliated with over 400 partnerships. Freshworks has also released an amazing CRM tool called FreshSales, with which you can access the data of every person who has done business with you and subsequently evaluate your overall business performance.
Features:
Applicants' profiles are automatically filled out.
A unified database allows for detailed application monitoring.
Arrange or schedule interviews and provide organized review comments.
Pricing:
Sprout: Free
The Blossom Plan charges $50 for 50 users per month.
The Garden Plan costs $100 per month for a total of 50 users.
The Estate Plan is $200 per month for 50 users.
Fellow is a meeting management software that enables you and your team to work together on plans, share meeting notes, and track specific goals.
The platform assists your staff in achieving effective meeting practices, holding each other responsible for action items, and keeping track of choices, namely in person or remotely.
With the help of an expert-approved collection of meeting templates, you can ensure every one of your meetings flows well.
Features:
Templates for several meeting categories are provided.
Arranges and schedules meetings for participants.
The hours or minutes of a meeting are recorded directly, either in textual or auditory format.
Meeting attendees can interact in a changeable virtual workplace.
Pricing:
Free Plan: Monthly $0
Pro Plan: Monthly $6 per user
Business Plan: Contact the service of Fellow
JazzHR is a rapidly growing HR solution that is attracting a growing number of new clients. Effective HR tools really do have an easy-to-use interface and can simply replace the time-consuming routine labor that your HR team is responsible for. You can automate the entire hiring process by combining spreadsheets and email.
Hiring managers can use JazzHR to build a scalable and fast-moving hiring strategy that allows them to pick the right candidates from the marketplace.
Features:
To strengthen your brand and provide a more consistent applicant experience, you can personalize your process and build customizable content.
JazzHR job board features will let you control your prospect candidates' group and obtain information from leading channels with a simple click.
Avoid using traditional methods like spreadsheets, and keep your business organized in one place.
Pricing:
The Hero Plan: An annual subscription for intuitive recruiting for small teams for $39 per month.
The Plus Plan: An annual plan for limitless hiring costs $239 per month.
The Pro Plan: An annual plan to streamline every stage, cost $359 per month.
Namely is a generalist human resources solution aimed at small and midsize organizations.
While emphasizing the importance of an HR solution being flexible to the requirements of a certain scale and area of organization, as well as how they tackle time effectively, onboarding, and payroll, Namely takes great pains to give users as much customization as feasible.
In reality, it allows the user near-total flexibility over how the system looks and functions, which has the advantage of maximum adaptability. However, it also has a disadvantage: more customizability can cause a software program to take more time to design and execute, which would be especially relevant with Namely.
Features:
It also frees up time for you to concentrate on creative personnel tactics by eliminating double entry and manual labor tasks.
You can be sure of the authenticity and stay up-to-date on compliance with a seamless integration system and a solid risk management system.
Its talent and productivity management tools enable you to link, interact, and grow your team from recruitment to retirement.
Pricing:
As per a company executive, it costs $12 a month per worker because of its basic service, excluding payroll. It also takes roughly 8 to 10 hours a week to get up and run. Specifically, they refused to reveal the cost of BA, payroll, and other add-ons. To know the details, contact Namely.
Conclusion
A company's employees are a valuable asset to any business, company, or organization. For this reason, they require dependable HR software to control them successfully.
Since HR software and services represent numerous roles, you can thoroughly research each alternative to discover the ideal one.
We believe that the list mentioned above of the top 14 prominent HR platforms that the majority of organizations used to optimize their HR procedures and personnel management will most certainly assist you in hiring the ideal employees for your company.