Deel and Rippling are both well-recognized global human resource platforms.
They provide overseas recruitment and payroll solutions to companies of all sizes and industries, offering a hassle-free way to legally engage and pay international talent.
If your organization frequently hires distributed teams, Deel and Rippling are both well-suited for business needs. They can optimize your employee management processes and simplify international payroll for you.
Below, I have compared Deel and Rippling's features to highlight their core capabilities. Explore their products and subscription plans to pick the right platform for your company.
Let me start with a brief overview of Deel and Rippling.
Deel Overview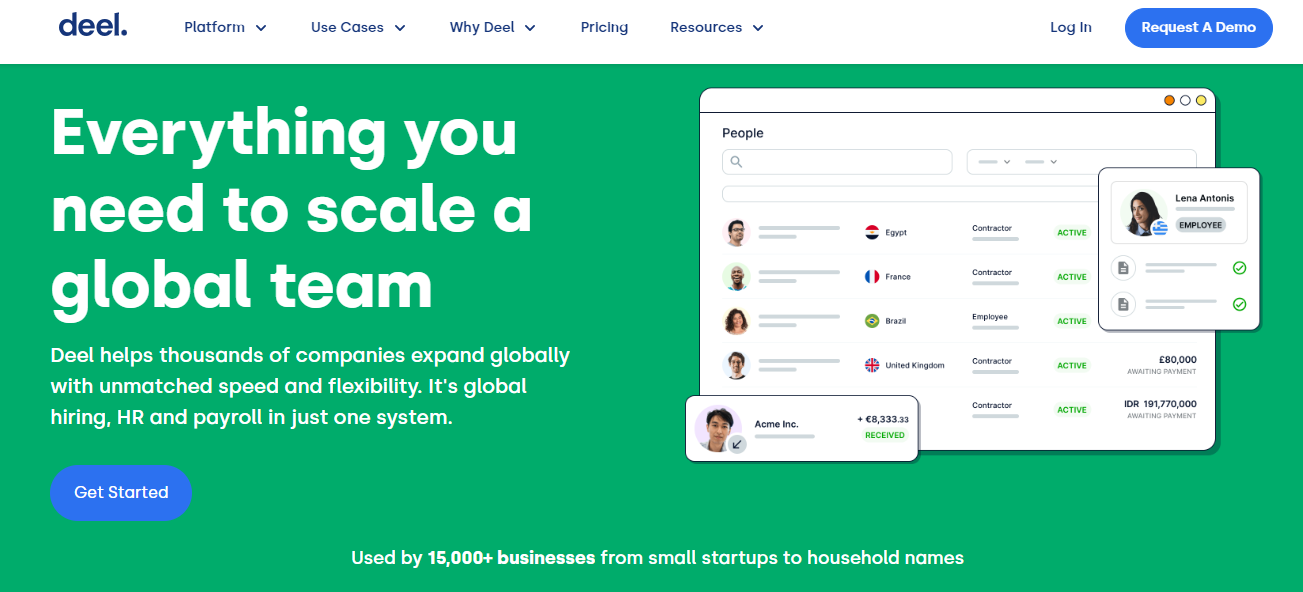 Deel is a global HR and payroll service provider. It delivers a SaaS platform and in-house services to recruit, manage, and pay overseas employees and contractors.
Launched in 2019, Deel has assisted over 15k businesses across the world with global workforce management. It has facilitated around 150k recruitments and processed over $5.5b payments worldwide.
Everything from legal contracts and taxes to benefits and visa assistance is managed in-house by Deel's team and local partners. It additionally provides optional services, like equipment shipment and co-working space renting, to facilitate remote employees.
Some of the well-known brands use Deel for hiring and cross-country payroll.
Key features of Deel are;
Compliance management.
SaaS Platform.
Visa assistance.
Deel is available in 150 countries and supports withdrawal in local currencies.
Rippling Overview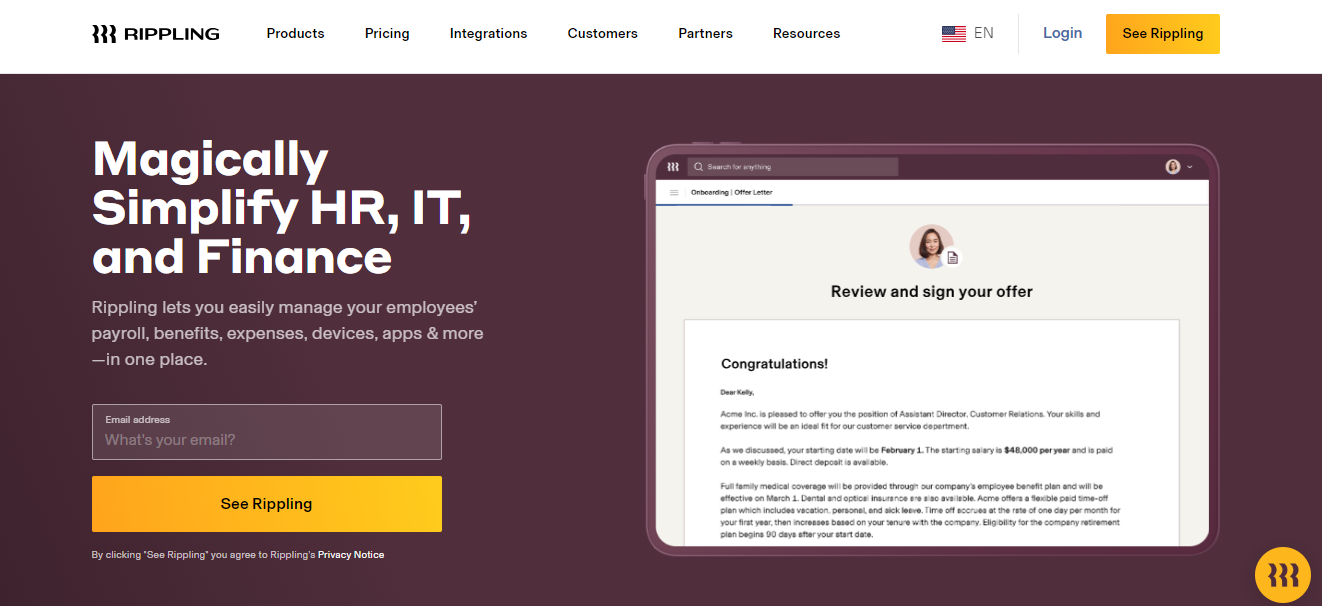 Rippling offers global payroll and workforce management solutions. It gives you a unified platform to manage your HR, IT, and finance functions from one place.
Core in-house HR services of Rippling are the employer of record, PEO, and US and global payroll. You can legally recruit overseas employees and contractors and pay your remote team in their local currency.
Through its unified platform, you can handle every aspect of your operations, from applicant tracking and onboarding to attendance and payroll.
It is one of the few global platforms which provide a complete package for remote team management.
Key features of Rippling are;
US and Global payroll.
EOR and PEO services.
Compliance management.
Workforce management platform.
Rippling operates in over 50+ countries and allows multicurrency payroll.
Deel vs Rippling –Feature Comparison
Deel and Rippling share common features and deliver almost similar services.
But despite the similarities, they have a few unique features that set them apart from each other.
I have covered some core features of Deel and Rippling to help you compare their functions and prices. They might give you a general idea of their services to make a better purchase decision.
1. Global Payroll
Global payroll enables you to process and manage international salaries for distributed teams.
With this tool, you can send payments across borders compliantly to employees and independent contractors with ease.
Below is the summary of Deel and Rippling's payroll services.
Deel Payroll
Deel's Payroll package covers onboarding, salary calculation, payment processing, and compliance.
It has local experts in 100+ countries to handle taxes, benefits, and local compliance matters, and offers access to cloud software to let you manage the administration side of the payroll.
You can onboard employees, disburse salaries in 200+ currencies, and include benefits, bonuses, and expenses in the monthly transactions.
If you work with contractors, you can add them to your team and send payments through multiple gateways. Deel offers 15 payment methods and a virtual card facility specifically for contractors.
Rippling Payroll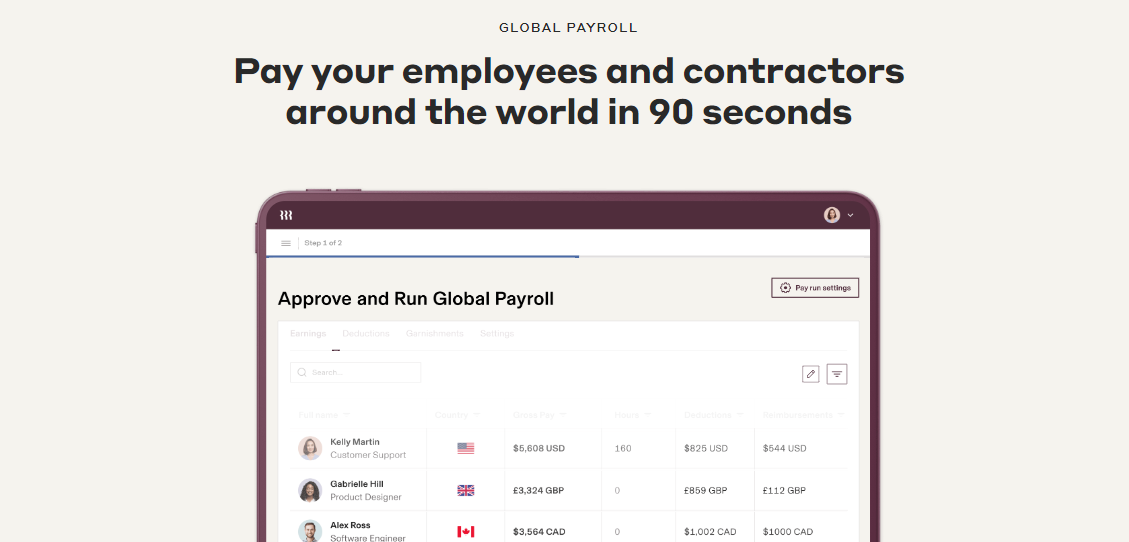 Rippling delivers US and Global payroll solutions.
The package covers 50+ countries, local currency support, government liabilities payments, and direct deposits or checks for US payroll.
Via its digital platform, you can process payroll within minutes, automatically file taxes, and synchronize your data with your accounting software.
The time tracking and reporting feature is also integrated into its payroll software, which enables you to automatically calculate salaries and get a breakdown of gross payments.
While Rippling's global payroll coverage might not be as extensive as Deels', it offers the best features for US-based companies and a wide range of automation tools for payroll management.
Almost 73% of Rippling customers are US-based companies for that reason.
Verdict
Rippling and Deel's global payroll solutions are equally efficient. Both handle multi-country payments, taxes and government liabilities, and expense management.
They also offer tech support to facilitate salary calculation.
The main difference between them appears to be in payment flexibility and payroll management.
Deel has comparatively more and better payment options for independent contractors. It makes it well-suited for businesses that find international payment management cumbersome.
Rippling, on the other hand, share powerful payroll automation functions. It's ideal for companies that want easy and efficient systems to manage global payroll.
2. EOR and PEO Services
Employer of Record (EOR) is a managed service that involves hiring and paying overseas workers on the company's behalf.
Businesses avail themselves of EOR service to recruit distributed teams legally without establishing entities in other countries.
PEO's responsibilities are mainly limited to benefits administration.
The professional employer organization (PEO) is an outsourcing service in which vendors like Rippling handle employee benefits and other HR functions for you.
Companies purchase PEO services mainly to optimize their HR costs.
Below is the summary of Deel and Rippling EOR and PEO services.
Deel EOR and PEO
Deel's EOR services include employee and contractor hiring in 100+ countries, legal contracts, global payroll, and benefits management.
Through its network of local partners and legal experts, Deel handles paperwork, payment transfers, and other complex tasks like visa assistance.
You can onboard employees via its self-service portal and automate documentation and salary processes. Your employees can join your team online, submit necessary documents, and access their payslips.
In case of termination or resignation, Deel also facilitates offboarding and offers assistance with severance packages.
Deel PEO services cover US-based companies only.
Rippling EOR and PEO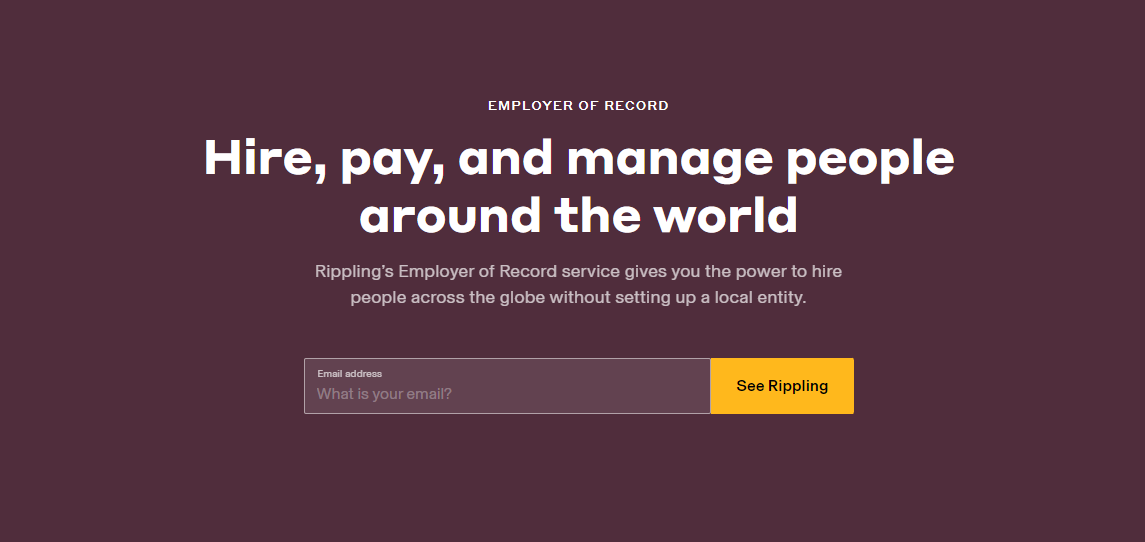 Rippling provides EOR and PEO services in its HR package.
Through its EOR services, you can hire people from all around the world, generate employment contracts, design tailored compliance policies, and pay salaries in local currencies.
It allows both permanent employees and independent contractor recruitment and helps with local compliance matters.
One good thing about Rippling is the ease of migration from EOR to global payroll. When you scale your business and establish your entities in other countries, you can shift the subscription to global payroll through its SaaS platform—no extensive migration process.
Its PEO service, like Deel, is available to US businesses only. You can use it for employee benefit management like insurance and 401 (k) retirement plans.
Verdict
Deel and Rippling's PEO shares common features. You can opt for any of them to get benefit administration and compliance management for US-based workers.
Their EOR packages differ in country coverage and features.
Rippling initially started out as an automaton platform and entered the global industry later. Its global employment service, therefore, is still relatively new and growing.
Deel's first product was international contractor management. Its entire focus right from the start was on overseas recruitment and payment. It has comparatively more coverage.
3. SaaS Platform and Integrations
Deel and Rippling both provide self-service cloud portals to let you manage your workforce remotely.
Companies can onboard, manage, and offboard employees via the cloud software, and retain control over their recruitment and payroll.
Below is the summary of the Deel and Rippling SaaS platform.
Deel Digital Platform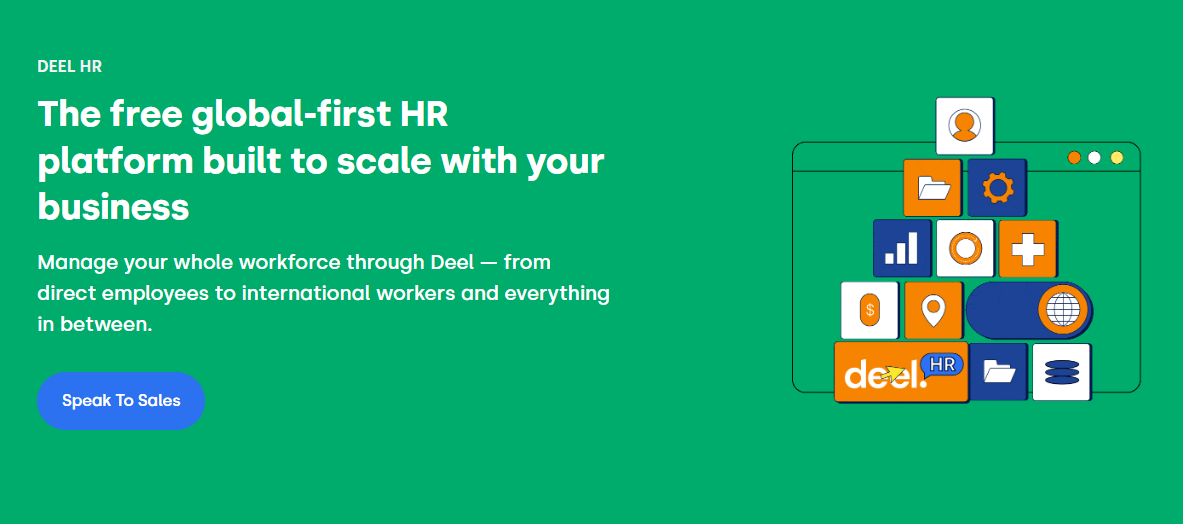 Deel's cloud software is easy to navigate and centralizes all your EOR employees, contractors, and direct employee data.
Some operations it facilitates include; onboarding, document collection, equipment shipment, payroll processing, and reporting.
Employees can submit expenses and leave requests for approval and get their payslips online.
As an admin, you can integrate your accounting software to synchronize your data and generate custom payroll reports for the company management.
Plenty of add-ons like shared workspace are also available to help you improve distributed team management.
The unique feature of Deel's platform is its accessibility. You don't need to purchase any specific plan to use the software. Companies with less than 200 employees can try it for free and purchase additional services later directly from the portal.
Rippling Digital Platform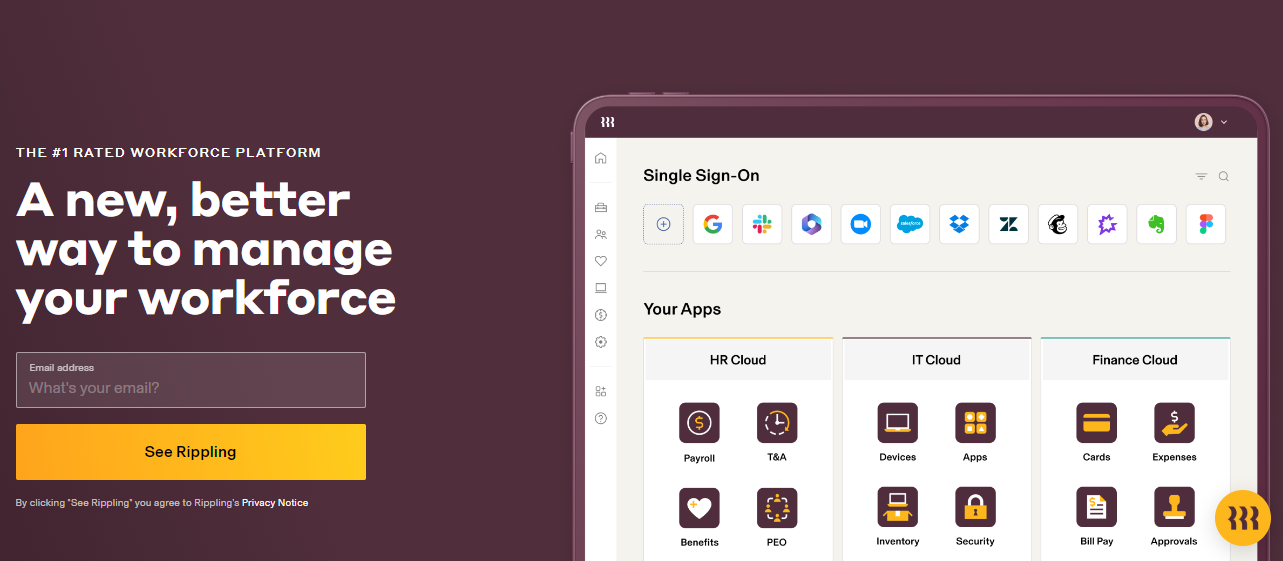 Rippling's digital platform is its best-selling feature. You'll get not only HR cloud software but also IT and Finance features.
In addition to department-wise functions, you'll receive a base platform for data management and workflow automation.
You can purchase them separately as individual products, or buy them all together with the base platform. Through API, you can integrate Rippling with your company's system and streamline your workflows.
Rippling HR cloud software is also more advanced in comparison. It comes with conditional automation and built-in HR functions like ATS and time tracking that you might not find in Deel.
Third-party integration is another thing that sets Rippling apart from Deel. While the latter does offer third-party connectivity, Rippling's list of integration is vastly large.
Verdict
Based on the software capabilities, Rippling is the better option.
It delivers versatile functions, custom workflows, advanced permission levels, and an app shop for integrations.
From an accessibility point of view, Rippling's platform is also comparatively superior. Unlike Deel, it offers desktop and mobile apps to handle daily operations.
If process automation is not your priority, then Deel is ideal for you. It's intuitive, user-friendly, and provides all the essential remote team management functions.
Pricing
Deel and Rippling prices are based on the employee number. The more users you add to the package, the higher will be the subscription fee.
Their package features, however, are constructed differently.
While Deel has created its subscription plans around its managed services, Rippling charges for its software and service based on usage.
Let me summarize their pricing plans for comparison.
Deel Prices
Deel's monthly subscription starts at $49.
It charges separately for the contractor and permanent employees and delivers benefits administration and third-party integrations in both packages.
If you want to purchase its payroll services only, you can request custom prices from sales. Immigration support is also available as a separate product. The package includes visa sponsorship in 25 countries, relocation, and renewals.
Below is Deel's products summary;
Contractor Plan: Starts from $49.
Employee Plan: Starts from $599.
Global Payroll: Quotes delivered on request.
Immigration: Quotes delivered on request.
SaaS platform: Free for companies with less than 200 users.
Rippling Prices
Rippling charges a minimum of $8 per user. You'll get a unity platform as a core software for global workforce management and three cloud products as add-ons for recruitment, payroll, and IT.
The individual product prices are not mentioned on the website because of the plan customization.
As you can add and remove any service in your plan, Rippling generally tailors the quotes accordingly.
That said, you can still get product details on its pricing page.
Below is Rippling standard products summary;
Unity platform: Available in four packages, including an enterprise plan.
HR Cloud: Payroll, PEO, EOR, ATS, and benefits administration.
IT Cloud: App and device management.
Finance Cloud: Corporate cards and expense management.
Conclusion—Pros and Cons of Deel and Rippling
Deel and Rippling are both well-suited for any business for recruitment and payroll.
But their bestselling features are distinct, and they target different markets.
For instance, Deel provides versatile contractor payment options, which makes it ideal for startups and small businesses that typically outsource work to save costs.
Rippling, on the other hand, offers the best workforce management tools, making it the best option for mid-size companies.
To summarize, I have condensed their strengths and weaknesses below to highlight their key selling points.
Deel Pros and Cons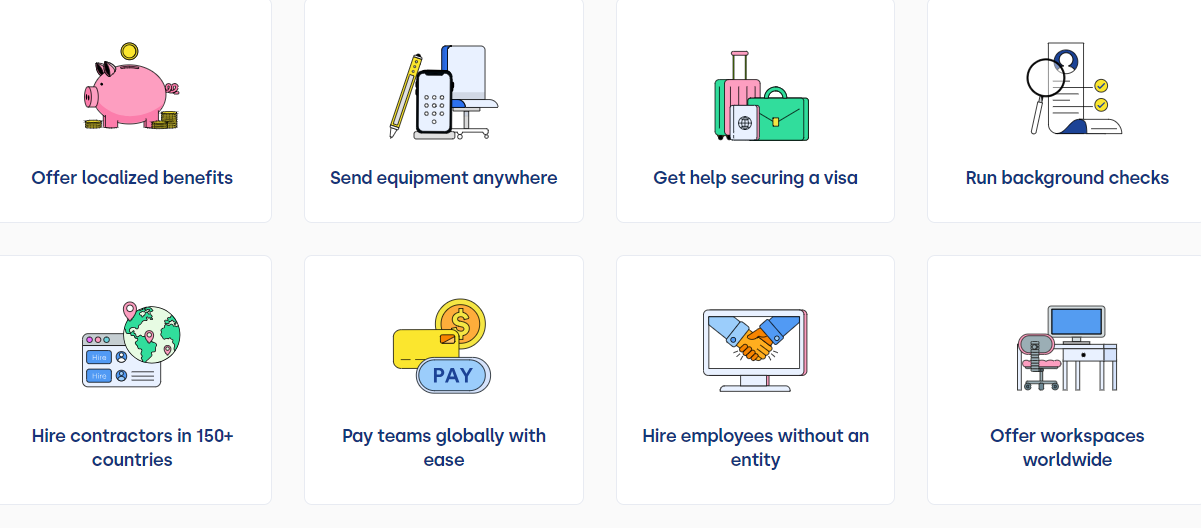 Pros
Free HR platform.
Multiple payment gateways.
Wide country coverage.
Remote team amnesties.
Cons
Comparatively basic SaaS features.
May feel expensive to some.
Rippling Pros and Cons
Pros
Comprehensive SaaS platform.
Fast Payroll.
Built-in time tracking for attendance.
Easy migration from one service to another.
Cons
Lack of transparency.
Customization is slightly complex.
The above points offer a quick summary of Deel and Rippling's best features. I recommend discussing them with their sales team to make a well-informed purchase decision. Good luck!