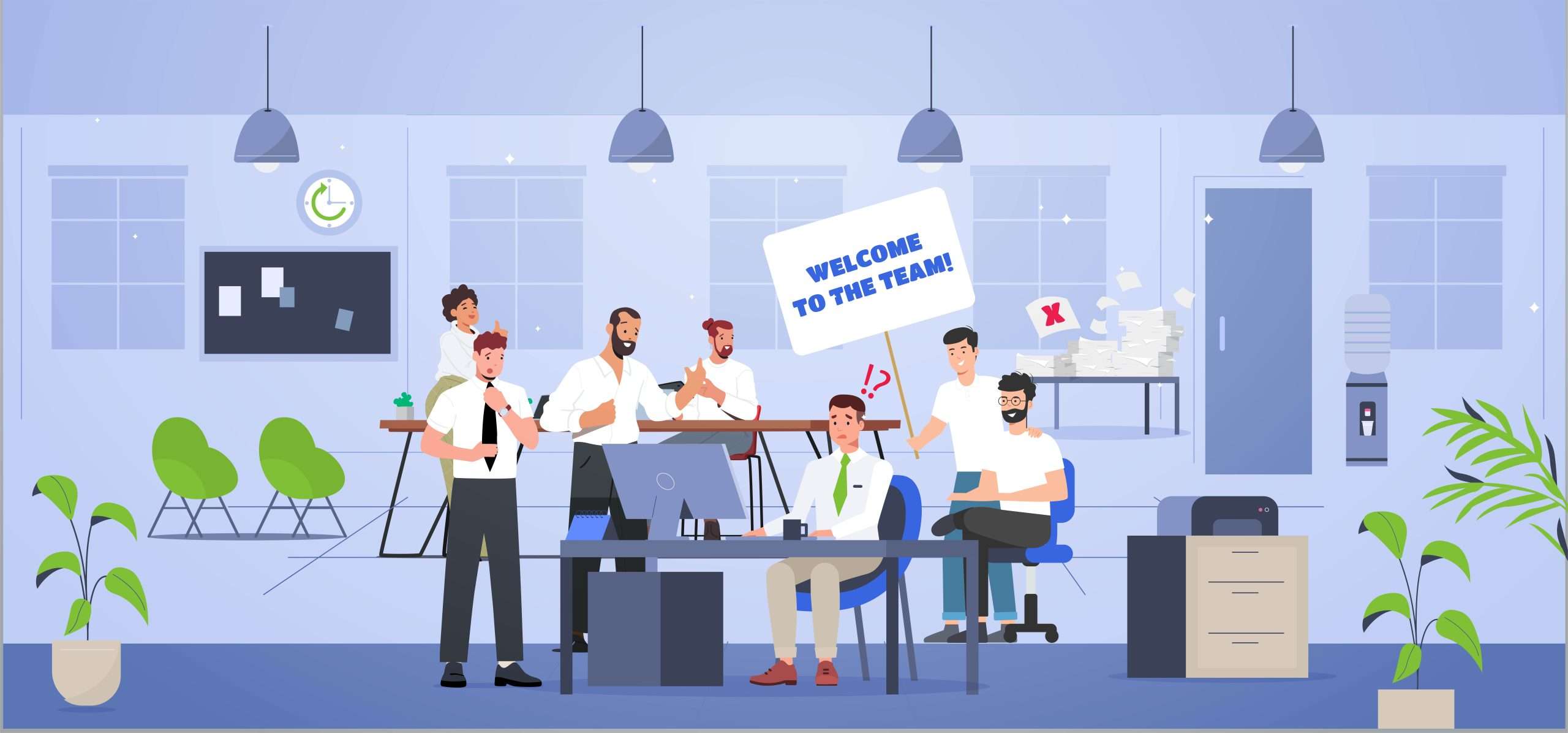 Employee onboarding is an important part of human resources functions.
The process comprises almost 40 to 50 different activities and involves multiple-department communication, which makes the job not only challenging but also incredibly time-consuming.
While you can capably manage the job, the process can be easily optimized with decent onboarding software.
I have put together a list of the 12 best onboarding platforms for you that are well-suited for small, mid, and large organizations.
Scroll down to get a quick summary of its core features and explore product reviews.
What is an Onboarding Software and What Does It Do?
Onboarding Software products are automation platforms that enable you to digitalize your entire employee onboarding process.
They provide you with tools to file the paperwork remotely and automate some administrative tasks to make the induction process as smooth as possible.
What's more, they allow you to conduct virtual orientations, eliminating the need for a physical tour.
Some top features of onboarding software are;
Templates to automate and track the process.
A portal to manage onboarding tasks.
E-signatures and document collection.
Employee engagement.
Integration with HRIS.
In the below list, you'll find a wide range of platforms that offer versatile onboarding features, including the above core tools.
Let's explore them.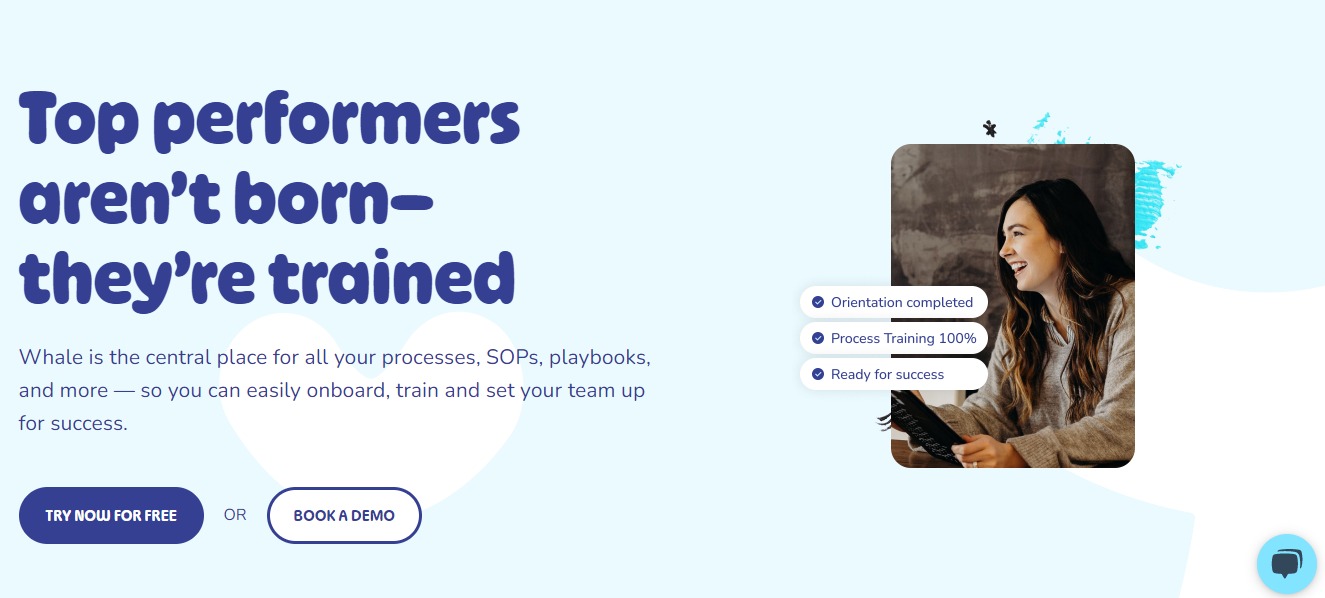 Whale helps you establish a central knowledge base for orientation and training.
The platform comes with an intuitive builder and over 100 pre-defined policies to create company policies and SOPs, and share them with new hires.
You can design quiz-based learning material for training and automate the workflows to cut down the onboarding time. With tracking and reporting, you can closely monitor the process and easily find weak areas or gaps.
The software provides a Chrome extension and integrates seamlessly with Google and OneDrive.
Core Features
Knowledge central.
AI editor with pre-built policy templates.
Orientation and training workflows.
Process automation.
Chrome extension.
Reporting and analytics.
Advanced permissions.
Integration with cloud drives and other third-party applications.
API.
Price
Whale prices start from $6. For onboarding features, purchase its Growth or Scale plan. They range between $12 and $18.
You can try the app for free.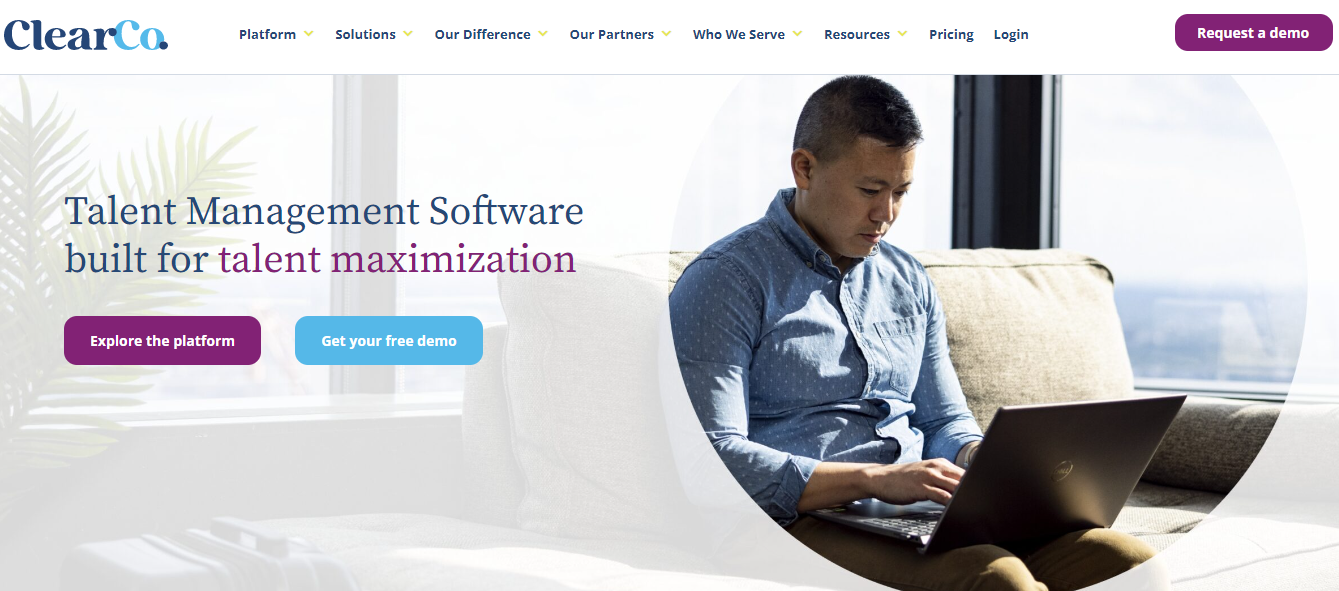 ClearCompany provides an Onboarding tool in a bundle pack. Its main features are; workflow automation, document collection, team introduction videos, and payroll integration.
New employees receive document requests as packets containing forms and fields for electronic signatures.
Via the ClearCompany platform, the Manager can verify documents and do background checks to complete the paperwork.
You will have the flexibility to perform bulk onboarding and store employee documents on the cloud. The software offers scalable features to help you increase your work volume.
You can access ClearCompany from multiple devices and integrate it with third-party applications.
Core Features
Onboarding and applicant tracking.
Workflow automation.
Paperwork and e-signatures.
Document verification.
Multi-device support.
Record keeping.
Tracking and reporting.
Integration.
Price
ClearCompany shares custom prices on request. Contact sales to get the quotes.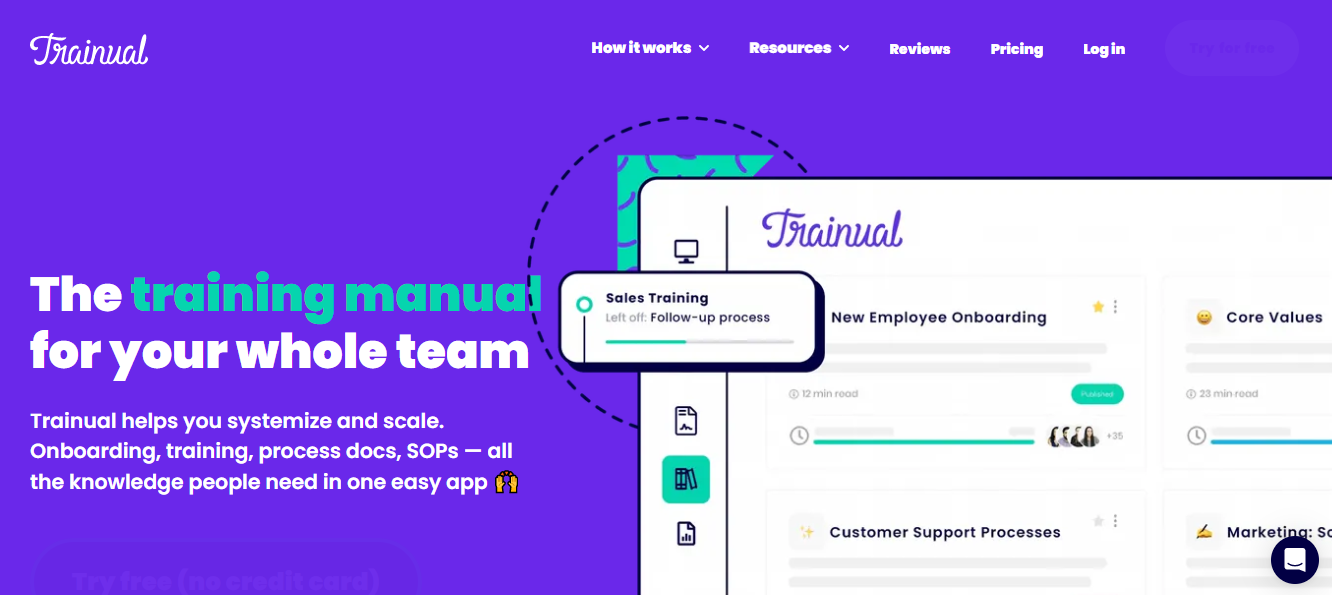 Trainual gives you a basic framework to develop SOPs, orientations, and training programs for new employees.
Through pre-built templates, you can create step-by-step onboarding manuals and design learning material to help new hires adapt to their role. You can add organization charts to familiarize new employees with your company's hierarchy and display a team directory, so they can learn more about their peers.
What makes Trianual appealing is its multipurpose use. Whether your company plans to introduce policy changes or just wants to let employees know how to take care of office supplies, you'll find a standard policy template for it.
Core Features
Digital SOPs and training material.
Documentation.
Team directory.
Pre-built and custom templates.
Tracking and reporting.
Branding.
E-signature.
Screen recording and media upload.
Mobile app.
Integration.
Price
Trainual prices range between $99 and $199. You can customize your monthly plan based on the seat number.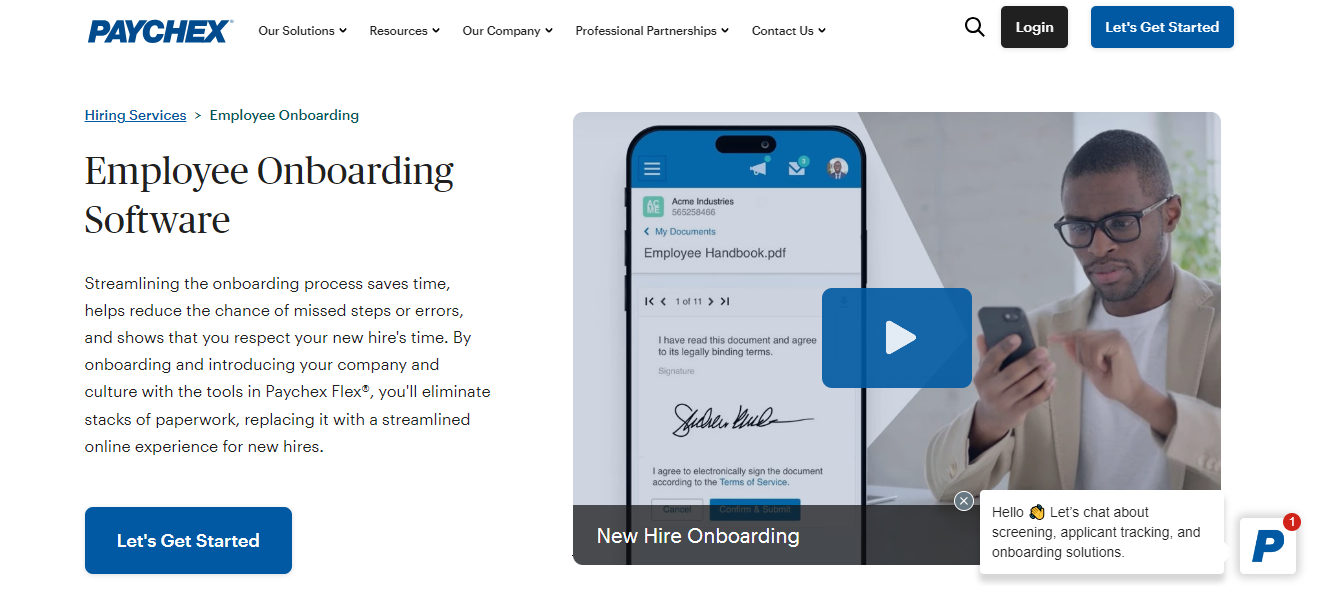 PayChex has robust onboarding and payroll tools. Via its mobile-friendly self-service portal, you can easily process onboarding online and manage the employee cycle.
Core capabilities of PayChex include screening and recruitment, document management, self-onboarding, and payroll processing. PayChex also offers time and attendance software that you can integrate with payroll to centralize your HR data.
With its policy handbooks and benefits administration features, you can optimize the onboarding workflows and speed up the new hire transition period.
PayChex works on both desktops and mobile phones.
Core Features
Recruitment and onboarding.
Document management.
Policy handbooks.
Workflow automation.
Self-service portals.
LMS.
Time and attendance.
Payroll and benefits administration.
Mobile and desktop versions.
Price
PayChex offers three subscription packages. The onboarding module is included in all the plans.
Contact sales to get the quotes.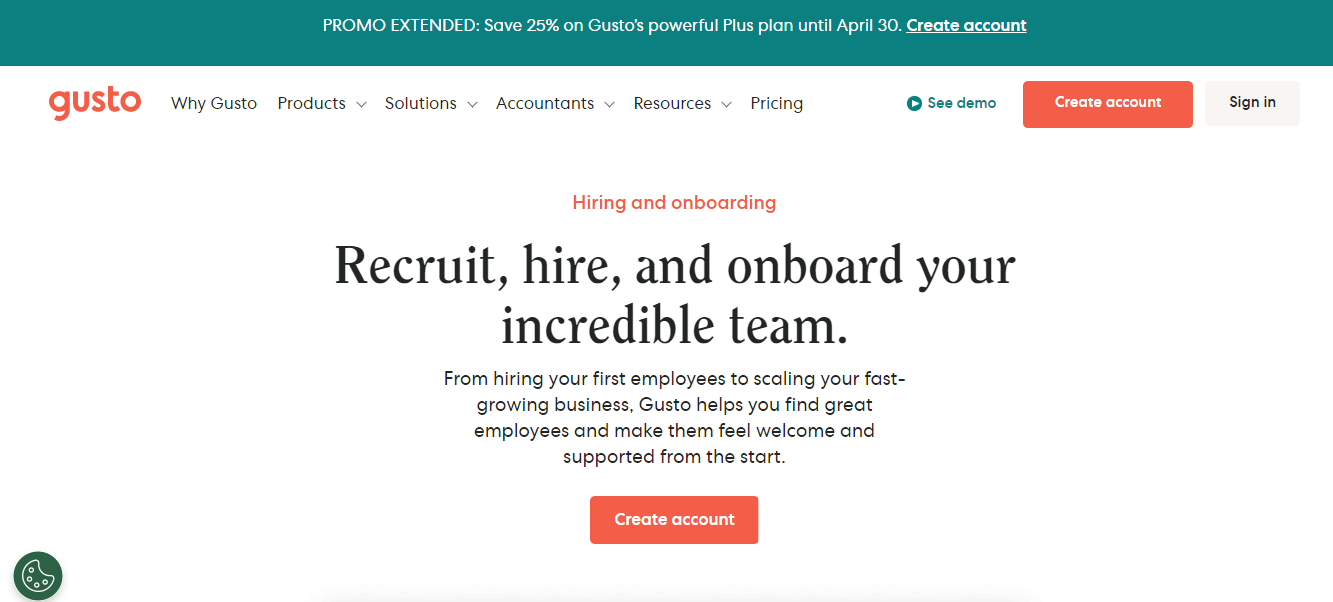 Gusto is built for small businesses.
The software delivers a centralized platform to handle versatile functions such as hiring, onboarding, employee benefits, and payroll.
You can use it to post job ads, create offer letters, complete the paperwork online, and delegate tasks to others. Additionally, you will be able to perform background checks, verify documents, and set up a wallet for new employees.
Its payroll and employee benefit features are also as powerful as its hiring and onboarding functions. Via these tools, you can run payroll, manage taxes, and keep your accounts updated.
Overall, Gusto is an ideal platform for entrepreneurs, who prefer versatile software. The app works well with popular accounting systems like Quickbooks, Sage, and Xero.
Core Features
Hiring and onboarding.
Background checks and document verification.
Custom checklists.
Equipment provisioning.
Employee benefits and payroll.
Reporting.
Integration with third-party applications.
Mobile friendly.
Price
Gusto prices start at $46 per month. It offers three monthly packages and a free account setup.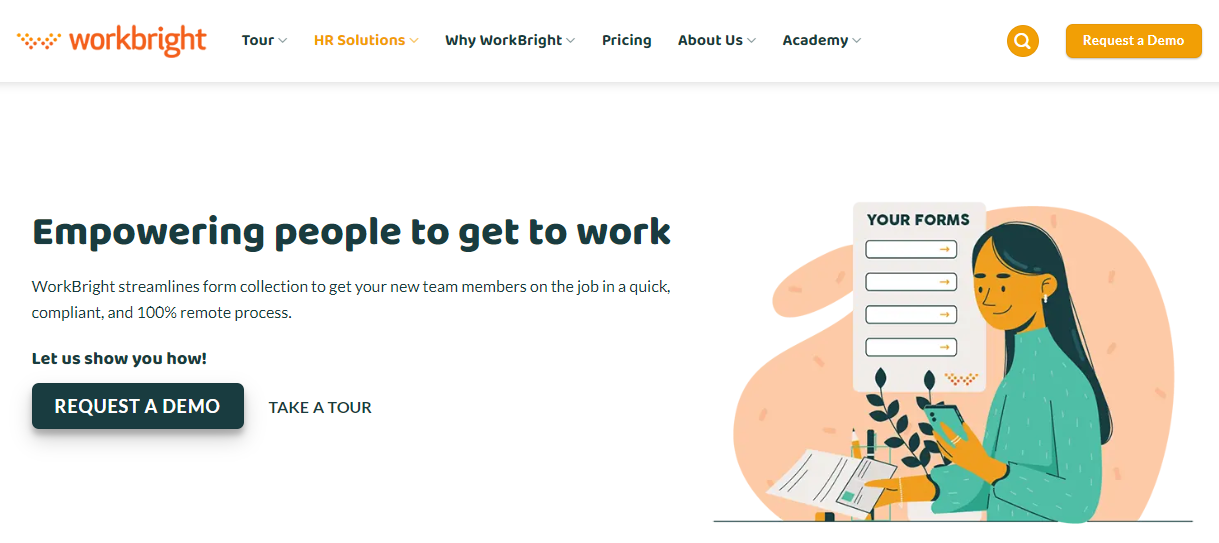 Workbright provides mobile-friendly onboarding solutions to mid-to-large-size companies.
With this platform, you can send forms online, get e-signatures from employees, and verify documents.
Employees can fill out I-9 forms electronically and sign contracts via a self-service portal. With an image-capturing tool, they don't need to feed minute details manually. Workbright's OCR tech automatically extracts relevant information, reducing the chances of data entry errors.
Every uploaded document is recorded and saved to let you revisit and review them anytime you want. As the software works on desktops, tablets, and smartphones, you can access the files from anywhere.
Workbright also delivers an applicant tracking system to assist with recruitment. It features your job post to 500 boards and offers multiple screening methods to shortlist candidates.
Core Features
Onboarding.
Remote 1-9 forms submission.
E-verification.
Image capture tech.
Applicant tracking system.
Mobile-friendly.
API integration.
Price
Workbright's monthly prices start at $178. You can also purchase individual features as a standalone product.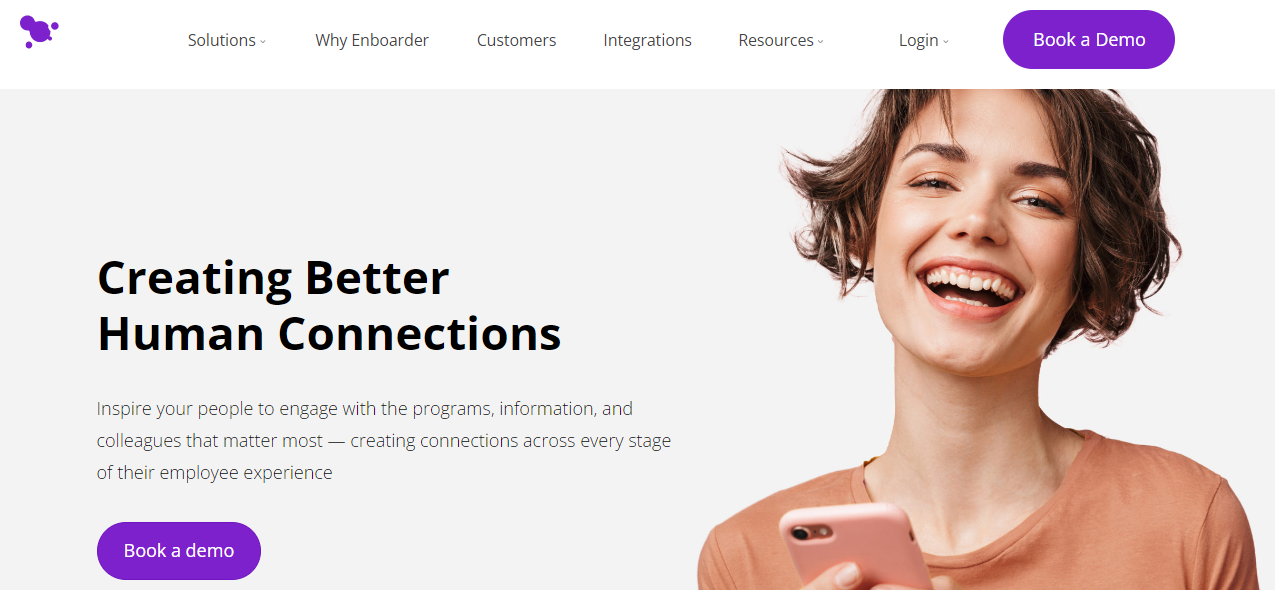 Enboarder focuses on the human connection side of the onboarding process.
It's an employee engagement platform that helps you deliver the personalized onboarding and offboarding experience to new hires.
You can create virtual orientation workflows, send equipment provisions digitally, and keep in touch with relevant parties to ensure your new employee's first day goes smoothly.
Via its builder, you can design an interactive learning program for training and development.
Other things you can do with Enboarder, include transitioning remote employees back to the office and overseeing the handover-takeover process.
You can integrate Enboarder with your HIRS, Slack, and over a dozen other third-party apps to expand your functionalities.
Core Features
Employee engagement platform.
Virtual onboarding.
Transition and offboarding journeys.
Learning and development.
Team communication.
Integration with third-party applications.
Mobile friendly.
Price
Enboarder shares prices on request. Book a demo to learn more about it.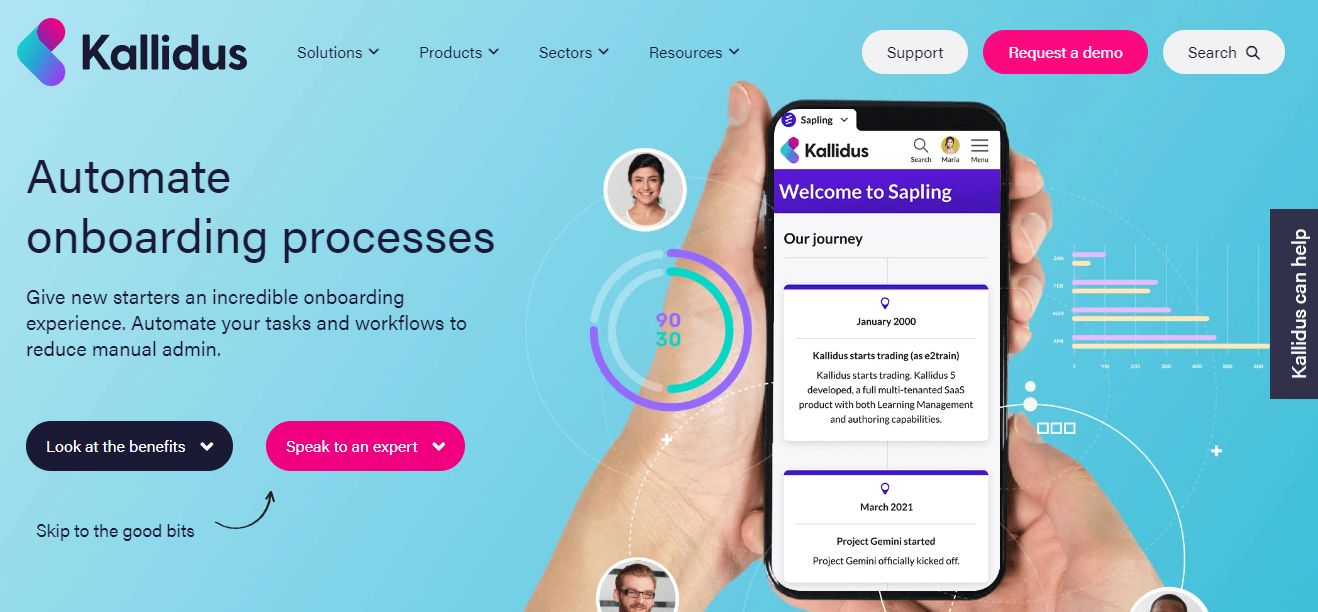 Sapling enables you to automate your onboarding and offboarding process.
You can digitalize your entire orientation process, so your team doesn't waste time on admin tasks and focus on delivering an amazing onboarding experience to new employees.
Some key capabilities of Sapling are; custom workflows, auto-assigning, integration with third-party applications, and data management. With its intuitive dashboard, you can keep an eye on the onboarding progress, monitor check-ins, and track departmental changes.
You can connect Sapling with your ATS to synchronize the data and add Slack to centralize your communication. The platform works with over 40 third-party applications.
Core Features
Onboarding and offboarding.
Organization chart.
Self-service portal.
Emails and alerts.
Data management.
E-Signature.
Employee time-offs.
Third-party integration.
Price
Kallidus provides prices on request. Book a demo to get the quotes.
Silkroad offers enterprise-level onboarding solutions.
The platform covers almost every essential stage of the employee cycle, including workflows for rare events like mergers and acquisitions.
You can create onboarding workflows to save time and set reminders to track tasks. Once you start the process, the app automatically sends reminders to the relevant department to complete their assigned tasks without your input.
With a branded portal, you can connect with your employees, easily receive official documents and deliver the first-day guide for a smooth induction process.
Core Features
Enterprise-grade onboarding and offboarding.
Documentation and e-signatures.
Workflow automation.
Policy management.
SMS and email service.
Time-offs, promotions, M&A, and offboarding.
Employee portal.
Multi-language support.
In-house consultation.
Price
Silkroad provides quotes on request. Contact sales to get details.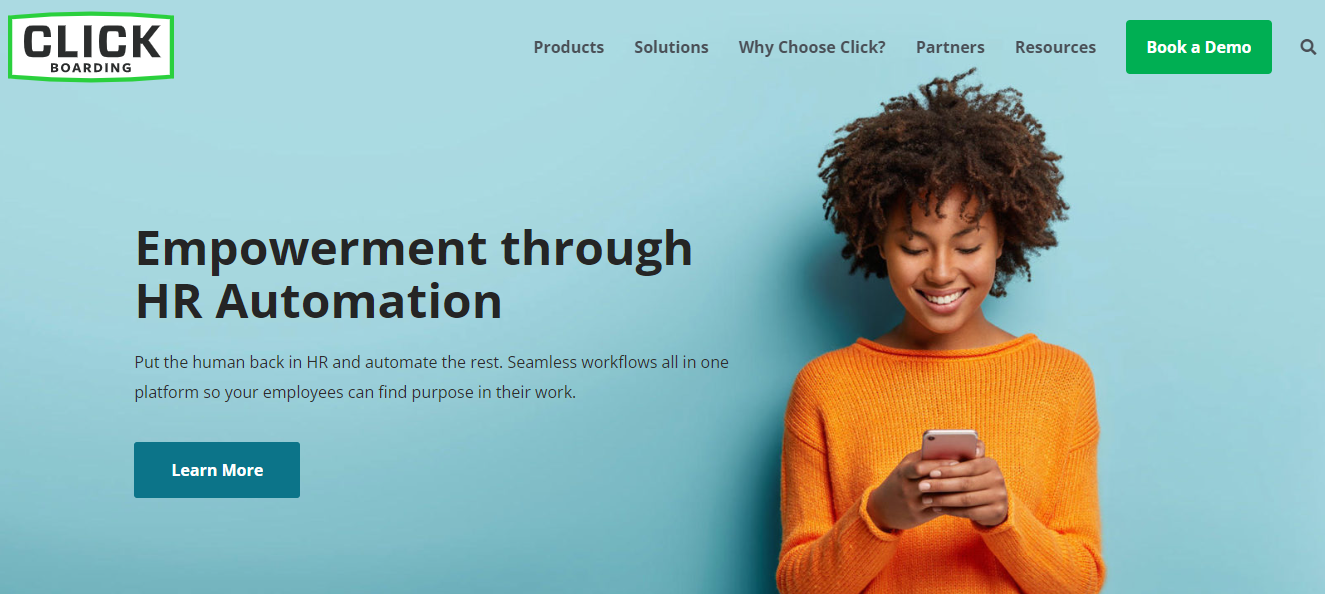 Click Boarding delivers a diverse range of human resource products, including preboarding and onboarding. Using both tools, you can digitalize the paperwork, initiate the orientation process online, and welcome new hires to the company.
With its self-service portal and in-app communication channel, you can share your company's guidelines and keep in contact with your new employee to make sure they settle into their role with less friction.
If you have any difficulty operating the software, you can purchase Click Boarding's value-added services and get assistance with the initial setup.
Core Features
Preboarding and onboarding.
Workflow automation.
Document verification and e-signing.
Virtual orientation.
Self-service.
Mobile friendly.
Integration and API.
Dedicated manager.
Price
Click Boarding shares pricing details on request. Book a demo to explore the platform.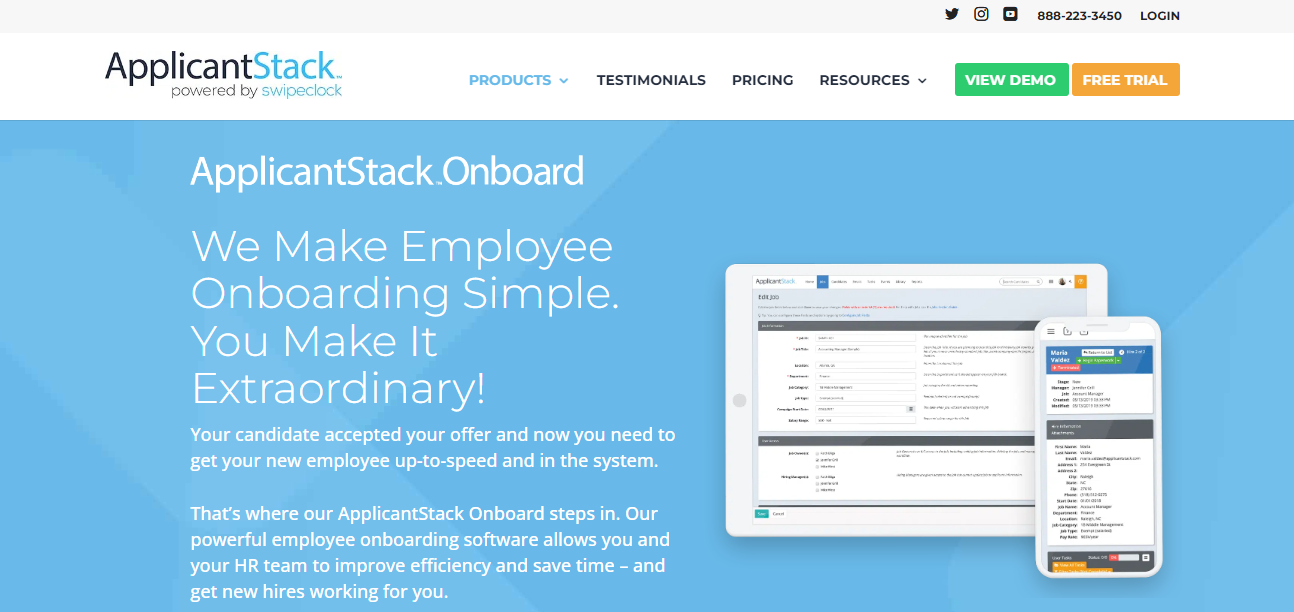 ApplicantStack provides an intuitive platform to make the onboarding process quick and smooth.
With its ready templates and mobile-friendly hiring portal, you can quickly start the onboarding process online and get signed documents from new employees. The template library contains all the standard form templates but allows you to upload your own forms as well.
You can create a task checklist, track the documentation progress, and upload training videos or supporting documents to deliver your company's information. Via text and emails, you can stay connected to new employees and guide them throughout the onboarding process.
ApplicantStack also offers a recruitment platform to post jobs and screen candidates. You can purchase both products in a bundle pack to streamline your workflows.
Core Features
ATS and onboarding.
Documentation and e-signatures.
Employee engagement.
Workflow automation.
Tracking and reporting.
Self-service portal.
Integration with third-party apps.
Mobile friendly.
Price
You can purchase the onboarding tool as a standalone product. It costs $105 per month.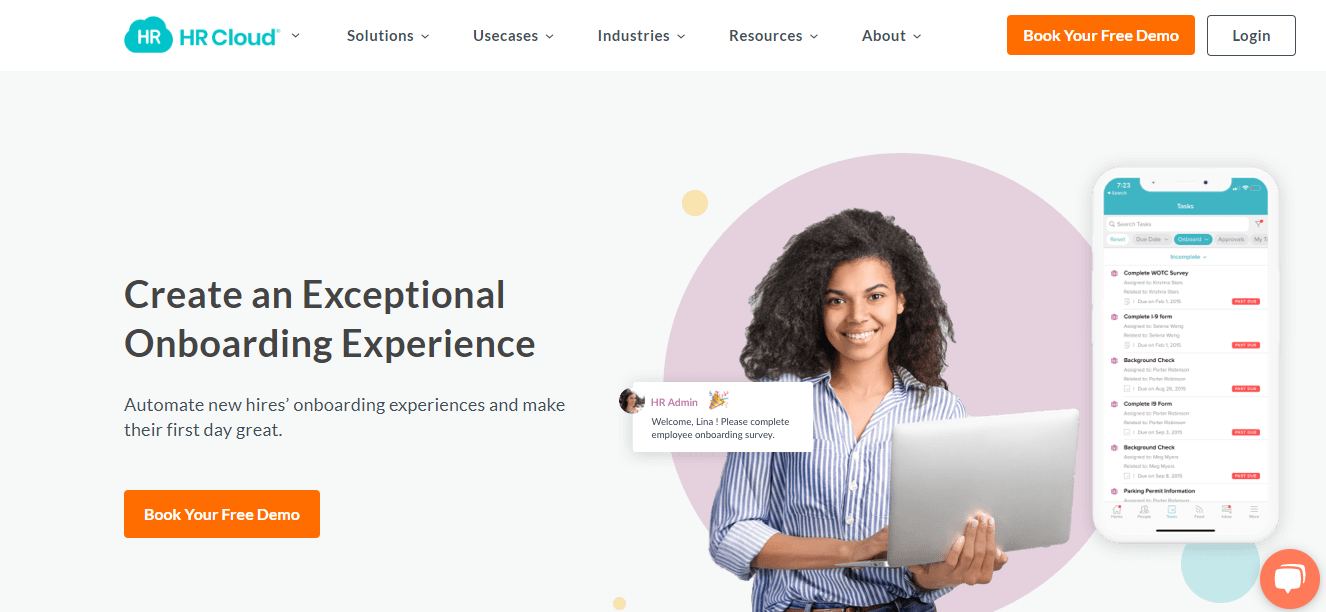 HR cloud's onboarding product helps you handle the paperwork online. With this software, you can design custom workflows, send fillable forms, get e-signatures, and track the onboarding process.
You can build branded portals for new employees, set up an approval system to assign tasks, and create a checklist to oversee each stage.
Employees can edit their profiles for record keeping and submit documents remotely via the self-service portal.
With background checks and an e-verify program, you can automatically collect, cross-check, and process the paperwork.
I recommend checking out HR Cloud's website for details. They have summarized the software in a visual journey to clarify its features.
Core Features
Onboarding.
Custom workflows.
Org chart.
Self-service portal.
Employee directory.
Tracking and reporting.
Document submission and verification.
E-signature.
Integrations and API.
Multi-device support.
Price
HR cloud shares three packages, but the prices are not listed on the website. Book a free demo to get the quotes.
Conclusion
When shopping for the onboarding software product, you should look for solutions that best fit your company's needs.
Many platforms, as shown above, come with additional functionalities like offboarding and transition management tools to help organizations streamline their workflows.
While they are not part of an onboarding program, they might still be ideal for companies wanting to further improve their processes.
I recommend making a list of your requirements for comparison to make the best decision. Good luck!