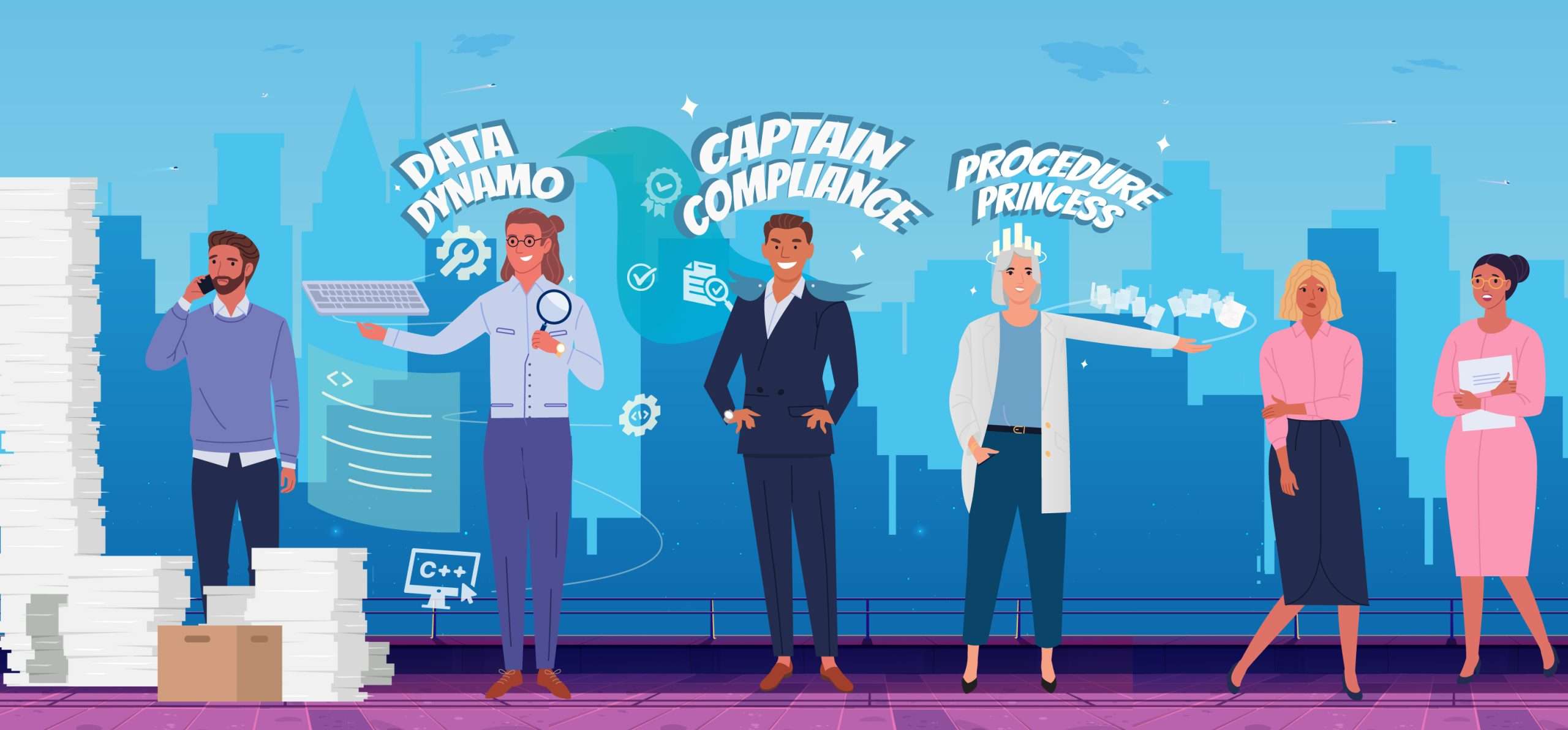 Many startups and small companies initially keep manual records of Standard Operating Procedures (SOPs) to implement standardized processes in the workplace and create a guideline for employees.
But as the business grows, the entire documentation method becomes unmanageable at some point, causing operational problems and costly mistakes.
SOP software is a good investment for organizations that struggle to organize and upgrade procedures.
With a good SOP tool, they can build a centralized database and establish standard training workflows for the new staff.
What is an SOP Software and What Features to Look for
Standard Operating Procedure (SOP) software provides you with tools to create, store, and share procedures and policies.
It is a highly efficient app through which you can build a company's library to make SOP files accessible to employees.
Top Features to Look for in SOP Software;
Knowledge base.
Editor to draft procedures.
Options to share files.
Permission roles.
If possible, some automation to create workflows.
In this article, I have reviewed the 12 best SOP software products for you. Explore their features and prices to find the ideal app for your company.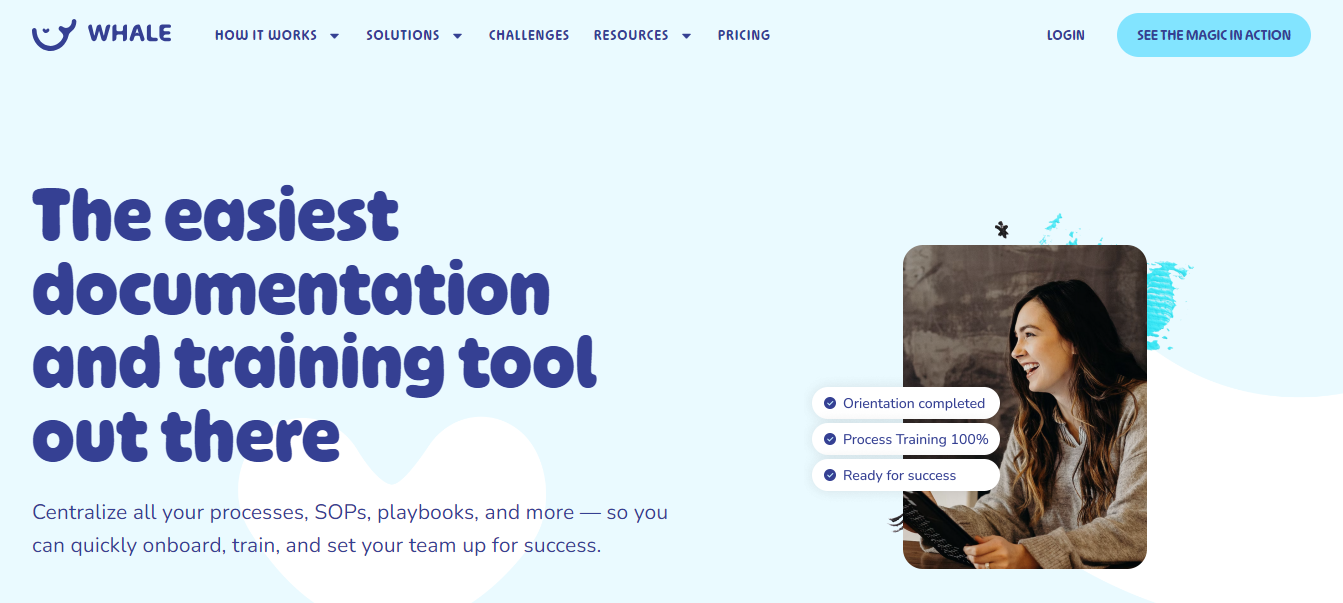 Whale helps you digitalize the standard procedures and automate orientation and training.
You'll receive around 100+ pre-defined SOPs templates and a built-in screen recorder to create videos of your work processes.
For employee training, you can develop step-by-step flows to deliver the learning material systematically and automate your workflows.
To organize files, you can categorize your SOPs and set permission levels to control content access.
The software allows Slack and Google integrations, which makes it easier to store and share SOPs.
Core Features
Documentation.
Manual templates.
Screen recorder.
Workflow automation.
Gamification.
Permission roles.
Tracking and analytics.
Third-party integrations.
Browser extension.
Price
Whale basic plan costs $5 per user, and the Growth plan's price is $10 per user.
You can request custom quotes and include all the features in your plan. Non-profit organizations can also get 20% discounts on the purchase.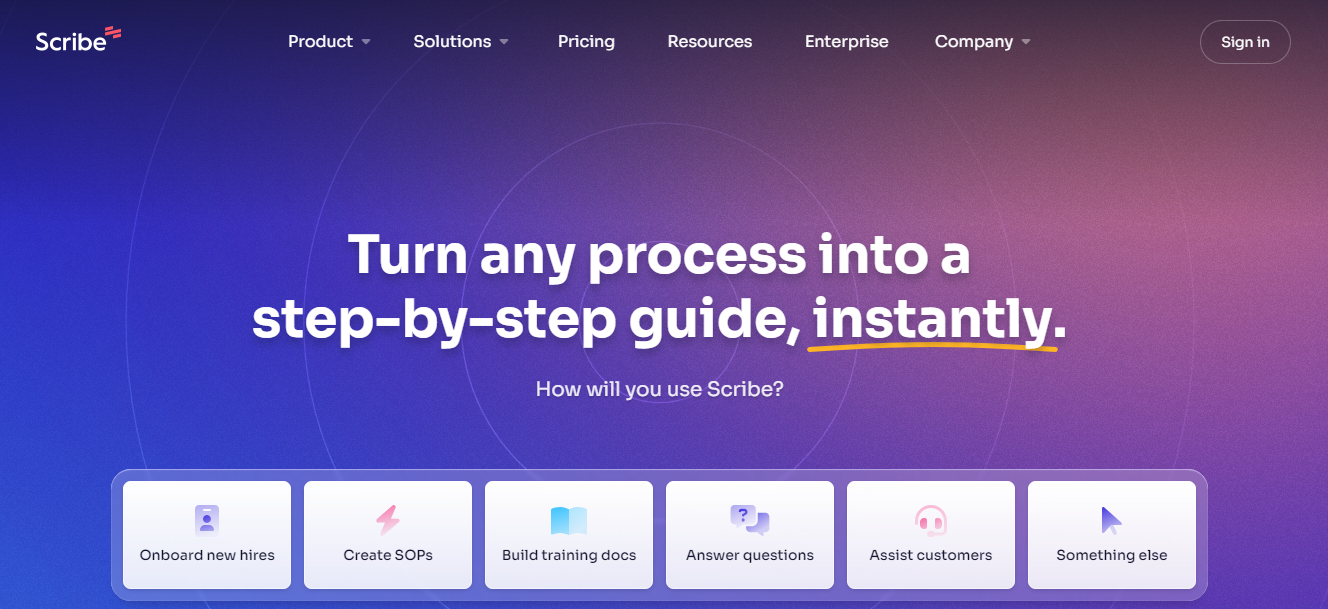 Scribe is best for visual guides.
It provides a browser screen recorder that captures desktop activities and automatically generates a step-by-step guide for employees.
That means you can convert any online process into a manual with Scribe.
You can also automatically create SOPs, policies, and quick technical tips through its AI assistant.
The software is easy to use and allows file sharing via a link or PDF export.
And if you already have a knowledge base, you can embed the SOPs into your library. Password protection is included in the package.
Core Features
Web capture.
Auto-generation of SOPs, policies, and manual.
Tutorial editing.
PDF export and shareable links.
Workspaces.
Approval workflow.
Custom branding.
Admin control.
Third-party integrations.
Price
You can sign up to Scribe for free. Its premium package's price is $25 for individuals and $15 per user for teams.
You can ask for an enterprise solution.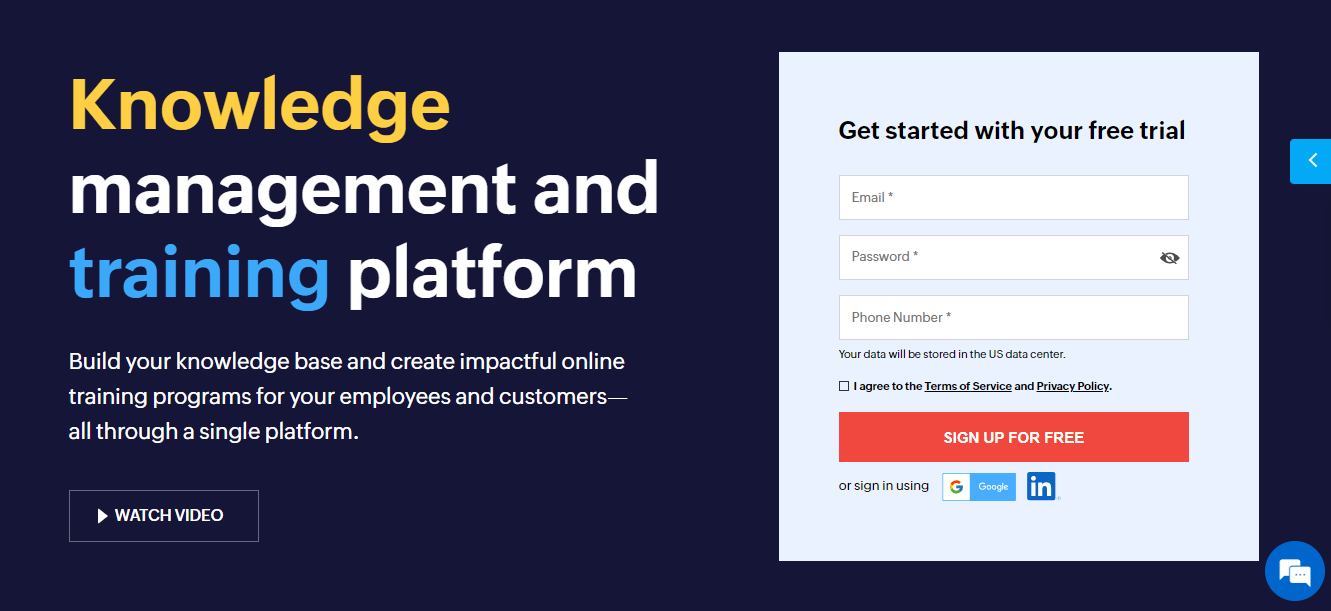 If your company uses ZOHO for operations and finances, you don't have to look elsewhere for SOP management.
ZOHO offers an application called "ZOHO Learn" that helps you build a knowledge base to store SOPs and training courses.
You can publish step-by-step procedures for each job and set up permission levels to allow access to limited people.
If you frequently work with third parties, you can generate a shared link with an expiry date and send handbooks or instructions to the outside party.
With ZOHO's collaborative tools, you can work with multiple people on policy drafting and create custom templates for different departments.
Core Features
Knowledge base.
Step-by-step SOPs.
Co-authoring.
Templates.
Shared links.
Admin control.
LMS for training courses.
Tracking and analytics.
Integrations.
Android and iOS apps.
Price
ZOHO charges $1 to $3 per user.
You can sign up for free.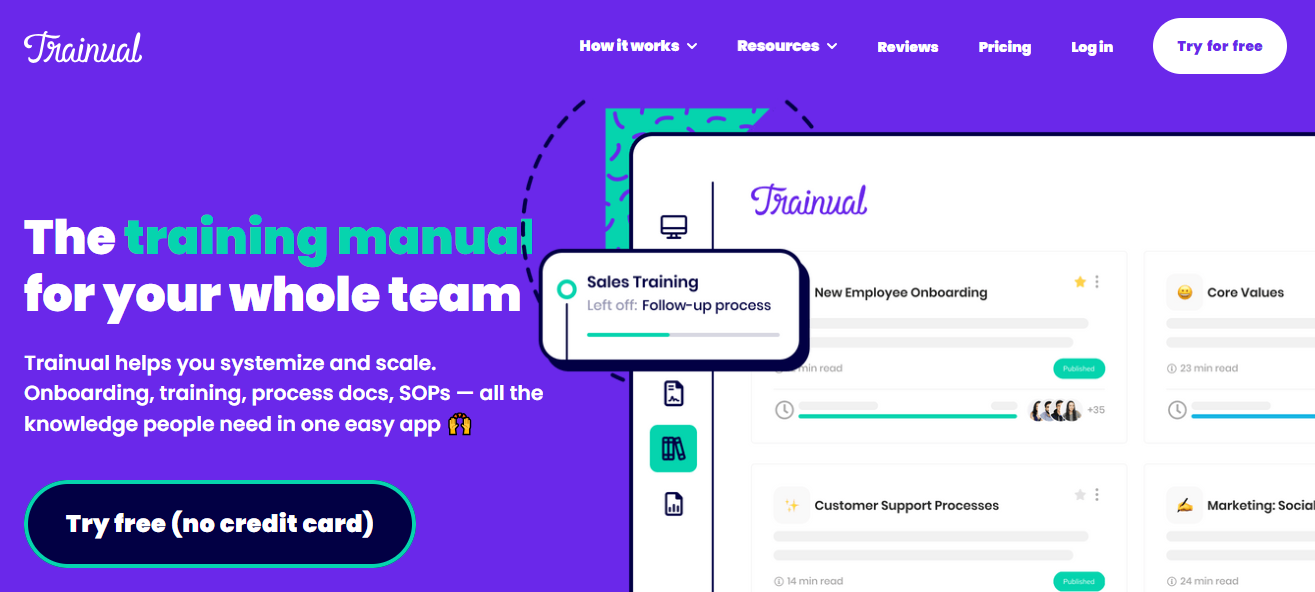 Trainual is a one-stop solution for orientation and process documentation.
It provides free templates, a screen recorder, and an AI-text generator to simplify SOPs management and help you digitalize the onboarding workflows.
You can store all your company policies and procedures in one place and convert SOPs into learning materials to improve the completion rate.
To make sure your employees follow the instructions, you can include assessment tests in the orientation process.
You can also build organizational charts and team directories.
It enables you to define your employees' roles and responsibilities, so you can timely identify hiring and promotion needs.
Trainual comes with a browser extension and a mobile app.
Core Features
Documentation.
Built-in screen recorder.
Templates and an AI-text generator.
Org chart and employee directory.
E-signatures for policy approval.
Training, tracking, and reporting.
Content sharing.
Roles for teams.
Integrations.
Browser extension and mobile app.
Price
Trainual monthly subscriptions range between $10 and $15. You can take a 7-day free trial.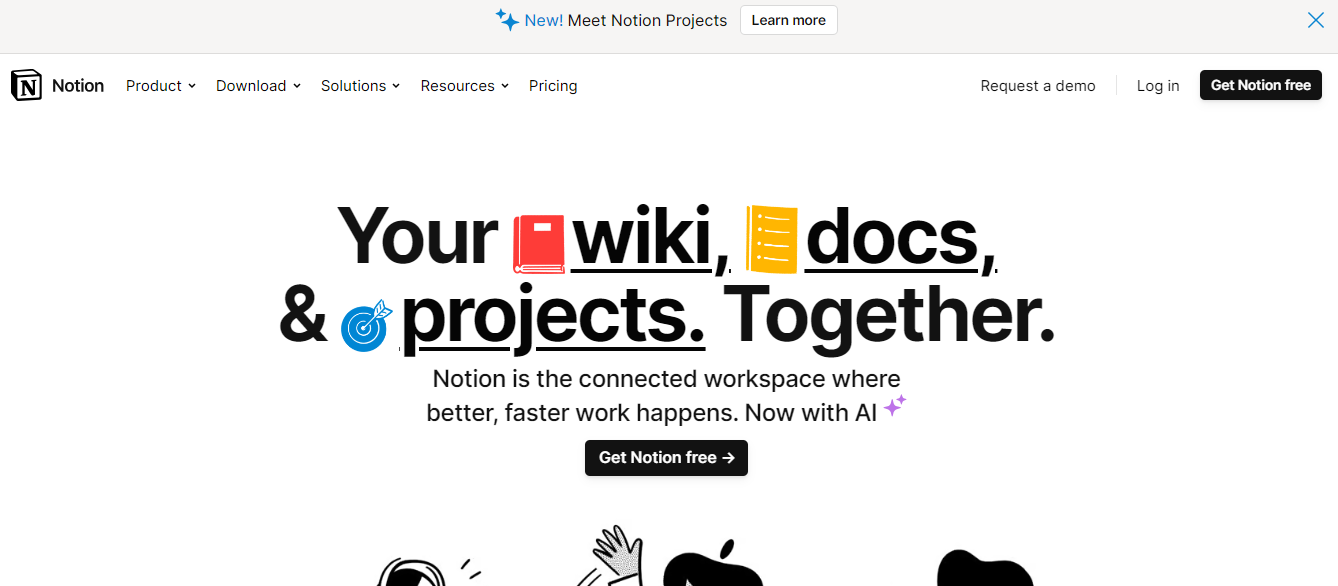 Notion has a lot of useful features for project and document management.
You can handle and monitor your team's tasks here, collaborate on documents to brainstorm ideas, and store files for employees.
One of Notion's core functions also involves creating Wiki pages for SOPs.
You can build a knowledge base for teams and publish all your SOPs, policies, and instructions there.
Your employees will also have a place to share their work knowledge with others.
With Notion Wikis, you can centralize your company's policies and easily share instructions in a group.
Core Features
Open and private workspaces.
WIKI pages for SOPs.
Doc storage.
Kanban board for tasks.
Slack integrations.
PDF export.
Analytics.
Admin control.
AI-assistant.
Price
Notion's basic plan is free, and its premium packages range between $8 and $15.
You can ask for custom quotes.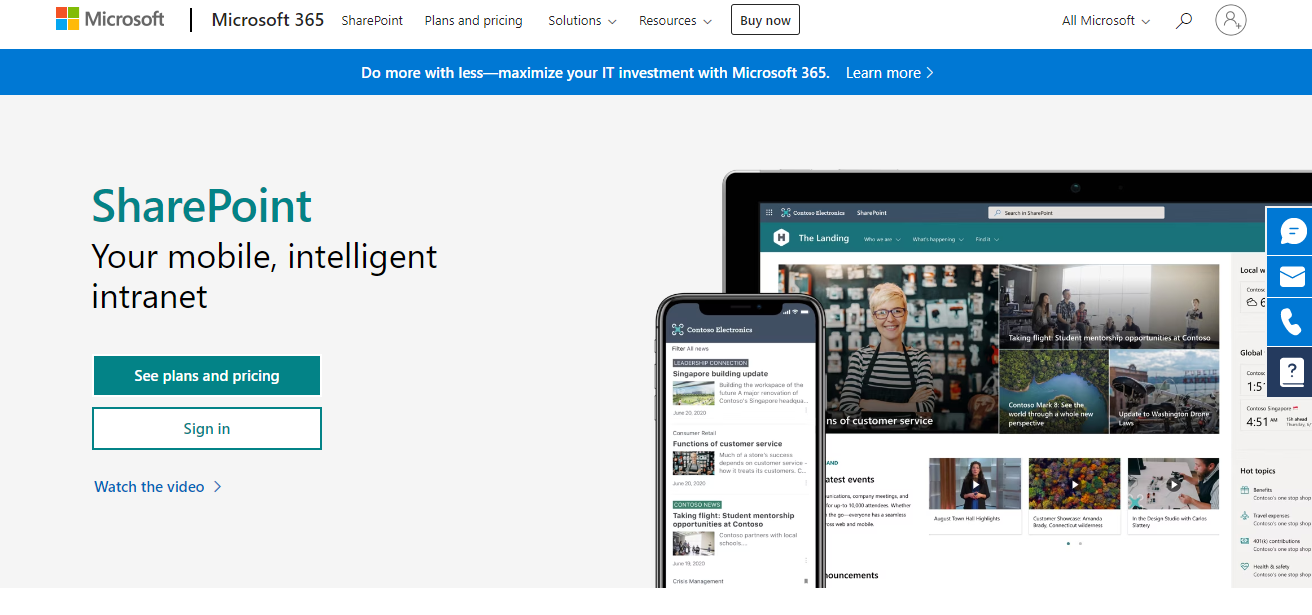 SharePoint is a Microsoft product that delivers a cloud content management solution.
You can use this tool to create a database for your employees to give them easy access to SOPs, learning material, and company files.
Some key capabilities of SharePoint are; content organization, file sharing, access control, and data loss prevention.
You can allow members to co-author procedures and later lock the content to restrict editing.
If you purchase its advanced plan, you will be able to connect over two dozen Microsoft applications.
This would enable you to collaborate on projects and automate your workflows.
Core Features
SOPs organization and storage.
File sharing.
Co-authoring in real-time.
Team sites for collaboration.
Search filters.
File syncing for offline view.
Access control.
Desktop and mobile versions.
Integration with other Microsoft apps.
Price
Sharepoint per-user prices range between $5 and $23.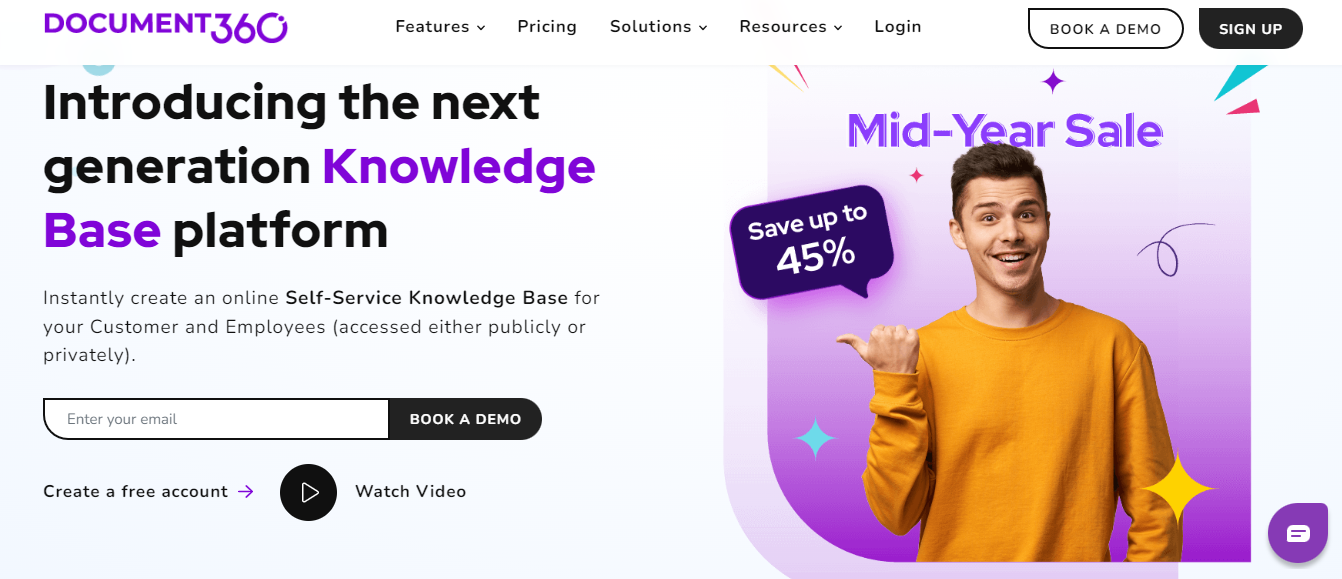 Document360 promotes itself as a knowledge base for help guides, but it can be a great tool for SOPs management as well.
You can use it to build a private database for your company to store employee handbooks, SOPs, and technical documents on the cloud.
Your employees will be able to access the essential information via the self-service portal and export files for offline reading.
They will also get the option to post comments and share additional information.
If you want to protect sensitive documents, you can set up IP restrictions to prevent unauthorized access.
Core Features
Self-service knowledge center.
User-friendly editor.
Content library.
Data privacy.
Landing pages and branding.
Permission roles.
File export.
Analytics.
Third-party integrations and API.
SaaS and private hosting.
Price
Document360 provides both SaaS and private hosting services. The cloud packages start at $159, while private hosting services can be tailored to meet your business needs.
You can take a 14-day free trial.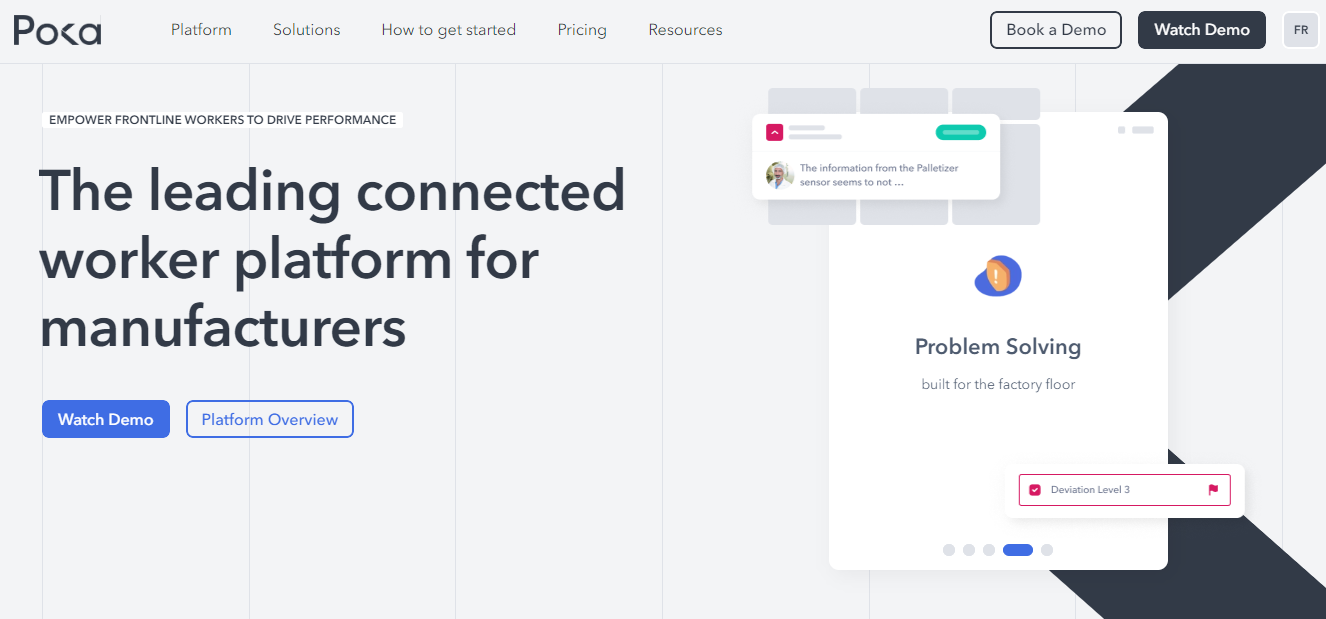 Poka is specifically designed for the construction business. It helps you create SOPs, daily tasks, and issues management workflows.
You can build visual instruction manuals for factory workers and develop an orientation and learning course to deliver the basic training.
With its Kanban board and checklist, you can keep track of ongoing and pending tasks and audit your staff work online.
Your employees can access training material, share operational problems, and interact with others.
Via the factory feed, you can post announcements and product news to keep everyone updated.
Core Features
Knowledge base.
SOPs, manuals, and training courses.
Kanban board.
Issue management.
Communication channels.
Permissions and roles.
Checklists for inspections.
Analytics.
Price
Poka prices range between $16 and $22. You can include add-ons to extend your functions.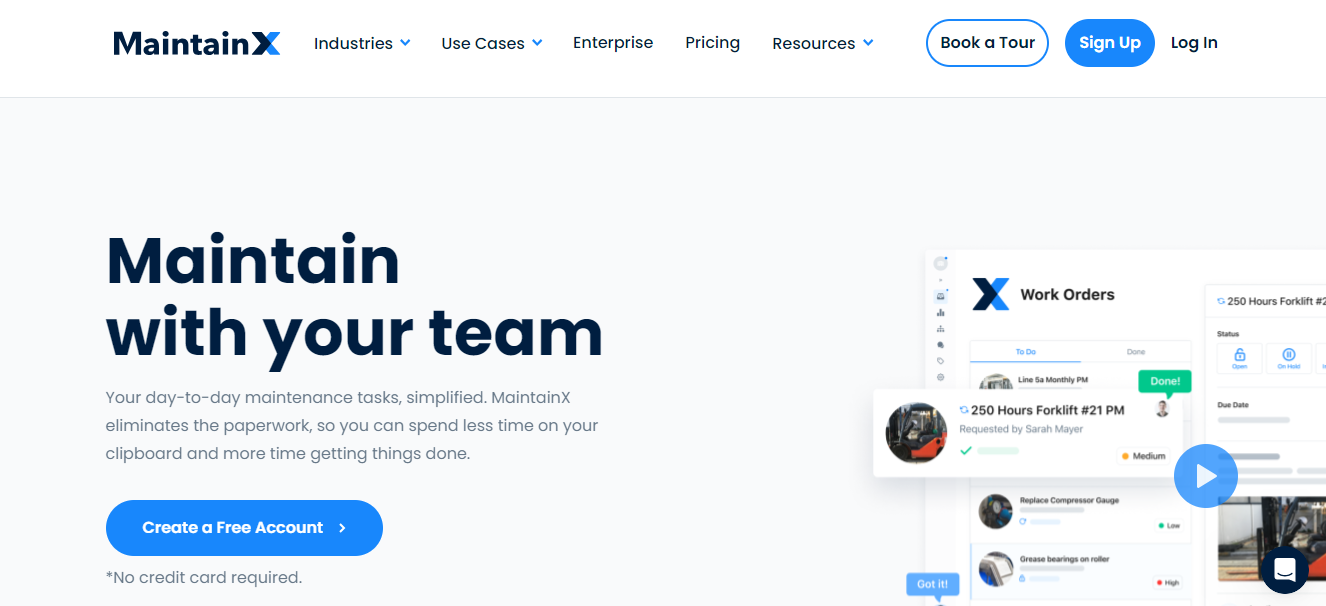 MaintainX is another best app for manufacturing and shift-based businesses. It lets you digitalize daily tasks, SOPs, and checklists so that everything goes smoothly every day.
You can create day-to-day work orders for individual employees and post pre-defined SOPs for the new staff.
Through checklist and inventory management tools, you can set up recurring maintenance inspections and audit your site assets.
Via its built-in chat, you can send time-sensitive instructions and receive operational issues.
One of MaintainX's most appealing features is the conditional logic field. It allows you to embed the If-then field into your procedures to make them dynamic.
The feature is in the beta phase at the moment, but it's available on the free plan, so you can test it before purchasing the subscriptions.
Core Features
Work orders.
SOPs, checklists, and procedures.
Recurring tasks.
Part inventory inspections.
SOPs templates.
Team communication.
E-signatures.
Tracking and analytics.
Mobile app.
Third-party integrations.
Price
MaintainX's basic plan is free, and the premium plans cost $19 to $49 per user.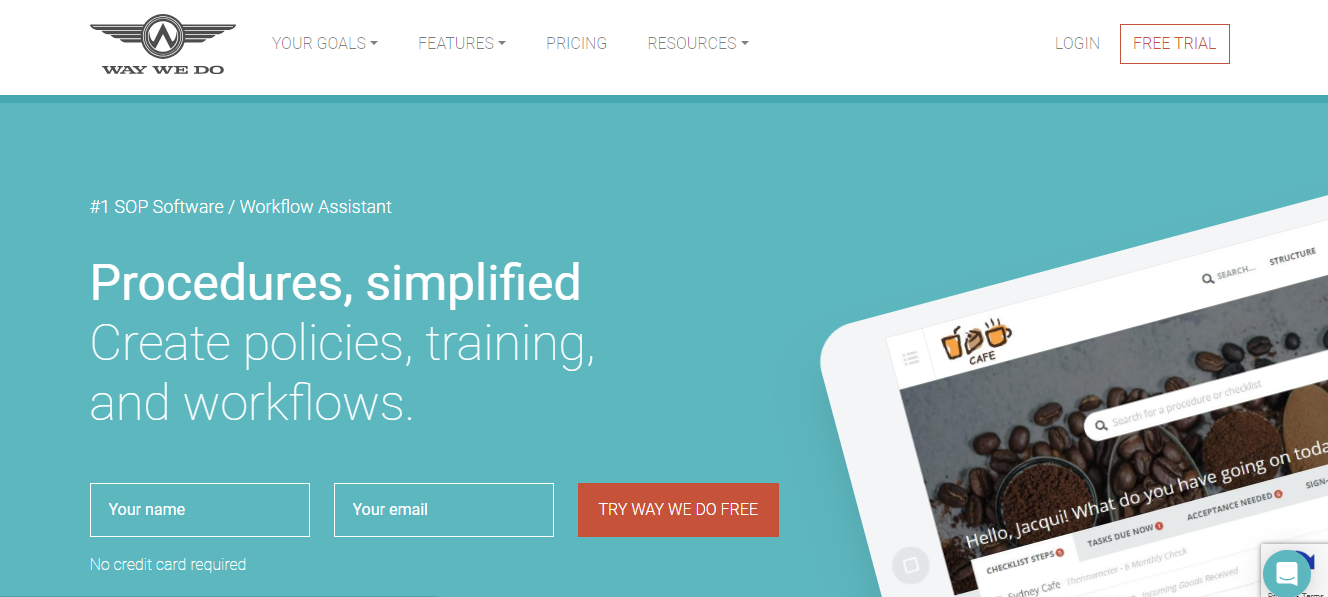 Way We Do is an exclusive SOP software. With this tool, you can write instruction manuals for employees, and automate the tracking.
Some of the core functions you can perform with Way We Do, include drafting policies, creating onboarding checklists, and setting up daily tasks for employees.
Your staff will be able to see their pending tasks, instructions, and reminders via their personalized dashboards.
You can embed visual elements into the procedures to make the information engaging and collaborate with others on the drafts to edit the content.
Through a revision calendar, you can schedule content upgrades to keep your policies and manuals up to date.
Core Features
SOPs drafting and publishing.
Onboarding checklist.
Daily tasks.
Approval workflow.
Revision reminders.
Activity dashboard.
Organizational Chart.
Customization.
Third-party integrations.
Price
Way We Do prices start at $99. You need at least ten members to get started.
You can also purchase in-house services to get outside assistance.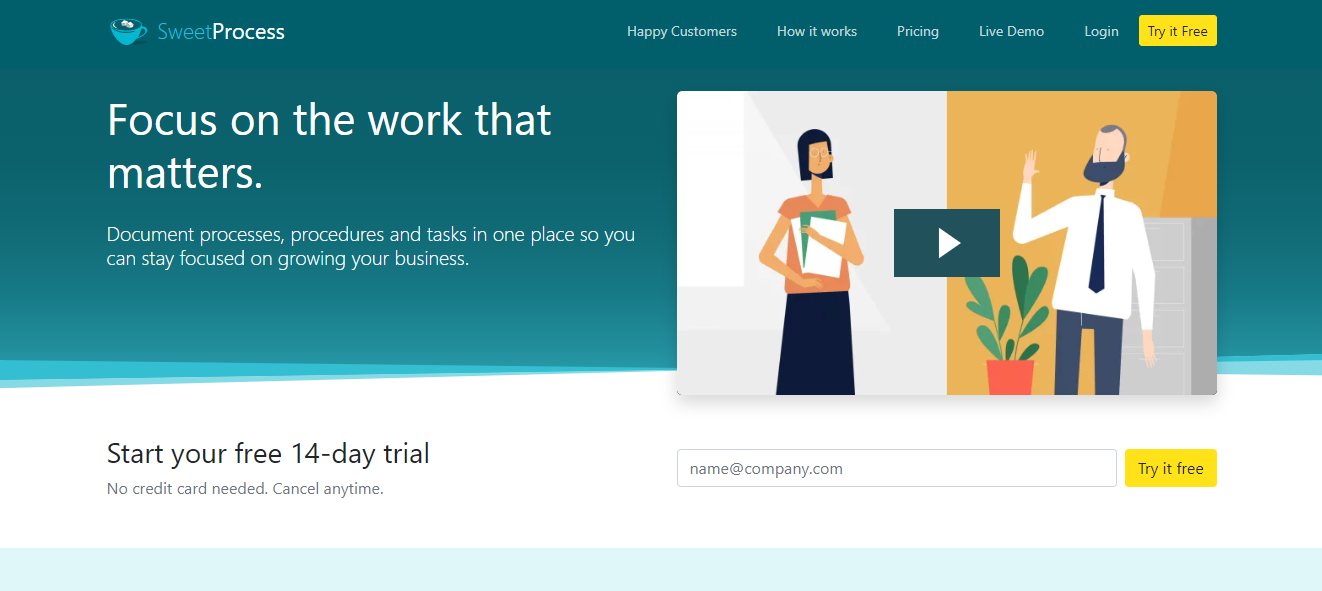 SweetProcess offers a digital platform to build public and private databases.
Here, you can draft policies and SOPs, create multistep workflows, assign tasks, and invite departmental heads for approval procedures.
Additionally, you can automatically generate SOPs via SweetProcess's AI and later collaborate with managers to edit the information.
If your team absorbs visual information better, you can design diagrams and embed videos into your procedures.
Every document you store on SweetProcess can be exported as PDF and viewed offline.
Core Features
Public and private knowledge base.
SOP management.
Team collaboration.
Version history.
AI-assistant.
Visual elements.
Offline view.
Security.
Third-party integrations.
Price
SweetProcess charges $90 for 20 members and $5 for every addition.
You can get custom quotes for a small team.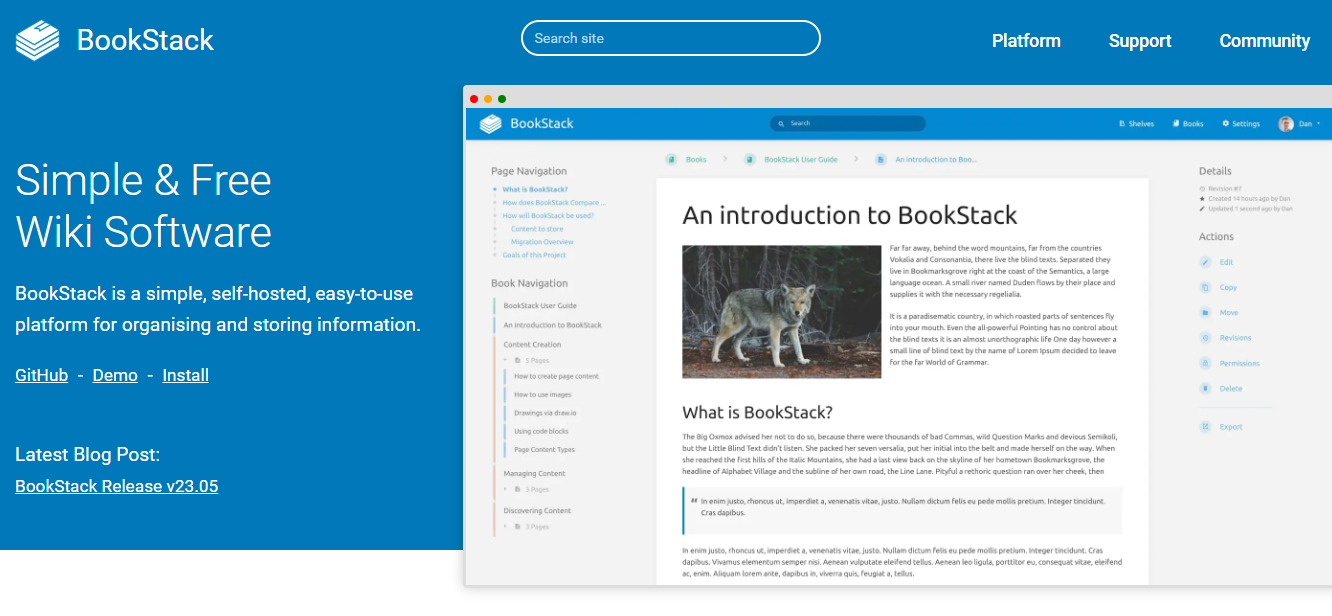 BookStack is ideal for small business owners who want an effective yet affordable way to manage SOPs.
It's an open-source documentation platform that provides a WYSIWYG editor to create online SOPs, policies, and processes. 
You can break down your content into chapters and add password protection to control access.
Users can quickly find relevant documents through search filters and turn on dark mode to make the reading experience pleasant.
If your employees speak diverse languages, you can translate the SOPs into 40+ languages and add diagrams to make them digestible. 
Overall, BookStack can be an excellent SOP software for someone with a basic tech background.
Core Features
Open-source.

Wiki pages.

WYSIWYG editor.

Multi-factor authentication 

Customization.

Dark and light themes.

Search filters.

Multi-lingual.
Price
BookStack is free to use and offers several installation options. Check out the setup guide to learn more.
Conclusion
One of the best ways to find the right SOP software for your company is to shortlist tools based on their usability.
Most SOP apps share all the essential features. Some just deliver more advanced functionalities.
Pick the most relevant tools and try their free trial. That should give you a good idea to make a quick purchase decision. Good luck.