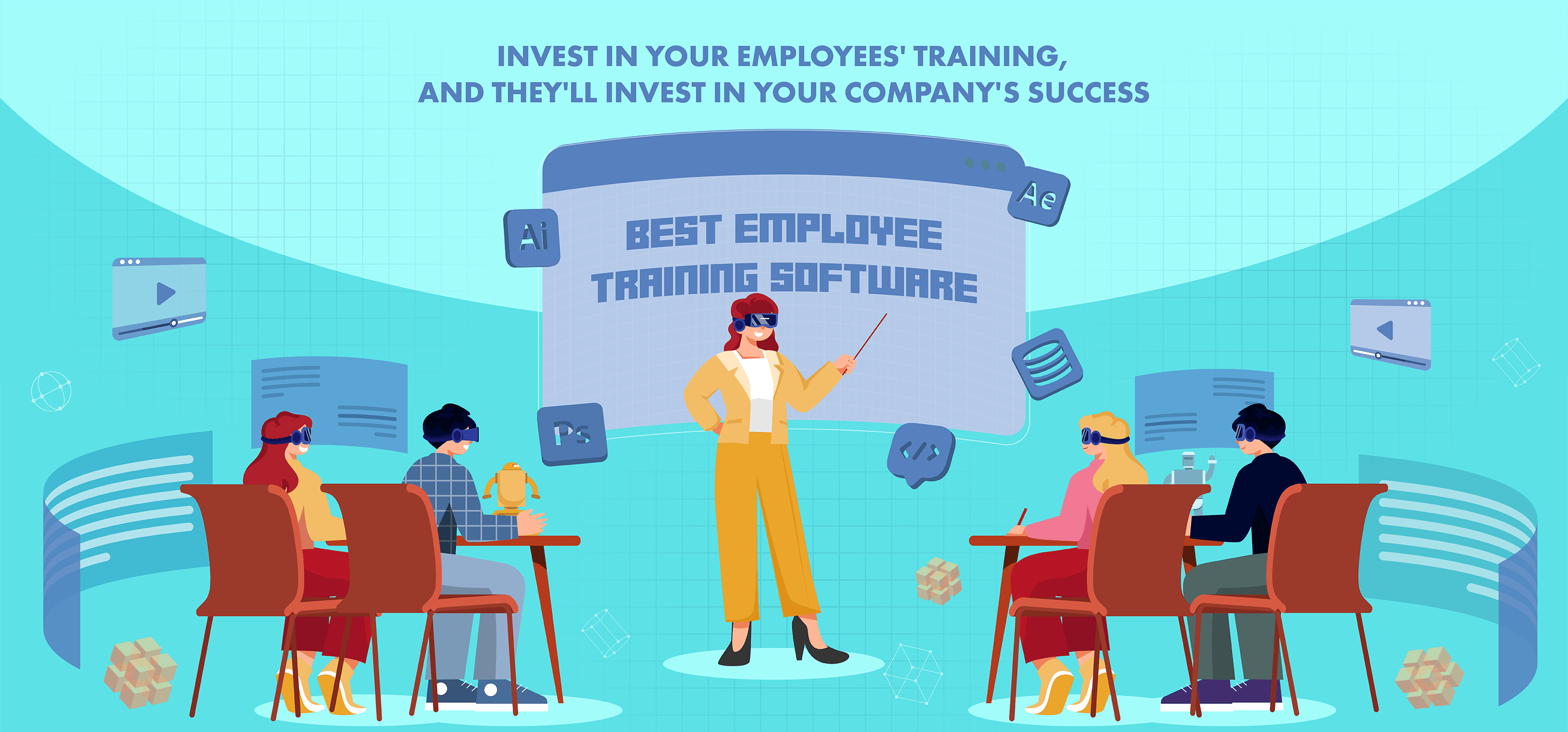 Employee training platforms offer you the right tools to build efficient learning and development programs for new hires and existing teams.
Through these apps, you can optimize your onboarding processes, train your staff remotely, and oversee their training.
In this article, I have reviewed some of the best employee training software. The list covers SaaS, on-premise, and mobile-friendly apps.
Let's explore them.
What is Employee Training Software and What Features to Look for?
Employee training platforms are typically LMS or learning experience applications that are used to implement a virtual corporate training program in an organization.
They help you produce online courses for your staff and develop a proper tracking system, so you can gain more visibility into your employees' training.
Key features to look for in a training app include;
Authoring tools to design courses.
Gamification features.
Tracking and reporting.
Multi-device support for accessibility.
Integrations with other applications.
Some software products also provide social learning features for informal training. If that's what you need for your program, you should look for platforms that share collaborative tools as their core functions.
Check out the below list to find the apps that best match your requirements.
WHALE allows you to create a knowledge center for new hires.
The software delivers an AI editor and over 100 templates to produce SOPs, company policies, and onboarding programs.
Using the screen recorder and document import option, you can build video courses and upload learning material to train new employees.
You can automate your program with training flows and offer a Chrome extension to make the content accessible.
The amazing thing about Whale's extension is that the tool comes with AI-powered suggestions.
If you request someone for a particular procedure or ask for a policy, Whale automatically extracts relevant SOPs from your knowledge base and recommends them via the browser extension.
Core Features
Knowledge base.
100+ policy templates.
AI-assistant.
Orientation and training.
Engagement elements like quizzes.
Chrome extension.
Reporting.
Integrations and API
Price
Whale charges around $6 to $18 per seat, depending on the selected plan. You can take a free trial to test the software.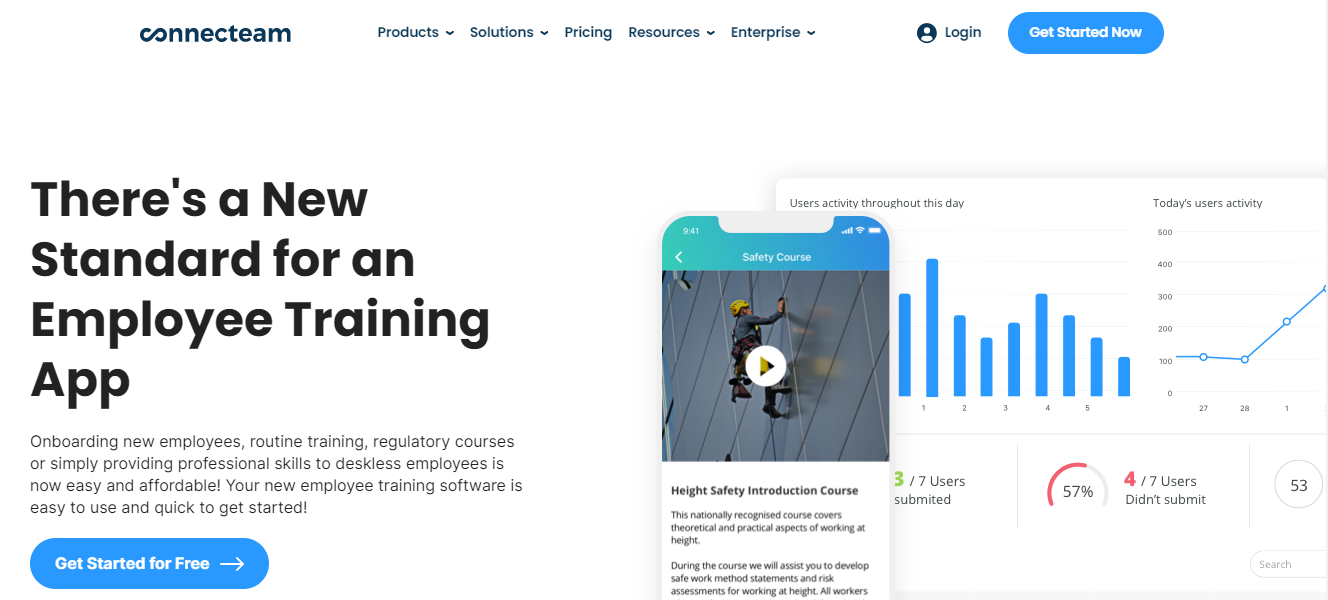 Connecteam is a comprehensive employee management platform that delivers a set of products to handle different HR functions.
One of its products offers a training app that allows you to develop courses and build a knowledge base for your company.
You can create as many courses as you want and save the best designs as templates for reuse. For in-person training, you can book sessions in advance and set up workshops around your team's schedule.
Other notable features you'll get in the package include; a timeline tool to evaluate your team and incentives to reward employees.
Core Features
Knowledge base.
Onboarding training.
Session scheduling.
Tracking and analytics.
Feedback surveys.
Evaluation and rewards.
Time-off management.
Mobile app.
Price
Connecteam charges $35 to $119 for its HR product. Its basic plan is free to use.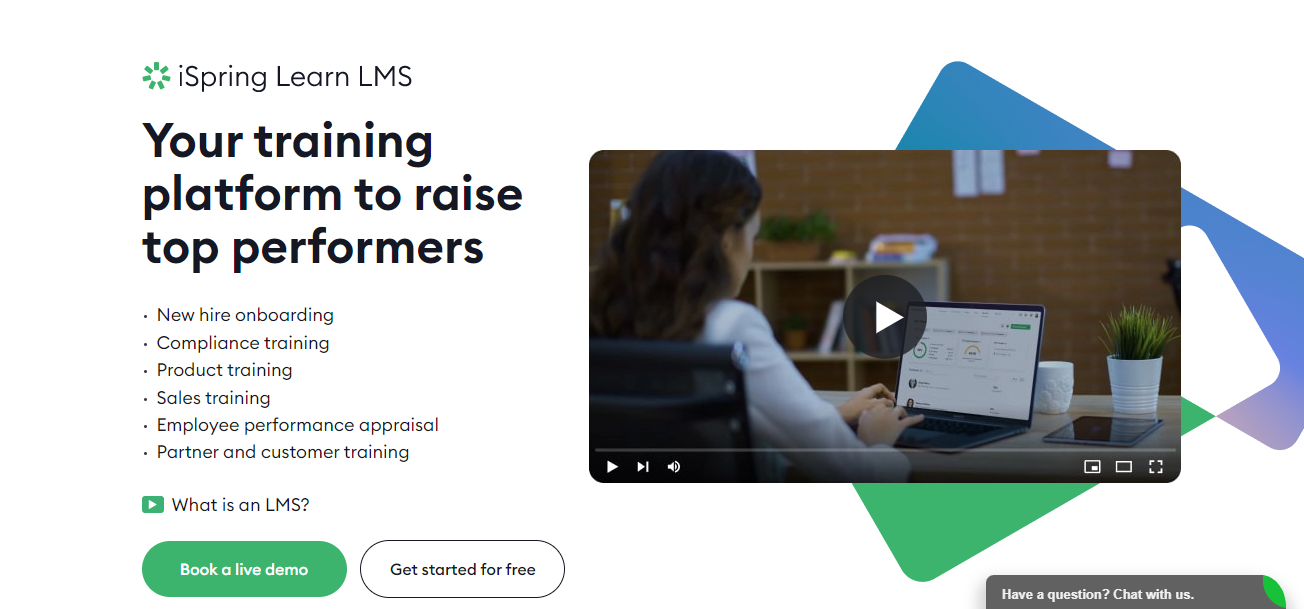 iSpring delivers a course builder and workflow automation tools.
Via its course builder, you can create interactive lessons with role-play simulation and assessment quizzes to make your training program constructive and engaging.
With workflow automation and admin roles, you can assign training programs to team leads and let them handle their team progress.
iSpring also has an excellent performance appraisal system. You can evaluate your employee's capabilities and knowledge through manager, peer, and self-reviews. The data helps you identify weak areas and build your training courses accordingly.
Core Features
Interactive courses.
Customization.
Training management.
User roles.
Reporting and analytics.
Performance appraisal.
Employee portal.
Integration and API.
Mobile app.
Price
iSpring Learn charges around $3 per user. The software is ideal for companies with a minimum of 50 employees.
You can get self-hosting options as well.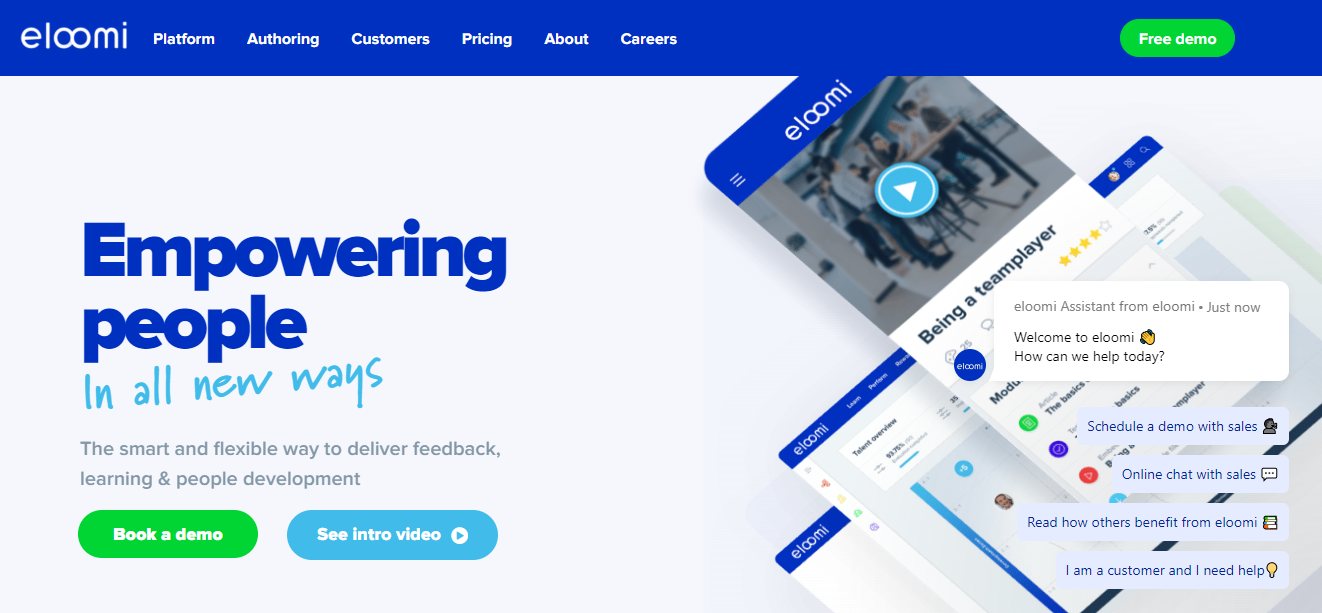 Eloomi is a versatile micro-learning platform. With this tool, you can build onboarding packets, compliance training programs, and skill-development courses.
You'll receive a few templates for quick launch and a course builder to create custom content. To make your content more engaging, you can add gamification features and feedback surveys to your courses.
There are plenty of interesting features you'll find on Eloomi to improve your training program.
For instance, you can set up an evaluation system and create checklists of onboarding tasks to simplify your workflows. Also, you can arrange meetings between managers and employees for 1:1 coaching.
Core Features
Mini Course builder.
Self-service portal.
Customization.
Surveys.
Employee engagement.
Checklists and performance appraisals.
Analytics and reporting.
Multi-device support.
Price
Eloomi shares prices on request. Contact sales for the free demo.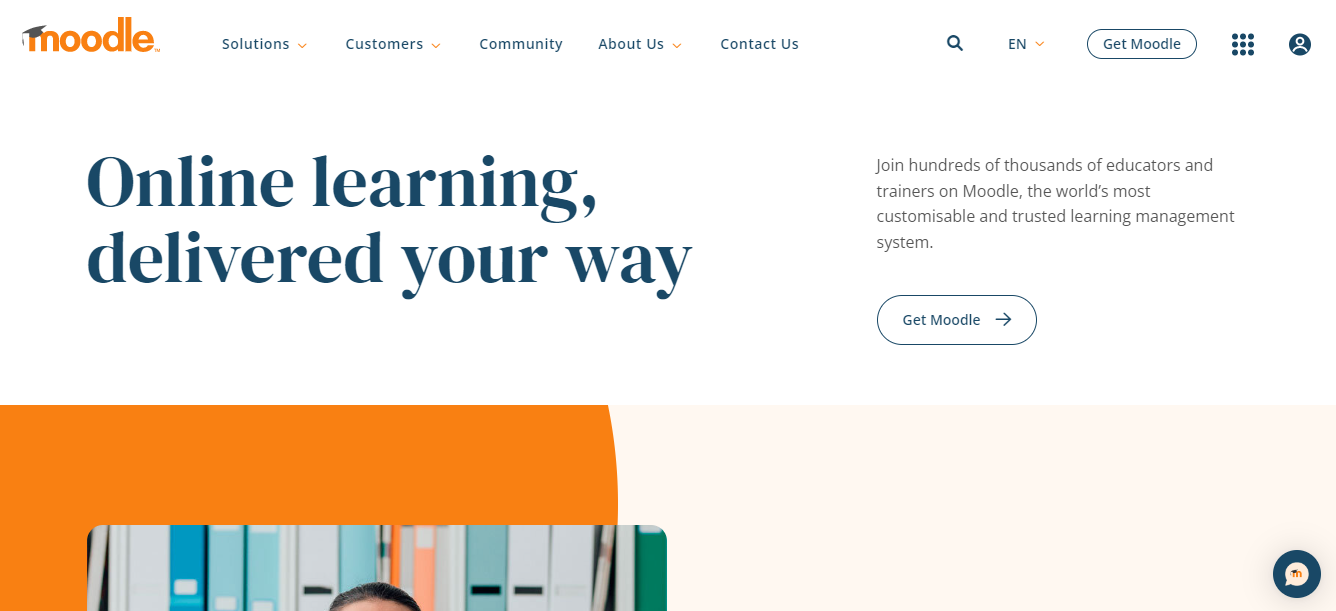 If you have a tight budget for employee training, go for Moodle. It's an open-source learning platform that allows you to create courses for free.
The software is highly customizable and can be tailored to meet your company's requirements.
You can design training courses in multiple languages and add branding to personalize the look. You can also connect Moodle with your cloud drive and Slack app to save your content and communicate with teams.
That being said, you might need developer assistance to use Moodle.
While there's a whole community of members to help you out, if you don't have tech knowledge, Moodle might not be the best option for you.
Core Features
Open source LMS.
Customizable and scalable.
Integrations and add-ons.
Reporting.
Premium cloud hosting.
Multilingual support.
Moodle community.
Mobile app.
Price
Moodle LMS is free to install. For its Workspace product, though, you may have to buy the license. Contact sales to get the details.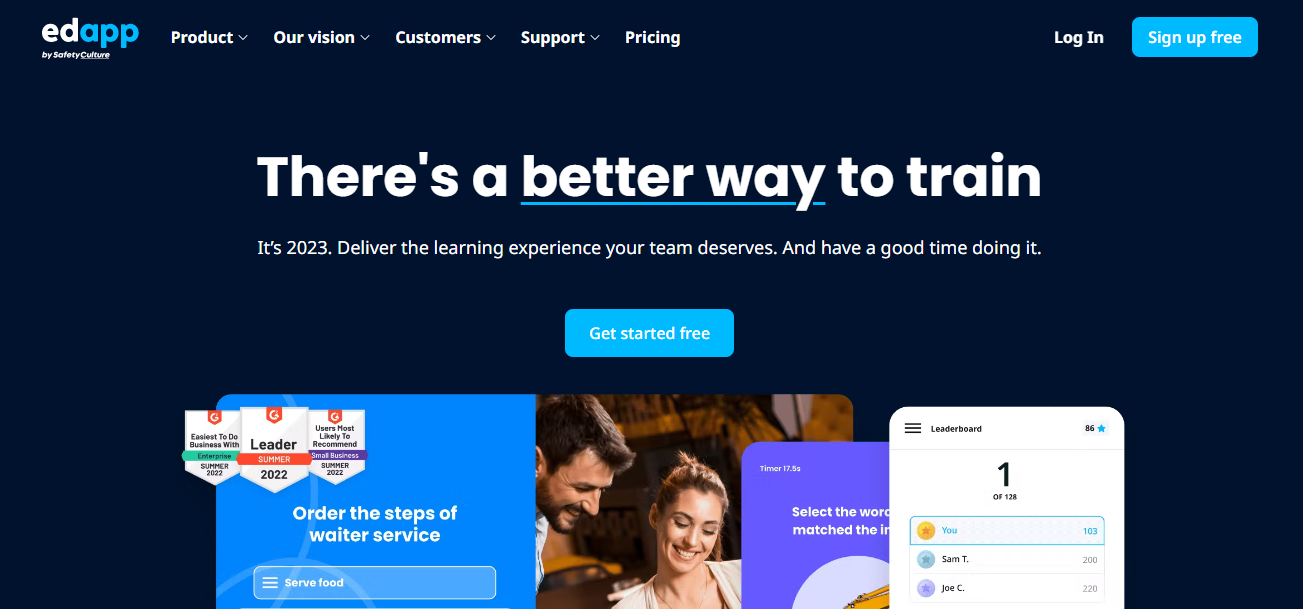 EddApp helps you create bit-size guides, refresher courses, company policies, and short training programs.
For instance, if you have hired someone for logistics, you can design a mini-course on proper package handling and share it during pre-boarding. Or, if you plan to adopt new tech, you can develop a quick "how-to" guide via Eddapp and add quizzes to ensure your employees understand the instructions.
To encourage participation, you can start competitions and offer certificates and gift rewards.
Overall, Eddapp is easy to use and flexible enough for various training courses. In case you need assistance with course development, you can always hire an in-house team and let them design the training content for you.
Core Features
Mobile LMS.
Micro content creation.
Organization.
Social learning.
1000+ course templates.
Gamification.
Custom branding.
Analytics and reporting.
Integration and API.
Price
You can get started on Eddapp for free. It charges $3 to $5 for its premium features.
Eduflow lets you create interactive training lessons and incorporate social learning into your training program.
You can use this tool to produce orientation videos, a peer appraisal program, and skill development content.
The course builder comes with video import, file attachments, and multi-language support, making it easier to design a tailored content library for distributed teams.
Managers can offer their assessment through feedback, and colleagues can anonymously review their peer work.
For your onboarding program, Eduflow shares media upload and tracking features. You can let new hires introduce themselves via recorded videos and monitor each given task to ensure they complete the orientation.
Core Features
Course builder.
Customization.
Peer and manager review option.
Tracking and analytics.
Up to 3 TB storage.
Integrations and API.
Multi-languages.
Mobile friendly.
Price
Eduflow's prices start from $49. You can try it for free and ask for custom quotes.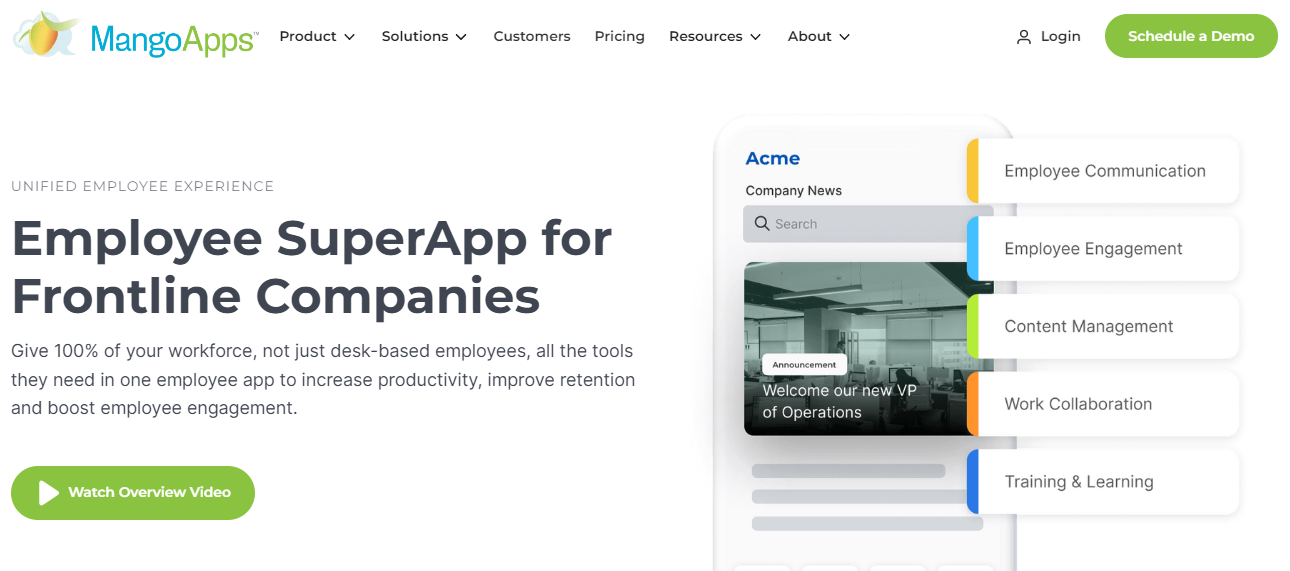 MangoApps is an enterprise-level engagement platform. It provides you with tools to develop a centralized workspace for onboarding, training, team collaboration, and communication.
You can design an orientation program for new hires and create a recourse hub to manage your content. For skill development, you can set up re-certifications courses with reminders to make sure your team keeps their skills sharp.
MangoApps also allows you to build department or project-based social groups. Through these discussion channels, you can invite teams to share practical knowledge, gathering a wealth of information for future employees.
I do want to mention that its training and content management are part of the package. The plan contains a lot of other features related to team collaboration. So, if you are looking for a versatile platform, go for Mangoapps.
Core Features
Employee onboarding and skill development training courses.
Groups for social learning.
Gamification.
Content and communication hub.
5GM storage per user.
Permission levels.
Integration and API.
Branding mobile app.
Price
MangoApps shares prices on request. Book a demo to learn more about it.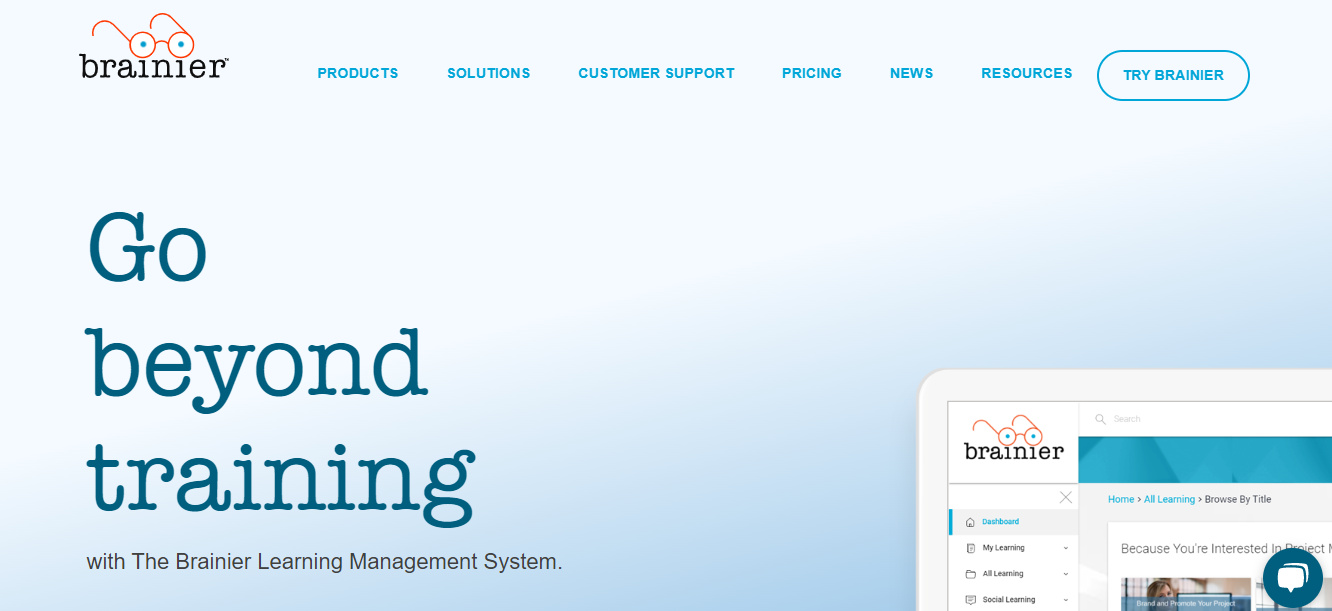 Brainier offers a scalable learning management system for corporate training programs.
You can create multiple user groups to represent departments, design personalized courses for different roles, and generate in-depth reports.
Employees will have the flexibility to access the courses from their smartphones and change their dashboard look to see relevant information only. Via collaborative tools, gamification features, and communication channels, you can create an excellent learning experience for teams.
What makes Brainier unique is its extensive customization. With this software, you can build a tailored-made training and development program for your company.
Core Features
Personalized courses.
Employee engagement.
Analytics and reporting.
Custom roles.
Multi-language support.
Branded mobile app.
Integrations and API.
Price
Brainier shares prices on request.
Docebo delivers remote training solutions to mid and large-size organizations.
Here, you can create engaging learning materials, translate your content into multiple languages and blend theoretical knowledge with social learning.
Employees can personalize their learning journey, use social tools to connect with trainers, and share their contributions to help out peers.
You will get the option to design both micro-courses for onboarding and comprehensive lessons for skill development. Via the dashboard, you can monitor team activities and identify gaps to implement better learning strategies.
Docebo integrates with over 400 third-party applications and provides a branded mobile app.
Core Features
Course creation.
Content library.
AI-powered tools.
Gamification.
Performance measuring.
Reporting.
Multilanguage support.
400+ integrations.
Mobile app.
Price
Docebo shares prices on request. Schedule a demo to get the details.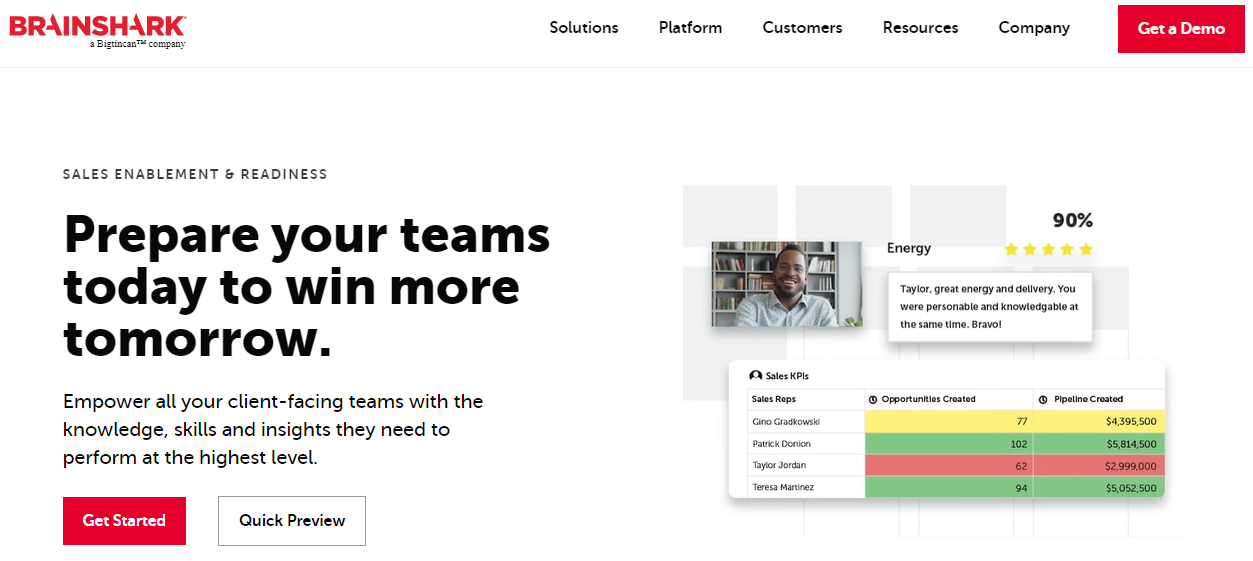 BrainShark helps you train your sales and customer service team.
The platform delivers an authoring tool to create interactive courses and a video recording feature for skill assessment.
With formal courses, informal group activities, and peer reviews, you can make sure your new employees get the best training to adapt to their roles and continue to develop their skills.
To track employees' activities, you'll get visual scorecards, showcasing a summary of all your team member progress. These scorecards give you enough data to measure your training impact on your team's productivity.
You can use Brainshark on desktop and mobile, and connect it with Salesforce, Outlook, and other third-party applications.
Core Features
Interactive courses.
Content library.
Orientation training and certification.
Social learning.
Video and text assessments.
Peer reviews.
Scorecards.
Tracking and analytics.
Integration with third-party platforms.
Mobile app.
Price
Brainshark delivers prices on request. The package details are mentioned on the website.
Looop is ideal for both small businesses and established organizations.
It's a user-friendly platform that comes with a simple course builder, learning pathways, visual analytics, and a mobile app.
You can use pre-built templates to design your courses and add your email or Slack to streamline your communication flow.
Using videos and quizzes, you can measure your employee's performance and issue certificates on course completion.
Looop's most notable feature is its campaign automation. You can create action sequences and add triggers to set your training program on auto-pilot. This function works well specifically for onboarding training and orientation programs.
Core Features
Unlimited content upload.
Workflow automation with advanced rules.
Workspaces.
Slack and other third-party integrations.
Tracking and reporting.
Feedback surveys.
Custom branding.
Android and iOS support.
Price
Looop shares prices on request.
Final Word
While shopping for the best training platform, be sure to check out the software's core features and accessibility.
For example, if you have a small or distributed team, a mobile-friendly SaaS app would be perfect for your need. But, if you work for a large organization or need more system control for privacy reasons, you may want to look for software with on-premise solutions.
Visit the above products' sites to get more details. The sales team can help you make a better purchase decision. Good luck!