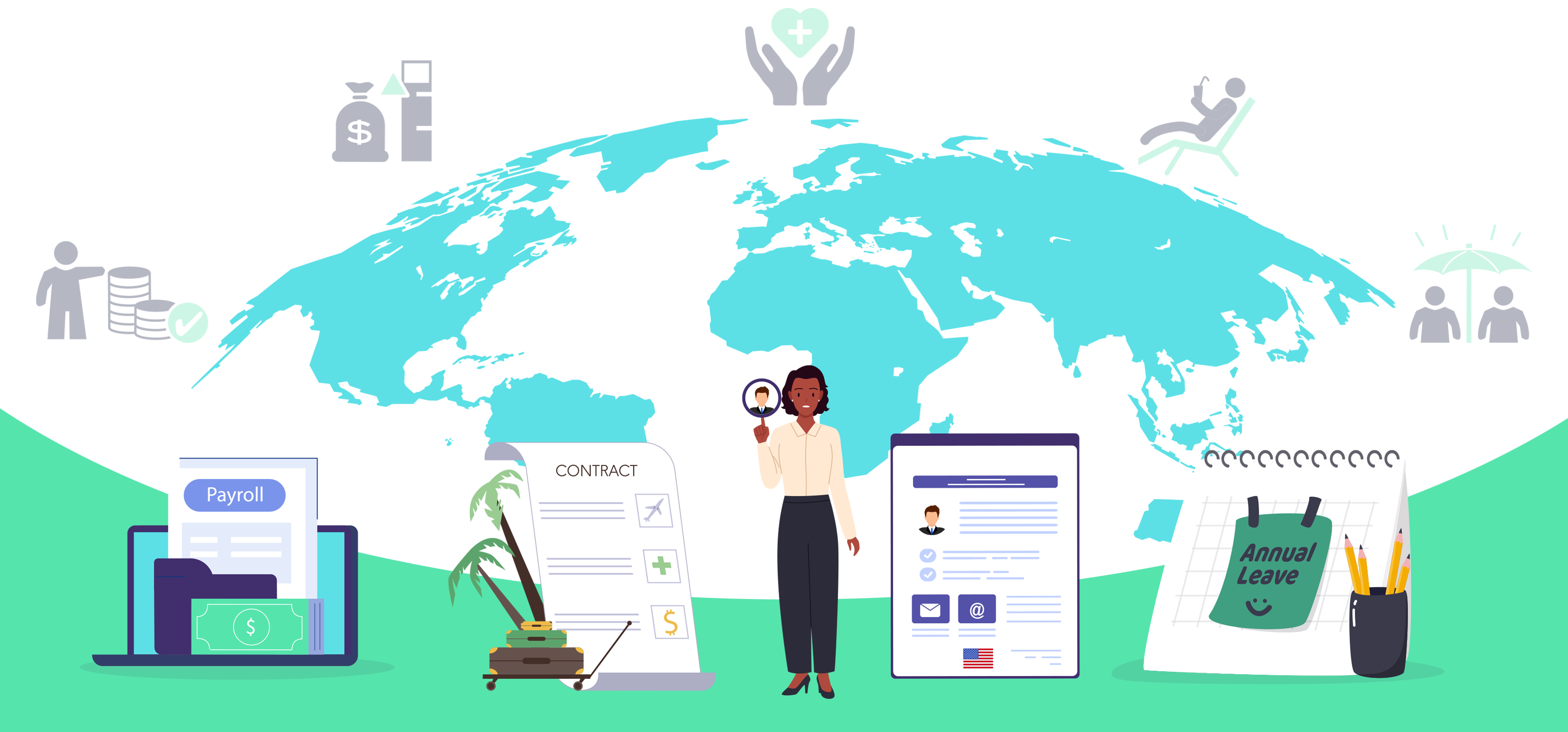 A proper global HR system allows you to handle both local and overseas staff matters from one place.
Through a digital setup, you can centralize core HR functions and easily process recruitment and payroll of different regions.
With the right HR software, you can implement an efficient global system and automate time-consuming and complex jobs.
This will enable you to focus on people and comfortably manage distributed teams.
What is a Global HR Software and What Features to Look for?
Global HR software provides tech and compliance support to help you manage HR processes on a multinational level.
Via automation tools and in-house services, you can legally recruit and pay oversea employees and simplify your workflows.
Key Features to Look for in a Global HR Software;
Onboarding and offboarding.
Compliance support.
Workflow automation.
Reporting.
Training and development (If possible).
Below are some of the best global HR software products. I have kept the list versatile to cover different types of platforms, including EOR services.
Let's explore them!
Oyster is a global employment platform.
It enables you to recruit and onboard overseas professionals, automate payroll, handle benefits and bonuses, and manage expenses and reimbursements.
It's easy to navigate and covers 180+ countries.
You can hire people quickly, send and collect legal contracts electronically, and process all your monthly payments through one invoice. With a cost calculator, you can accurately predict each employee's cost and create your salary packages accordingly.
You can integrate Oyster with your accounting software to sync your payroll data. The platform currently supports ten third-party applications.
Core Features
Overseas employee and contractor hiring.
Global payroll.
Self-service portal for onboarding, management, and offboarding.
Compensation, benefits, and tax handling.
Contract generation.
Workflow automation.
Cost calculator.
Consultations.
Price
Oyster prices start at $29 per month.
You can create your account for free to explore the tools. Oyster will start the billing after you recruit new employees.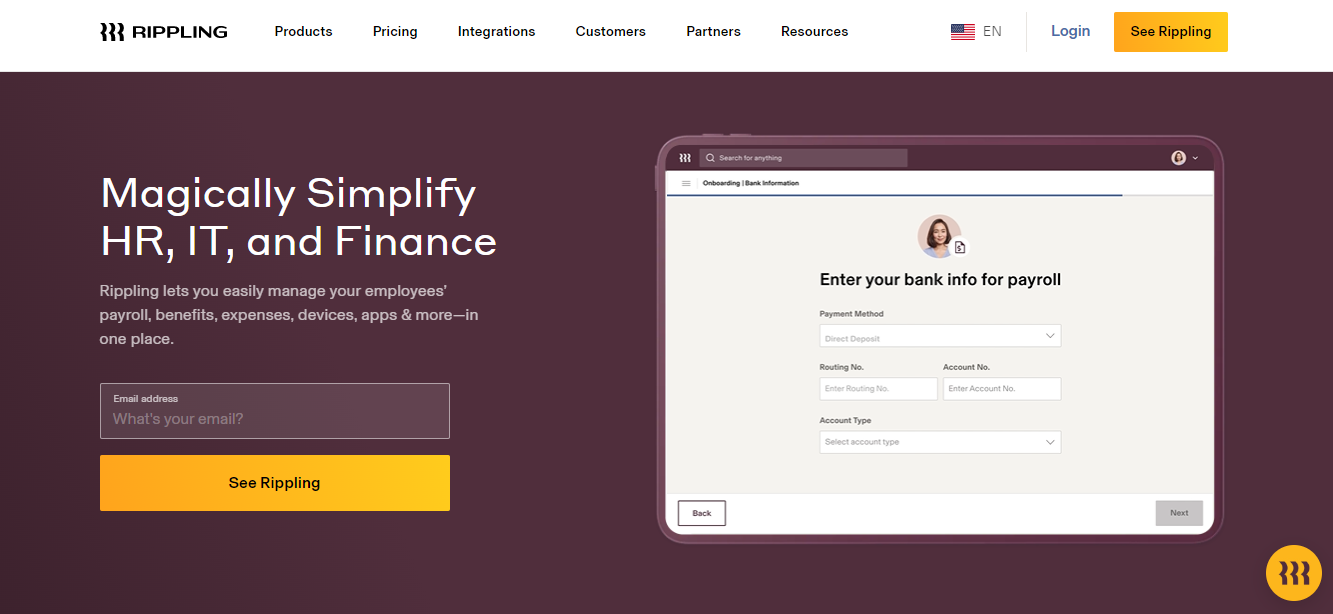 Rippling delivers a unified platform to manage HR, finance, and IT functions together. But it also offers separate cloud software for managers that want exclusive HR features.
The cloud platform covers recruitment, time and attendance, global payroll, and other core HR functions. You can also buy PEO (outsourcing) and EOR (Employer of record) services to allow Rippling to hire and manage payroll on your behalf.
Other two notable functions of Rippling are learning courses and feedback surveys. You can upload training and development content on the platform and run surveys to get collect feedback from employees. They come with workflow automation to simplify things for you.
Core Features
Talent management.
US and global payroll.
Time and attendance.
Benefit administration.
Employee survey.
PEO and EOR services.
Price
Rippling prices per user start at $8. But they may increase with each feature addition. Contact sales to get the quotes.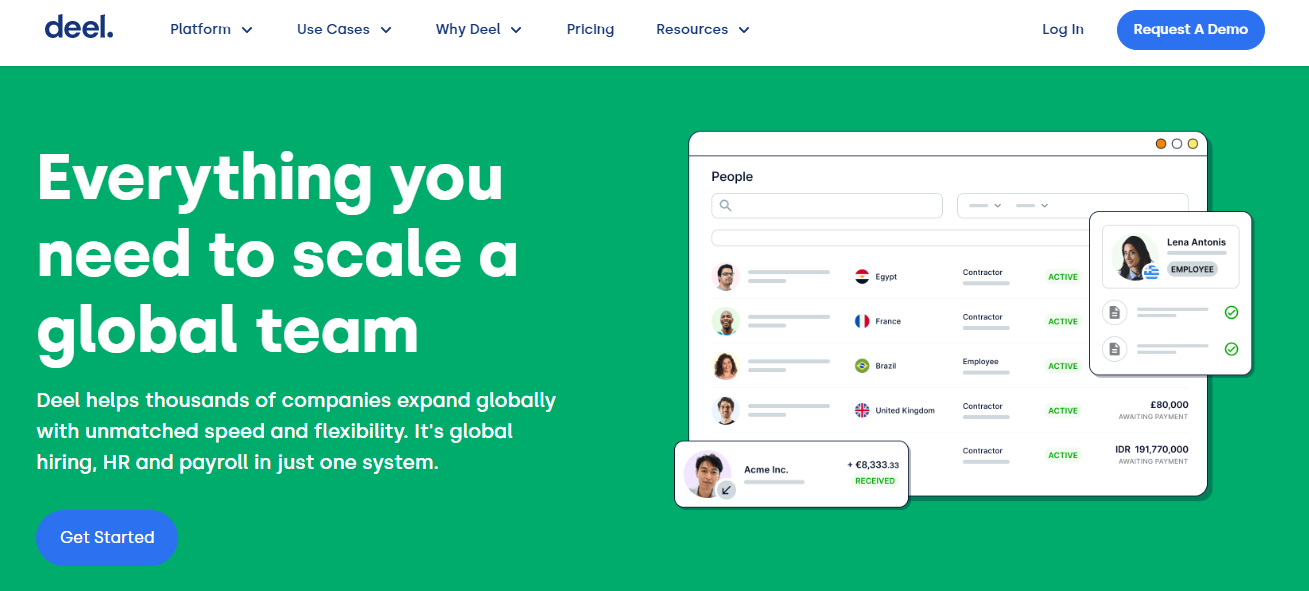 Deel enables you to hire and pay a global workforce.
You can use it to recruit people from overseas, engage independent contractors from 150 countries, and onboard employees you hire through your own resources.
The platform has a self-service portal to collect documents, handle time-offs, create approval workflows, and manage terminations.
If your company provides its own laptops and accessories, you can ship equipment directly through Deel.
What's amazing about Deel is its versatility. It not only delivers software and in-house services, but it also offers hot desking and shared workspace options for your remote employees. You won't need to manage the rentals separately. The charges are automatically added to your monthly bill.
Core Features
Overseas employee and contractor hiring.
Global payroll.
Compensations, benefits, and tax management.
Onboarding and offboarding.
Document collection, equipment shipment, time offs, and expenses.
Contract generation.
Approval workflows.
Shred workspace.
Reporting.
Integrations.
Price
Deel prices start from $49.
You can get started for free.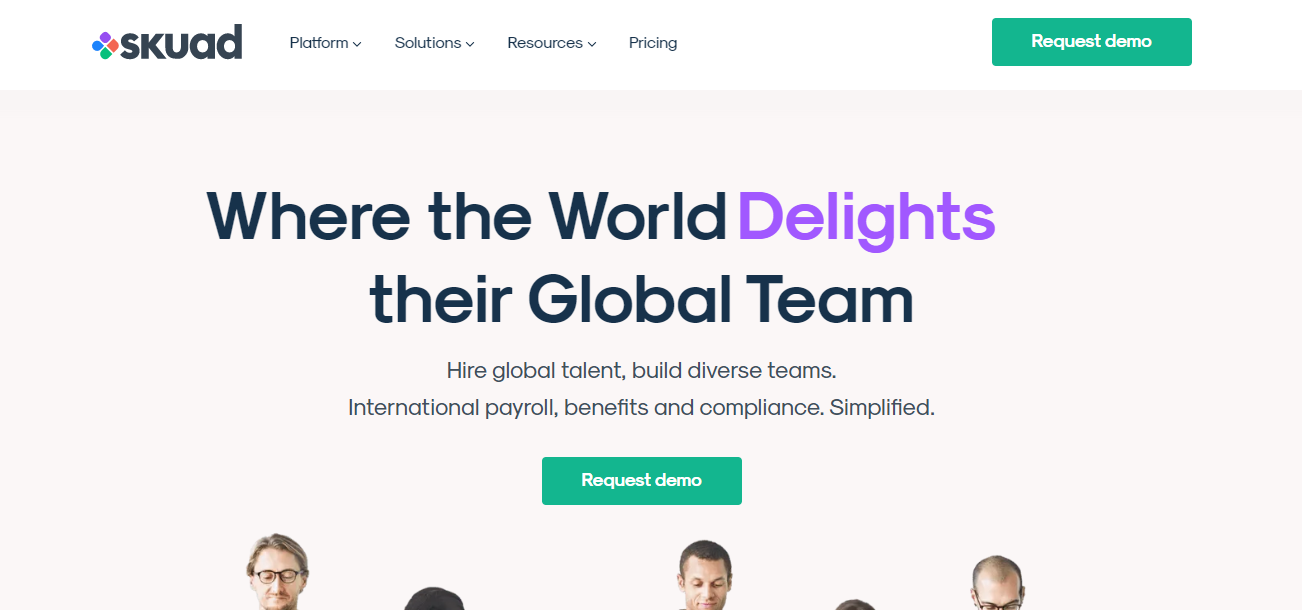 Skuad provides hiring, onboarding, payroll, and compliance management. With this tool, you can hire contractors and employees from overseas, create compliant contracts, automatically track working hours, and pay salaries in multiple currencies.
Skuad's in-house team typically handles most onboarding and compliance matters, but it gives you complete administration control.
Through its web portal, you can collect official documents, issue equipment to remote employees, and semi-automate your payroll.
You'll also find essential tools to run the offboarding process.
Core Features
Contractor and Employee recruitment.
Digital onboarding and offboarding.
Reimbursement, assets, and document management.
Local contracts and statutory benefits.
Automated time tracking.
Global payroll.
Custom reporting.
Integrations.
Dedicated manager.
Price
Skuad charges $19 for contractors and $249 for permanent employees. You can get started for free and customize your subscription plan.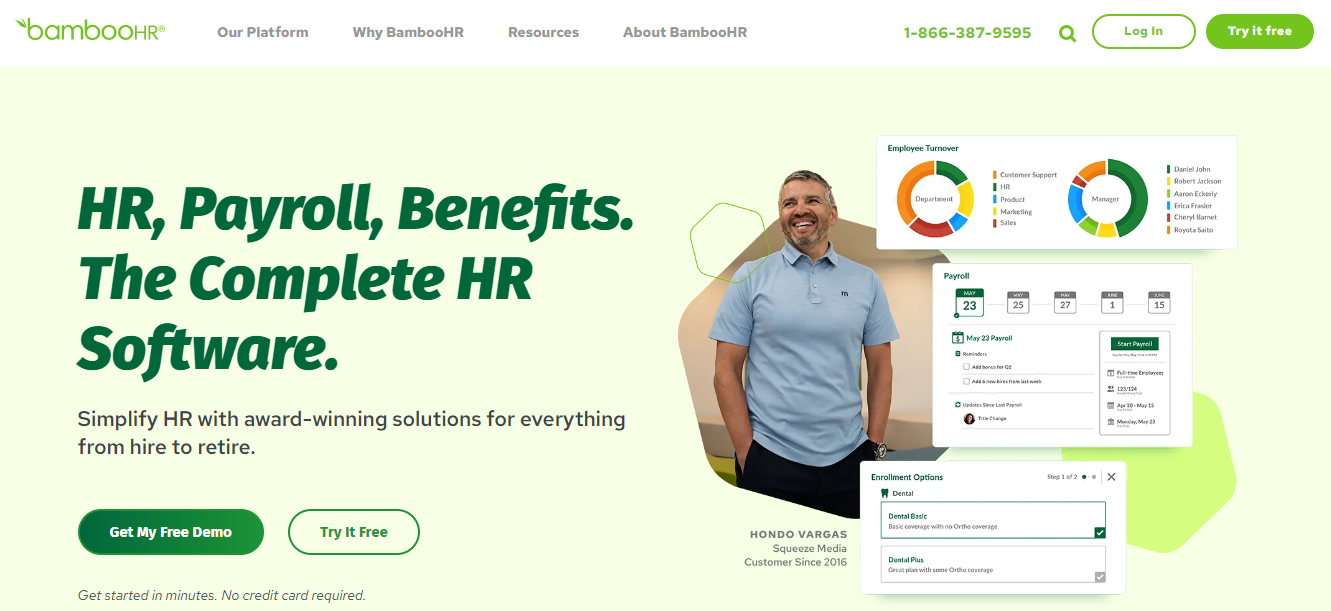 BambooHR helps you centralize and automate your processes.
Via this tool, you can onboard people, run global payroll, measure staff performance, and process offboarding.
Using its mobile app, you can interact with applicants and oversee recruitment from anywhere. More, you can approve requests and monitor time-offs from your smartphone.
You can generate 49 types of reports on BambooHR and purchase add-ons for local and global payroll. With features like an employee database and approval workflows, you can keep your staff data organized and automate basic tasks that don't require your input.
BambooHR is ideal for small to mid-size organizations.
Core Features
Recruitment, onboarding, and offboarding.
Payroll and benefits.
Time tracking and leave management.
Workflow automation.
Org chart, employee directory, and document storage.
Performance measurement.
Employee surveys.
Advanced reporting.
Third-party app marketplace.
Mobile app.
Price
BambooHR shares prices on request.
You can try it for free.
Hibob is a HIRS platform that provides you with a centralized place to store employee data and streamline your workflows.
Here, you can publish a company's homepage to share announcements, build an organization chart and employee directory, create workflow sequences, and process paperwork.
With its compensation software and third-party integrations, you can easily calculate salaries, run global payroll, generate reports, and update relevant parties.
One of the most appealing things about Hibob is the Sandbox. You'll have the flexibility to experiment with your work model before implementing it in your company.
Hibob also offers some unique features to help you improve your work culture. For instance, your staff can report workplace concerns on the platform anonymously. This enables you to resolve the problems internally while maintaining your company's reputation.
Core Features
Onboarding.
Compensation and benefits.
Payroll integrations.
Time and attendance.
Performance review.
Workplace feedback system.
Analytics and reporting.
Employee survey.
Scenario planning.
Sandbox.
Price
Hibob delivers custom quotes on request. Ask for the demo to get the details.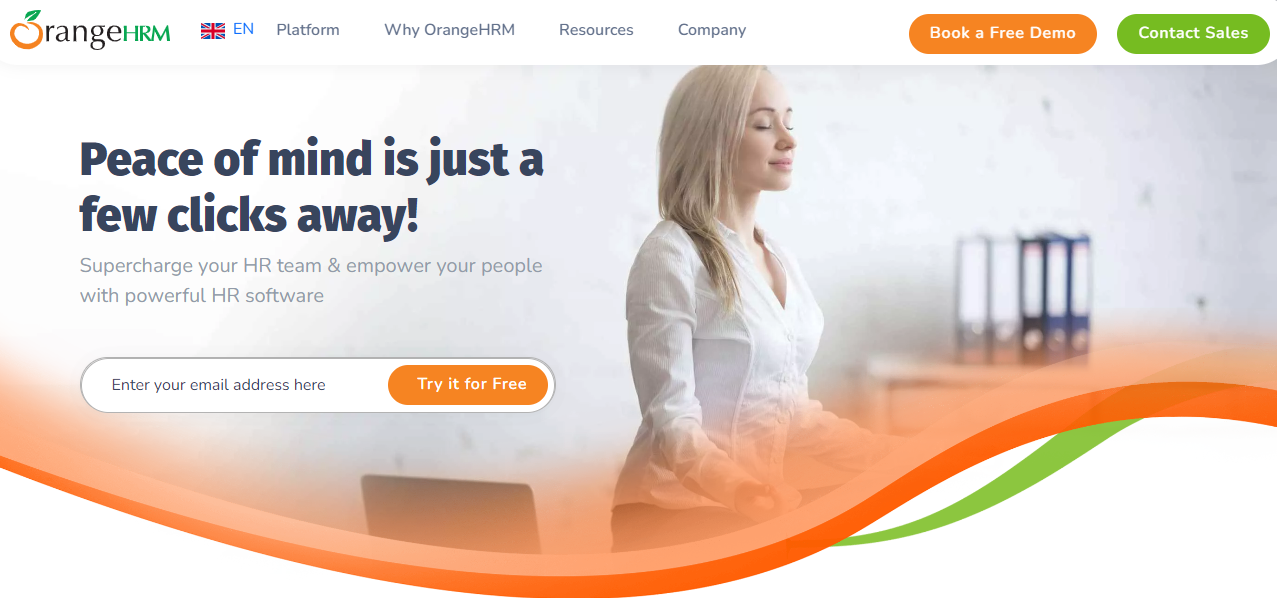 OrangeHRM is an open-source software. It has one of the largest user bases because of its intuitive interface, budget-friendly plans, and rich features.
Some core HR functions Orange offers include administration, recruitment, compensation, and performance management. You can comfortably handle employee time offs and integrate selected third-party platforms for payroll.
You can perform several other actions to simplify your workflows, such as creating a request desk for employee queries or setting up an LMS for training and development.
OrangeHRM provides both cloud and on-premise solutions and delivers a mobile app for easy access.
Core Features
Open-source software.
Core HR functions.
Employee database.
Recruitment and onboarding.
Payroll integrations.
Time tracking and leave management.
Training and development.
Performance reviews.
Mobile app.
Cloud and desktop software.
Price
You can try its starter plan for free.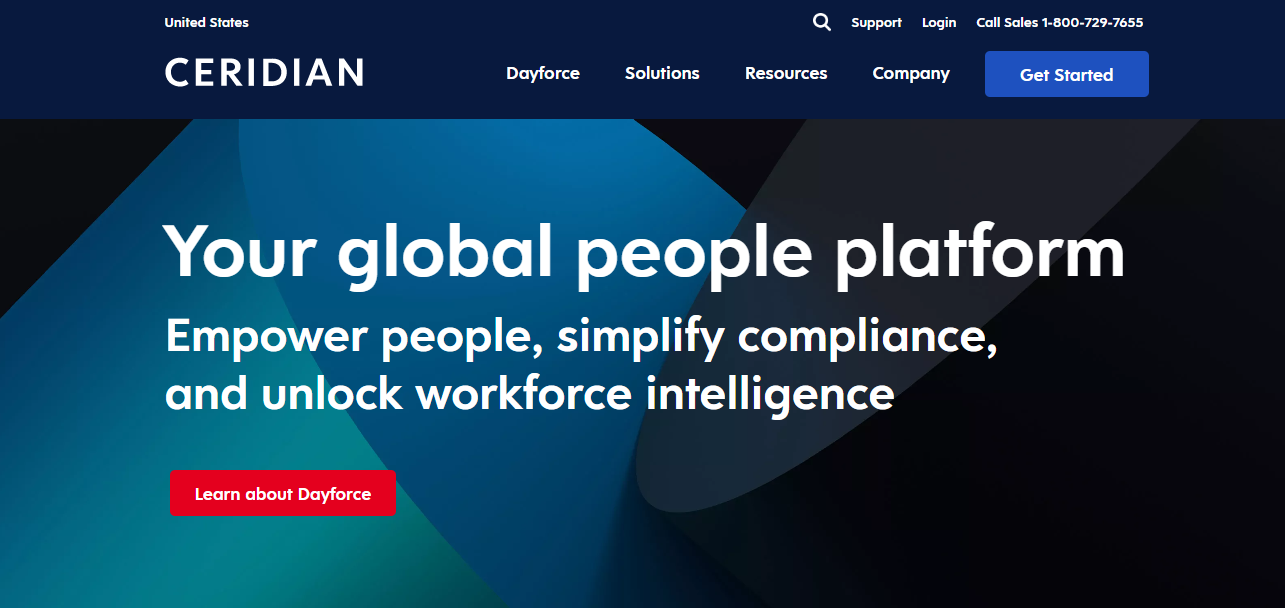 Ceridian is built for a shift-based work model. You can use it to manage both on-demand and permanent staff.
It delivers core HR functions plus scheduling software and strategic tools to help you make the best use of your staff skills.
Using its talent marketplace and intelligence platform, you can post open shifts and shortlist best-matching profiles, reducing your vetting and hiring process.
For payroll, Ceridian provides location-based time-tracking software with a biometric timestamping feature for accurate calculation. Via digital wallets, your staff can easily access their pay and make transactions.
With its unified view, you can create schedules, handle payroll, publish training content, and extract valuable insights.
Core Features
Talent marketplace and recruitment automation.
Core HR functions.
Shift scheduling.
Payroll.
Digital wallet.
Advanced analytics.
Self-service portal.
Mobile support.
In-house services.
Price
Ceridian provides custom quotes. Request a demo to get more details.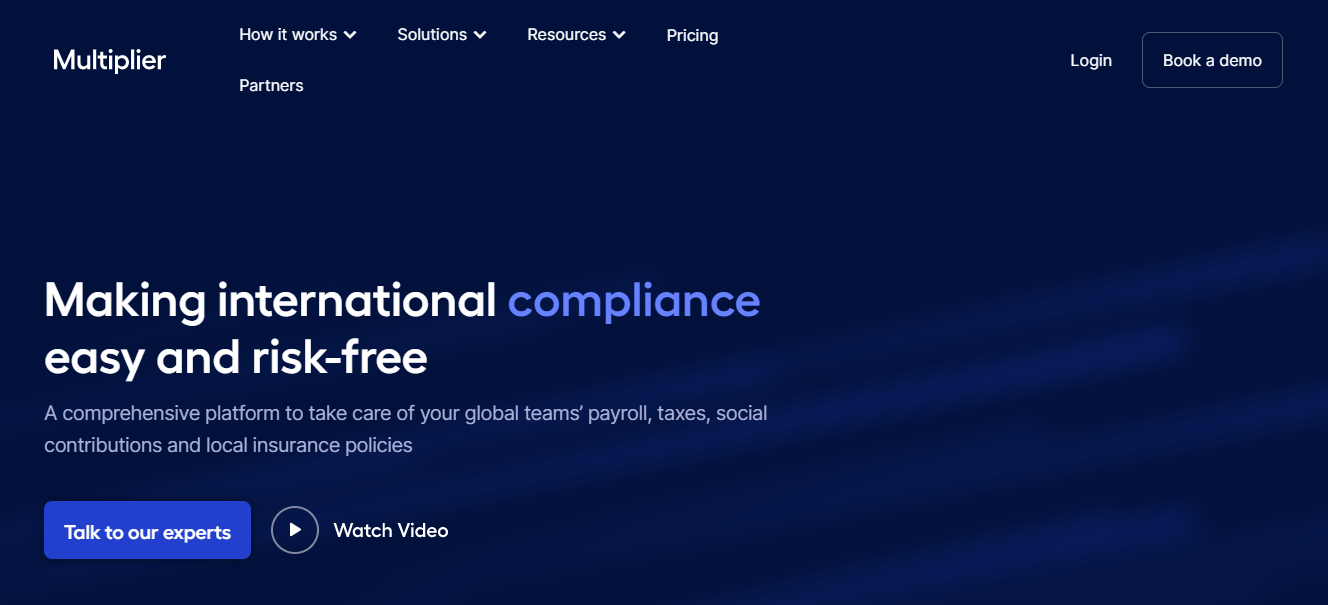 Multiplier is a SaaS platform that offers EOR (employer of record) and global payroll solutions.
Through this platform, you can legally recruit freelancers and employees from 150+ countries without establishing your entity and manage compensation, taxes, and other benefits.
Some key actions you can perform via Multiplier include generating complaint contracts, employee onboarding, processing multi-currency payroll, and handling reimbursements.
You can also add several perks like insurance and stock ownership to your employment contract to improve your retention rate.
Via its self-service portal, your staff can submit timesheets, expense claims, leave requests, and invoices.
Core Features
EOR services.
Freelancers and employee recruitment.
Global compliance.
Compensation, benefits, and insurance.
Timesheets, leaves, and reimbursements.
Multi-currency payroll and pay slips.
ESOP issue.
Termination.
Price
Multiplier charges $40 per month for freelancer hiring and a minimum of $300 for permanent employees. You can buy add-ons, such as insurance, for extra charges.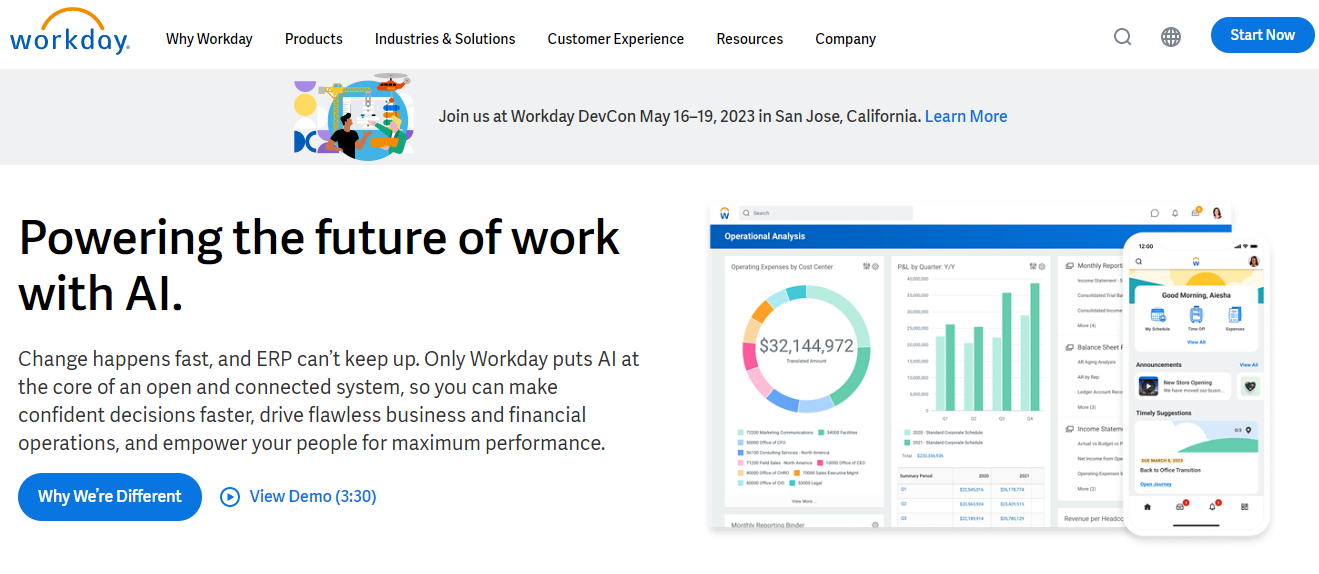 Workday sells a series of enterprise-grade SaaS products for finance, HR, and other business functions. HCM platform is one of its core products that deliver global human resource management solutions to mid and large-size organizations.
The software covers diverse functions, from recruiting and onboarding to compensation and performance management. It has a built-in global compliance section that continuously updates regularity changes to help you calculate the salaries and taxes of overseas employees.
Overall, it's user-friendly and integrates well with other applications. You can access Workday from your smartphone and keep track of important metrics through its dashboard.
Core Features
Core HR functions.
Global compliance management.
Employee experience.
Workflow automation.
Skill planning and talent management.
Knowledge base.
Reporting and analytics.
Mobile support.
Third-party integrations.
Price
Workday shares prices on request. Contact sales to get more details.
UKG is a leading human capital management platform. It offers a suite of products to help you run versatile HR functions from one platform.
You can store employee data, manage recruitment and onboarding, create shift-based schedules, and run payroll in 100 + countries. With the self-service option, you can build a knowledge base for the staff and set repetitive tasks on autopilot.
If you mainly want to automate your HR processes, UKG provides a separate software product for that as well. The UKG Dimensions covers time and attendance, shift scheduling, and compliance management.
Core Features
Recruitment and onboarding.
Employee engagement.
Time and attendance.
Shift scheduling.
Global payroll integration.
Digital Wallet.
Compliance.
Self-service portal.
Reporting and analytics.
Price
UKG delivers prices on request. Request a demo to learn more about it.
WebHR is a good option for small businesses and startups.
For around $7 per employee, you will get over 20 HR features, including ATS, onboarding, global payroll, and performance reviews.
Via role-based automation, you can control the information flow and manage documents online. With QuickBooks and other popular productivity app integrations, you can synchronize your data and keep the information updated.
You'll get tons of other interesting modules for a variety of functions. For instance. There's an option for asset management, which would allow you to track the company's assets and handle equipment approval requests.
WebHR comes with both Android and iOS apps. Employees see their pays lips, mark attendance, and connect with each other from their smartphones.
Core Features
Onboarding and offboarding.
Payroll.
Time and attendance.
Benefit administration.
Self-service portal.
Forms and e-signatures.
Performance reviews and LMS.
HR letters.
Mobile apps.
Integrations.
Price
WebHR charges separately for each module. The minimum price is $2 per employee.
You can include five users for free.
Final Word
Global HR software is an umbrella term that covers a variety of tools and services.
Some SaaS platforms focus purely on centralization and automation, while some provide outsourcing services in their core feature list.
I recommend creating a list of key features you want and shortlisting the Global HR tools that offer most of those functions. Good luck!