Setting up an employee schedule is an essential part of business operations because it allows you to manage your staff's working hours and keep an organized timesheet. But while it does bring a semblance of order, it's a headache to maintain it manually.
Many employers have to re-adjust 80% of timesheets to accurately record the wages. As a result, they spend 20% of their week just creating and updating work schedules. It wastes a lot of your time and leaves you open to errors.
So, why do business owners take pains to meticulously create team schedules, then?
To save labor costs and improve work efficiency.
Let me share a brief overview of Employee Scheduling to help you understand its importance.
What is Employee Scheduling and Why It's Important?
A staff schedule is essentially a worksheet detailing the day, time, and tasks assigned to individual employees. It displays the shifts you've allocated, and the hours your team has given to complete the job.
Maintaining such a sheet is important because it allows you to make the best of your resources.
With a well-organized employee schedule, you can make sure your working shifts are always covered, prepare contingency plans in case someone calls in sick, and get an accurate record of wages.
It saves you from paying extra for a last-minute replacement, which typically increases your labor expense.
In this article, I have shared nine Employee scheduling software that can make managing scheduling remarkably easy. They automate menial tasks for you, reduce payroll errors, and help you monitor staff remotely.
Let's explore them!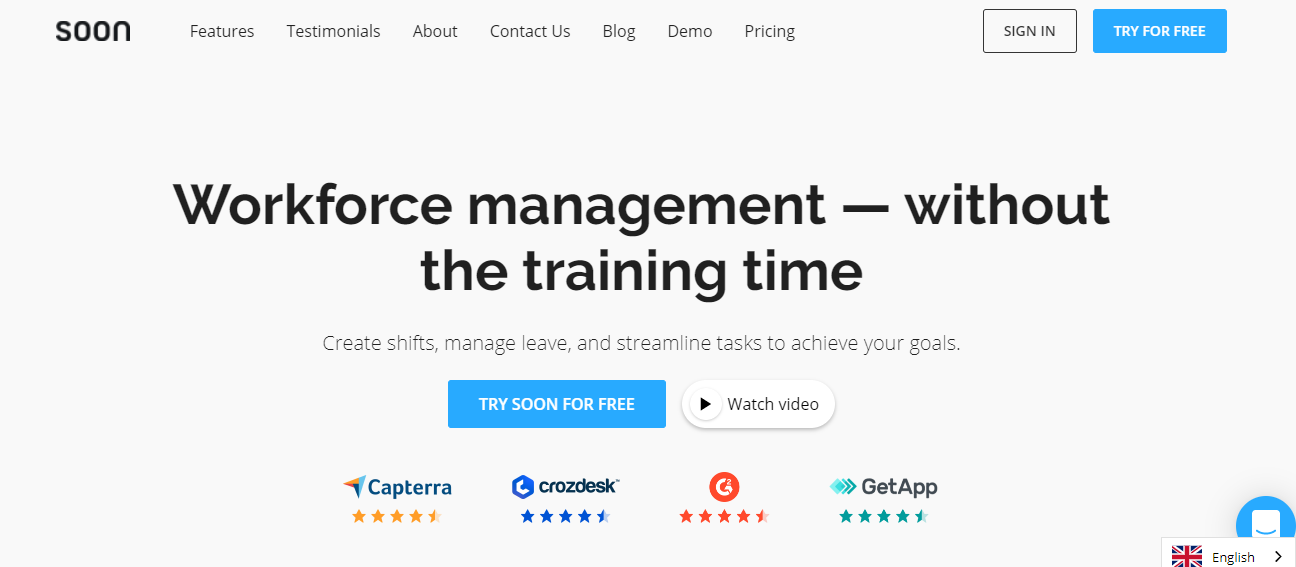 Soon.Works is a team collaboration and scheduling tool that helps you keep track of your projects and your staff's billable hours.
It offers a simple card view dashboard to create projects, assign roles, find available people for the job, and record time.
You can monitor your team status, review cancellations, and time-offs, and maintain an open communication channel for queries and conflicts.
It gives your staff flexibility to set their own hours and accept tasks at their own pace, allowing you to improvise your schedule in advance to fill all the slots.
What's interesting is that you can also consolidate the timetable of multiple branches (if you run more than one office.) It lets you add a location to your project to track who's working at the specified branch. This feature is ideal for service businesses like restaurants that follow a shift-based model.
Overall, Soon.Works is an intuitive app that can make managing employee scheduling relatively simple.
Features
Fully customizable.
Shift management.
Role assigning.
Timesheets.
Easy accessibility to employee's status.
Allows team to create their schedule.
Flexibility to accept, reject, and cancel projects/shifts.
Inbox and comment section.
Calendar view.
Mobile friendly.
Price
Soon.Works charge a minimum of 8 EURO per user. You can try the software for free to explore its features.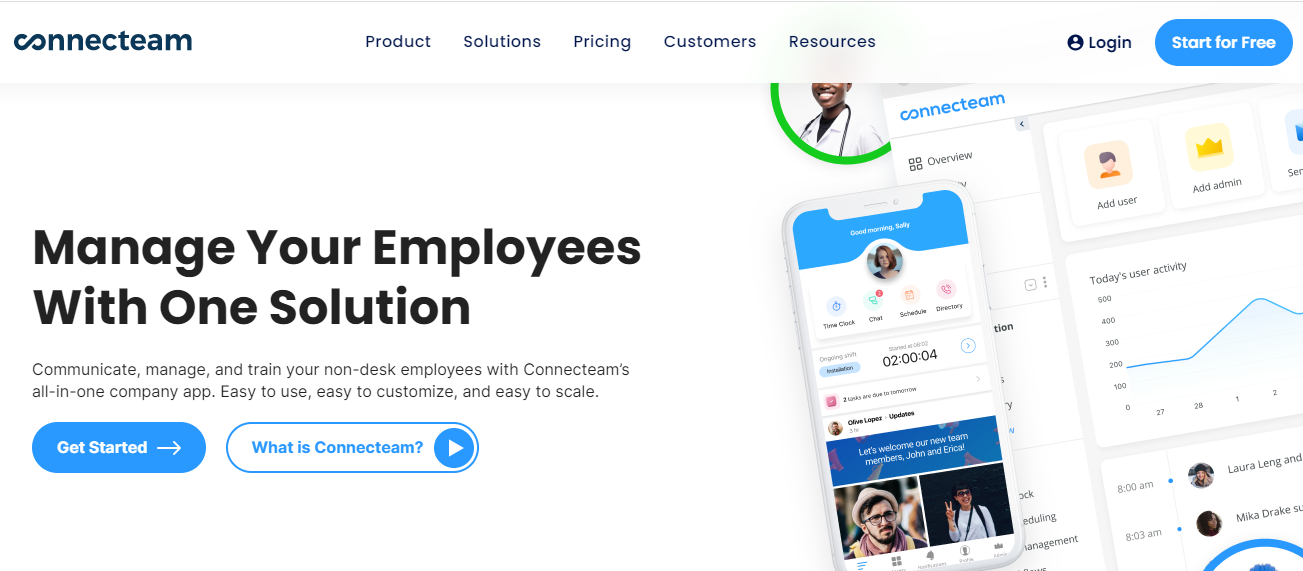 Connecteam is a comprehensive tool that offers versatile solutions to efficiently manage your workforce.
You can easily create both single and team shifts, connect with your employees on app messaging and automatically maintain timesheets.
Your staff receive notifications as you update jobs, review shifts assigned to them, and start clocking hours with its integrated time tracking feature. They can also create forms and send you digitally signed reports through the app.
It's a useful function that allows your employee to conduct on-sight inspections, upload relevant images and send quick inventory stock or inspection briefs.
Connecteam additionally gives you the opportunity to offer recognition and rewards to acknowledge your employee efforts and boost team morale. It nurtures a positive culture that makes your staff happy, increasing your retention rate.
All in all, it's great scheduling software.
Features
Time tracking.
Scheduling.
Automation.
Team messaging.
Task management.
Employee directory.
E-signing forms.
Payroll integration.
Price
Connecteam is free to explore. To unlock more features, though, you may have to upgrade the plan for a minimum of $40 a month. It also charges extra for each additional user.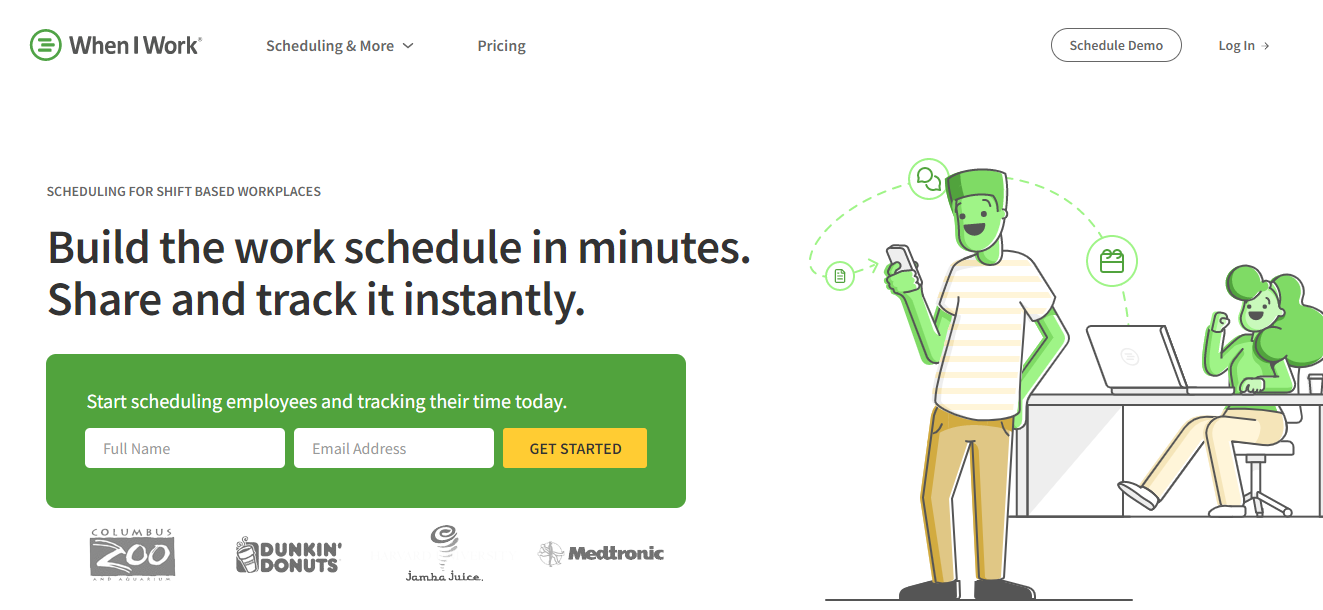 When I Work is a user-friendly app that helps you ensure your daily shifts are always filled.
You can generate quick schedules, assign tasks to people with the best matching skill set, and set open bids to offer extra earning opportunities to your employees.
Its automation function lets you set tasks within your budget and reviews time-offs and trades to improvise your schedule on time. Your employees get instant alerts whenever you add a shift, so they can show their availability and immediately picks up the best-suited jobs.
You can integrate multiple pay rates, audit records, and process payments to make sure everything is updated. It eliminates miscommunication and reduces unnecessary workload.
When I Work's app also makes it easy to monitor who's currently taking up the shift to limit daily hours and improve efficiency. You get notifications when someone is working overtime and reach out to that person for a better solution.
Features
Integrated schedules and time tracking.
Easy record of shifts, leaves, and cancellations.
Automatic budget calculation.
Seamless payment process.
Mobile access to the staff.
Team collaboration.
Data-driven insights.
Third-Party payment services integration.
Price
When I Work shares three monthly plans, charging $4 to $8 per user. Request a demo to learn more about its functions.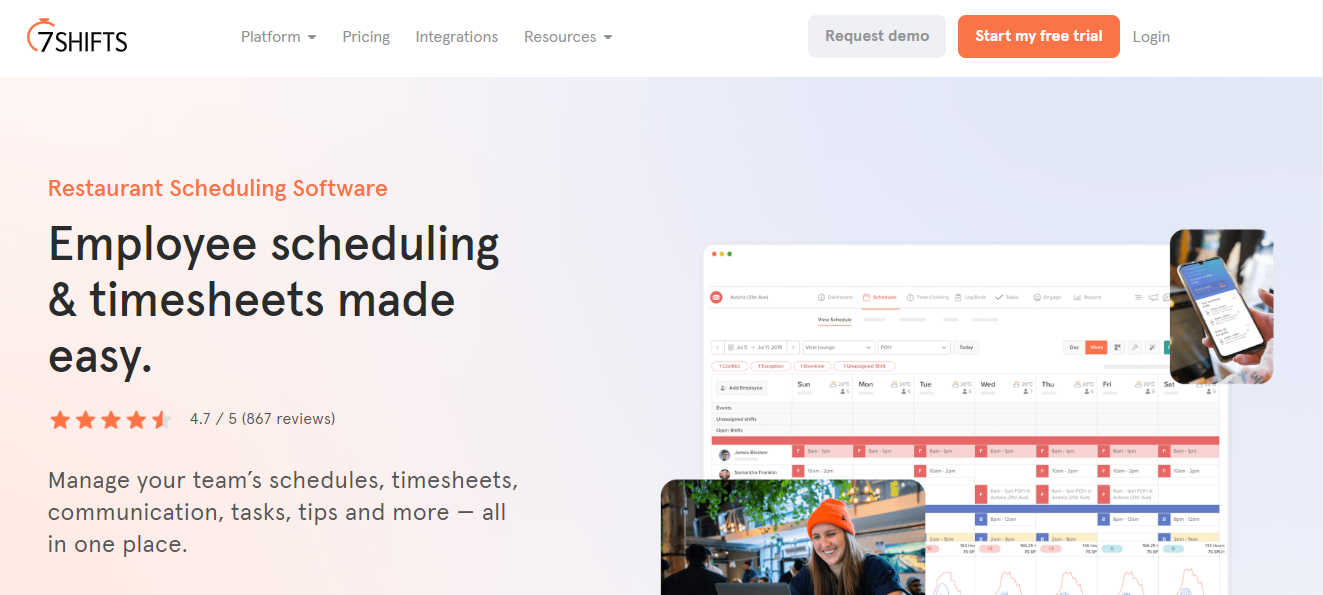 7Shifts is designed for restaurants to help them track their staff hours in real-time.
It offers pre-made templates and an intuitive interface to quickly draft schedules, assign shifts, and update your employees. You get notifications when someone is unavailable or working overtime so you can find another to cover the shift.
With its GPS tracker and image verification, you can ensure the right employee is at the right place and their hours are being accurately billed. Its task manager and the messaging app lets you send checklists and custom instruction so everyone knows what they're supposed to do.
What's amazing is that 7Shifts offers a tip pool for the staff. It makes it easier to calculate and distribute tips fairly to avoid conflicts and keep your employees happy.
Features
Job scheduling and time tracking.
GPS location.
Meals and overtime alerts.
Image clock in verification.
Logging book.
Communicating and sharing documents.
Automatic feedbacks.
Reporting.
Hiring option.
Tips pool.
Price
7Shifts charges $35 to $80 a month. You can sign up for free to try out its features as well.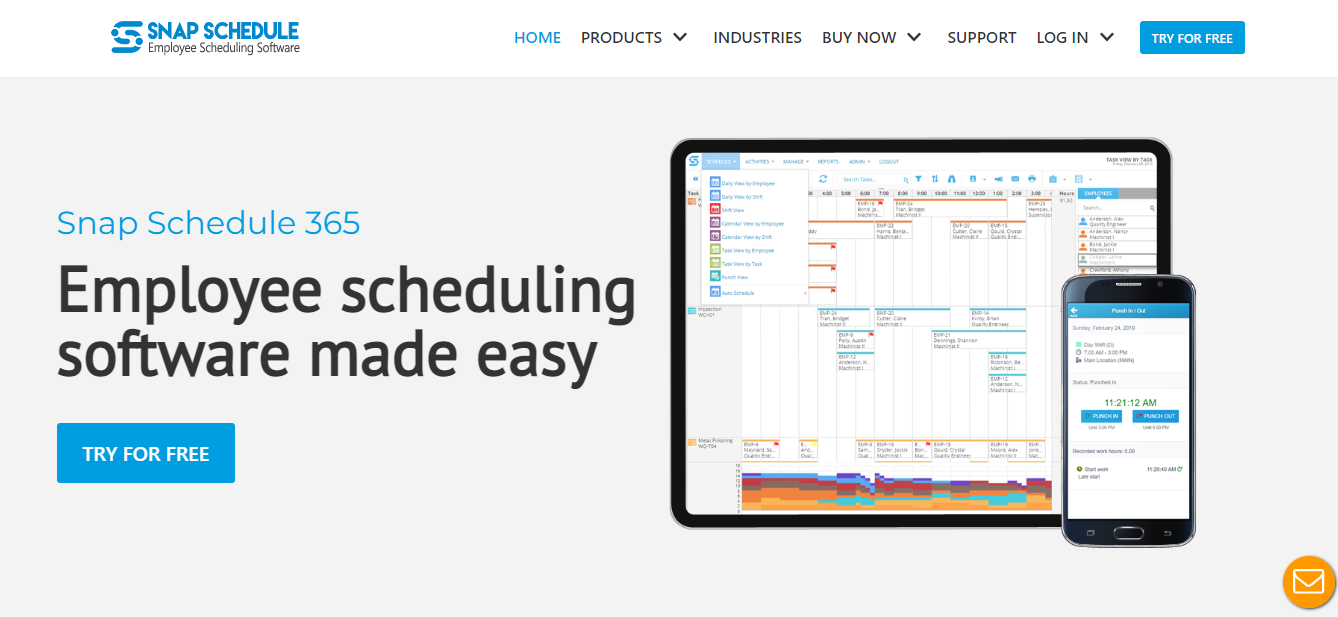 Snap Schedule is specifically geared towards the service industry and provides robust features to build an optimized shift schedule.
You can automatically fill up your weekly business calendar, assign jobs to the right person, and track time to easily record wages. It allows you to keep an eye on daily shifts to monitor who has punched in and who's late.
Your staff can show availability, see their schedule, take up extra jobs, and place a request for time-offs. This brings transparency between managers and their teams and grants more work flexibility to your employees.
Snap Schedule also covers the decision-making side of the department.
It shares reports that give you a clear picture of your workflow to help you forecast your budget and ensure your shifts comply with the local laws. It also offers payroll automation so can easily estimate billable hours and calculate the cost to eliminate chances of errors.
Features
Pre-defined Schedules.
Multiple views.
Work automation.
Forecasting hours and costs.
Time-off and shift replacement.
Alerts.
Analytics.
Supports mobile devices.
Price
Snap Schedule provides both desktop and cloud-based software. You can either buy its license or pay an annual subscription that starts from $450.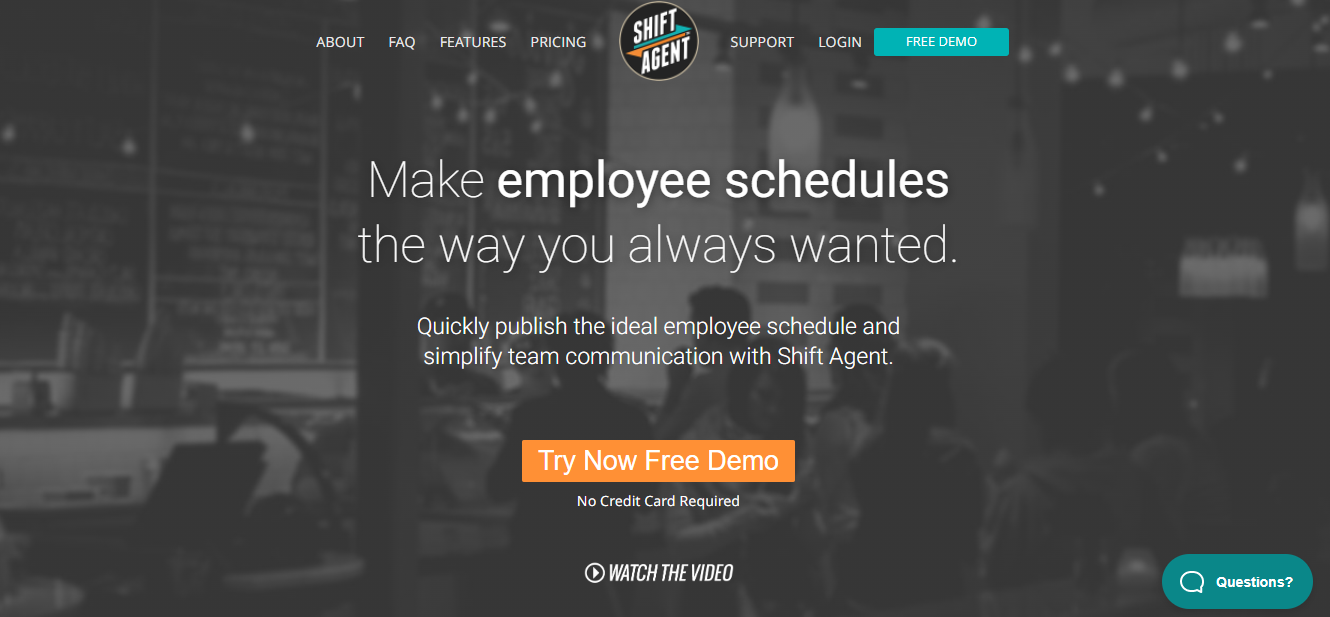 Shift Agent offers you the best way to create your employee schedule. With it, you can build, edit, and publish your weeks' timetable within minutes.
Your staff can pick up shifts and projects they prefer, request leaves in advance, and swap their current shift with others.
Its team messaging and notes tool helps you streamline your communication channel to broadcast announcements and keep your staff updated with last-minute changes.
Shift Agent also offers smart features that monitor workforce behavior and automatically assign tasks based on their previous pattern. This makes your job easier, and it also gives you insight into how many hours your team is working and how to improve productivity to generate the desired results.
Overall, it's a decent tool that's ideal for any type of service business including healthcare, restaurant, security, and transportation.
Features
Smart scheduling and note-taking.
Availability and leaves review.
Messaging.
Performance comparison view.
Time tracking.
Flexible model.
Auto-scheduling.
Transparency.
Mobile friendly.
Excellent customer service.
Price
Shift Agent's basic plan is free of cost, while its premium subscriptions changes with the number of employees. Currently, it's charging $17 per month for a team of 10 members.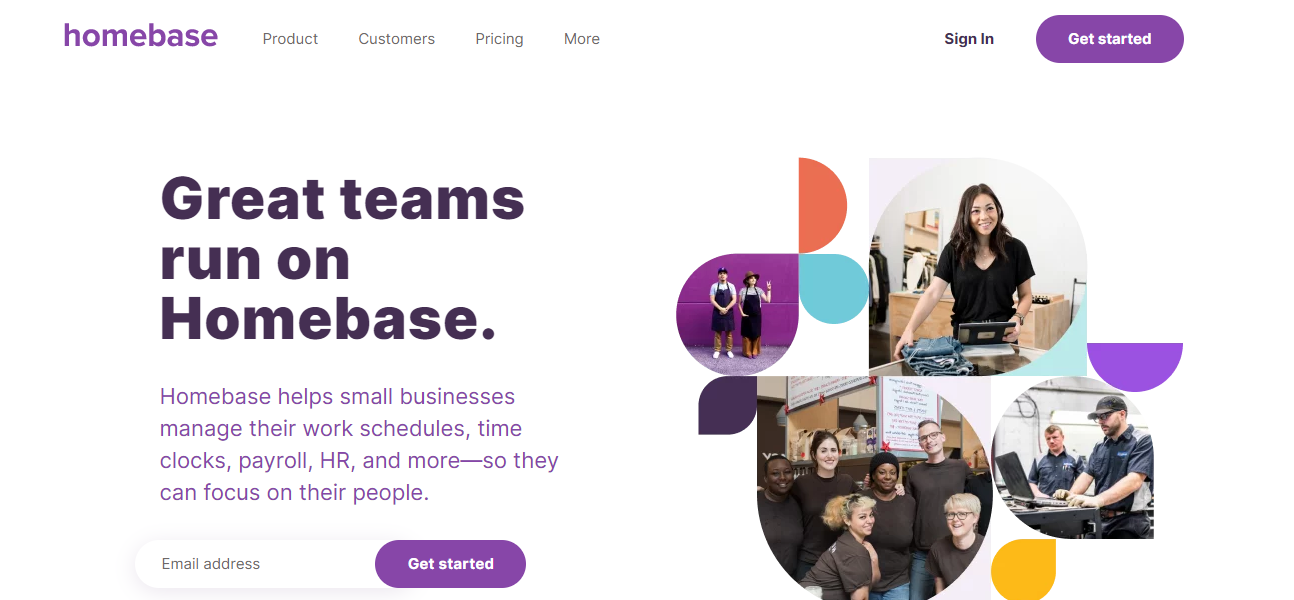 Homebase offers you a centralized dashboard to create a schedule, connect with your team, track time, and engage the employee.
Here, you can prepare schedules and assign jobs based on roles, departments, and qualifications.
You can allocate back-to-back shifts to one person and leave special instructions to update them on their current tasks.
It lets your staff login from their mobile devices and clock in to record their billable hours in real-time. You can stay aware of leave requests, detect missed shifts, and record late attendance to adjust the timesheet.
Homebase also digitalizes your documents to help you keep up with the labor laws and pay fair wages for overtime and extra shifts.
It additionally offers scalable features, allowing you to post jobs and hire new employees as your business grows.
Overall, Homebase provides you with everything you need to manage your staff successfully.
Features
Scheduling, time tracking.
Automated timesheets.
Team communication and engagement.
Payroll and hiring.
Perks and benefits.
Advance paychecks.
Labor compliance.
Weather updates.
Integrations.
Price
Homebase monthly subscriptions cost $14 to $70 a month. It also offers its starter plan for free.
Deputy is an intuitive platform that lets you keep multiple schedules templates, autofill shifts, and broadcast messages to save time.
You can monitor who is currently on leave and who is available to make sure your shifts are all covered all the time. When someone calls in sick, the Deputy automatically suggests qualified replacements, so you don't have to put effort into finding replacements.
Your staff will have the autonomy to pick up jobs, apply for time-offs, and swap shifts. The app has Google map and image recognition software to cut down the manual punch-ins and as well as help you keep tabs on your employees.
Its time tracking features also calculate the weekly payment, which makes payroll management a breeze.
With Deputy, you can smartly manage shifts and connect your employee schedule with your accounting software to streamline your payments.
Features
Auto filling shifts.
Team messaging.
Time clocking and GPS tracking.
Image recognition software.
Automated calculation of billable hours.
Employee states.
Integrations.
Mobile app.
Price
Deputy has broken down its features into different plans. Its scheduling plan costs $2.50 per month.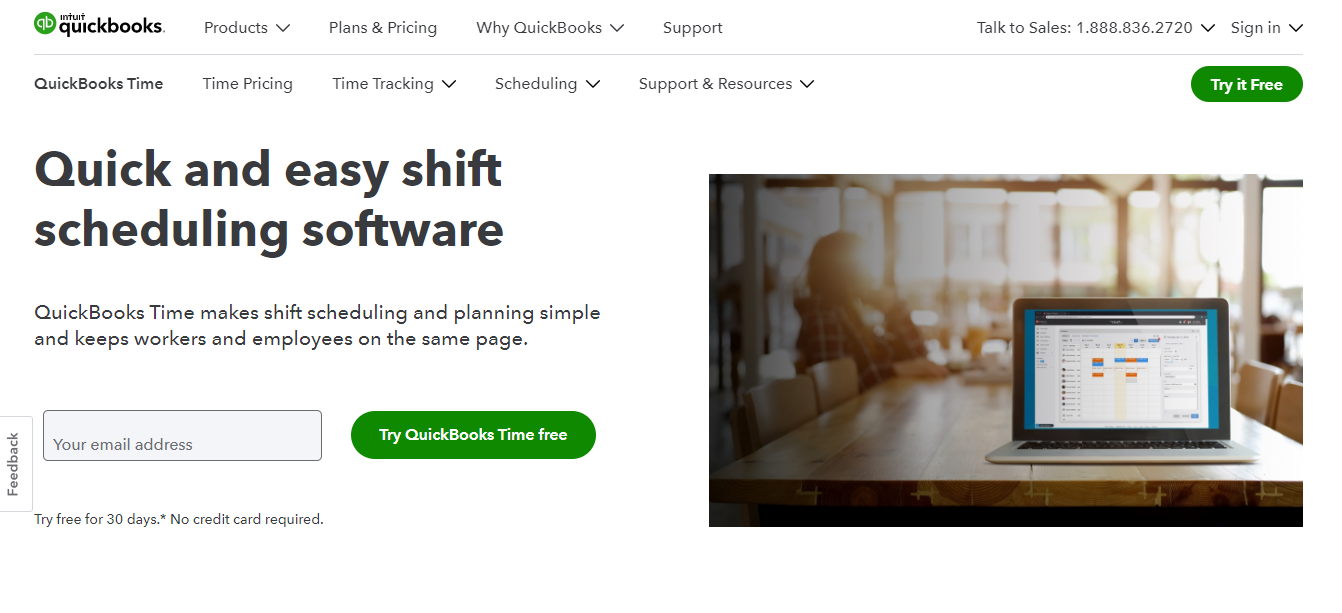 QuickBooks is popular accounting software that provides a diverse range of products to meet your every business need. It has a separate time-tracking tool called QuickBooks Time that allows you to build employee schedules, clock billable hours, monitor performance and share insightful reports.
You can draft and modify the schedule from your cell phone, assign different roles to control access to information, and send alerts to notify of any changes.
The app offers six different ways to clock time, including a Time Kiosk Add-on, which lets you set one device for a timesheet and ask employees to clock time on the same system.
With its GPS and image verification feature, you can track who is on shift and who is slacking.
One of the best things about QuickBooks Time is that you can integrate it with other products to streamline your payroll, taxes, and other departments. It helps you centralize your entire business operation without jumping from one app to another.
Its reporting section is also pretty robust that gives you in-depth insight into your staff's billable hours and payroll.
Features
Flexible Scheduling.
Availability and leaves.
Timesheets.
Role management.
GPS tracking and Overtime alerts.
Payroll integration.
Time Kiosk.
Image verification.
Reports.
QuickBooks integrations.
Mobile App.
Price
QuickBooks Time provides two plans, charging $10 to $20 a month.
Conclusion
Employee schedule software takes the major portion of your job, allowing you to run a tight ship with little stress.
It cuts down unnecessary conflicts, calculation errors, and missed tasks.
Start introducing an Employee Schedule app in your company to manage your staff more efficiently.
Good luck!