Let's face it.
Managing invoices, ledgers, and other accounting stuff is tough, unreliable, and boring. No one enjoys it, especially when everything is handled manually.
And, we don't need to address what happens if a single entry goes wrong.
If you're a business owner or a startup, you may have been exposed to the following common accounting problems:
(1) Conundrum of a cash flow
(2) Fighting with invoices yet struggling
(3) Blunder of mixing personal and business accounts
(4) Hard-to-follow tax planning
But the question is, despite all the problems, how do you survive financial struggles? And, other accounting problems?
Everyone (and you) loves to SAVE money by doing things themselves or using a little help. And, accounting software is one way you can do that.
Not only does it save money, but also the most expensive thing in your business – TIME!
Nearly all businesses and startups have already adopted automated accounting and shifted to cloud-based solutions. It's time you joined the club, too, and leverage all the benefits.
We've reviewed 13 of the best accounting software to help you hit the road.
We want you to make a better decision and select only the best software that suits your requirements.
Each tool is reviewed carefully and includes some of its best features with advantages and limitations. We advise you to go through each tool and the verdict before you pick your favorite.
As the name suggests, Sage is a cloud-based accounting and invoice management platform. It got even better than the previous version, which doesn't have cloud solutions.
Sage is typically designed for small businesses and offers robust features to keep an eye out on how your business is doing on various parameters anytime, anywhere.
You can investigate real-time customer data and generate histories of purchases, bank and sales statement reports, and other crucial cash flow reports.
Features:
Mobile applications
Recurring invoices
Accountant access and dashboards
Bank statement imports
Various reporting and to-do lists
Excellent customer support
Pricing:
Sage Accounting has three paid plans, and each plan comes with a 30-day free trial.
Start – $10/mo
Standard – $25/mo
Plus – Approx. $35/mo
Verdict
Sage is a massive accounting application and may have won the best accounting software title.
But, the fact, it's only available for Windows and is more complex to use – makes it a cluttered platform rather appealing.
Apart from that, Sage is great accounting software for small businesses with exceptionally sophisticated features.
Pabbly is a recurring billing and subscription management software for small to medium-sized businesses.
Pabbly provides real-time, actionable metrics on your monthly payments, active customers, revenue, net revenue, and new subscriptions.
The best thing we found about Pabbly is that it's the only software that does not charge any extra fees based on per-transaction and monthly revenue generation.
Features:
Sales Analytics.
Affiliate Management.
Tax Handling.
Coupons Management.
Customer Portal.
Sales Analytics.
Pricing:
Starter – $19/month (billed monthly) or $9/month (billed annually)
Rookie – $37/month (billed monthly) or $17/month (billed annually)
Pro – $57/month (billed monthly) or $29 /month (billed annually)
Advanced – $79/month (billed monthly) or $37/month (billed annually)
Verdict
Pabbly is comprehensive and simple to use for everyone at the same time. Plus, it's cross-platform.
However, the UI might give you some trouble, and it's tricky sometimes to handle your data.
Pabbly still impresses you with fantastic customer support, invoicing, and other aspects of tax reporting.
Xero stands out for its simplicity, affordable pricing, and robust accounting collaboration.
It's primarily built for micro-businesses with fully integrated payroll services. Xero scores big for its clean interface that is painless to use.
Xero offers smart expense tracking and management features on mobile devices with excellent support, making it a good choice.
With the lowest plan, you can send custom invoices, capture receipts for easier record-keeping, and track inventory.
Features:
Pay bills
Claim expenses
Bank connections
Accept payments
Track projects
Payrolls
Bank reconciliation
Contacts and smart lists
Pricing:
Xero offers a 30 day free trial and three paid plans.
Early plan – $11/mo
Growing plan (popular) – $32/mo
Established plan – $62/mo
Verdict
Xero offers plenty of robust features, and it's solely known for its collaboration capacities.
The basic plan has certain limitations, but if you need simple yet powerful accounting software that can handle invoice and bank or billing issues as quickly as possible, then Xero is the tool for you.
QuickBooks is a great pick if you aren't quite satisfied using Freshbooks and are looking for a better alternative.
Intuit has made various small changes in contrast to its former version, all geared up to provide an excellent user experience and help you streamline your accounting process.
QuickBooks is fundamentally designed for freelancers and small businesses, simplifying most accounting problems down to earth.
Surprisingly, it automatically syncs business profiles so that multiple users can access them. QuickBooks allows you to generate profit, loss, & trade sheets, invoicing and billing accessible via mobile devices.
Features:
Automatic tax calculations
Invoice and bill management
Sales and expense management
Profit and loss reporting
Payment tracking
Automated online banking
Balance sheet reporting
Pricing:
Fortunately, QuickBooks comes with four different plans for different requirements and contains a 30-day free trial.
Simple start – $12.5/mo
Essentials – $20/mo
Plus – $35/mo
Advanced – $75/mo
Verdict
If you're sourcing an accounting software dedicated to small businesses, offers all the necessary features, and is extremely easy to use, QuickBooks is your winner after FreshBooks.
Oracle's NetSuite ERP scores a home run by combining financial management operations and built-in business intelligence.
Unlike other tools, NetSuite ERP is a scalable cloud ERP solution that automates front and back-office processes. Revenue management, fixed assets, financial management, order management, order and billing management – to name a few.
Further, it keeps your organization from top to bottom on the same page by supplying key indicators of performance and reports of their roles.
Features:
Accounting
Fixed asset management
Payment management
Demand planning
Inventory control and warehouse management
Purchasing and vendor management
Manufacturing
Billing management and invoicing
Pricing:
NetSuite ERP is available on a by-quote basis. NetSuite ERP's enterprise pricing is based on modules, users per month, and add-ons.
Please contact the vendor directly (or by clicking the below link) to get a customized quote for your company.
Verdict
NetSuite ERP is prolific in features, highly scalable, and a complete solution for all your accounting problems.
However, the learning curve is slightly higher, and the interface doesn't look quite inviting. Otherwise, it's the ultimate accounting software amid a trustful community of users.
Freshbooks is another great finance and accounting software for SMB and freelancers.
It's a reliable and fast accounting suite that helps you create professional-looking invoices in just a few clicks.
Freshbooks offers streamlining client invoicing and time-tracking progress.
Additionally, it gives you the ability to customize the branding of your financial documents. Freshbooks allows seamless third-party integrations and doesn't require accounting experience to use it.
Features:
Efficient invoicing
Faster payments
Mobile optimized (iOS & Android)
Expense tracking
Project management and time tracking
80 robust integrations
Pricing:
Freshbooks offers three paid plans, and each plan comes with a 30-day free trial.
Lite plan – $6/mo (paid monthly) and $4.50/mo (paid annually)
Plus plan – $10/mo (paid monthly) and $7.50/mo (paid annually)
Premium plan – $20/mo (paid monthly) and $15/mo (paid annually)
Verdict
Freshbooks comes with robust features. Plus it's highly affordable.
You can trust Freshbooks to handle all your accounting problems.
Wave is a double-entry accounting software inclined towards low pricing. It's highly suitable for freelancers, independent contractors, and small businesses.
Wave's is completely free to use unless you opt for payroll or customer payments.
The best thing about Wave is it usually rolls out new features and regularly brings minor internal alterations to keep your daily accounting workflow smooth and steady.
Features:
Billing and invoicing
Real double-entry recording
Investment tracking
Financial reporting
Multi-currency
Accept all major credit cards
Bank integrations to cross out manual entry
Pricing:
Wave's primary accounting features are completely free to use. However, Wave Payroll is available for a $35-per-month base fee, plus $6 per month for each employee, or contractor.
Verdict
Wave is a great invoicing and payment platform, and it's especially beneficial for freelancers and the like, for whom every dollar matters.
But if you're looking for full bookkeeping and financial management solution, we suggest you look for some other alternative.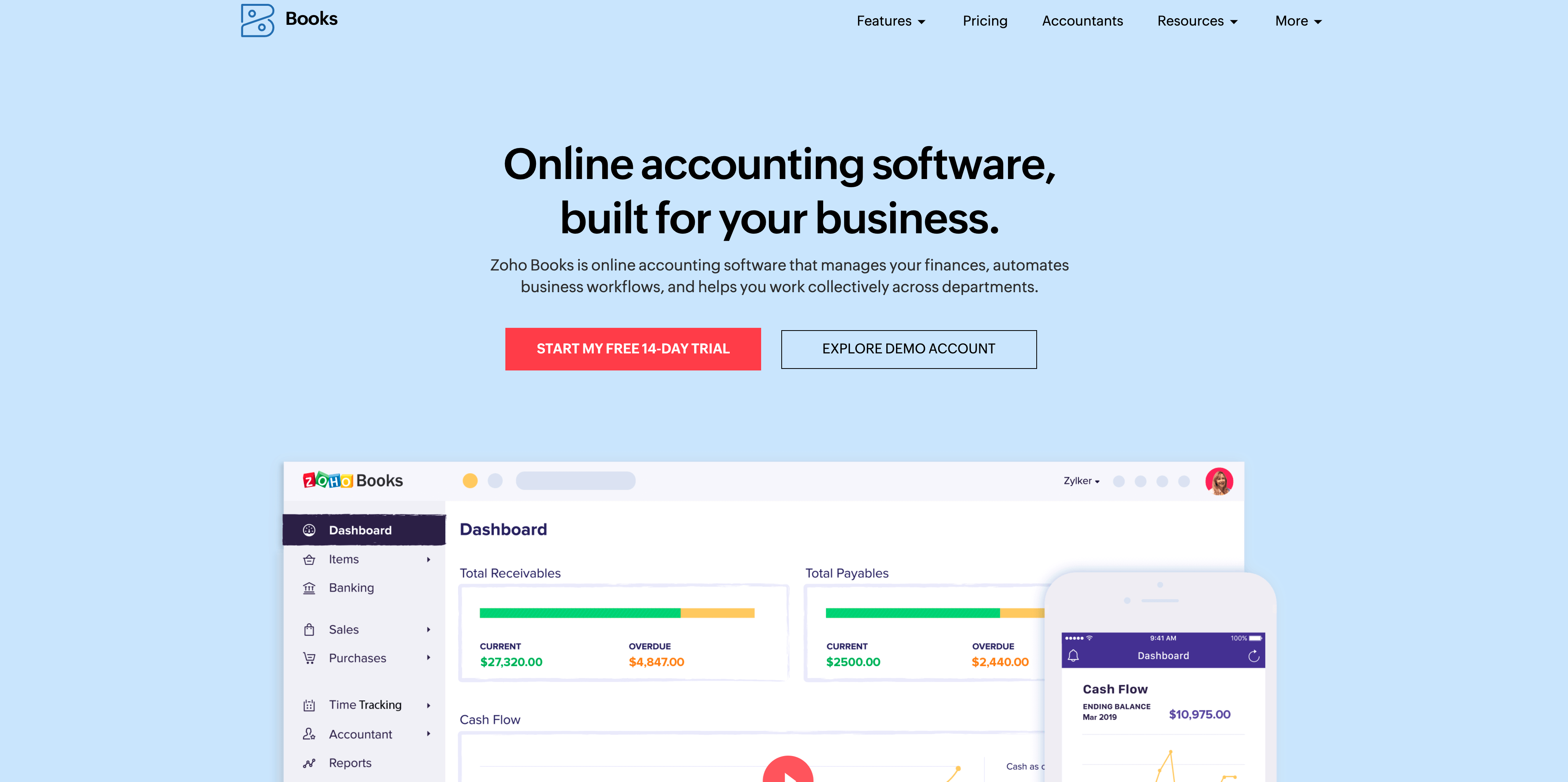 Known as a standalone solution, Zoho stands out for its fully-featured accounting systems and tightly focused feature set.
Thanks to its flexibility and sophisticated features, Zoho can be the primary tool for all startups and small businesses.
Zoho offers multilevel approvals on all sales transactions and can be integrated with a larger ecosystem of former Zoho products.
Features:
Create invoices
Send estimates
Track expenses
Pay bills
Reports
Inventory
Banking
Pricing:
Zoho Invoice is available in 3 plans with a 14-day free trial:
Basic – $9/mo per organization or $90/yr per organization.
Standard – $19/mo per organization or $190/yr per organization.
Professional – $29/mo per organization or $290/yr per organization.
Verdict
Zoho's some functions require developers' skills and have a slightly steeper learning curve.
Otherwise, Zoho is an excellent tool for sole proprietors and small businesses, thanks to its flexible pricing, customizability, and deep feature set.
Want to set up your accounting structure in less than a minute? – Kashoo lets you do the same.
Kashoo is hassle-free accounting software for small business users. It scores big for its multi-currency support and an uncluttered interface.
Surprisingly, Kashoo's customer support is out of the question and never upsets you.
Kashoo provides a good summary of your current financial situation with a single click and delivers just about everything you're likely to need.
Features:
Accounts payable and receivable
Billing and invoicing
Budgeting/Forecasting
Cash management
Data import/export
ACH payment processing
Pricing:
The basic plan, designed for small businesses, is completely free to use. The rest comes with 14-day free trials.
Kashoo Accounting – $20/mo
Kashoo – $30/mo (mid to large-size businesses)
Verdict
The basic plan is free and involves all the features – a good deal for freelancers and SMBs. However, the mobile app is only available for iOS, leaving Android users out in the cold for the time being.
Kashoo's simplicity makes it ill-suited to larger businesses that need more features and functions than Kashoo's straightforward software can provide.
KashFlow is known for keeping things straightforward, which is in every case uplifting news when you're managing your records and anything charge-related.
This cloud-based programming arrangement can be used from anyplace and whenever, similarly, as long as you're connected.
KashFlow comes with a full set-up of features, which allows you to handle bookkeeping tasks and finance and HR duties.
Features:
Invoicing
Payroll
Business finance dashboard
Stock management
Banking-style level of account security
Works on phones, iPods, PCs, and laptops. No software to install
Free unlimited 24/7 online support
Pricing:
Starter – $9/mo
Business – $18mo
Business + Payroll – $25/mo
Verdict
The only downside with KashFlow is its chargeable video tutorials and complex structure. But on the other hand, it provides solid VAT support in the U.K. and other payroll options.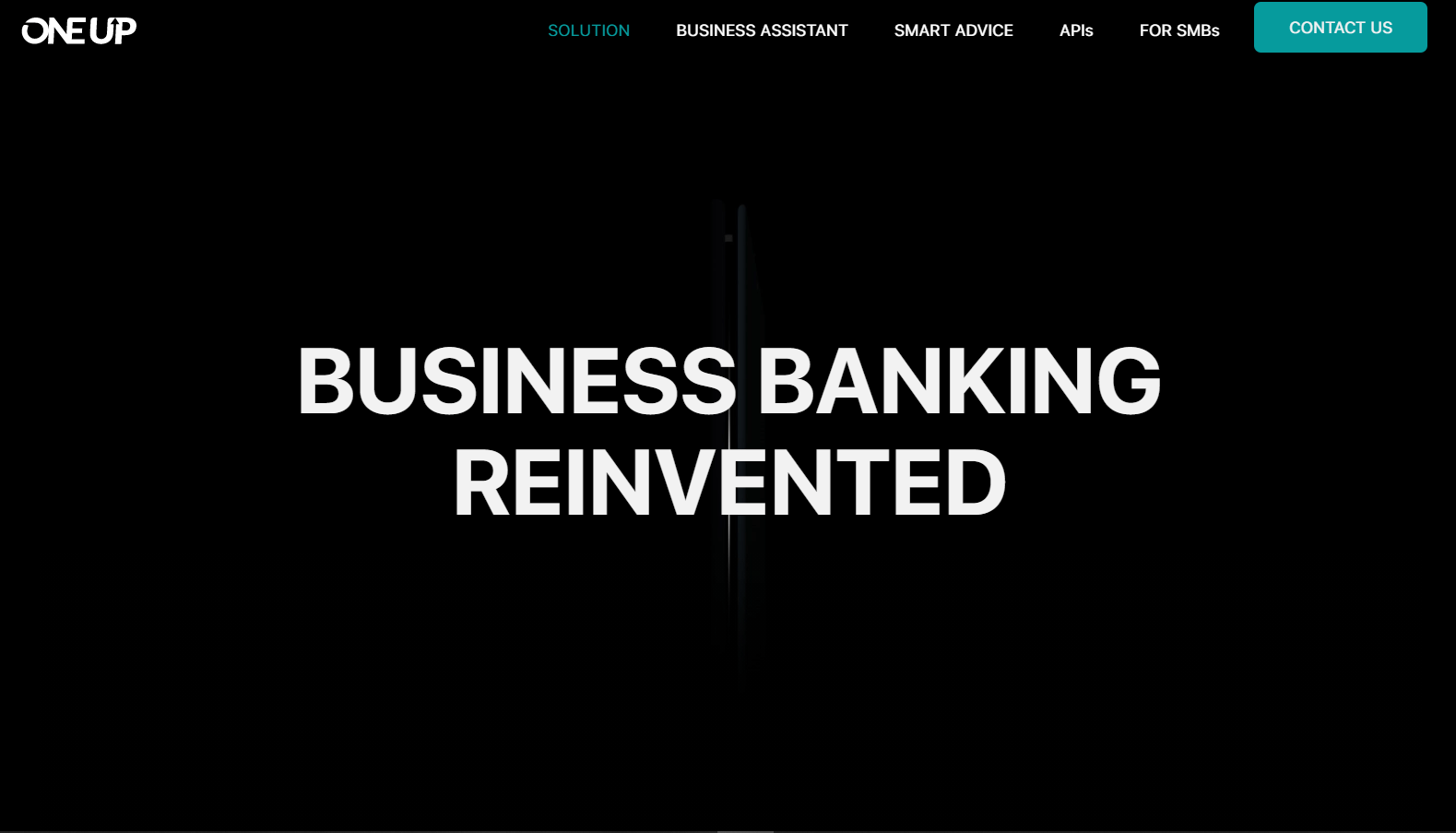 OneUp is a double-entry online accounting software perfect for small businesses.
The unique thing about OneUp is its extraordinary inventory management. Moreover, it has competent pricing capabilities, especially to support few users.
OneUp comes with low pricing, but it also limits the number of users and the support.
Also, OneUp doesn't have a payroll feature, nor does it offer integration with third-party applications — that includes even Stripe, so you can't accept credit card payments.
Features:
Barcode integration
Expense tracking
POS invoicing
Financial management
Supplier and purchase order management
Accounts payable
Pricing:
Self – $9/mo (1 user)
Pro – $19/mo (2 users)
Plus – $29/mo (3 users)
Team – $69/mo (7 users)
Unlimited – $169/mo (unlimited users)
Verdict
OneUp has a lot of great features but suffers regarding usability.
However, its inventory system is the best we've seen in any online accounting software, which may make it the perfect match for some businesses.
We all are aware of GoDaddy's fantastic web hosting service, but its bookkeeping service is worth watching, too.
GoDaddy offers excellent invoicing tools and automatically calculates quarterly tax estimates.
Moreover, it offers integration with eBay, Etsy, and Amazon, making it easy for small and part-time merchants to link their sales on those sites to its bookkeeping engine.
Features:
General Ledger. Journal Entries.
Accounts Payable and Accounts Receivable.
Invoice Customization and AP Automation.
Inventory Tracking / Ordering.
Reporting, Analytics, and Financial Statements.
Customizations.
Data Import and Export Tools.
Track Cash Flow.
Pricing:
Get paid – $4.99/mo
Essentials – $9.99/mo
Premium – $14.99/mo
Verdict
GoDaddy Bookkeeping's direct integration is awesome for SMBs and other individuals.
Its overall bookkeeping depth and flexibility are good, and it's easy to use, but it lacks much-advanced functionality compared to other software on our list.
Sunrise is a double-entry small business accounting software.
It provides contacts and product records, quotes and estimates, invoices, recurring invoices, expenses, and data import from financial institutions.
Sunrise also offers integrations with Square, Stripe, and PayPal Business Payments for payment processing.
It lacks many features such as time tracking, mobile apps, and many more compared to other software. However, it's a competent choice if you're a budget-conscious individual or SMB.
Features:
Accounts payable and receivable
Invoicing
Accounting management
Expense tracking
Financial management
Profit/loss reports
Sales tax management
Automated billing
Capture expenses
Pricing:
Sunrise is available in three different plans. All three offer help with reconciliations, bookkeeper support (text and email), and monthly closing of your books.
Early – $149/mo
Growing – $299/mo
Corporate – $499/mo
Verdict
Sunrise's ease of use and features make it a good choice for freelancers and sole proprietors who need to track income and expenses and invoice customers.
It might also appeal to small businesses that need double-entry accounting and can live without time tracking, robust reports, and full mobile access.
Bonus Software
OnPay – Good for small businesses to streamline payroll, automate tax filings, and enter payment data.
FreeAgent – Better deal if you want to create a lot of estimates and invoices, want to monitor your cash flow, keep track of receipts, and track your time.
AccountEdge Pro – One-time fee of $399. Provides double-entry accounting tools. Just the tool you're looking for, but without mobile apps.
Conclusion
So there you have it: our top picks for the best accounting software.
Selecting the perfect tool for your business from overwhelming lists is no easy task. That's why we've narrowed down the gigantic list to 13 – and that includes only those accounting software ones that meet our mark.
It's always better to get 2 steps ahead of your league. And, choosing cloud accounting platforms might be your chance to dominate forthcoming events.
Each tool we've considered includes a free trial, so don't wait and get your hands on this software until you hit your favorite.
Share this article on: