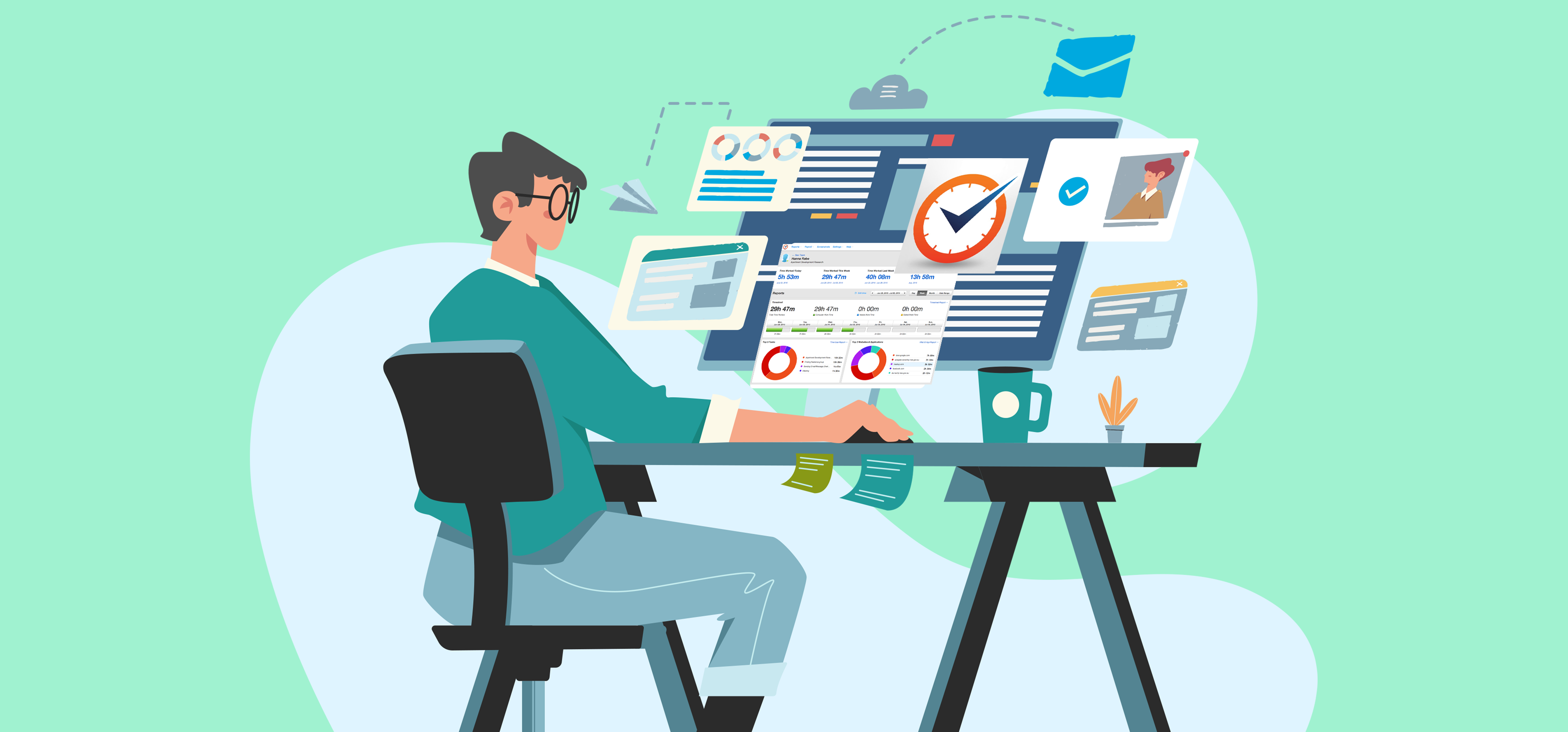 Do you want to keep an accurate track of your employees' working hours and productivity?
Let me introduce you to Time Doctor, the employee time tracking and productivity software that has become the talk of the town.
With the help of this software, users can easily track the day-to-day activities, such as project management, of all the employees.
The tool is beneficial not only for remote and hybrid teams but also for freelancers operating for a single person or software engineers who work for small, mid-size or large high-performing corporations like Apple across the globe.
What this all-around time tracking app can do for you?
How does it work?
What are its pros and cons?
Let me help you find answers to all the big questions in this detailed Time Doctor review.
What is Time Doctor? 
Time Doctor is a highly detailed, accurate, and powerful SaaS time tracking software that provides solutions for productivity management to improve the performance of any company, business, or organization's managers and employees.
Launched in 2012, this software was put into action by the proprietors of Staff.com.
Time Doctor has expertise in:
Tracking the attendance of every individual working on the project or task team.
Calculating the amount of time each person worked.
Breaking down the reports on the time spent on each task, project, or client through automatic and manual time tracking modes.
Building efficient work schedules for employees.
Categorically arranging applications and websites based on employees' productivity levels and ratings.
Process payments with the help of payroll integration tools such as Payoneer and PayPal.
Features
The best features which make Time Doctor a very promising platform for users in the upcoming years include the following:
Time Tracking & Employee Monitoring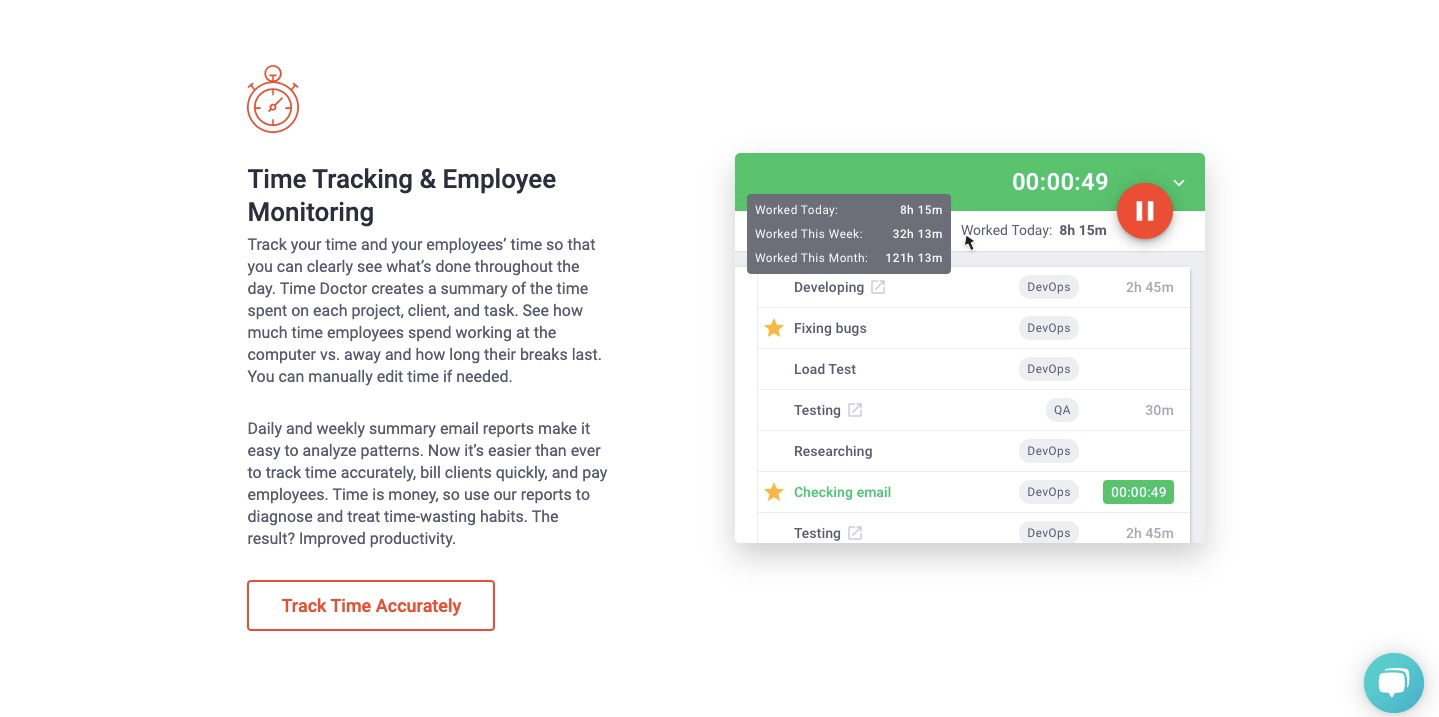 Time Doctor helps build a synopsis of the time spent on each client, task, or project. It displays the amount of time the employees spend on the computers alongside the breaks they get. Editing the time can be done manually, if required.
The tool also analyzes the patterns of email reports received weekly or daily. It helps to keep an easy and accurate track of the timings and charges the clients quickly to pay the employees.
Online Timesheets & Payroll

Time Doctor builds flawless and customizable payrolls and timesheets.
The company or business managers can easily review these as per the requirements and approve the payments or fix the salaries of the employees based on the hours they have operated.
These digitized timesheets and payrolls are supportive of all sorts of currencies and timings.
You don't have to pay any extra fees. Users can easily select their preferred payment methods, such as Payoneer, Paypal, TransferWise, or any other method.
Project Management & Budgeting
Time Doctor is highly effective at aligning budgets and projects. The users can build tasks, assign projects, and review them on the spot with complete ease.
The permanency of the tasks can only be changed or set by the admin. However, the regular tasks can be added by any user-provided they are turned disabled or enabled as per the requirements.
The feature simplifies project management by analyzing their reports, helping teams improve their timing at all levels of efficiency.
Productivity Measuring & Summary Reports
Time Doctor displays screenshots of real-time progress. It displays an individual, the project they are operating on, and the procedure of their time management.
The feature also provides a synopsis of hourly reports on a weekly and daily basis.
It employs numerous applications and websites to break down tasks and client reports. Employees can get a clear vision of their own used time, check the areas that require improvements, and correct their time-wastage habits to boost productivity for future tasks.
Distraction Alerts
Time Doctors send alerts to help everyone stay focused on their tasks and not get distracted. It tracks all the applications and websites used while operating on tasks.
As soon as it can detect excess time on sites and apps like Facebook, Instagram, YouTube, or all the other non-related personal sites, it sends pop-up alerts to the user.
Not just this, it also sends alerts when the computer sits idly for a long period during working hours. With the help of these alerts, all the users and their team of workers will be able to maintain their focus on essential tasks during working hours.
Screenshots & Activity Levels
Time Doctor helps take screenshots of the computer screens of employees, provided the team member indicates that they are working. You can delete the feature after the completion of work to maintain privacy.
It also sends insights about the activity of the keyboard and mouse. It has time interval setting options that can easily be turned off or on for any given user.
Once the screenshots are removed, the work timings associated with them also get deleted automatically.
Device Compatibility
Time Doctor can operate well on any device, be it desktops, mobile phones, tablets, etc. It supports all kinds of operating systems, including Windows, Android, iOS, Chrome, Mac, Linux, etc.
Interestingly, the Time Doctor mobile application can track time equally well as the desktop version.
API & Integrations
Time Doctor's Application Programming Interface (API) allows applications and software owned by the users to interact directly with Time Doctor to operate the data from the user's Time Doctor account in any way they prefer.
It allows easy integration with top project accounting and management tools such as GitHub, Slack, Teamwork, Trello, Asana, Jira, QuickBooks, Basecamp, Salesforce, Active Directory, etc.
Website & App Monitoring
Time Doctor allows applications and websites to track, outline, and record how long users operate on them. This feature is also capable of displaying the time spent on calls and meetings as well.
This helps with a clear understanding of user habits and filters out the extra time wasted on fixing issues related to lack of productivity.
Offline Time Tracking
With the help of Time Doctor, users can easily record and track their work progress, screenshots, and timings even when they are offline or not connected to the internet.
The data gets synced once the user gets online.
Client Access Logins
Time Doctor provides clients with white-label access without any added charges under the domain and brand of the company or business using the platform.
The software will help them build a good relationship with clients by displaying reports and screenshots of their progress on the projects those clients have assigned. To maintain privacy, clients will be provided with limited access to work progress.
Customization
Time Doctor provides several customization options, including email report settings, company and account settings, user and team settings, as well as screenshot settings. The options can be easily enabled and disabled as per the requirements.
Privacy & Security
Time Doctor is always careful to keep user data secure and private. The platform is certified with SSL (Secure Sockets Layer).
The servers are also situated in safe data center enterprise facilities, which provide constant hosting and tracking support day and night.
How does Time Doctor work? 
Now that we have introduced you to Time Doctor and it's features, here are the steps for how to install and use the Time Doctor desktop application step-wise.
Go to Time Doctor.
You will be directed to a webpage where it will ask you to answer questions to see if Time Doctor is right for you. If you're an employer or a manager, the answer to all these questions will likely be a 'Yes.'

After you have answered the questions, you will be navigated to the below page.

Here you will get two options: Test it myself and Invite my team. Click on 'Test it myself to test the application and then tap on 'Try it out'.

Now enter your name, email address, and password to proceed. Once done, you will see a page like this.
After that, you have to choose among the above mentioned options for 'What's your biggest challenge'? And tap 'Next'. For instance, I chose 'I think we can be more productive'.
With this, enter the size of your team and enter the name of your company.
Next, select from the two options mentioned below to jump to the next step and again click on 'Next'.
Now enter your team member details including team member email, team member name, and their role in the organization. You can select as much as employees as you want.
Finally, you are welcomed to your dashboard from where you can access everything in one place.
If you want to manage users, navigate to the top of the Time Doctor page dashboard and go to settings.
Select "Manage Users."
The menu options at the top of the page will help you narrow down your selections. You can select which group, access level, active or deleted users are to be selected.

If you want to look up for only a single individual, you can take the help of the search bar available.
If you want to generate payroll, you can select the 'Payroll' option from the dashboard.
You can invite users by email or add them directly in bulk by using the option 'Add By CSV'.
You can download and install the app on your system to track your work performance.
Pros
Let's take a quick look at some of the advantages of using Time Doctor:
Allows manual time editing.
Selection of tasks is required for tracking time.
Keeps the data private, secure, and protected.
Can be accessed as an efficient Chrome extension.
Has an easy-to-employee-friendly user interface.
Provides a 24/7 customer support team service.
Supplies an API for any software application integration need.
Powerful employee monitoring functionality.
Ability to create invoices from within the application.
Relatively easy to get used to working with it.
Features for tracking employees are extensive.
Numerous personalization options.
Works well with a wide range of devices and operating systems.
Ideal for small, medium, and large companies.
Cons
Time Doctor, like any other time monitoring and tracking tool, has a few cons. Let's take a look at those as well.
It does not allow management of every aspect of the employees' working hours.
Only gives a few details to track bad or good performances.
The user interface (UI) is not the most user-friendly.
The Stopwatch feature needs a desktop application or Chrome extension to work.
There is no availability of customer support via live chat or telephone call.
Pricing
Time Doctor pricing is divided into four different categories. The plans include:
Free-Trial Plan
The Time Doctor free plan is a 14-day free trial for any individual user. This suggests that users don't have to pay anything at any point during the trial period of 14 days. If they like the product, they can opt for any of the next three paid plans.
No credit card details are required for the trial.
Get started with Time Doctor →
Basic Plan
The Time Doctor basic plan starts at $7 per month per user. It offers time tracking, activity monitoring, task management, one department or group access, along with unlimited screenshots and 1-month data storage.
Standard Plan
On the Time Doctor Standard Plan, individuals will be charged a monthly $10 fee. It includes all the features of the basic plan along with the addition of the payroll feature, up to 3 departments or groups, access, 6-months data storage and over 60 integrations.
Premium Plan
In the case of the Time Doctor Premium Plan, individuals have to pay a monthly fee of $20. It includes everything provided by the standard plan with some extra additional features, like client login access and the setting up of concierge accounts to help clients, employees, etc.
It also provides users with an unlimited amount of data storage in groups or departments.
Pressing Questions Answered
Is Time Doctor safe to use?
It is definitely safe to use Time Doctor software. The personal data of the user is kept completely safe.
The integrations granted in the platform use APIs and OAuth, which abolishes the requirement of providing user passwords to access the services.
Why does Time Doctor take screenshots?
Time Doctor takes screenshots of users' computer screens every few minutes.
This is required for displaying clear statistics regarding the keyboard and mouse activities during working hours. They can be easily deleted to maintain the privacy of the user concerned.
Does it record webcam?
Not at all.
Time Doctor is a highly interactive software and application that will not track anything on your computer when you don't want to keep track of your time using the app. It will only track your employee's activities when you decide to select an operation, project, or task and keep track of the time spent on it.
However, Time Doctor also comes with an optional video recording feature with which you can allow a three-minute video recording of your employee's screen.
Does it work offline or without the internet?
Yes. Time Doctor can track, manage, and record your or your employee's work performed even when the computer is not connected to the internet.
As soon as you regain connection with the internet, the data will be automatically synced and uploaded to the account.
Does Time Doctor make the computer or other devices slow?
It will differ from user to user depending on the device they are using. Certain users may have other software in their systems that will cause their computers to slow down.
Other users may complain about receiving inaccurate tracking times. Many users report that Time Doctor does not function properly on the Mac operating system.
Verdict
Summing it all up; Time Doctor is definitely a beneficial service for both individual and company team users.
With all the screenshot taking, keystroke logging and no-internet tracking features, it is definitely a go-to software, especially for the remote and hybrid working team members in offices.
Since it comes with a free trial plan of 14 days, it's worthwhile to try the product out.
I highly recommend exploring all its features and making your decision to go with it accordingly.