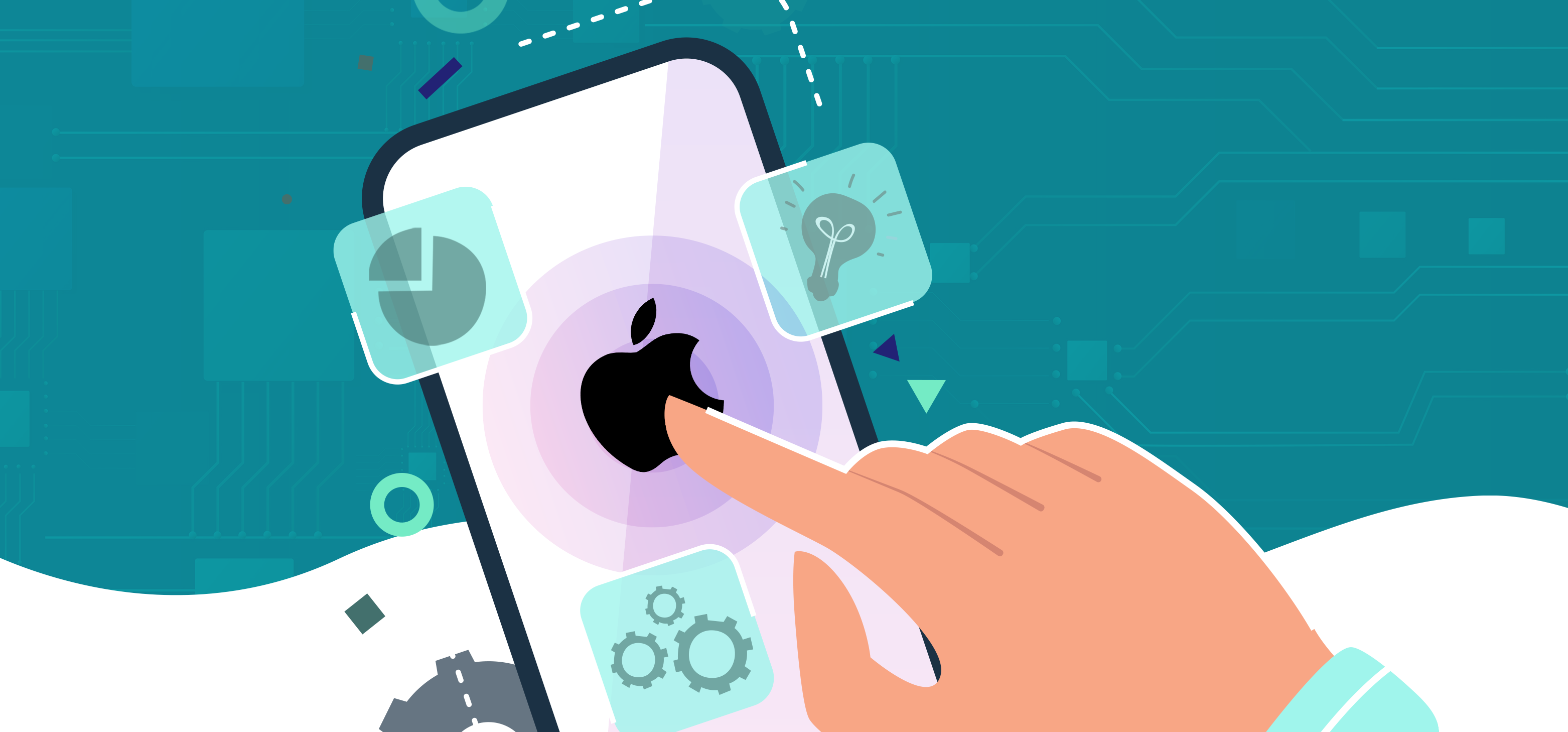 Apple is one of those fortunate brands that has veritably become a symbol of status.
I would say all the credit goes to its ingenious product line, but it would be untrue.
Apple manufactures nothing you haven't seen before.
In fact, many well-known brands offer relatively far better products!
Despite all this, Apple has ingrained itself in the market so thoroughly, nearly everyone is familiar with its gadgets, whether if they own them.
How has Apple accomplished such a feat?
The answer lies in its marketing strategy.
Apple's advertising tactics live up to its slogan. They a fresh approach to increasing visibility and consequently earns billions every year.
Now, any product Apple launches most definitely meets success.
Would you like to know what Apple does differently?
Let me share 12 key lessons to learn from Apple's marketing strategy.
1. Offer Unique Value Proposition
Apple competes with some of the most reputable tech companies, yet, it has never compromised on price. Strangely, its customers rarely care about it either.
Do you know why?
Apple is one brand among many that have successfully identified their UVP.
Your brand's unique value proposition is what truly makes you stand out from your competitors. It tells your prospect what you offer and lets them know why they should prefer you over others.
Apple's unique selling point is the user experience. From its design, value, to its operating system, everything is customer-centric.
Ask any Apple user, and they'll say as much.
For that reason, Apple has maintained its product quality, despite being in the market for over two decades.
Lesson
UVP (Unique Value Proposition) gives you a reasoning point, allowing you to have a competitive edge. 32% of businesses remain mediocre for not offering a unique value proposition.
Start working on it now.
2. Go For Minimalism
I am not sure if you've noticed, but Apple, though, usually upgrades its software. They rarely change its phone's physical structure or user interface.
It's not that Apple lacks creativity. The brand is, after all, famous for its innovations.
Apple simply prefers a minimalist style.
Why?
Because minimalist designs are not only aesthetically pleasing, but they reduce distraction. It allows you to focus on the important parts.
Steve Jobs once said during a conversation, "It takes a lot of hard work to make something simple, to truly understand the underlying challenges and come up with elegant solutions."
His opinion echoes those of Apple products. They are sleek and unmistakably aesthetic, yet they carry a minimalist aura that has become their trademark.
Of course, Apple also wants to turn simplicity into its brand identity. That is another reason they rarely divert from its original designs.
Lesson
Complexity overwhelms your audience. The simpler your approach is, the better response you'll likely receive.
If you observe Apple, from the user interface, package design to advertisements, everything screams practicality.
Take inspiration from the brand and go for simplicity.
3. Employ Product Placement
Apple has long been insinuating itself in movies and celebrities' shows. Its product placement strategy gains Apple the maximum exposure and subtly influences people's minds toward its products.
Let me give you an example.
Have you watched the movie "The Girl with the Dragon Tattoo?"
While watching the movies, I noticed something interesting. The movie showed the lead cast using Mac in several scenes.
I am not sure what Apple wanted to imply: my subconscious mind deduced Mac as a heavy-duty gadget.
Lesson
Product placement is an uncontested marketing strategy that generates tons of high-quality leads.
While Apple has a budget to spare, you don't have to go broke to advertise your product.
Tons of brands employ influencer marketing instead and have successfully increased their sales.
Learn from Apple tactics and approach influencers to achieve similar results.
4. Build Anticipation
If you want to learn how to create hype, study Apple's product releases.
Apple has practically mastered the art of mystery.
Months before the product launches, Apple releases the teaser and drags it to the point the hype alone draws a large audience. By the time the actual unveiling occurs, Apple gains substantial customers for its products.
I came across a case study on Apple's iPhone launch and found a broad view of how they've won their place.
Steve Jobs announced its intention to introduce the iPhone a year before its launch, creating a buzz so great that Apple sold 1.4 million iPhones in its first year.
Apple still employs the same formula to guarantee success.
Lesson
People want to become a part of something exciting. Anticipation builds interest in your products and drives traffic to your product launch. The more hype you create around your product, the larger the attention you'll receive.
Apple joins trade shows, runs commercials, and sponsors magazine articles to create buzz. If you have a decent marketing budget, run teaser advertisements on social media to increase brand awareness.
5. Provide Memorable Customer Experience
Do you recall Apple's value proposition I shared earlier in my first point?
Customer experience is one part of its selling point that has contributed majorly to the company's success.
Apple offers a unique customer experience that is visible at every touchpoint of the buyer's journey.
For one, Apple targets a limited market to make its customers feel privileged. Although its products aren't beyond reach, not everyone can afford them either. Second, Apple store staff are trained to provide a personalized experience.
Most of all, Apple's devices are customer-centric.
You can tell from the features Apple manufactures products with the buyer's pain points in mind. Its privacy and security policy is a classic example.
Apple enriches customer experience to make sure they continue to enjoy the products.
Lesson
Your customer interacts with your brand at several touchpoints throughout their buyer's journey.
Your product features.
Your selling techniques.
Your customer service.
Each experience leaves an impression that influences their opinion toward your brand.
Take a customer-centric approach to offer a memorable experience.
6. Focus on Emotional Marketing
Emotional marketing may sound like a made-up term by someone who didn't know what else to name it, but it's an authentic advertising technique to trigger emotions.
Apple often employs this method to not only generate sales but also to build long-term relationships.
I mean, look at its branding. The clean yet sophisticated product designs represent luxury and attract people who prefer such a lifestyle. Apple Advertisements also rarely talk about its functionalities; instead, they appeal to human emotion.
If I have to put Apple into one category. I would say it's an emotional brand through and through.
The famous Think Different campaign is the perfect example of Apple's emotional marketing.
The campaign received the Grand Effie award for being an exceptional advertisement.
And do you know what the Ads featured? Nothing but a black-and-white image of celebrities and two words, "Think Different."
Lesson
Emotional marketing is a powerful technique that develops an emotional bond with your audience. It earns you twice the traffic to rational advertising and has the potential to go viral.
Learn your prospect's pain points and create stories to target their emotions.
7. Speak Your Audience's Language
Apple uses fewer but interesting words in its Ad copies. They follow the standard "less is more" policy to deliver impactful messages.
It focuses on what people want to hear rather than the product functionalities. Even when Apple mentions terminologies, they often go with it with visual representations, resulting in a stunning advertisement.
Apple also has an incredible grasp on its target audience. It highlights features people would be interested in and employ phrases we mostly use in conversations.
If I am shopping for an earphone, I would want the gadget to be comfortable, high quality, and cancels outside noise.
When I scrolled through the Apple product page, that's what I learned immediately. Apple site pages are reader-friendly and optimized to make navigation easy.
Lesson
Brands that speak their audience language attract large traffic. Understand your target market and draft copy with your prospect in mind.
8. Take Advantage of Visuals
Apple has a long history of creating visually appealing advertisements.
Pick any of its commercial, billboard, static Ad, or even product page, and you won't be able to take your eyes off it.
Apple cleverly uses videos, 3D graphics, and colors to create memorable advertisements.
Look at this Ad –
It is a basic cellphone image with a single-tone background and brief text. Highly ordinary but pleasing to the eye. By coupling it with an emotion-evoking message, Apple turned it into extraordinary advertisement copy.
Our brain processes visuals nearly 60k times faster than text. Apple is well-aware of the fact and plays with color wheels to bring out desirable results.
Lesson
Visual content elicits far more responses than text copy. A well-designed image can help you efficiently communicate your message. Study Apple's advertisement to understand how best to work with visuals.
I am sharing the Canva color wheel with you here. Learn color combinations and how to use them to your advantage.
9. Build A Strong Buyer's Persona
Typically, a company segments its target market based on its income, profession, demography, and psychology.
Apple, too, considers all of the above. Only it's that they put extra emphasis on behavioral segmentation.
Their focus is on people's behavior towards other brands, their shopping patterns, and lifestyle choices. From that data, they tailor advertisements.
If you study its Ads, they clearly show the efforts Apple puts into behavioral segmentation.
Take the iPad, for example. Who do you think mostly uses Tablets? Students, right? Wrong! — at least according to Apple.
By focusing on its prospect's desire, Apple singularly targeted multiple markets.
Lessons
Regardless of your business nature, there's always a possibility more than one type of customer will buy your product and services. For example, baby garments prospects aren't merely mothers. It could be an aunt looking to buy a dress for her niece or a friend wanting a gift for the new mother.
Knowing your prospect's behavior will allow you to create targeted advertisements.
Strengthen your buyer persona to understand your customer's needs.
10. Let Your Customers Advertise for You
Ever noticed Apple has practically little to no social media presence? In this age, where half of the world's population actively uses social media, doesn't it seem strange to you that a tech company avoids such a lucrative path?
The truth is, Apple doesn't need it.
They let their customers spread the word. Type #apple on Twitter right now, and tons of user-generated apple promotions will appear on your timeline.
The thing is, Apple cares about the customer's experience, which in turn makes its buyers happy.
Since a satisfied buyer always raves about the product on social media, Apple ultimately gains exposure through such means.
Lesson
Customers are the best source of brand endorsement. People believe more in testimonials and likely to buy a product on a friend's recommendation.
Leverage your customer testimonials to boost your brand credibility. You can offer a free product or Demo to gain high-qualified leads. You can also use word of mouth to attract paying customers.
Whatever method you choose, make sure it satisfies your buyer enough for them to recommend your product.
11. Build A Community
Apple has employed some amazing marketing tactics that have brought him nothing but success. But the one thing that gave him an uncontested position in the market was its ecosystem idea.
Apple follows a Vertical Integration strategy. It essentially gives their company control over every aspect of the buyer's journey.
The moment you purchase an Apple device, you enter the Apple sphere.
Apple will provide you with its software, cloud storage, access to an online store, and integration between multiple devices—sold by the company, of course.
This method allows Apple to make you feel like a part of an exclusive community.
Lesson
A brand ecosystem benefits both the company and its customers. The enterprise earns a strong customer base, and the buyer enjoys an excellent user experience.
While creating a brand ecosystem is no doubt challenging, it's not entirely impossible. Salons can launch its products to be used only in-house.
A house cleaning service can offer extra services consisting of all repair and maintenance.
Really, there are endless possibilities.
Strive to become the only point of contact for your customer.
12. Be More Than A Brand
Apple didn't reach the top position by merely selling luxury products.
It makes concentrated efforts to be a part of the community.
For example, Apple has a partnership with ConnectED and donates its products to the educational sector.
They also have an in-house Employee Giving Program to encourage volunteer work. Every time its employee donates a dollar or time, Apple adds the same amount.
Apple further supports local communities, observes its corporate social responsibility, and takes green initiatives.
One example is its success in reducing its carbon emissions by 35%. Apple now aims to cut it down more by 2030.
Lesson
These days people care more about what else the brand offers than the product itself. Yes, quality undoubtedly matters, but your brand image is the deciding factor in your ability to succeed.
Take an active part in social work.
Conclusion
You can learn a lot from Apple's marketing strategy.
The way the brand uses customer pain points to tailor its products.
The time it gives building communities to gain customer loyalty. And the efforts it puts into environmental health.
Study its strategy structure, analyze the key points, and discover the best ways to implement them. Good luck!
PS: Did I mention Tesla Motors, like Apple, also employs some amazing advertising tactics? Check out how Tesla is winning the game, here.