In an era where carbon transparency and environmental responsibility are more important than ever before, the need for effective carbon accounting has never been greater.
Carbon accounting allows organizations, big and small, to gain deep insights into their environmental impact and take tangible steps toward a more sustainable future.
But fear not!
You don't need to be a rocket scientist or a carbon guru to grasp the knowledge of the tools we'll be exploring together.
Whether you're:
A sustainability manager eager to revolutionize your organization's environmental reporting
An environmental consultant seeking reliable emissions tracking tools
Or a finance professional looking to measure and reduce your company's carbon footprint
This blog post is just for you!
What Is A Carbon Accounting Software?
Carbon accounting software helps you keep track of your organization's carbon emissions. It provides a digital system to measure, manage, and report on the amount of greenhouse gases released into the atmosphere.
For example, let's say you run a company that manufactures bicycles.
To produce those bikes, you use energy from a power plant that burns coal, which releases carbon dioxide (a greenhouse gas) into the air.
Your carbon accounting software would help you measure and keep track of how much carbon dioxide is emitted during the manufacturing process.
But it doesn't stop there!
Carbon accounting software goes beyond just tracking emissions. It can also help you identify ways to reduce your carbon footprint.
Going back to our bicycle company, the software might show you that using renewable energy sources instead of coal can significantly lower your carbon emissions.
It can help you explore alternative production methods or transportation options that have a smaller environmental impact.
In short, carbon accounting software is a powerful tool for understanding the environmental impact of various activities and finding ways to reduce carbon emissions.
Now that we have a grasp of what carbon accounting software is, let's delve into some useful metrics and factors to look at, before choosing any carbon accounting app.
| | |
| --- | --- |
| Factors | Description |
| Emissions Tracking | Ability to accurately measure and track greenhouse gas emissions from various sources. |
| Calculation Methodology | The transparent and reliable methodology used for calculating emissions, following industry standards. |
| Reporting and Analytics | Comprehensive reporting features, including customizable dashboards and data visualization tools. |
| Scenario Analysis | Capability to perform "what-if" scenarios and evaluate the impact of emission reduction strategies. |
| Integration and Compatibility | Seamless integration with existing systems, such as accounting or sustainability management tools. |
| User Interface and Usability | Intuitive and user-friendly interface that simplifies data entry, analysis, and reporting. |
Remember: Your organization may prioritize these factors differently based on your specific needs and goals. It's essential to evaluate how well each carbon accounting software aligns with your organization's requirements before making a decision.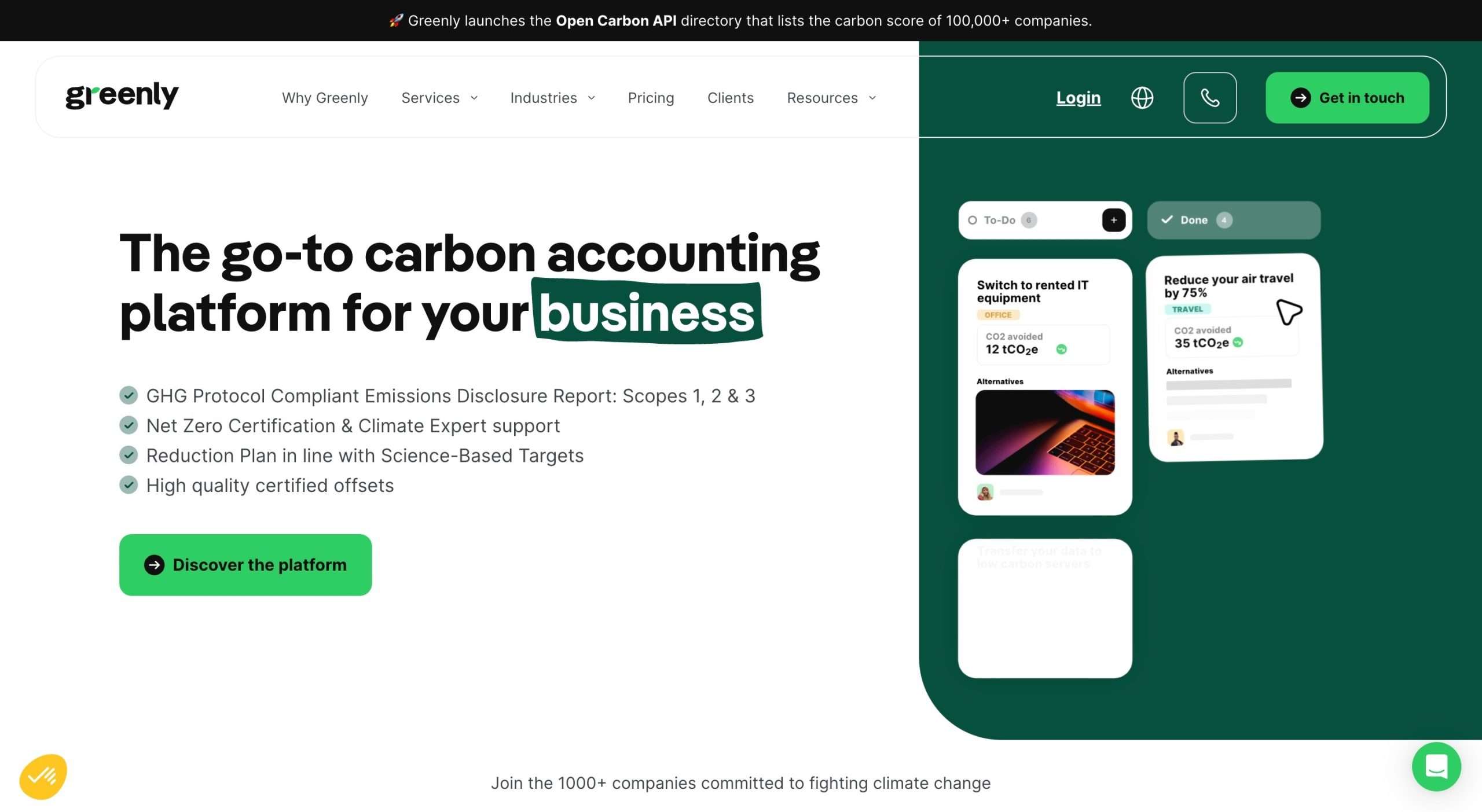 Greenly is the go-to carbon accounting platform designed to help your business effectively measure, reduce, and communicate its greenhouse gas emissions.
Greenly goes beyond measurement and offers Net Zero Certification and access to climate experts who can guide you in developing a reduction plan.
This means you can confidently set and work towards ambitious emission reduction goals while receiving expert support every step of the way.
The platform utilizes both Activity-Based and Spend-Based approaches to thoroughly assess your CO2 emissions.
Activity-Based factors employ your real activity data, providing precise and reliable measurements, while Spend-Based analysis uses automated technology to assess the carbon impact of your activities.
Greenly's benchmarking feature provides valuable insights by analyzing your emissions on a dashboard and comparing them with other players in your industry.
Greenly's pricing plans cater to different business sizes, with options such as the Starter plan for smaller companies starting at $99/month and the Essential plan for larger enterprises starting at $7,950/year (for 25 employees).
Useful Features of Greenly
GHG emissions tracking
Real-time data visualization
Scenario analysis
Supplier engagement
Automated data collection
Integration with existing systems
Persefoni is the carbon accounting software that simplifies the process of measuring and managing your organization's carbon footprint.
Persefoni comes with many standout features. One of them is streamlining the carbon reporting process, making it approachable for everyone.
Its Footprint Source Checklist guides organizations in identifying and defining relevant activities, removing the guesswork from the data collection process.
This streamlining ensures that businesses can easily gather the necessary data and focus on reducing their carbon footprint.
Data ingestion is made easy with Persefoni's Integration Hub, which seamlessly connects with your existing software systems.
With advanced analytics, you can identify high-emission areas and benchmark your organization's performance against industry standards.
It also, moreover, provides a Net Zero Navigator to assist in creating custom decarbonization plans and achieving net-zero goals.
Persefoni has not disclosed any pricing plans. They do not offer any free trial either. You can, however, schedule a free demo to check out your accurate requirements.
Useful Features of Persefoni
Streamlined carbon reporting
Data ingestion made easy
Accurate climate reporting
Accelerated decarbonization with advanced analytics
Net Zero Navigator for achieving net-zero goals
Integration with existing software systems
Sphera is a comprehensive carbon accounting software tool that specializes in providing Value Chain (Scope 3) Carbon Accounting Services.
High-level calculations based on financial data often fail to accurately reflect a company's value chain emissions.
Sphera addresses this challenge by offering meaningful and actionable data for Scope 3 quantification and reduction, based on physical quantities and industry-specific emission factors.
One of the key features of Sphera is its sustainability consulting services.
By partnering with experienced sustainability consultants, you gain access to methodological expertise and real-world emissions data, enabling you to translate ambitious emissions reduction goals into efficient and effective action.
Sphera also offers a Carbon Management and Accounting System through their SpheraCloud Corporate Sustainability software.
This system helps streamline and standardize the collection, calculation, and reporting of Scope 3 data.
While pricing information is not readily available on their website, you can request a free demo of Sphera by contacting them directly.
Useful Features of Sphera
Value Chain (Scope 3) Carbon Accounting Services
Sustainability consulting services with experienced partners
Identification of relevant Scope 3 categories for analysis
Tracking progress against reduction targets
Compliance with emerging regulations (CSRD, SEC)
IBM Envizi is a powerful and comprehensive SaaS tool that simplifies the capture, consolidation, management, analysis, and reporting of environmental, social, and governance (ESG) data.
At its core, IBM Envizi ESG Suite offers a data management foundation that creates a single financial-grade data for all your ESG reporting needs.
It automates the collection and consolidation of over 500 data types from diverse sources, such as energy retailers, equipment, and building management systems.
Envizi's powerful emissions calculation engine and flexible reporting tools make it easier than ever to meet strict internal and external requirements for reporting and disclosures.
Additionally, Envizi helps accelerate decarbonization efforts by identifying energy and emissions savings opportunities and tracking progress at every stage of the sustainability journey.
It provides powerful visualizations and customizable dashboards to facilitate collaboration and understanding.
IBM Envizi offers a 14-day free trial and a cost of approximately $4,050 per month for 1000 accounts.
Useful Features of IBM Envizi
Environmental, Health, and Safety (EHS) management
Sustainability and carbon management
Reporting and analytics
Mobile capabilities
Integration with other systems
Sinai Technologies is cutting-edge enterprise software designed to guide organizations on their smart path to decarbonization.
With a comprehensive suite of features and a climate-positive strategy, it empowers businesses to measure, analyze, price, and reduce their carbon emissions in the most cost-effective way possible.
One of the key strengths of Sinai Technologies lies in its commitment to an approach that prioritizes emissions reduction overcompensation.
At the core of Sinai Technologies is Decarbonization Intelligence, which emphasizes the importance of reducing actual emissions as the ultimate goal of achieving net zero.
Sinai Technologies also facilitates scenario and sensitivity analysis, enabling organizations to build robust transition strategies while effectively managing transition risks.
Sinai Technologies automates GHG inventories through flexible data collection, custom emission factors, and engagement with the value chain.
While the pricing for Sinai Technologies is not disclosed, you can request a demo to experience the tool's capabilities firsthand.
Useful Features of Sinai Technologies
Robust carbon accounting and emissions tracking
Science-based target setting and monitoring
Automated data collection and integration
Scenario analysis and what-if modeling
Risk assessment and mitigation strategies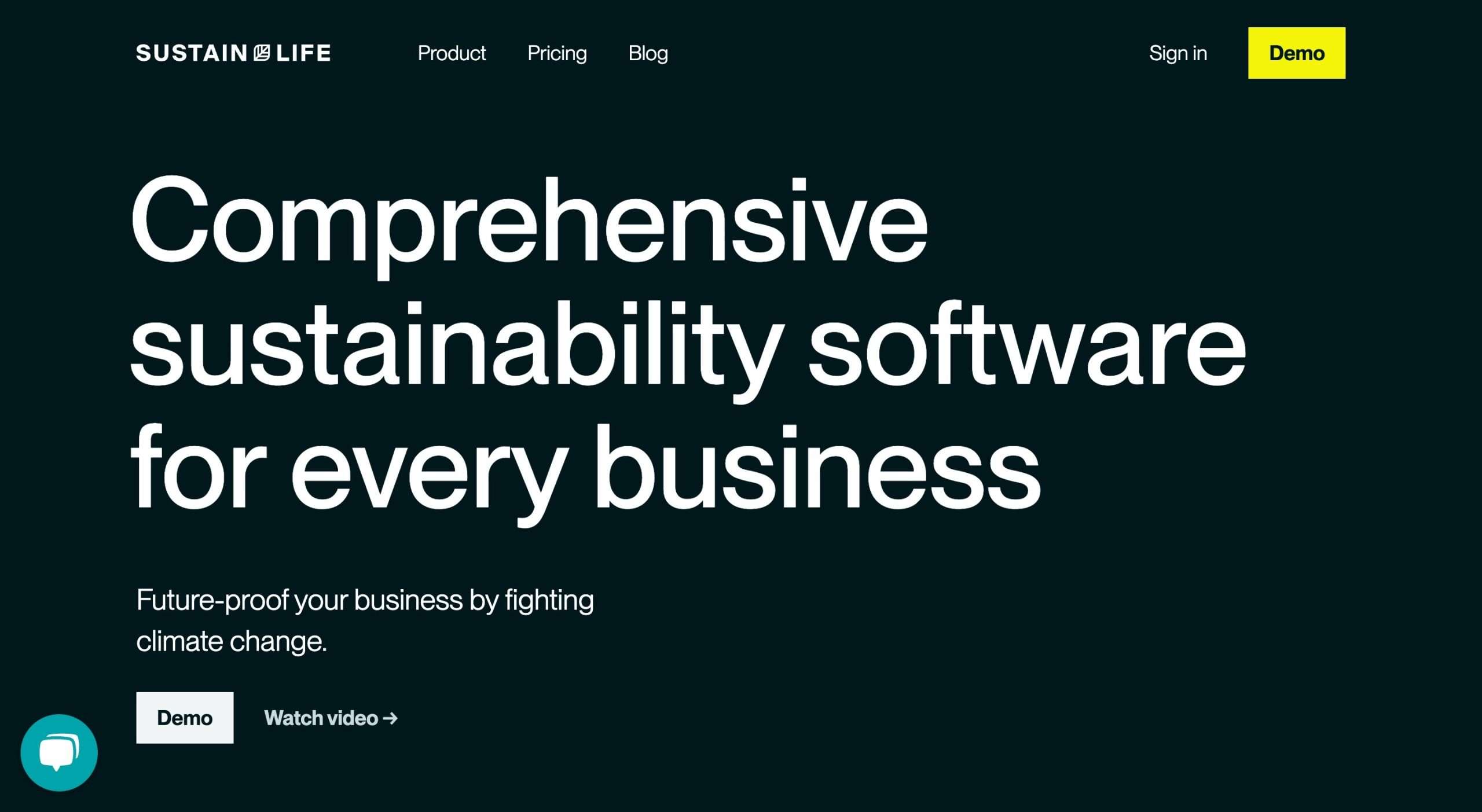 Sustain.life is a sustainability software designed to future-proof businesses by empowering them to fight climate change.
Sustain.life excels in three key areas:
Measurement
Management, and
Reporting.
Firstly, it allows businesses to measure their environmental impact by consolidating all relevant data in one place
Once armed with these insights, businesses can effectively manage their sustainability efforts.
Sustain.life assists in creating customized plans to reduce carbon emissions across all aspects of the organization.
By identifying emissions hotspots, businesses can address the largest contributors to their carbon footprint and implement actionable solutions to reduce emissions.
In addition to measurement and management, Sustain.life streamlines the sustainability reporting process.
It simplifies the task of communicating progress and aligning with third-party standards, making reporting more efficient and accurate.
Sustain.life offers a demo. Their Starter plan costs $6000/month (annual billing).
Useful Features of Sustain.Life
Management of carbon emissions reduction across the business
The streamlined sustainability reporting process
Set science-based emissions reduction targets
Identify emissions hotspots and implement actionable solutions
Industry benchmarking for comparison with similar companies
Normative is a powerful carbon accounting engine that empowers businesses to accurately measure their emissions and take action towards achieving net-zero targets.
One of the key challenges in carbon accounting is the accuracy gap, where businesses often struggle to measure the full extent of their emissions.
Normative addresses this issue by providing comprehensive coverage across scopes 1, 2, and 3, leveraging its extensive eight-year experience and 30 million data points.
Normative goes beyond calculations by offering dynamic dashboards that allow you to understand the sources of your emissions in detail.
Whether it's scopes, regions, or suppliers, the platform provides a clear visualization of the carbon footprint.
Additionally, Normative's expert Climate Strategists are available to assist businesses in interpreting the results and designing effective reduction initiatives.
As a trusted partner for the net-zero journey, Normative also enables businesses to invest in carbon removal projects, facilitating the complete path to achieving net-zero emissions.
To get the exact pricing details for your business, you can book a demo and request a quote tailored to your specific needs.
Useful Features of Normative
Comprehensive coverage across scopes 1, 2, and 3
Intelligent automation for data upload, processing, and management
High-resolution insights for identifying actionable emissions reductions
Scientific integrity with 7,500+ taxonomy categorizations
Expert Climate Strategists for interpretation and planning
Ability to invest in carbon removal projects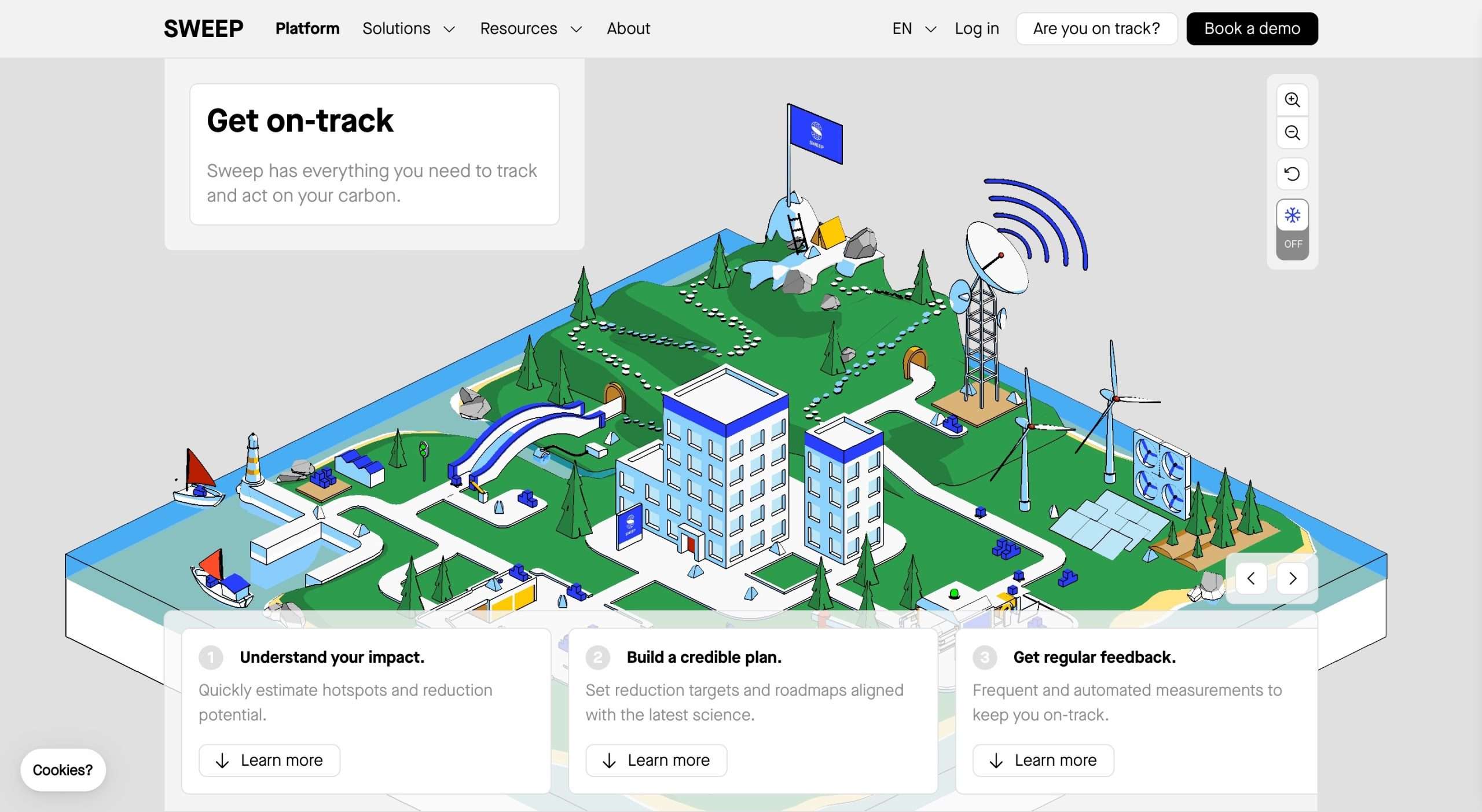 Sweep enables businesses to understand their environmental impact, estimate emission hotspots, and identify reduction potential.
With its user-friendly interface and comprehensive features, Sweep simplifies carbon tracking from the very beginning.
One of the key advantages of Sweep is its benchmarking capability, allowing you to quickly establish a baseline understanding of your company's emissions.
Additionally, Sweep offers seamless integration with existing carbon data sources.
If you've already been tracking your footprint, you can easily import all your carbon data into the platform, consolidating it in one central location for streamlined analysis and reporting.
Sweep's innovative approach to organizing data revolves around a flexible system called Trees.
This intuitive visualization of your company enables you to pinpoint emission sources and assign ownership to specific teams or departments.
Sweep provides multiple ways to input carbon data, from CSV imports to automatic APIs and powerful surveys.
To ensure you stay on track, Sweep offers a free assessment that not only identifies where you stand compared to industry benchmarks but also provides recommendations for future climate actions.
As for pricing, you can book a demo to learn more.
Useful Features of Sweep
Free assessment for tracking progress and recommendations
Tree view, visualization of emissions sources
Leverage deep insights through visualizations and reports
Measure in various ways (CSV imports, APIs, surveys)
Collaborate and exchange data with other businesses
Create detailed dashboards and auditable reports
Watershed is a comprehensive and powerful carbon accounting software tool that empowers organizations to run world-class climate programs.
It utilizes a cutting-edge carbon data engine that analyzes emissions for every aspect of your business.
Whether it's Scope 1, 2, or 3 emissions, Watershed has developed state-of-the-art methodologies for various sectors, including remote work, cloud computing, cryptocurrencies, food, and apparel.
One standout feature of Watershed is its ability to delve deep into the supply chain.
Recognizing that a significant portion of carbon emissions lies within the supply chain, Watershed allows you to track emissions down to every supplier.
With Watershed, understanding your carbon footprint is a swift process.
Simply upload raw data on financials, buildings, travel, and more, and let Watershed take care of the rest.
They offer a user-friendly dashboard where you can drag and drop files or automate data collection through their API.
Your carbon footprint automatically refreshes with new data, eliminating the waiting time typically associated with PDF-based reporting.
Additionally, Watershed offers hands-on support throughout the entire journey, eliminating the need for external consultants.
Lastly, through the Watershed Marketplace, you can invest in high-quality carbon removal projects and offsets directly from the dashboard
To get the most suitable pricing plan for your business, you can book a free demo.
Useful Features of Watershed
Tracking of carbon emissions throughout the supply chain
Seamless data upload and auto-refreshing footprint updates
Real-time dashboard for detailed analysis and benchmarking
Access to high-quality carbon removal projects (Watershed Marketplace)
Hands-on support from in-house climate leads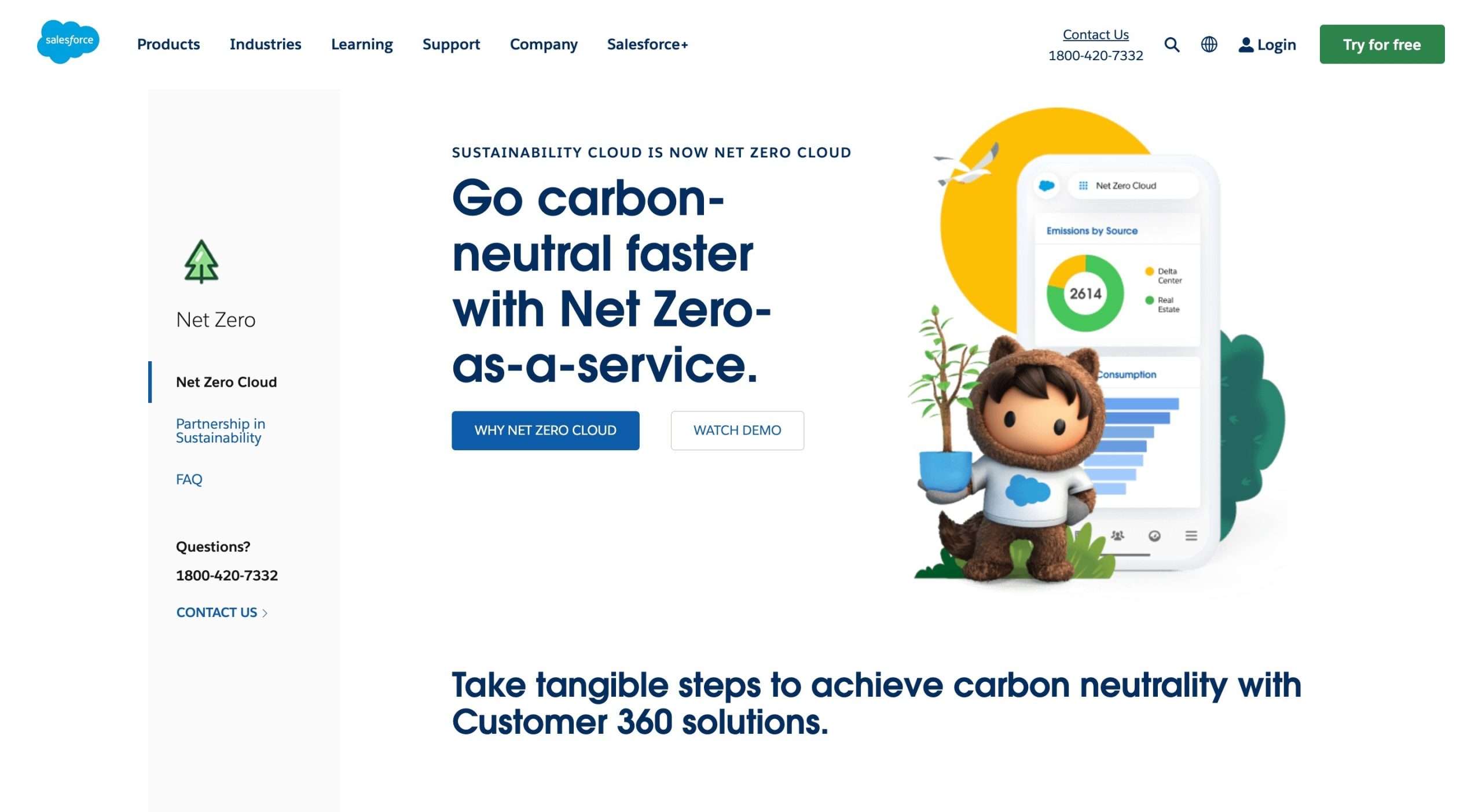 Net Zero Cloud is a sustainability management solution offered by Salesforce, designed to integrate sustainability practices seamlessly into your organization.
One of the key features of Net Zero Cloud is its ability to efficiently manage real-time sustainability data.
By integrating data from multiple sources and leveraging auto-updated datasets, you can ensure the accuracy and suitability of your sustainability data for investor and regulatory reporting purposes.
With Net Zero Cloud, you can even collaborate with your suppliers to track and take action on full value chain emissions.
They also offer powerful forecasting and risk-reduction capabilities.
It provides, for instance, intelligent emissions predictions, recommendations for reduction, and progress tracking toward net-zero targets.
Through what-if analysis and emissions forecasting, you can simulate different scenarios to identify the fastest path to achieving your sustainability goals and measure their progress along the way.
To get started, you can take advantage of the 30-day free trial and experience the benefits of Net Zero Cloud firsthand.
Useful Features of Net Zero Cloud
Efficient real-time sustainability data management
Automated supplier emissions tracking
Intelligent emissions predictions and reduction recommendations
What-if analysis and emissions forecasting
Net Zero Marketplace for purchasing carbon credits
Water management tracking and KPI calculation
With a range of helpful functionalities, Emitwise empowers organizations to measure, track, report, and reduce their carbon emissions, including the complex Scope 3 emissions that are often overlooked.
One key advantage of Emitwise is its ability to tackle the challenges of large-scale operations.
Its hybrid carbon accounting approach combines machine learning technology with the expertise of carbon accountants.
This allows the software to process and analyze vast amounts of data, ensuring accuracy while uncovering blind spots that technology alone may miss.
Automation is another key feature of Emitwise, as its machine-learning engine efficiently processes large amounts of carbon data.
While expert carbon accountants provide ongoing support to guarantee a comprehensive and accurate emissions profile.
To learn more about Emitwise and its pricing options, you can book a demo.
Useful Features of Emitwise
Hybrid carbon accounting

Specialized expertise in managing complex Scope 3 emissions

Tailored calculation methods for accurate outputs

Automation of carbon accounting processes

Generate detailed reports for commercial insights
Diligent is a profound carbon accounting software designed to streamline the process of generating accurate sustainability reports.
Certified by leading organizations such as CDP, GRESB, etc, Diligent is purpose-built for sustainability professionals, by sustainability professionals.
It provides access to 70,000 up-to-date globally published emission factors, ensuring accurate and reliable data.
It also boasts the fastest onboarding experience in the sector, allowing you to start utilizing its benefits promptly.
Diligent equips the power of automated data collection, enabling you to save time and resources.
They handle data collection, cleansing, analysis, and reporting across various fuels, business activities, and data sources.
With built-in global emissions factors and calculations, you can input data with confidence, knowing that it will be accurately converted.
Useful Features of Diligent
Access to 80 pre-built audit-ready reports

Access to 70,000 globally published emission factors

Automated auditable data collection, cleansing, analysis, and reporting

Built-in global emissions factors and calculations

Automated checks for data anomalies and completeness

Flexibility in data capture methods with APIs
Final Thoughts And Recommendations
Carbon accounting software plays a crucial role in helping organizations measure, manage, and reduce their carbon emissions.
The reviewed software solutions offer a range of features and functionalities to streamline the carbon accounting process.
Persefoni, for example, focuses on simplifying carbon reporting and provides advanced analytics for accelerated decarbonization.
Greenly, on the other hand, offers emissions tracking, benchmarking, and access to climate experts for reduction planning.
Each software solution has its unique strengths and pricing models, catering to different organizational needs and goals in carbon accounting and emissions reduction.
Try many, then choose the one YOU find the most suitable and convenient.