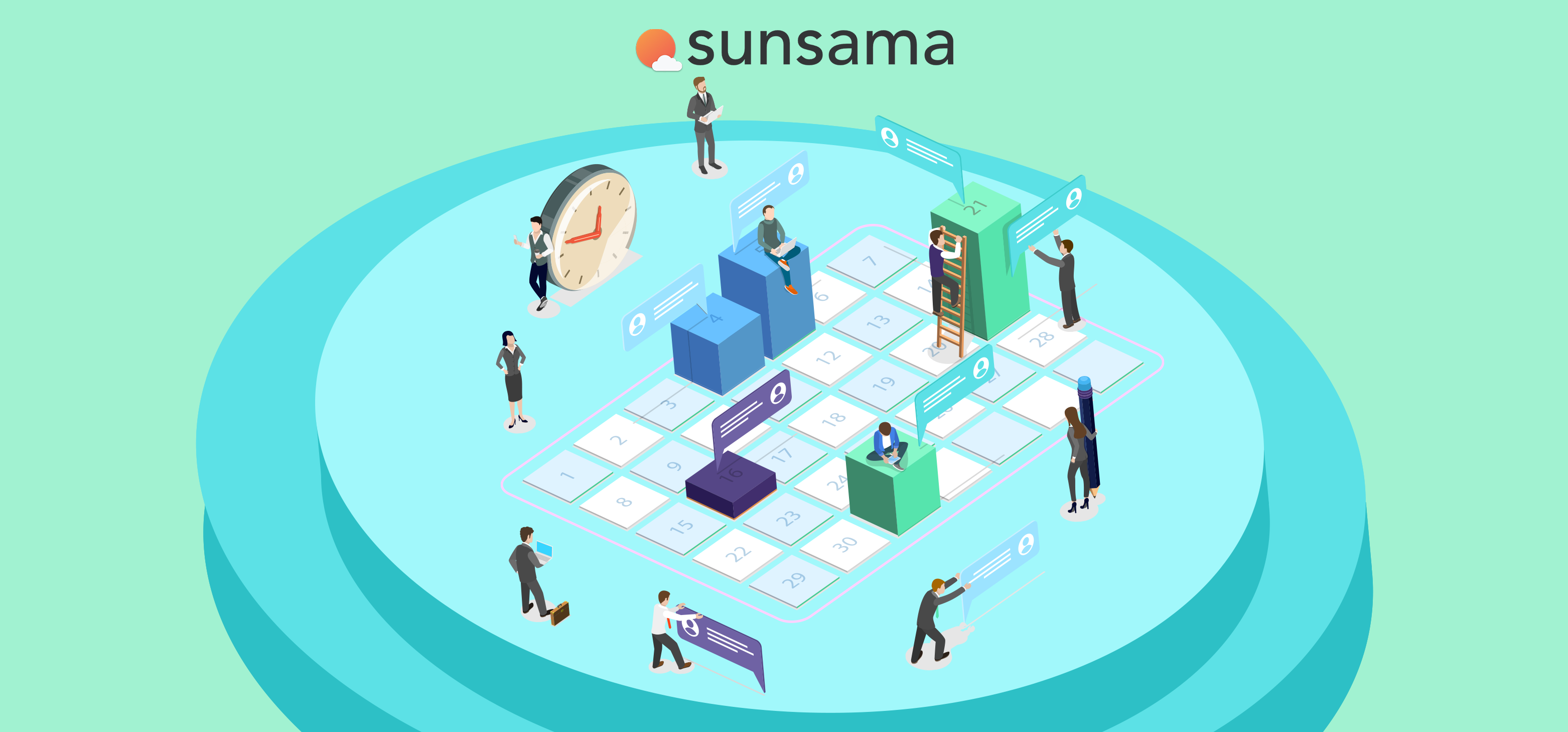 There are two types of people in the world – those who like to plan and those who don't.
People who like to plan like to have a schedule and know what is happening ahead of time. They feel secure when they have a plan and enjoy organizing their time.
People who don't like to plan often feel overwhelmed by schedules and find them constricting. They prefer to go with the flow and take each day as it comes, rather than planning far ahead.
If you're the type of person who likes to plan, then you've probably heard of Sunsama.
Sunsama is a task management and calendar tool that helps you organize your time so that you can get more done.
It's a great tool for people who are always on the go and need to stay on top of their schedule.
However, Sunsama is not the only productivity tool out there when it comes to sheer task management.
There are a number of other options that you might want to consider if you're looking for an alternative to Sunsama. Here are 12 of the best Sunsama alternatives that you can start using from today:
If you're searching for the perfect alternative to Sunsama that is more visual and offers a Kanban-style approach, then Motion might be the tool for you.
Motion is the ultimate mix of task management, calendar, and meeting assistant.
It helps users get a better overview of their tasks by representing them in the form of cards that can be moved around on a digital board.
Thanks to their flexible integration system, you can now sync Google Calendar and more into their dashboard, with the click of a button.
This makes it easy to get an overview of your upcoming tasks, deadlines, and events, all in one place.
Furthermore, you can also invite teammates, clients or family members to join your board so that everyone can stay up-to-date with what's going on.
Their Meeting Assistant feature is also very helpful as it gives you the ability to schedule and conduct meetings, all within the app.
Key Features
Kanban-style task management
Flexible integration system
Meeting assistant
Invite teammates
Sync calendar(s)
Favorite Feature
The Meeting Assistant function, which makes it simple to plan and run meetings from the app, is really helpful.
Ratings by Professionals
G2 – 4.2/5
Capterra – 4.5/5
Motion offers a 5-day free trial and then their Pro plan costs $34/month. The Team plan starts at $20/month/team member.
Llama Life is a productivity app that helps you find your focus, set goals, and get things done.
Their timeboxing feature sets a countdown timer for each task so that you can stay on track and avoid distractions.
The Chimes feature plays a melody within a set interval of time. The main reason behind this is to set your attention back to the current task.
One of the most amazing features is Pie Time. In the form of a visual slice, it clearly shows you how much time it is still due before the completion of the task.
The Smart Shortcuts feature gives users the ability to create custom shortcuts for their most-used actions.
With their Simple Report, you can see how productive you have been for the day.
Key Features
Timeboxing
Elegant user interface
Pie Time
Smart Shortcuts
Simple Report
Favorite Feature
I really enjoy the Smart Shortcuts feature, which allows you to define your own custom shortcuts for frequently performed activities. This is a huge time-saver and makes the tool very user-friendly.
Ratings by Professionals
Llama Life has a forever free plan. Their paid plan (they call it Extra Focus) costs $6/month.
List Zero is a powerful task management tool for macOS that helps users boost their productivity and get more organized.
Its minimal dashboard allows you to easily create tasks and even lets you track time so that you can check your total productive working time for each assignment.
One cool thing about List Zero is their keyboard-driven approach, meaning while using their software, you will never have to worry about moving your hand from the keyboard.
The Flow music feature also helps you stay focused while you work by playing calming, focus-inducing music in the background.
After you complete a certain task, they create a confetti-type mini celebration so that you know you have achieved something (precisely follows what James Clear teaches in his book Atomic Habits).
The ultimate purpose of List Zero is to get you into the flow state as fast as possible and keep you there for as long as possible so that you can be productive and get more things done.
Key features
Minimal dashboard
Flow music (with Spotify)
Reward system upon task completion
Keyboard shortcuts
Favorite Feature
The favorite feature of List Zero for me is the keyboard shortcuts. I am a very keyboard-driven person, so anything that helps me work faster and more efficiently is a plus in my book. List Zero's keyboard shortcuts let me do everything from creating new tasks to marking them as complete, all without ever having to take my hands off the keyboard. This is a huge time-saver and makes me more productive overall.
Ratings by Professionals
ListZero offers a 14-day free trial and then charges $4/month for their Standard plan.
Todoist is one of the most popular to-do list apps out there.
With Todoist, you can easily manage your tasks from anywhere with their web, desktop, and mobile apps.
Their features include natural language processing so that you can easily add new tasks using plain English.
You can also create recurring tasks, set up reminders, and add subtasks to break down your tasks into smaller and more manageable pieces.
Todoist also offers a productivity tracking feature so that you can see your progress over time and better identify your productive and unproductive periods.
From creating recurring tasks to assigning priorities to your tasks, you can do everything and more with Todoist.
Key Features
Natural language processing
Recurring tasks
Set up reminders
Add subtasks
Productivity tracking (reports & insights)
Favorite Feature
I love the productivity tracking feature, as it helps me to better understand my work patterns and make necessary adjustments to improve my productivity.
Ratings by Professionals
PCMag – 5/5
G2 – 4.4/5
TrustRadius – 8.9/10
Todoist has a forever-free plan with some limitations. The Pro plan costs $4/month and the Business plan costs $6/month/user.
If you are looking for an all-in-one project management tool, then Akiflow is definitely worth checking out.
Akiflow has done an excellent job of integrating your favorite productivity apps within their dashboard.
This includes integration with Google Calendar, Gmail, Drive, Slack, and 2000 more thanks to Zapier integration.
The great thing that the integration does is that it brings the critical tasks of all your apps into Akiflow's single-page dashboard so that you don't have to keep switching between them.
Another great feature of Akiflow is its real-time updates. This means that you will always be up-to-date with the latest changes and progress on your projects.
The Tray Menu and Notifications panel helps you to stay organized and on top of things.
Their Command Bar lets you get things done quickly with the help of keyboard features and natural language processing.
Be it creating quick tasks or sharing your availability with others for meetings, you can do it all with Akiflow.
Key Features
Powerful Integration
Real-time updates
Smart notifications
Command bar
Keyboard features & natural language processing
Favorite Feature
I appreciate how well all of my favorite productivity applications can be integrated. It's great to have everything in one location and not have to go back and forth between apps.
Ratings by Professionals
G2 – 5/5
Capterra – 4.8/5
Akiflow offers a 7-day free trial. Their monthly Premium plan costs $15.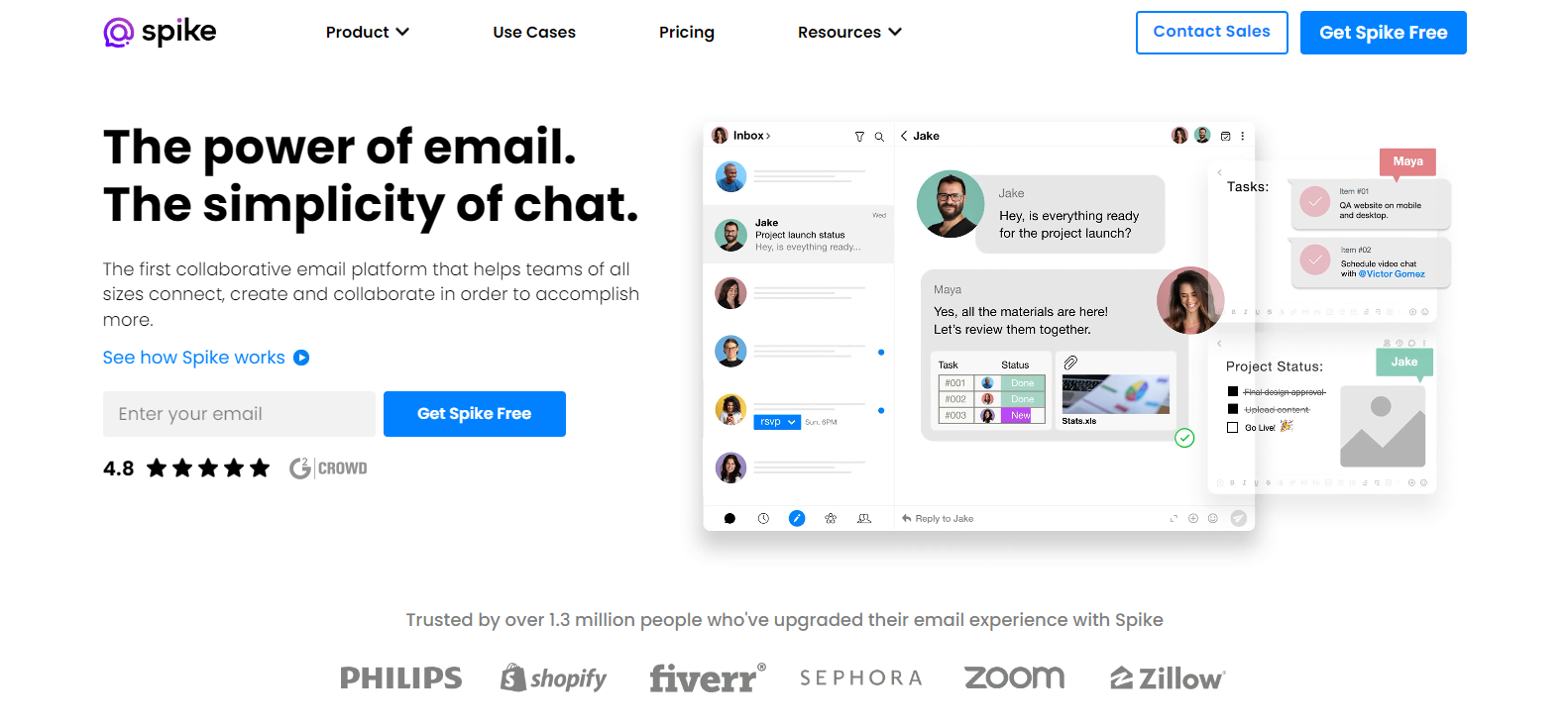 Although Spike is more of a collaborative email platform, it can still be used as a great to-do list tool.
Spike offers a unique interface that helps you organize your emails into conversations.
You can also snooze emails, set reminders, and add tasks to your to-do list so that you can follow up on them later.
Spike merges all your calendars, allowing you to view upcoming tasks from different calendars without having to worry about checking each simultaneously.
Their Super Search features assist you in searching for anything you want within milliseconds. It can be specific attachments, messages, etc.
They also have an option to change your theme (to light or dark mode).
Key Features
Organize emails into conversations
Real-time task management
Merge all calendars into one view
Super Search feature
Theme change options
Favorite Feature
I'm a big fan of the Super Search functionality since it allows me to quickly locate specific emails, attachments, and so on.
Ratings by Professionals
TrustPilot – 3.8/5
G2 – 4.6/5
Spike offers a completely free plan. The Pro plan (suitable for individuals and small teams) costs $8/month, and the Business plan (for large teams) costs $16/month.
Asana is a great tool for managing tasks and collaborating with others. With Asana, you can create projects and assign tasks to team members.
Each task can have subtasks, deadlines, attachments, and conversations. You can also add comments to tasks to provide context or updates.
Asana offers a number of features that help you to stay on top of your projects. Their Calendar view lets you see all your upcoming tasks in one place.
The List view helps you to see all the tasks that are due today or that are overdue.
You can also create custom views so that you can see the tasks that are most important to you.
Asana also has a number of integrations that can be very helpful.
For example, you can integrate with Google Calendar or Dropbox so that you can access your files from Asana.
Lastly, the custom reporting feature lets you create reports so that you can track the progress of your projects.
Key Features
Project and task management
Goal setting
Calendar and List views
Integrations
Reporting
Favorite Feature
I really appreciate the Calendar view since it helps me to see all of my upcoming tasks in one place. I also like the integrations, since they make it easy to access my files from Asana.
Ratings by Professionals
PCMag – 4.5/5
G2 – 4.3/5
Capterra – 4.5/5
The Basic plan for Asana is free for as long as you want. The Premium plan costs $13.49/month and the Business plan costs $30.49/month.
Basecamp is a great tool for managing projects and tasks. With Basecamp, you can create projects and assign tasks to team members.
Each task can have subtasks, deadlines, attachments, and conversations. You can also add comments to tasks to provide context or updates.
Basecamp is unique in that it doesn't offer as many features as some other to-do list apps on this list. However, what it does offer is simplicity and ease of use.
It can be helpful to have a tool that is easy to learn and doesn't require a lot of setup time.
The Message Board feature followed by group chat functionality gives a single direction to your whole team by announcing messages the right way.
The Automatic Check-ins feature saves your meeting time by answering some of the hot/common questions your team might have, in the form of a beautiful thread.
Key Features
Project management
Task management
Simplicity and ease of use
Message Board
Automatic Check-ins
Favorite Feature
I really like how simple and easy-to-use Basecamp is. The Message Board function is also useful since it helps everyone stay on the same page through clear communication.
Ratings by Professionals
G2 – 4.1/5
PCMag – 4/5
TrustRadius – 8.4/10
A 30-day free trial is available with Basecamp. You can then upgrade to their Basecamp Business plan for $99 per month.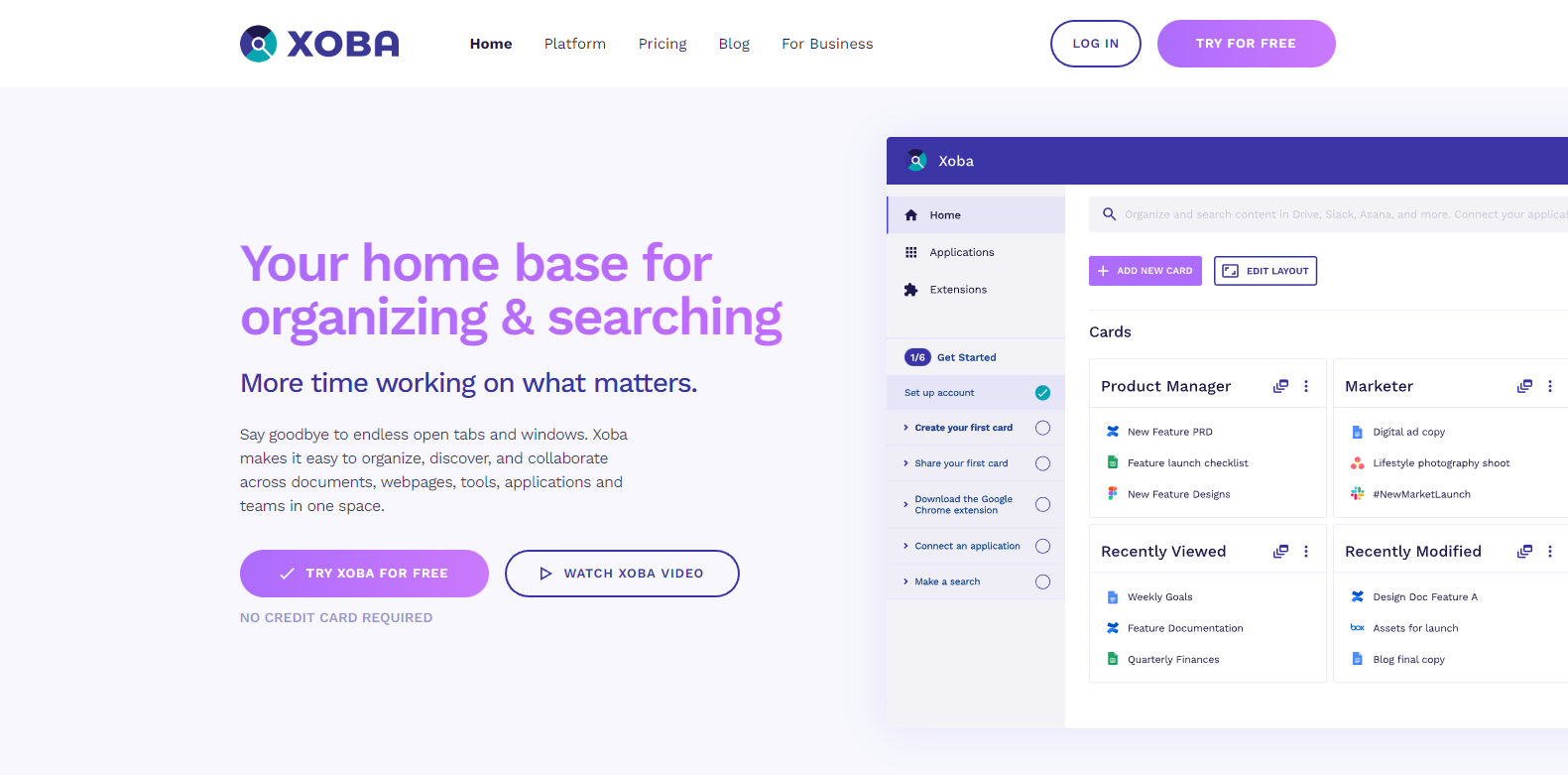 Xoba is more of an organization app that helps you organize all your tasks, projects, etc, so that you don't have to open endless tabs only to confuse yourself.
Their advanced streamlining feature not only bookmarks your web pages, but also lets you attach relevant documents and even see the search history based on your usage of that webpage.
Their Organize feature allows you to create minimalist cards based on similar projects. This is very helpful and time-saving, especially when it comes to opening multiple websites at a time.
The best part?
After creating a card, you can choose to create a custom sharing link of that specific card and then share it with anyone.
With industry-leading technology and best security practices, Xoba ensures all your data is end-to-end encrypted.
Key Features
Webpage bookmarking
Organize feature
Custom sharing links
End-to-end encryption
Favorite Feature
I'm a huge fan of Xoba's ability to let you generate unique, personalized sharing links. This may come in handy when I need to share project information with employees or clients.
Ratings by Professionals
The Xoba app is free to use, allowing you to connect to 3 applications, create 5 cards, and do 25 searches per month. However, their Premium plan costs $8.33/month.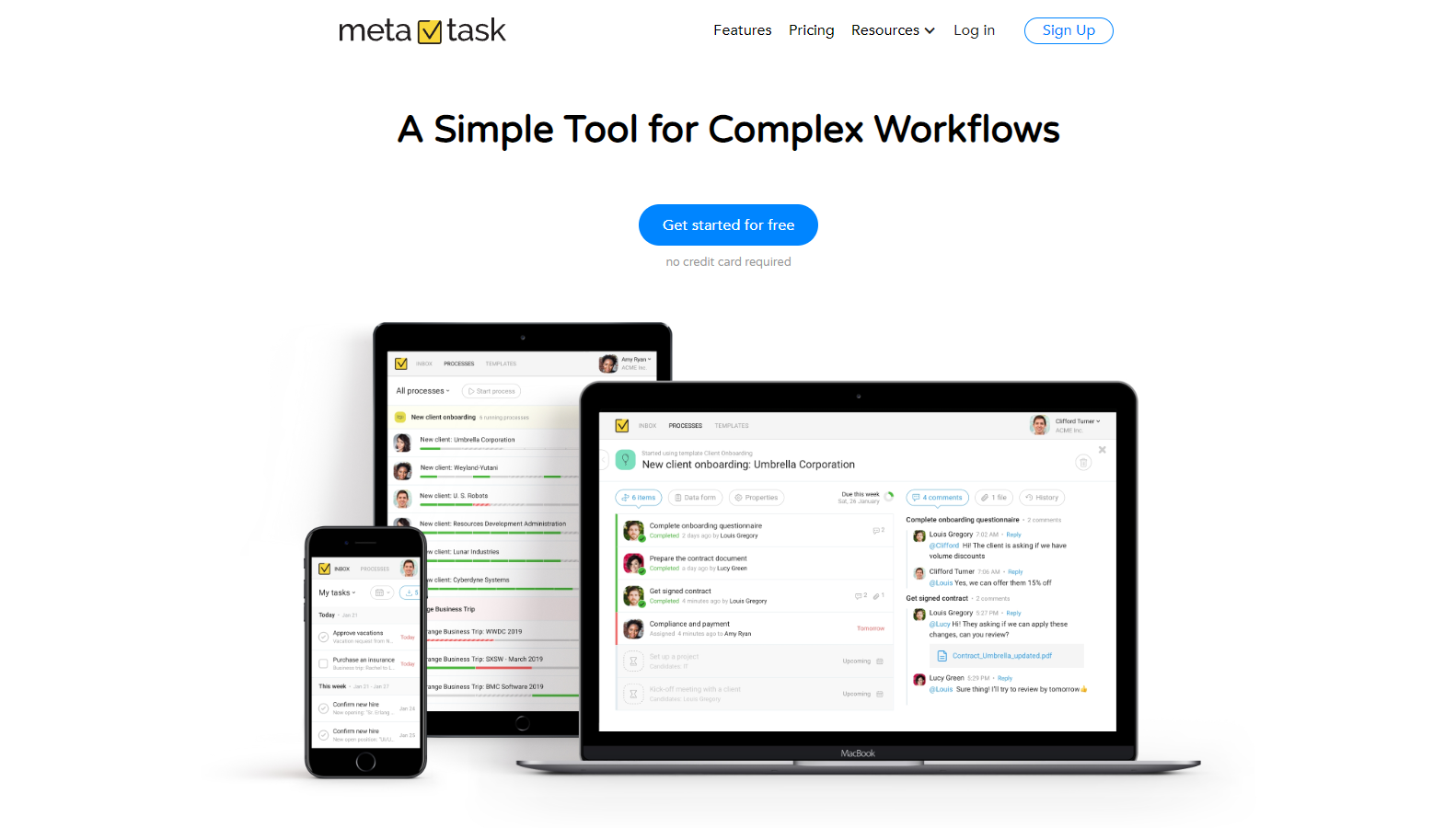 Metatask is a great to-do list app for teams and businesses. With Metatask, you can create projects and tasks, assign them to team members, and set deadlines.
Metatask.io is a powerful workflow automation tool that helps businesses automate repetitive tasks.
With Metatask, businesses can create custom workflows for their unique needs.
Metatask also includes a variety of features to make workflow automation easier, such as templates, drag-and-drop capabilities, and integration with popular business tools.
It allows you to create conditions, actions, and triggers to automate your tasks and workflows.
Your team's success, development, and the overall progress statistics are displayed in the Reports dashboard.
Key Features
Project management
Workflow automation
Template creation
Integration with popular business tools
Reports dashboard
Favorite Feature
Metatask's Reports dashboard is a nice touch because it allows you to keep track of your team's progress. This is an excellent method to view how your team is doing and where there may be areas for improvement.
Ratings by Professionals
G2 – 4.5/5
Capterra – 4.8/5
Metatask offers a 2-week free trial. Their paid plan costs $6/month per user.
Simplish, as the name suggests, is a simple day planner, task management, and a calendar app for your to-do lists.
It goes without saying that this app has a very basic and straightforward design, which is ideal for people who prefer to keep things simple.
Simplish provides over 30 features including – the ability to create recurring tasks, smart reminders, theme customization, group chat, drag and drop, real-time collaboration, and more.
They also show inspirational quotes to inspire you timely.
Simplish is currently available on Android and iOS and will soon be available on Windows too.
Key Features
Smart reminders
Theme customization
Group chat
Realtime collaboration
Favorite Feature
I appreciate the chance to establish recurring activities since it allows me to plan ahead in terms of setting up tasks that are performed regularly. This is highly beneficial for duties that need to be completed on a regular basis, such as paying bills.
Ratings by Professionals
Appstore – 4.7/5
Google Play – 4.1/5
Simplish offers a 7-day free trial and then costs $2.5/month.
PomoDoneApp is a great tool to increase your productivity by using the Pomodoro Technique.
With PomoDoneApp, you can track your time, set goals, and get detailed reports on your productivity.
You can also integrate PomoDoneApp with popular task management tools such as Asana, Trello, Jira, and more.
PomoDoneApp also has a Chrome extension and desktop app to make it even easier to use.
Key Features
Time tracking
Detailed reports
Integration with popular task management tools
Chrome extension
Favorite Feature
I love PomoDoneApp's detailed reports because they help me to see where I am wasting time and where I need to focus my efforts. This is an excellent way to increase my productivity and make sure that I am using my time wisely.
Ratings by Professionals
Capterra – 4.4/5
G2 – 4.2/5
PomoDoneApp offers a week's trial. Their Lite plan costs $4.96/month and the Ultimate plan costs $7.44/month.
Final Suggestion
Sunsama is a great tool for managing tasks and calendars, but it may not fit everyone's needs.
In this article, we've provided a number of alternatives to Sunsama that you may want to try.
Each of these apps has its own unique features that may make them a better fit for your team or business.
You may want to consider trying a few of them out to see which one works best for you.
Almost many of them offer free trial periods, so you can test them out before committing to a paid plan.
We hope this article was helpful in finding the best Sunsama alternative for you!
Share this article on: