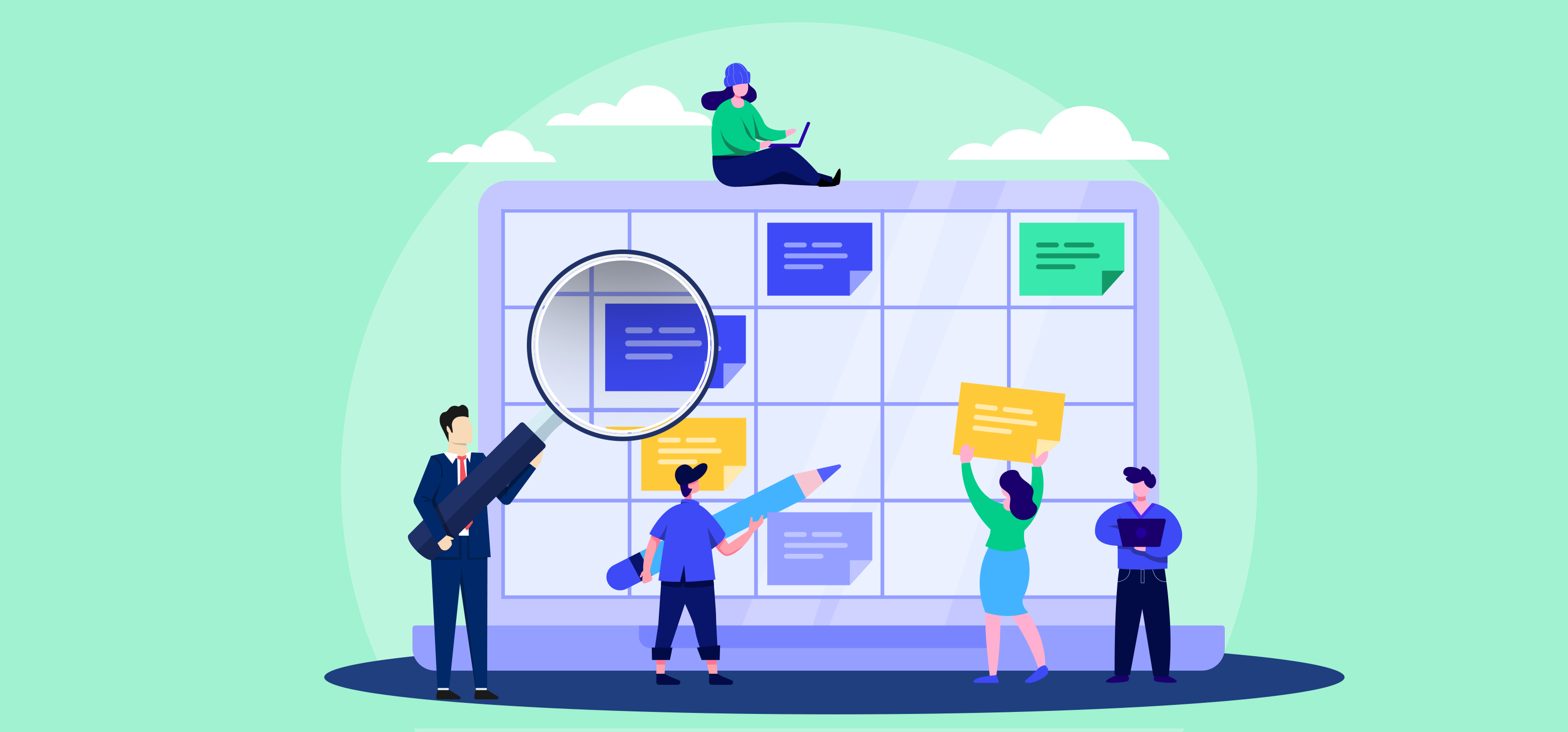 A roadmap is a living, breathing document that allows the participants to visually map the work plan that everyone can rely on. The idea of a roadmap goes hand in hand with the retention abilities of the brain.
It takes some time for the brain to decode texts in a linear and sequential manner.
However, your brain decodes visuals 60,000 times faster than the text. So, you're likely to retain the information longer.
Texts are only good in books and blogs. But at the workplace, textual work plans may create confusion. Therefore, a roadmap serves as a no-nonsense guide to present your plans in an infographic fashion.
It helps you with a handful of goals:
To explore the project development journey based on where is your team now and where they want to go considering WHYs, WHATs, and WHENs
To describe your vision and how you're going to execute the strategy
To align your team, stakeholders, or users and facilitate communication for better understanding and transparency
Why use roadmap software?
There are two most important aspects of a roadmap: Project and Product roadmaps.
While your project roadmap is oriented around your company's goals, the product roadmap helps you with a long-term vision of your business, marketing, and sales.
And therefore, there are some strong reasons why your company should use road mapping software:
To assemble the experts and work together around the roadmap's strategy
To collaborate with internal and external teams and stakeholders for commitment and understanding of their roles
To embrace new ideas and opportunities as well as highlight potential red flags such as financial uncertainties or flaws in the decision-making.
To be more responsive towards internal and external changes, for example, organizational restructuring or changing market legislation
To always reasonably allocate the resources, meet deadlines, and gain the trust of stakeholders and customers.
While using the best roadmap software, you can ensure that all the aforementioned points are checkmarked so that the workflow is smooth and encouraging rather than stressful or confusing.
But before tackling your organizational challenges, you should be aware of the road mapping tool that perfectly suits your business needs.
Here are the 9 best roadmap tools/software, and one of them could be a game-changer for your business.
Let's figure each of them out!
Starting your week is often stressful when you spend too much time on mundane tasks or trying to make sense of an obsolete work plan.
Monday.com, therefore, ensures that you can overcome your Monday morning blues.
With workflow automation and real-time data synchronization, Monday.com helps you to streamline your tasks and save time.
You can create a roadmap thanks to 200+ ready-made templates and without much learning curve.
Here, you don't need to create different pulses (a term for rows) when you're working on the same task management for multiple clients. Monday.com also cuts off the need to manually update the progress of your clients and makes it easy for them to track each step of the project. 
Overall, Monday.com is a competitive road mapping tool that can fulfill the limitations of many project management software.    
Key Features
There are over 200 in-built roadmap templates that make it easy for you to pick up and run with. With the intuitive UI design and flexible selections, you don't need enough time to prepare your roadmap.
Not every roadmap software offers a mobile app as intuitive as Monday.com. The mobile app is even easier to manage the workflow, no matter where you're in the world.
At Monday.com, each task is called an item, each subtask is known as subitems, and rows are called pulses. You can manage all these components on the Board (virtual table) where you can create items/ subitems, attach files and add comments. You can also set the visibility of the board as Mainboard, Sharable board, and Private board.
The checklist features let you split your bigger items into subitems and make them easier for the team to understand.
Although the Time Tracking feature falls under the premium plan, it lets you add a column to track the daily tasks that help you analyze the overall productivity and bill the clients as per the work done.
Monday.com is a perfect tool for WorkOS teams as it integrates easily with various third-party apps for seamless collaboration, communication, and issue tracking.
Pros
Gives team members ownership of certain tasks while overviewing them.
Quick and easy project board setup.
Automation feature to organize planners and notify team members.
Easy to "group by workspace" to manage and navigate across multiple clients and programs.
Cons
Time Tracking and timeline view are available only in the premium plans.
The timeline view may not be suitable to manage projects with multiple tasks and dependencies.
Lacks native idea management features that could help to make quick notes.
Seats/month-based pricing is a bit expensive.
Ratings
G2: 4.7/5
Trust Radius: 8.6/10
Capterra: 4.6/5
Pricing
Monday is free to use for up to 2 users. For larger teams, the plans start at $10 per user per month.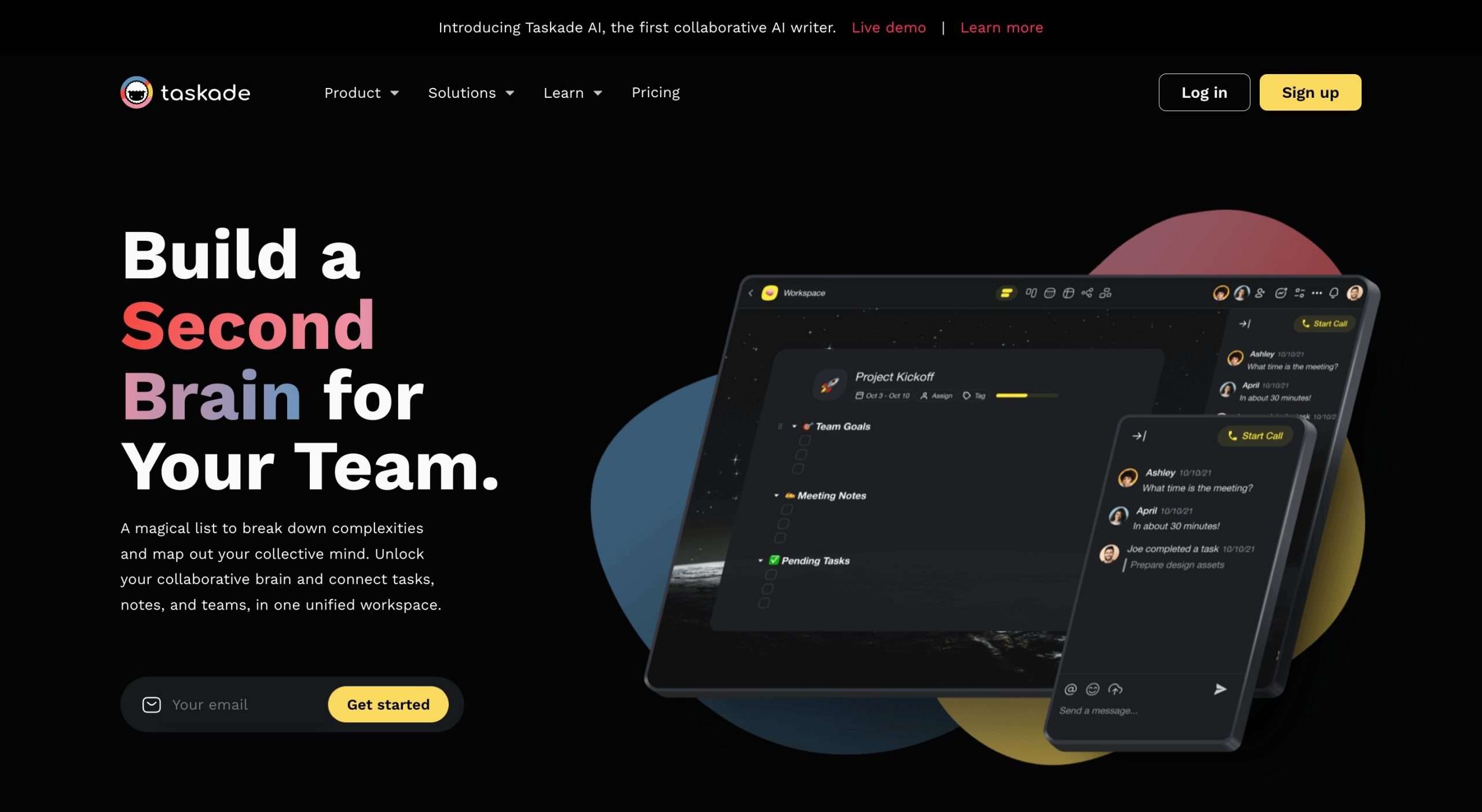 Taskade is the ultimate team productivity tool that is more than a team task and project management tool.
With Taskade, you can unlock your collaborative brain and connect tasks, notes, and teams in one unified workspace. And the best part is, you can get Taskade on any device.
One of the best features of Taskade is the Smart Project View.
You can choose a view for your workflow and switch it up at any time. This allows you to visualize your tasks and projects across multiple views instantly, and work together on the same page.
Taskade also allows you to share tasks online, for free, with your teammates and collaborate together in real-time, across any device.
On every project, you can effortlessly communicate with your team on the same page with built-in chat, screen sharing, and video conferencing.
What's more, Taskade also enables you to automate tasks and workflows with customizable templates.
Key Features
Work Together with Chat and Messaging

Smart Project View for Dynamic Workflows

Prioritize Daily and Weekly Tasks

Create Workspaces to Manage Different Teams

Customizable Templates for Automating Tasks

Calendar Integration with Apple, Outlook, and Google

Filters for Projects and Tasks
Pros
Unified workspace for tasks, notes, and teams
Smart Project View for dynamic workflows
Share tasks online and collaborate in real-time
Built-in chat, screen sharing, and video conferencing
Cons
Pricing for Pro, Business, and Ultimate plans may be too expensive for some users.
Ratings
Capterra: 4.7/5
G2: 4.7/5
Product Hunt: 4.8/5
Pricing
Taskade offers a free plan, Pro plan ($19/month), Business plan ($49/month), and Ultimate plan ($99/month) to choose from.
If there is any road mapping tool that incorporates an intuitive UI with premium-grade features and that's all under the budget, it's none other than ClickUp.
With a wide selection of customizable templates, it offers you unlimited storage, lists, tasks, calendar views, and integration. Under the Business and Enterprise package, ClickUp lets you set priorities, advanced timelines, progress tracking as well as permission options for guests.
Gantt charts in ClickUp allow you to monitor the performance of your team and their progress toward goals. You can find any overlaps in the chart and use the reporting feature to take action immediately.
You may fall short of the names, but ClickUp never fails to integrate with over 500 project management tools for a seamless workflow.
Whether it's a free or a premium account, ClickUp's roadmap can help you save time and do more with your business and clients.
Key Features
ClickUp features a beautifully designed UI and single-page architecture that makes complex details appear easy and organized.
Thanks to automation, and drag and drop features, you don't need to waste time on the configuration.
Using Gantt charts, you can identify any risks or overlaps between dependencies and timelines and take appropriate actions.
Unlike many other roadmap tools, ClickUp allows you to import your projects without any rate limit barriers.
With about 50 native integration tools such as GitHub, Slack, Google Drive, etc., ClickUp lets you connect and pull requests without any hassle. 
Pros
The free version offers a great many features for beginners.
Automated migration or import from other tools.
ClickUp's product team offers great support.
The hierarchical approach to organizing projects improves workflow.
Cons
Pushes unnecessary reminders quite often.
Unable to filter out closed tasks on the global search.
Great UI, but an overwhelming number of features can be confusing.
Needs sorting improvements to organize the projects in order.
Ratings
G2: 4.7/5
Trust Radius: 8.9/10
Capterra: 4.7/5
Pricing
ClickUp is free to use forever with basic features. If you require advanced features, the plans start at just $5 per member per month.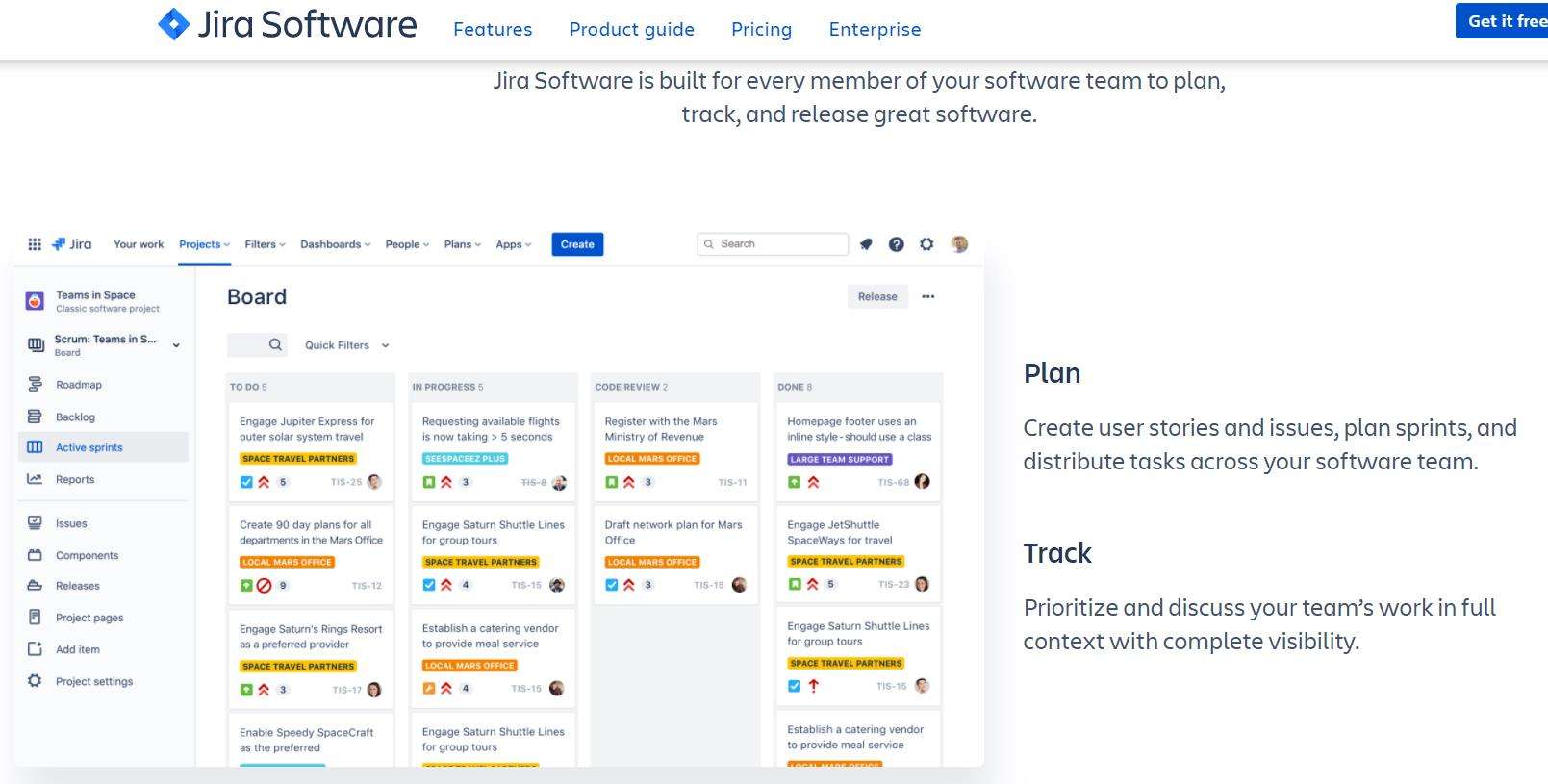 Jira is an agile project management software developed by Atlassian. Launched in 2002, Jira's applications were limited to bug and issue tracking. Now being one of the oldest enterprise software in the market, Jira expands its use cases beyond software and IT domains.
Many big tech companies rely on their road mapping and collaboration features to manage thousands of employees and tons of projects.
Jira's workspace is termed "epic" where you can break down the tasks to ship a feature. They call the tasks "child issues" which are generally stories, bugs, or issues that represent different tasks for the teams.
With a sleek drag-and-drop UI, you can easily reorder these issues or move to another epic.
Built-in filters in the Jira roadmap are another great feature to help you refine by assignee, issue type, or status and search your roadmap data easily.
You can also add or remove progress or dependencies, and adjust your settings to change something displaced. On the roadmap, you can directly map the dependencies and show the relationship between epics. This helps the team to manage and adapt alternative work plans.
From sharing and exporting your roadmap securely to integrating with tons of tools, Jira serves as a great companion to scale your business.
Key Features
Agile reporting helps to keep track of a number of reports in real-time and gain actionable insights on your team's capabilities sprint by sprint and how they're performing as per the plans.
You can create multiple versions of your roadmap for the accountability of best and worst-case scenarios.
Agile and Kanban board allows you to track the progress, backlogs, and sprints of the project. You can also personalize your business needs by creating custom workflows, screens, and fields.
Atlassian marketplace offers over 1000 add-ons to expand the use cases of Jira roadmap software.
Pros
Plenty of add-ons in the marketplace.
Highly trusted tool for scrum and agile projects.
Robust ticketing system with easy third-party integrations.
Easy import and export of records.
Cons
The steep learning curve for beginners.
Can't assign multiple users to the same issue.
The big price difference for requirements is just above the free limits.
With many tickets on the page, loading time gets buggy.
Ratings
G2: 4.2/5
Trust Radius: 8.2/10
Capterra: 4.4/5
Pricing
Jira offers a free plan with limited users and project automation. If you have a team of more than 10 and need advanced features, you can explore their plans starting from $7 per user per month.
Wrike is one of the most versatile task management and organization tools that fit all types of industries. The software packs in comprehensive features, but at the same time is quite flexible to use.
The dashboard itself is different from other road mapping tools. It features three panes for different visuals of the workflow. In the first pane, you've access to the teams, projects, and financials. The second pane allows you to create, assign, and set due dates for tasks. And in the last pane, you can view the collective data of your tasks and subtasks.
Wrike also helps to connect all the departments while aligning all the tech, marketing, and sales teams together. In this way, relevant members of each team can get in touch with each other internally.
Overall, Wrike offers a complete project management solution for multi-departmental companies with a bit of a learning curve, however.
Key Features
The workflow automation in Wrike allows you to assign a set of instructions that it should follow once it meets the conditions.
It features a form builder tool for the admins which is powered by conditional logic. Once you submit a request, Wrike automatically assigns tasks to one or multiple users and shows the task items along with the form's details.
Available in the Business plan, Wrike's built-in time tracking lets you monitor your team's workflow and identify issues that slow down productivity. 
For external clients, Wrike features a Guest Review option that allows key stakeholders without Wrike account to take part in the proofing and review process.
Wrike also offers a wide range of collaboration and integration features, as well as connectivity with 3rd party apps for data migration.
Pros
Easy customization and smooth navigation.
Gantt chart features dynamic timelines for a better overview of task progress.
Seamless collaborative editing process while designing creative templates.
The low learning curve for enterprise-grade software.
Cons
Customer support is a bit slow.
Acquisition by Citrix caused costlier plans/packages.
Reporting has some issues and is not user-friendly to non-analytic groups.
The mobile app is not smooth and productive.
Ratings
G2: 4.2/5
Trust Radius: 8.4/10
Capterra: 4.2/5
Pricing
Signing up to Wrike is free of cost, with basic features and up to 2 GB of storage. The advanced plans start at $9.80 per user per month.
Airfocus is new in the market but gained quite a bit of attention because of its prioritization features. It features an interactive priority matrix or weighted decision matrix that helps to frame your decision-making process for a better understanding of objectives.
It helps you examine a set of ideas or projects and come up with a clear structure to ensure your decisions. With this, you can determine the tasks to add to your roadmap. Such a roadmap is called an outcome-based roadmap that presents a potential scenario for the project.
Airfocus gives you the option to select between standard Kanban and Gantt charts and share them with multiple viewers. 
It provides a new and simple way to create roadmaps and organize tasks. Although Airfocus features a limited amount of customization and integration features, the tool offers a fresh take on roadmap creation.
Key Features
Priority poker is one of the striking features that lets stakeholders share their opinion and interact with the team.
The prioritization chart is a visual presentation of the items that are scored by Airfocus's algorithm based on the input given to it. It helps you to gain insights and identify the ideas that can make an impact.
Airfocus features a centralized feedback system that helps the team with actionable insights. It gives you the ability to link random feedback to the project backlog and organize the inputs for a better understanding of customer needs.
Pros
Best for a RICE scoring roadmap.  
Features like Priority poker is a huge time savers.
Easy to create custom weights to gain a high-impact overview of the activities.
Customer support and security features are commendable.
Cons
The user interface needs improvement.
Users can't set filters while sharing roadmap links.
The ability to add custom fields to track data points are limited.
Difficult to share or collaborate with members outside of your product team.
Ratings
G2: 4.3/5
Trust Radius: 8.8/10
Capterra: 4.5/5
Pricing
Airfocus offers a 14-day free trial, after which you need to sign up for a plan. The paid plans start at $15 per user per month.
A number of task management tools have been made to tackle DevOps challenges that offer flexibility and structure to product development. However, they fall short when it comes to organizing the development process around customer feedback.
Productboad, therefore, presents a unique road mapping platform where enterprises can create repositories around customers' insights and prioritize the next steps in the product development stage.
Productboard incorporates an ML algorithm that works on the collective user feedback from emails, CRMs, and social media and drives auto-suggestion based on the data.
Once you have ideas at your disposal, Productboard lets you create a roadmap. You can look for several options to customize your roadmap and easily share them with your stakeholders and customers.
However, without a guest feature, you can only share the roadmap as a PDF file. And this could be difficult to manage every time you update the roadmap. But overall, Productboard's roadmap makes a unique app for aggregating customer insights and creating a successful product on top of it.
Key Features
By gathering a large amount of feedback, ideas, and requests from various sources, Productboard lets you categorize them easily. Once data is categorized, this helps the product team to rate them on a scale of 0 to 3 based on their importance.
The product portal is one of the unique features that lets the product managers highlight the features that are planned or in use. It can also be used in internal brainstorming sessions or to update the customers with the top-requested features. With such a feature, Productboard tries to bridge the gap between the development team and the customer community.
Productboard's other key feature is the Priority score. With the help of an interactive prioritization matrix, you can generate scores based on how each feature could meet the requirements of customers. And then, you can publish the ideas on the public portal to gain customers' insights or ratings.
Pros
Features objective-based timelines within roadmaps.
It helps you rank features according to priority.
Flexibility to define different views.
Easy to gather insights from different sources and ship them to the roadmap.
Cons
Lacks ideation and needs external tools (Google Docs) to create feature specifications.
Well-tailored workspace, but customizability is strict.
Inability to share roadmaps with non-users.
High charges per person are a trade-off.
Ratings
G2: 4.3/5
Trust Radius: 8.9/10
Capterra: 4.7/5
Pricing
Productboard offers a 15-day free trial with paid plans starting at $20 per user per month.
With the help of product roadmaps and customization features, Aha! strives to help businesses launch their products with ease.
Aha! features six roadmap templates with easy drag-and-drop functions to set your goals and initiatives within a few clicks.
The roadmap mainly focuses on why, when, and what for both development and marketing goals. And to create a product roadmap, Aha! uses "ideas portal". This helps the team to receive ratings and feedback for their product ideas and prioritize them as per the votes.
Aha! also lets the product team cross-channel with the marketing team to avoid any confusion in the campaigns. And both departments can make use of the integration tools to communicate and track the campaign.
Key Features
Aha's ideas portal brings the team members, customers, and stakeholders to a single platform where they can share their ideas, feedback, or potential missing features for the roadmap.
There's an option to customize Aha's lingo, which is quite a unique feature. In case you don't like the name, you can rename its labels for various features with anything that is easy for you to call.
Real-time collaborative editing is an effective feature that maintains transparency and lets everyone observe the notes, timelines, and participants' names as flags.
Aha! features a point-based system where you can rank the tasks, subtasks, and team members based on the workflow.
Activity log in Aha! is useful when it comes to auditing. This helps managers to keep an account of the team and their progress toward product development.
Pros
Creating schedules and reports is flexible.
The idea portal and the voting system add an advantage.
Easy to link dependencies and features to help understand future releases.
Ability to determine valuable features using Rank features and Prioritization metrics.
Customer support and interaction are productive.
Cons
The user interface does not feel like it's enterprise-ready.
Steep learning curve and is complex in nature.
Reporting access for business users is limited.
Lacks a real-time time tracker.
Higher cost per license.
Ratings
G2: 4.2/5
Trust Radius: 8.4/10
Capterra: 4.8/5
Pricing
Aha! offers a 30-day free trial. The paid plans start at $59 per user per month.
Roadmunk is a web-based road mapping tool designed to cater to the needs of businesses of all sizes.
The platform allows you to build templates using ready-to-use designs and create roadmaps for products, marketing, sales, and technology. And you can choose from Timeline View, Swim lane View, or ListView to visualize the details.
With the feedback portal and Chrome extension, Roadmunk makes it easier to gather user feedback and share it with the team.
You'll also find prioritization boards with in-build frameworks. It can help you create your own weighted scores using backlog items in order to surface impactful ideas.
Moreover, Roadmunk gives you the advantage of native Jira integration that lets you sync backlogs, epics, and stories and turn them into a beautiful roadmap.
With a host of features and ease of managing everything on the cloud, Roadmap is a go-to software for large enterprises.
Key Features
Roadmunk's Reviewer Mode lets you share your roadmaps with the stakeholders and keep them updated on the platform. You can collaborate by adding members to your team via permission dialogue, where you can assign them as an editor or owners of the roadmap.
With the Export engine, you can have all the roadmaps in one place to convert them into presentation files such as PowerPoint or PDF.
You can also find a brainstorming space where your team can evaluate the ideas using the RICE or Value vs Effort prioritization framework. Or else, you can use custom weights to promote high-impact ideas to your roadmap.
Now, if multiple teams are involved in product development, they can build their own roadmap and eventually bring them to the Master View. This feature is quite unique to Roadmunk and offers new ways to collaborate on a project.
Pros
Easy to visualize details with complex timelines and dependencies.
Creating different views from the same list of items saves time.
Easy to collaborate and edit within a team structure.
Good support and frequent release updates from the product team.
Cons
Product navigation is confusing and inefficient.
Lacks integration with broader sets of CRM tools.
Difficult to read the roadmap when multiple milestones and projects overlap.
Lacks broader support for the integration tools.
Ratings
G2: 4/5
Trust Radius: 8.5/10
Capterra: 4.4/5
Pricing
Roadmunk offers a 14-day free trial, after which you can sign up for a paid plan starting at $19 if you are an alone user or $49 per user per month for more than one user.
Final thoughts
What does it feel like to have a roadmap that makes work plans as easy as planning a trip?
Although the idea of using a roadmap looks promising, however, you should note that it is subject to change. Depending on the new market circumstances, you should come up with flexible plans so that you won't need to redraw your roadmap frequently.
But it's also important to mind the tons of features it offers and prevents you from falling down the rabbit hole. Always come up with the best practices to take feature-specific measures to craft your roadmap.
Without a road mapping tool, it would be a tricky tightrope to walk for businesses, with a risk of being left behind.