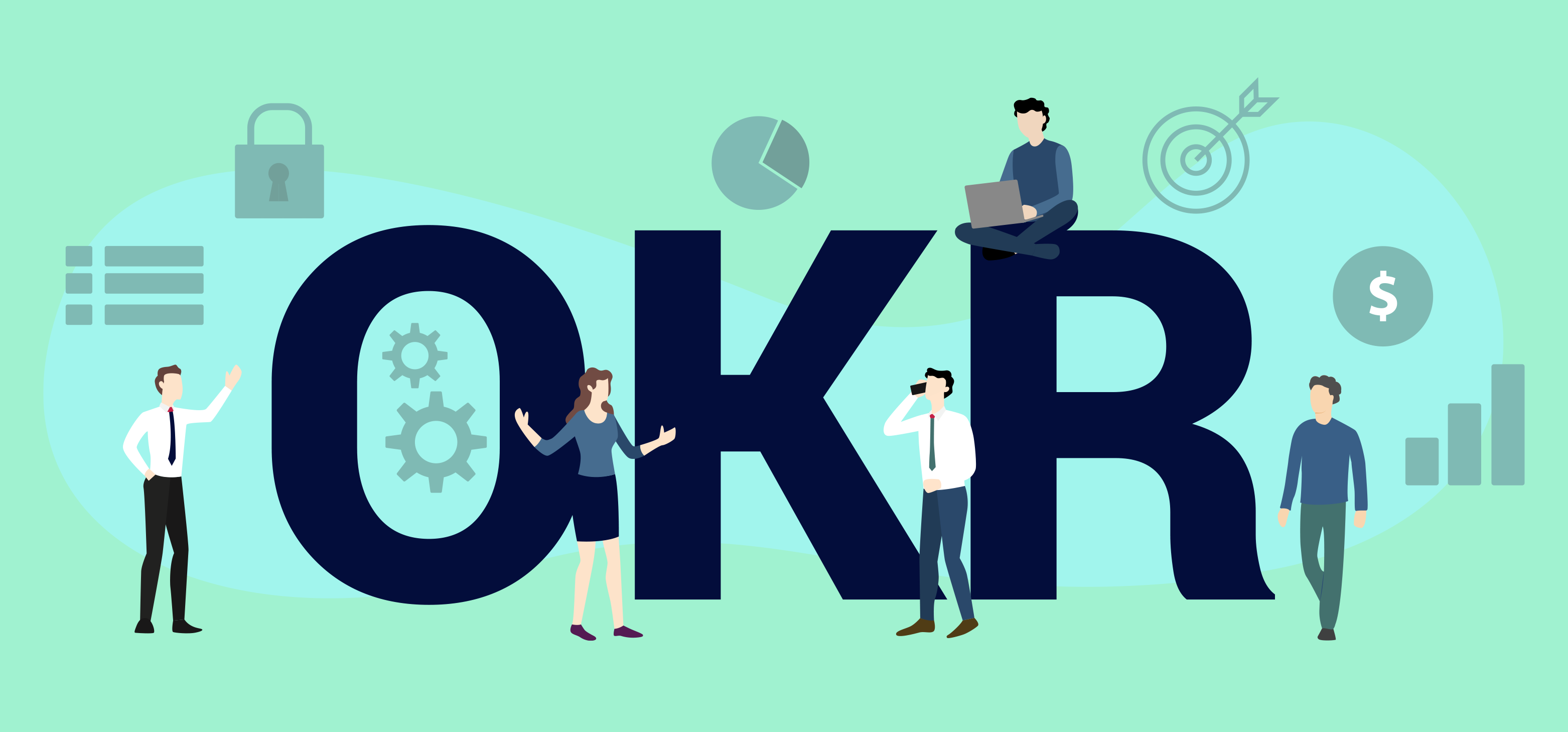 OKR, or Objective Key Result, is a technique for measuring progress.
It aims to give objective results which accurately track the progress of whatever it is you are measuring.
Although OKRs work on an individual level, most of the time, businesses use them to track the progress of a group or team. 
To create an OKR, you have to have the two key elements of an objective and a key result.
An example of an objective would be to grow your email list.
An example of a key result for that objective would be to see a 10% increase in email subscribers by the end of next month.
There can be multiple key results but only one objective. 
Below are 15 apps and software that can help you create and keep up with your company's OKRs.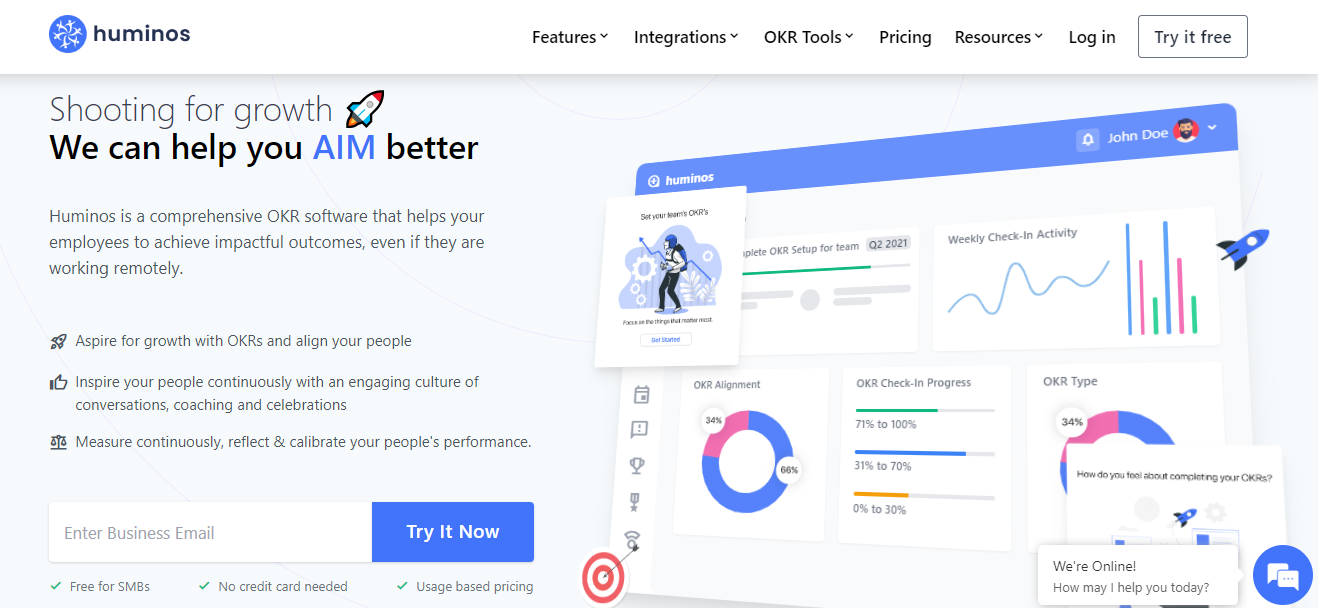 Huminos offers a diverse range of team monitoring, performance management, and goal-setting functionalities.
With its OKR templates, you can quickly set up objectives and key results on the individual and organizational levels.
It has an incredibly simple interface that makes it easier for your team to periodically check in to update their progress and communicate with their peers.
From managers and owners like you, Huminos has a well-development monitoring structure. Through hierarchical OKRs and team meetings, you can simultaneously maintain operational transparency and control the flow of information.
In addition, it has a feature by the name of "Pulse" that automatically generates surveys to gather feedback from employees. It can help you identify growth opportunities and areas for improvement.
Interestingly, you can also use Pulse to detect internal conflicts early on so you can take timely measures to improve your company's culture. For instance, if your employee is currently not happy with the level of information exchange at their department, you can develop training sessions on team collaboration and interpersonal skills.
Key Features of Huminos:
Visibility control.
Pre-defined templates and texts.
Meetings scheduling and feedback structure.
Integration with well-known productivity tools like Slack and Microsoft team.
Prices and Plans for Huminos:
Humino's basic plan is completely free. Once you've familiarized yourself with its interface, you can upgrade your subscription and pay for premium features.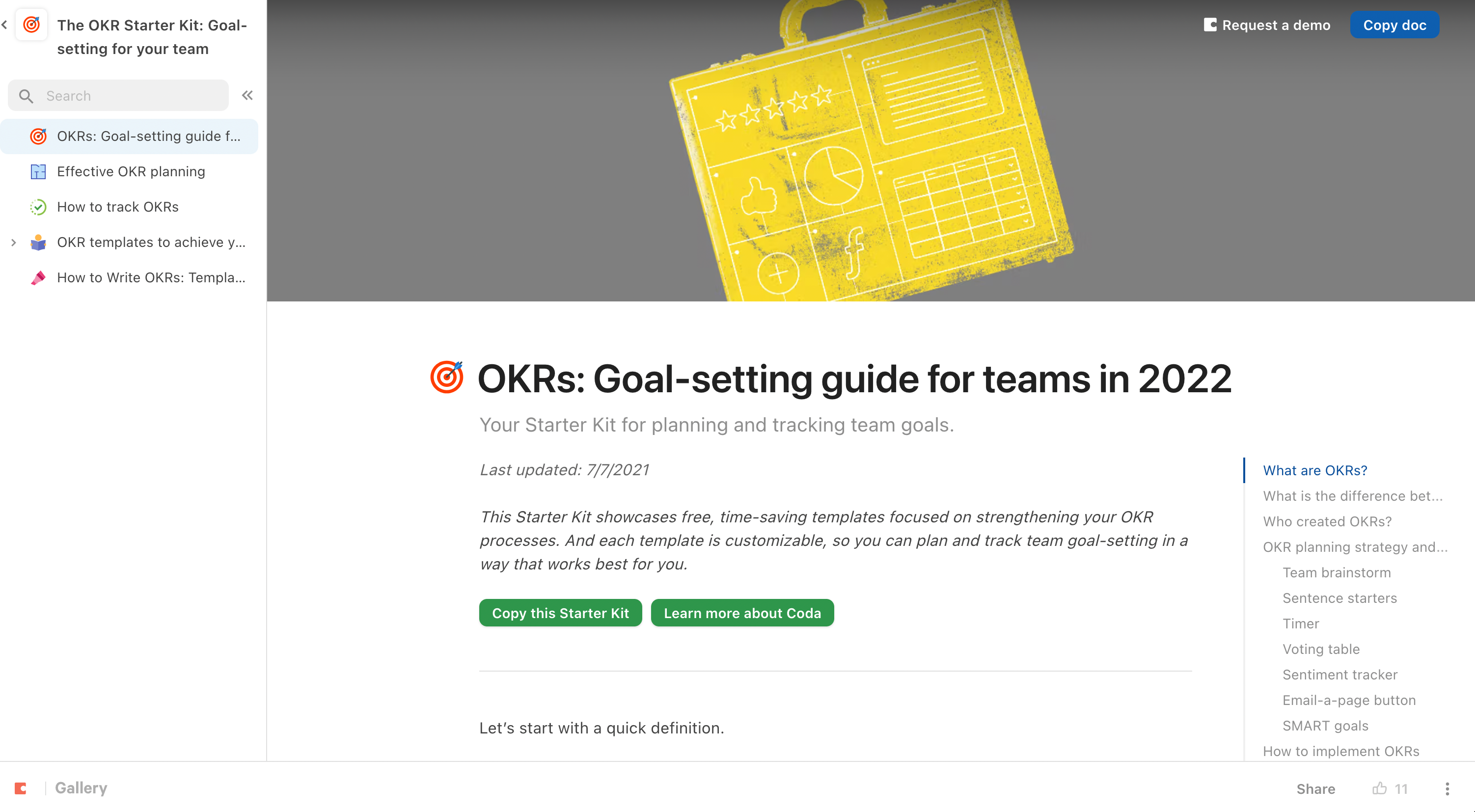 Coda's OKR platform is a nice blend of documentation, spreadsheet, and collaboration, which makes for a perfect recipe for productivity.
You'll notice that Coda's platform is a bit familiar with Google Docs-like word processing and Excel-like table functionalities.
For example, you can add notes, tables, and functions inside a cell. And even write functions.
Best of both worlds, isn't it?
Setting up automation is something you'll like the most. Say, you want to prompt your team members to give you updates on some ongoing tasks and make sure everything is on schedule.
So here, you can set the triggers and let Coda do all the mundane tasks as it automatically selects your teammates and alerts them on email or Slack.
In Coda, you can take advantage of many third-party integrations or precisely the "Packs". You can sync a number of CRM, project management and marketing tools to leverage the capabilities of this tool.
The free version is pretty useful if you're just starting out. You may add as many team members as you like. But the doc maker pricing remains the same.
Key features of Coda:
Unlimited editors and viewers
Brainstorming board to bring collective perspectives
Voting table to understand the common goals
Multiple ready-to-use templates
Pricing and plans for Coda:
Beginners can get started with the free plan with limited doc maker features.
But to really get the best out of Coda's OKR system, you can upgrade to Pro plan, starting at $10 per month per doc maker. That means, you can onboard as many editors or viewers as you like.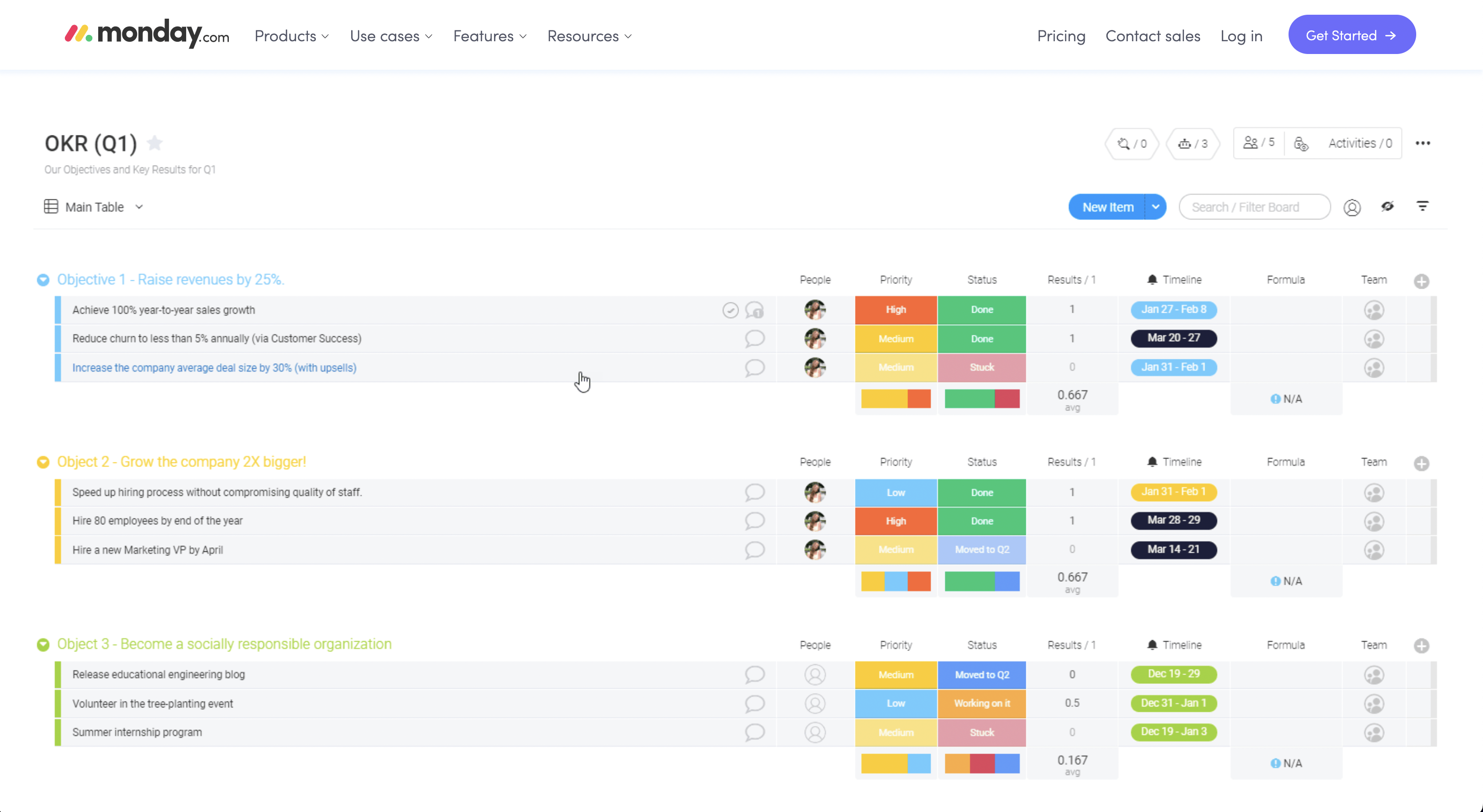 Monday's OKR is based on the intuitive Work OS system built to leverage remote workflow capabilities.
Right after signing in, you'll see guided prompts to help you with choosing from the templates and creating your first workspace.
Worried about those old Excel sheets you might need in your current project?
Monday's import feature is a lifesaver where you can upload your existing Excel or CSV files and give them a completely new look.
Now, if you're onboarding team members, collaborators and viewers, you might want to set the visibility of your workspace as a shared mode or private mode.
It's even easier to manage timelines and priorities with one-click setups that save time.
Speaking of time, Monday's automation feature can help you with the mundane tasks so that you can free up yourself for things you value.
Its preset options let you create automated triggers when a condition is met.
For example, by identifying tags or deadlines, it sends alert messages or asks them for feedback.
Key features of Monday.com:
Automation feature for project approvals and tasks
An array of integration tools
Tons of ready-to-use templates
Drag-and-drop interface
Pricing and plans for Monday.com:
Monday offers flexible pricing plans based on how small or big your team is. Individual plan is the best option for beginners as it's completely free.
And once your business scales, you can go with the Basic plan at $24 per month, or the Standard plan for $30 per month with a team size of 3.
Asana has been one of the prominent project management tools for a decade. But only recently, they included the OKR goal-tracking feature to streamline workflow and collaboration.
So how good is their OKR framework?
Featured as "Goals", the OKR framework complements really well with their roadmap software.
Flexibility is the core strength of Asana's OKR. Each team member can map their own key results as well as check on others.
What's interesting here is how the tool lets you report performance. You can see the amount (percentage) of tasks completed and colored bars as per the project milestones.
For instance, green indicates the employee has achieved or is about to reach the goals. Whereas, whereas red and yellow indicate the need for resources or assistance from the leadership team.
You can even group or make a cross-functional team with specific collaborations. For example, assigning Project 1 to persons A, B, D and Project 2 to persons A, C, E.
Now, you can visit different views like list, Kanban, and timeline and make sure you link your projects to the OKR board to align with the company's mission.
Key features of Asana:
Seamless team collaboration
Tons of integration tools
Intuitive workflow builder
Streamline mundane tasks with automation
Pricing and plans for Asana:
Asana's free plan is a great option for start-ups and can onboard up to 15 teammates.
However, to manage your objectives and key results, you need a workflow builder tool which is available on Premium plans at $10.99 per month per user annually.
Lattice is built for HR, employee, and performance management. But they observed that connecting team and individual objectives could boost strategic capabilities to achieve better results.
And that's how they came up with a plan for OKR, which you can find as "Goals".
Although the features are different from their "performance management" plan, you can choose their "Bundle" offer to get the best of both worlds.
For example, while performance management focuses on the overall project, Goals and OKR helps you break them down into easier and smaller objectives.
And each small accomplishment makes it easier to align your strategies with the end result.
It also adds an extra layer of transparency with its collaboration and progress-tracking feature so that the hard work won't go unnoticed.
It lets you recognize individual performance and praise it publicly, which of course gives a morale boost to employees.
Lattice University is yet another great feature for beginners, where they can access quick video lessons to make the most out of the platform.
Key features of Lattice:
One-on-one meetings
Advanced analytics features
Continuous feedback in the real-time
Rich integration support
Pricing and plans for Lattice:
OKR & Goals plan starts at $8 per person per month. Moreover, you can choose the Bundle plan for $11 per person per month to avail yourself of performance management features along with your OKR plan.
Zokri is quite different from the league of team, productivity and project management software.
While other tools offer a range of management features, Zokri specifically focuses on OKR practices. Well, it's obvious when you see OKR nested within the word.
You'll have three types of views in your workspace to help you handle your project at different levels: hierarchical, nested, and list views.
The hierarchical view is great for planning and checking the workflow.
Nested list view lets you see the OKR initiatives and parent-child relationship easily.
And List view helps you with bulk actions such as deleting or continuing OKR in the next phase.
You can also create sub-tasks or parent-child relationships in hierarchical and nested list views to make things easier.
Zokri works great with integrations. You don't have to spend time setting things up manually.
For example, you can see your workspace in a task view when you integrate with tools like Trello or Asana.
Overall, Zokri is pretty straightforward and a must-have tool for businesses looking to extend workflow capabilities.
Key features of Zokri:
Quickly create initiatives
Review and comment on initiatives
Syncs with a calendar for structured meetings
Survey option to monitor the well-being of users
Pricing and plans for Zokri:
There's no mention of a structured user plan. But based on the entry-level and professional plan, the pricing ranges from $8.33 to $12.50 per user per month.
ClickUp's promise is to prioritize and plan your time so well that you save one day's worth of work per week. This bold claim is backed up by Clickup's logical and efficient way of displaying and updating OKRs.
The service displays how to complete OKR using percentages, which makes progress easy to track at a glance.
It also has simple labeling and scheduling functions, allowing an employee to easily understand the priority of their tasks and when they should be completed by.
ClickUp's best feature, however, is its segmentation. ClickUp allows you to break your workspace (which is your company) down into spaces (usually either segmented by teams or specific jobs) and then into folders that contain lists (where the individual OKRs are stored).
This makes it very easy to set a task for a specific group of people. If your business involves lots of groups working on different tasks, you should definitely try ClickUp.
ClickUp offers a free forever version and a $5 per month per person option with even more features.
Key Features of ClickUp:
Promises to save you one day per week.
An efficient way of displaying progress.
Simple scheduling functionality.
Easy to set an OKR to a specific group of people.
Pricing and plans for ClickUp:
ClickUp offers a free forever version and a $5 per month per person option with even more features.
Ally is a fantastic tool for planning and maintaining your OKRs. Microsoft recently acquired Ally.io.
The stated aim of Ally.io is to save you time planning and preparing meetings to allow you to spend more time on the meaningful discussion which helps the business make progress.
Ally also offers tons of free OKR templates and other resources to help you make the best out of their OKR software.
The overall UI of Ally is far better, easier to use and understand than any other OKR tool.
Oh, and it has a beautiful design factor across each template, dashboard, and other visual areas.
It allows you to create OKRs and also import them from other software so you can manage all your goals from the same place.
The OKRs can also be assigned to entire companies or smaller groups to avoid certain teams being snowed under by OKRs not relevant to them.
On top of this, Ally uses charts to make the data more intuitive to understand.
The service costs $7.00 per user per month, which is a very manageable amount for a small or medium-sized business. We've a detailed review on Ally OKR for you to read further.
Key Features of Ally.io:
OKRs can be imported from other software.
Designed to minimize finicky planning. 
OKRs can be assigned to individuals and teams as well as the whole business.
Pricing and plans for Ally.io:
Free trial to get started, then $7.00 per user per month.
Profit.co is a very personal OKR tool that focuses not only on tasks but also on employee engagement and collaboration. 
Profit.co has an integrated dashboard that makes it simple to see which employees are the most engaged and satisfied with their work.
The "top performers" option is also very useful at determining who should be given each task.
The tool aims to make it easier to achieve your goals by focusing on tasks for each quarterly cycle and then breaking down those OKRs into a plan -execute -engage- learn format.
This format not only helps tasks be completed successfully, but also aids in avoiding repeated mistakes as the "learn" part of the process allows time for the team to reflect on the execution of the task.
Profit.co has three separate pricing options: startup, growth, and enterprise.
The startup option allows for five people to use a limited version of the software for free. The growth option is $7 per user and has an extended list of features such as four sessions of online OKR training and OKR alignment.
The enterprise option has even more features and you have to contact Profit.co directly for pricing information. 
Key Features of Profit.co:
Help keep track of employee engagement.
Tracks employee success with the "Top Performers" option.
Builds OKRs based on the plan -execute -engage- learn format.
Pricing and plans for Profit.co:
Five people can use a limited free version. The standard version is $7.00 per user per month. For more features, you can get the "Enterprise Version" by contacting Profit.co.
Culture Amp's specialty is presenting information in a way that is intuitive and easy to understand.
The service has a strong emphasis on reviews to keep track of how employees perform and find individual strengths and weaknesses.
These insights help to create OKRs which are targeted, specific and achievable.
Information about an individual's strengths and weaknesses is transparent and available for the employee to view themselves.
Employees can see where their performance ranks as a percentage compared to other employees. On top of this, they can see which skills they are proficient in and which require more work for example, resilience or communication.
This breeds an environment of self-improvement and helps managers create balanced teams which suit their task.
Key Features of Culture Amp:
Intuitive Layout
Regular, in-depth reviews 
Transparency about employee performance – encouraging development
Pricing and plans for Culture Amp:
$4,500 per year for companies with 50 to 200 employees.  $10,500 per year for companies with 201 to 2000 employees.  
Kazoo uses easy to interpret data and text to support your OKRs and provide employees with regular checks and updates. One of Kazoo's best features is its open API.
An open API or application programming interface is an intermediary which allows two software to interact with each other. This means that Kazoo can be updated to work with other applications.
Not only does it make Kazoo very efficient regarding communication, but it also means that Kazoo will stay up to date longer than other OKR tools on this list because it can be updated by anybody.
For example, if a new productivity tool was created tomorrow and your business started using it, Kazoo could be updated to interact with this new software so you would not need to manually update the data on the two pieces of software.
Kazoo also offers rewards and recognition as part of its software.
This means that well-performing employees can be credited for their success with recognition and opportunities.
Kazoo costs between $4 and $5 per month per person depending on the number of employees registered. 
Key features of Kazoo:
Easy to interpret data
Open API
Awards and recognition for successful employees
Pricing and plans for Kazoo:
$5 per person per month for companies with 100 to 250 employees and $4.25 for companies with 250 to 1000 employees. There is a third option for 1000 or more employees which you have to contact Kazoo to access. 
PeopleGoal is a premium OKR tool, used by multi-billion dollar companies.
It costs $10 per person per month, which is around double most of the other OKR tools on this list; however, it delivers a bespoke and customizable experience which warrants the higher price.
PeopleGoal offers intricate diagrams displaying everyone's role in the company and their professional relationship with those around them.
You can also design apps that help track and update progress.
For example, an app could be designed for employees to give confidential feedback with cascading permissions so only certain people can access the submissions.
Key features of PeopleGoal:
Diagrams displaying the structure of the company 
Customizable OKRs 
Create your own apps to interact with your employees 
Pricing and plans for PeopleGoal:
$10 per person per month.
Simple OKR does what it says on the tin by being a simple OKR.
However, this humble title downplays the efficiency of this tool.
Simple OKR uses an easy-to-understand layout where the objective is present at the top, with a percentage displaying how close it is to completion.
Under that, each of the key results is displayed with similar progress bars.
The OKRs are ordered into individual quarters, which keeps scheduling them straightforwardly.
Although this tool is not as complex as other options on the market, its simplicity definitely makes it a worthwhile choice for someone just starting with OKRs.
Simple OKR's pricing is also different from other software.
This tool costs 49.99 per month, which may sound more expensive than the alternatives but because this is a flat rate, it will be better value for your business if you would need more than ten or fifteen licenses of the software. 
Key features of Simple OKR:
Intuitive and easy-to-understand layout.
Designed around quarters as opposed to months
More affordable price
Pricing and plans for Simple OKR:
$49.99 per month.
Weekdone is another premium OKR, with a price of $108 per ten users, making the price per user around the same as People's goal.
However, this service has a free version with all the same features available for teams of three or less.
This means that a small business just starting could get access to a fantastic OKR tool, with many intricate and customizable features for free.
Weekdone offers to track OKR progress as well as show how individual employees are performing. OKRs can be set as personal objectives, team objectives and company objectives.
This distinction is essential for an employee as it helps prioritize and manage multiple tasks at the same time.
Weekdone's deal is fantastic for small businesses just starting who want to make sure that their objectives are as optimized as possible.
Key features of Weekdone:
Tracking OKR progress 
Individual employee performance reviews
Tasks can be set for individual or team or the whole company. 
Great offer for new companies
Pricing and plans for Weekdone:
$108 per ten users per month. A free version with all the same features is offered to teams of three or less.
Engagedly is a brilliant OKR productivity tool that offers a litany of services including automated regular performance reviews for employees as well as progress analytics and reporting.
Performance reviews help to keep employees motivated and working at their full potential.
These reviews are automated and regular and review process more transparent and less intimidating for an employee, as Engagedly will provide clear and actionable feedback that will help them improve.
Advanced analytics and reporting use OKRs to create intuitive graphs to understand the company's progress.
These analytics are highly customizable yet simple to implement.
Engagedly shows the OKRs on a company level but can also break them down to the individual level to show how each of the employees is doing with their tasks.
Although Engagedly's pricing is not available on their site until you request a demo and get in contact, other sites have priced them between $2 and $6 per person per month depending on the number of features in the package you choose.
For this low price, Engagedly is a no-brainer for medium-sized businesses that want to focus on their OKRs.
Key features of Engagedly:
Automated performance reviews.
Intuitive graphs 
Advanced analytics and reporting 
Highly customizable service
OKRs can be company-wide or individual
Pricing and plans for Engagedly:
Although Engagedly's pricing is not available on their site until you request a demo and get in contact, other sites have priced them between $2 and $6 per person per month depending on the number of features in the package you choose. 
You can do plenty of things with OKR tools, especially as a project manager and team head.
It's a great way to measure your way when you see t to accomplish a goal. And it also works as an accountability mirror.
You'll know if you're proceeding in the right direction when you are using an OKR tool as opposed to when you are not.
Let us know your suggestions or questions in the comments below.